Disclaimer: This post contains affiliate links. If you click on one and make a purchase, I might make a little extra spending money, at no extra cost to you. As always, all opinions are my own and these products/services have been found useful during our travels and come highly recommended to you from yours truly!
Autumn is a wonderful time to consider a visit to Southern Germany. Living in Regensburg, I often get asked, "When is the BEST time to travel to Germany?" and without hesitation, I quickly reply "Autumn". Punkt. There are many great reasons to visit Germany any time of year, but Autumn is especially notable. From the variety of autumn festivals in Germany to our much cherished "Golden October", crisp mornings and pristine blue skies in the afternoons, why wouldn't you want to visit Germany in the fall!? You'd be cray-cray not to!
Want to Visit Germany in Autumn? PIN IT FOR LATER!!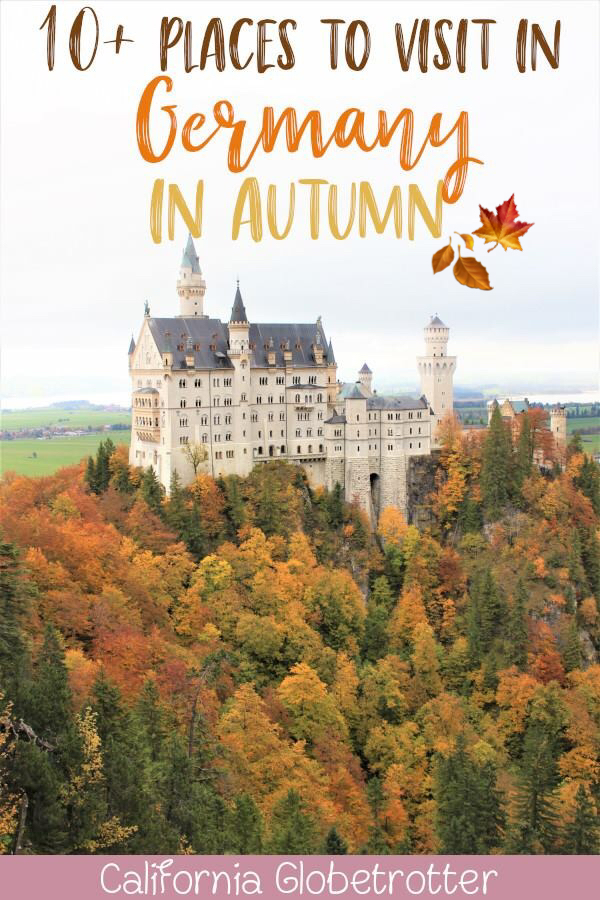 How to AVOID Looking Like a Tourist in Europe
100 Signs You've Lived in Germany For Too Long!
I personally love the autumn in Germany soooo much, I even got married at the end of October 2016 to a GLORIOUS autumn. As someone from California where there is hardly a change in season, I am quite smitten with autumn! The country is ablaze in fall foliage everywhere, from along the highways to major towns and cities, to the mountains and the lakes. Every inch is covered in stunning hues of yellows and oranges, deep reds and browns as the landscapes changes to a cornucopia of colors! Even if autumn isn't really your cup of tea, there are many other reasons to visit Germany in the fall.
You'll also find a variety of traditional festivals in Southern Germany from Oktoberfest to more traditional celebrations such as an Almabtrieb, the return of livestock – either cows, goats or sheep which are then paraded through town to a "Thankgiving" Harvest celebration. We won't even talk about the seasonal foods in Germany you can find during the autumn from Pumpkin Ravioli to Pumpkins Soup.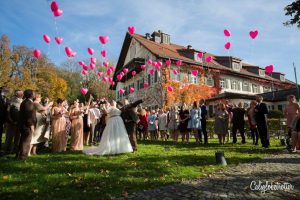 How is the weather in Germany in Autumn?
What makes Germany truly special is that there are four distinct seasons in Germany, each one more beautiful than the last, so it's quite hard to pick a favorite season. There is truly no worst season to visit Germany!
While it is rare for temperatures in Germany to reach 90°F (30°C ) in the summer especially in southern Germany, it can still be quite warm. For me personally, summer in Germany is still too hot for my liking, especially without an AC. Every summer, I look forward to the autumn for our "Altweibersommer" (Indian Summer) we have which stretches from September to mid-October with crisp mornings, warm, perfect blue days and cool evenings. Perfect combination to want to snuggle up in the evenings without sweating to death, to enjoy a beer garden before they close up for the winter or even do a bit of hiking in Germany. However, the later into October we get, the colder it gets with temperatures dipping, perfect for a big, blanket scarf before November becomes quite grey and gloomy, with temperatures being much colder than September and October.
Weather in Germany in September:
Average temperature: highs 80-82°F (26-28°C) / lows 57-60°F (14-16°C)
During an Indian Summer, temperatures can stay quite warm in September in Germany. Traveling to Germany at this time requires mostly a light jacket, some sunglasses and an umbrella for the occasional sporadic rain shower. No need for heavy jackets and big scarfs every day, although there is a chance it could dip.
Weather in Germany in October:
Average temperature: highs 62-66°F (17-19°C) / lows 44-48°F (7-9°C)
Early October generally gets much cooler, with ideal temperatures which will require jeans, medium weight jackets and a light scarf. Towards the end of October, Germany becomes increasingly colder, with temperatures requiring thicker jackets and scarfs. There is still plenty of sunshine, but don't let it fool you into thinking it might be hot outside. Still, weather is mild with little rain, although occasional spurts.
Weather in Germany in November:
Average temperature: highs 46-50°F (8-10°C) / lows 35-39°F (2-4°C)
November in Germany is generally MUCH colder than September and October with weather typically being more gloomy, drizzly and grey. Nothing is typically happening in November and is therefore considered a low tourism season as Germany gears up for the Christmas Markets to open at the end of November/beginning of December. Days are shorter and darker and therefore, you've got yourself a humdrum kinda day.
Where are the BEST places to visit in Germany in Autumn?
Schloss Neuschwanstein
Without a doubt, the best time to visit Neuschwanstein Castle is Autumn. Perched atop an Alpine mountain overlooking the Schwangau valley, Germany's most romantic castle is engulfed in reds, yellows and bright orange fall foliage from every which direction. Built by "Mad" King Ludwig II of Bavaria, to visit one of Germany's most romantic castle in the autumn is truly like a dream come true for any fall lover, though there is really no bad time of year to visit as it looks great covered in snow, fall foliage, lush greenery or the deep greens of late summer. Though, you risk heavy fog and perhaps rainy days, but even on a gloomy day such as below, it's still quite glorious!
Related: Castles & Palaces in Germany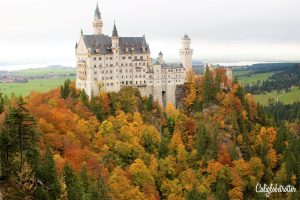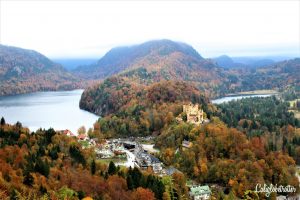 Schloss Hohenschwangau
So, if you're already going to be visiting Germany's most famous castle, then might as well just hop over the village to the lesser-known, but equally charming Hohenschwangau Castle, if only for the magnificent views it affords overlooking Schloss Neuschwanstein. Needless to say, you'll also be greeted with rich golden hues here too, as well as a glimpse of the nearby Alpsee, pristine in fall colors and endless amounts of swans.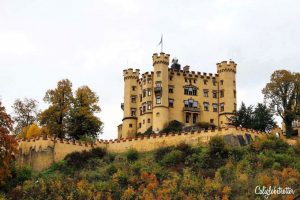 Cochem
Nestled along the Mosel River, Cochem is one of the sweetest, little half-timbered towns in Germany, dominated by the Reichsburg Castle. As one of the top places to visit in the Mosel Valley, there are many reasons to visit Cochem, if only for the beautiful fall foliage that wraps around the castle and town. Whether you love Germany's famous red and white wines, or are doing a Mosel River cruise, Cochem is exceedingly beautiful in the fall, especially with it's rolling vineyards stretching out in every which direction. Later in October, these rolling vineyards will be ablaze in red, yellow and brown leaves. Though you'll have missed the wine festivals in Cochem which take place in June, you can still explore the tiny town or try some of Cochem's mustard from their historic mustard mill.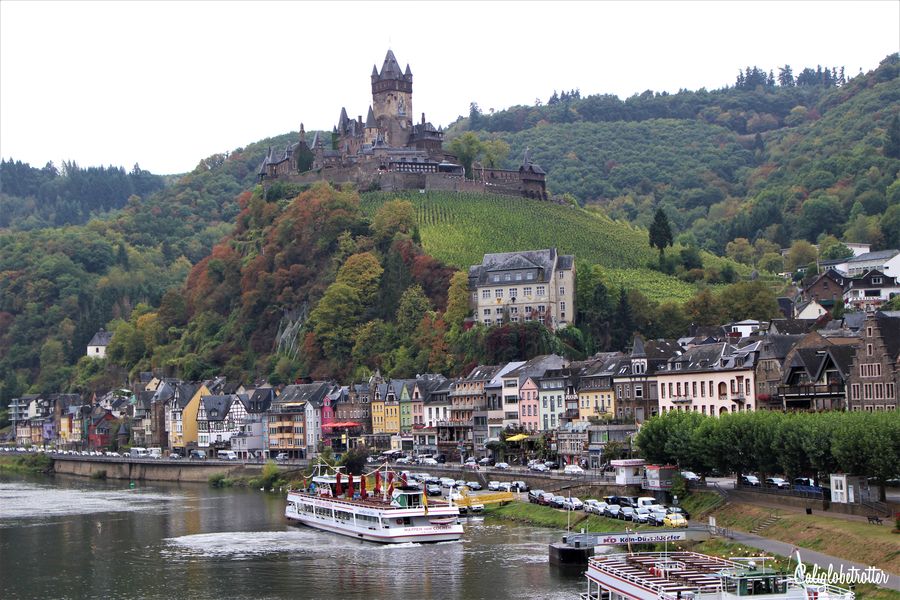 Rüdesheim am Rhein – Federweißer

Depending on the summer, a visit to Rüdesheim am Rhein in October can be a truly lovely experience with vineyards stretching as far as the eye can see, ready for harvest. Perhaps a few vines are ablaze in autumn colors by September or October, there might be a chance though you may not find as much fall foliage in Germany's Rhein Region, however, I'm not recommending coming here for the autumn bloom but instead for the Federweißer wine – freshly fermented wine which typically comes out at the beginning of September and is only avilable for a couple of weeks. A bit like sparkling wine, it's perfectly paired with seasonal German meals like Zwiebelkuchen (Onion Tart) which is one of my favorite meals and is D-E-LICIOUS!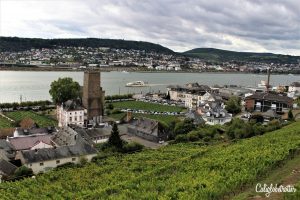 Rhein Region

Spanning the length of the Rhein River, is one of Germany's most idyllic settings. This region of Germany has been producing wine since the time of the Romans and Rüdesheim am Rhein is the gateway to the Upper Middle Rhein Valley UNESCO World Heritage Site. However, nestled sporadically along the river are several of the most picturesque half-timbered towns in Germany, including Bacharach. Castles litter the banks of the river or perched upon the hills, giving you a glimpse into a time where castles were built along the river as a form to collect taxes from passing ships. But, a drive along the Rhein River will offer stunning views of fall foliage, while a stop at Die Loreley am Rhein (The Lorelei) is one of the most popular sights on the Rhein. Head up to the restaurant for panoramic views over the Rhein River.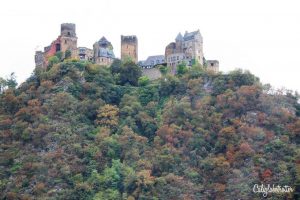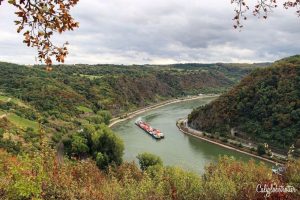 Munich
Ahh, the capital of Bavaria! Autumn is such a lovely time of year to visit Munich which so often has temperamental weather as an effect of being near the Alps. However, when we have a truly amazing Altweibersommer in Germany, then Mother Nature paints the capital in autumn heus. Take a stroll through Viktualienmarkt, Munich's outdoor food market or take a leisurely walk through the English Garden which is lush in vibrant colors. With the weather still at it's best, folks here still sunbathe or enjoy a Maß beer at the Chinese Tower biergarten! Of course, end of September is also a great time to visit Munich if you plan to attend Oktoberfest!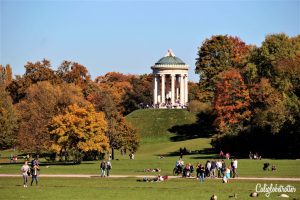 Regensburg

As one of the loveliest day trips from Munich, you simply can't pass up Regensburg, a personal favorite of mine as I live here! Blessed with rolling hills surrounding the historic town, we have a lot of places you can enjoy fall foliage in Regensburg, from the city's "Green Belt" (Grüne Gurtel) of parks encircling the city center to more adventurous parts of town, like Auf der Winzerer Höhe, which includes a bit of leisurely hiking in Regensburg for stunning panoramic views! Straddling the Danube River, fall is quite becoming on Regensburg, even on the gloomiest of days. Plus, you'll be in for a treat when you visit the last week of August, first week of September as every year the city hosts their second beer festival known as HerbstDult.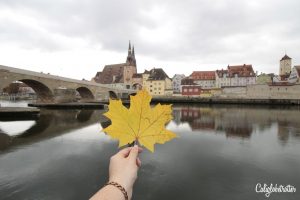 Passau
Located at the confluence of three rivers, the Inn, Ilz and Danube, Passau is a wonderful destination to visit for fall foliage. The historic city center is one of the few cities in Germany that survived WWII, therefore preserving it's unique appears on a small peninsula jutting out between three rivers. While the beautiful city of Passau is one of the best cities to visit in Bavaria, it's the cathedral that draws people here, as the St. Stephan's Cathedral is home to the world's largest cathedral organ and an organ concert is a must. However, while you explore Passau, be sure to stop at Simon Confiserie to enjoy a Thanksgiving strudel (Erntedankstrudel). It's everything you could imagine autumn tasting like!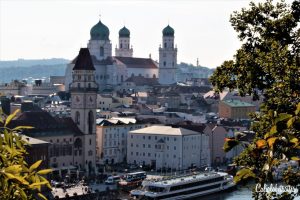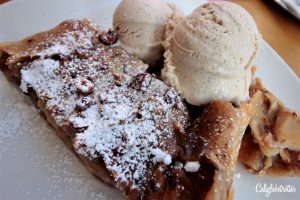 Best Fall Festivals in Southern Germany
Königssee Almabtrieb
Quite possibly one of the more awesome fall traditions in Germany takes place throughout Southern Germany's Alpine region, as well as in Austria and Switzerland. While Königssee is already one of Germany's top places to visit, visiting between August and September, you'll be greeted to an Alpine tradition known as "Almabtrieb" or the return of livestock such as cows, sheep and goats from lush Alpine pastures to their owners. Throughout the warm summer months, livestock spend their summer among the clouds munching away, before they are returned and paraded through town. Some Almabtriebs are more lavish than others and Königssee, in the Berchtesgaden National Park, has one of the best Almabtrieb in Germany! Not only do they bring them down from the mountains, but they charter them across the fjord-like lake via electric boat before crowning the cows which behaved the best over the summer with a "Kranzkuh", an elaborate headdress. This is honestly one of the best things to see in Germany in the fall!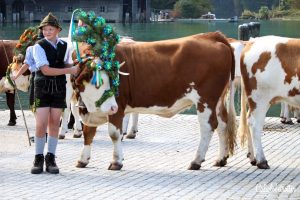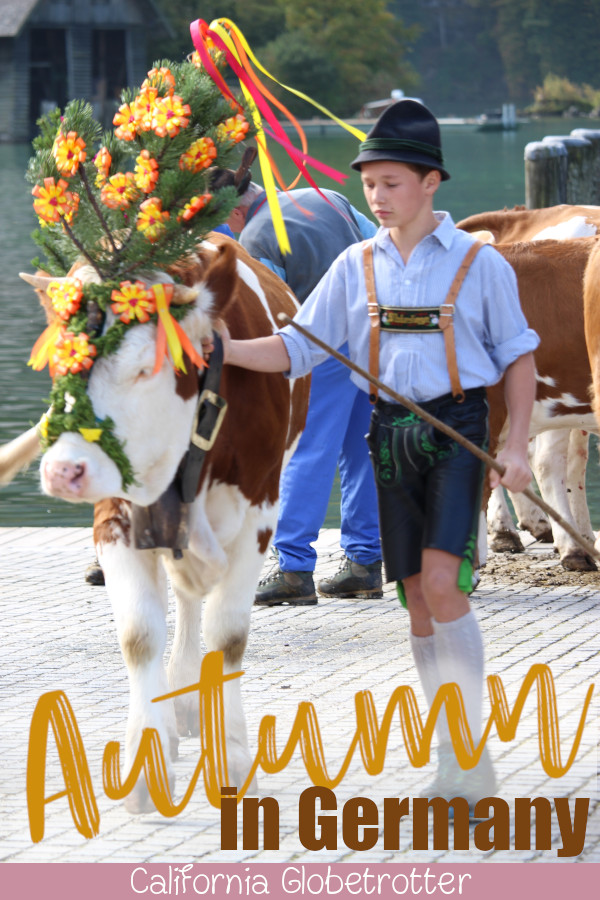 Oktoberfest
Ah, yes, Munich's Oktoberfest is THE most famous festival in the world. For two weeks of pure debauchery, Munich hosts their world famous beer festival which has 16 beer tents and welcomes over 7 million visitors. As Oktoberfest is actually the last two weeks of September, usually ending in the first few days of October, that makes this one of the best fall festivals in Germany! So, put on your Lederhosen and Dirndl and come join the fun! The historic festival that has taken place since 1810 in celebration of the marriage of  Ludwig of Bavaria (who would later become King Ludwig I) and Princess Therese of Saxe-Hildburghausen.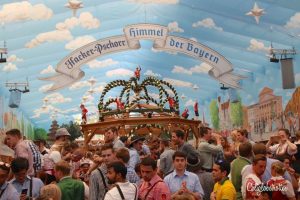 Herbstdult
As previously mentioned, two times a year Regensburg hosts their own "mini Oktoberfest" known as Dult. Once in the Spring called "MaiDult" and again in the autumn, known as "HerbstDult". One is not better than the other as they're both the same, but it's our way of saying hello and goodbye to summer. Here, you'll find our festival to be one of the quaintest beer festivals in Germany with two major tents and a few rides, but cozy enough you can partake in the "Gemütlichkeit" of Prosting all night long, dancing on the tables and singing "Ein Prosit, ein Prosit, der Gemütlichkeit!" So, slap on your Lederhosen and Dirndl once more and PROST the night away!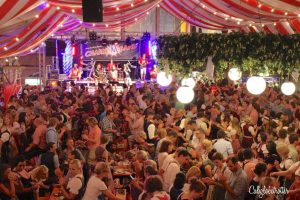 Ludwigsburg Pumpkin Festival
If you're as much of a pumpkin lover as myself, then look no further than the world's largest pumpkin festival right here in Germany! Every year, for just over 2 months, you can attend the Ludwigsburg Pumpkin Festival, just an easy afternoon day trip from Stuttgart. Showcasing a variety of pumpkins in every shape, size and color, you can enjoy a themed pumpkin festival with large sculptures designed from thousands of pumpkins. But have no fear, not all of those pumpkins go to waste as you may also eat as much pumpkin meals as you wish, including my personal favorite, Pumpkin Soup! It's here though that you'll find activities like Pumpkin Canoes and Pumpkin Carving contests, as well as weighing in of the world's heaviest pumpkin!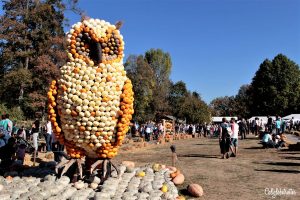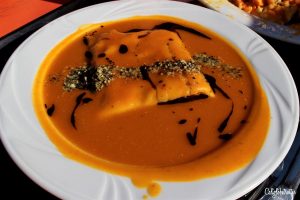 Bad Gögging Erntedankfest
Now, I know you have never heard of this teeny tiny little town just outside of Regensburg, but if you're looking for an interesting, traditional fall festival in Germany, than look no further than Bad Gögging's Erntedankfest, a type of "Thanksgiving" celebration to rejoice in yet another successful harvest season and being blessed with a variety of produce. Though it is not the only one of it's kind, here it is almost a requirement to wear traditional Tracht before attending, watching a parade or traditional folk dancing. You'll be greeted to a small Erntedankfest Market richly decorated in hops where you can find a variety of locally produced items, watch a traditional performance of Goaßlschnoizer (whipcraking) as well as lots of hooping and hollaring!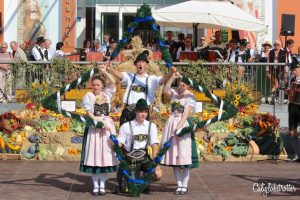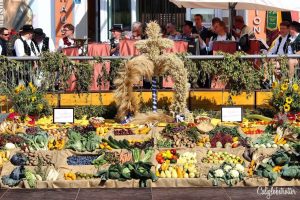 So hopefully I've helped to persuade you to visit during Germany's shoulder season and enjoy some of the traditional folk festivals in Germany, as well as many of the celebrations. Should you decide to come, October is without a doubt the best time to visit Germany if you're looking for the deep autumn colors, whereas many of the festivals and celebrations take place in September. I promise, you'll return home more in love with Germany than ever before!
If you're interested in visiting Germany and are looking for more information, I highly recommend using the DK Eyewitness Travel Guide! Without these guides, I would be lost! This is my travel Bible!
Disclaimer: This post contains affiliate links. If you click on one and make a purchase, I might make a little extra spending money, at no extra cost to you. As always, all opinions are my own and these products/services have been found useful during our travels and come highly recommended to you from yours truly!
Other Germany Travel Inspiration:
Top Places to Visit in Germany
German Gifts Everyone Will Love
Liked this post? PIN IT FOR LATER!!