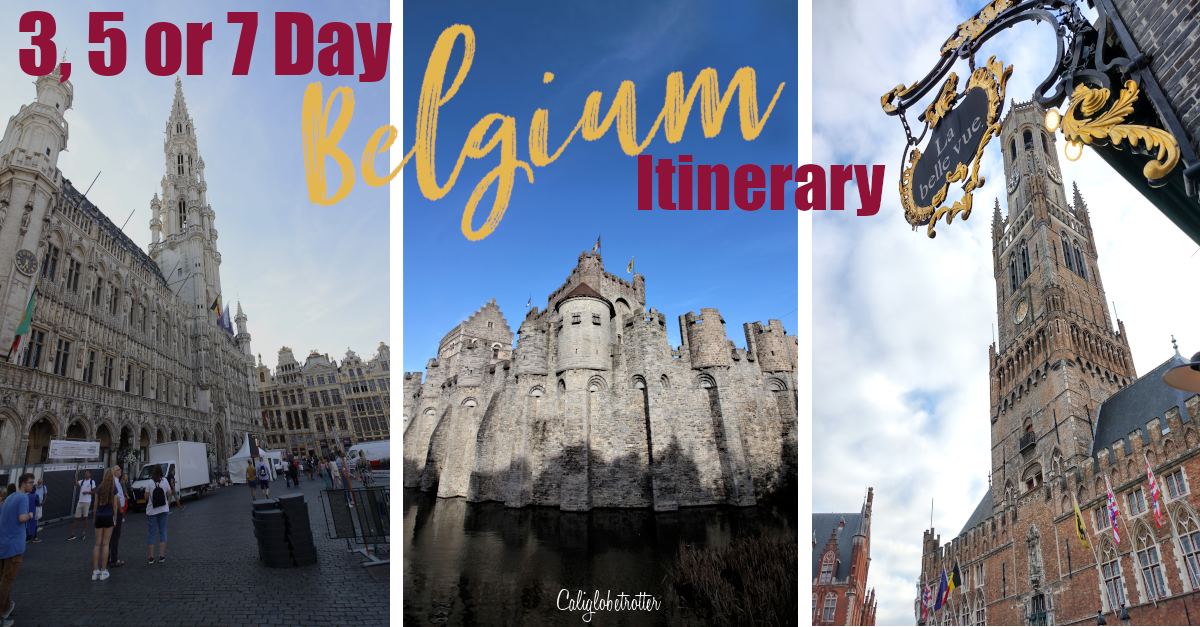 Disclaimer: This post contains affiliate links. If you click on one and make a purchase, I might make a little extra spending money, at no extra cost to you. As always, all opinions are my own and these products/services have been found useful during our travels and come highly recommended to you from yours truly!
Looking to to travel to Belgium soon and want to explore Belgium deeper than just hitting up Brussels? By using this guide, you can explore Belgium and tweak it to accommodate your needs and desires in this 3, 5 or 7 day guide! After all, you'll need plenty of time to enjoy all that beer, chocolate, frites, waffles and more!
Want to Visit Belgium? PIN IT FOR LATER!!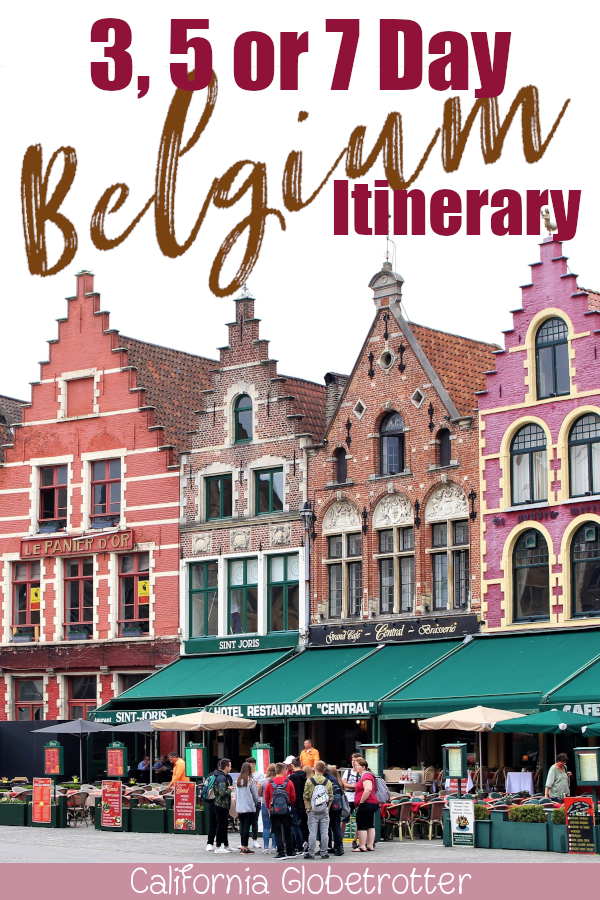 50+ STUPID PRETTY Towns in Europe
Most Beautiful City Halls in Europe
Your 3, 5 or 7 Day Belgian Itinerary
As previously mentioned, you can use this guide as the perfect 3 day itinerary for Belgium, hitting up the most popular places to visit in Belgium: Brussels, Ghent and Bruges. If that's not enough for you, extend it to 5 days and include some other unique day trips from Brussels, like heading to the Belgian coastline to soak up the sun, or explore one of the most popular university towns in Belgium: Leuven, and if that's not enough, extend your trip to one week in Belgium by including Antwerp. 
Day 1: Brussels – Arrive in Brussels
Day 2: Bruges – Day Trip to Bruges from Brussels
Day 3: Blankenberge Beach – Day Trip to the Belgian Coastline
Day 4: Ghent – Day Trip to Ghent from Brussels
Day 5: Leuven – Day Trip to Leuven from Brussels
Day 6: Antwerp – Day Trip to Antwerp
Day 7: Brussels – Additional Half-Day Trip &/or Departure
If some of these day trips from Brussels are not suitable to you, then I would also highly recommend Mechelen, Ypres, Dinant or Aalst.
Things to Know About Belgium Before You Go
Belgium is officially known as the Kingdom of Belgium and there is still a royal family but is a constitutional monarchy.
Belgium is divided into Dutch-speaking in Flanders, in northern Belgium, and French-speaking in Wallonia in the south. However, English is also widely spoken as the lingua franca!
Belgium is a very small country, neighbored by France, Germany, Luxembourg and the Netherlands, all of which are easy to reach.
Both Belgium and Luxembourg are founding members of the European Union and therefore, are effectively capitals of the EU, along with Strasbourg, France. 
Beer is a VERY integrated part of the Belgian culture with over 800+ varieties of beer, making it the ultimate beer lover's paradise!
Belgium has 180 breweries with over 1150 different types of beer and is considered to be a UNESCO intangible cultural heritage of humanity!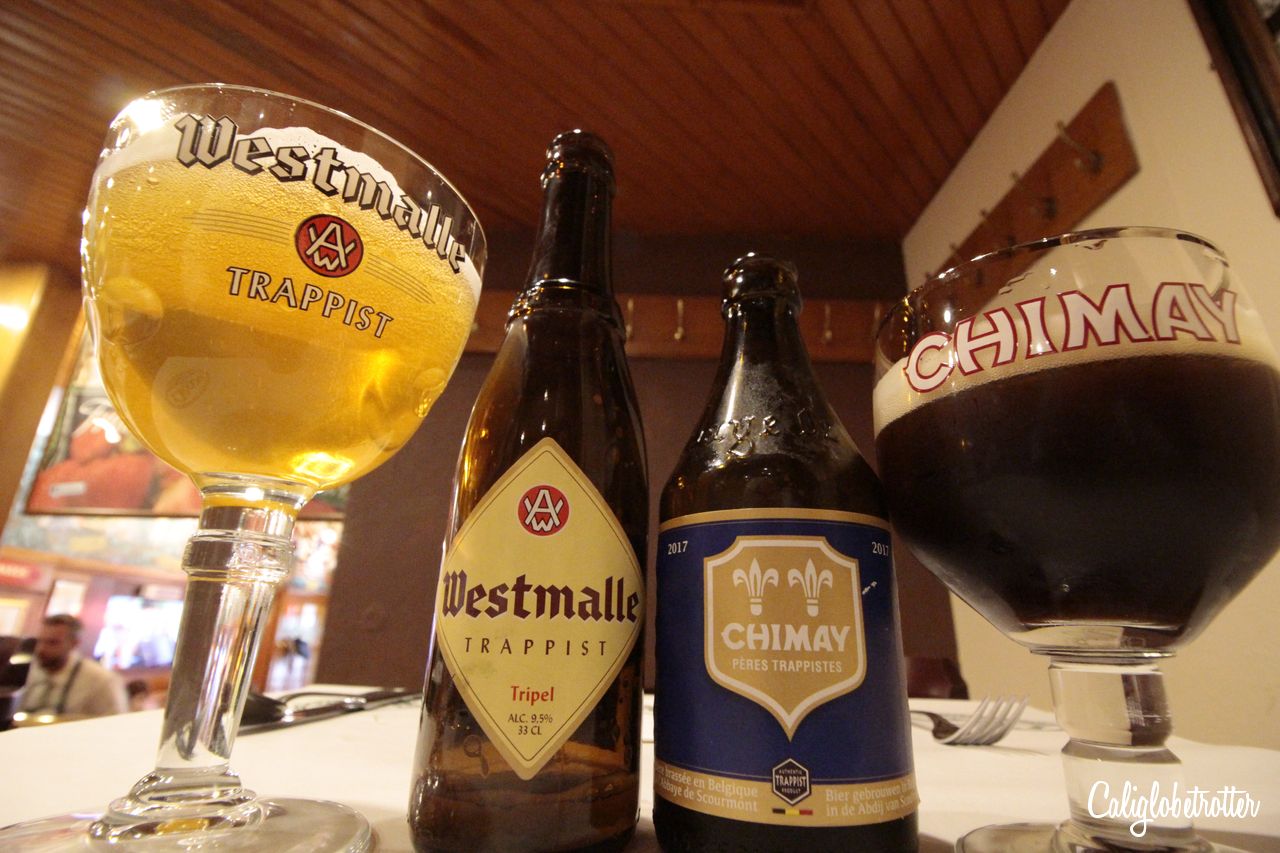 Capital City: Brussels
Currency: Euros
Official Languages: Dutch, French, German 
EU Member: Yes
Tourist Visa: Schengen Visa
How to get to Belgium
Arriving to Brussels by plane is easily reachable at the Brussels Zaventem Airport (also called Brussel-Nationaal / Bruxelles-National). It is located in the northeast part of Brussels. There is a second airport, called Brussels Charleroi, however, it's much further away.
From the Brussels Airport, there are several different ways to reach the Brussels City Center. 
A Taxi ride of around 50€, which is costly.
A train ride from Brussels Airport to Brussels Central Station, which takes roughly 18 minutes and costs roughly 12-15€.
Arriving to Brussels by train is also easy, especially if you're coming from other Schengen Area countries, especially any of the neighboring countries such as France, Germany, Luxembourg or the Netherlands. It's best to arrive at the Brussels Central Station if you plan on making Brussels your home base for the week. 
Europe is pretty well connected via road and rail networks, including high-speed trains such as Thalys. For example, it takes roughly 2 hours from Amsterdam to Brussels or even roughly 1 1/2-2 hours from Paris, France to Brussels. 
Arriving to Brussels by bus is also a possibility. With affordable bus connections such as FlixBus, you can easy catch a ride to Belgium!
Driving to Belgium or Renting a Car in Belgium is also very easy. Like the rest of continental Europe, driving is on the right hand side of the road, signs are easily legible and with a navigation system, it's easy to get around Belgium. There are parking garages in every major city, so it's recommended to google for a parking garage in the city you're visiting. Expect to pay between 1-5€ per hour, depending on location. 
If you are driving your own car into Belgium to any of the major cities, you must always register your car that it meets the low-emission standards BEFORE driving into cities like Brussels, Ghent, Antwerp, however, Bruges is car-free and has restricted driving. If your hotel is in the old town, be sure to register your car beforehand for the restricted access permit. 

IF YOU DO NOT REGISTER YOUR CAR BEFORE DRIVING INTO BELGIAN CITIES, YOU WILL RECEIVE A LARGE FINE!!!
Where to Stay in Belgium
Personally, it makes sense to make Brussels your home base for the 3 – 7 days you plan to be in Belgium as it's quite central to all the day trips you'll be making. Ghent, Bruges, Antwerp etc are all VERY easy to reach by train should you be without a car and buying a ticket at the ticket machine at the Brussels Central Station is easy peasy! However, if you will have a car, then it also makes sense to settle for the week in Brussels. 
We have been so often to Belgium as it's one of our favorite countries, so I have lots of great hotel recommendations for Belgium! 
Recommended Hotels in Brussels:
Hilton Brussels Grand Place ⭐⭐⭐⭐– Just opposite the Brussels Central Station, the Hilton Hotel is in a prime location in the city center. Rooms are simply decorated and great breakfast included! Dog-friendly hotel in Brussels! 🐾
Jacques Brel Youth Hostel – 15 minute walk from city center, eco-friendly hostel, perfect for those on a budget!
Recommended Hotels in Ghent:
However, Ghent is also a more affordable and underrated city to visit in Belgium and therefore, is also a second option and HIGHLY RECOMMENDED if you prefer a little calmer experience of Belgium.
B&B Hotel Ghent ⭐⭐⭐ – located just 5 minutes walking from the center of Ghent. Comfortable, friendly and prime location! Parking not available. Dog-friendly hotel in Ghent! 🐾
Hotel Gravensteen ⭐⭐⭐ – located just a few steps from the Gravensteen Castle, this is the ultimate place to stay with private parking! 
Hotel Astoria Gent ⭐⭐⭐ – A family-owned and operated hotel in Ghent, you can bet that your stay in one of the 27 stylishly decorated modern rooms just a bit outside of the Ghent City Center will be comfy cozy! While here enjoy a fresh, homemade breakfast before sightseeing!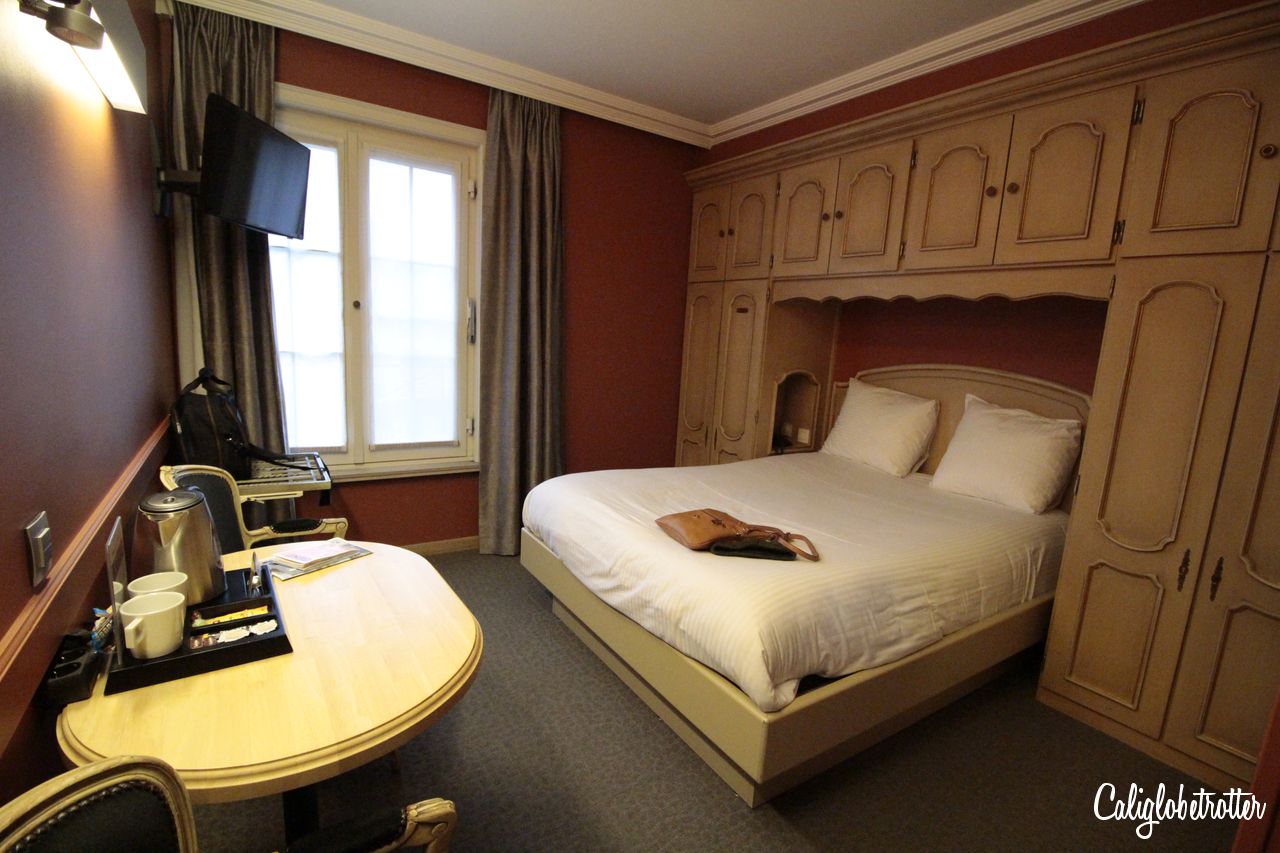 Recommended Hotels in Bruges: 
Hotel 't Putje ⭐⭐⭐ – We stayed at this adorable little hotel on the edge of the Old Town during our first visit and loved it! Just a quick 10 minute walk to the Belfry Tower in the city center. Parking not available!
Hotel Loreto ⭐⭐⭐ – This is a great hotel if you're looking for a last minute hotel in the heart of the Old Town that is comfortable and affordable and has a great breakfast!
What Can You See in 3 Days in Belgium?
If you really only have 3 days in Belgium, then keep it simple and hit up only the best of the best! That means a day in Brussels, a day in Bruges and a day in Ghent! Ghent and Bruges are both within an hour of Brussels making it easy to visit both towns. In that case, I would suggest staying in Ghent because it is exactly in the middle of both Bruges and Brussels, thus cutting your commute in half both ways!
I say only these three towns simply to give you a day in each town. I don't believe in rushing through more than three towns in three days as you'll feel rushed and won't be able to really soak up the fantastic Belgian atmosphere! 
And if there is one thing I can recommend, it's a full-blown GIRLS WEEKEND in Belgium, perfect for a long 3-4 day weekend! Nothing beats fairytale architecture, chocolate and waffles for a girls weekend!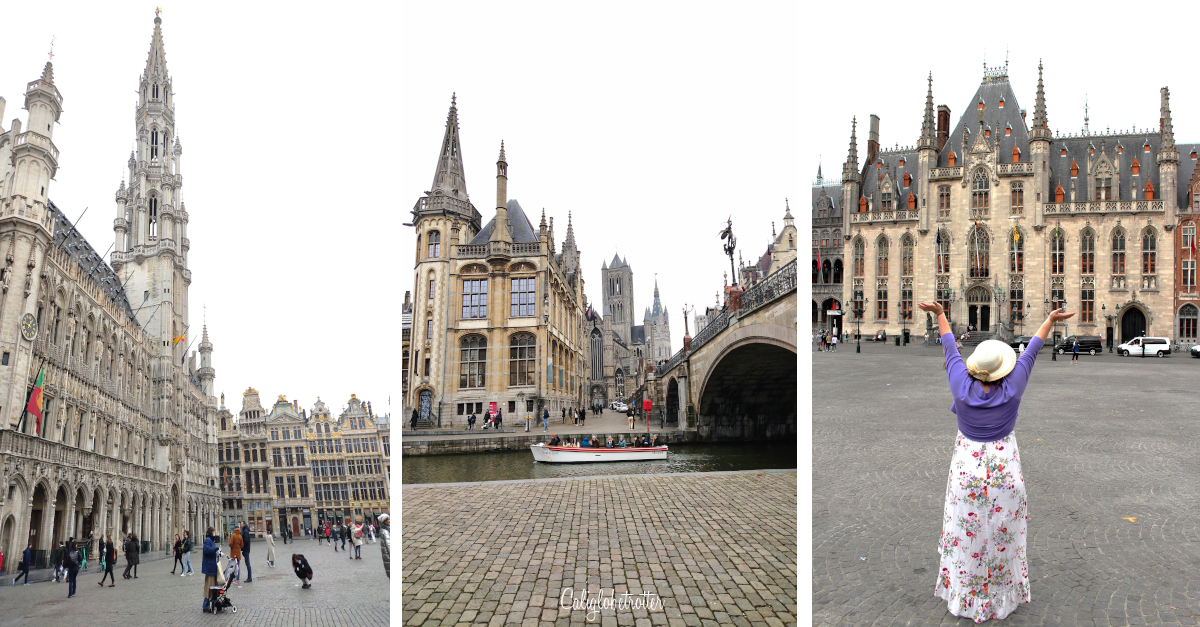 What Can you See in 5 Days in Belgium?
If you want to spend 5 days in Belgium, then I would recommend spending the day of your arrival and departure day both in Brussels, if that is where your hotel is to maximize the time in Belgium. 
Then I could highly recommend a single day in Bruges, Ghent and Antwerp. I would skip the Blankenberge Beach and Leuven entirely. However, if you REALLY wanted to still manage this entire Belgium itinerary in 5 days, you could do a half day in both Bruges and Ghent if you were to get up early enough. During the summer months, sunset is typically around 10pm, so you could technically have enough time to visit both in a single day. I personally feel you would be doing yourself a disfavor by doing that, however, I understand limited time.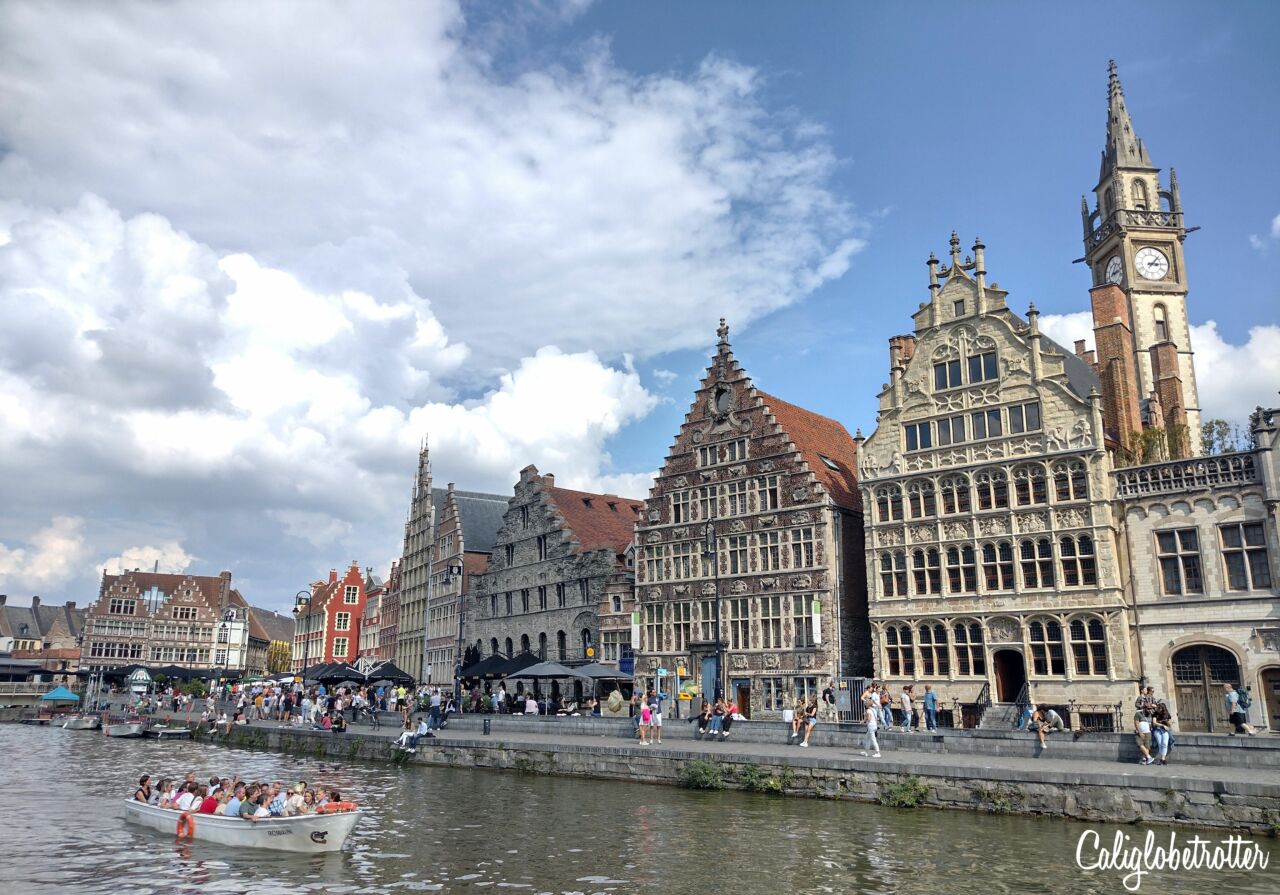 Is Bruges or Ghent better?
If you needed to cut out a town to save time, then there are a few things you need to consider first. 
First of all, what makes Bruges so popular? Well, it's the epitome of old-world charm, it's compact, easily walkable, and automobile traffic is limited. Cobbled stoned streets line adorable gingerbread brick houses along a large expanse of romantic canals. Swans are permanent residents of the town, thus adding a bit more romance to a town that seems like something straight out of a fairy tale book. It's so charming it feels like it can't possibly be real until you see it. But this unimaginable charm comes at a price: mass tourism. Bruges thrives on tourism and during the summer months, it is packed! Accommodation is expensive as well.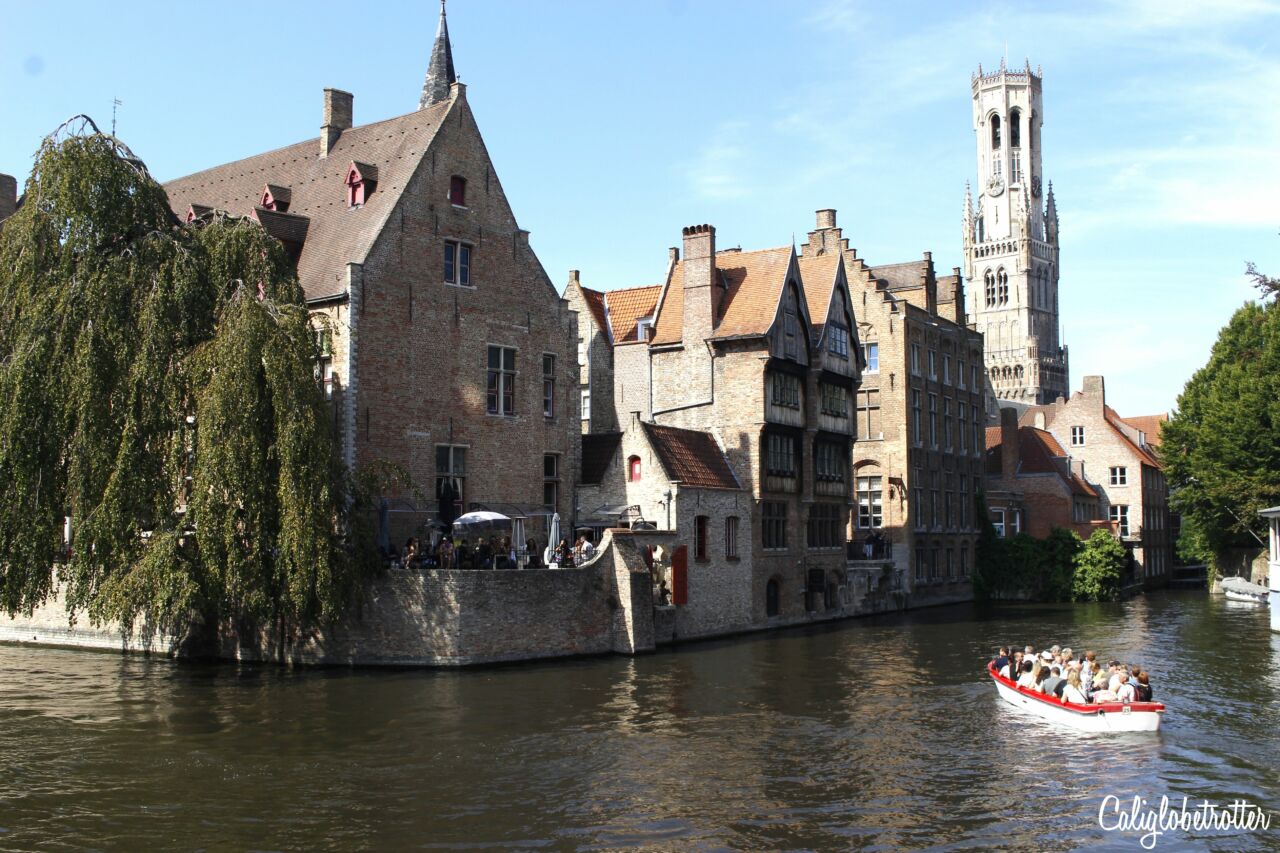 Ghent however, is often overlooked in favor of Bruges. But that's really a shame because it also still holds on to its old-world charm. It's just as romantic with canals through the town which also offer boat rides. But there is more of a city feel here which makes it a great alternative to Brussels or Antwerp. Some of the charm is ruined by buses and street cars running throughout the town, in a highly pedestrianized area, so watch out!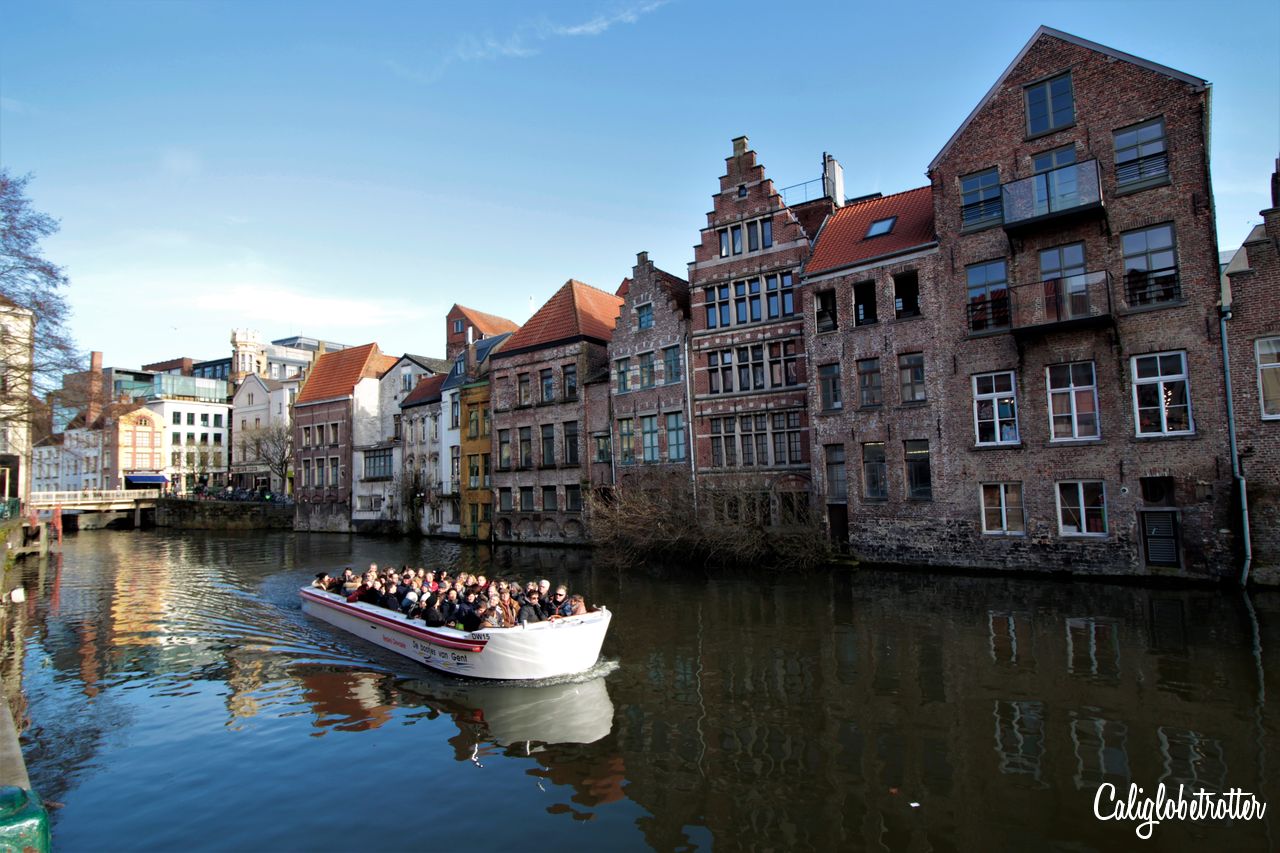 So, if I had to pick between Bruges or Ghent, I would say Bruges 100% is the best option if you could only visit one. 
When to Visit Belgium
Like a good portion of continental northern Europe, the weather here can be quite cold in the winter, thus bringing tourism to a bit of a halt during the winter months. While it can be quite cold, there can be days of warmth from coastal breezes from the Atlantic Ocean. You'll definitely want to bring a heavy winter jacket! 
The downside to visiting Belgium in winter is that the canal tours are not in service. In Bruges for example, the boats only run from early March to mid-November, weather depending.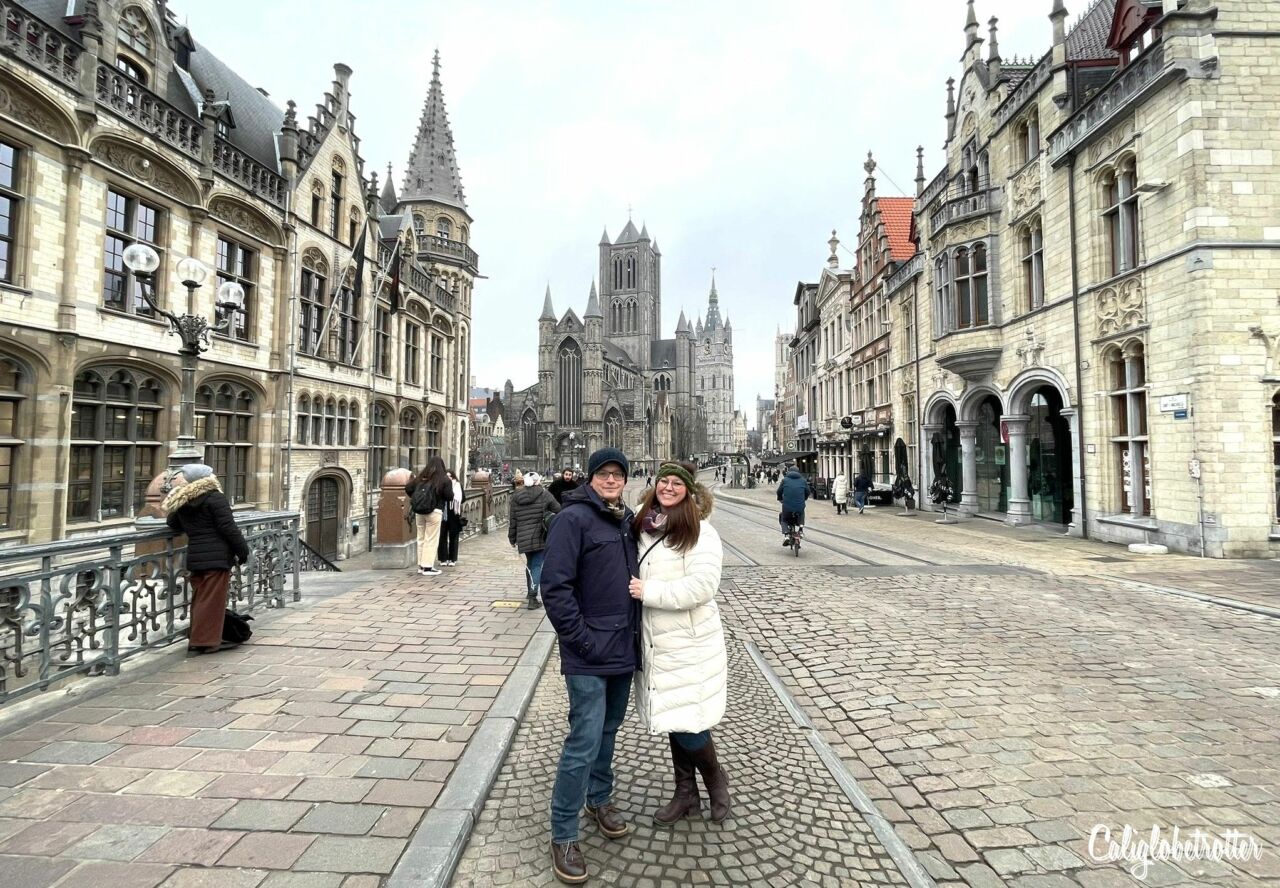 The best time of year to visit Belgium is obviously during the warmer months between May-October, however, Belgium is one of those countries, where the main cities, Brussels, Ghent, Bruges and Antwerp are usually quite lively even during the colder months, which makes it perfect for a year-round visit! But, the best time to visit are always the shoulder seasons of May-June or September-October to avoid summer crowds.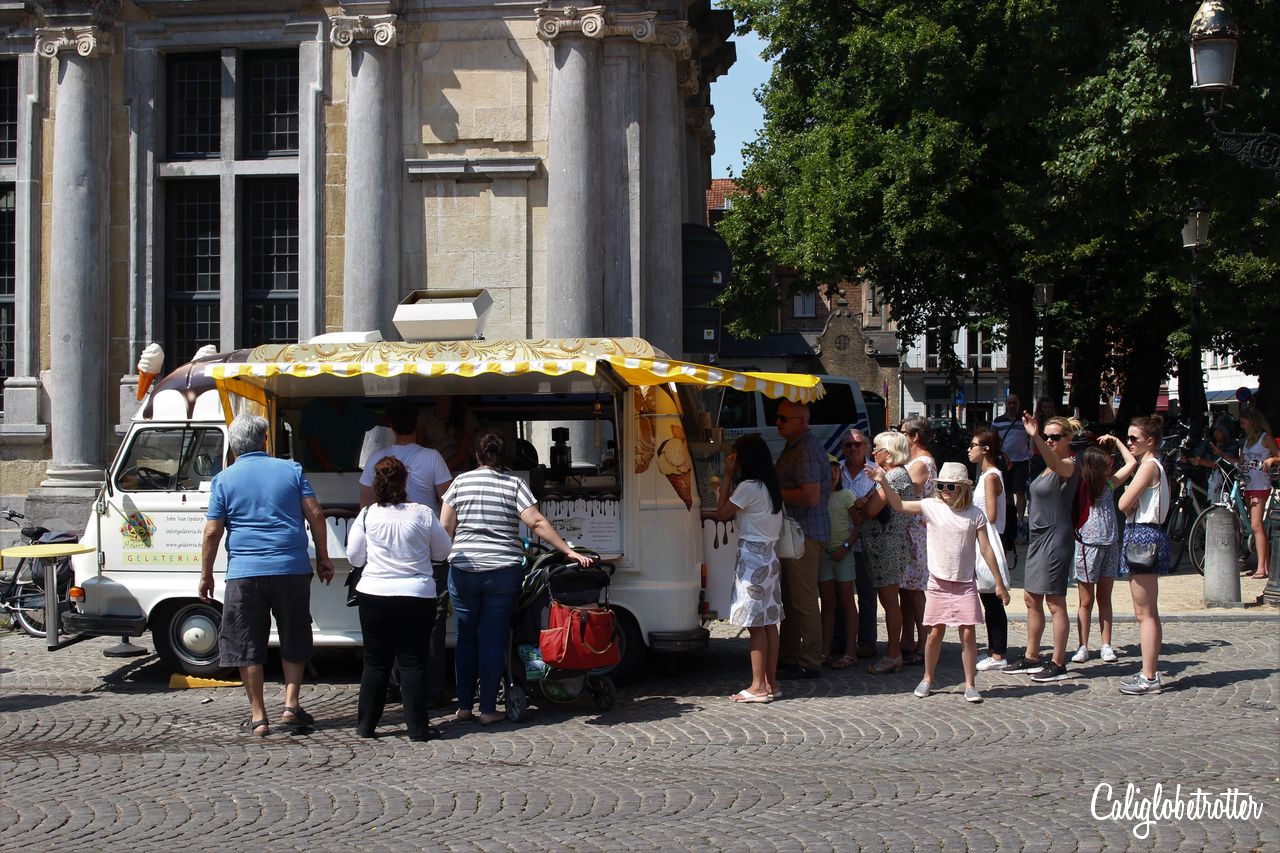 What to Eat in Belgium
The most common foods to eat in Belgium include Belgian frites (French Fries that aren't French and will change your life!), and eating at a fritterie where everything is deep fried, comes with sauces and frites.
You'll definitely want to try some Belgian mussels if you love seafood as it's a Belgian classic, however, if you're like me, then perhaps a Vol au Vent is more up your alley, which is a puff pastry with a creamy mushroom sauce.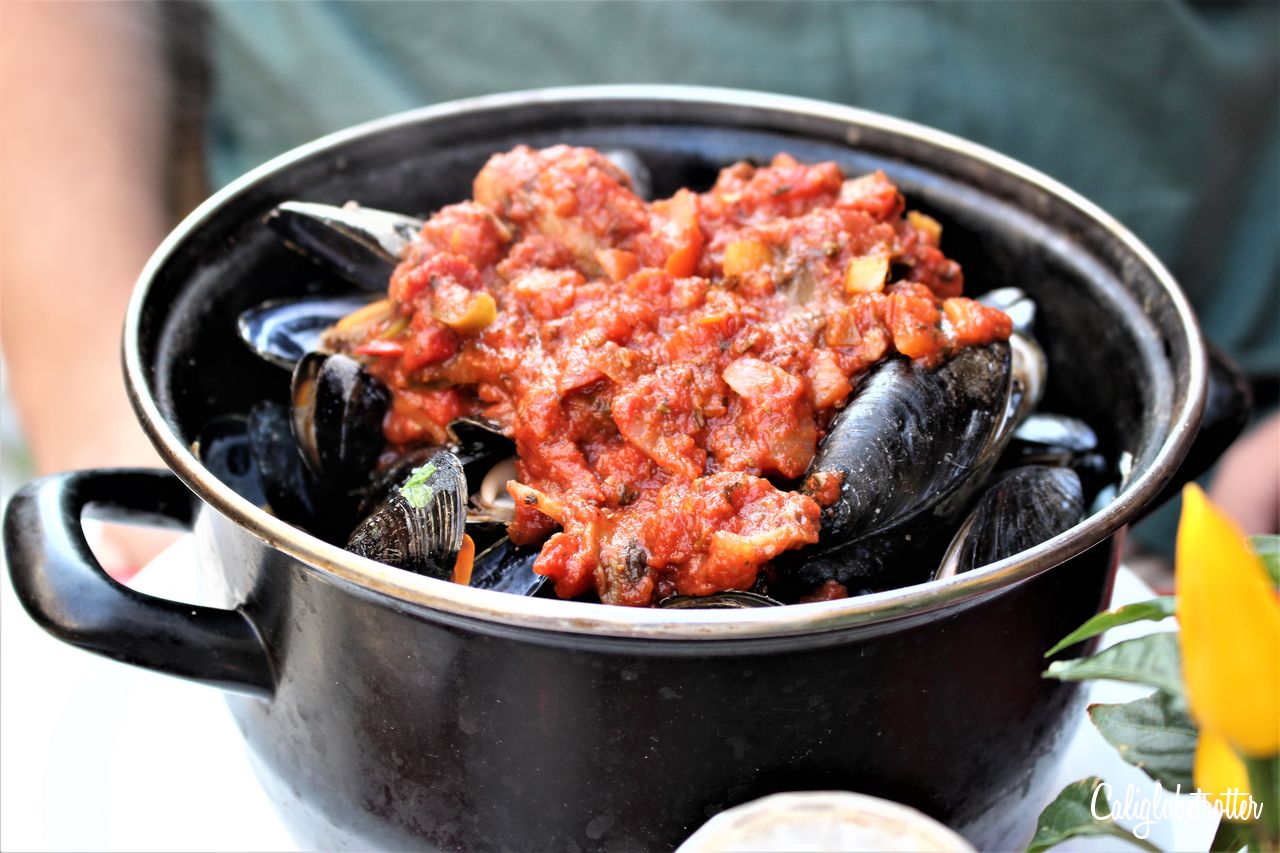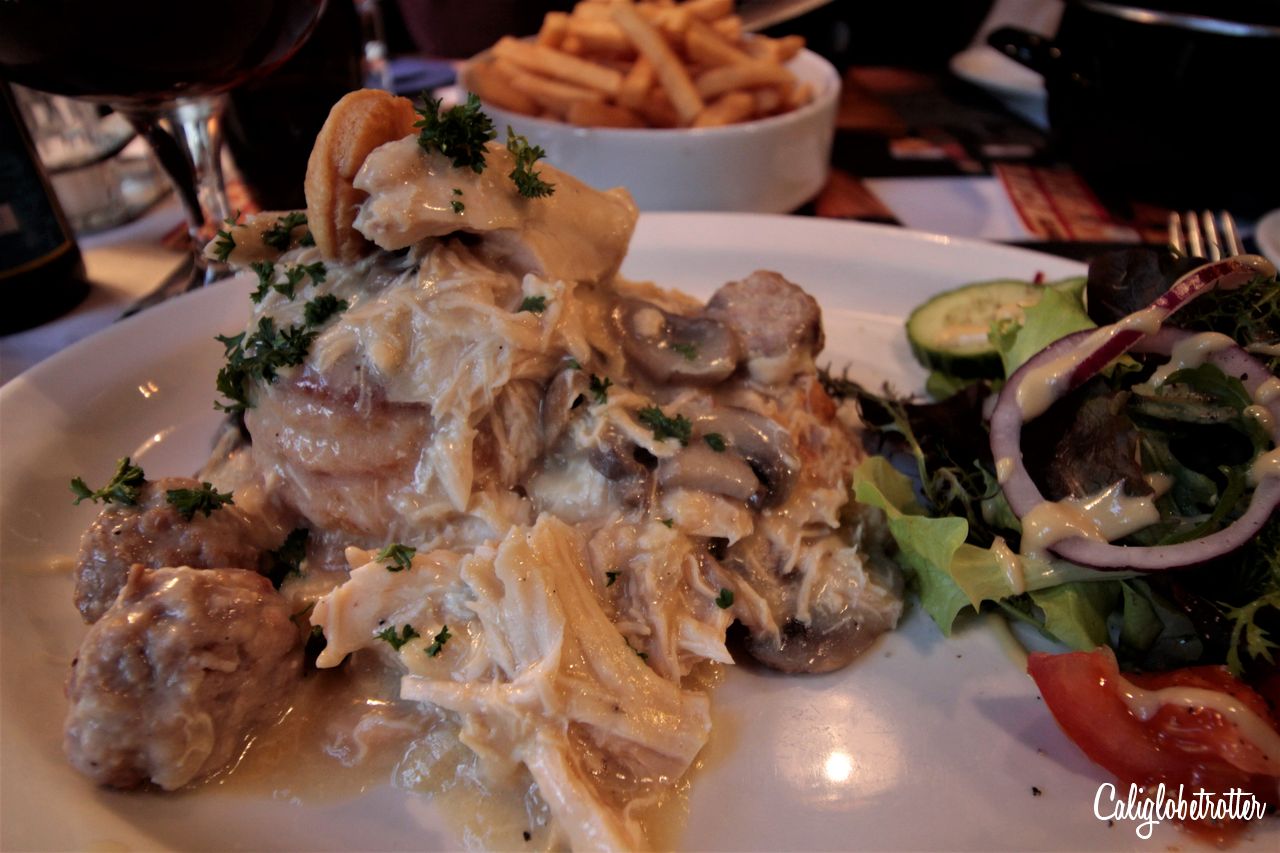 Of course, you'll want to learn the difference between a Liege waffle and a Brussels waffle. I personally find that the Liege waffles to be wayyyy more delicious, whereas a Brussels waffle are almost more what we are accustomed to in the US. (Brussels waffles are always perfect rectangles). Waffles come with a variety of different toppings, the most popular is usually nutella/melted chocolate but my personal favorite is with Speculoos (Gingerbread) and is usually Lotus cream. 
You'll definitely want to brush up on some Belgian beer terminology, like learning about Trappist beers, as while in Belgium, you're going to want to try as many beers as possible, with your health in mind of course! 
Belgian Chocolate. Not more needs to be said other than chocolate. Get it while you're here and try everything! Melt in your mouth, heavenly-divine rapture!
Last but not least, you'll definitely want to try a classic Flemish stew, especially for those cold days!
Now, for the good stuff!
Day 1: Exploring Brussels
Click here for my full travel guide to Brussels!
For me personally, a good portion of Brussels can easily be seen in a single day. While there are many things to do in Brussels, when I visit with friends or family, I always show them the main sights to see in Brussels. I personally, don't feel the need to explore Brussels more than a day unless I want to attach on a food, beer or chocolate tour of Brussels or perhaps a street art tour of Brussels which might take up more time. Of all the cities in Belgium, Brussels is the least exciting for me. But then again, I'm not much of a BIG city kinda girl.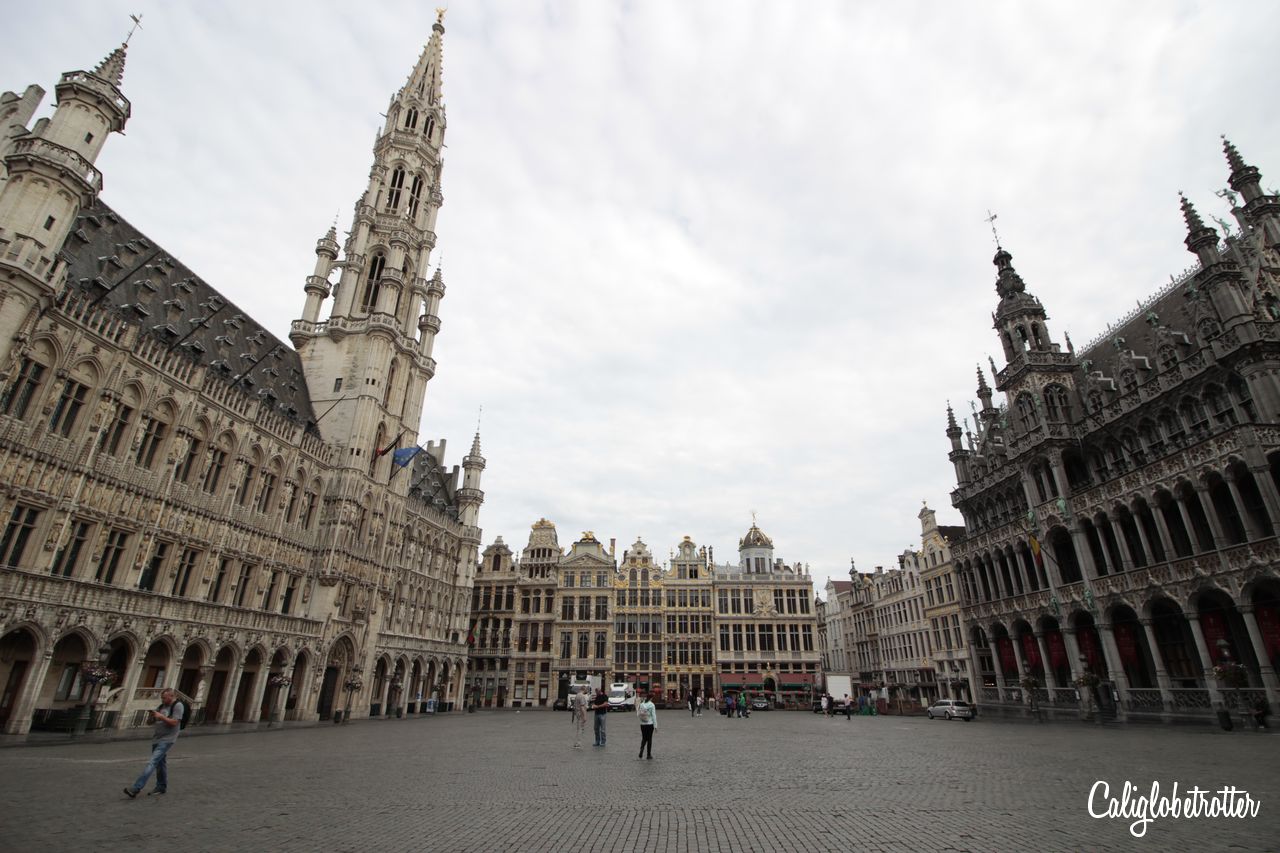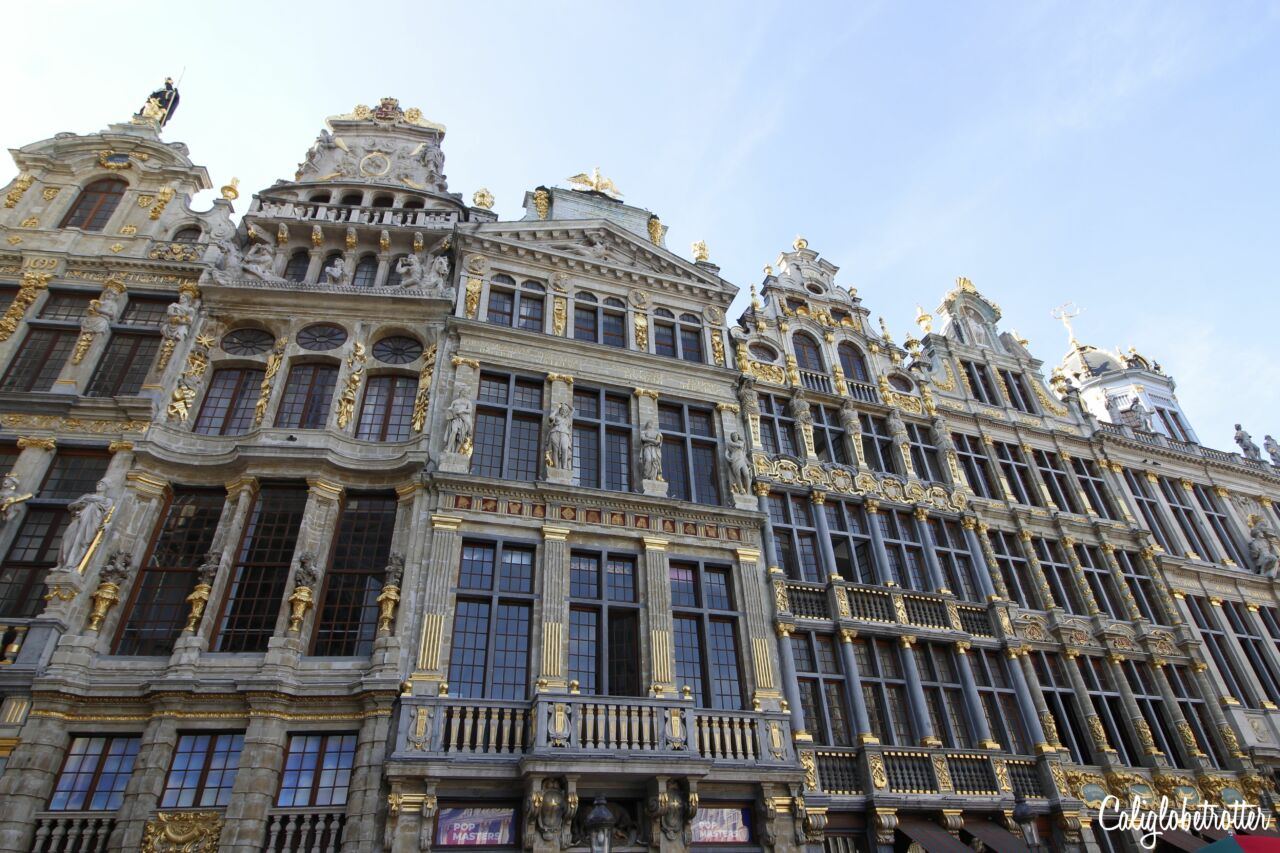 The best sights to see in Brussels are all located predominantly within the City Center district. You'll definitely want to begin your sightseeing in Brussels at the Grote Markt (Grand Place) which is the stunning main square, a UNESCO World Heritage Site encircled with 17th century buildings, cafes and restaurants. Here you'll find the one of the most beautiful City Halls in Europe, also known as Hotel de Ville, which is THE most visited and popular attraction in Brussels. Visit early in the morning to avoid crowds or at blue hour in the evening and chill like locals and visitors. You'll want to prolong your time here, enjoy a drink here, grab breakfast here to soak up the stunning architecture here. Here, you'll also find the tourist information center.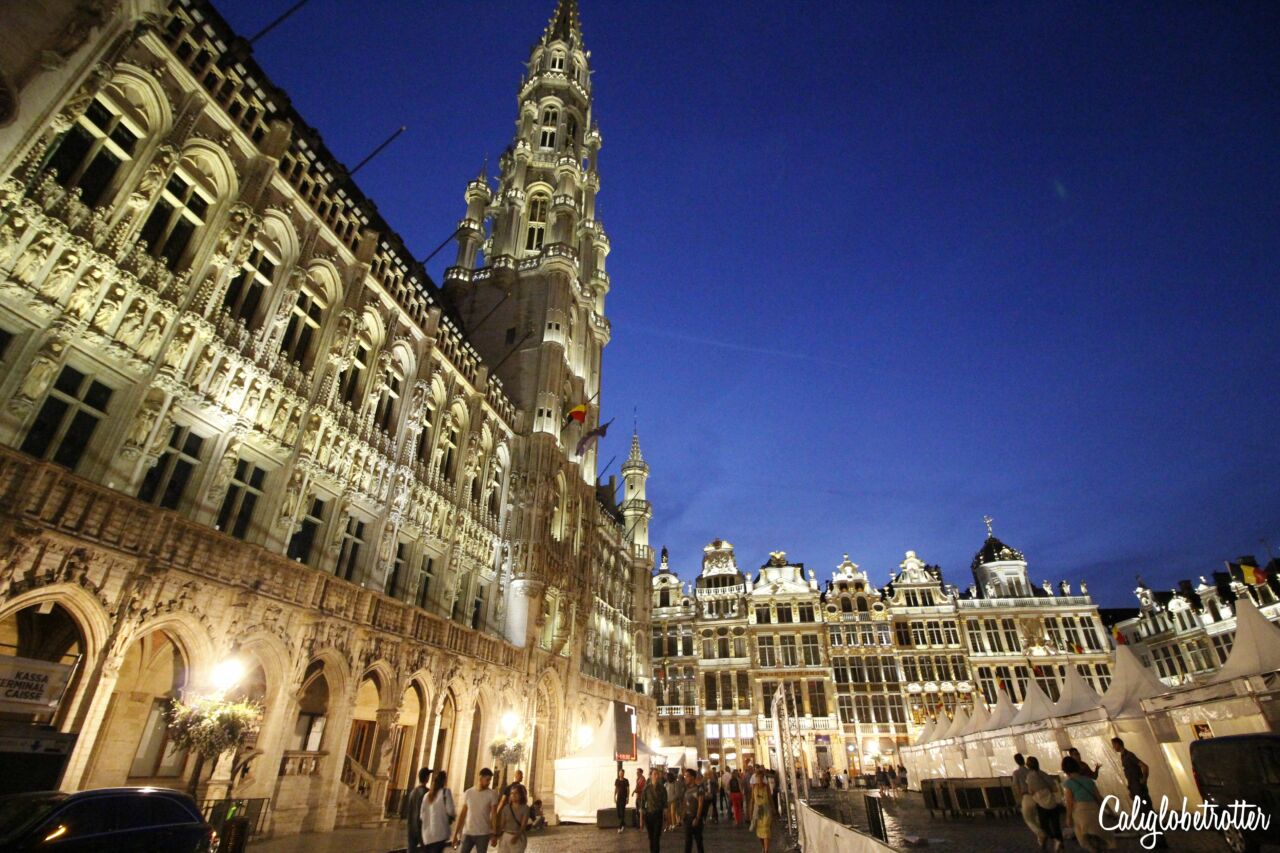 Another must-see sights to see in Brussels include the Manneken-Pis, the ultimate symbol of Belgium which you'll see everywhere and on everything! If you really have time, you can visit the Musee de la Ville de Bruxelles to learn more about this fascinating little man peeing and admire over 100 little costumes that he is occasionally seen wearing!
Other important places of interest in Brussels include the Cathedral Sts-Michel-et-Gudule, dating back to 1226 but wasn't actually granted cathedral status until 1962! The Palais Royale, which is the royal palace of the Belgian monarchs which was built in the 1820s, and even the headquarters of the European Union!
Be sure to stroll through the Galeries St-Hubert where you'll find many Belgian chocolatiers selling up their delicious chocolate truffles.
Further out, be sure to visit the Parc du Cinquantenaire, the Atomium, and the Mini-Europe Park or if you're extra willing, take the time to pop by Audrey Hepburn's Birthplace!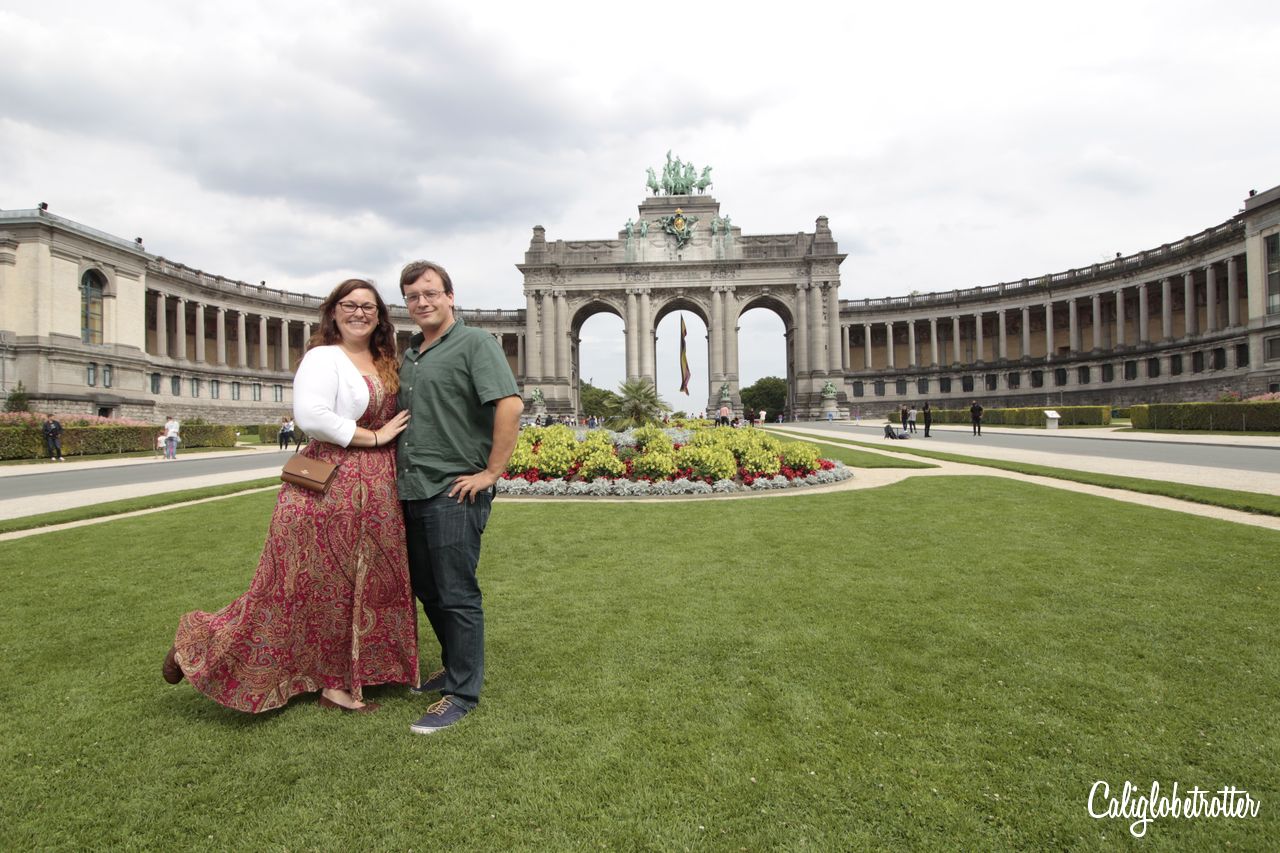 Where to Eat in Brussels:
Chez Leon, my Absolute FAVORITE Restaurant is always a good choice for the best Belgian cuisine, located along the famous Rue des Bouchers, which is lined with many restaurants and bars. We've eaten at Chez Leon every time we go to Brussels! Be sure to order the Stoemp Mixte, the Vol au Vent or any of the dishes of Mussels!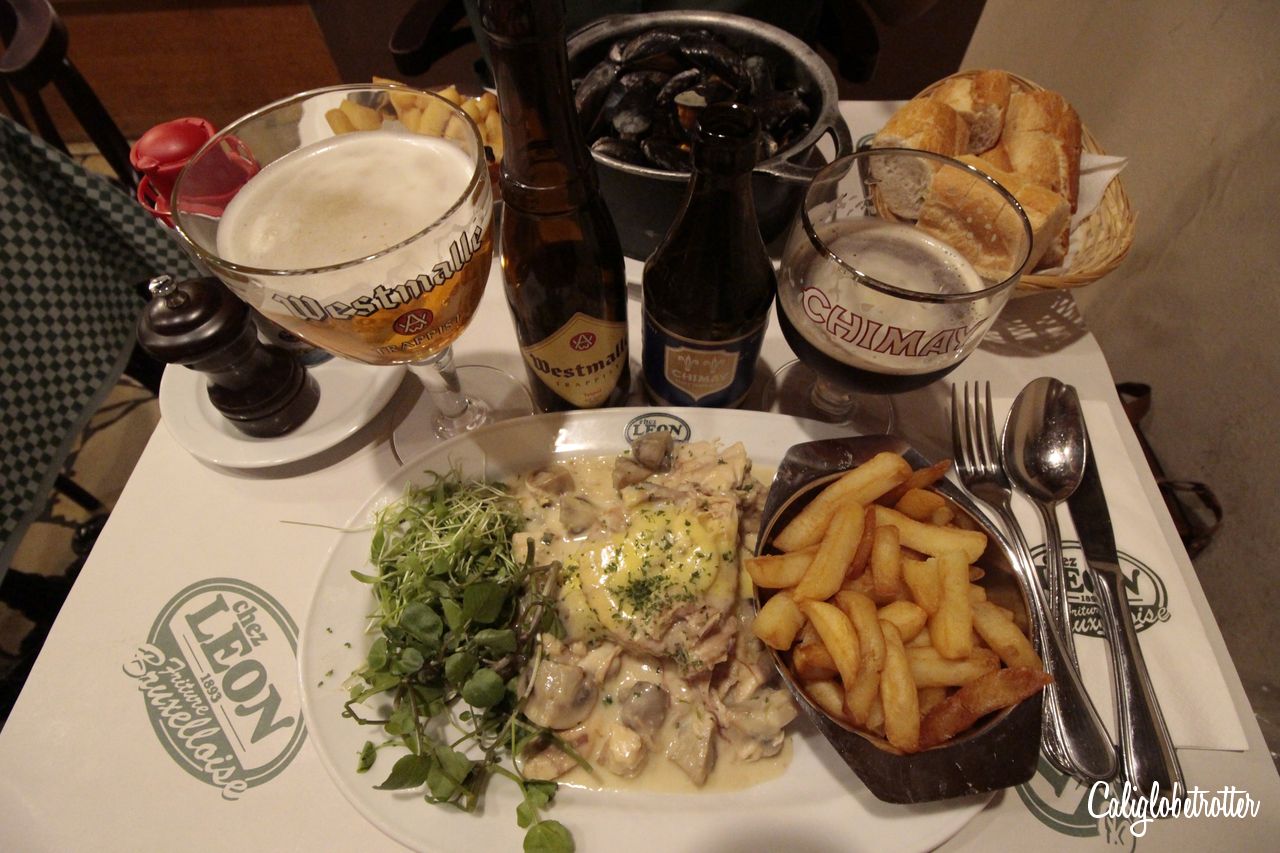 Major Events in Brussels
Ommegang – always the first Tuesday-Thursday of July. This event includes 1,400 participants in one of Europe's largest Renaissance fairs!
Flower Carpet (Tapis de Fleurs) – every other year, on even numbered years the Grand Place turns into a colorful carpet made entirely from 1 million flowers for two weeks, every August!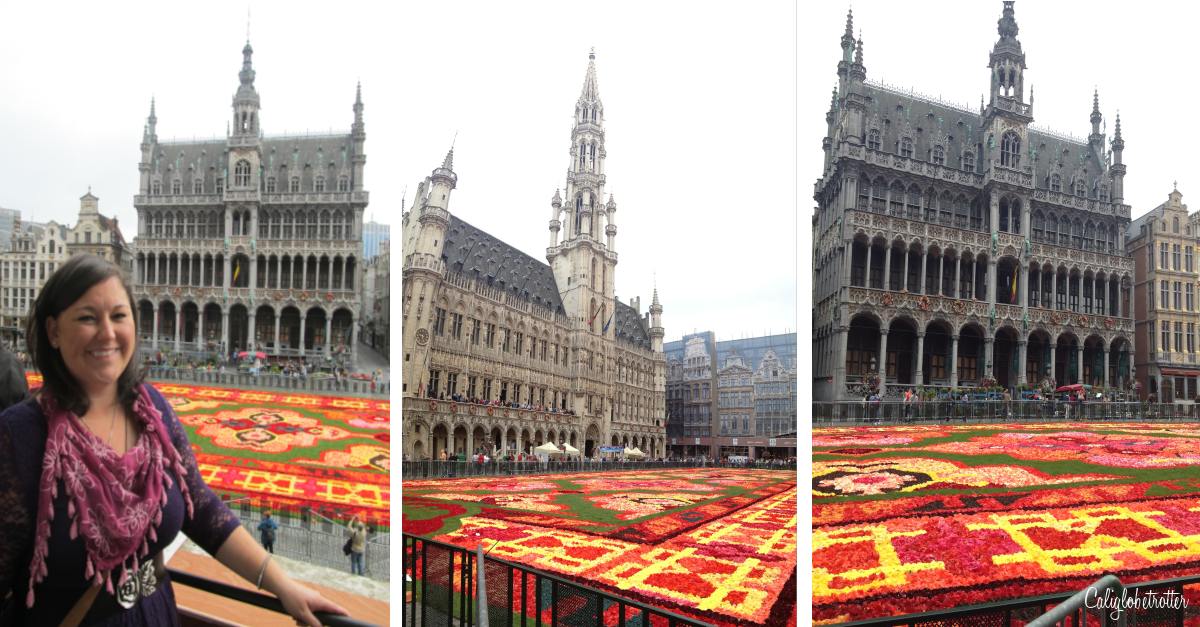 Belgian Beer Weekend – always the first weekend in September, the Grand Place turns into a sprawl of tents to sample many of the 3,000+ Belgian beers!
Brussels Christmas Market – yes, Belgium has Christmas Markets too! Here, there are over 200 chalets selling goodies and vin chaud (Glühwein) (hot mulled wine), a Ferris wheel, Christmas lights, an ice skating rink and more!
Where to Drink Beer in Brussels:
The Delirium Cafe – if you're a beer lover and want to try some of the best beers in Belgium, then you won't want to miss the best beer bar in Brussels! Here, you'll find a sprawling network of endless corners to sit back and enjoy a beer. Be sure to try the classic, Delirium Tremens, the beer that makes reference of seeing pink elephants from hallucinating after an excessive amount of alcohol. Hence the name. Nearby, you'll find the female version of the Manneken-Pis, called the Jeanneken-Pis.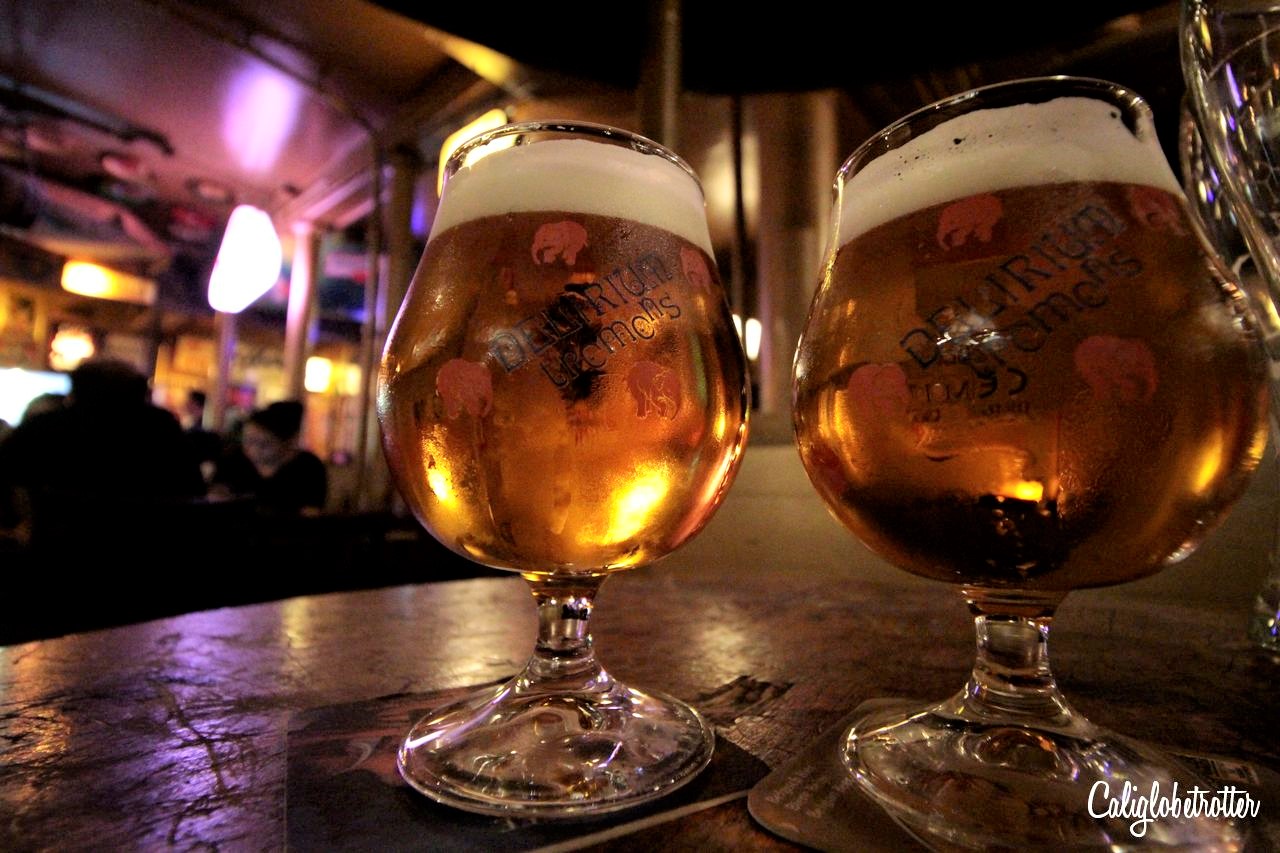 Day 2: Bruges – Day Trip to Bruges from Brussels
Click here for my full list of things to do in Bruges!
Ahhh Bruges! The epitome of all fairytale towns in Europe and nicknamed "Venice of the North"! It's one of the most popular canal towns in Europe to visit! Within an hour by train from Brussels, you can meander this charming, cobblestoned town!
If there was ONLY one town you HAD to visit in Belgium, then it would be Bruges, without a doubt! Indescribably beautiful, romantic, historic and stunning. Bruges is a town that you can easily see the whole place in a single day, but it's just so gosh darn adorable, you may want to stay longer!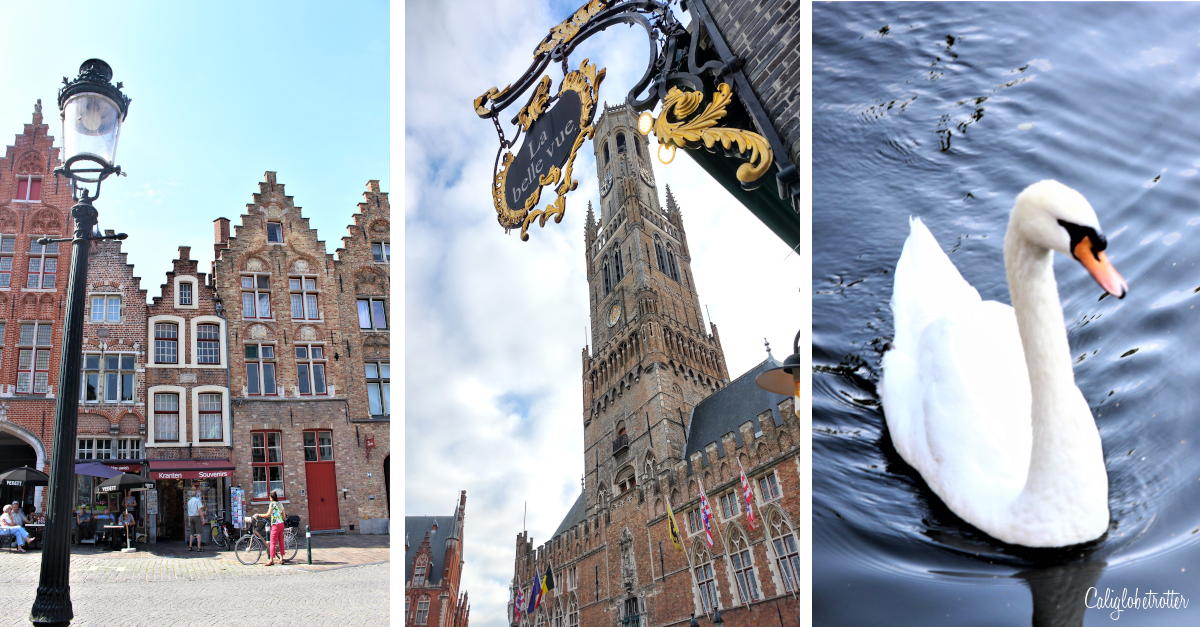 What began as a 9th century fortress to defend the coast from the Vikings, Bruges evolved into one of the most sophisticated cities in Europe due to its international trading hub. 
Once again, you'll want to start your sightseeing with Bruges' main sights, such as the Grote Markt, the main square. Here, you'll find the Belfort Tower (or Belfry Tower), which is about 14€ for adults to go up the 83m for a stunning panoramic view of Bruges and is another UNESCO World Heritage Site. You'll also enjoy the colorful array of 13th century gabled houses, iconic to Bruges. From here, you can catch a horse-drawn carriage ride which will take you all around and through Bruges, offering you an alternative experience of Bruges.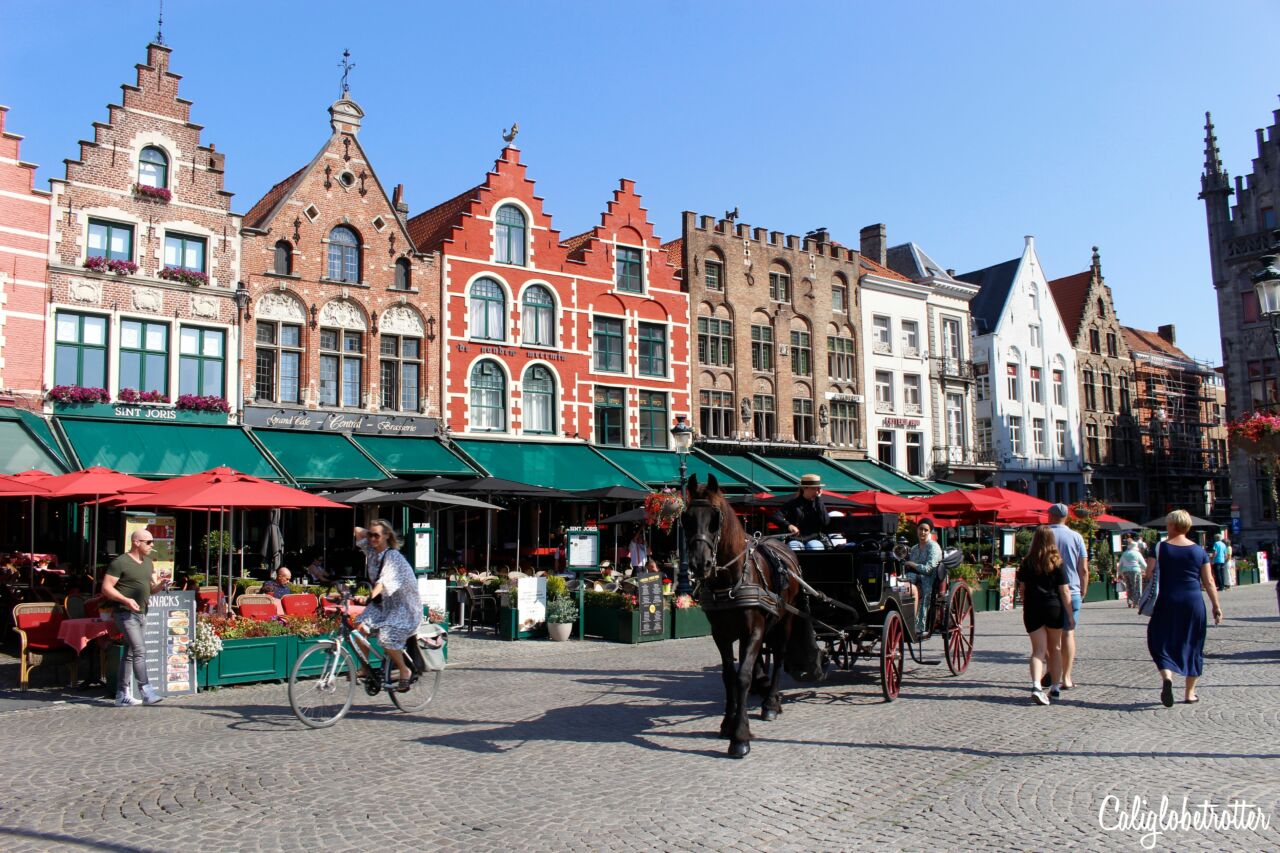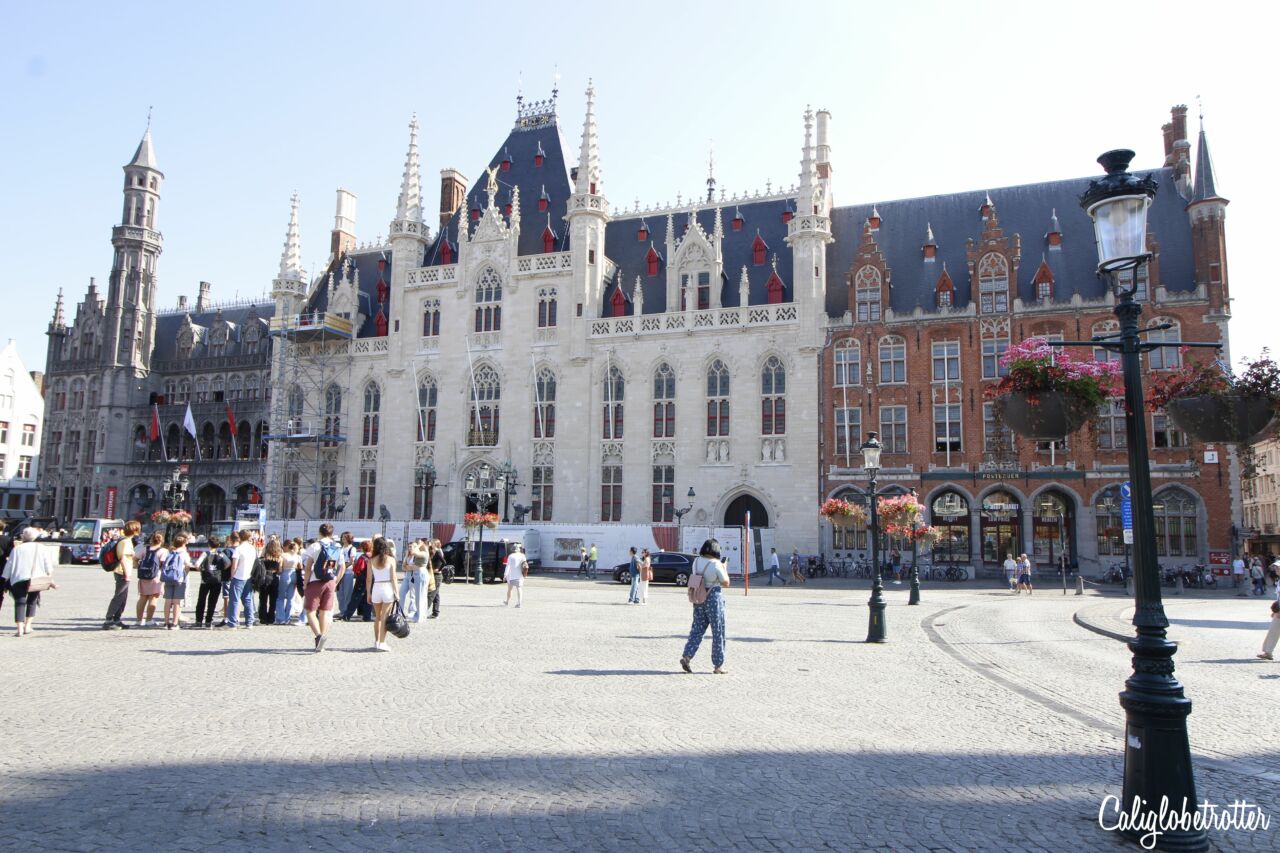 Move on along and you'll come to yet another glorious square, where you'll find the Burg and the Basilica of the Holy Blood and as well as the Stadhuis (City Hall) which once again, makes the list of Europe's most beautiful city halls. There are some quaint shops to meander through here between the two main squares and next to the Basilica.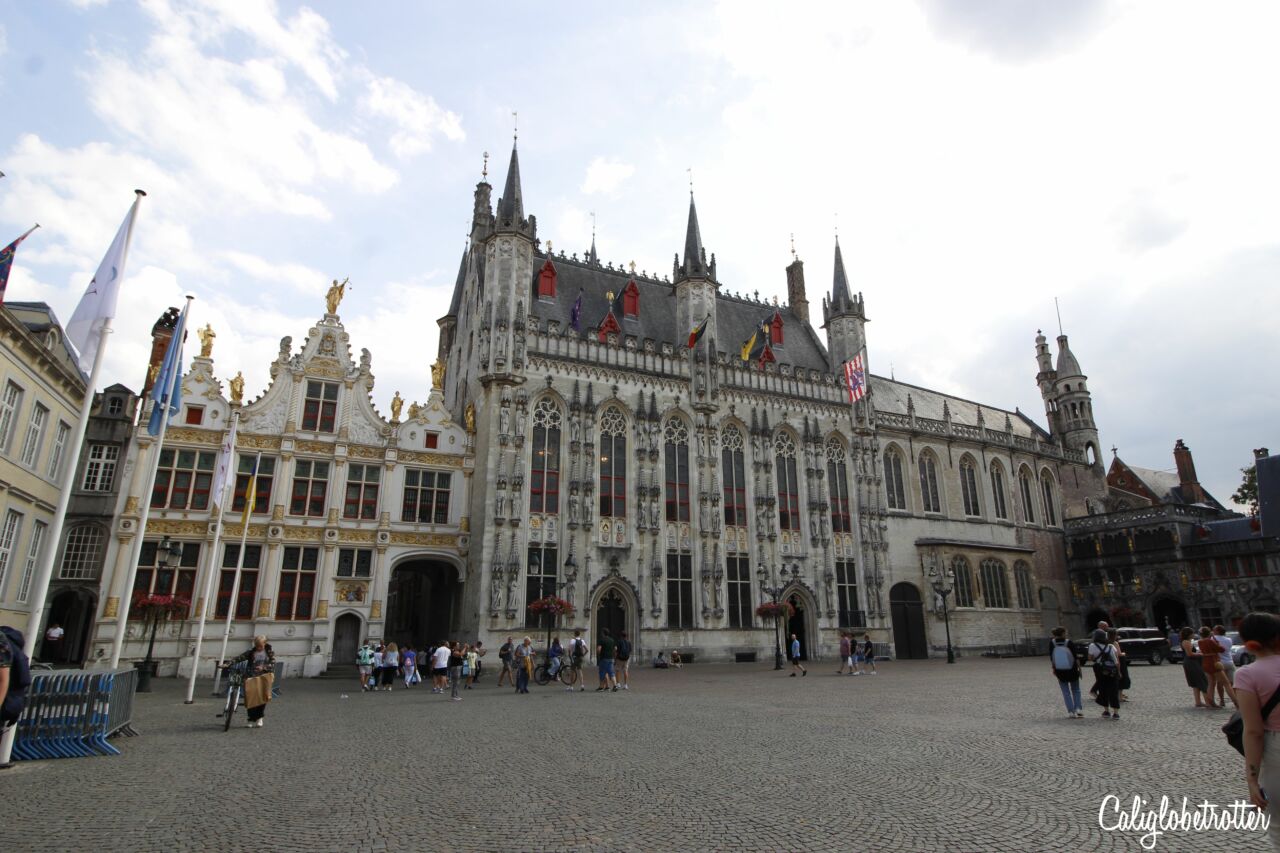 You'll eventually wander through a little arch at the Burg which will lead you to the Vismarkt, where you'll find an open-air market which today mostly sells art. Caddy-corner, you'll find the cutest little lace shop in Burges where you can stock up on some beautiful made in Bruges lace!
One of the absolute best things to do in Bruges is a boat tour of the canals which offer you some of the best views of the town! Except to pay 12€ for adults and 7€ for children. Boat tours typically last about half an hour, which run mid-March to mid-November.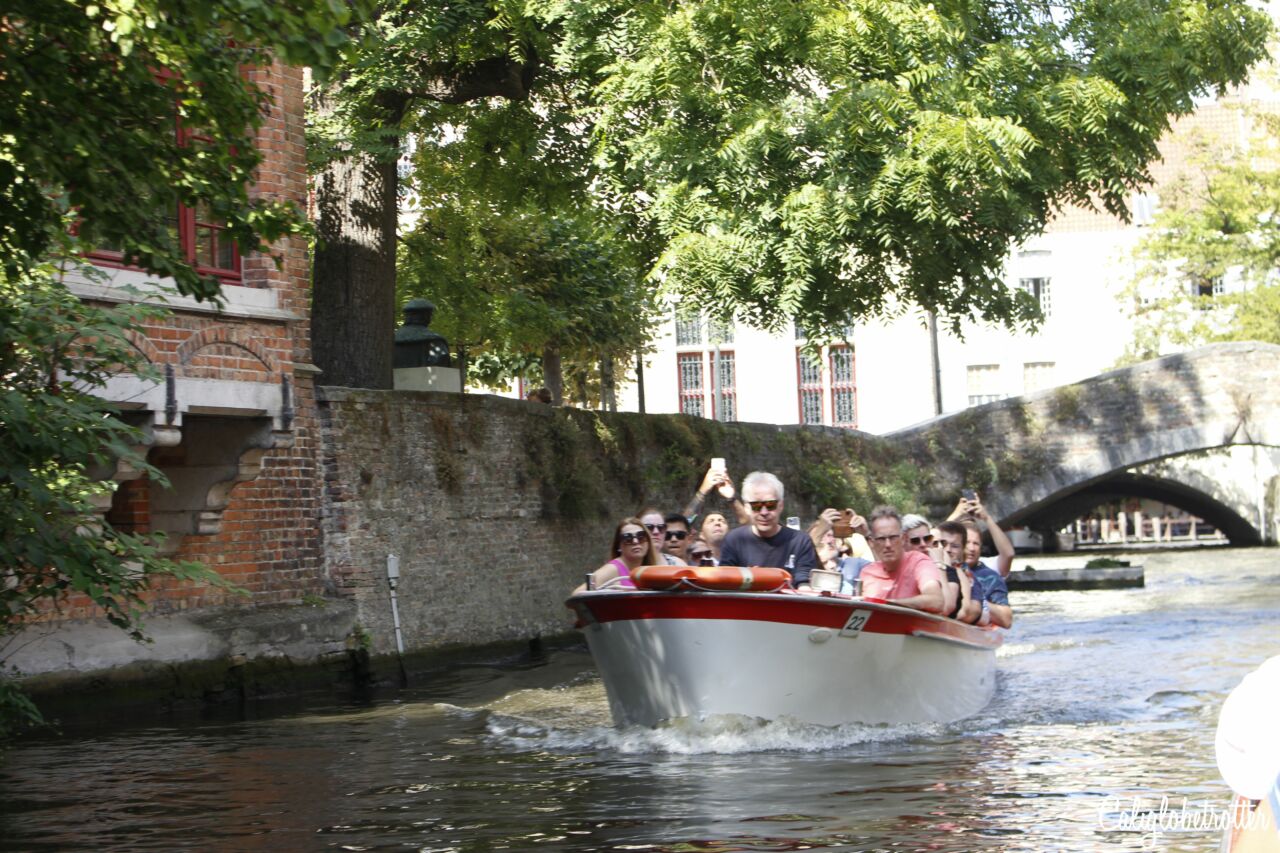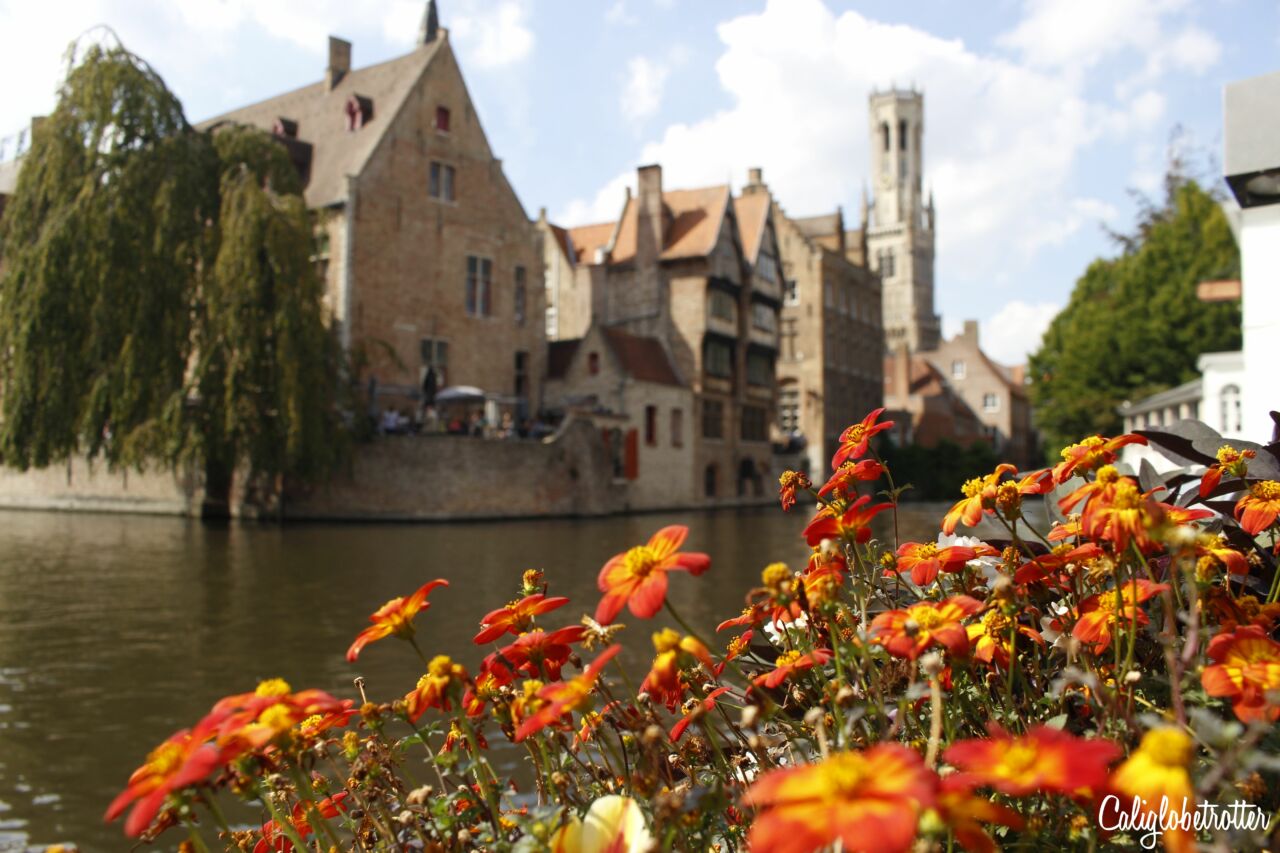 If you've ever read the book or watched the movie Monument Men, then you'll definitely want to pop into the Welcome Church of our Lady which is home to the famous Madonna and Child, which the Nazis wanted to steal. 
If you have extra time, then I highly suggest visiting the edge of the old town, where you'll find several of the last windmills of Bruges, and nearby you'll also be able to visit the Bruges Lace Museum.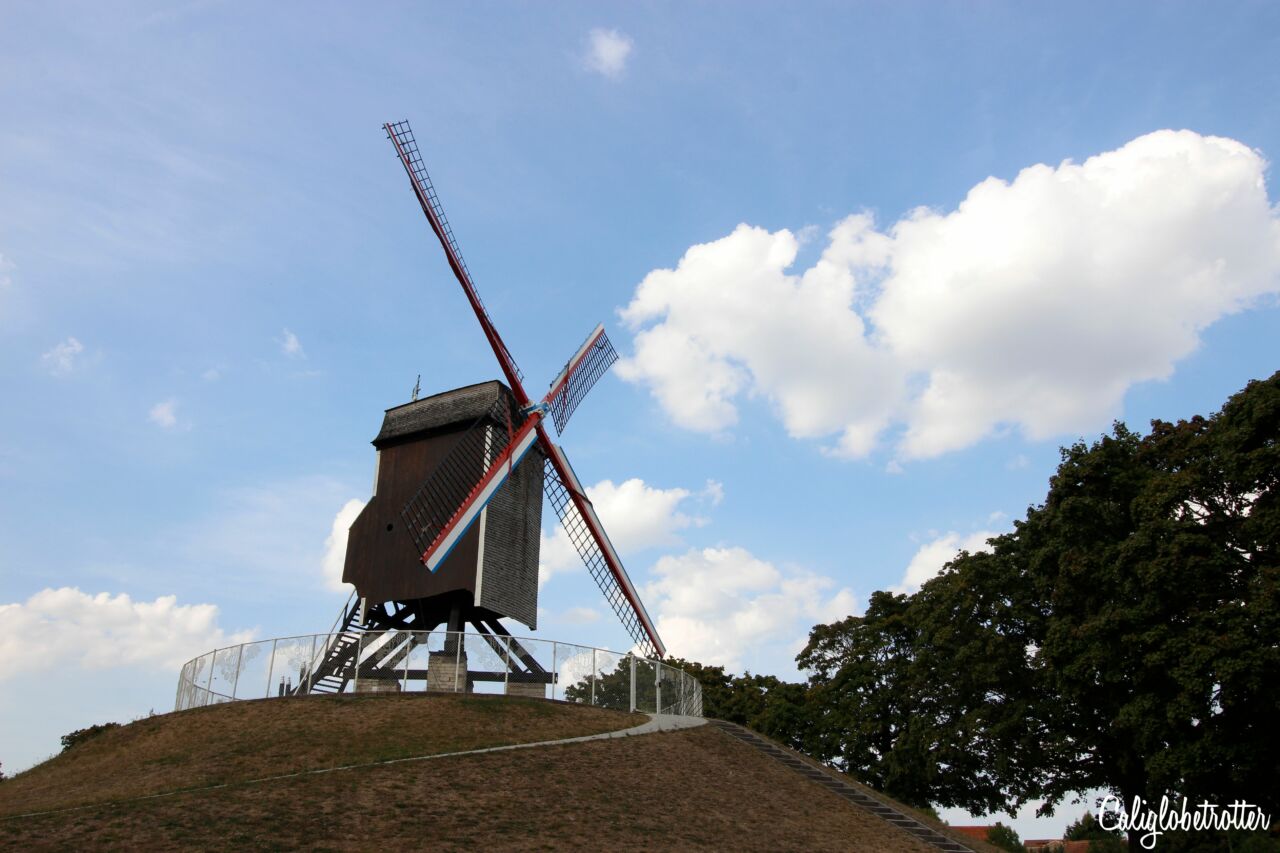 Where to Eat in Bruges:
Casa Patata is our favorite place for the best Belgian fritterie in Bruges! When in Bruges, you absolutely must eat at least once at a fritterie, a local food joint where everything is deep fried – the burgers, the sausages, the frites, the mozzarella sticks, the chicken sticks and so much more! Always ask for the ANDALOUSE sauce! It's the best!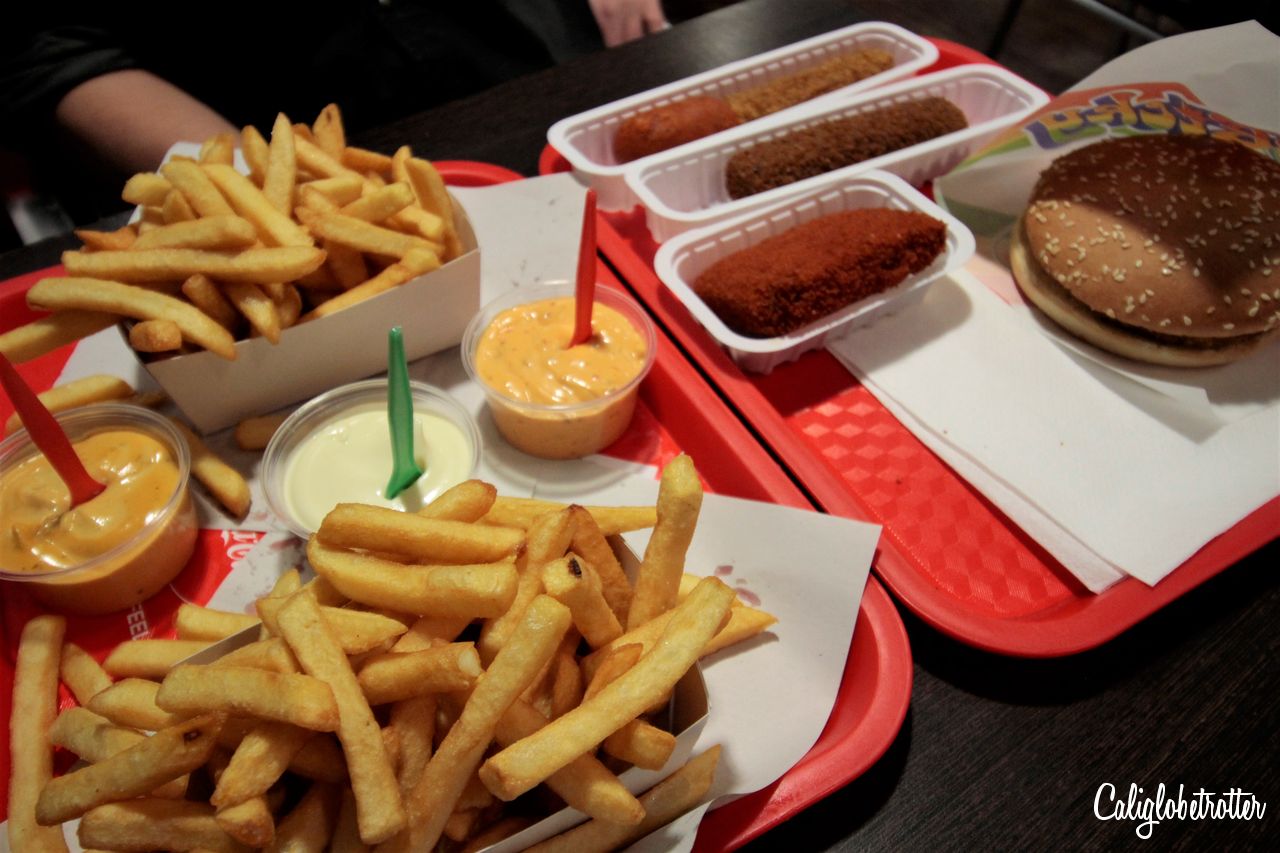 Major Events in Bruges:
Where to Drink Beer in Bruges:
The Duvelorium Grand Beer Cafe, you'll have fantastic views of the main square, the 17th century houses and the Belfort Tower! It's located upstairs and don't be shocked by the amusements on the way up!
One of my favorite things to do every time I'm in Bruges is to head to the famous Beer Wall of Bruges, which showcases over 400+ bottles of beer and corresponding beer glasses. While this is awesome, at the end, you'll find the 2Be Bar, a great place to enjoy a flight of Belgian beers overlooking the canals. Here you'll find many beers on tap as well as bottle beers. My favorite? The Chocolate Quad from Barista! Yes, a Belgian Chocolate Beer! 
The Bier Palais – technically it's a shop with loads of beer and corresponding glasses, but beyond the store is a makeshift biergarten to sit and sip some of the beers! (Address: Katelijnestraat 25, 8000 Brugge, Belgium)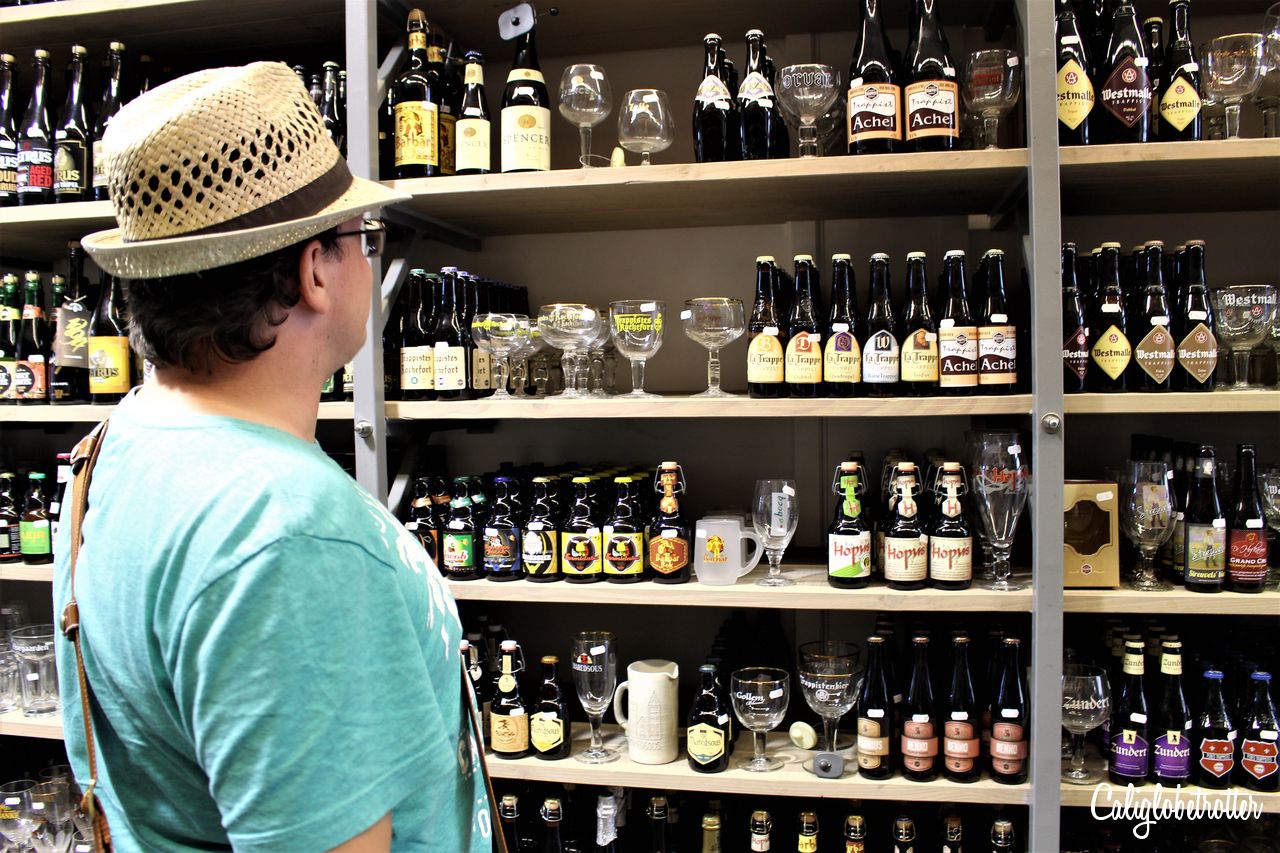 Day 3: Blankenberge Beach – Day Trip to the Belgian Coastline
Click here for my full guide to the Blankenberge Beach!
Since you're already so close to the Belgian coastline, you might as well take a peak! You could turn your trip to Bruges into an overnight stay if you wish, or plan to make Bruges your homebase for the 3-7 days. You wouldn't normally think of going to Belgium to enjoy the beaches, but if the weather is just right during the warm summer months, you can have a very enjoyable day at the beach, without the Italian beach crowds.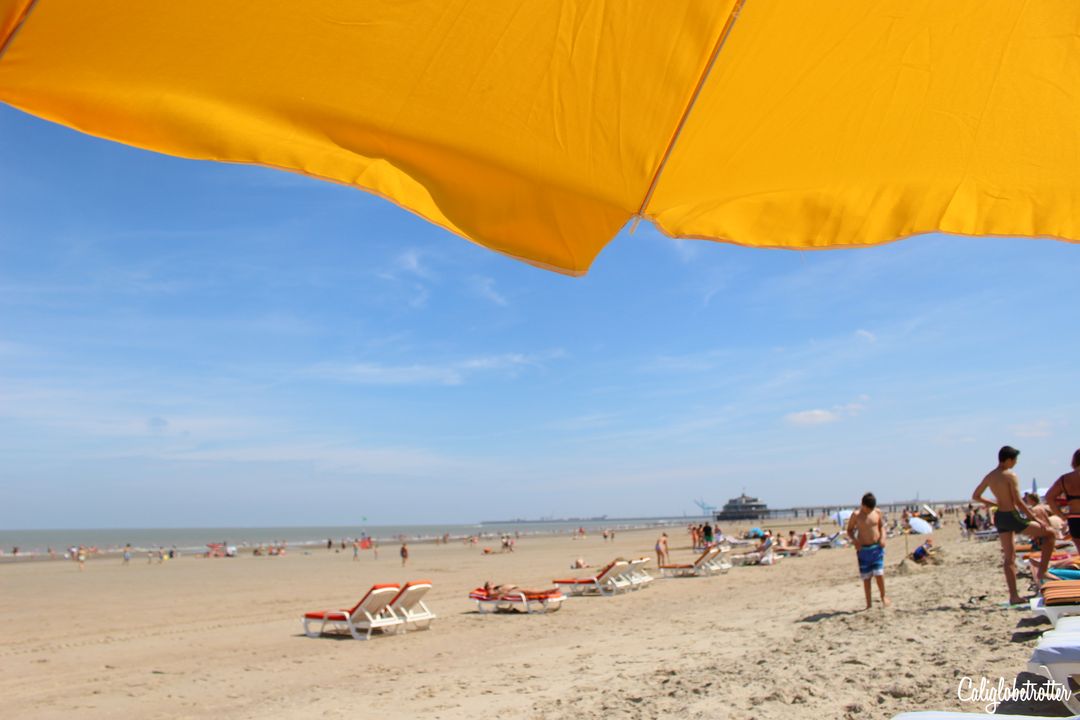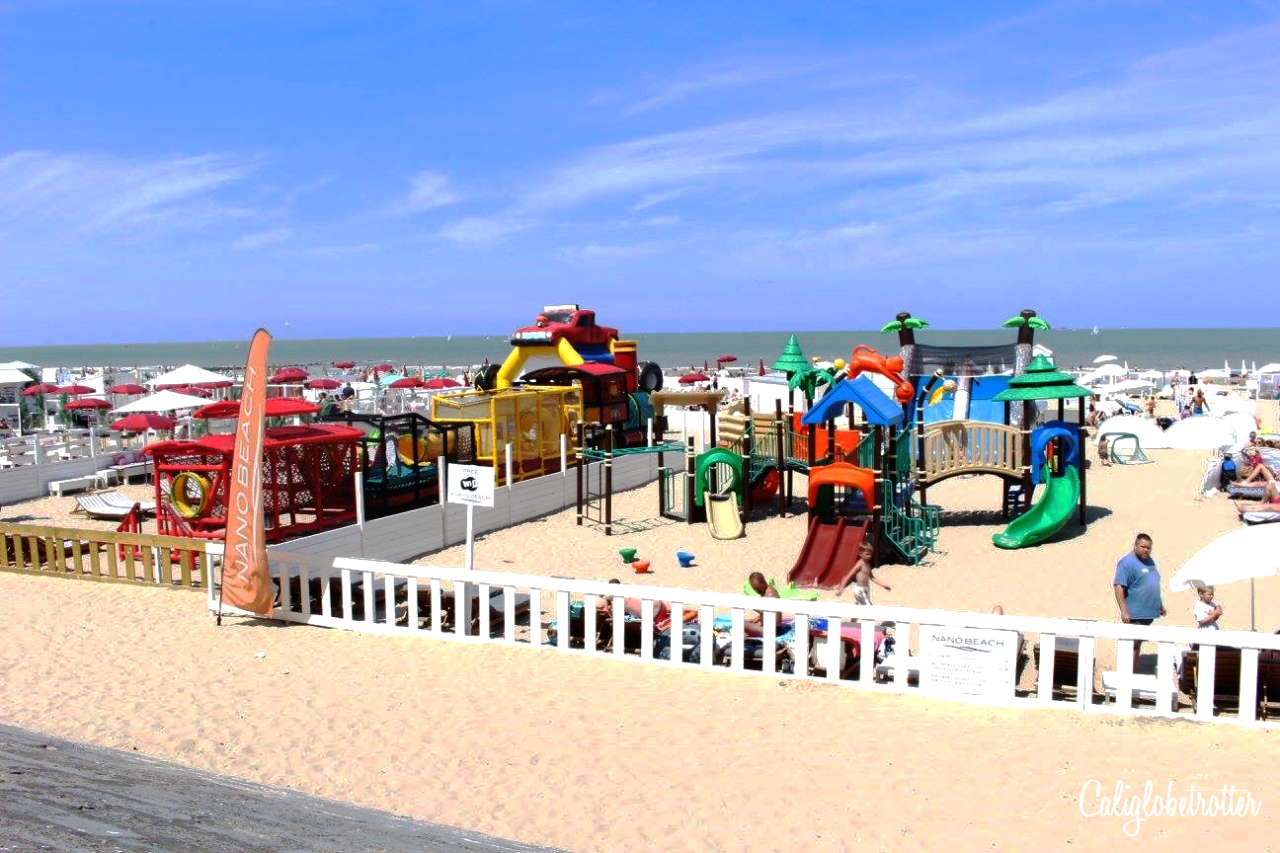 Just a short 25 minutes away from Bruges by car, it made for one of the best day trips from Bruges we've had! Lined along soft sandy beaches are large sections of prime sunbathing property and is one of West Flanders' best kept secrets! These beaches are family friendly with plenty of beach amusements for the little ones, as well as lots of padded sun loungers to rent for the day for 7€, plus an additional 5€ for an umbrella.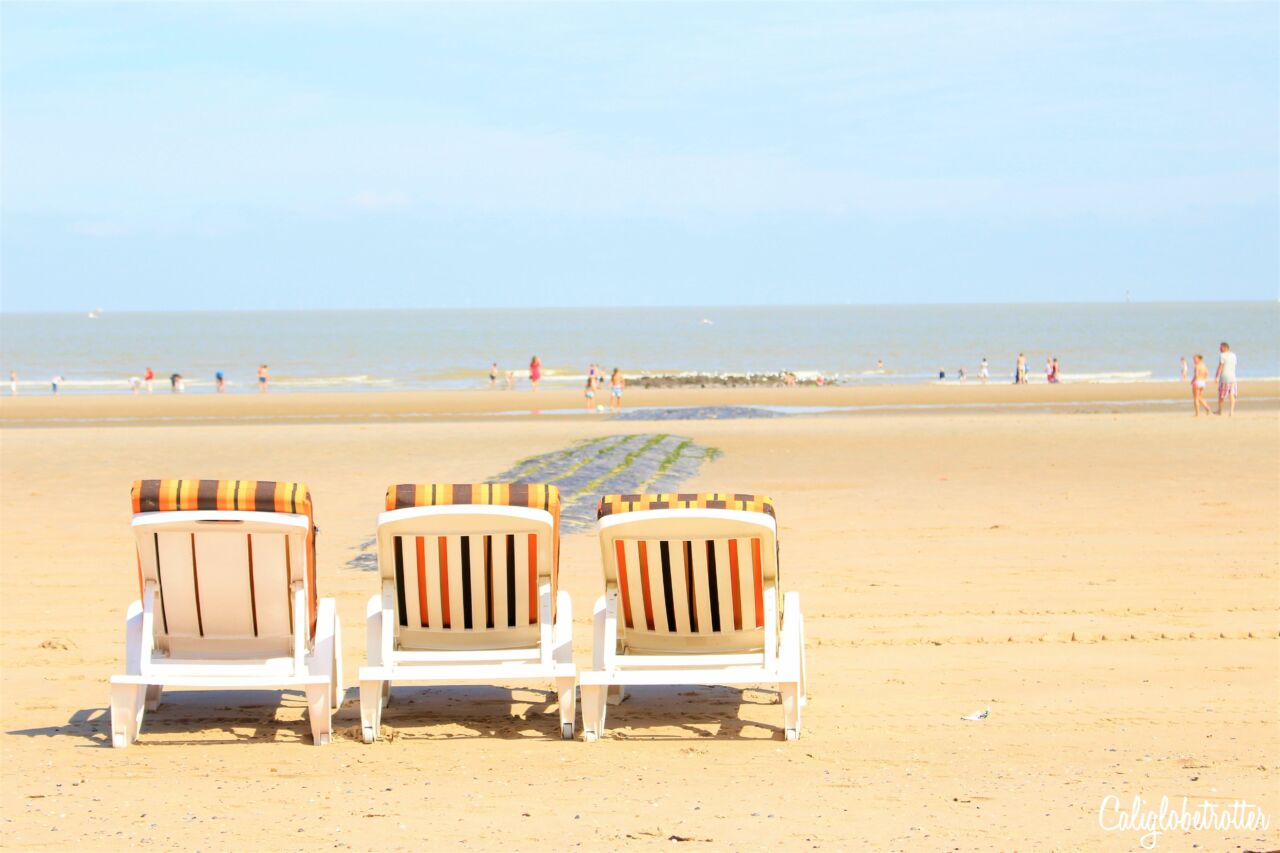 Day 4: Ghent – Day Trip to Ghent from Brussels
Click here for my extensive Budget-friendly Guide to Ghent!
Why should you bother to visit Ghent? Brussels is bustling with typical city chaos, Bruges is overly charming and full of tourists. But Ghent? It's the perfect mixture of the two! It's beautiful, big city, small town canal charm is everything I love the most! It is one of Europe's best kept secrets as it's often overshadowed by the popularity of Bruges. Best of all, it's only about a 36-45 minute train ride from Brussels to Ghent!
Until the 1980s, Ghent was covered in a layer of industrial pollution and grime, but the city took measures to clean it up and today it's a sparkling gem of medieval castles like the Het Gravensteen castle located directly in the city center! It's a great place to begin your day of sightseeing in Ghent and is definitely one of the best medieval castles in Europe! You can tour the castle and get a glimpse of medieval torture mechanisms, but if that isn't your thing, then simply enjoy the views from castle!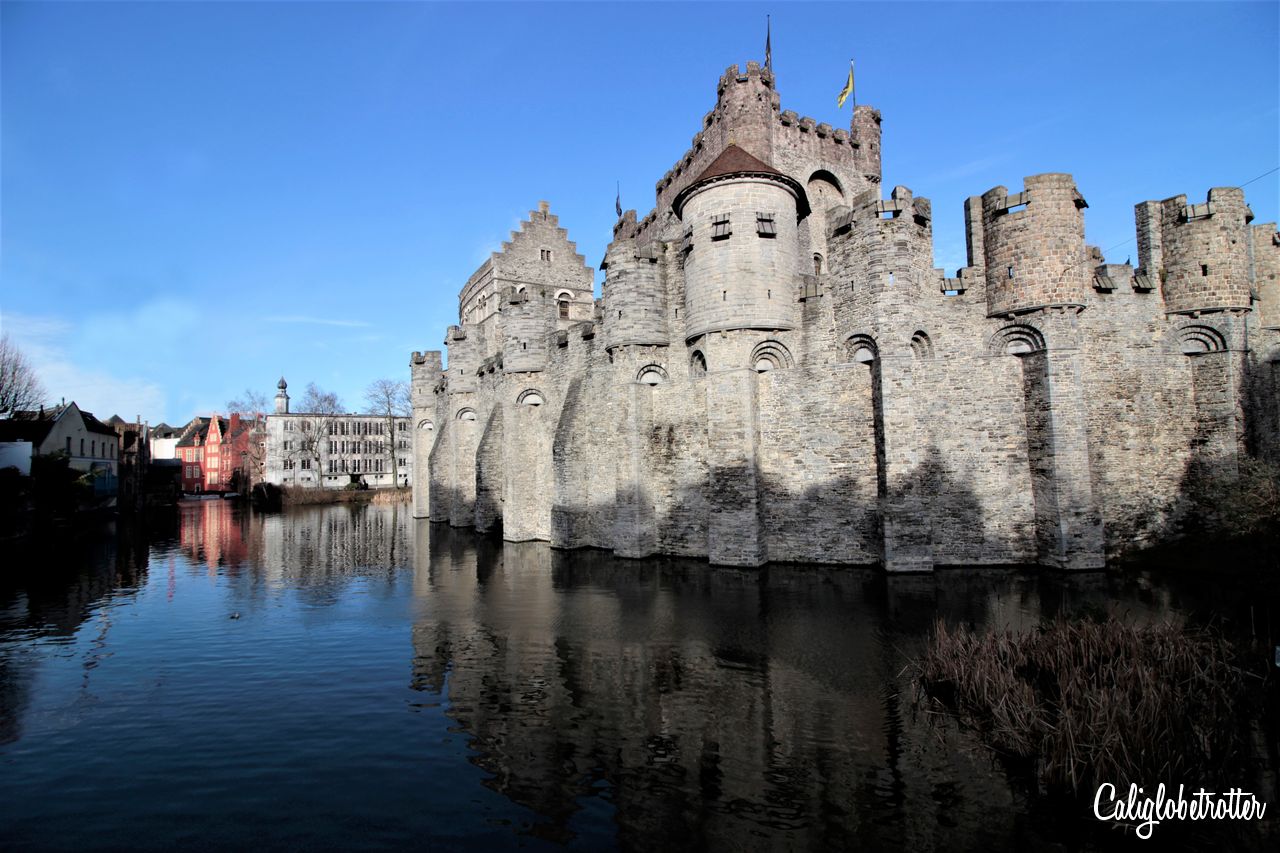 Meander your way through the charming city center, exploring the one amazing historic building after another. All lined up perfectly, and best viewed from the St. Michael's Bridge, you can have a straight shot of all of Ghent's main attractions. Ghent's main sights include the St. Nicholas' Church, the Belfry of Ghent and St. Bavo's Cathedral (St-Baafskathedral) where you can the Ghent Alter piece, Adoration of the Mystic Lamb.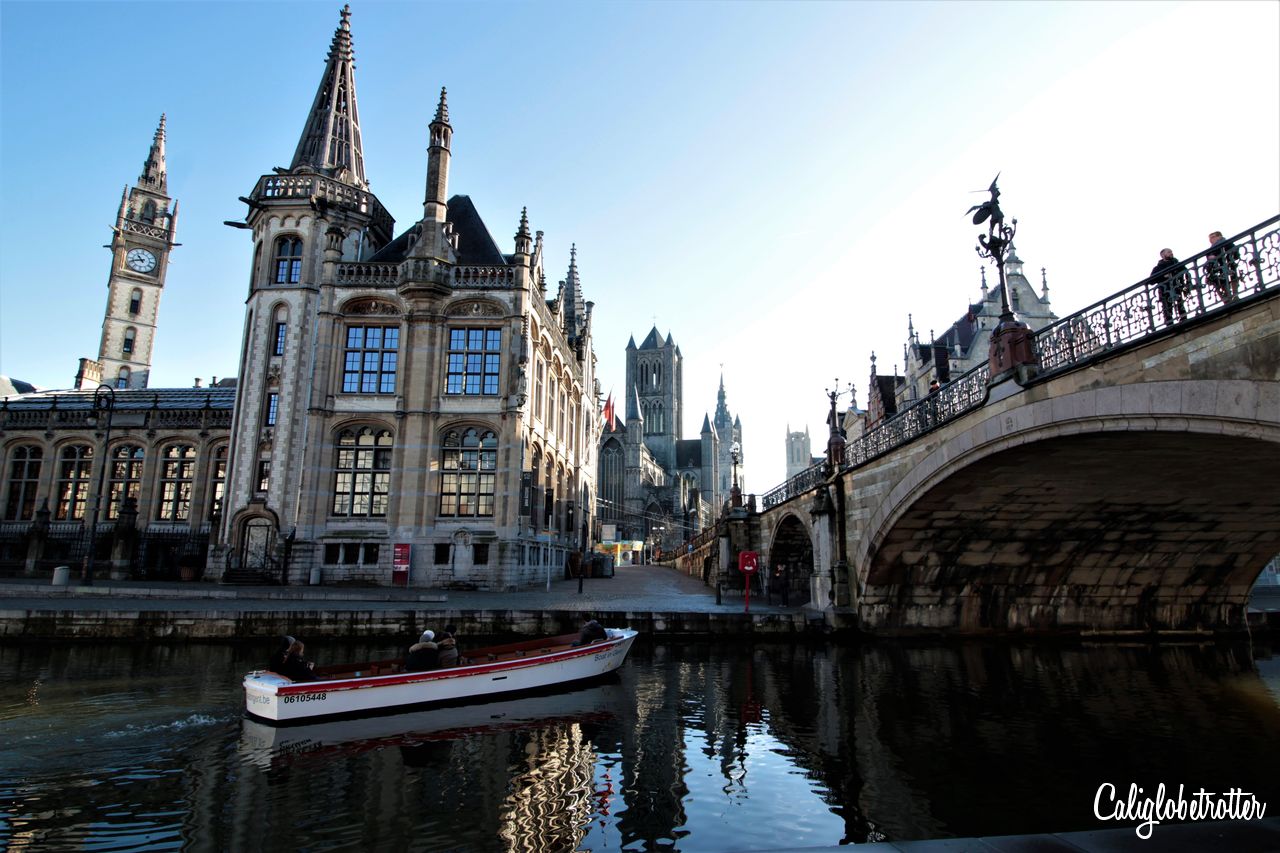 I recommend heading back to St. Michael's Bridge just before dusk to capture some stunning Blue Hour Photos of Ghent!
If you have time, then I highly suggest climbing up Ghent's Belfry Tower for STUNNING panoramic views over the historic city center, for about 11 € per person.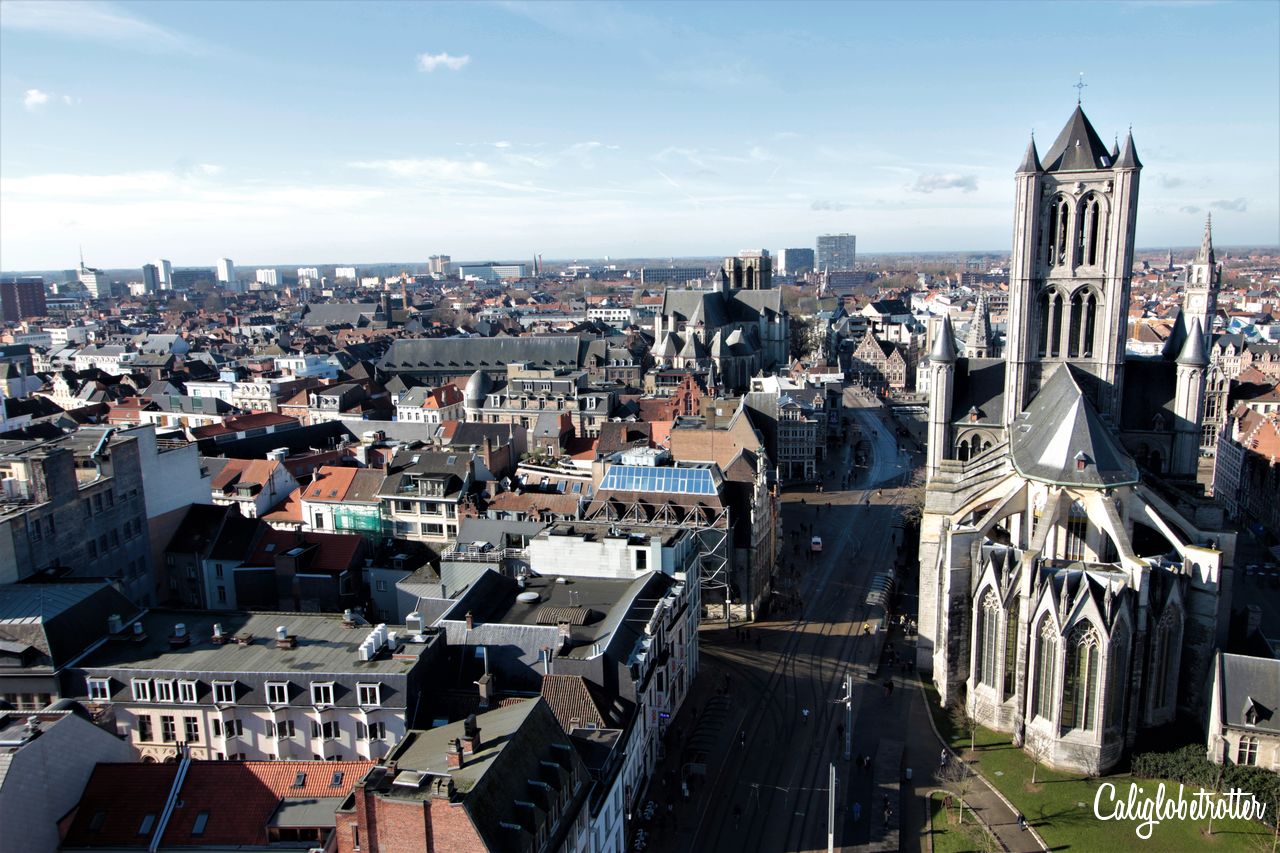 Take some time to wander along the Graslei or the Kornlei (opposite one another). This is part of the canal promenade where everyone sits back and enjoys the views. Here you'll find several cafes and restaurants and occasionally, even live music!
Where to Eat in Ghent:
Frituur Het Puntzakje – Not far from the Het Gravensteen castle, you'll find a great Belgian fritterie! It looks small, but there is also upstairs seating. 
Amadeaus 2 Gent – Now, normally when we travel, we only like to eat local cuisine, but this restaurant looked so appetizing and had a very fancy interior. Turns out, they make the most delicious all you can eat BBQ ribs with a Baked potato. I HIGHLY recommend eating here and you'll find directly across from the City Pavilion (Stadshal).
Major Events in Ghent:
The Ghent Festivities: Next: July 18 – July 28, 2024 – thousands flock to Ghent for 10 days of festivities, and is Europe's largest open air festival with music, dance, street theatre, circus, parades, processions!
Where to Drink Beer in Ghent:
Tavern Dulle Griet – After a day of sightseeing, you'll definitely want to rest your feet, so I suggest grabbing a drink at a medieval, rustic tavern located at the Vrisdagmarkt "the Friday Market" square. Here, they have over 500 beers to choose from, of which 250 are Belgian! One popular tradition is to offer up a shoe in payment for receiving a Max Beer, a tall, skinny beer glass. You break it, it'll cost you 80 buckaroos!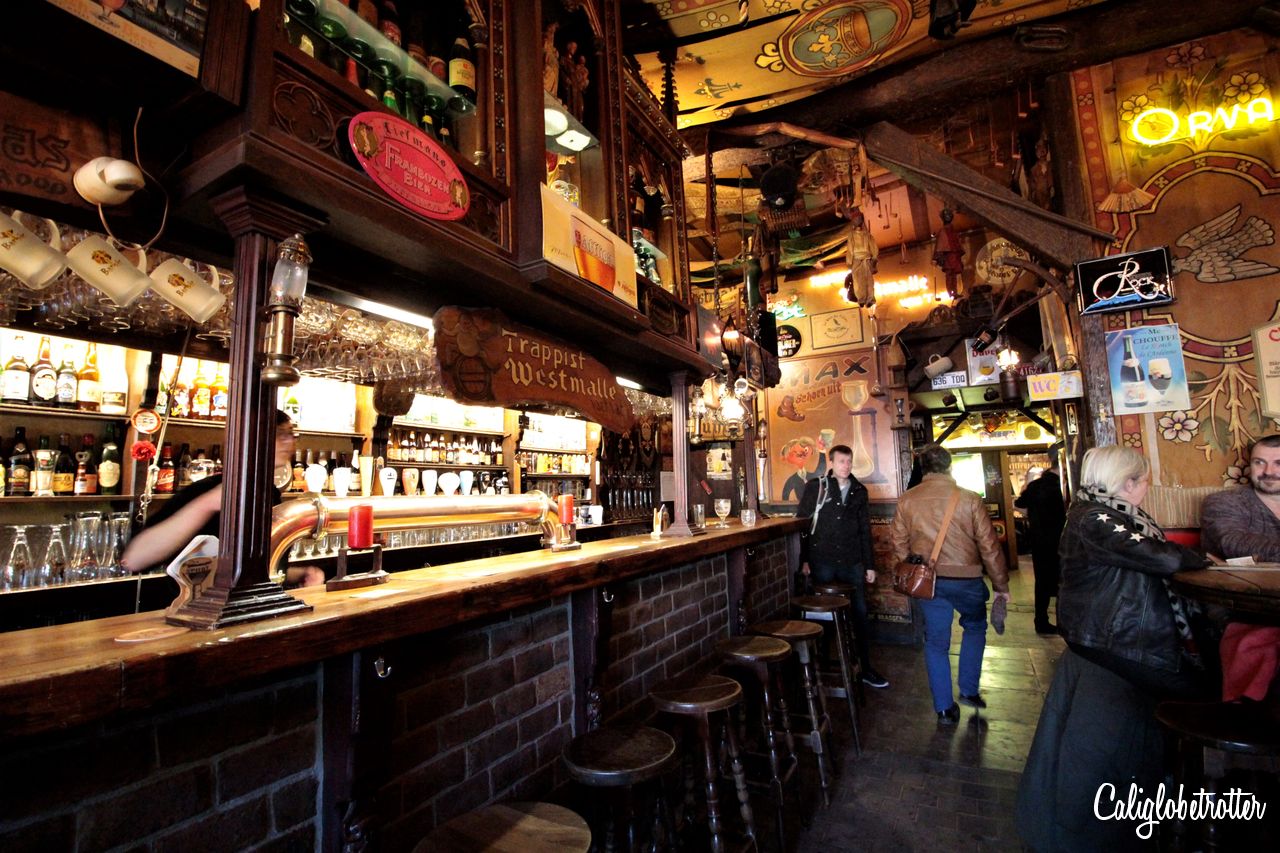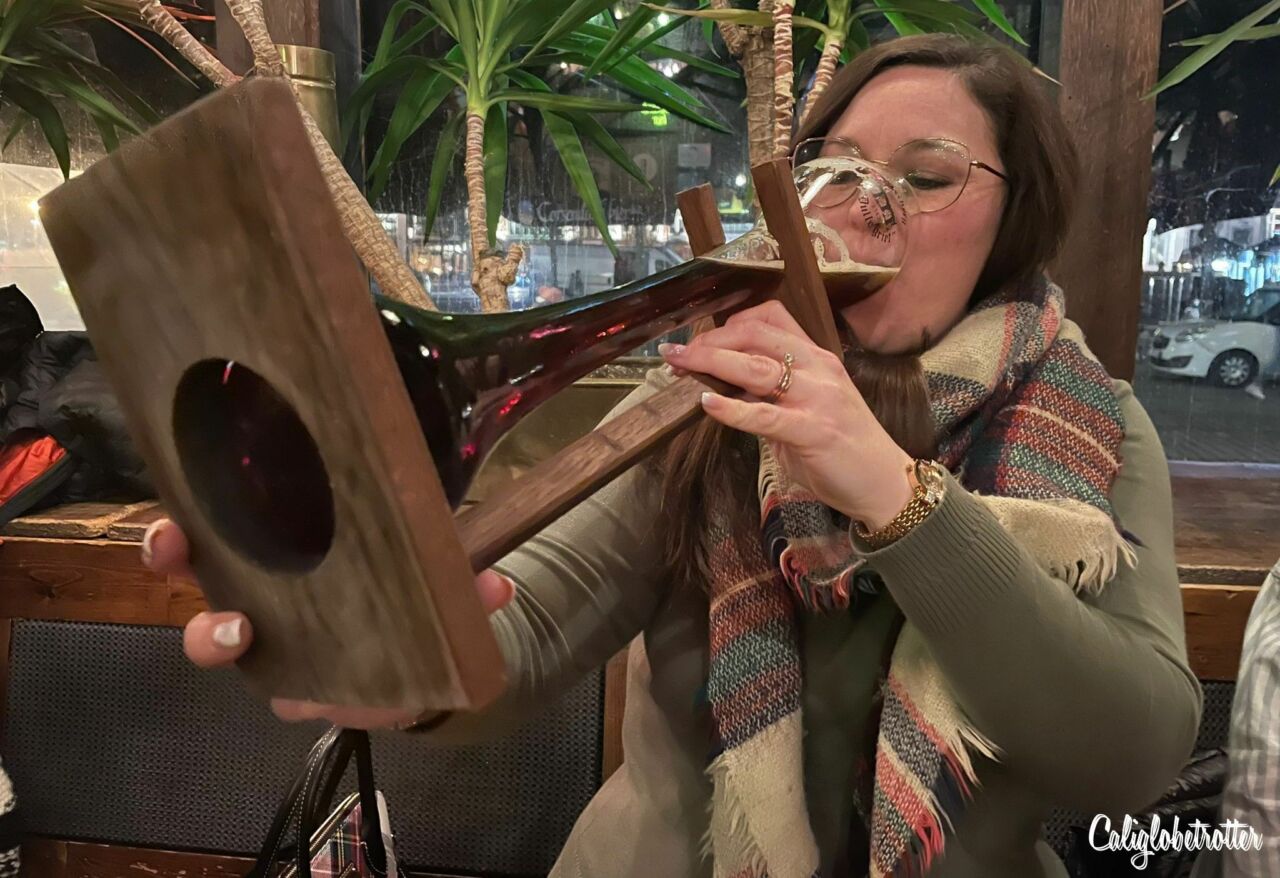 Day 5: Leuven – Day Trip to Leuven from Brussels
Click here for my guide of things to do in Leuven!
From Brussels to Leuven by train, you can easily reach Leuven in just 25 minutes, making it one of the easiest day trips from Brussels! You've most likely never heard of Leuven, so all the more reason to introduce you and show you why you should visit Leuven!
What originally started our as a fortified camp constructed by Julius Caesar is today a bustling little university town nicknamed "the Oxford of Belgium", thus making it a lively town full of bars and restaurants that flank the Old Market (Oude Markt).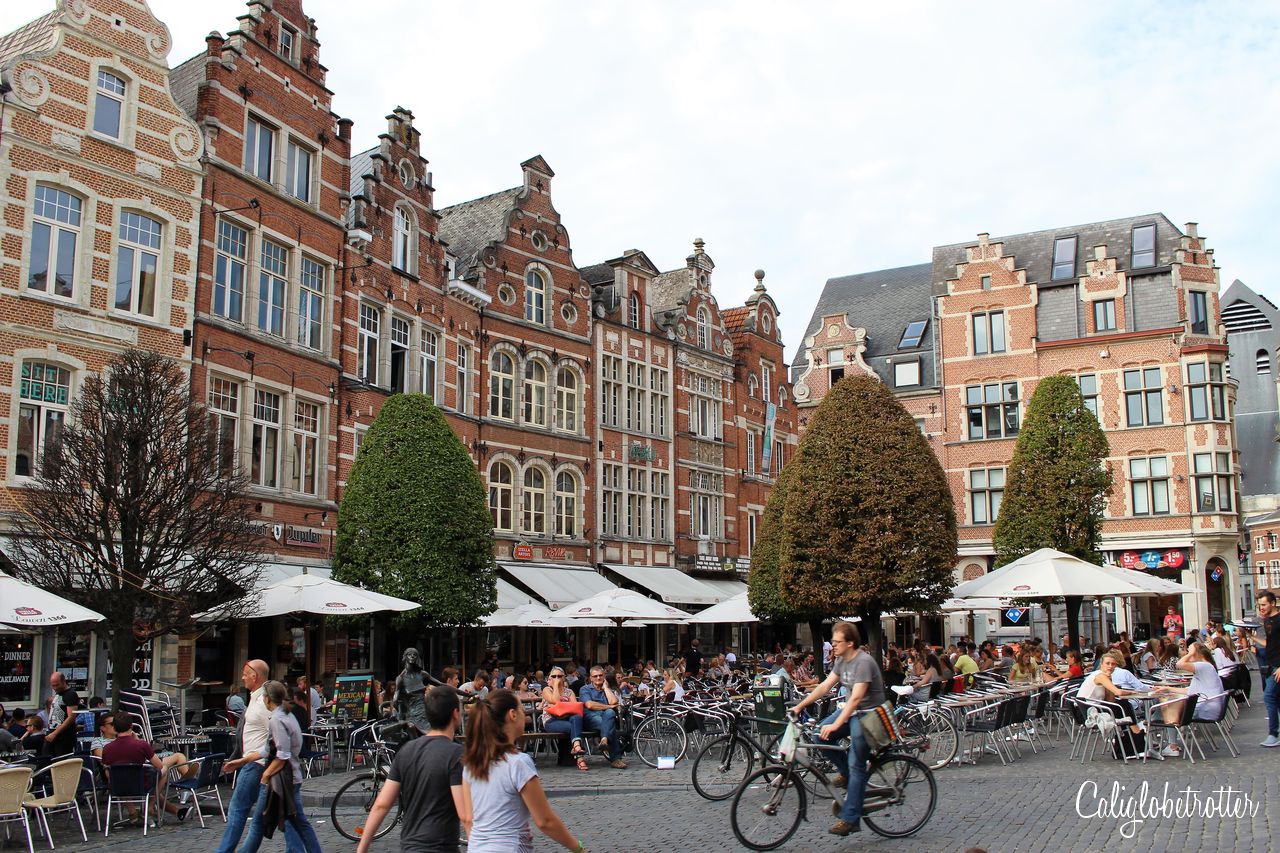 With a quick walk around, you'll quickly notice not only the lack of cars in this car-free zone, but also the beautiful architecture here, especially that of the City Hall (Leuven Stadhuis) at the Grand Square (Grote Markt). The City Hall is elaborately decorated with 236 statues and spires and was built in 1439, making it one of the most stunning city halls in Europe! This is the ultimate heartbeat of the city center and the best reason to visit Leuven!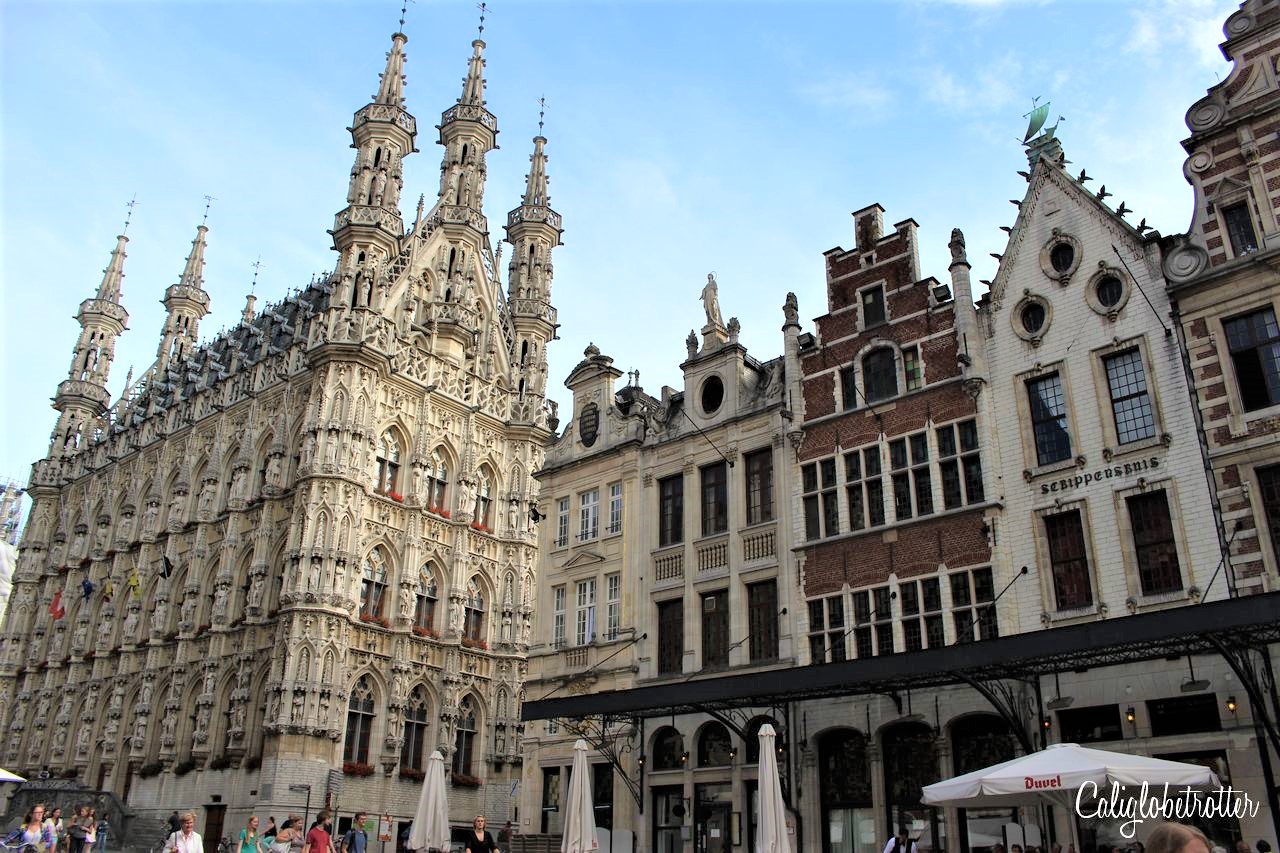 As you wander around, you'll see the University of Leuven which houses a lovely library and with a purchase of a ticket, you can also go up the tower, which offers some great views over Leuven. Be sure to keep an eye out for the Fonske Statue, Pieter de Somerplein Square, a statue dedicated to the town of a student pouring water through an empty head as he reads a book.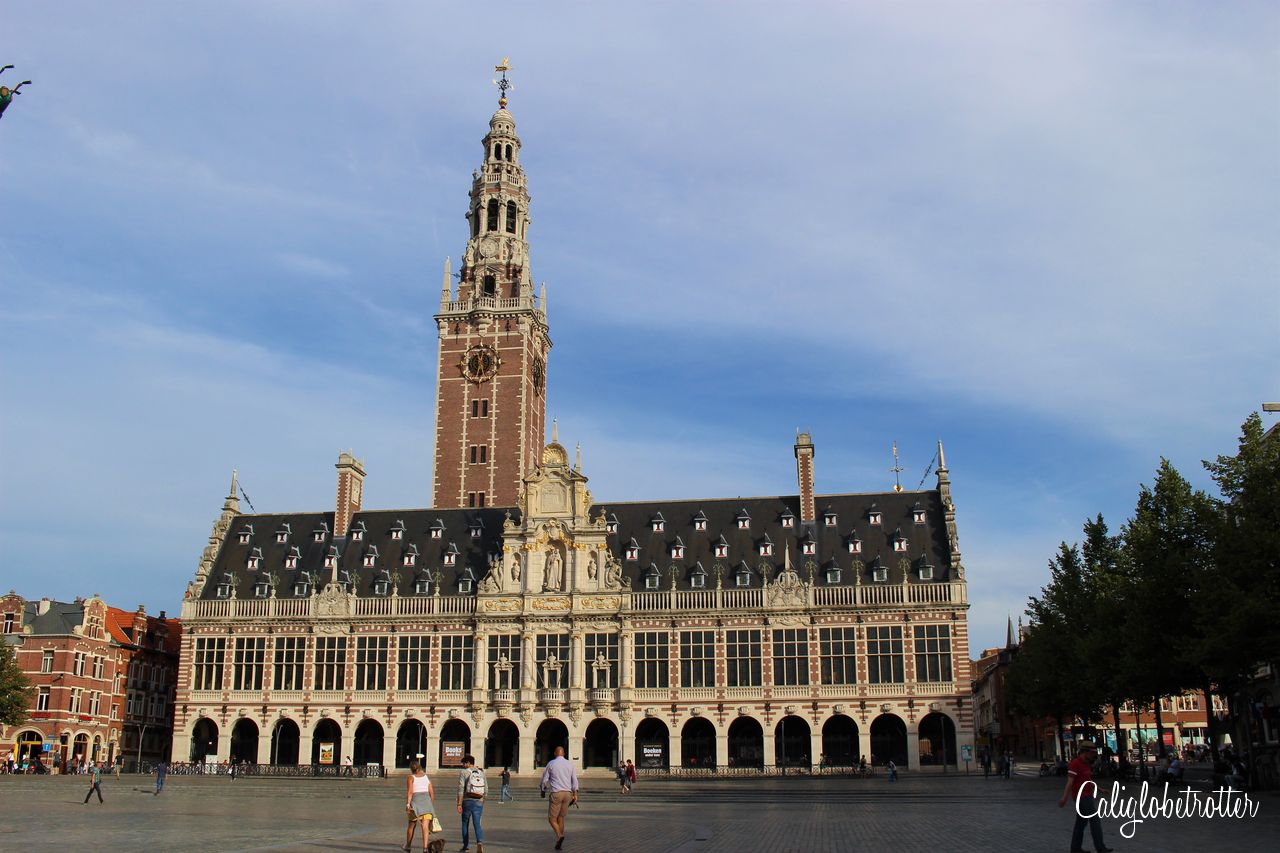 Also worth a peak is the Gothic St-Pieters Church, located directly across from the Stadhuis which took over 200 years to build. However, after the addition of the twin towers in 1507, it was realized that the structure was beginning to sink, and with money in short supply, it was decided to remove the top sections of the towers, thus giving the church its awkward appearance. 
If you have time, then be sure to take a brewery tour at the Stella Artois Brewery in Leuven.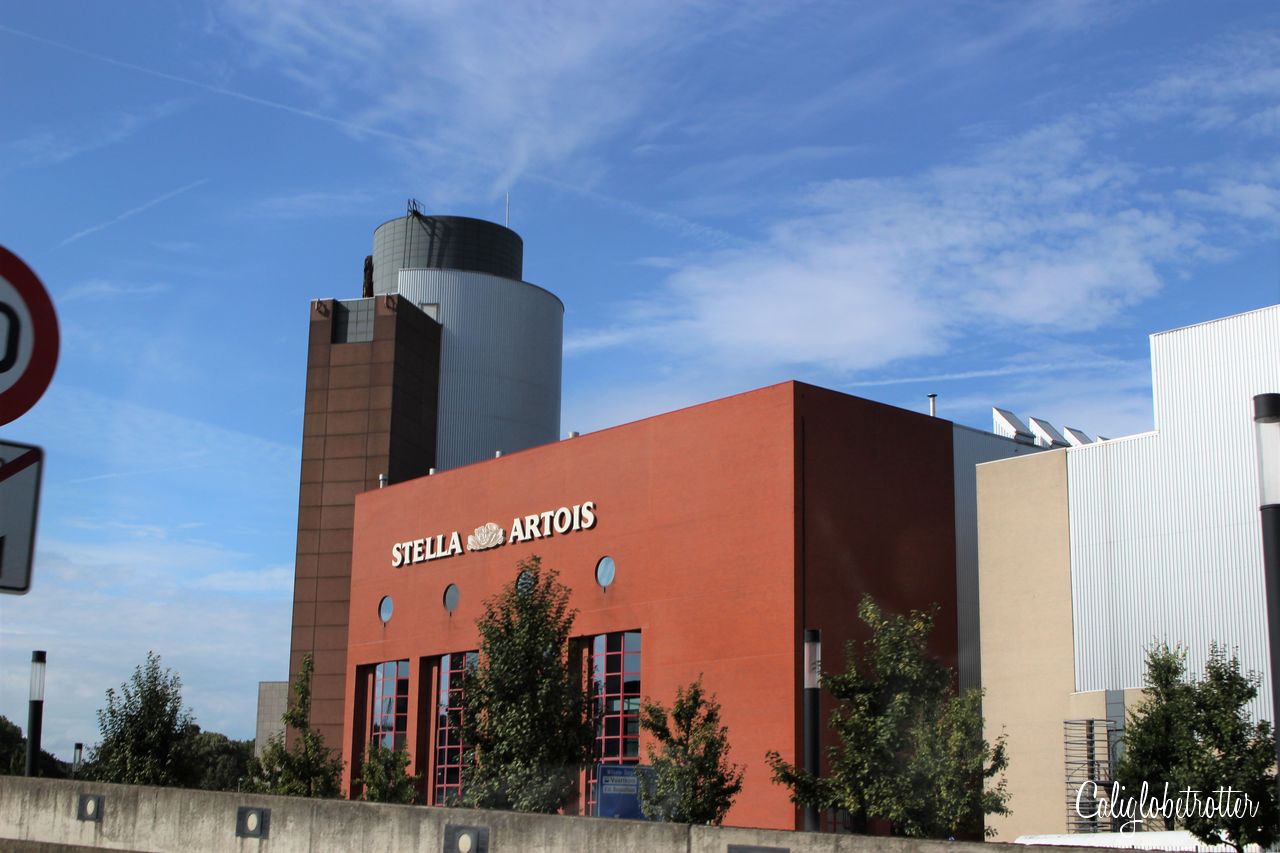 Day 6: Antwerp – Day Trip to Antwerp
Click here for my Antwerp Travel Guide!
With just a short journey from Brussels to Antwerp by train, you can be in Antwerp anywhere between 40 min – 1 hour making once again one of the best excursions from Brussels. 
As one of the largest city in Flanders, Antwerp is best known for being the second city in Belgium with a history dating back to the 2nd AD, making it definitely worth your while! AND, it's also the second largest city in Belgium, which offers up many things to do in Antwerp!
Immediately upon arrival in Antwerp from Brussels, you'll notice the stunning craftmanship of the Antwerp Central Station. You'll feel more like you're arrived in a grand palace than Antwerp's main train station, with its elaborate staircase, fancy windows and grand details.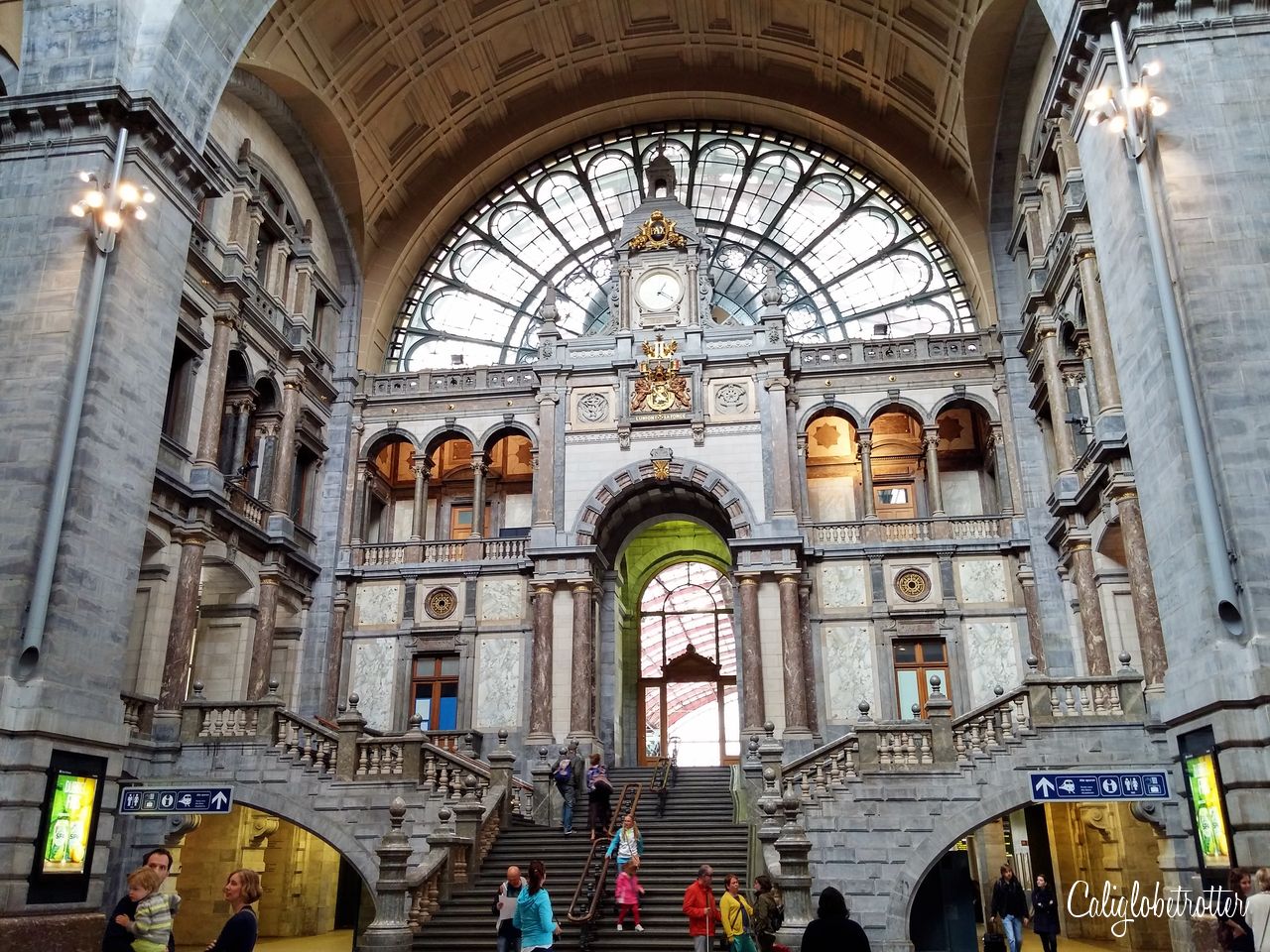 Like every major city in Europe, you will find a Stadhauis (City Hall) and a Grote Markt Square (Grand Square), which is always a great place to begin your sightseeing in Antwerp! It's here that you can truly experience the splendor of Antwerp's Golden Age by admiring the 16th & 17th century guildhouses. What is unique about the Antwerp City Hall is that you may occasionally find this UNESCO World Heritage Site decorated in 87 flags. The central flags on the bottom row represent Antwerp, Flanders, Belgium, Europe and the United Nations. The other flags represent countries that are member of the European Union and nations that have a consulate in Antwerp.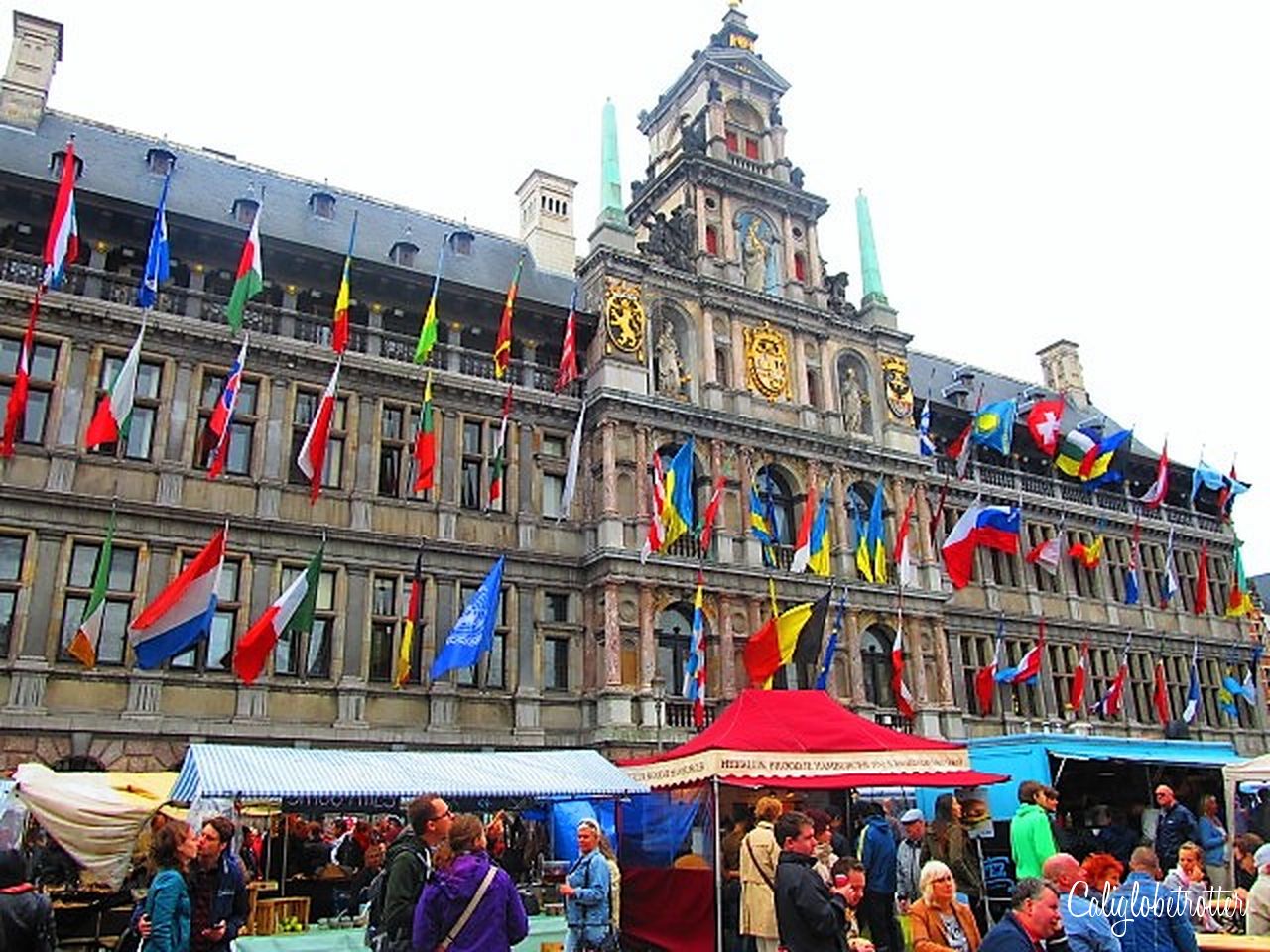 Also at the Grote Markt, you'll find the Brabo Fountain, which famously depicts the Roman soldier Silvius Brabo throwing the hand of the mythical giant Druon Antigoon into the River Scheldt. You'll find Druon Antigoon's large cement hand statue randomly placed in Antwerp you'll eventually come to see.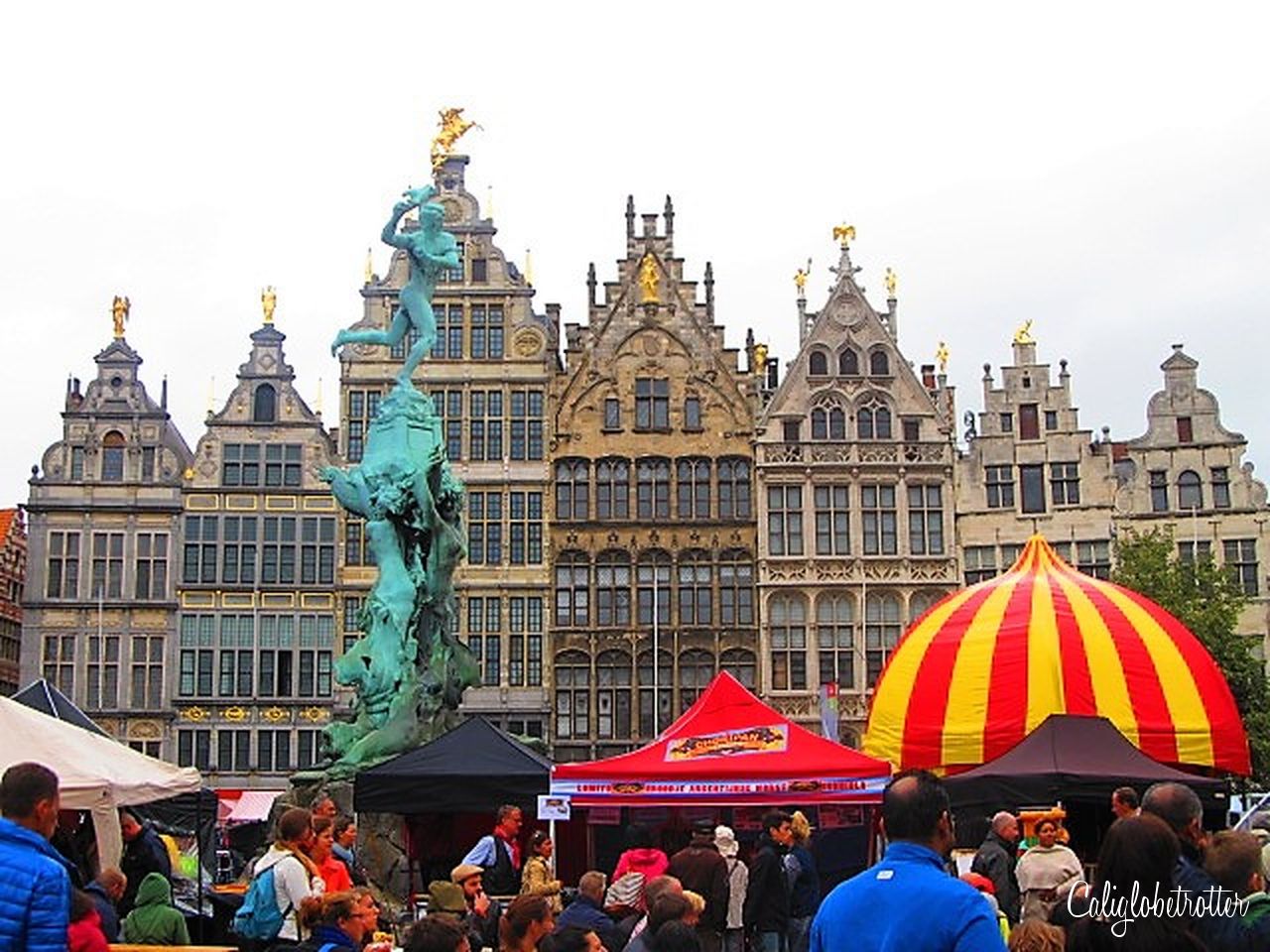 Like the St. Pieters Church in Leuven, Antwerp is also home to an awkward looking cathedral, the Onze-Lieve-Vrouwekathedraal, which is the largest Gothic cathedral in Belgium. After 200 years of construction, the decision was made to abandon the completion of the cathedral's second tower, hence the awkward design.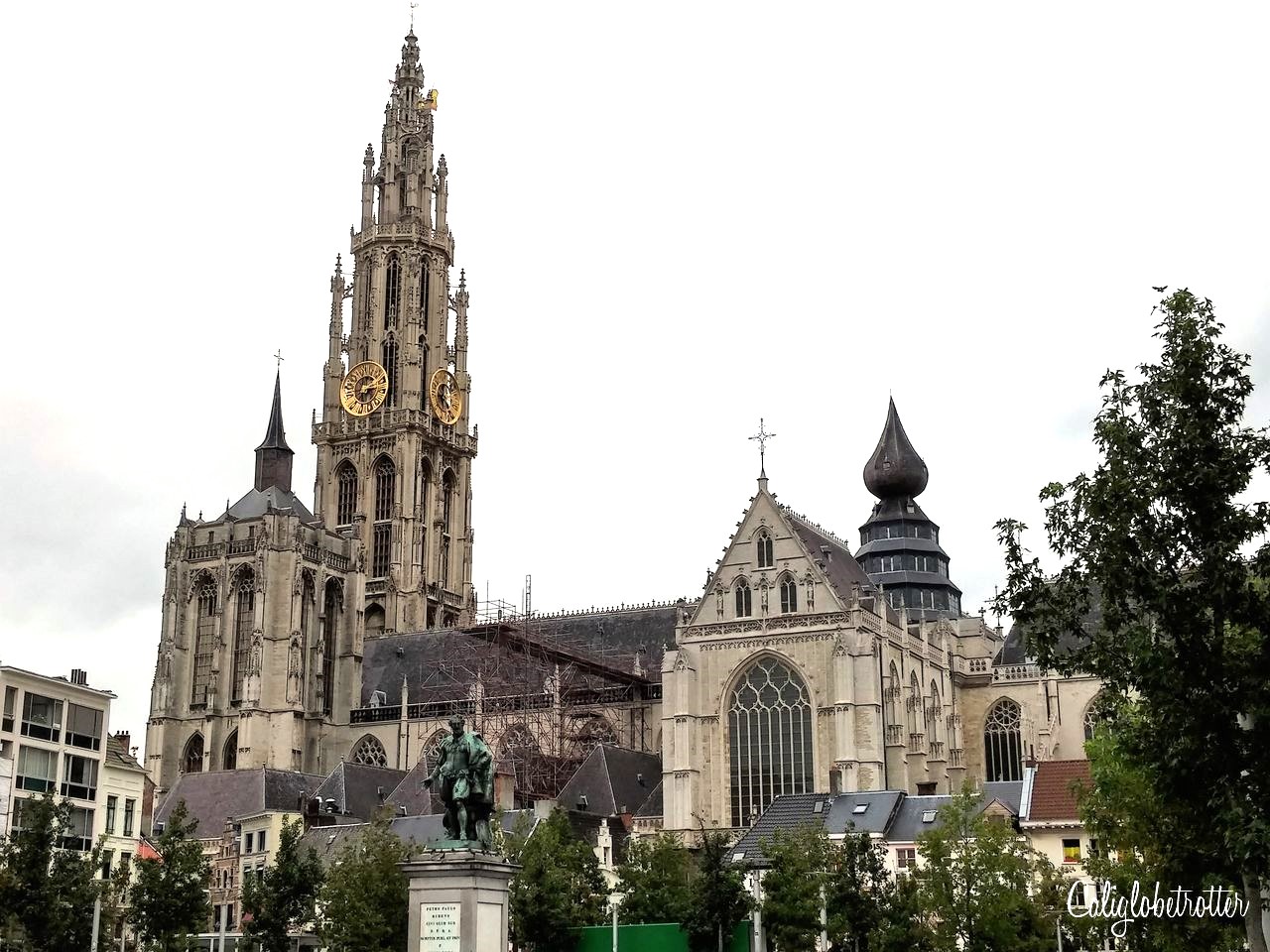 Another one of Antwerp's main attractions includes the Het Steen Castle, located along the River Scheldt, originally built to protect the city and was once used as a prison. According to a legend, the castle was also home of the legendary evil giant Druon Antigoon, who exacted sever and heavy tolls on shipping, who would cut off the hand of captains who refused to pay up. In front of the castle, is another legendary figure of Antwerp, Lange Wapper who could grow to increasing heights at will, playing tricks on town drunks.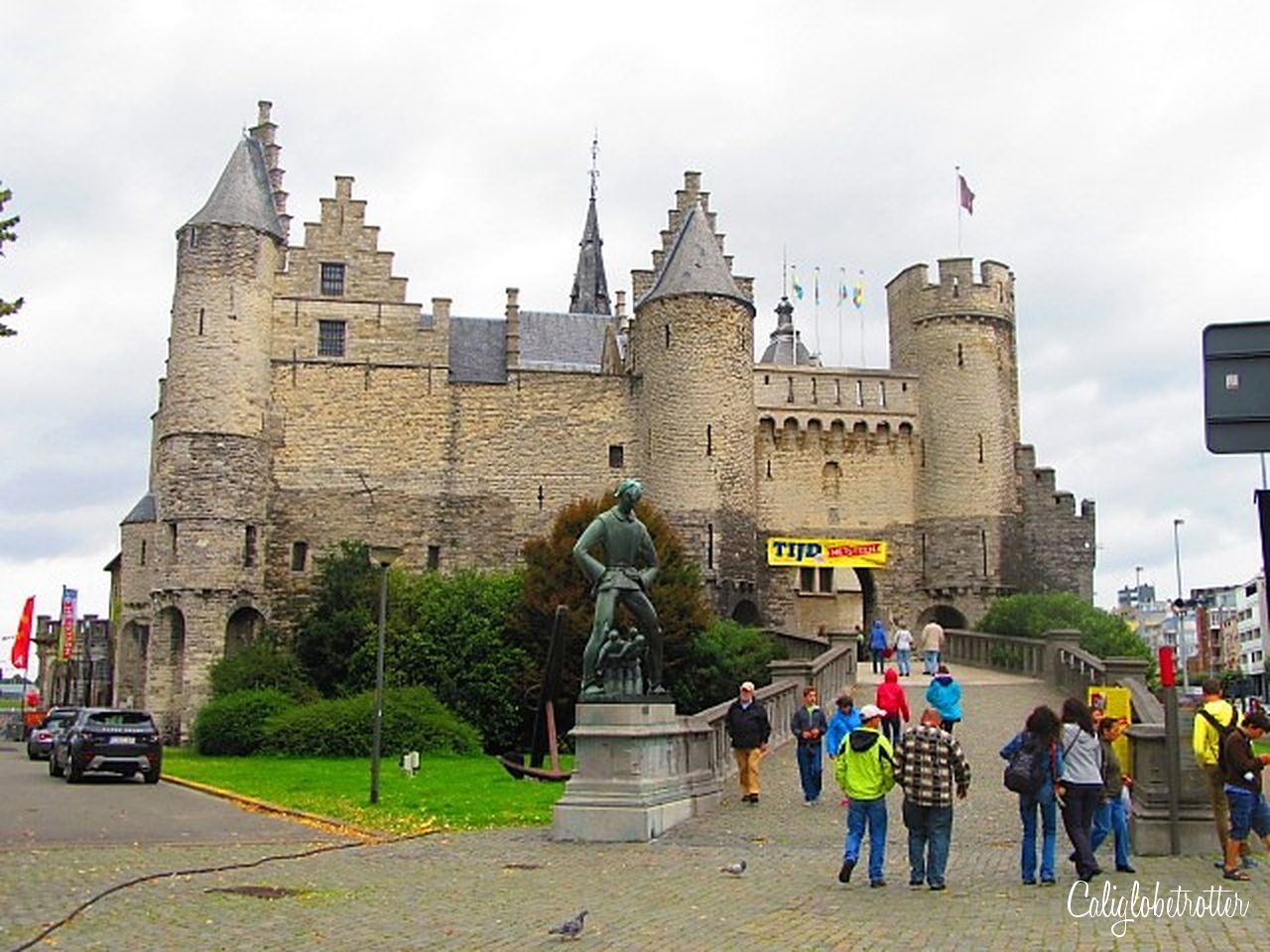 Other main sights to see in Antwerp include the St-Pauluskerk, a Baroque church dating back to 1517, the Vleeshuis which is used by the butcher's guild dating back to 1504, as well as the Rubenshuis, the home of Pieter Paul Rubens, a famous artist, where he lived from 1611-1640. 
Day 7: Brussels – Departure
Don't miss my tips for visiting Brussels!
Depending on your departure time, you could technically still enjoy a half to full day in Brussels, visiting other sights of interest in Brussels that you missed on your first day. 
Perhaps you only saw the outside of the Royal Palace of Brussels and want to take a tour of the inside to see the Throne Room, which is highly recommended. 
Consider strolling around the Jardin du mont des Arts, which offers a lovely view over Brussels.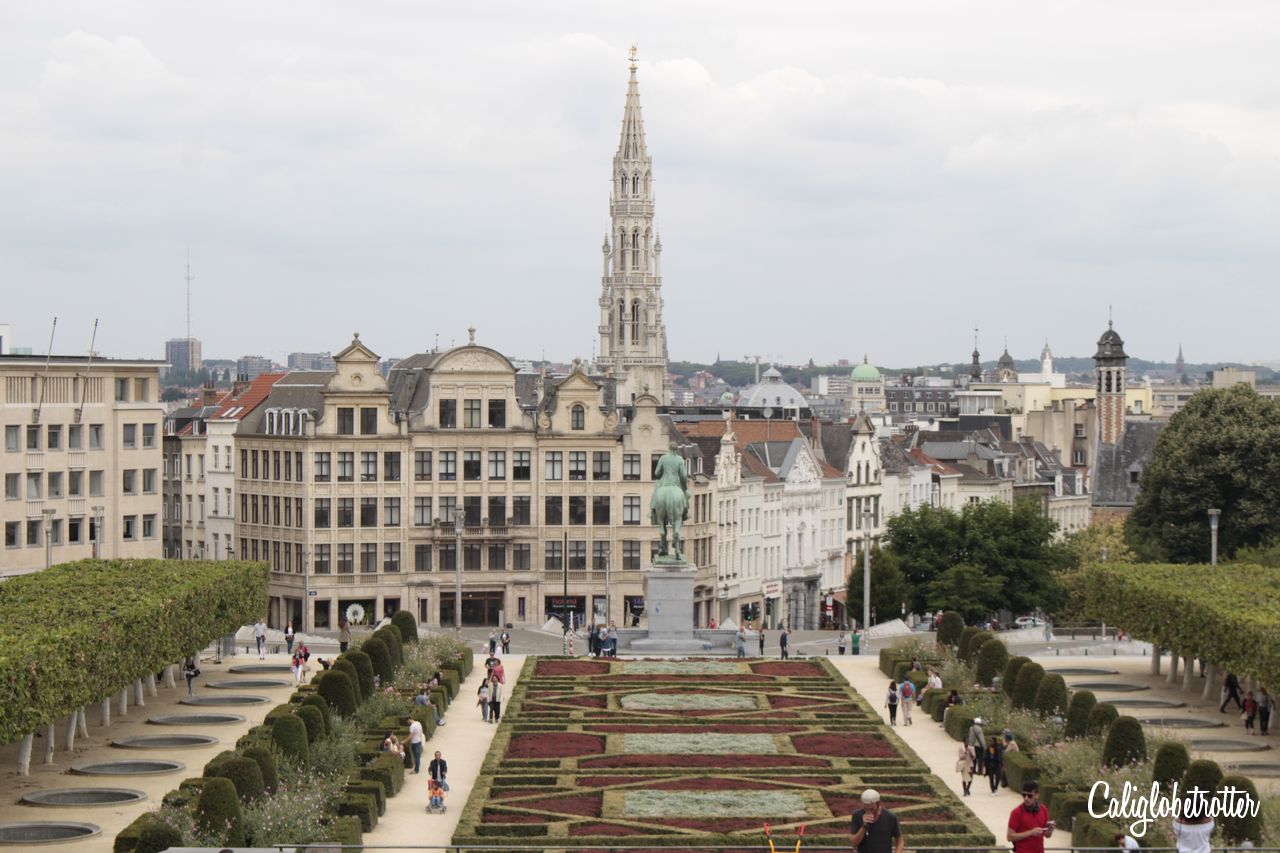 Even if you're not exactly a big museum goer or a fan of musical instruments, I would still encourage you to visit the Musical Instruments Museum, simply for the stunning views over Brussels that are on display from the top floor, while at the same time admiring the art nouveau architecture!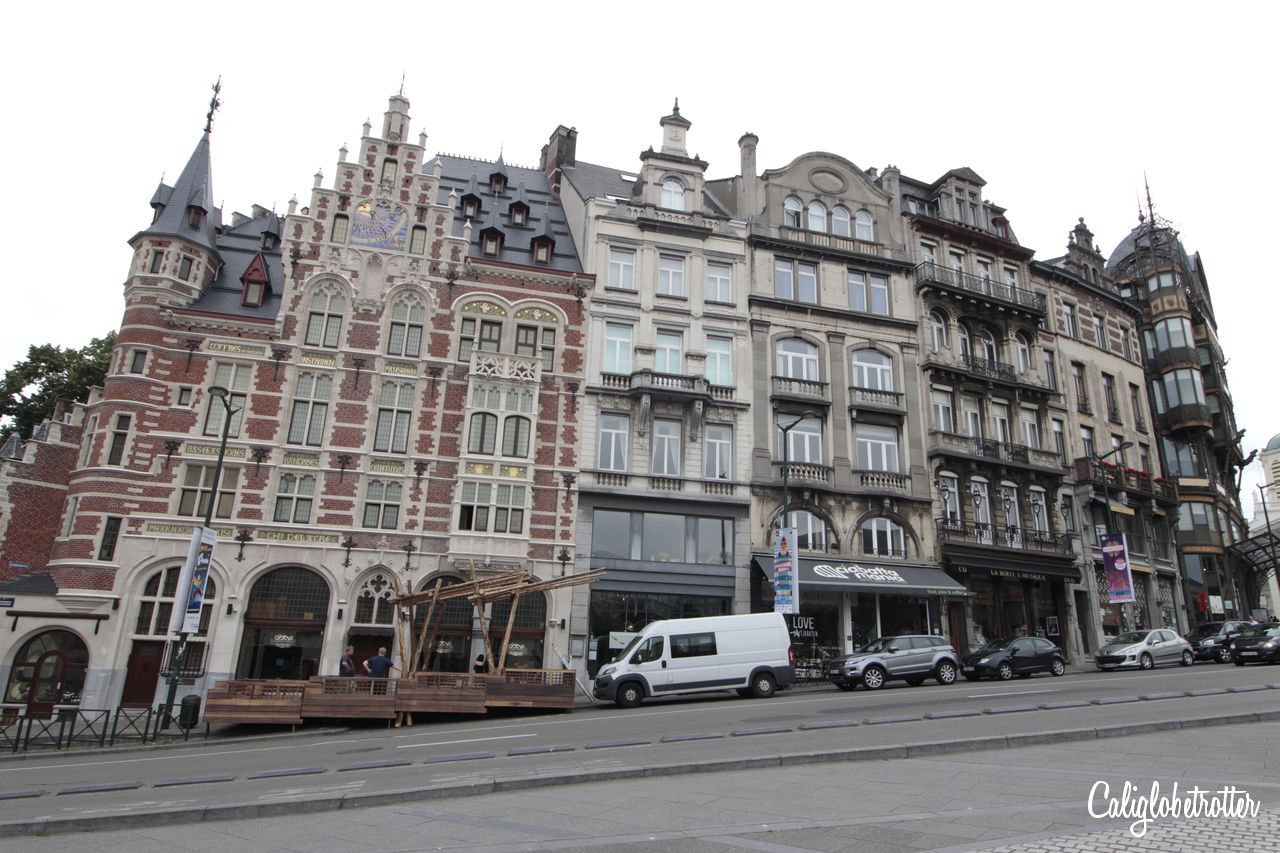 Other Picturesque Towns in Belgium Worth Visiting:
Mechelen is another of Belgium's picturesque towns with cobbled stoned streets, charming architecture and filled with quaint shops, restaurants and cafes. 
Ypres, located in West Flanders, is synonymous with World War I history is home to the Flanders Fields Museum and Menin Gate Memorial. 
Dinant is another of one of the best towns in Belgium to visit simply for the fact that it romantically straddles the banks of the Meuse River and is backed by steep cliffs with a historic Citadel perched above the town.
Aalst is a tiny, charming little town worth visiting, especially if you plan to visit Belgium in February for Carnival.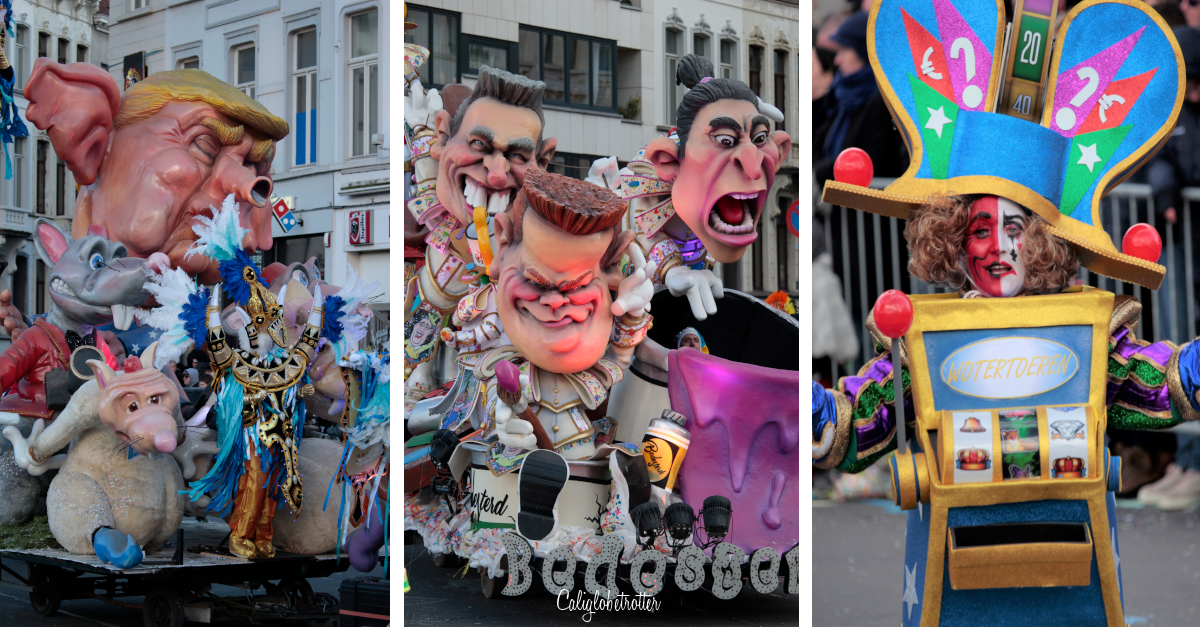 Want to Visit Belgium? PIN IT FOR LATER!!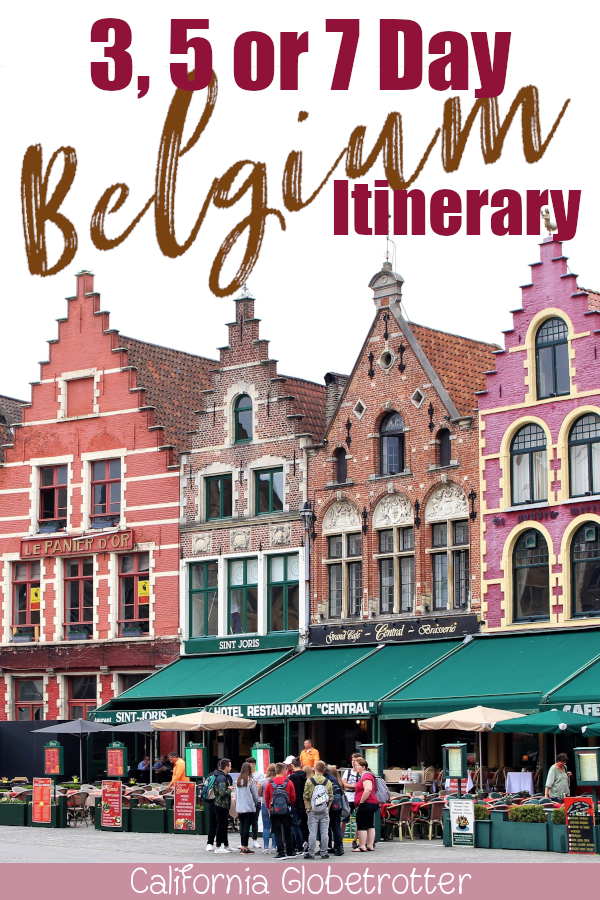 Other Related Posts:
Utrecht: An Alternative to Amsterdam
Zaanse Schans: Windmills & More!
If you're interested in visiting Europe and are looking for more information, I highly recommend using the DK Eyewitness Travel Guide or Lonely Planet! Without these guides, I would be lost! This is my travel Bible! As well as two books on Belgian beer I highly recommend for understanding Trappist beers and all of Belgium's beers!
Disclaimer: This post contains affiliate links. If you click on one and make a purchase, I might make a little extra spending money, at no extra cost to you. As always, all opinions are my own and these products/services have been found useful during our travels and come highly recommended to you from yours truly!