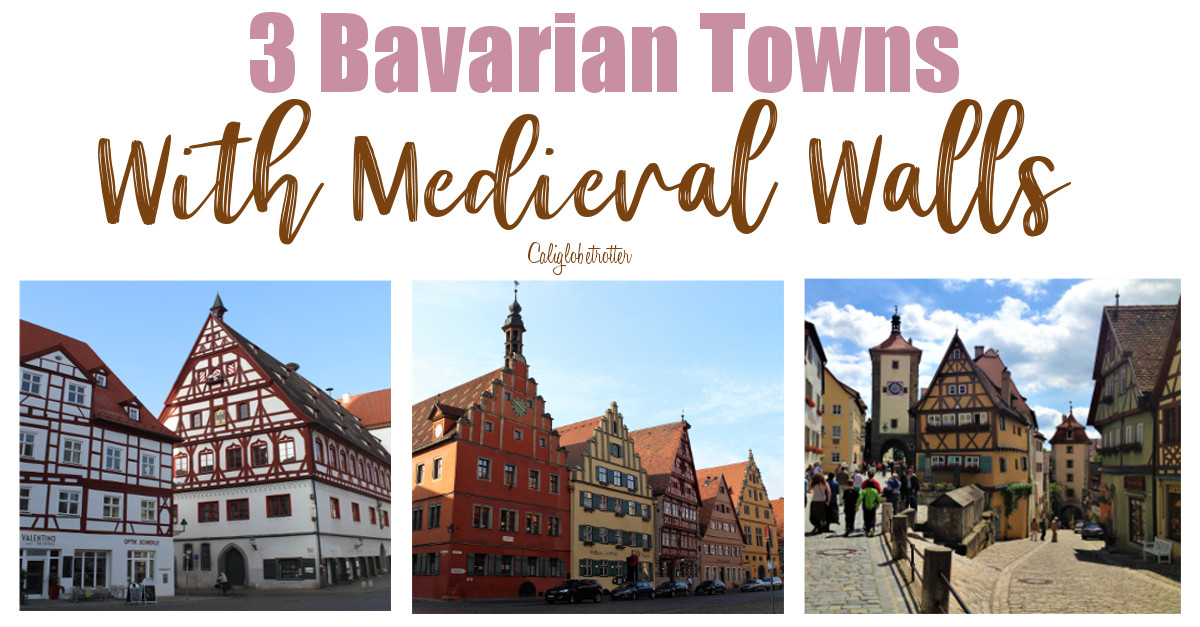 Germany certainly has no shortage of historic towns, practically unchanged since the Medieval times. And let's admit it right now, many of us when traveling to Europe look for that authentic, historic feeling that will transport us back to a time that is long since gone. Many of us want to take a walk through a storybook town, that is beyond anything we have ever known.
But of all the picturesque, fairy tale towns in Germany, there are only three towns left still completely encircled by their Medieval walls all found in Bavaria. Luckily, all three are on the trail through Bavaria known as the "Romantischestrasse" (Romantic Road) which stretches from Würzburg to Füssen.
All relatively close together, they could easily be combined into a long weekend road trip if you're as obsessed with half-timbered towns as I am.
The question now remains, which one should you visit if you're short on time? Or which which one is less touristy but offers the same authentic feeling?
Love Medieval Towns? PIN IT FOR LATER!!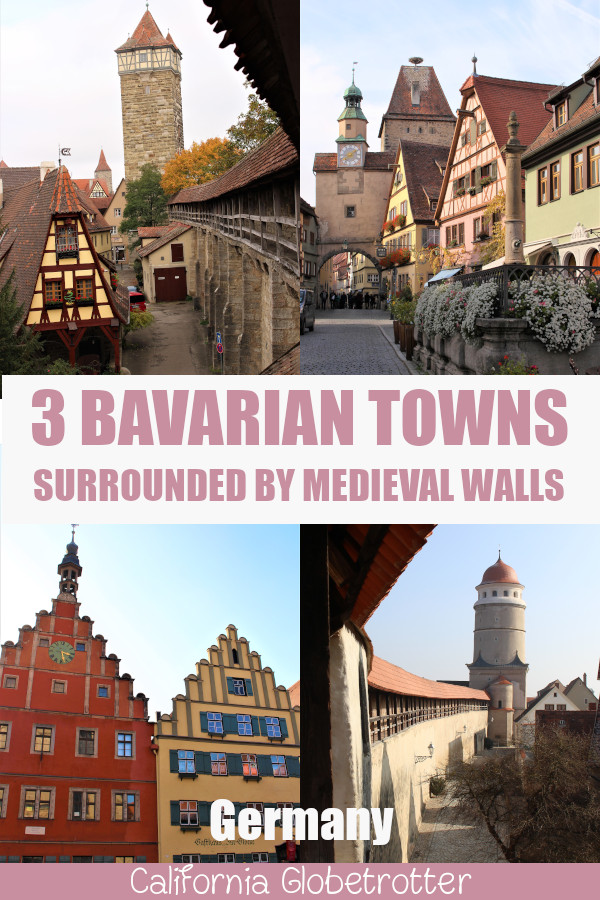 How to AVOID Looking Like a Tourist in Europe
ULTIMATE LIST of Half-Timbered Towns in Germany
If arriving in Munich, then I highly suggest starting with the closest, and working your way towards the best for last!
Nördlingen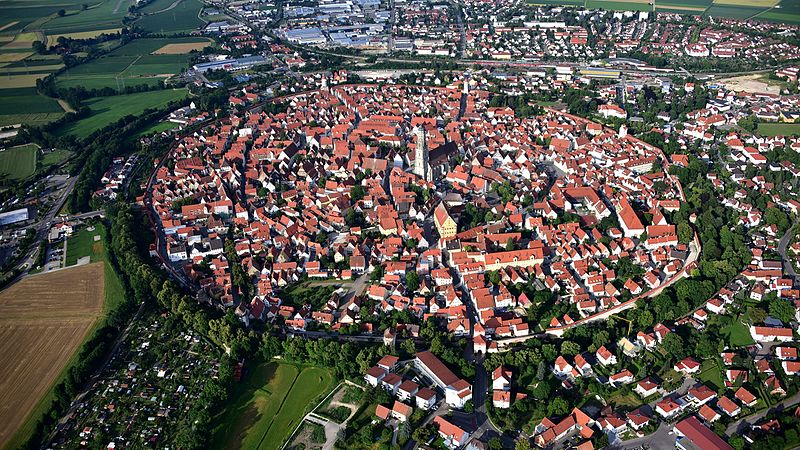 Located in the Donau-Ries district, Nördlingen has by far one of the most interesting origins. The town is surprisingly built entirely inside of a massive crater, that was created some 14 million years ago when a meteorite struck the Earth! So, that makes it all the more worth visiting! It wasn't until 1960 that two American scientists discovered that the town was in fact built inside of a crater! Today, it's called the Nördlinger-Ries, or the Ries Crater or more simply, the Nördlingen Crater. But while walking around inside the town, you can't tell that the town was built inside of a crater. For that, you would need an aerial view.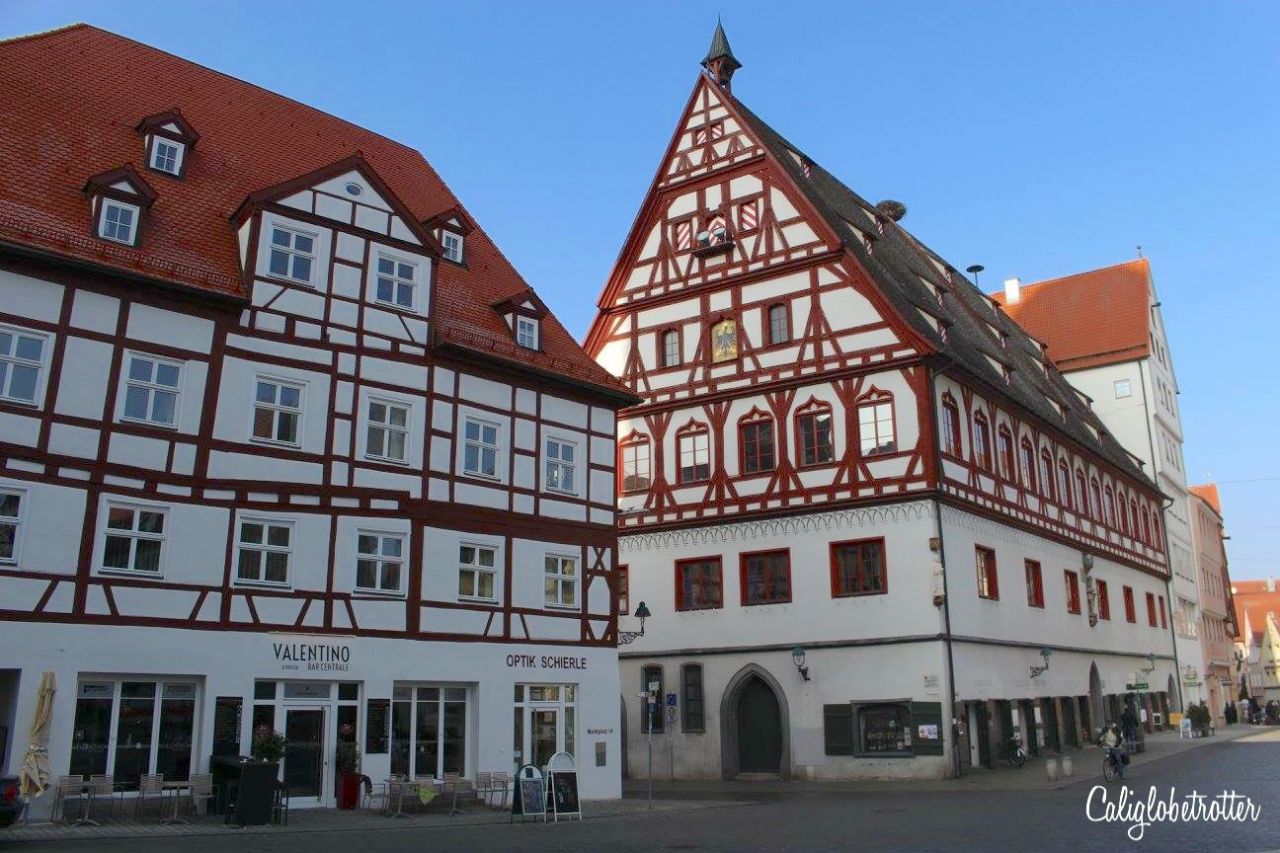 All five town gates spread out around the town, merge at Marktplatz, where you'll find the town's Gothic-style Saint George's Church, also known as the Nördlingen Church which I highly recommend climbing the 350 step church tower for a breathtaking panoramic view over the town! You'll pay a small entrance fee once you nearly reach the top to a gentleman waiting for you! Obviously, not open during the winter.
The best part of the town includes a plethora of colorful half-timbered houses throughout the town, making for absolutely picture perfect photos. I highly suggest taking the time to walk along the town's Medieval wall as it offers some amazing views around the town. It's definitely one of the most beautiful medieval towns in Germany!
If you're looking for a less touristy version of Rothenburg o.d Tauber, then this is the place to go. It's more peaceful here and way less crowded. Plus, it's even more special for having been filmed at the end of Willy Wonka & the Chocolate Factory.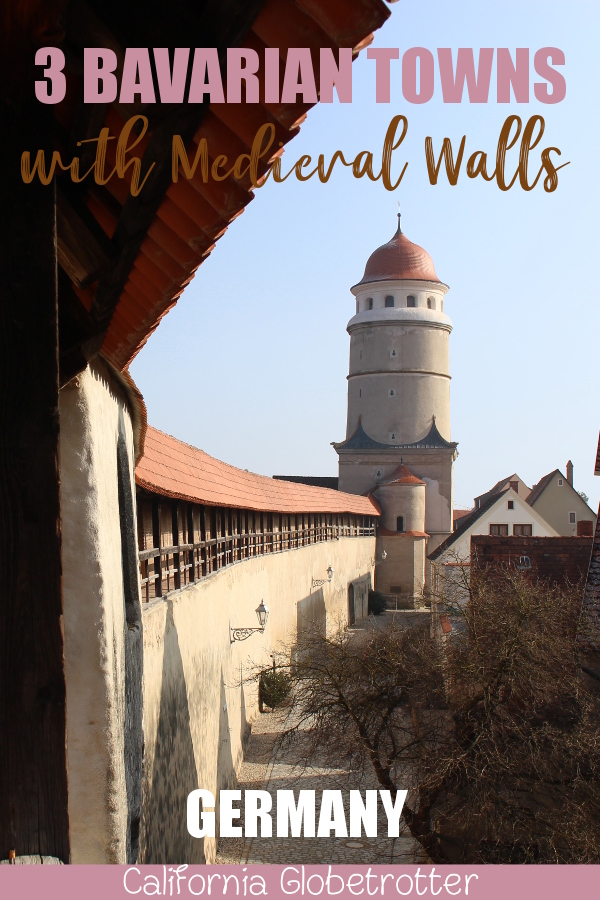 Dinkelsbühl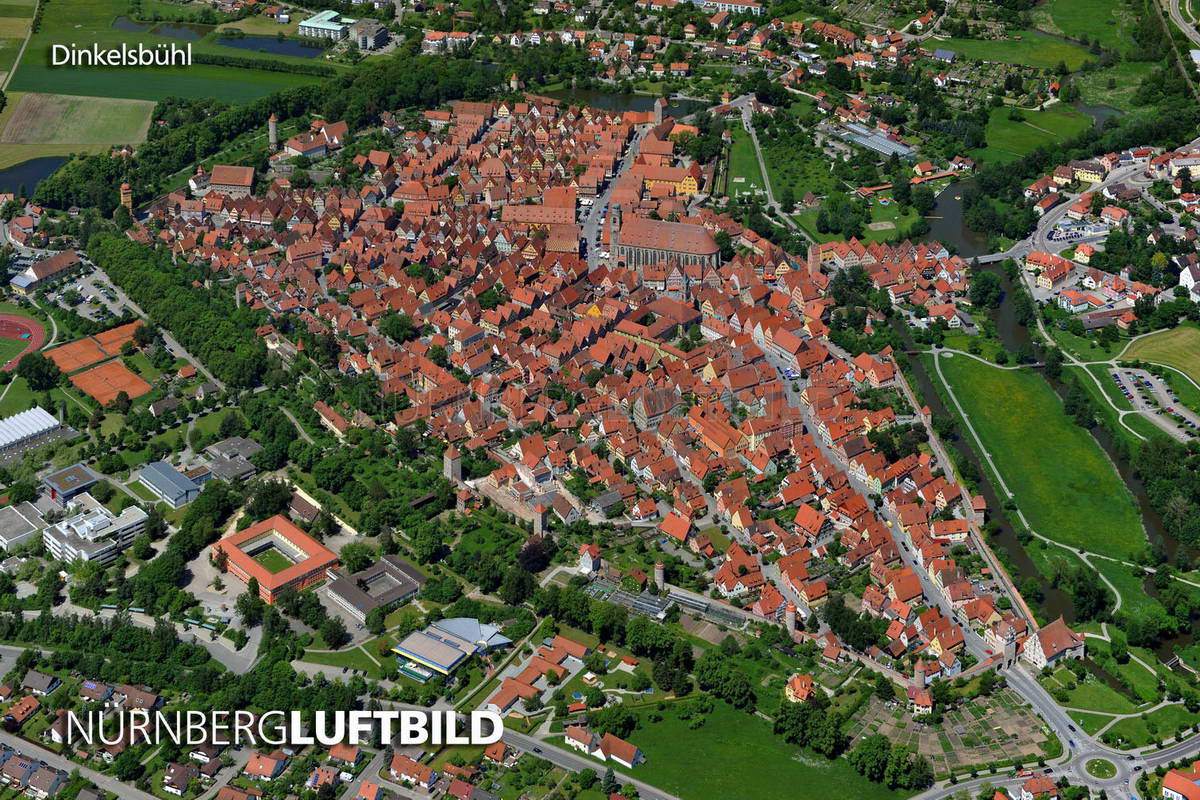 The second medieval walled town of three along the Romantic Road, Dinkelsbühl is located in Central Franconia and is definitely worth a visit. Luckily, the entire town escaped the Second World War completely unscathed, which means that it remains just as beautiful today as it did in the Medieval Ages. Although, the town claims it is "the most beautiful town in Germany", which we feel is definitely ONE of the most beautiful, but far from being the MOST beautiful.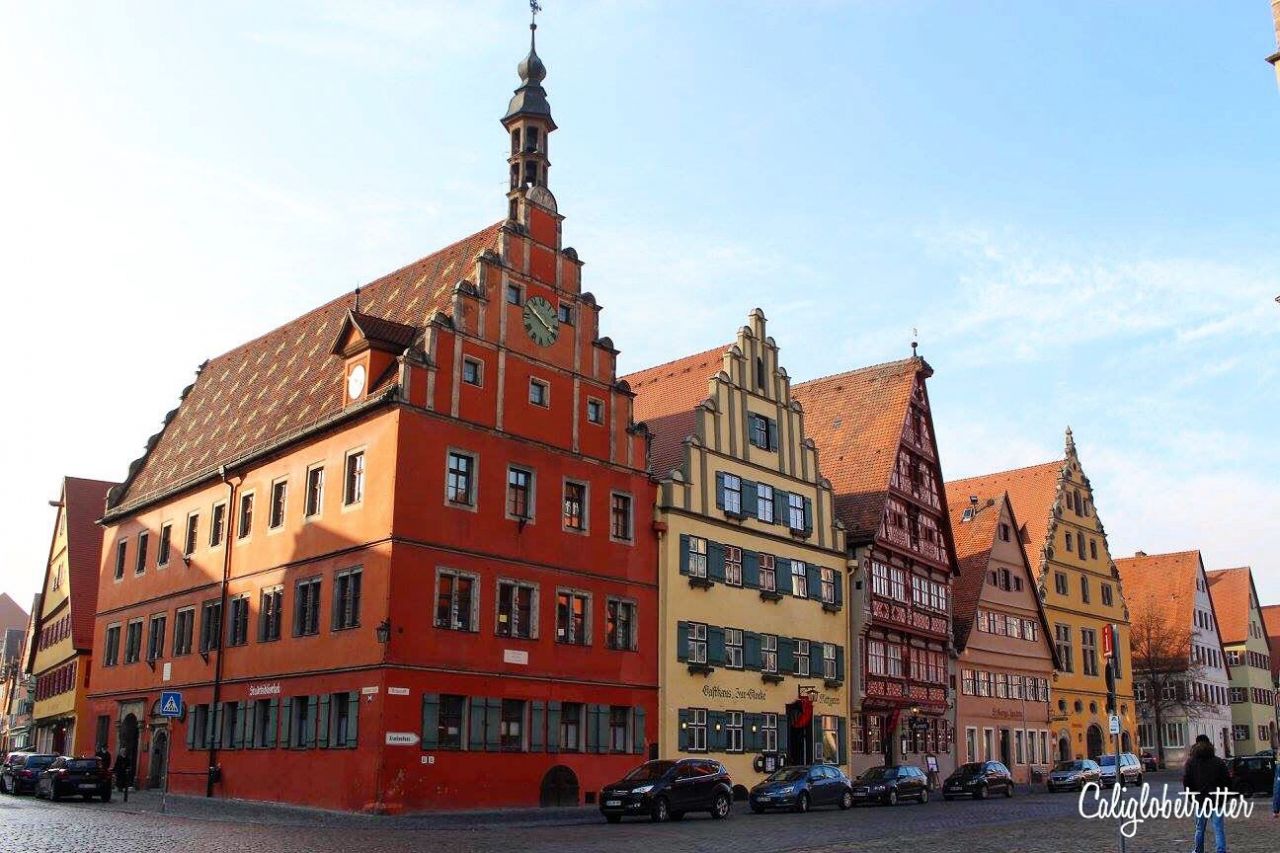 A point of interest in Dinkelsbühl is the St. George's Minster is a 15th century Gothic style church which dominates the town. The main alter is definitely worth a visit. And when you're done checking out the inside, climb up the tower for a view over the town.
Other things to do in Dinkelsbühl include strolling around the Weinmarkt, or Wine Market, the loveliest part of the town! Colorful gabled buildings line the market, dating from around 1600. Here you'll find many restaurants and cafes spilling out along the promenade making for an enjoyable and surprisingly exciting town to visit!
If you're a fan of the Brothers Grimm, then you'll enjoy the fact that The Wonderful World of the Brothers Grimm, was filmed on location in Dinkelsbühl, as well in Rothenburg ob der Tauber.
If you're short on time and can only visit two of the three towns, then I would highly suggest visiting Dinkelsbühl and Rothenburg ob der Tauber. The town was absolutely beautiful and full of colorful half-timbered (Fachwerk) houses, the town was quiet and actually more alive than Nördlingen.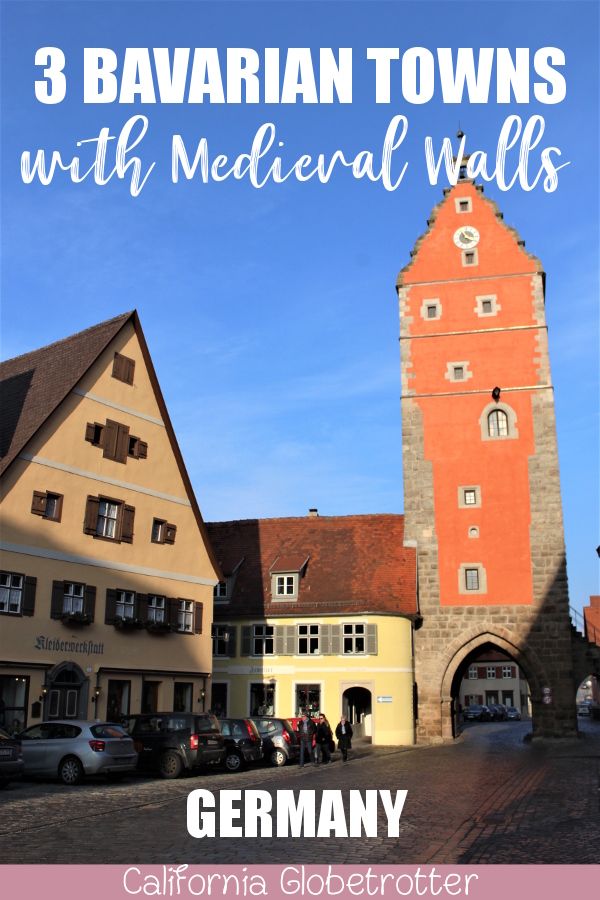 Rothenburg ob der Tauber
And finally, the best for last! If you're short on time and have to chose between visiting Nördlingen, Dinkelsbühl or Rothenburg ob der Tauber, then this is without a doubt you're best choice, but be forewarned, it's very touristy!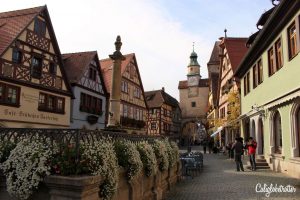 By far one of the best known towns on the Romantic Road is Rothenburg ob der Tauber for it's extreme fairy tale-like beauty, but which receives some 2 million visitors per year. Surrounded by its Medieval walls and endless half-timbered houses, it makes strolling through this town feel like a fairy tale come true. This is one town, you do NOT want to miss!
A good portion of the town was destroyed during the Second World War, but it was quickly rebuilt to its former glory from donations around the world. Today, there are still debates as to whether or not its bombing was necessary.
There are many things to do in Rothenburg ob der Tauber and you definitely need a full day to explore the town! Stroll along the Medieval walls and read some of the names of the people who donated to help rebuild the town. When you get to the Röderturm (Röder Tower), climb to the top for an amazing panoramic view over the town! You'll pay a small entrance fee once you nearly reach the top to a gentleman waiting for you!
Other points of interest in Rothenberg ob der Tauber include snapping a photo of the towns two most iconic houses, the Gerlauchschmiede as well as the Plönlein with Kobolzeller Steige and Spitalgasse. Then when you're done, find all the towers that were once used to safe guard the town.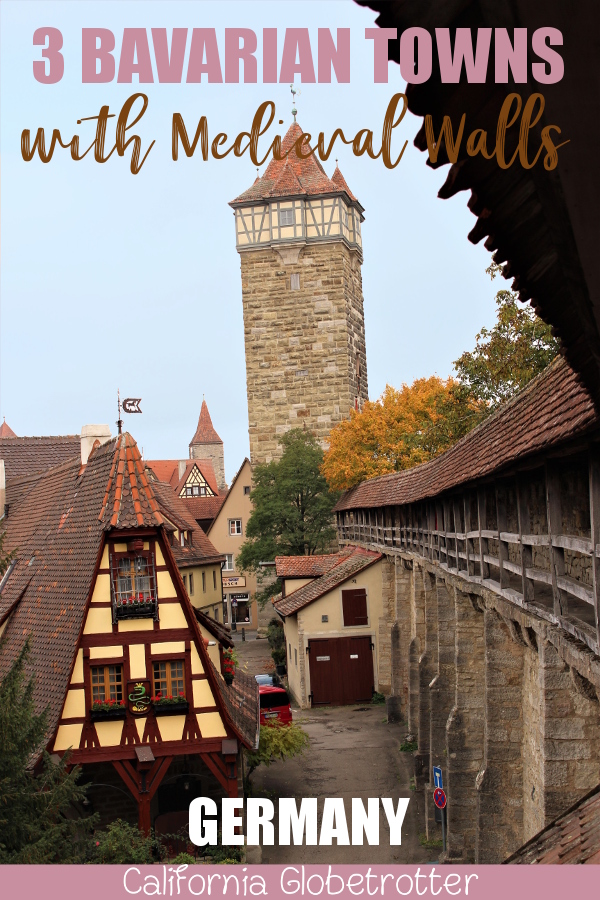 ______________________________________________________________
Overall, if you have the time and are looking for the most picturesque towns in Bavaria, then I highly suggest you to slow travel and spend a day in at least each town. You could however, spend one day visiting Nördlingen and Dinkelsbühl, but you wouldn't be taking in the romance of each town to the full extent.
As mentioned previously, if you are short on time, then Rothenburg ob der Tauber is the one town you won't want to miss and you'll be sorry if you do! However, you'll have to come to terms that mass tourism is at its finest here. If you have time for two of the towns, then I suggest the former as well as Dinkelsbühl. Nördlingen is definitely cute and less touristy, but doesn't quite pack the fairy tale punch I was looking for. Plus, the more half-timbered houses, the better!
Either way, these towns all make for the perfect day trip from Munich!
If you're interested in visiting Germany and are looking for more information, I highly recommend using the DK Eyewitness Travel Guide! Without these guides, I would be lost! This is my travel Bible!
Disclaimer: This post contains affiliate links. If you click on one and make a purchase, I might make a little extra spending money, at no extra cost to you. As always, all opinions are my own and these products/services have been found useful during our travels and come highly recommended to you from yours truly!
Other Picturesque Towns in Bavaria:
The Historic Town of Regensburg
Nuremberg: Partially Surrounded by a Medieval Wall
Liked this post? PIN IT FOR LATER!!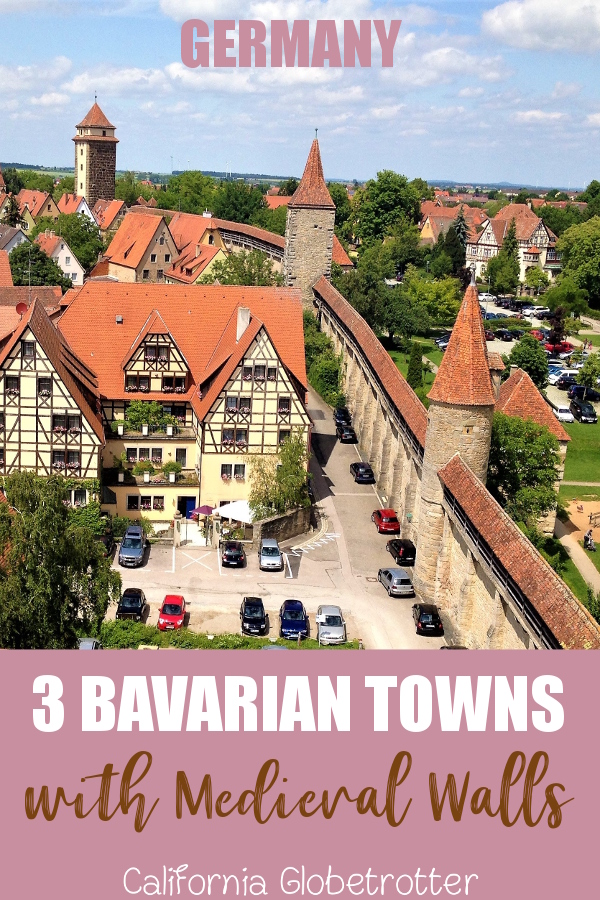 Save
Save
Save
Save