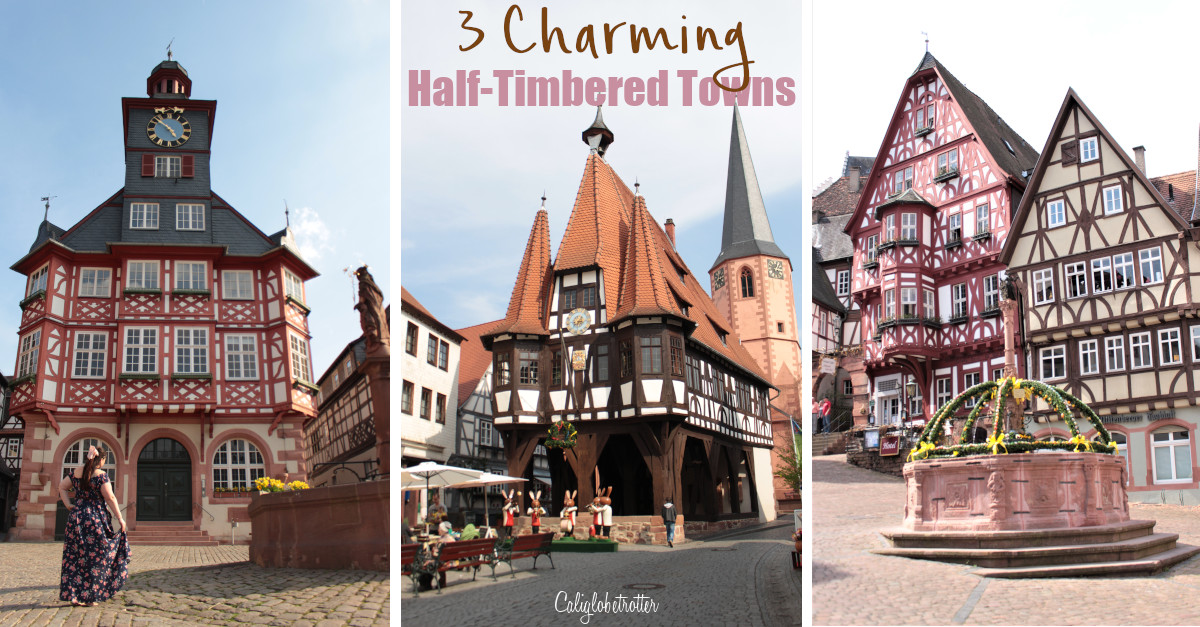 Disclaimer: This post contains affiliate links. If you click on one and make a purchase, I might make a little extra spending money, at no extra cost to you. As always, all opinions are my own and these products/services have been found useful during our travels and come highly recommended to you from yours truly!
I'm just gonna say this right now, and if you're a regular reader, you already know what I'm about to say! … I've done it again! I've found more adorable, picturesque, quaint and charming half-timbered towns. And no, not just one, but 3!!! And if you're a regular reader or at least follow me on Instagram, then you already know I am OBSESSED with these stupid pretty little towns that are straight out of a fairy tale book.
And it dawned on me last night while writing this, WHY I am so addicted to half-timbered towns. Ever since I was a little girl, my mother always set up a Christmas village on our tables, with little lamps to light up the town, figures I could play with, covered in white snow. And now every day, I get to live that childhood memory when we visit these towns!
I have quite the knack for sniffing out and finding some of Germany's best kept secrets and hidden gems. I love searching for the small quaint towns that are not yet over run by mass tourism, that still hold fast to their authenticity and where I get starred at by locals who are so unaccustomed to seeing people walking around their adorable little towns with a camera strapped around my neck.
Want to visit these Disney-esque towns? PIN IT FOR LATER!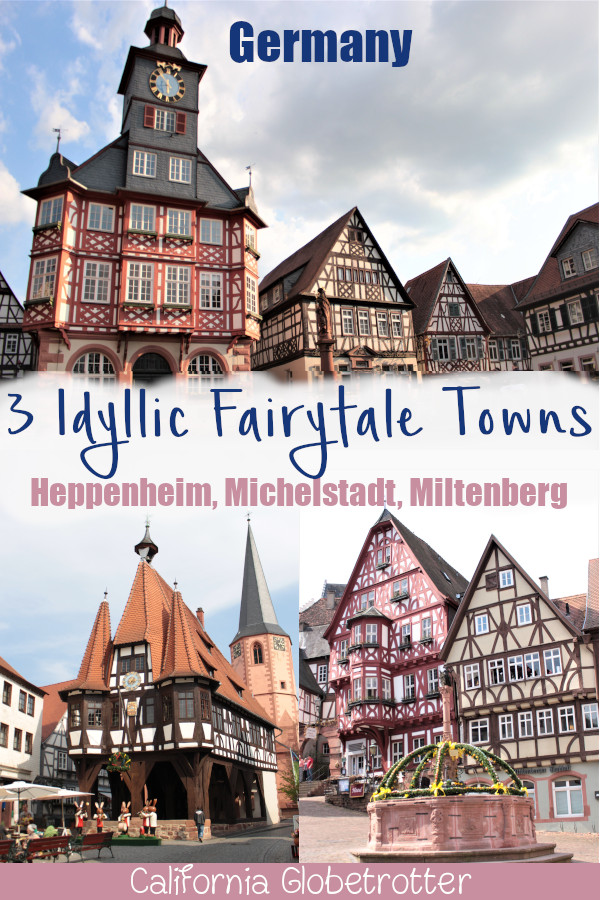 How to AVOID Looking Like a Tourist in Europe
STUNNING City Halls in Germany
The Most Beautiful City Halls in Europe
As you probably know, Germany has many different road trip routes to take, for example, the Romantischestrasse (Romantic Road). Welp, you guessed it, there's also a route for half-timbered towns! And guess what, I'm in heaven! It's called the Deutsches Fachwerkstrasse (German Timber-Frame Road) which stretches the River Elbe in the north to Lake Constance in the south, divided into 7 sections for a grand total of nearly 1,864 miles (3,000 km) of half-timbered bliss!
I don't just love them because of the beautiful architecture and the colorful, romantic streets but because here, time moves more slowly. People casually stroll down the streets, they sit longer and enjoy their coffees outside soaking up the sunshine, there's a quiet humming chatter and children laughing in the distance. Even the birds sounds more chirpful! Yes, I said chirpful!
Visiting big cities like Munich, Nuremberg or Frankfurt is all fine and dandy but sometimes, you just gotta get away from the hustle and bustle of our fast moving world and slow it down for a bit, if only for a day, to recharge. Taking time to stop and enjoy the simple things in life.
Plus, the drive to towns like these are usually down winding roads, through some of the most beautiful and scenic regions in Germany, which alone makes for a relaxing Saturday road trip to some of the cutest small towns in Germany that are definitely unknown outside of the country. If you're looking for unique places to visit in Germany, then I would say all of these cute little towns qualify and are some of the BEST Day Trips from Frankfurt!
So, have I intrigued you yet? Are you ready to be introduced to 3 adorable towns? Hold on tight! I'm about to knock your socks off!

Miltenberg, Bavaria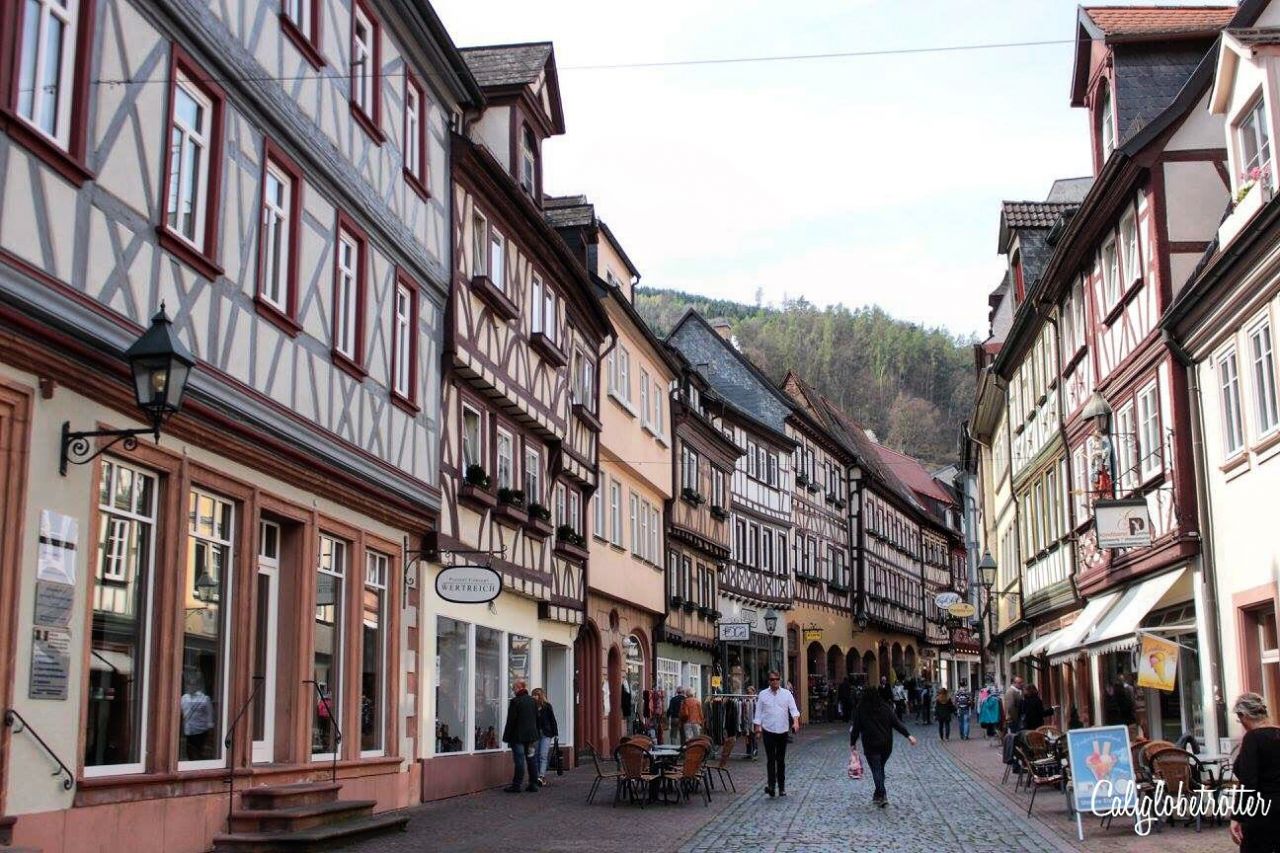 Just near the border of Bavaria in Lower Franconia, you'll find the small town of Miltenberg, with a whopping population of 9,000 people! Located on the left side of the River Main, this is the only of the three towns you'll visit today that is along the Deutsches Fachwerkstrasse. The town is nicknamed "the Pearl of the Main" and for good reason too!
Here, you won't find sooo many things to do in Miltenberg, but you will find one colorful half-timbered house after another, leading you from one end of Hauptstrasse (Main Street) to opposite end with no shortage of picture perfect moments. With 150 historic half-timbered houses, you should have enough to feed your addiction! While walking around, be sure to look for the dates on the buildings and find some of the oldest half-timbered houses in the town!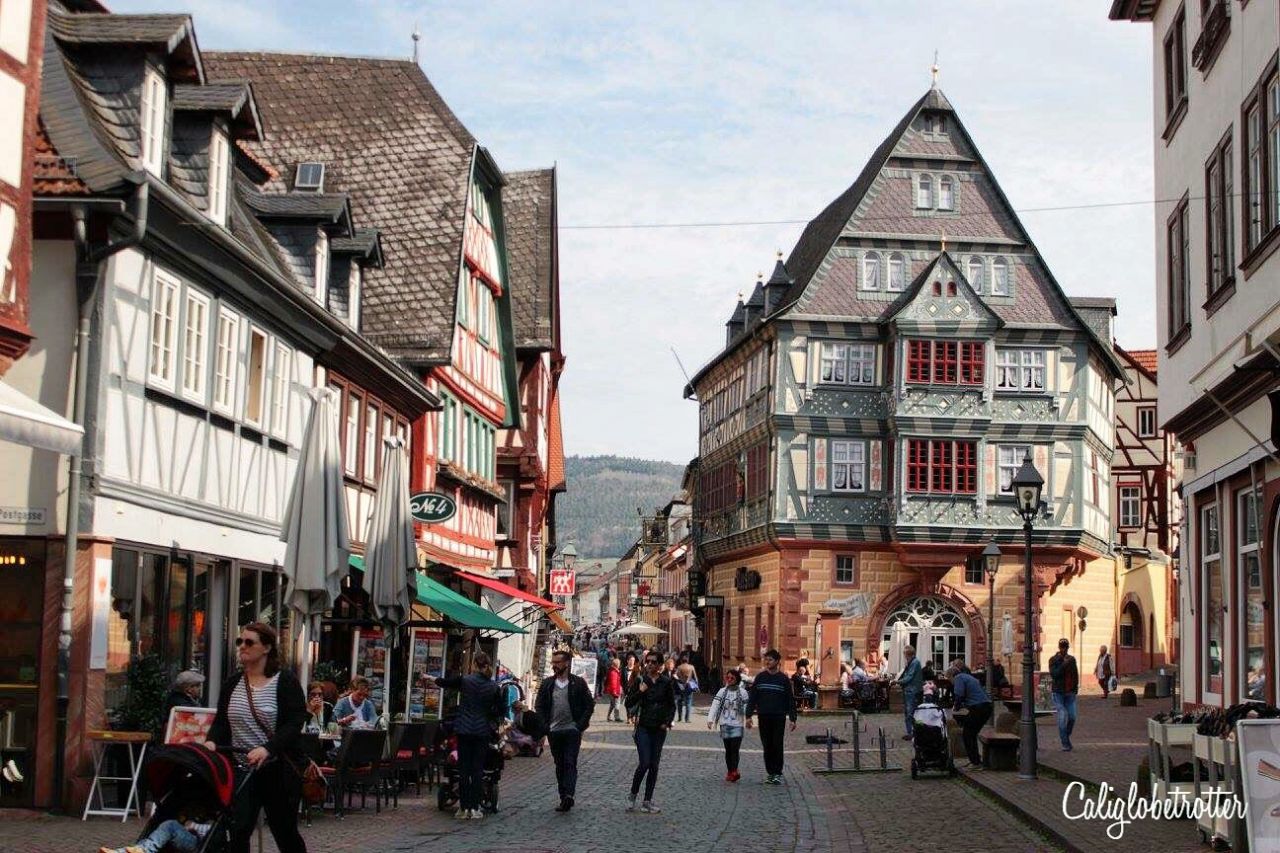 Of importance here, is the Hotel zum Riesen (The Giant), Germany's oldest inns, dating back to at least 1411 and has been in continuous use ever since! Now that's impressive! Elvis Presley has even stayed here and I'd say, is probably the best place to stay in Miltenberg!
Near the Old Market Square better known as "Schnatterloch", you'll find the Church St. Jakobus, many little cafes and a fountain, which is decorated during the Easter season, a tradition most commonly found in the Franconia region. If you're looking for a yummy recommendation to eat, it is here at the cafe, Domus bei Toni, we had the most delicious Flammkuchen and enjoyed the early spring warm sunny day we were having!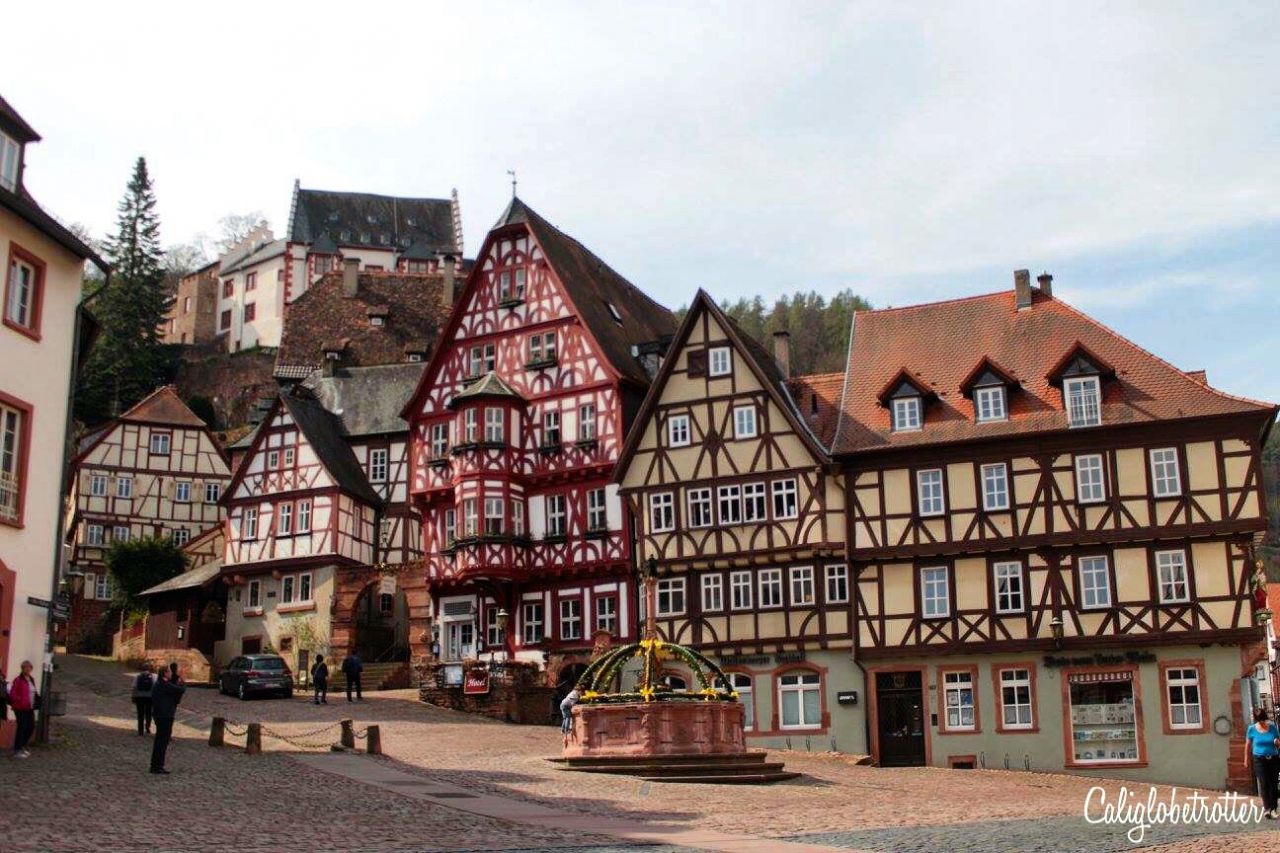 Just past the Old Market square, you'll venture into the "Schwarzviertel" (Black Quarter), which is the oldest part of town, nestles between the Main River and the mountain Greinberg. Here, you can actually smell the history of the buildings, as you stroll through the alley. It's the perfect setting for spooky stories and scary legends, which you can enjoy during a city tour, otherwise, take a peak inside of the wine cellar a bit further down!
Michelstadt, Hesse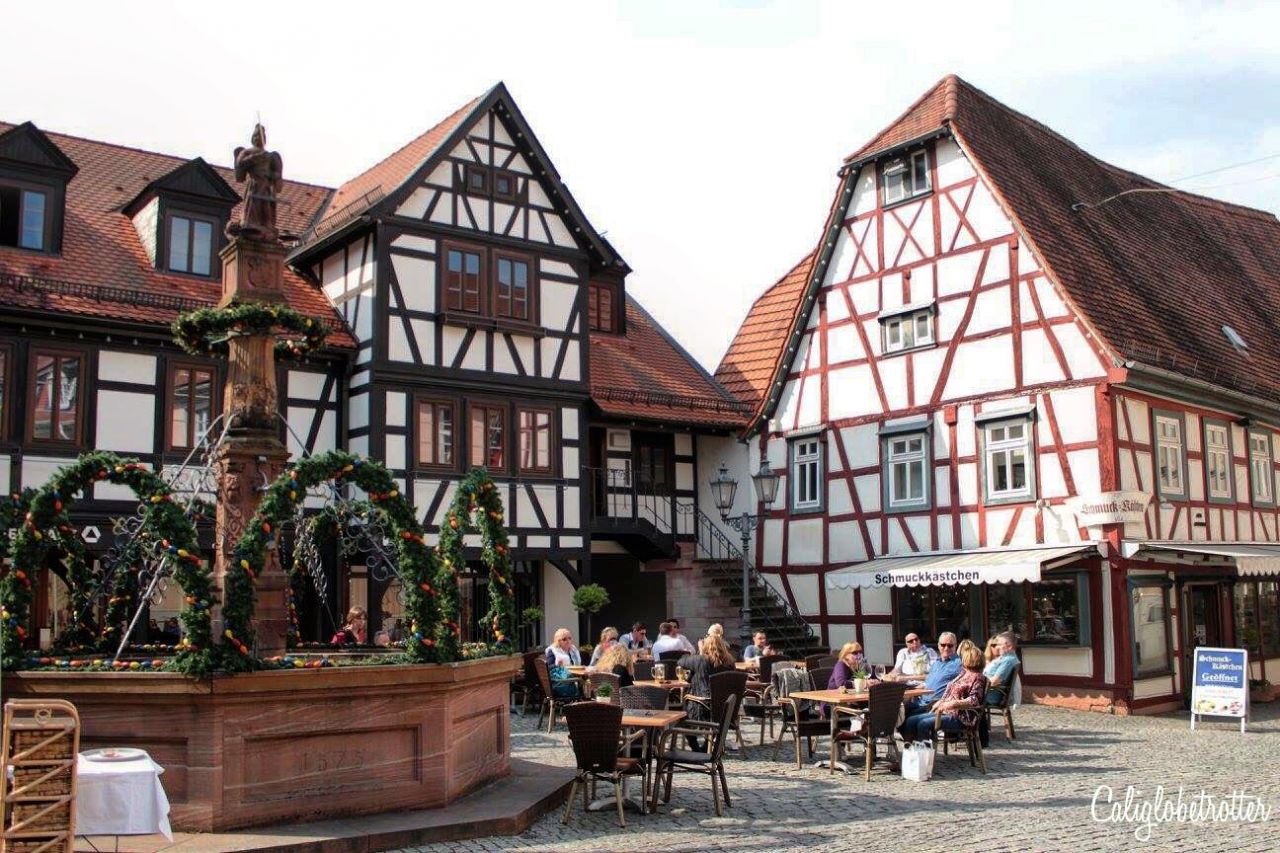 Just a 30 minute drive away down winding roads and farm land, across the border into Hesse is the town of Michelstadt. Set among the hills of the Odenwald (forest), the town has dozens of perfectly preserved half-timbered houses and presents an idea of life during the medieval ages, and is one of the oldest settled locations in the region.
Upon arrival, you'll immediately discover the imposing Kellerei, a Frankish medieval castle built around the 16th century. To the left of it you'll discover the Diebsturm (Thieves' Tower), which is said to have existed since 650, possibly once part of Burg Michelstadt, before being turned into a holding place for thieves.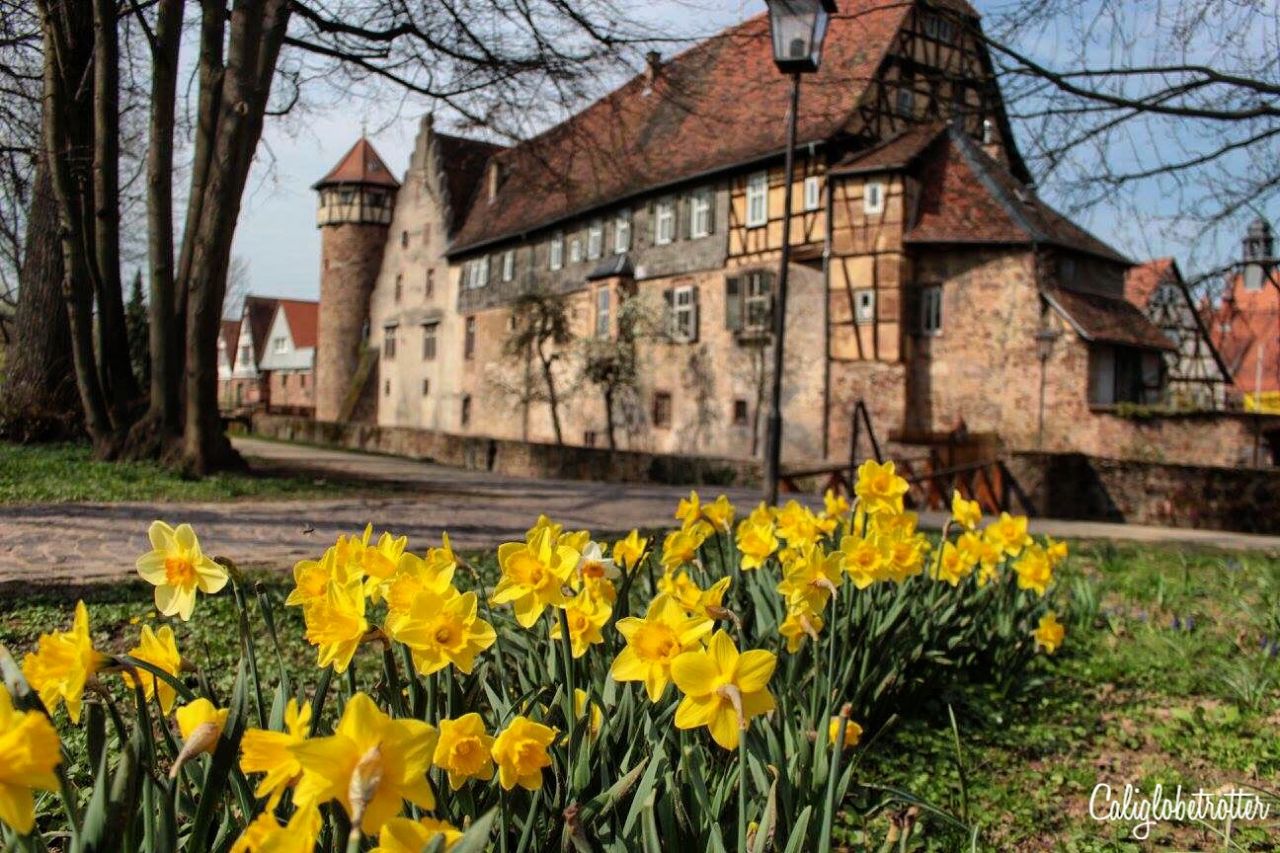 But what draws many people here is the Rathaus (city hall), dating back to 1484 and was once used on a national stamp, making it one of the oldest city halls in Germany. This is no ordinary town hall, as its ground floor was once used as the market hall in days long gone, today now provides a bit of shade, while the official business is upstairs. In front of the Michelstadt City Hall is the main market square, with a few quaint cafes and shops, but there is more to discover than just this area.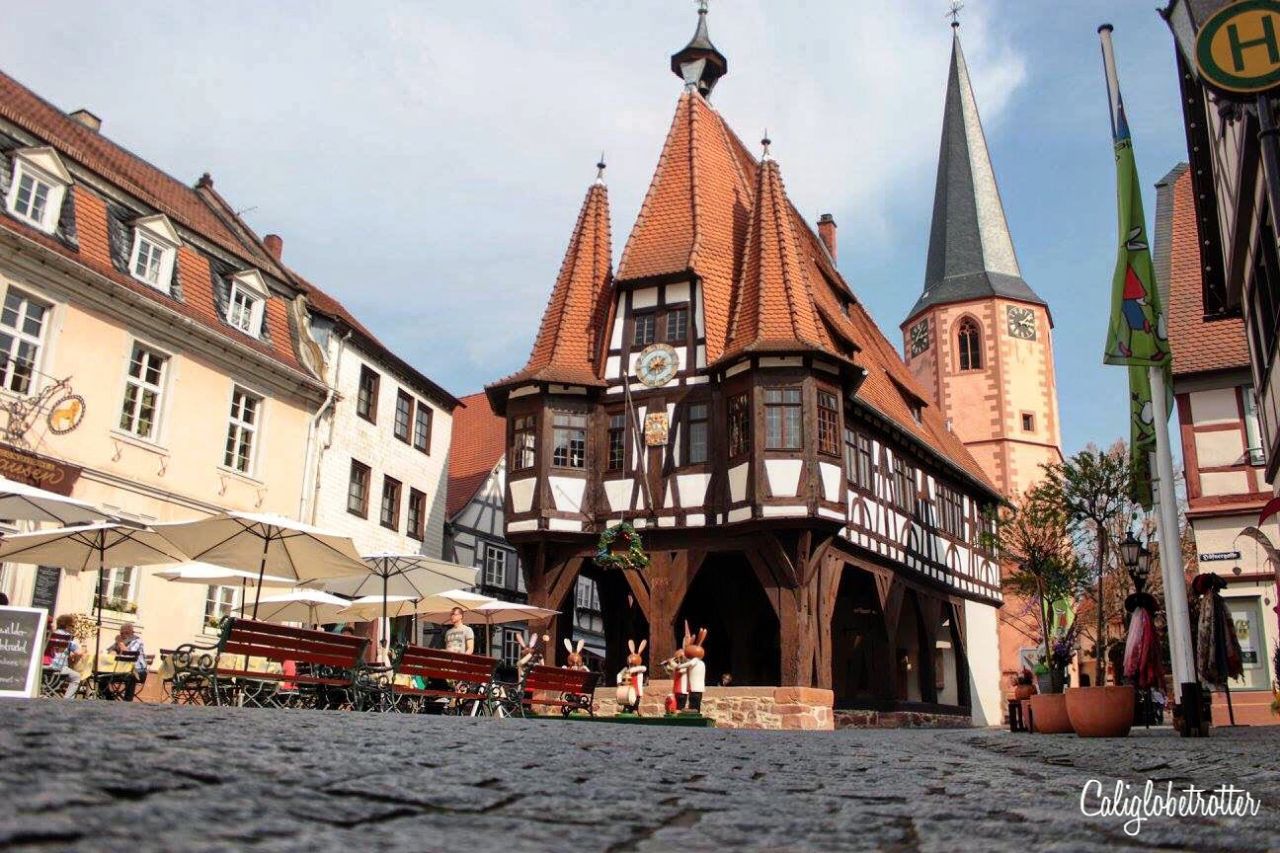 Don't be afraid to wander and get lost down streets of half-timbered allies and crooked streets. You may even stumble upon a biergarten set in a courtyard of a half-timbered house. Beer and a half-timbered house? Yes, please!
Heppenheim, Hesse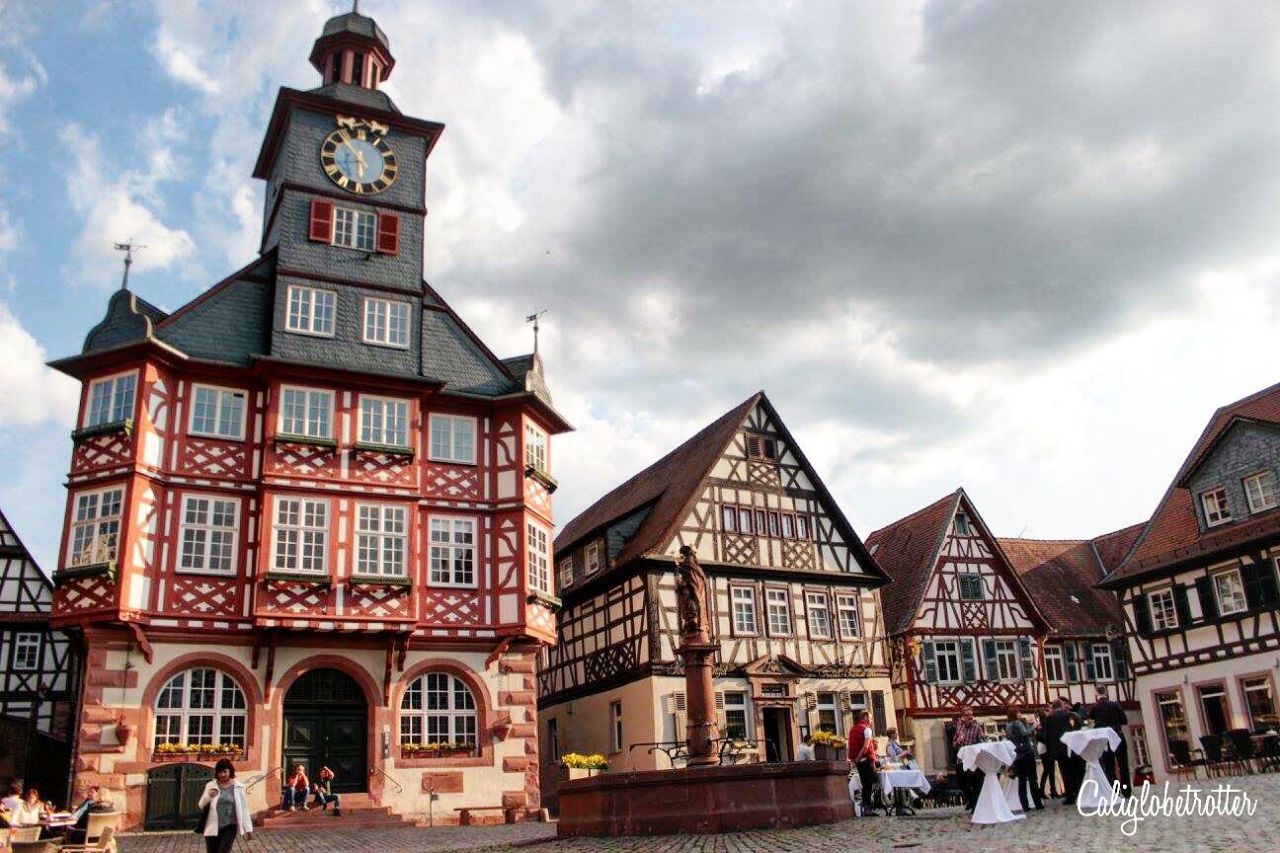 On the edge of the Odenwald, a 45 minute drive from Michelstadt is the romantic half-timbered town of Heppenheim, located along the Bergstrasse, a 50 mile long ancient trading route. Set along gentle rolling hills lined with vineyards, this town has a special characteristic unlike any other.
Not only is the Heppenheim Rathaus absolutely dreamy but the street lamps tell a story. I first discovered it on Pinterest and knew I had to go! It was the most unique, adorable half-timbered city hall I had ever seen, standing tall and dominating the market like a Queen! I definitely feel that it's one of the most beautiful city halls in Germany and by far one of the most unique!
Each side of the lamp depicts a scene from fairy tales throughout the state of Hesse. Throughout the year, there are guided tours to teach you about each saga.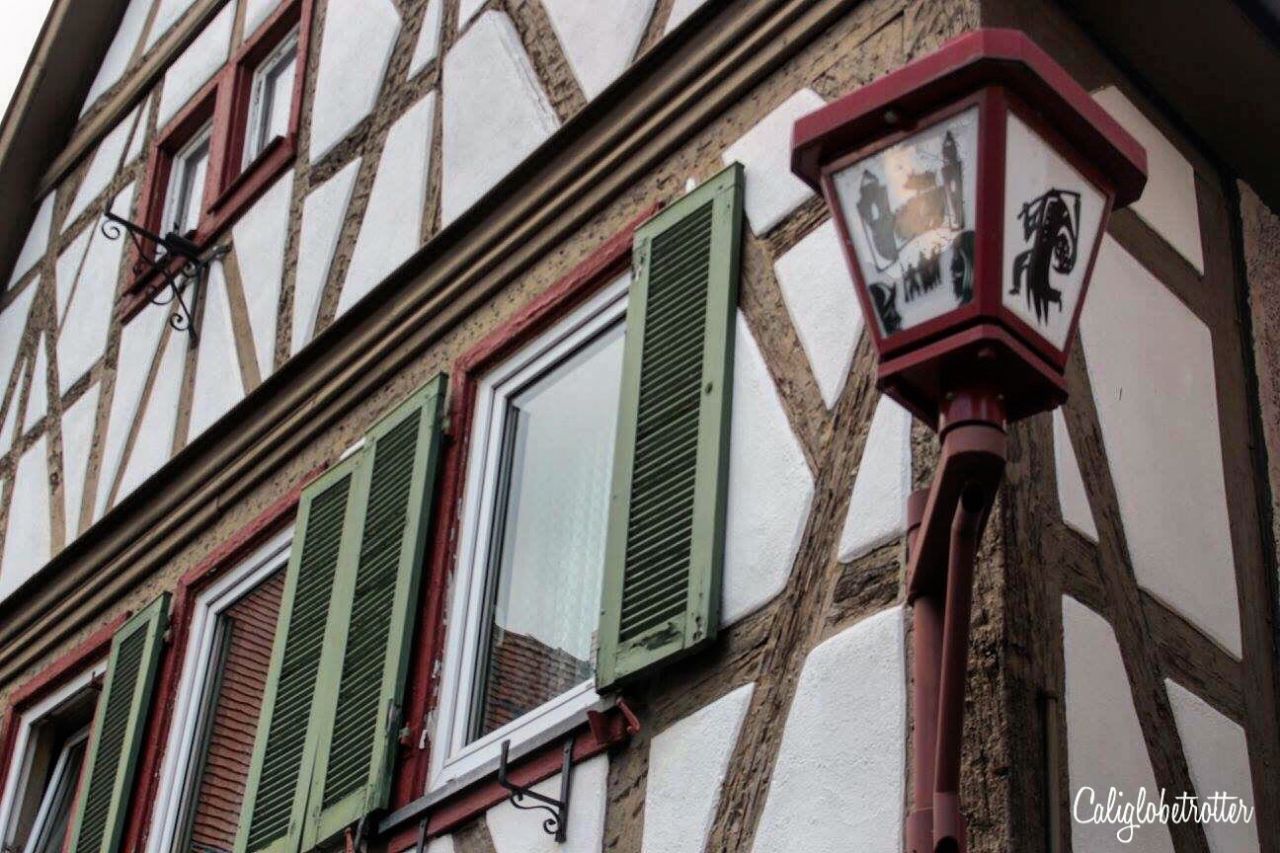 May – September: Every Saturday 10pm
December 26-31: 7pm
As it's only natural for a town located among vineyards, the town also has a yearly wine festival for those who love to travel and sip on wine! (Me, me, me!!!) With 450 hectors of vineyards, it was once Germany's smallest self-contained wine region up until the reunification of the country, now however, it's the second smallest.
Bergsträßer Weinmarkt – wine market in late June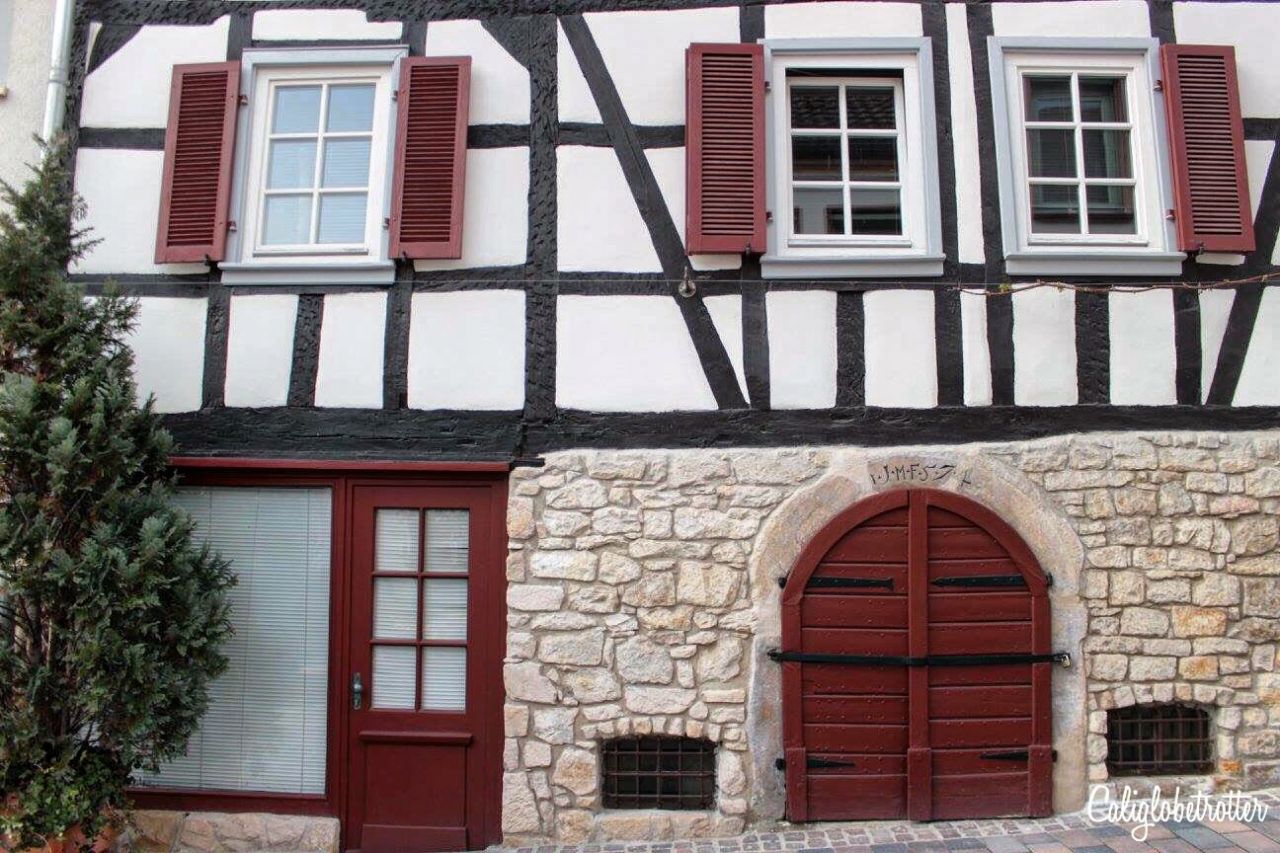 Coming here is like hanging out with the locals, watching children play in the squares and enjoying a glass of wine on a warm summer day! There's not much to do here, but you couldn't certainly find enough to fill your time! You could even explore the castle perched on the hill opposite the town, which is also a Youth Hostel! (Jugendherberge Starkenburg DJH Jugendherberge Heppenheim)
Don't skip out on a peak inside of the Bergstrasse Cathedral which was actually built in 1904, although its origins date back to 755.
I highly recommend visiting each of these towns as either a mini-road trip or visit each town one day at a time. Either way, you worries and stress will wash away when you come to these towns. Time moves slower here and you can soak up every minute, stop and smell the roses and put your feet up while you drink a glass of wine!
If you're interested, there are many other small half-timbered towns in between that you could easily stop at, should any pique your interest, as you're in the heart of Germany's Timbered -Framed Road (Fachwerkstrasse)!
If you're interested in visiting Germany and are looking for more information, I highly recommend using the DK Eyewitness Travel Guide! Without these guides, I would be lost! This is my travel Bible!
Disclaimer: This post contains affiliate links. If you click on one and make a purchase, I might make a little extra spending money, at no extra cost to you. As always, all opinions are my own and these products/services have been found useful during our travels and come highly recommended to you from yours truly!
Other Similar Posts:
The MOST Picturesque Half-timbered Towns in Germany
3 Bavarian Towns Surrounded by Medieval Walls
Liked this post? PIN IT FOR LATER!!