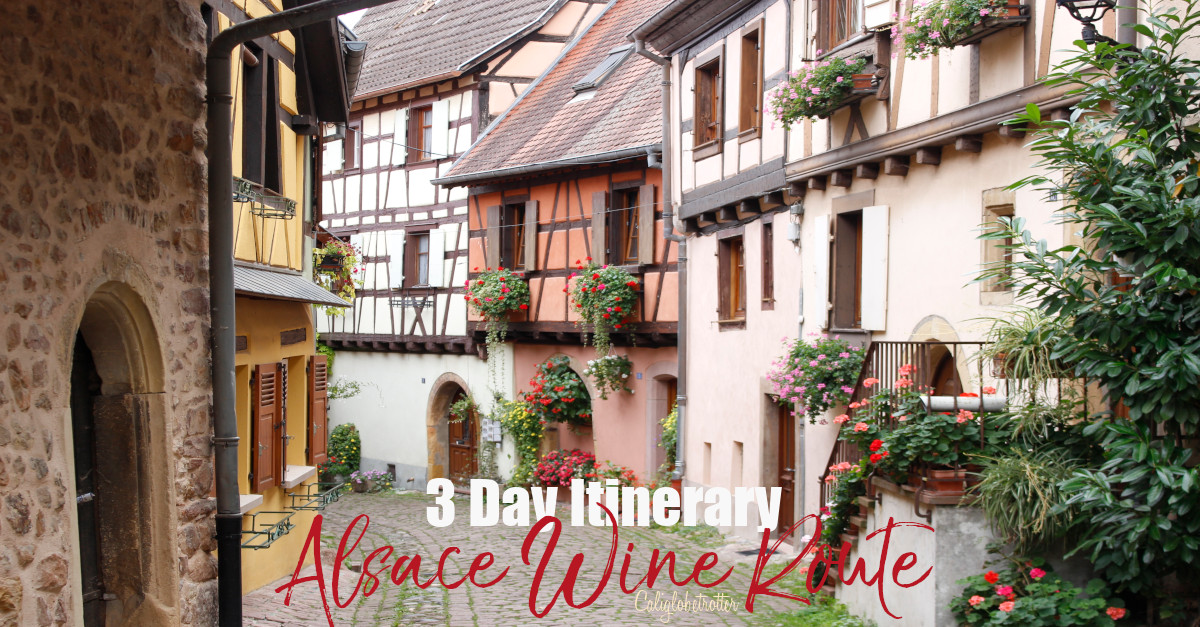 Disclaimer: This post contains affiliate links. If you click on one and make a purchase, I might make a little extra spending money, at no extra cost to you. As always, all opinions are my own and these products/services have been found useful during our travels and come highly recommended to you from yours truly!
Nestled along the eastern border of France, snuggled up against Germany, the Alsace region is one of the best wine routes in France, passing through the foothills of the Vosges Mountains, past a plethora of abbeys, castles, vineyards and wine taverns, making for one of the loveliest holidays you'll have in France! Visiting the Alsace wine region is perfect for those who love whimsical, fairy tale towns overflowing with half-timbered buildings and picturesque cobbled-stone streets!
Love French Wine & Fairy Tale Villages? PIN IT FOR LATER!!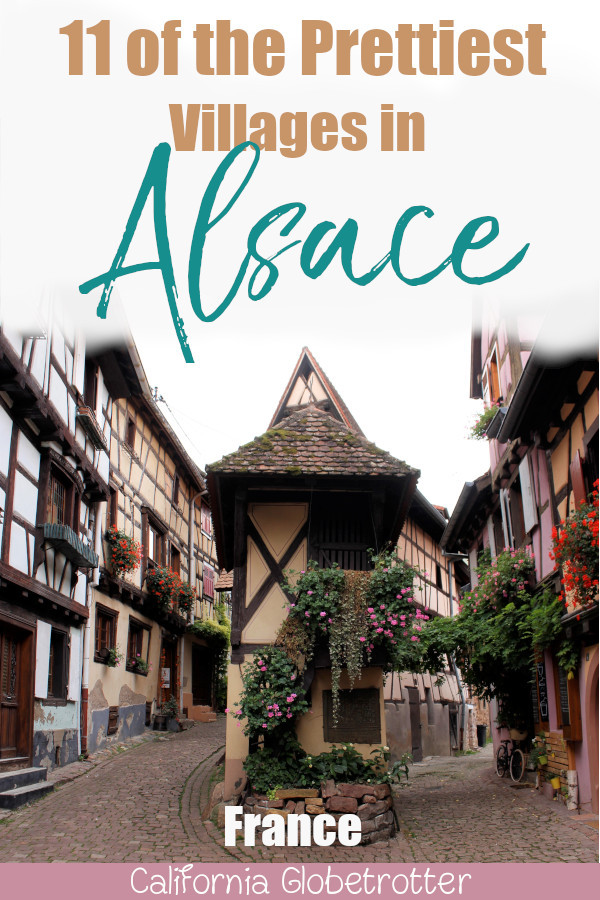 50+ STUPID PRETTY Towns in Europe
Your ESSENTIAL Guide to Europe
About the Alsace Wine Route
The Alsace Wine Route (Route des Vin) stretches 170 km from Marlenheim, just north of Strasbourg, the capital of Alsace in the north and ending in Thann, just south of Colmar. Winding through over 70 picturesque towns to explore, through one of France's most beautiful countrysides, the Alsace Wine Route is one of the best wine routes to explore in France, driving past sun-soaked vineyards between the idyllic, pastel-painted medieval villages. 
The Alsace Wine Route was established in 1953 pioneering wine tourism and is the oldest wine route in the world! Though it is not the wine capital of France as that title belongs to Bordeaux, it is one of the most popular wine routes in France!
For nearly 300 years the Alsace region passed ownership back and forth between Germany and France, thus having a huge impact not just on the influence of architecture in the region, but on the cuisine and the wine production. With the beauty of the Alsace, it's no wonder each country desperately wanted to claim it as their own.
But, don't get overwhelmed just yet by the fact that there are over 70 picturesque towns to visit in the Alsace region. While it's realistically not possible to visit every town in one go, you can begin planning your Alsace Wine Route itinerary with about 20 towns that make the list of top places to visit in the Alsace. I'll be providing you with 11 of the the best towns to visit in Alsace, thus giving you quite a head start. Adding more towns to your itinerary depends on how quickly you visit each town, how much time you have and also where you perhaps randomly stop along the route.
Being an obsessive fan of half-timbered towns in Germany, Colmar was one of the first half-timbered framed towns to hook me in France. Colorful, half-timbered houses line picturesque cobbled-stone lanes and the French have added a whimsical touch by adorning their beautiful buildings in flowers and any random object which can inspire beauty when placed just in the right spot. From there, I discovered a whole slew of even more whimsical fairy tale towns in France to whet my appetite!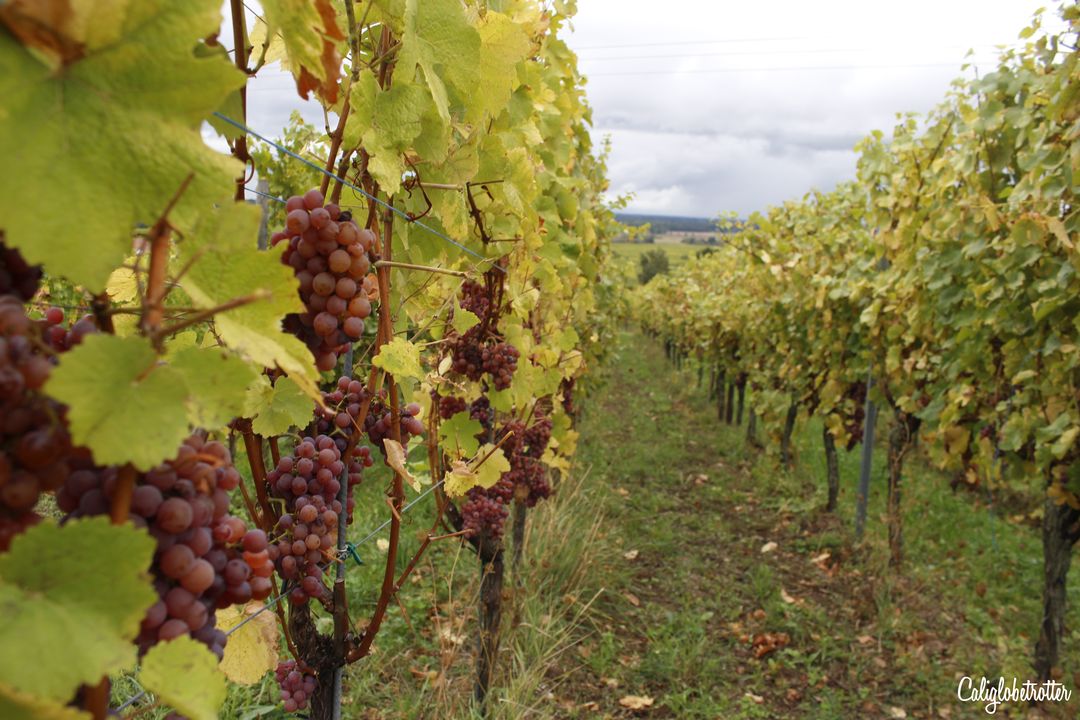 Where to Stay along the Alsace Wine Route
Considering that the wine route runs north to south, it would be logical to stay a night in Strasbourg and work your way down south, perhaps staying the night in a different town each night, though when I first planned that, staying in some of the smaller towns can be quite costly. Therefore, we opted to stay in a hotel just outside of Colmar, dividing our sightseeing into three days and heading out in a different direction each day.
Having now visited Colmar and Strasbourg multiple times, we have a better understanding of where to stay in Colmar, as well as affordable hotel options and of course, which hotels offer a more luxury appeal for those looking to really splurge.
⭐⭐⭐⭐Hostellerie Le Marechal – located in the heart of Little Venice, guest rooms are decorated in an antique decor, perfectly complimenting the half-timbered frame work found also within the hotel.
⭐⭐⭐ Ibis Colmar Est – Hotel Restaurant – located just on the outskirts of Colmar, staying here offers a more affordable stay for those looking to explore on a budget and is great or those with a car, which is where we stayed on this visit.
⭐⭐⭐ Colmar Hotel– Another great and modern hotel a bit outside of Colmar with lush, comfy beds where we enjoyed our first visit, which was also gentle on the wallet!
If you're interested in staying in Strasbourg, then the following are also highly recommended from a separate trip we made there.
⭐⭐⭐⭐ Best Western Europe Strasbourg by Happyculture – for an aesthetically pleasing and luxurious stay in the heart of Strasbourg, consider staying here for a one night splurge!
Best Things to do on the Alsace Wine Route
Obviously exploring the fairy tale, half-timbered towns along the wine route is going to be one of the biggest highlights of exploring this region. However, don't just make it about the towns, but try to explore some of the countryside, by taking some of the back roads. Find a cute chapel on a hill, park your car and take a little hike through some of the vineyards as there are plenty of walking routes to get out and stretch your legs.
Consider stopping at any wine tavern that tickles your fancy along the way and perhaps find the time to do a wine tasting (just look for the word "Degustation") or take a peak into cute shops here and there. Don't be afraid to sway a little bit from the route and see what you find!
To explore each of the towns, I recommend at least 2 -3 hours for each town, with more time in Colmar, as well as Strasbourg as they are the largest of all the towns. Take your time exploring the towns, following the cobbled-stone streets. Don't worry about needing a map as many of these towns are too small to get lost, and when your nose in deep in the map, you may miss the beauty of the town!
I had a set of towns that I considered to be the most important to visit, so thus I broke up our sightseeing by the importance of how badly I wanted to see the towns, starting with the most important on day one. Having previously already visited both Colmar and Strasbourg, we opted to save Colmar for day 2, and skip Strasbourg altogether on this particular trip. Though you could easily see the main sights of Strasbourg in one day.
Getting Around in Alsace, France
There is no question, the best way to get around the Alsace wine region is by car. This gives you the flexibility to explore the towns at your own leisure and choose which towns you would prefer to see the most. Parking is limited in many of the towns, and during peak season I can imagine it can be VERY difficult to find parking. Therefore, I highly recommend visiting during off season. So, we chose the beginning of October and it was perfect. Many towns have ticket machines to pay for parking by the hour, which requires putting the ticket in your car. You will not find many parking garages, unless in bigger cities. For Colmar parking garages, I recommend Parking Mairie (Place de la Mairie, 68000 Colmar, France).
You can also get to Colmar by train, but the trains do not travel to the smaller towns.
Visit the Alsace Tourism website for more information about getting around by bus.
Hop aboard the Little Tourist Train which will take you through several villages and through some of the vineyards.
Cycling through Alsace is also quite popular and bike trails connect many of the towns and looks relatively easy to do
Day 1:

Kaysersberg, Riquewihr, Ribeauville & Chateau du Haut – Koenigsbourg
Kaysersberg
Even as the sun was still rising on our early morning, Kaysersberg's colorful buildings and quaint architecture struck me immediately with its beauty. With a small population of less than 3,000 people, this charming little town has been producing wine for well over 400 years with vines dating back to the 1600s.
Kaysersberg's compactness makes it an easy town to visit in two hours or less, though there is no need to rush! It's one of the most picturesque towns along the Alsace wine route and is not to be missed by wine lovers as they are particularly known for producing pinot gris.
Though there is some pretty stiff competition out there, Kaysersberg actually brought home the title of France's favorite village in 2017 in part because of its easily walkable streets, colorful half-timbered houses and friendly locals. Plus, it's your first introduction to several towns home to Fortwenger – the epitome of Christmas and all things Gingerbread! More on that later!
As we headed out of town, we took a few minutes to admire the enchanting vineyards surrounding the village. Rows and rows of vines as far at the eye can see, from the valley floor, climbing up nearby hills.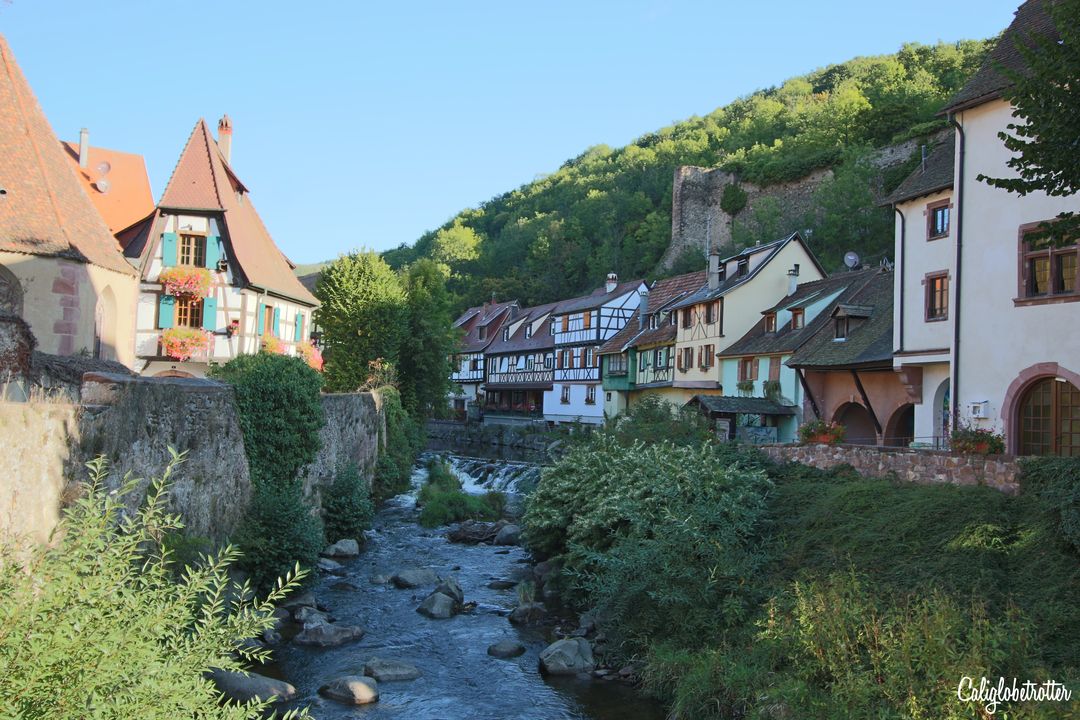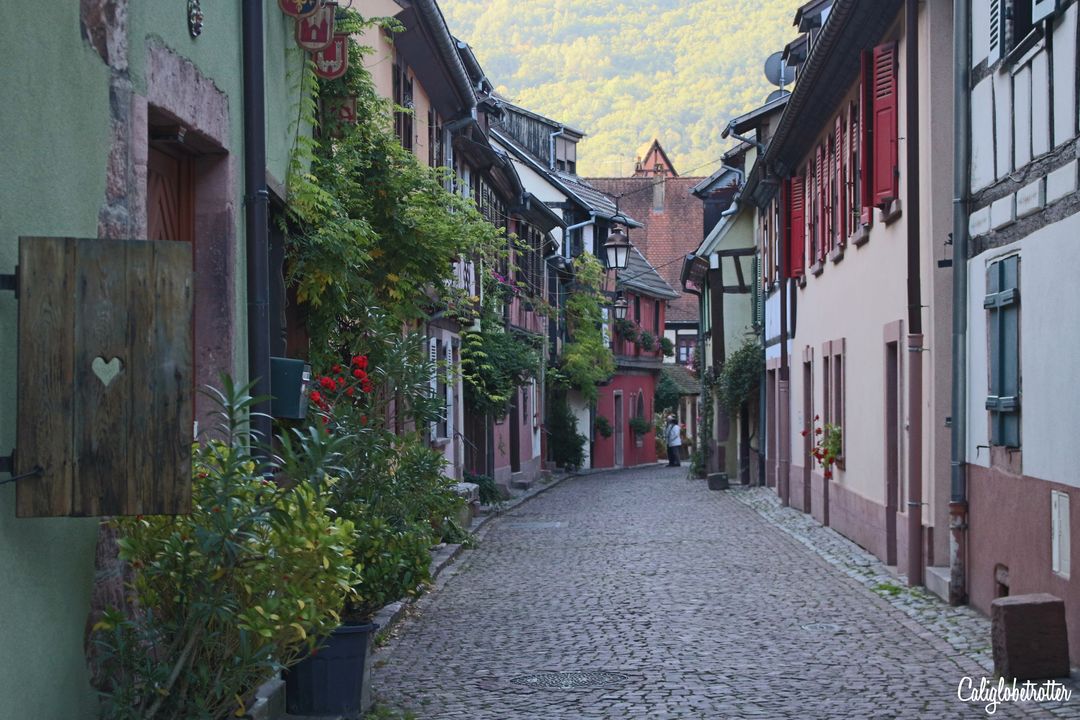 Riquewihr
Tucked between the Vosges mountains and endless rows of vineyards, Riquewihr is jam packed with a colorful array of half-timbered houses dating back between the 15th-18th centuries. Riquewihr is another of the top towns to visit on the Alsace Wine Route, making it a must-see town. At one time, the colors signified what type of establishment could be found there, while today, the colors just add to the charm of this medieval town located in the heart of the Alastian vineyards which earned it the nickname "Gem of the Alsace Vineyards". Besides exploring the picturesque cobble-stone lanes and admiring the Dolder, a 13th century defensive gate, the Thieves' Tower as well as the Winemakers's House, there are a plethora of wine tasting taverns to pop into to try some of the local wine.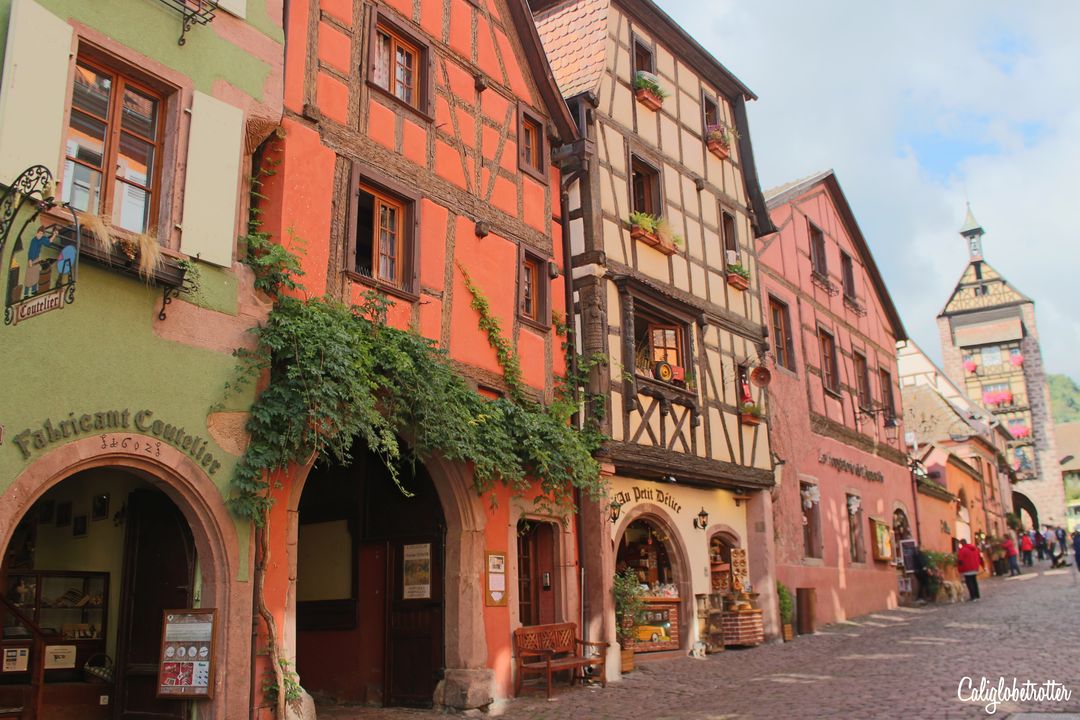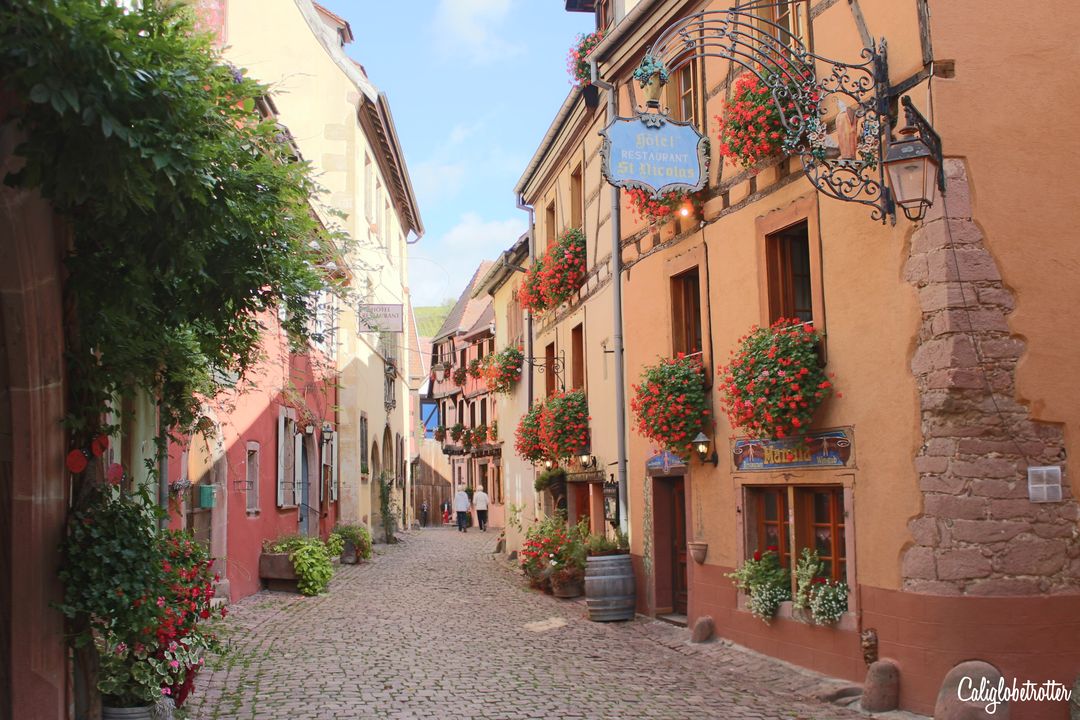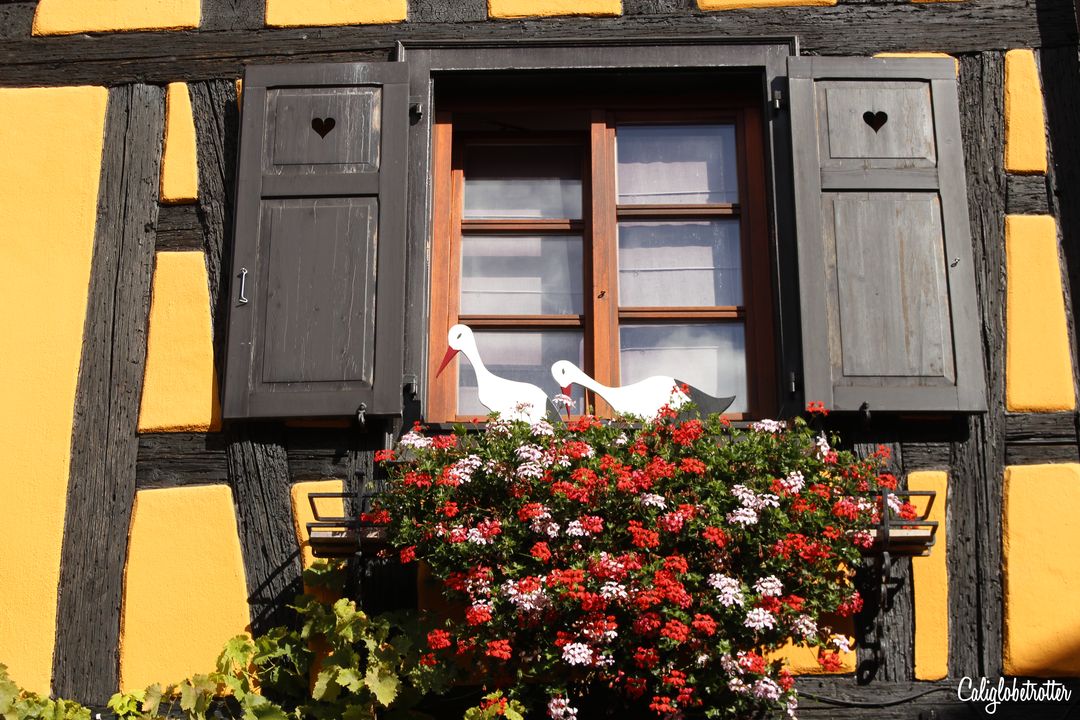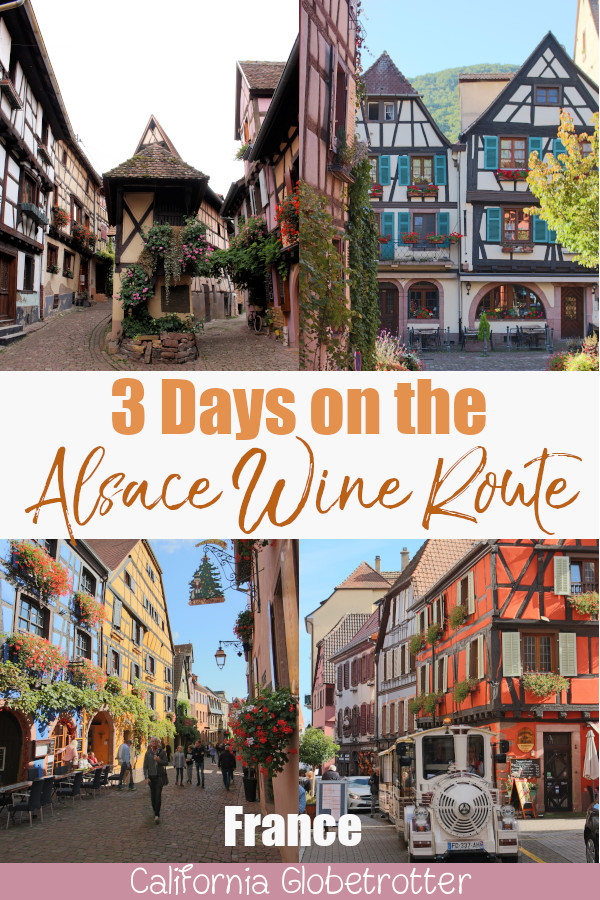 Ribeauvillé 
Perfectly situated between vineyards and mountains, Ribeauvillé is a mere 10 minutes from Riquewihr making it easy to visit both towns in a short amount of time. The town is dominated by three fortified castles Saint Ulrich Castle, Girsberg Castle and Haut-Ribeaupierre Castle which were all built during the Middle Ages by the Lords of Ribeaupierre, hence the name of the town.
Besides that, the town is packed with several main sights to see, such as the Butchers' tower dating back to the 13th century, the picturesque Main Street and the Hotel de Ville (Town Hall).
Nearly lunch time, we felt it was an appropriate time to finally enjoy a glass of wine, so we popped into Cave de Ribeauvillé to enjoy a bit of authentic wine tasting. Cave de Ribeauvillé was established in 1885 as a winegrowers' cooperative and has continued the long tradition of harvesting and producing a variety of grapes grown in Alsace ever since!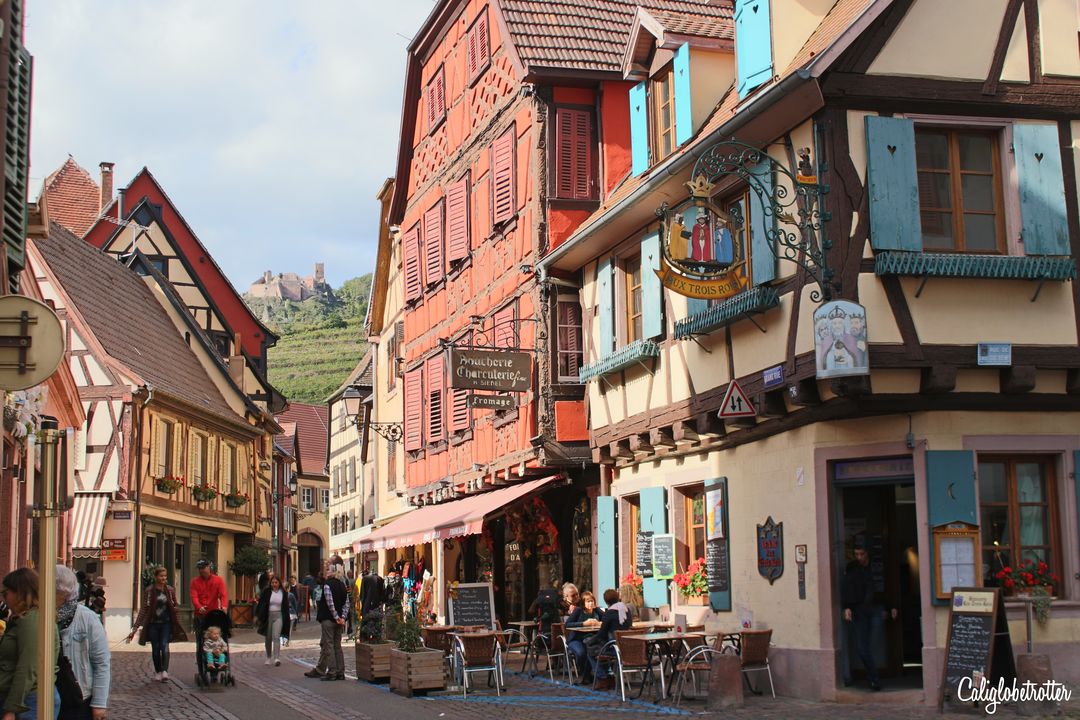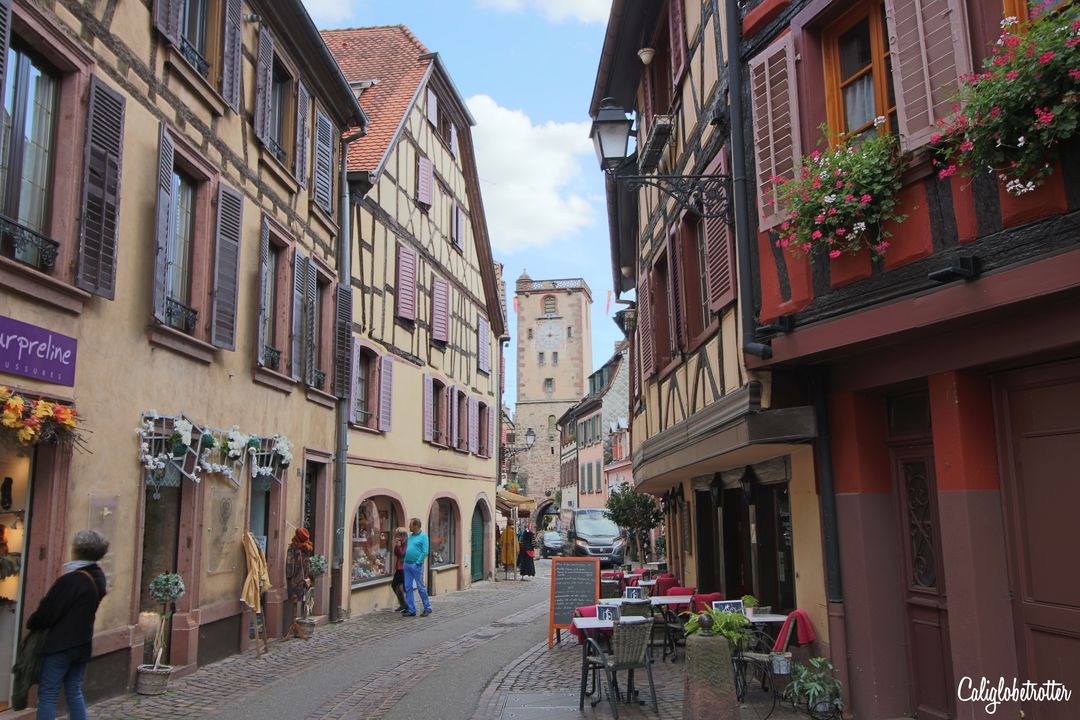 Château du Haut-Kœnigsbourg
Located high up in the Vosges Mountains, Château du Haut-Kœnigsbourg is a medieval castle near Kintzheim and Saint-Hippolyte on the Alsace wine route.
The castle was completely destroyed during the Thirty Years' War in the 17th century and laid in ruins for nearly 200 years before finally being restored to its former glory between 1900-1908. Under the insistence of the German Emperor Wilhelm II, they used the most modern technology to rebuild it according to the historical documents. After WWI, the castle returned to French ownership after the signing of the Treaty of Versailles and brings in a whopping 500,000 curious visitors per year.
The drive up to the castle winds along winding roads, but once at the top, offers some stunning panoramic views over the Alsace region and villages at the foot of the mountain.
Cost: €9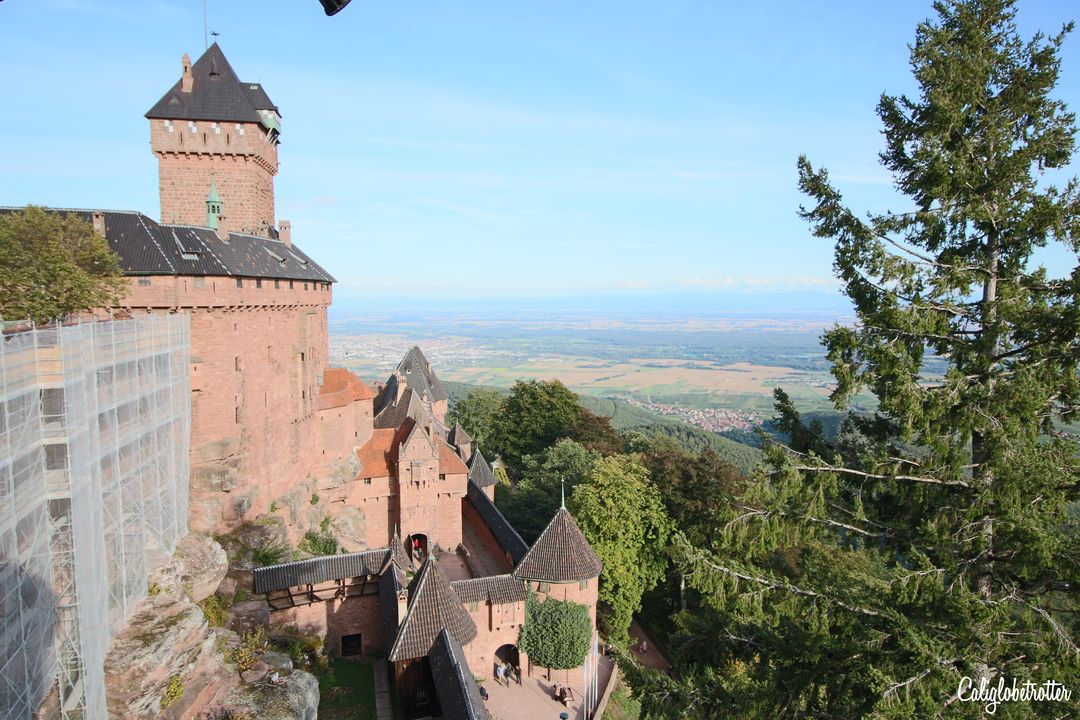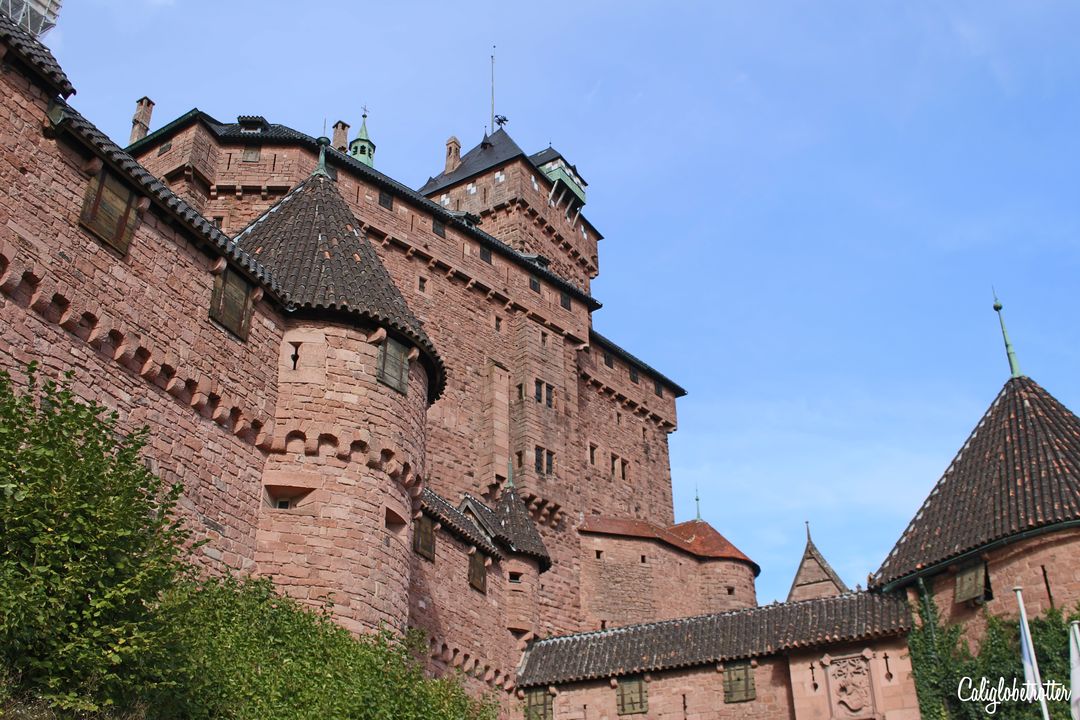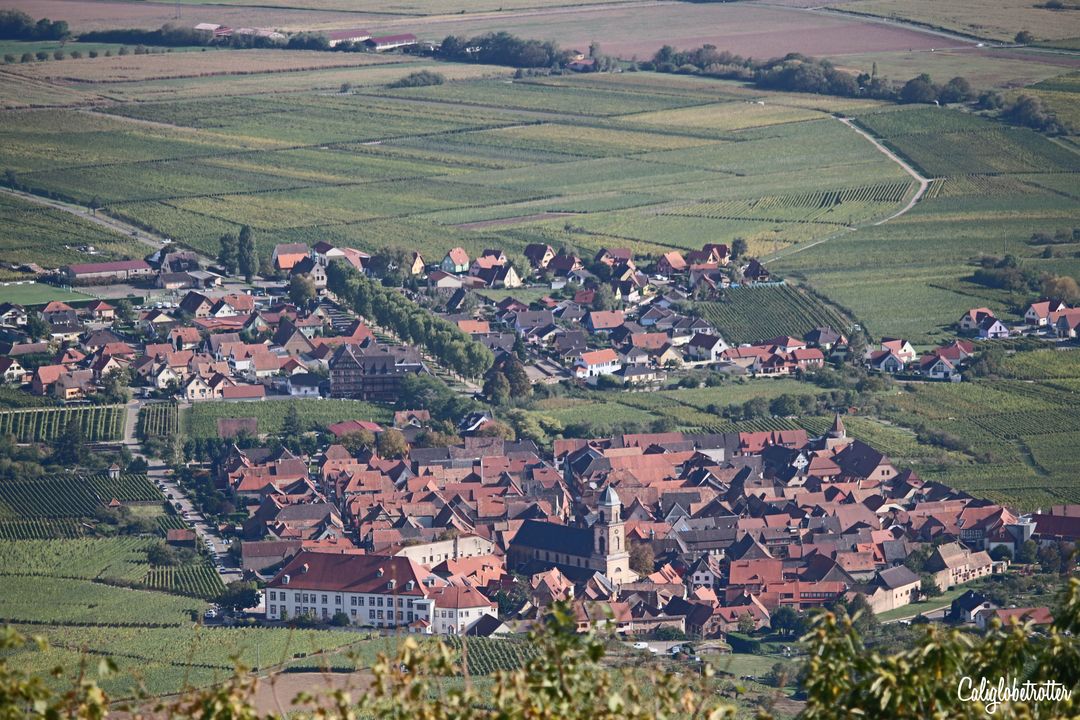 Day 2:

Colmar, Eguisheim, Turckheim
Colmar
The capital of Alsatian wine, Colmar is one of the largest towns along the Alsace Wine Route and is popular for being associated with Beauty and the Beast, though it's beauty far more out dates the Disney film. Colmar's fame is more for array of pastel colored half-timbered houses, especially those located along its "Petite Venise" (Little Venice) making it one of Europe's most beautiful canal cities.
Colmar is also a major hub of French and German gastronomy and like the rest of the region, is a great example of both French and German architecture. Like many of the other towns in this region, Colmar was sparred destruction during both WWI and WWII, thus preserving its whimsical beauty and appeal. Colmar is also home of the famous sculptor, Frédéric Auguste Bartholdi, who designed the Statue of Liberty.
While walking around, you'll notice, like Strasbourg, there are plenty of shops to pop into, both foodwise and for fashionable French clothing. We got seriously sidetracked when we popped into Le Comptoir de Mathilde, which is a chocolate shop selling a variety of savory and sweet spreads, the best of which of course was Crème de Spéculoos (Gingerbread Spread) as well as the Salted Caramel.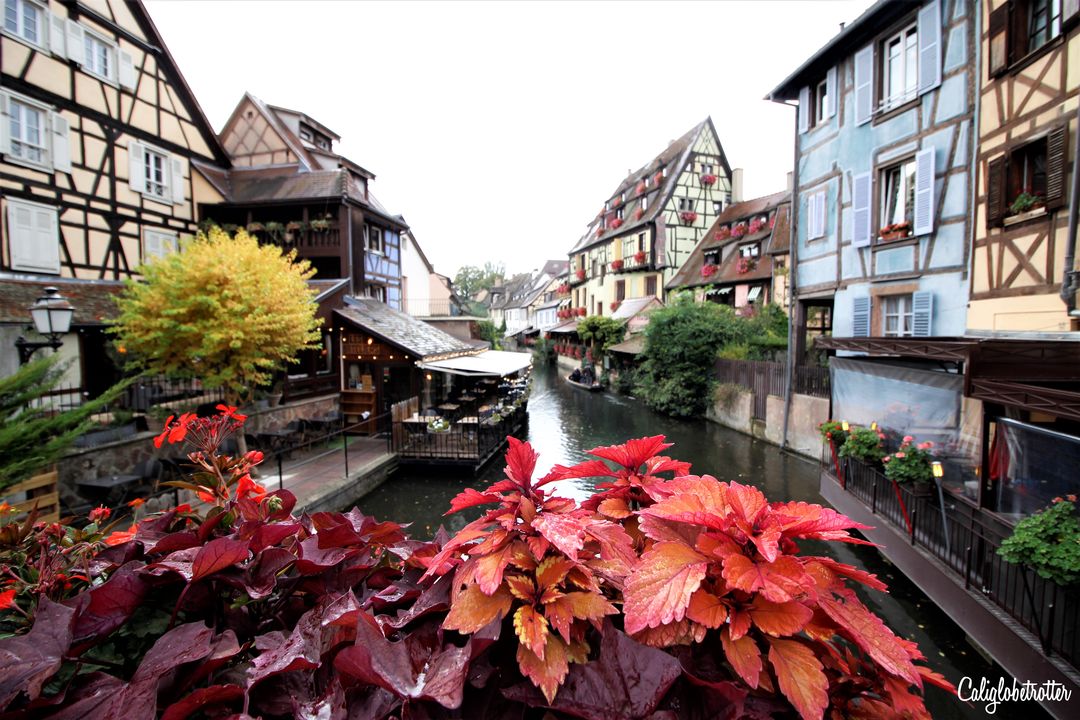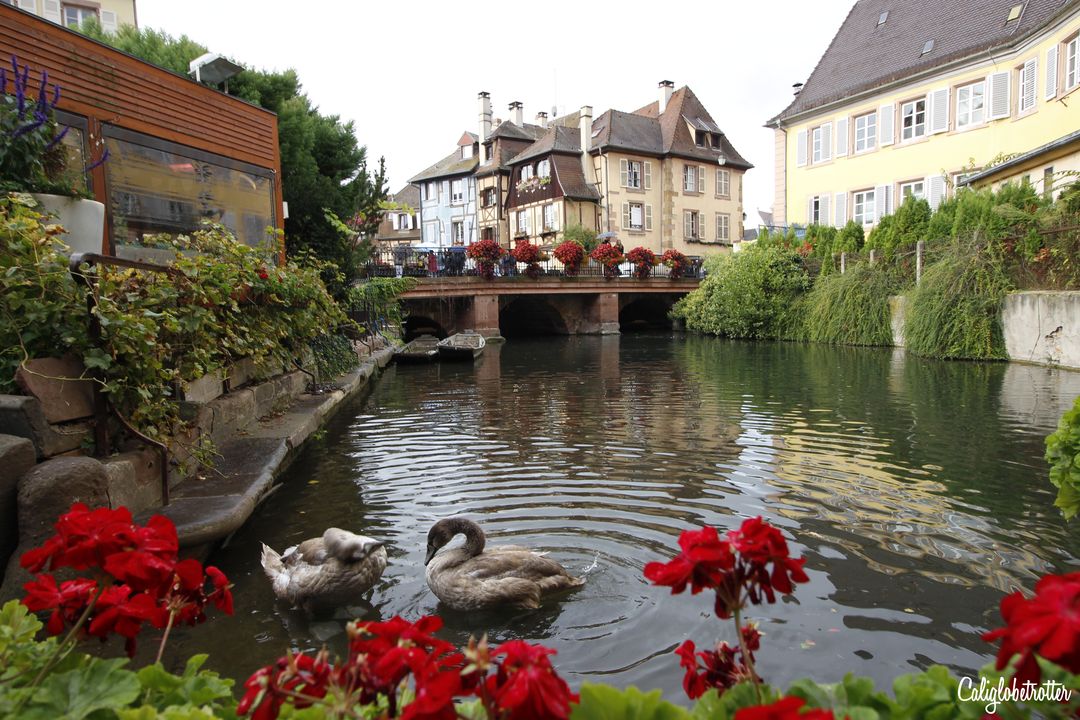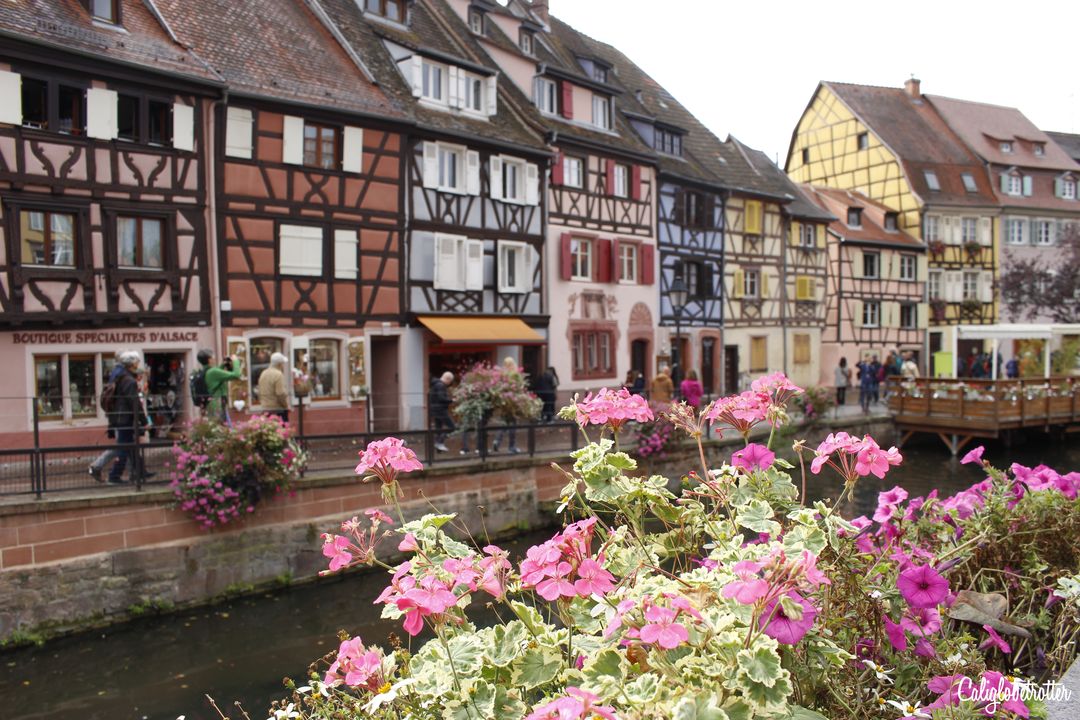 Eguisheim
Voted as the Village préféré des Français (Favorite French Village) in 2013 and officially voted as my FAVORITE town in the Alsace region, Eguisheim has a relatively small population of just 1,700 people. Laid out a little bit like a circular maze, the picturesque village guides you with historic information boards, leading you to the center of town. As you stroll the outer ring of Eguisheim, it's unquestionably the most charming part of the town with staircases and window seals draped in flowers jutting out at different heights.
Some of the main sights to see in Eguisheim besides the quirky shops and narrow lanes, is the Main Square with a beautiful fountain, backed by the Chapelle Saint-Leon IX (donate 50 cents to light up the chapel), the Château des Comtes d'Eguisheim and of course, a few taverns to do some local wine-tasting. We stumbled upon Joseph Freudenreich Vins d'Alsace as we rounded a corner where we actually got to sample three wines, Riesling, Pinot Gris and a Gewürztraminer.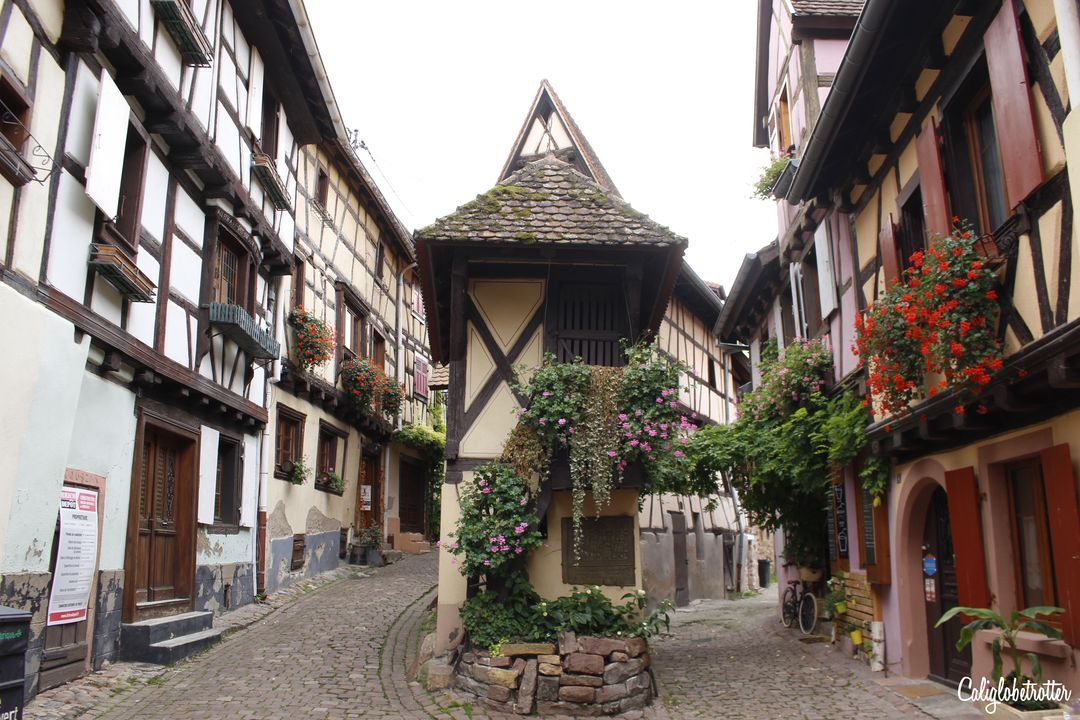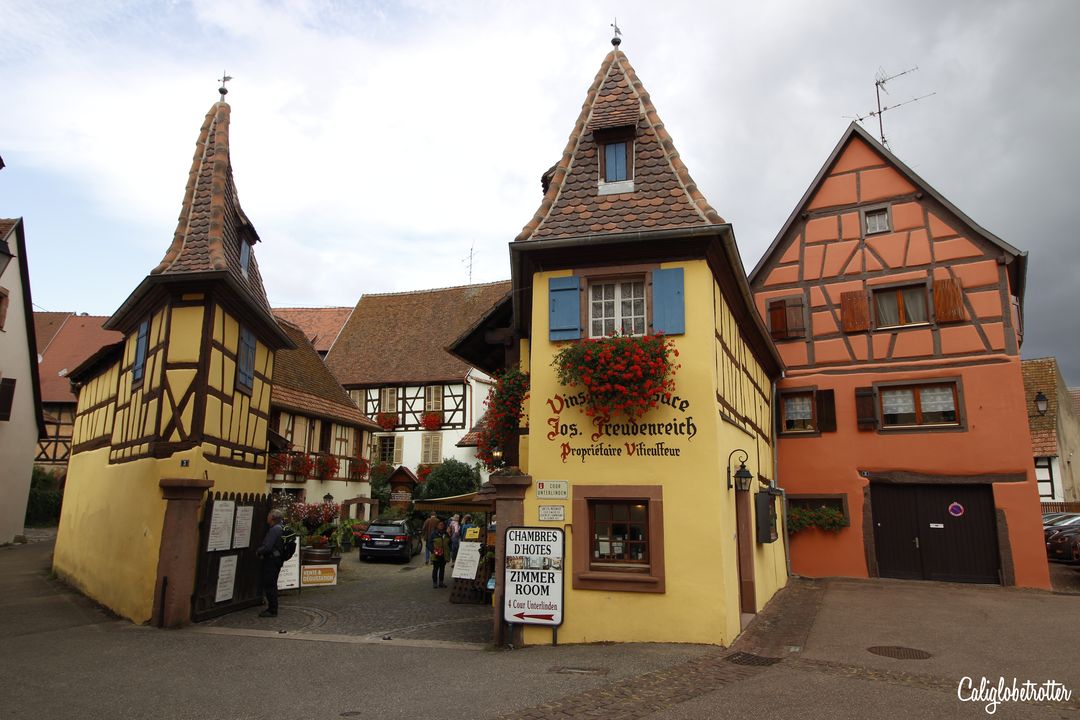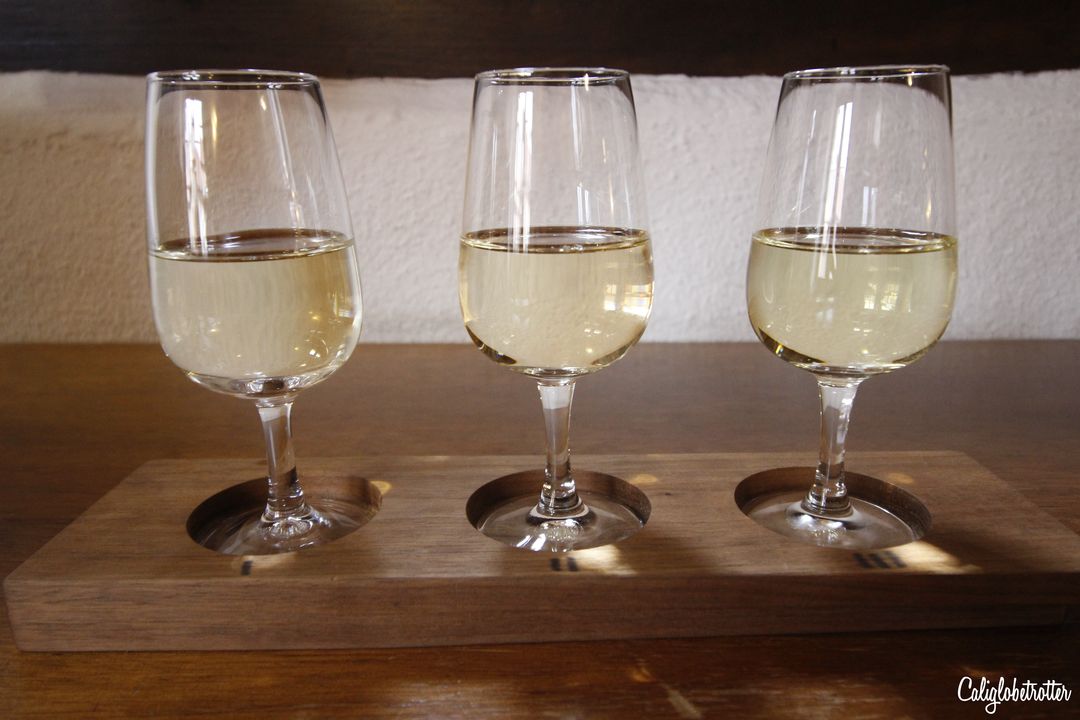 Turckheim
Located along the eastern slopes of the Vosges mountains, in the Haut-Rhine region along the wine route, Turckheim isn't exactly one of the most popular villages along the Alsace Wine Route, but it was worth a quick peak. We entered through the "Gate of France", dating back to the 16th century leading us to the heart of this tiny town. We meandered for a few minutes down the Grand Rue (The Main Street) and admired one brightly colored half-timbered houses after another. We actually came here more in search of dinner, but it was far too early and most restaurants didn't open again until 7pm.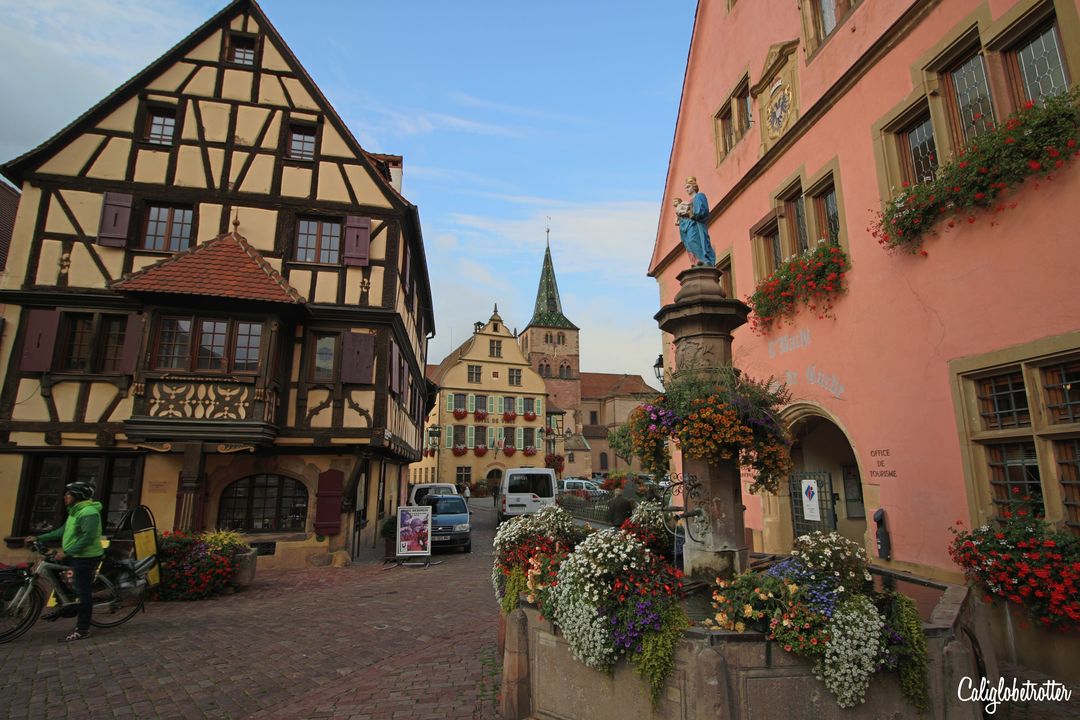 Day 3: Bergheim, Kintzheim, Dambach-la-ville, Obernai & Gertwiller Gingerbread Museum
Bergheim
Like many villages, Bergheim is snuggly enveloped by Alsatian vineyards, in the heart of Alsace. It's one of the rare towns in the region to have completely preserved its medieval walls dating back to 1311. While there are several main sights to see in Bergheim, its real charm comes in the form of floral decorations which can be found just about everywhere you look. You can find florals on the charming half-timbered houses, fountains scattered about the town, floral bouquets every few feet along the Main Street, the parish church and so much more!
We enjoyed wandering this little town and were the only tourists walking around on this drizzly morning, so it felt like we had the town to ourselves!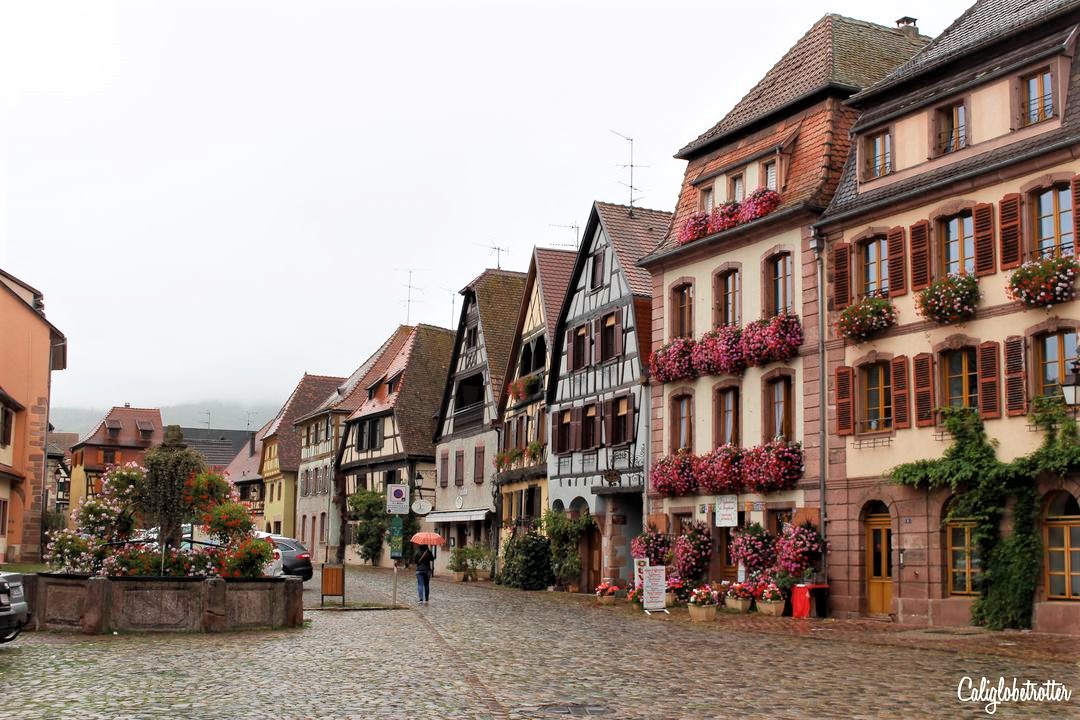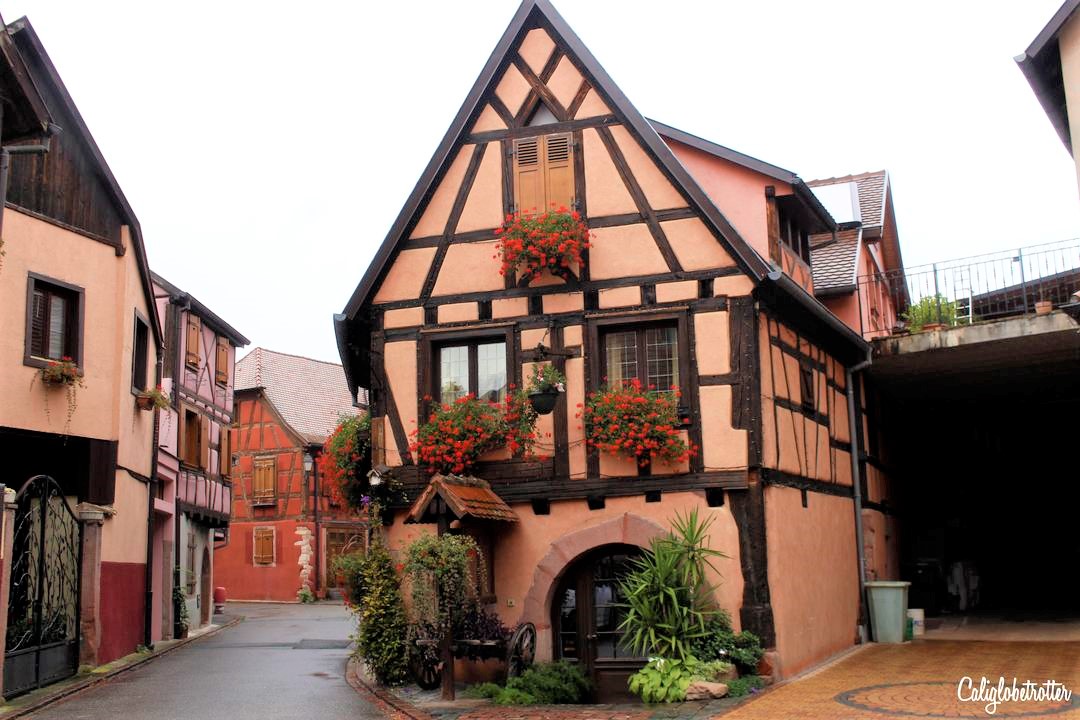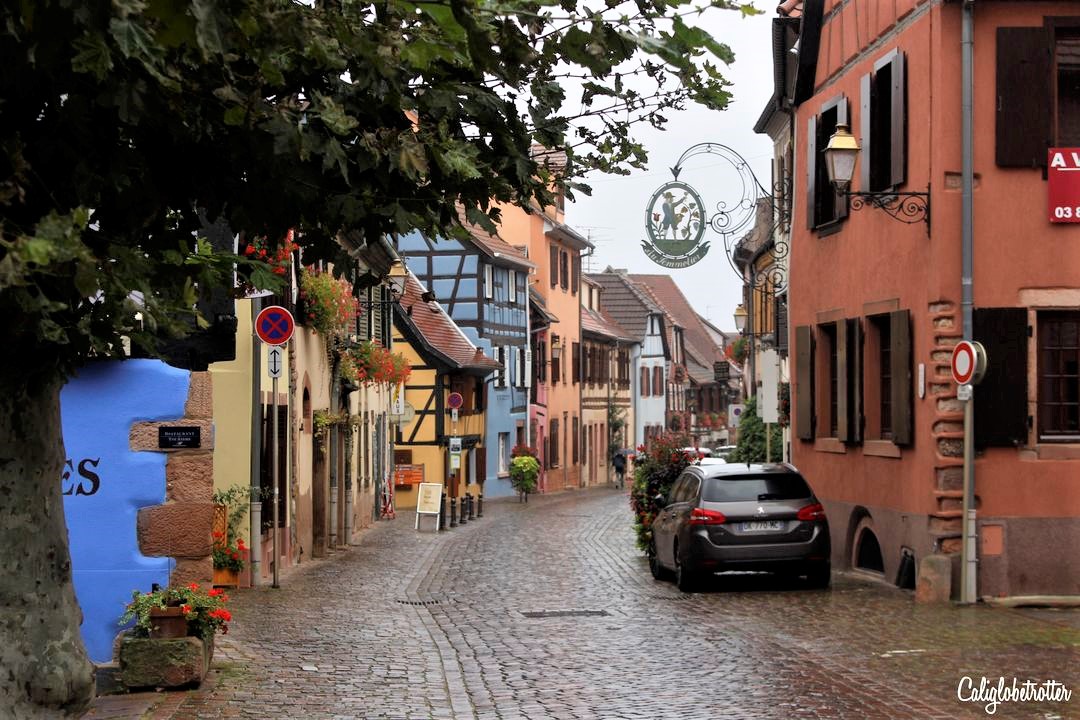 Kintzheim
Not far from Château du Haut-Kœnigsbourg, Kintzheim was a random stop we decided to make as it was such a pretty town as we were driving through it. It's mostly situated along a main road, so it looses some of its quaint appeal and thus doesn't receive the large number of tourists you would otherwise find at other towns. Turns out, Kintzheim is a locals town, were locals from the region come to escape the tourists.
Interestingly though, the town was once owned by the neighboring town of Sélestat since 1338 until after the French Revolution. Like many towns after the revolution, they would gain their independence and Kintzheim settled in 1834 after a legal case that lasted 40 years.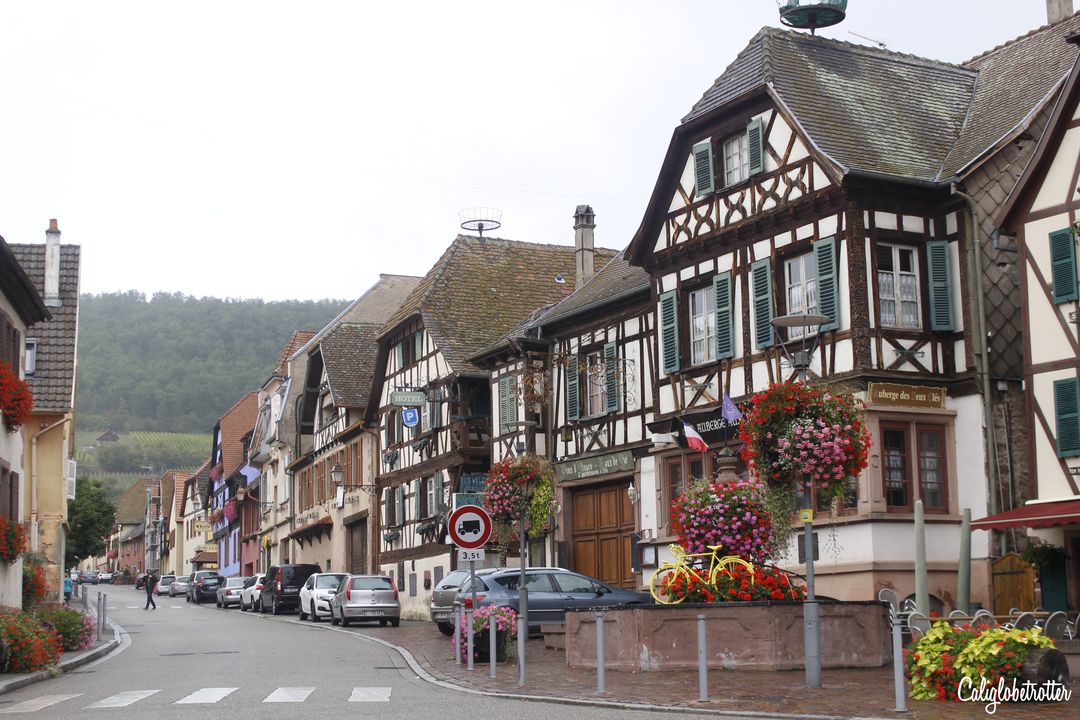 Dambach-la-ville
Another quiet half-timbered town along the Alsace wine route, still surrounded by its impressive medieval walls and fortified by its imposing gates. The towns history dates back to the Middle Ages and was one of our favorite stops along the way as we randomly popped into a Wine Tasting room, Silber Claude Vins d'Alsace, which has a long family history of wine making in this small town. Though visiting hours were over, the owner allowed us in, gave us a private tasting before we took a bottle of Muscat to go.
After our wine tasting, my husband decided to break from the main route, and jut up a hillside covered in vines, topped by a cute little chapel overlooking the entire village, which is actually owned by 30 or more local families. We decided to meander through some of the vines and admire the changing in seasons. We were lucky to still find some grapes on the vines that had not yet been harvested.
Afterwards, we popped back down into town, when we realized there was much more to see, especially the Church of St Étienne, located in the center of town.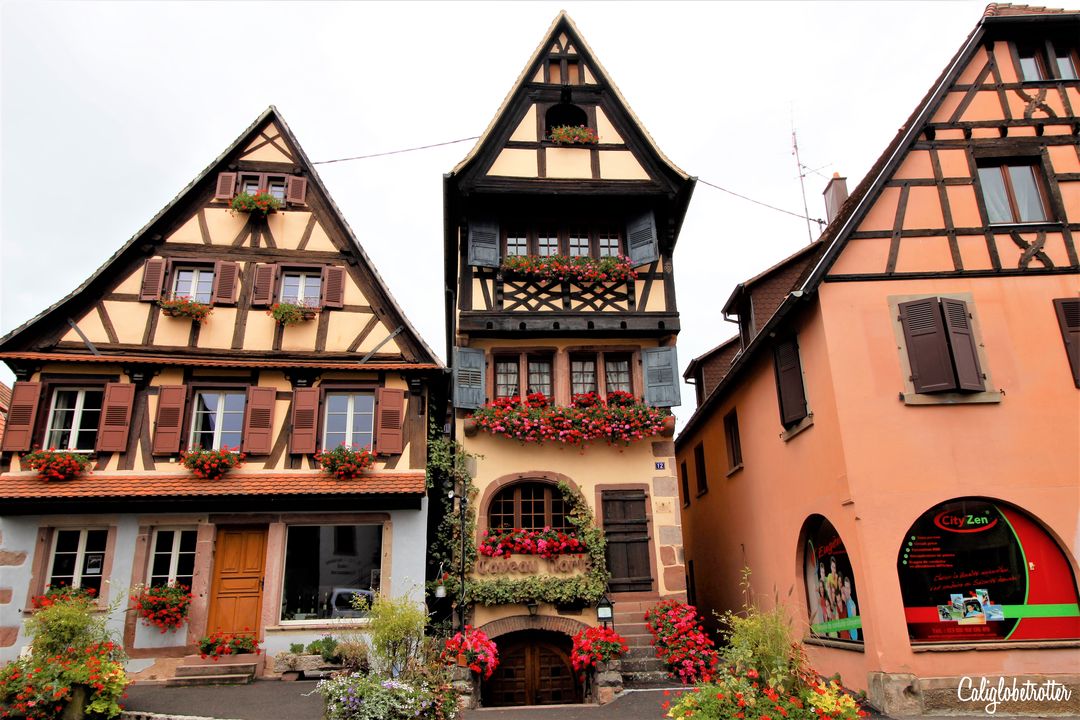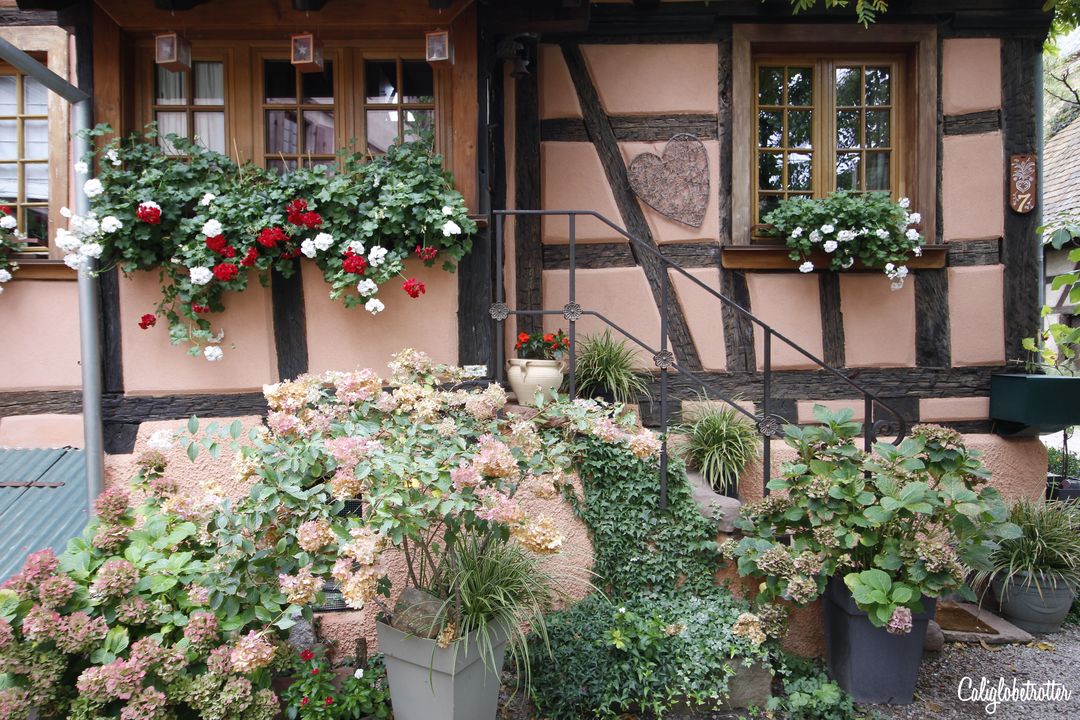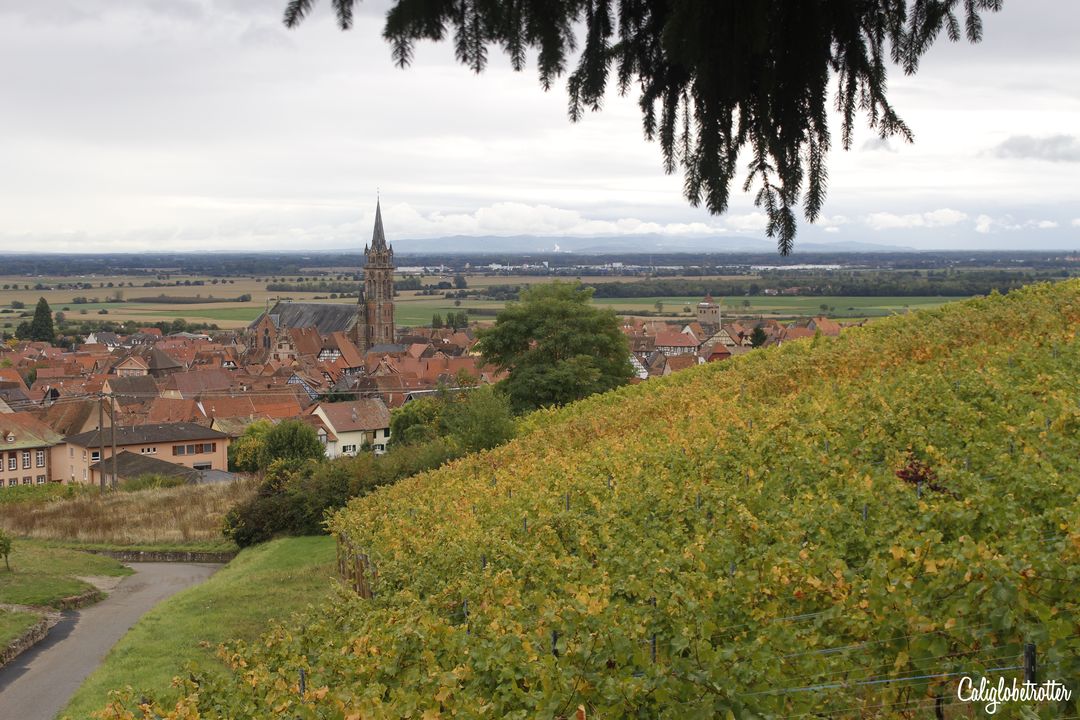 Obernai
Another of the most popular villages in Alsace is Obernai, which can be seen immediately upon arrival as it is a thriving little big town. Though unlike other villages on the Alsace wine route, it's not littered in an array of colorful half-timbered houses, but is instead intermittently spread out. The town itself is built up around the town center, the Place du marché, with lots of quaint little shops and cafes scattered throughout the town. You'll also find the Saints Pierre & Paul Church perched slightly uphill, the Six Bucket Well and the Town Hall as main sights to see in Obernai.
With hungry bellies, we opted to sit down at a little cafe to grab a bite to eat, a traditional Onion Tart and a Quiche Lorraine with a hot chocolate.
Afterwards, we meandered around, trying to bypass the construction in the center of town, stumbling upon a cute little carousel conveniently placed at the most picturesque little corner. As we slowly made our way back to the car, we popped into a tiny bakery where we decided to get a soft pretzel and a Kougelhopf to go, a traditional bunt cake covered in powdered sugar.
Then we stumbled upon a shop selling Meyer's Le Whiskey Alsacien, locally made whiskey from Alsace. With my husband expanding his taste pallet for whiskey, we popped in so he could sample a few of the whiskeys before making a purchase.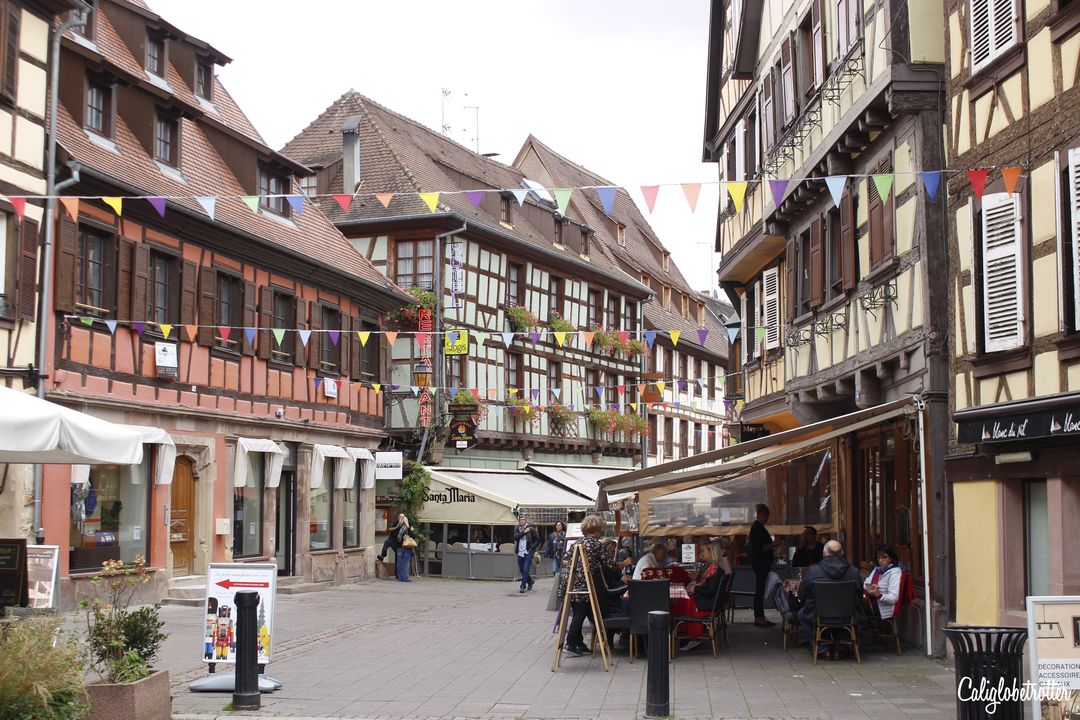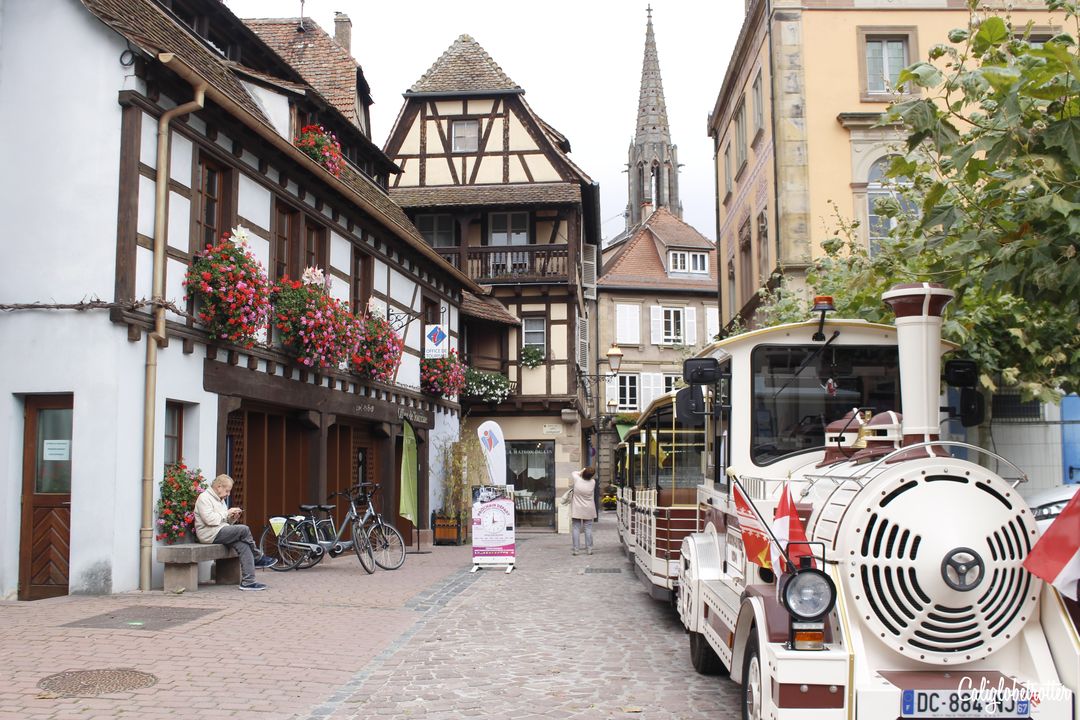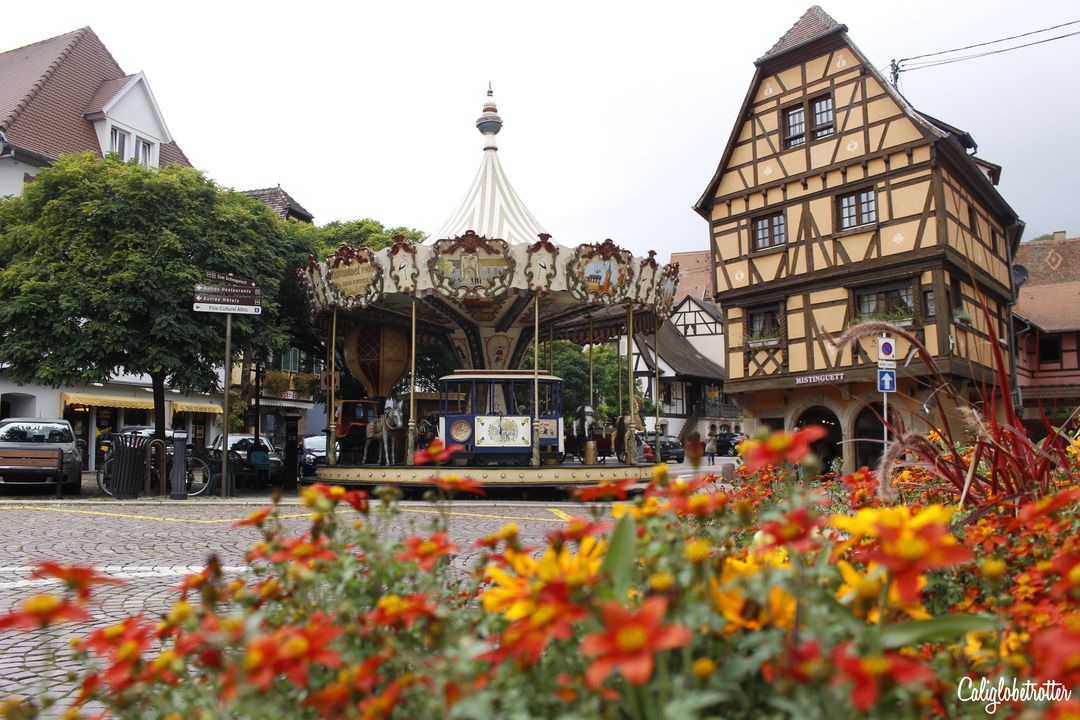 Gertwiller Gingerbread Museum & Shop
Now, honestly, the best for last. A pure chance that we stumbled upon the Palace of the Gingerbread Man (Le Palais du Pain d'épices) in the town of Gertwiller. Our day of sightseeing was over when we suddenly stumbled upon this as I grumbled, I wish we had bought more Gingerbread seasoning while in Kaysersberg. Like magic, it just suddenly appeared there, not just a Gingerbread Museum but the largest of all the Gingerbread stores. It's the epitome of Christmas and trying not to buy the whole store was rough. 60€ later, we were walking out stocked up on our Christmas treat goodies such as Stollen, Cinnamon sticks and Gingerbread seasoning and liqueur, as well as of course, baking forms.
After our purchase, we discovered the museum, or the Gingerbreadman's Palace. For just 4€ per adult, we could explore the museum and learn the history of Gingerbread making in the Alsace and walk into a candy wonderland. Clearly fun for all ages!
Fortwenger has been making gingerbread since 1768, using only traditional methods and recipes from the Alsace region. When visiting the museum during the week, you may even have the chance to see skilled professionals hard at work. Unfortunately, we visited on a Sunday.
But should you not be able to make it here, have no fear. You can find stores in Roppenheim, Strasbourg, Gertwiller, Riquewihr, Kaysersberg and Colmar.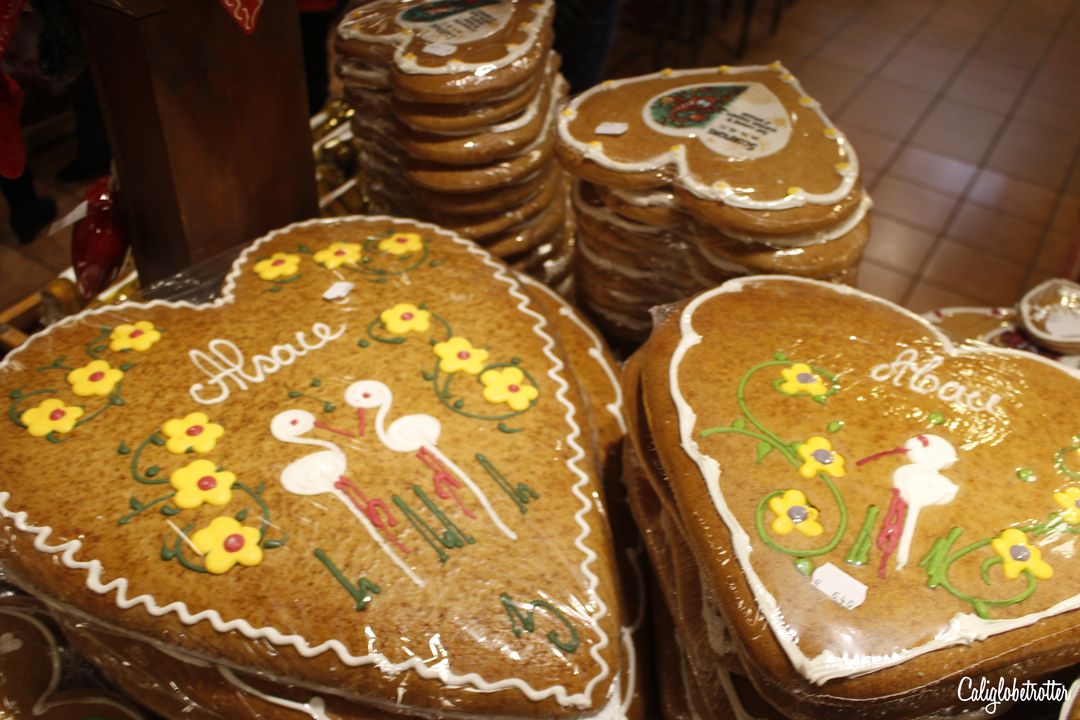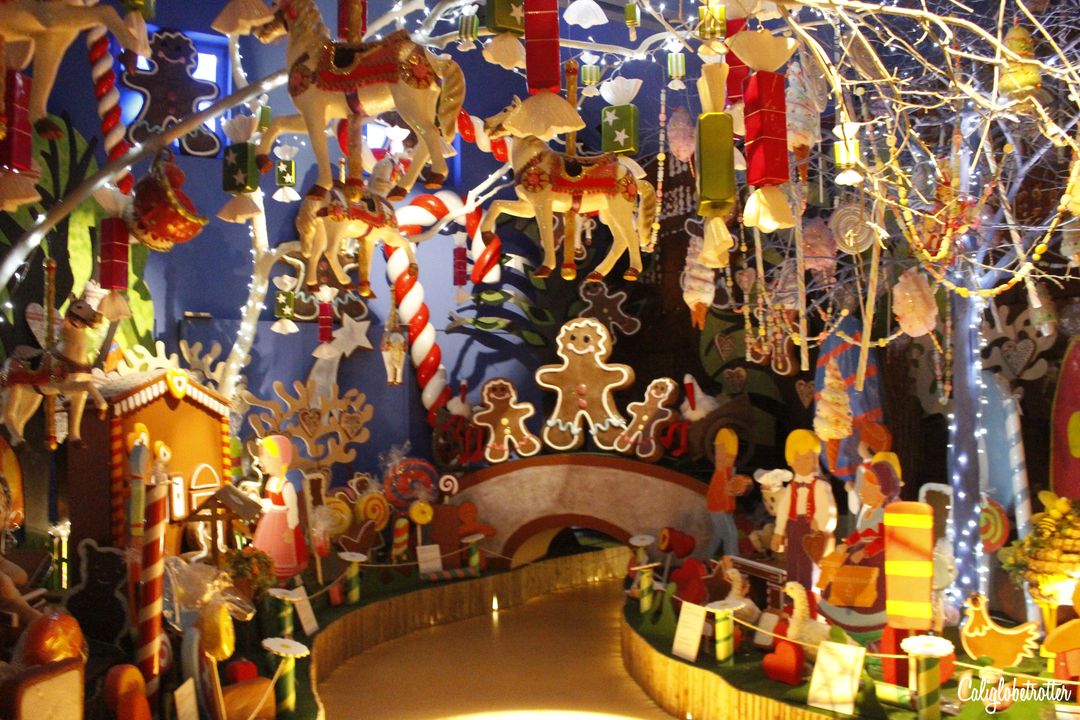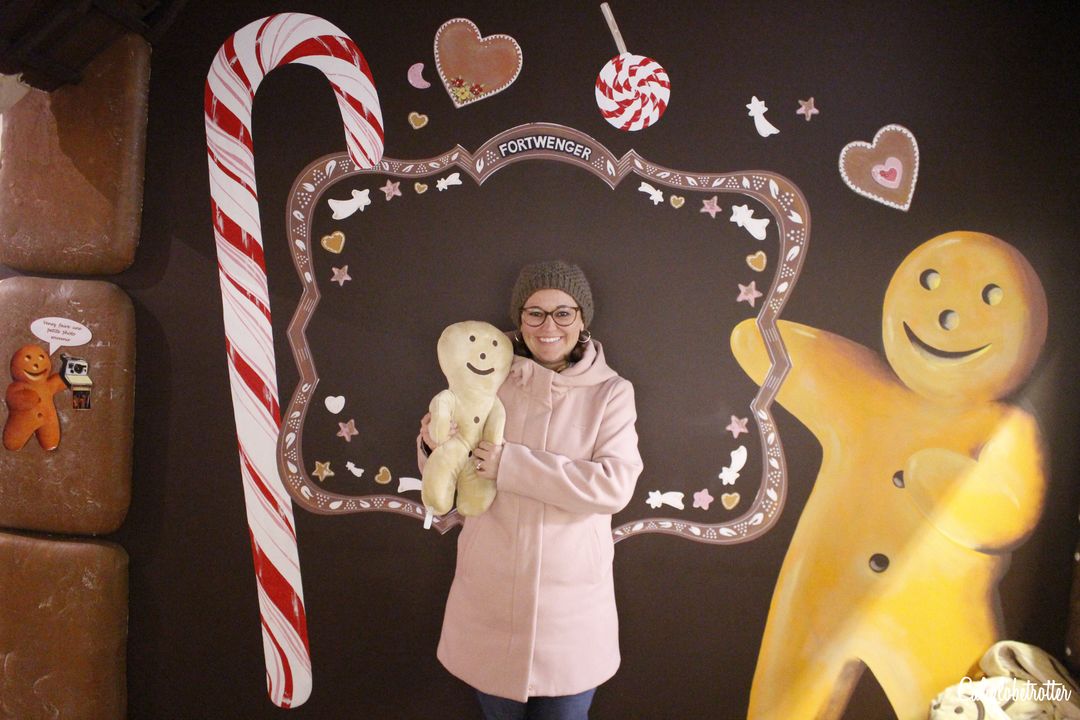 Extended Itinerary: 1-2 Days in Strasbourg
Should you also like to explore Strasbourg on this trip, then I highly recommend adding a minimum of a full day to explore this city near the northern region of the Alsace wine route. Just realize that Strasbourg is a larger, more bustling version of Colmar and thus is not quiet as picturesque as all the fairy tale towns in Alsace. Though it lacks that small town charm, it has a great city vibe, for those wanting a city trip.
The city is dominated by the soft pink sandstone Strasbourg Cathedral, which I highly recommend climbing for panoramic views, while there are also picturesque streets here and there, as well as beautiful canals to explore, thus making is one of the loveliest canal cities in Europe.
The prettiest quarter of Strasbourg is Petite France (Little France), a neighborhood that was once home to tanning houses and slaughter houses. It was an unpleasant place to be and even earned the nickname "Napoleon's Disease" as the area generated many cases of Syphilis. Yet today, you would never know its rather unappealing history as it is now the loveliest quarter, covered in beautiful half-timbered houses lined along the canal. Should you have more time, consider doing a canal boat tour.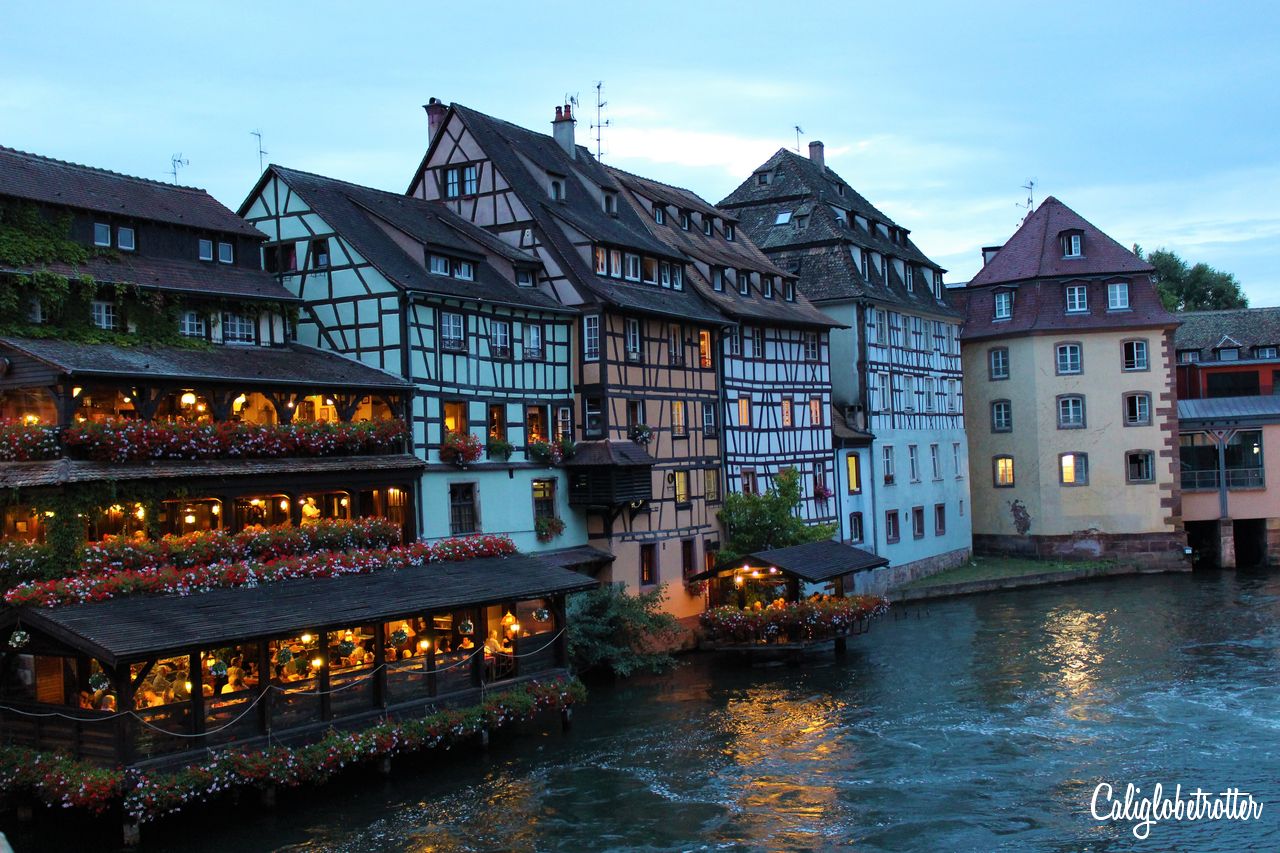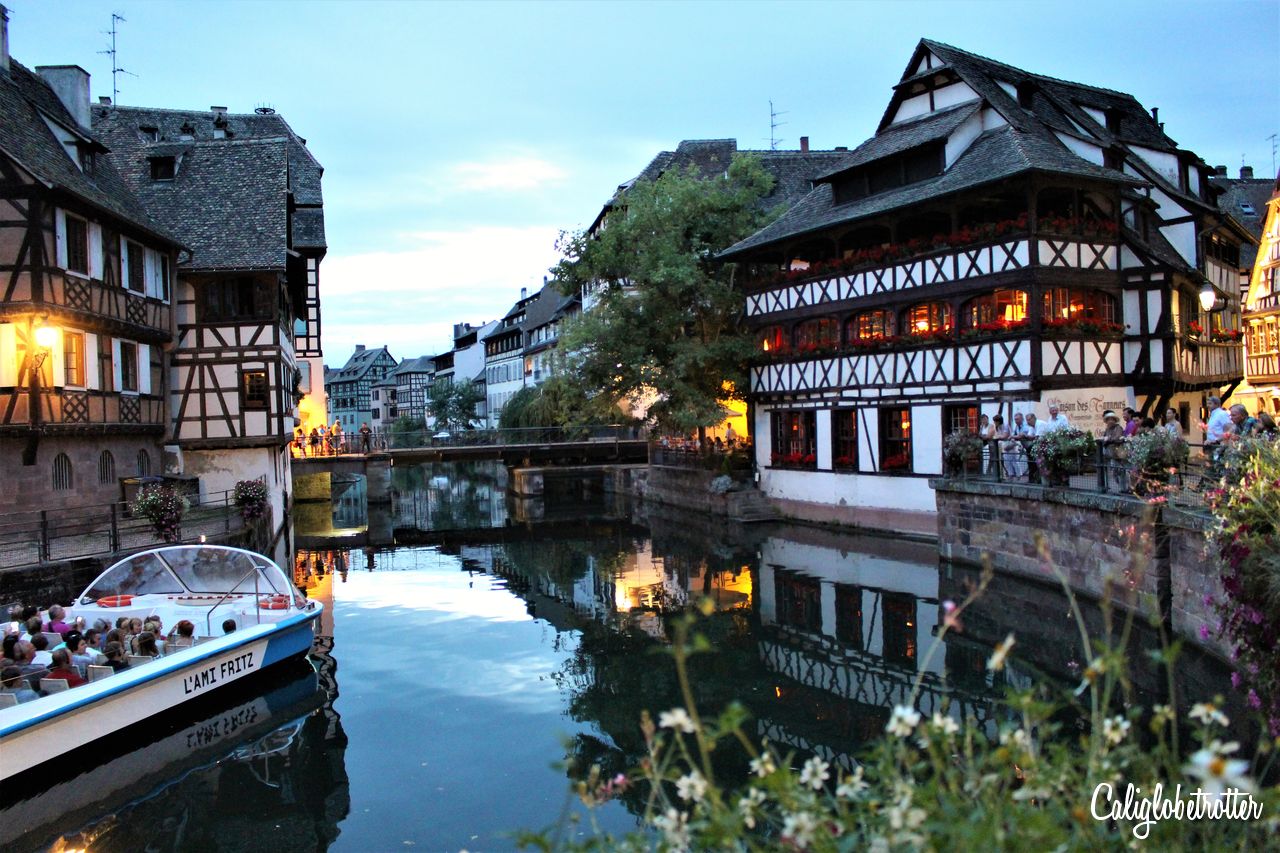 Tips for Visiting the Alsace
If your hotel offers tiny brochures on sights to see in the Alsace, grab them. Many offer discounts you can use along your explorations.
If you're interested in wine tasting, look out for "Degustation", which you can find in small taverns in towns or along roads connecting towns.
If you want to avoid tourists, try to visit towns before noon, or during the off season which like most of Europe begins in October/November or March-May.

If you want to visit

Château du Haut-Kœnigsbourg, either go early in the morning or 1-2 hours before closing.
If you want to have a nice dinner, research and book in advance as it's almost impossible to find a place to eat without one.
If you're driving, many of the towns have small parking lots located outside the historic town, though they are not large, thus during peak season can fill up quickly. Many also require paying by the hour and putting the ticket in your front window.
When to Visit the Alsace
The best thing about visiting the Alsace is that it can be visited year-round, however, visiting during the summer offers many wine festivals, such as the Alsace Wine Fair in Colmar. However, visiting in summer is also peak season and thus hotel prices are much higher, and those quaint little towns are filled to the brim with tourists.
We have now visited the region twice at the beginning of October, just as the summer holidays in Europe are coming to an end and it has been the best time. Crowds are low, the weather is still nice, though can also be a little gloomy and the leaves on the vines are starting to change with the season.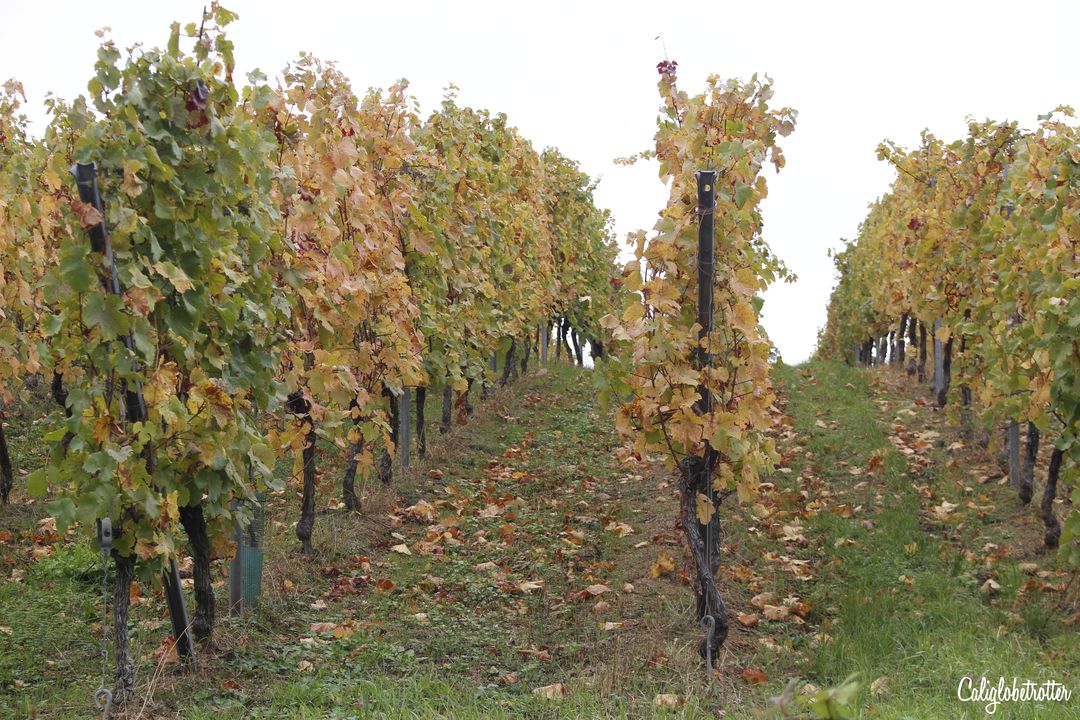 December is also a lovely time to visit as many of the towns have Christmas Markets. The Colmar Christmas Market and the Strasbourg Christmas Markets are some of the most popular Christmas Markets in Alsace.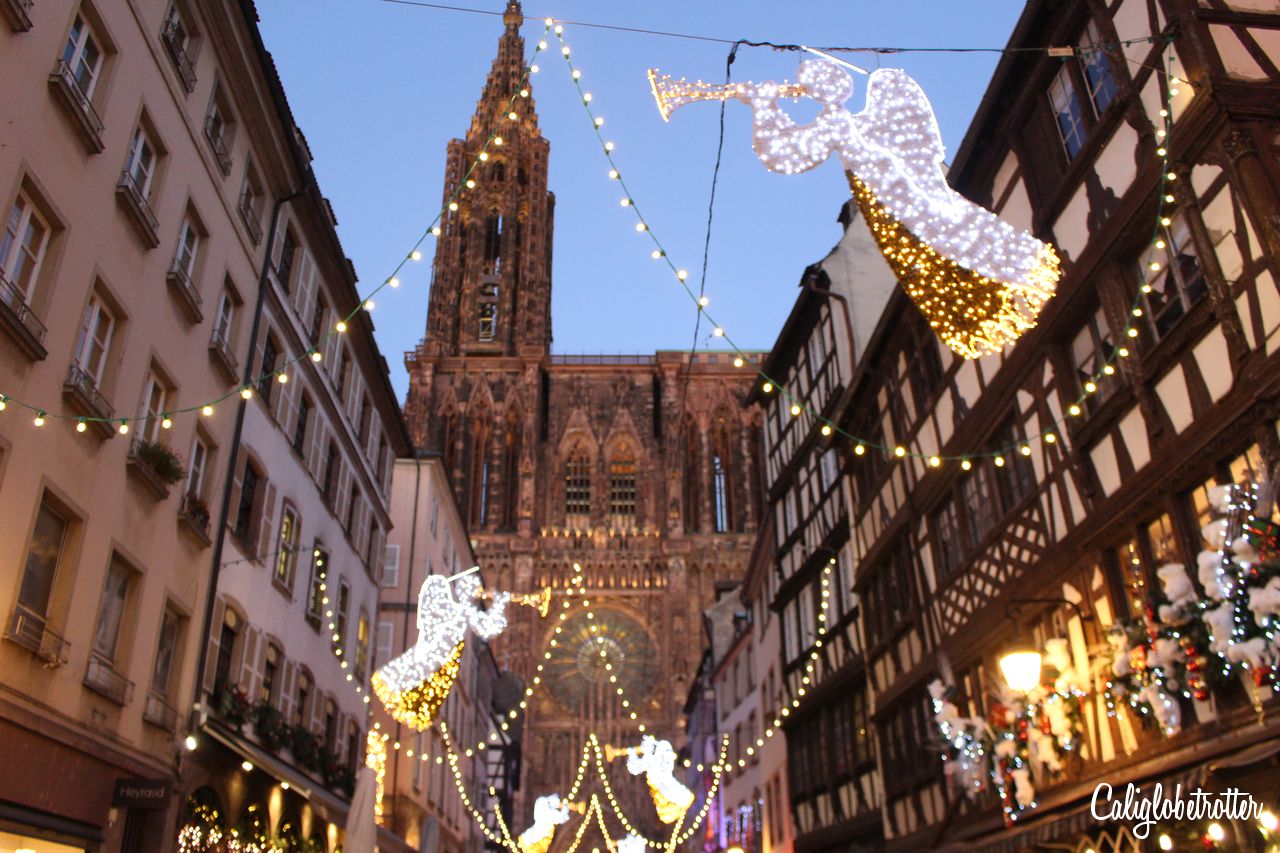 If you're interested in visiting France and are looking for more information, I highly recommend using the DK Eyewitness Travel Guide or the Lonely Plant Travel Guide! Without these guides, I would be lost! These are my travel Bibles!
Disclaimer: This post contains affiliate links. If you click on one and make a purchase, I might make a little extra spending money, at no extra cost to you. As always, all opinions are my own and these products/services have been found useful during our travels and come highly recommended to you from yours truly!
Be sure to check out these other posts!
Beautiful Things to See & Do in Colmar

Top 10 Most Adorable Towns in Europe
Strasbourg is THE "City of Christmas"
Liked this post? PIN IT FOR LATER!!