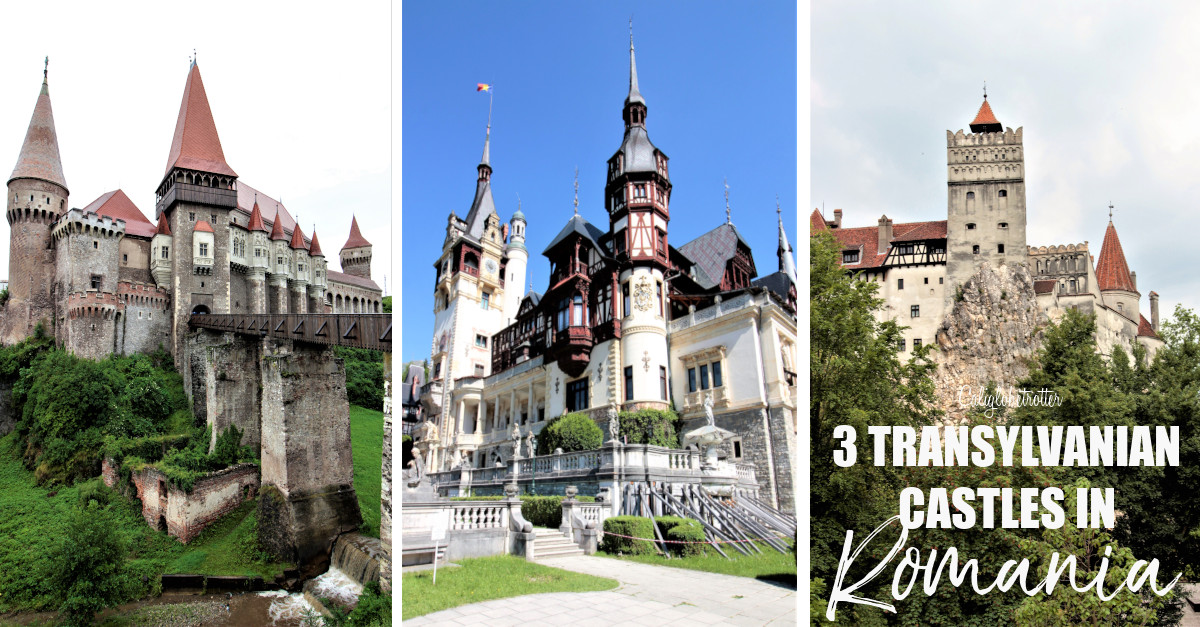 Disclaimer: This post contains affiliate links. If you click on one and make a purchase, I might make a little extra spending money, at no extra cost to you. As always, all opinions are my own and these products/services have been found useful during our travels and come highly recommended to you from yours truly!
What better way to introduce you to Romania than by starting with some of the country's most renowned and impressive castles beyond the capital of Bucharest? Scattered throughout Transylvania are a plethora of castles, but three of the most well-known are all a hop-skip and a jump apart from each other making for an easy two day visit.
If you LOVE castles, PIN IT FOR LATER!!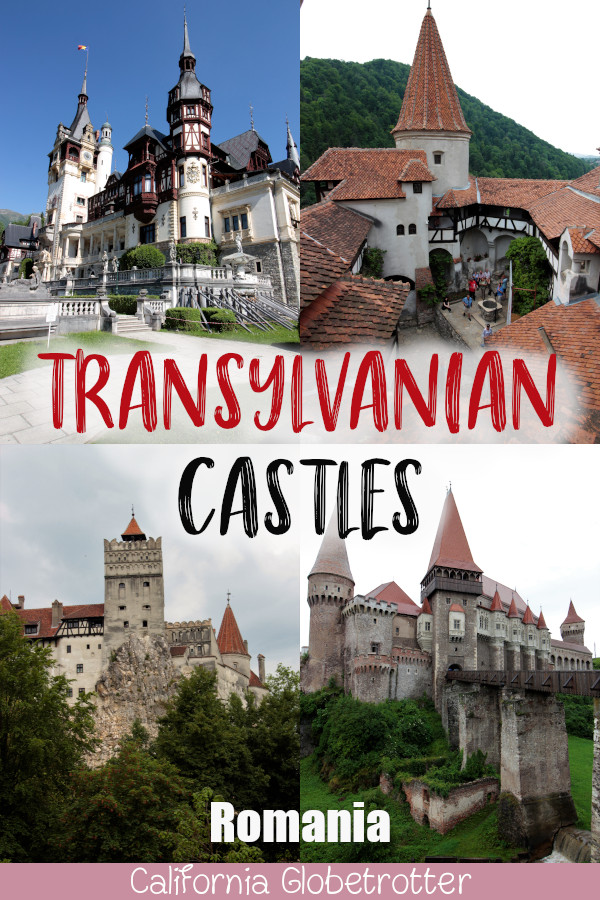 How to AVOID Looking Like a Tourist in Europe
Romanians have a long history dating back to the Romans, but the country was almost brought to ruin with two decades of dictatorial rule by Nicolae Ceaușescu. After the bloody revolution in 1989 which started in Timișoara and toppled the dictatorship, the country is very much just starting to emerge from the shadows of its past. 
To many, Romania is still a country far off their travel radar, yet as the country once again opens up more and more to tourism, many once hidden destinations are now becoming a must-see hot spot. The country has gained a reputation for having some impressive castles, often seen in films or related to novels we all know.
Looking for a day trip from Bucharest or embarking on a road trip through Romania, any of the following castles are an absolute must! We spent a full day visiting Peleș and Bran Castle before driving the final three hours to our hotel in Cincis, not far from Corvin Castle which we visited the next day. Though we didn't visit all of the castles and fortresses in Romania, we certainly found these to be the best castles in Romania to visit and clearly they were the top destinations to visit in Romania as we were surprised to see so many people between the three of them. 
1. Peleș Castle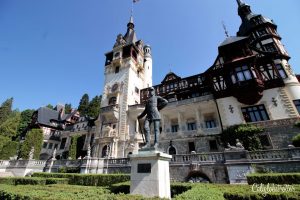 History of the Castle:
Just up the hill from Sinaia Monastery in the heart of the Carpathian Mountains is Romania's most impressive and famous castle of Peleș Castle. If you're looking for romance and one of the top 10 castles in Romania, look no further than this Bavarian inspired castle set in a large English-style park. 
Built as a summer residence for Carol I, the first Romanian King in 1875-83 with his own personal finances, it was designed and decorated by his wife, Elisabeth of Wied, better known by her novelist name Carmen Sylva. Having been born and raised in Germany prior to her marriage, she had a massive influence on the creation of the castle. 
King Carol I received three design plans and he rejected them all as they were copies of other Western European castles and he felt all lacked originality and were too expensive. Its final design is inspired by combining the rustic feeling of a hunting lodge with the elegance of a German castle, while also including many other influences from around Europe. Architects, designers, stone masons and carpenters were brought from all around Europe to work on the castle which the queen found very amusing and wrote in her journal:
"Italians were masons, Romanians were building terraces, the Gypsies were coolies. Albanians and Greeks worked in stone, Germans and Hungarians were carpenters. Turks were burning brick. Engineers were Polish and the stone carvers were Czech. The Frenchmen were drawing, the Englishmen were measuring, and so was then when you could see hundreds of national costumes and fourteen languages in which they spoke, sang, cursed and quarreled in all dialects and tones, a joyful mix of men, horses, cart oxen and domestic buffaloes." – Wikipedia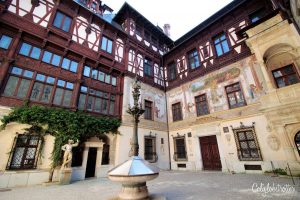 After the forced abdication of King Michael I in 1947, the castle was placed under the control of the Communist regime. During the two decades under the Ceauşescu regime, the castle was closed to the public, however the dictator rarely visited as he did not like it. The castle was opened again shortly after the end of the Communist regime and is today one of Romania's most visited tourist attractions!
Touring the castle: 
As the castle employed all the most skilled craftsmen from all over Europe, the castle is incredibly lavish inside and out. The outside has several courtyards and a few water fountains. Once entering the castle, you'll be led up a lavish foyer with beautiful intricate woodwork and furnishings. There are many noteworthy rooms such as the armory where the tour will begin, a Turkish Salon and living quarters. I found the Turkish Salon to be the most interesting as the walls and ceiling are adorned with handmade silk embroideries. The most impressive aspect of the castle is without a doubt the Imperial Suite built and decorated for Kaiser Franz Josef's visit in 1896, of which he only stayed a night.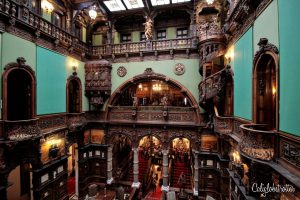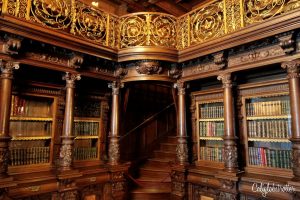 What is special about the library is that there is a hidden staircase leading to another room within the bookshelves. 
Consider also taking the time to visit the Pelisor Castle just behind Peleș Castle which was commissoned by King Ferdinand, who succeeded Carol I designed in a smaller, art nouveau-style. 
Castle Information:
Because of its location, the Peleș Castle is in the perfect spot for a day trip from either Brașov or Bucharest. Tours are divided into two guided tours:
Ground Floor and First Floor (Adults: 30 RON / 6.50 €, Children/Students 7,50 RON /1.63 €) is the basic tour option and shows you the living quarters including the King's study and library. 25 minutes
Complete Tour (60 RON / 13 €, Children/Students 15 RON 3.20 €) includes the ground, first and upper floors. Upper floors include the Private quarters and the Imperial Suite. 45 minutes

Photography charge (35 RON / 7.50 €)
Large bags are not allowed inside and visitors are required to wear slipper socks over their shoes when inside. 
Opening hours (Closed Nov):
Wednesdays 11am – 5pm
Thursdays – Sundays 9:15am – 5pm
Finding information on the castle times and opening days can be quite hard as there is yet to be an official webpage, however, for more information click here.
We arrived at 9am as the closest information I could find was that the castle opened at 9am on a Wednesday, yet, we were forced to wait 2 hours before finally being allowed in as it was a cleaning day. Waiting in line for tickets at a small window, as well as waiting to be let in is quite chaotic as there is no "line". Stand your ground and hold your spot because people will push and shove to get in which goes to show that the castle has not yet worked out a sufficient system for the massive increase in visitors. The tours are very large with 20-30 people so it can be quite hard at times to hear the guide or get a good photo without anyone in it. 
How to get to Peles Castle:
There are two ways of reaching the castle, one which leads through a charming little forest to the castle below or the second which tour buses take and drop visitors off just above the castle before bringing you to a Bavarian inspired, half-timbered hotel & restaurant,⭐⭐⭐⭐ Complex La Tunuri – Vila Economat. Here, there is a small parking lot for cars and tourist buses. During low season, it was completely empty and free of charge but during the peak season, you must pay for parking. 
The Castle in Film:
Being a lover of any cheesy-Christmasy chick flick, sat on the couch with my step dad and a box of tissues, I first discovered this castle in the movie "Princess for Christmas" in which a young woman becomes the legal guardian of two children. They receive an invitation to spend Christmas with the children's wealthy grandfather, who just so happens, to live at Peleș Castle.
2. Bran Castle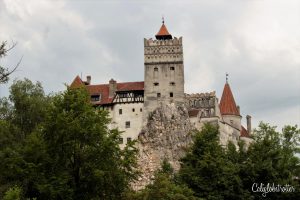 Bran Castle is probably the most famous Romanian castle for one reason: being the mysterious residence of Count Dracula of Transylvania. Blood sucking bats and threatening skies fill my imagination when I think about Count DRACula and images of terror chill me to the bones. Part of me was tempted to put garlic cloves in my pockets just to ward off any potential ghostly spirits. 
Even though the castle might certainly be decked out in touristy knickknacks further encouraging this image, it would be wrong of me to say that it was true. While its name, the castle and the surrounding setting might have been used in the story of Dracula, the real version is much more gruesome. 
Vlad the Impaler, Romania's most infamous Voivode (Prince) of Wallachia earned the nickname as he was well known for impaling his foes. He may have laid siege to the castle and his gruesome form of torture may have been the true inspiration behind the story of Bram Stoker's Dracula. The name Dracula comes from Vlad the Impaler's father, the Dracul. Bram Stoker never actually visited the castle but his stories are strictly based on descriptions of the castle. Plus, the castle itself does sort of look like it would be the home of Dracula, perched atop a rocky bluff with rising tiers of towers set against a mountainous backdrop. 
History of the Castle:
As the Bran Pass has been a vital strategic point in the Carpathian Mountains since the time of the Romans, it comes as no surprise that a defensive castle was built here. In 1377, the Saxons of Kronstadt (Brașov) were given the right to build a stone castle here with their own funds and labor force atop the remains of an older wooden castle that had been built by Teutonic Knights. Between 1438-1442, the castle was used in defense against the Ottoman Empire and a few years later, Vlad the Impaler likely passed through the mountain pass several times, but does not seem to have much connection with the castle.
By the end of the 15th century, the castle transferred into the hands of the city of Brașov and soon lost its importance. Later it would become the summer residence of the Romanian royals King Ferdinand and Queen Marie in 1920 and became a favorite of the queen who ordered its extensive renovation. During WWII, it was used as a hospital before being seized by the Communist regime. The castle was finally returned to Marie's grandson in 2009.
Touring the Castle:
Today, the castle is a museum displaying artifacts of medieval history and art with several of the rooms displaying how the rooms looked and were used by the royals. Some of Queen Marie's dresses are also on display.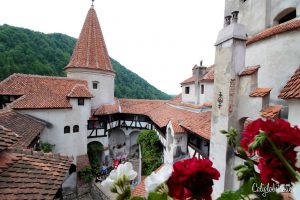 Visiting the castle is not possible for those with wheel chairs and those with strollers will need to leave them at the at the entrance of the castle. There are many staircases jutting in different directions making a visit here a bit disorienting. So disorienting that at one point you are led through a dark secret medieval passage completely bypassing an entire floor of the castle. The most beautiful aspect of the castle is walking around the balcony overlooking the inner courtyard. Beyond that, I found the castle rather plain and was able to tour the whole thing in around 30 minutes.
Castle Information:
Tickets cost 35 RON / 7.60 € for adults, including free photography – self-guided 
Opening hours April to October:
Mondays – 12pm – pm
Tuesdays – Sundays 9am – 6pm
How to get to Bran Castle:
Bran Castle is only a mere 1 hour drive from Peleș Castle. Parking in town is much cheaper than it is directly below the castle, however with an incoming storm approaching, we paid 4 RON / .87 € per hour. 
For more information on visiting the castle click here.
3. Corvin Castle (Hunyadi Castle or Hunedoara Castle)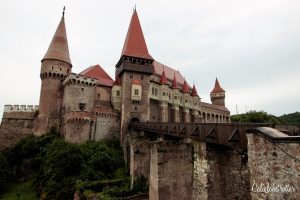 Located in the rather run-down industrial town of Hunedoara is Romania's greatest fortress and medieval castle and one of the spookiest buildings in the world according to Lonely Planet, Corvin Castle. It is also one of the largest castles in Europe, as well as one of the most fairy-tale like castles. Wait, what? How can it be both the one of the spookiest and fairy-tale like castles at the same time? Well, when you think about most fairy-tales, many are actually quite scary when you think about it. Them evil villains gotta live somewhere, right? 
While there may not be any real life vampires loitering about, the Gothic architecture, high rising turrets, weaponry on display and some dark history with a torture hall where replicas of people enduring different forms of torture makes this real life castle a real life nightmare. This 'house of horror' depicts a man dangling from the ceiling and a woman sitting on a nail chair which was a bit too much for the scaredy-cat in me.
History of the Castle:
In 1446, construction originally began under the watchful eye of John Hunyadi – the governor of Transylvania but was halted upon his death in 1456. Built atop a previous fortification on a rock above the small Zlaști River, it was designed in that typical, spooky Gothic-Renaissance style but wasn't completed until 1480. In the 17th century, the the council hall and chapel were added. The castle also has a double wall for enhanced fortification and is bordered by both rectangular and circular towers, an architectural innovation during this time period. In the 20th century, more renovations took place.
There is a historical rumor that the infamous Vlad III (Vlad the Impaler) was kept prisoner here for 7 years by John Hunyadi, the military leader of Hungary and regent during the King's minority. Later, Vlad III would form a political alliance with John Hunyadi who would later execute Vlad's father, Vlad II Dracul, therefore, earning the reputation that the castle was a place of terror. The castle is sometimes mentioned in Bram Stoker's Dracula, but he had no idea of the history. In actuality, the novelist imagined Castle Dracula to be located upon the Transylvanian Călimani Mountains.
Under the Communist regime, a massive ugly steel plant was deliberately built in front of the castle, however, a portion was later knocked down after the fall of communism. 
Touring the Castle:  
Upon approaching the castle, the most impressive aspect is without a doubt the wooden bridge which leads to the entrance of the castle where you will buy your tickets. Upon first glance, the castle almost feels like it should be straight out of a fairy tale or video game.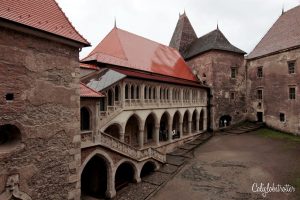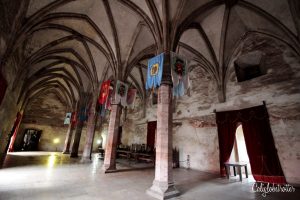 As visiting the castle is mostly self-guided, there are panels along the way both in English and Romanian giving descriptions. The castle today is a museum of galleries and spiral staircases with an impressive Knights' Hall with rose-marble pillars with a display of weaponry and flags. There is also a dungeon below with a prisoner in the cage, no not a real person unless you misbehave! There's also a torture chamber with a chair of nails and execution axes. Walking the fortifications give great view points of the outer portion of the castle with rhomboid patterns on the exterior. 
Be sure not to miss the castle's well which is famous for being shrouded in legends. It is supposedly said that the 100 foot well was dug by 3 Turkish prisoners. John Hunyadi ordered them to dig until they found water and if they found it, they would be freed. The three men dug for many years, but by the time they did, John Hunyadi had died. His wife, Elizabeta chose to renege on the promise and instead beheaded them. At the bottom of the well, there is an inscription in Turkish which supposedly says "You now have water, but you don't have a heart."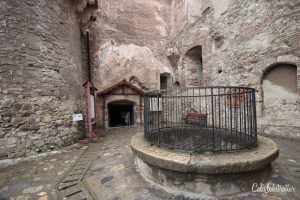 Castle Information:
Tickets cost 30 RON / 6.50 € for adults plus an additional 5 Ron to take photos. Self-guided
Opening hours (March, April, September & October):
Mondays: 10:30am – 5pm
Tues – Sun 9am – 5pm 
Just below the castle are a ton of touristy gift stands, a few restaurants and snack shops which you will first walk through before reaching the ticket office. An actual ticket office before walking up a rather steep hill for about 5-10 minutes. 
How to get to Corvin Castle:
Corvin Castle is a 3 hr 30 min drive away from Bran Castle ad a 2 hr 40 min drive from Timișoara along the A1.  Driving through the rather gloomy looking industrial town was in itself quite spooky, but eventually, you'll come upon a parking lot just below the castle, less than a 5 minute walk away. Cars are 7.50 RON / 1.63 € per day.
Tips for Visiting the Castles:
While we manages to visit both Peles Castle & Bran Castle in a single day before spending the night in Cincis so that we could visit Corvin Castle the next day before heading out to Timișoara, there are options of doing a guided tour to both Peles Castle & bran Castle from Bucharest with Get Your Guide. 
Consider having lunch at the Carol Gastro Bierhaus right next to Peleș Castle for a German cuisine. 
When visiting Peleș Castle, consider taking a quick peak at the Sinaia Monastery

just down the hill.
Where to Stay: ⭐⭐⭐ Motel Cincis – After driving along a long winding road, we finally reached our hotel, amazed that it was located on a cliff overlooking the nearby Cincis Lake. This charming hotel is owned by a mother and her two daughters. With a lovely home decor, this hotel is just 8 km away from Corvin Castle. 
Looking for more practical information on Balkan Travel? Grab a copy the following travel guides which we found incredibly useful on our trip and has something for everyone from outdoor activities to historical sites!
Disclaimer: This post contains affiliate links. If you click on one and make a purchase, I might make a little extra spending money, at no extra cost to you. As always, all opinions are my own and these products/services have been found useful during our travels and come highly recommended to you from yours truly!
Other Posts about Romania:
Bucharest: The Essential 2 Day Guide
Timișoara: The "Little Vienna" of Eastern Europe 
Liked this post? PIN IT FOR LATER!!