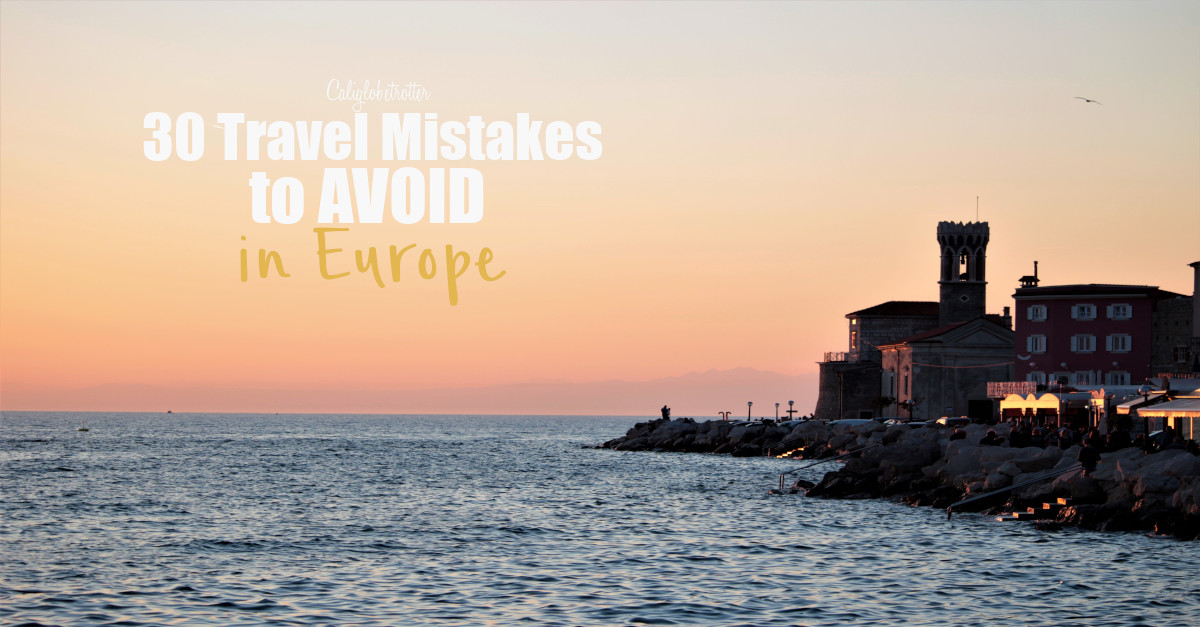 Disclaimer: This post contains affiliate links. If you click on one and make a purchase, I might make a little extra spending money, at no extra cost to you. As always, all opinions are my own and these products/services have been found useful during our travels and come highly recommended to you from yours truly!
Everyone is a newbie at something at some point or another. We all live and learn by our mistakes or the mistakes of others. Now, after nearly 10 years living in Europe and having spent most of my adolescent years traveling primarily to Europe,  I've learned from a lot of mistakes that will help you travel with ease in Europe!
Like these travel tips for Europe? PIN IT FOR LATER!!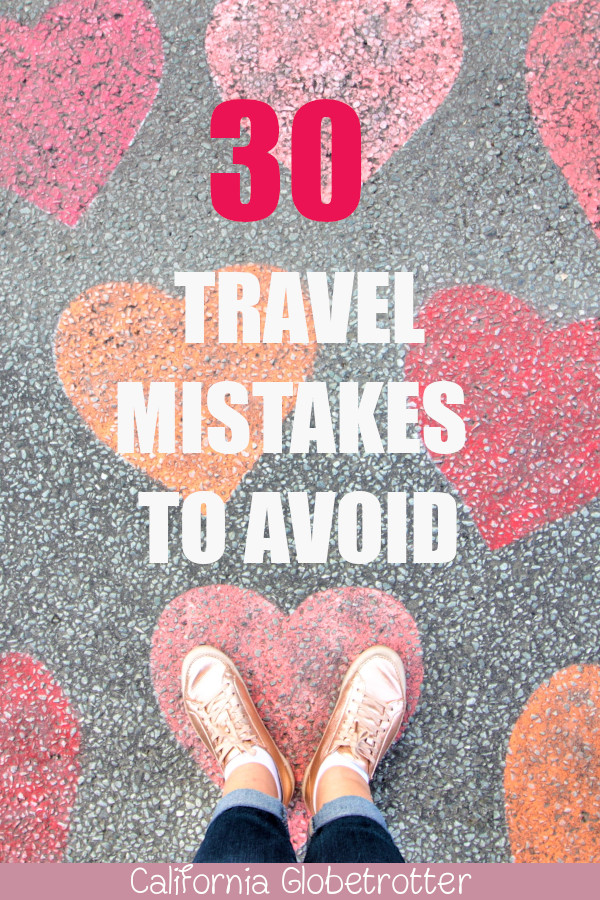 Your ESSENTIAL Guide to Europe
15 Things to Do EVERY TIME You Travel
15 Tips to be a BETTER TOURIST
How NOT to Look Like a Tourist
My first major international travel, besides being born in Okinawa, Japan, happened to be to London, England when I was about 14 years old. Ever since then, I've traveled quite obsessively. I've been to 30 countries and made dozens upon dozens of mistakes while traveling.
I've been lost, I've left my wallet in the bathroom stall with my passport.


I've been yelled at by a local Londoner for being too American trying to find my way around the Tube station, equally as lost as him.

I've booked a hotel I thought was amazing but in reality, it hadn't been updated since the 80s, smelled like sex and cigarettes and was infested with bed bugs.

We've crammed in so much sightseeing we were exhausted to continue the next day.

I've worn wedged heels in London and I was stranded in Notting Hill as my husband went on the search to find super glue for my shoes or new sandals.

I've been stranded at a small podunk train station in the middle of no where because my train was late and I missed my connecting train at 2am.

I've had a yelling match with a parking attendant in Sofia, Bulgaria because he didn't speak English and I didn't speak Bulgarian, and talking louder and louder to each other seemed like the only form of communication.

I've asked in German at a castle for the "Badezimmer" which translates more to the "washroom" rather than the "Toilette" which is not what I learned in my high school German class.

I ripped my dress on a bench at Lake Bled.

We've gone to beautiful destinations at the absolute worst time of year and got crammed shoulder to shoulder with other like-minded tourists all wanting to experience the same blissful holiday experience only to be hot, sweaty and annoyed AF.

I sprained my ankle within the first 15 minutes when we were in Cinque Terre walking down to our hotel, thus preventing us from doing the famous hiking trails.

I've traveled with a girl I barely knew who turned out to be the world's worst travel companion and the first thing she wanted to do when we were in Paris was to find a sex shop and buy a new sex toy. Can you say awkward? 

I've traveled with a group of girls to Ireland, of which half refused to enter an Irish pub for a pint and live music so I went alone, and who also refused to eat in any restaurants and we managed to find canned spaghetti….
And guess what? I still love traveling. I still book that hotel and have a fear that it's the wrong one, again. I'm terrified I'll be bullied for being a tourist and afraid we'll be robbed. There are things that are just simply out of my control and I just have to let it go and hope for the best. But it still comes after making a ton of mistakes and adjusting my mental notes on how to travel Europe smartly. And now, I can only share my mental notes with you because I've gone ahead and already taken one or two for the team so you can now have a better experience than I had. You're welcome, fellow traveler! Now, be free!

So, what travel mistakes can you avoid too?
1. Visiting Europe during Peak Season

Avoid it at all costs! I can not stress this enough. And I get it, we wait to travel when the kids are out of school and when the weather is the nicest. But it's also the costliest time to visit Europe, as well as the most crowded time. Nothing ruins a trip to Europe when you're trying to snap a photo of the Eiffel Tower or Big Ben with thousands of other tourists crowding around all trying to get the same photo.
Europe in summer is downright CRAY-CRAY!
Large groups of tourists bumbling around cities, snapping photos and barely listening to their tour guides. All the restaurants are full and overpriced.
Accommodation is beyond ridiculously expensive. It's downright robbery! Worst of all, you're only there for a few hours to rest your head!
No, if you want to experience Europe at its best, then consider visiting during the shoulder seasons, April-May and September-October, which honestly, are the most beautiful times to travel Europe! Either the flowers are blooming everywhere or the leaves are falling!
Best of all, all the students are still in school and now you can experience a city like a local!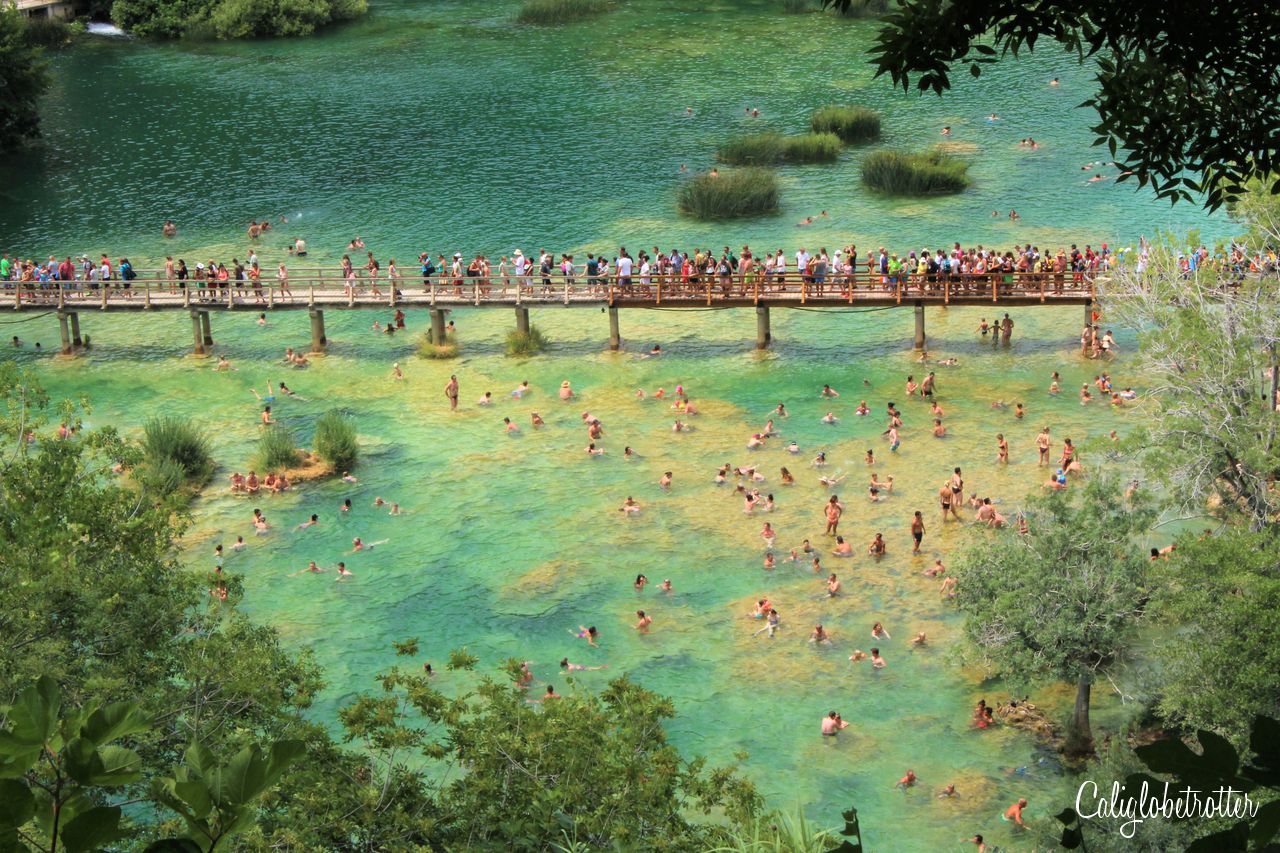 2. Visiting Only Western Europe
Don't just limit yourself to Western Europe just because you've always wanted to go to London, Paris, Berlin, Rome and Barcelona. Europe is sooo much more than that. And while all those cities ARE amazing, they are also SUPER crowded and expensive!
Europe is massive and there's so much to see with a HUGE variety of cultures to choose from! Variety is the spice of life after all! So eat it all up!
I can promise you that if you choose to go to Eastern Europe or even down into the Balkans, you will be rewarded with amazing cultures with friendly people, it will be cheaper and more affordable and best of all, down right STUNNING!
Related Post: 2 Day Guide to Montenegro's Coastline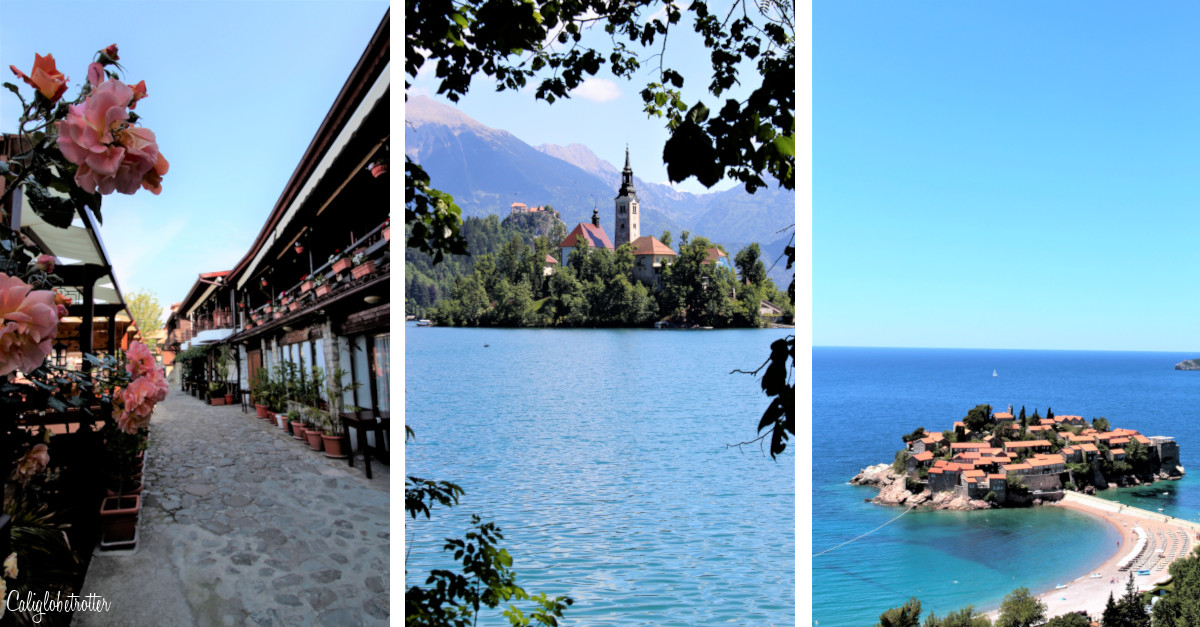 3. Underestimating How BIG Europe Is
If you're from the US, you know HOW big it is and how long it takes to drive from San Diego, California to Jacksonville, Florida. Typically about 3-4 days, straight through. The United States dwarfs Europe. Eats it for dinner, when comparing size.
That doesn't mean though that Europe is super small. Quite the contrary! As a whole, it is large and very well interconnected! However, when you travel through Europe, don't underestimate the amount of time it takes to get from one country to another! Though from anywhere in Germany, if you can be in 9 different countries in 5 hours or less.

I once took a train from Paris, France back to Heidelberg, Germany. You'd think as neighboring countries, it wouldn't take so long, but that was a 10 hour train ride! And while flying Europe is unquestionably quicker, you still have to consider that you won't be able to fit everything you want to do into one trip!
You have to be REALISTIC about distance and time. You just ain't gonna get from London to Rome in a day by car or bus! I mean, you can, we have. But I promise you'll be exhausted after nearly 10-15 hours driving on the highway.

4. Renting a Car When It's Not Necessary
Now, in the US, it's necessary to rent a car when traveling somewhere new. You practically can't go anywhere in the US without a car. But that rule doesn't entirely apply to Europe. As I mentioned before, Europe is VERY well interconnected with trains, planes and buses.
But you won't need a car for many reasons. Predominantly because you CAN get practically everywhere via train then bus. And many cities in Europe are actually quite small and easily walkable. You won't need to drive from one end of town to the other to see everything! You can do it all on foot.
Plus, parking is a B**** in Europe! Sometimes it can be really quite costly, but also the streets are super narrow and parking is limited to those who live in that area.
And if I'm honest, depending on where you are, people from certain countries are downright terrible drivers!
Now, if you plan on covering a lot of ground, like doing a two week Balkan road trip or a family holiday driving from Germany to England, you can do it, and it is more convenient and you can go to places you otherwise would not always be able to reach by train or bus.
Only plan on renting a car if some of your destinations include smaller towns which are not easily accessible by bus or train.

5. Taking Overpriced Taxis

There is absolutely no reason to take a taxi from the airport to anywhere you need to go. With great public transportation, it's easy to catch a train or bus to get where you need to go at a fraction of the cost! Yes, perhaps it might take a minute longer to figure out what bus/train you have to take and maybe you have to wait 20+ minutes to the next one arrives, but taking a taxi across town to get to your hotel faster will cost you a pretty penny.
And to be honest, didn't your mama teach you never to get in cars with strangers? Not that it's unsafe here in Europe, but you just never know! And if you have to take a taxi, use legitimate taxis! In Germany, for example, all taxis are a nice beige color.
Whereas when we were in Bucharest, Romania, a taxi driver tried to hike the prices merely because we were tourists. But I knew exactly how much it should cost and we refused to pay more than he wanted, which didn't go down well, but he didn't exactly have a choice. I'm an experienced B**** when I need to be and I won't let anyone try to rip me off!

Also consider looking for a taxi app in the city your visiting, as legitimate taxis are rated on their service, whereas just grabbing a taxi from the curb might not be as satisfactory. Lesson learned in Bucharest!

Nonetheless, with a bit of pre-planning, you can figure out how to get from A to B without taking a taxi.
6. Cramming Everything into One Trip
They always say there are 9 types of travelers. Number 2 is the over-planner. And I'm not gonna lie, I struggle not to be that person. I've got a severe case of FOMO! But try to keep the amount of places you visit, both in terms of cities and sights, to a limited number.
It's better to remember that one day, you will return and can see something you missed or go somewhere new next time. It's not only financially viable to spread out your holidays over a longer time period, but you will get more bang for your buck!
When you slow down and limit the amount of places you visit or sights you see, you can dig deeper into those places and truly stop and smell the roses. Appreciate the time you have in those current places and don't rush through them. You'll kick yourself stupid if you do! You'll get home and wish you had stayed somewhere longer instead of doing this, this and this.
Europe is not a wham-bam-thank-you-ma'am kind of deal. You don't need to hit it all once in the fear you may never return. It may take you longer to return, but that doesn't mean you will NEVER return again. Save some for next time!
Avoid tours or cruises that only give you a few hours in cities. So many travel customers of mine complain that the cruise/tour they're on is rushing them through cities! Sometimes, they literally ONLY get 2 hours in a town to do a walking tour before moving on to the next city! That's ABSURD!! And a waste of time and money! And worst of all, many of those tourists don't even know which country they're in or the name of the city! What's the point of being bustled around like cattle?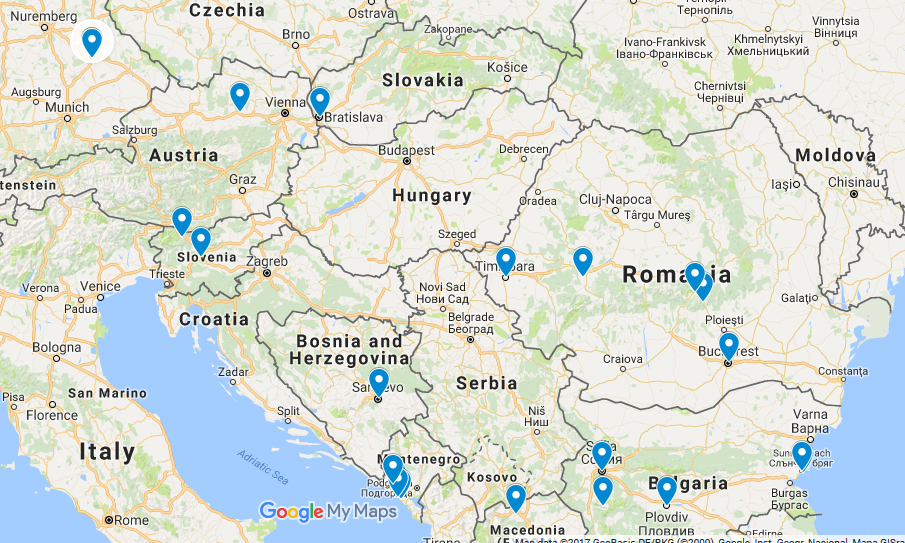 7. Skipping the Smaller Towns & Cities
Don't underestimate the value or beauty of the smaller towns. Sure, you can hit up London, but make time to visit the Cotswolds, quaint little villages an easy day trip away from London! Don't just jump around from Berlin to Frankfurt to Nuremberg and Munich without taking the time to pop over to the picturesque half-timbered towns in between.
I guarantee you'll have a better time exploring the lesser known cities of Europe than you would shoulder to shoulder in Europe's most popular cities. It'll be like stepping back 300+ years and walking through a history book in towns where time has forgotten them. You'll get a true sense of what Europe was like in a time long gone and have a more authentic experience of that culture!
Though I would be lying if I said they were easy to get to. Some really do require having a car! But nonetheless, take the chance and book a stay in a town you've likely never heard of! Kotor will blow your mind and Plovdiv will amaze you! Not just for the sheer beauty of these unbelievable towns, but also at how much affordable it is to travel off the well-beaten path! Skip Paris and go to more romantic regions of France, such at the Alsace Wine Route!
Related: 50+ Fairy Tales Towns in Europe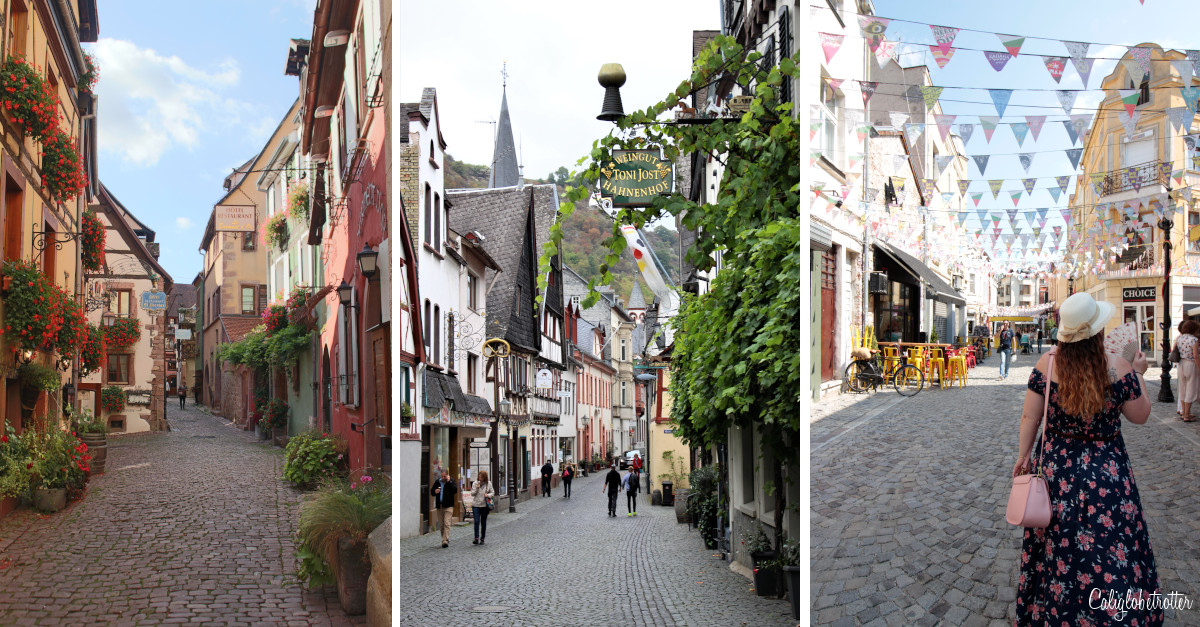 8. Booking a Hotel in the City Center or Wrong Part of Town
We all want that picture perfect holiday, staying in a historic building in the heart of the city center. And while it's a great experience a few times, don't do it every time. Why? Because it's too damn expensive! And parking is usually limited, if you have a car!
When booking a hotel, try to stay as near the city center as you can without being DIRECTLY in the center. Usually the outskirts are more affordable, have more space and are still within walking distance to the city center. If you're traveling by car, then I recommend staying as far out of the city as you can and take public transportation in, looking first to see if the hotel mentions a bus or train nearby which will take a few minutes to get into town.
But before booking, copy the address of the hotel and plop it into GoogleMaps just to get an idea of where your hotel is in comparison to main sights and attractions.
9. Not Studying the Map Before Sightseeing
Before you even leave your hotel, STUDY THE MAP every time! Get your bearings in order before setting out. This way you blend in and don't look like such a lost tourist right off the bat. If you need to look at the map, find a cafe or restaurant to sit down and study your next move before walking around.
Nothing screams "TOURIST!" when walking around with a map in your hand, clearly lost, where people can pounce on your vulnerability. 
Related: How to AVOID Looking Like a Tourist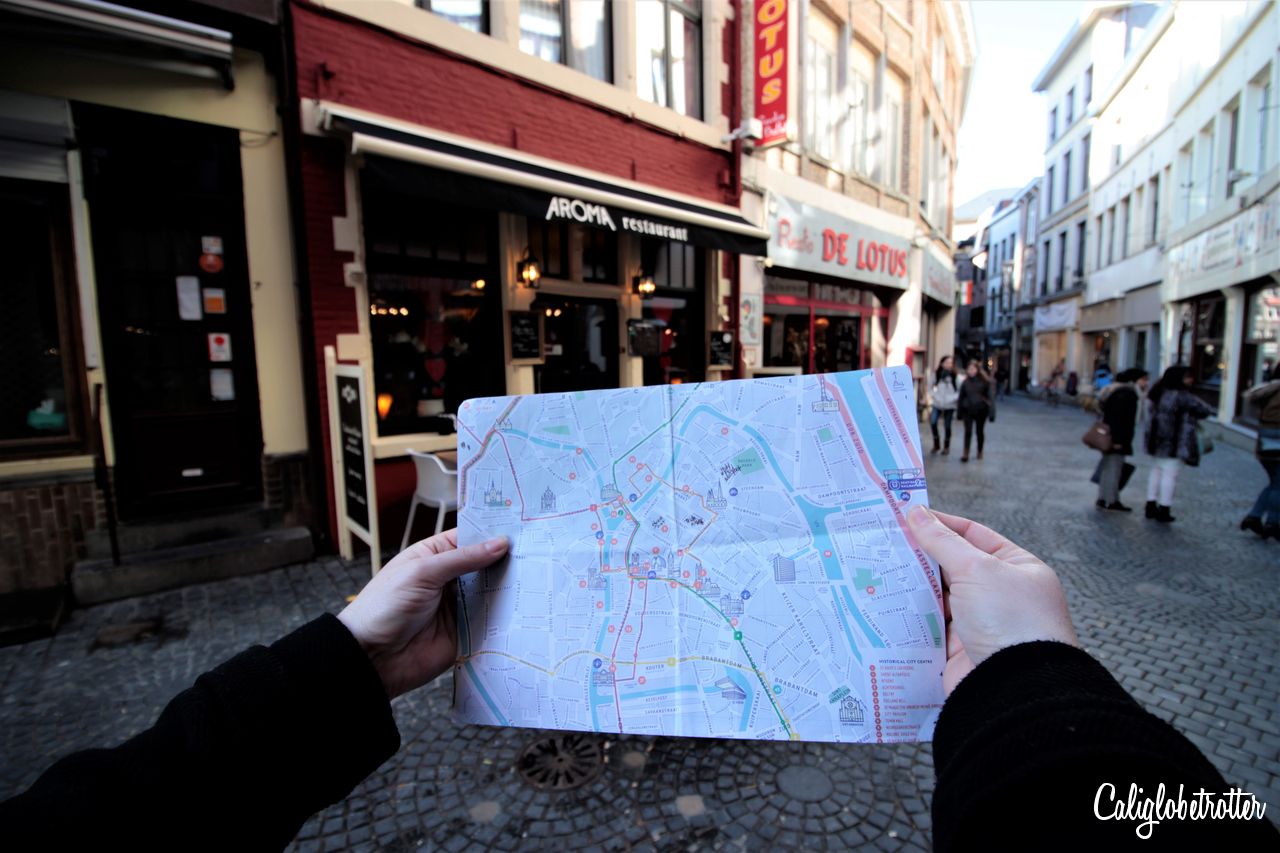 10. Wearing Your Camera Around Your Neck 24/7
Just don't. The second easiest way to spot a tourist is wearing your camera 24/7. I highly recommend buying a conspicuous camera bag that looks like any other purse/bag. Don't carry a traditional Nikon or Canon Camera Bag that stands out like a sore thumb. Try to blend in and look like a local to avoid being taken advantage of.
I highly recommend a camera purse from GattaBag (two pictures up) or JoTotes. I have a bag from each and switch them out depending on how much camera equipment I need for the day. You can also find lots of camera bags on Amazon! The bag below is one of my camera bags with all of my sightseeing travel gear, wallet and whatnot, yet you'd never know it was a camera bag and therefore, that I'm a tourist!

Pull out your camera only when you need to take a photo and then put it away when you're done.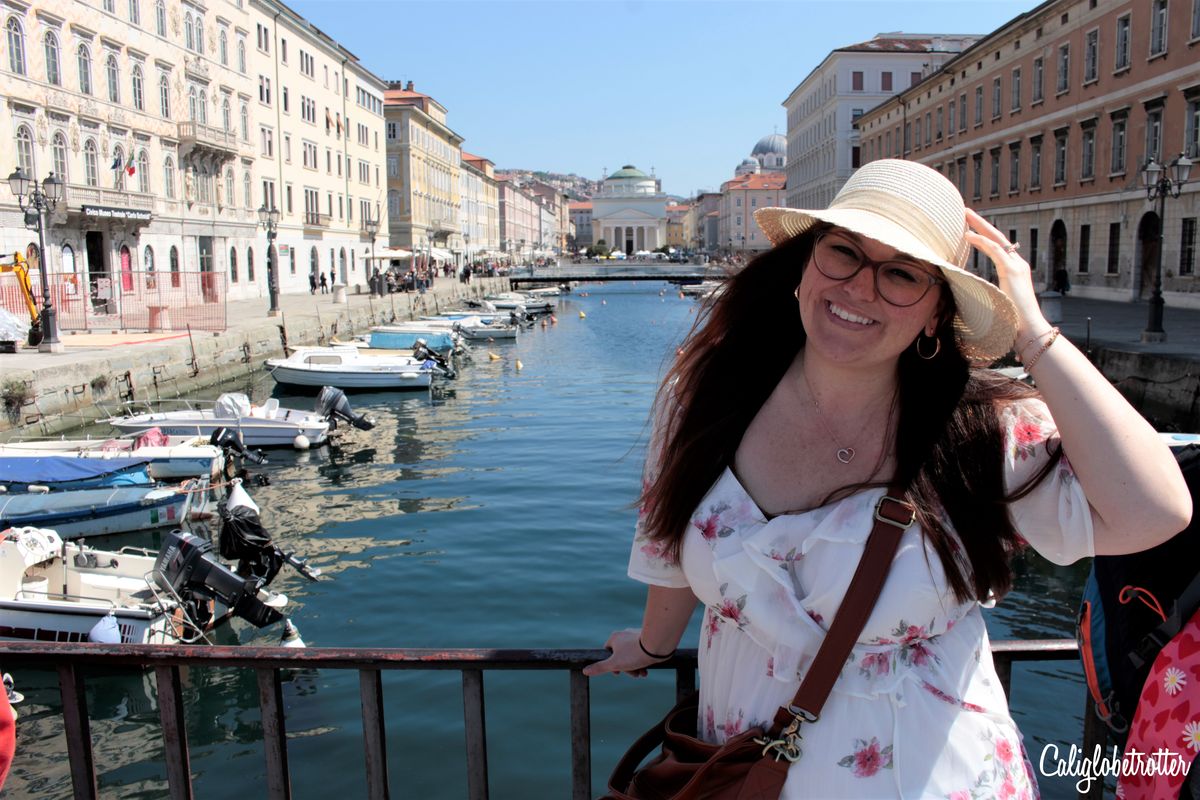 11. Assuming All of Europe Speaks English
While the European Union recognizes 24 official languages, with English, German and French the most widely spoken, you still can't assume that everyone will speak English. With English being the lingua franca not just of Europe, but the world, you must still get it out of your head that everyone speaks English. It is widely taught and used, but Europe holds tightly to their traditional languages.
In France for example, you'll come across people who absolutely REFUSE to speak English and they actively try to prevent English terms slipping into the French language, unlike Germany which is known to intermingle both English and German into "Denglisch".
I HIGHLY suggest you to learn a few key phrases before visiting a new country. Even if it's only "Please", "Thank You", "Help", it will go a long way. People appreciate when people try to speak their language and not just assume they speak English.
And please, please, DON'T be that tourist that speaks LOUDER as if that might make someone understand you better. It doesn't work that way.
I would recommend using GoogleTranslate as well to help communicate when you really can't understand the language.
12. Assuming the Euro is All You Need
Life would be exponentially easier if ALL of Europe used the Euro, unfortunately, that is NOT the case! Of the 44 countries in Europe, only 19 of 27 member states of the European Union use the Euro as their main form of currency. However, there are still many countries in Europe that retain their own currency, but accept Euros, such as the UK, Switzerland, Hungary, Czech Republic, Norway and more!
Keep all the foreign currency separated into individual envelopes and leave it in the hotel safe when not currently using those currencies. And before using the currency, study it! Figure out which coins are what and how much! The bonus to Euros is that unlike American cash, as the bill increases in value, so does the size and color, making it actually easier to tell the difference between bills!
Don't be one of those annoying tourists who can't tell the difference between a 1€ coin and a 2€ coin and shove the money at the person helping you and say "I don't know, take what you need". Everyone can read and that's the worst way to get your money nipped right out from under your nose!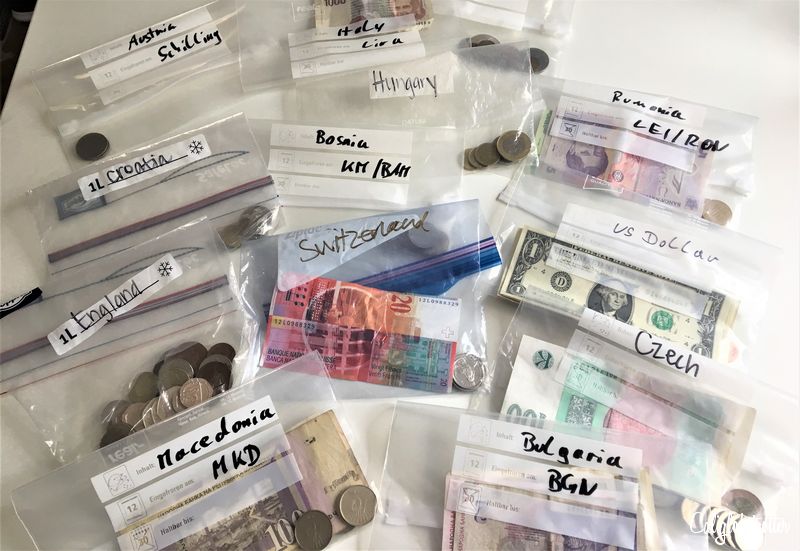 13. Exchanging Money at the Airport & Not Carrying Cash
Prepare in advance, in your home country, by going to the bank and requesting the currency of each country you plan to visit. Even if it's only a small amount, it's better to enter the country with some cash in hand, but, whatever you do, DO NOT exchange money at the airport for the foreign currency!! It'll cost you more in conversion fees than if you had done it at home!
If you don't want to carry a lot of cash on you, no problem. Head to an ATM to take out cash once in Europe (but again, not at the airport) and you'll have a better exchange rate, but also check with your bank before leaving the country about foreign transaction fees.
But you should ALWAYS carry cash with you! In many smaller towns and villages, credit cards are not widely accepted and Cash is King. Even in larger cities, you may still come across an obscene amount of restaurants and shops that refuse credit cards, only accepting local debit cards only, or worse, neither.
14. Thinking Public Restrooms are Free to Use

Peeing for free in a clean public restroom is a luxury. It might be widely available in the US, but across Europe you'll have to pay a varying price to take a tinkle – anywhere from 30 cents to 50 or even up to a 1€! Germany is especially a stickler about paying to use public restrooms!
Sometimes it's also a recommended tip for those who maintain the restroom. If that's the case, I use the restroom first, and if it's worthy of a tip, I will leave what I have. It's up to you sometimes how much you pay, other times the price is mandatory. If I feel that the bathroom was not fully stocked with toilet paper, piss on the floor or no paper towels, and someone is on duty, I definitely do not tip then.
But if I'm honest, paying for a public toilet is a hell of a lot better than using the free public toilets, which are downright nasty! However, if you really don't want to pay, you can always find a McDonald's that is usually free.

For men, it might be easier in some places, for example, in Belgium, they have quartered walk-in urinals sporadically throughout town. A little unfair for females, in my opinion, but nonetheless, much better than seeing people peeing in public in a park.
15. Not Dressing Appropriately for the Weather
When packing your clothes for coming to Europe, you really should pack for all seasons! The weather is very temperamental here. It could be a bright, sunny, hot afternoon with no clouds in the sky and then it might suddenly pour down rain on your for 15 minutes before clearing up again. In the winter, it's bitterly cold throughout much of Europe, and you'll need thick, warm winter clothes if you plan on doing any outdoor sightseeing, let alone standing outside at the Christmas Markets!
It's best to go sightseeing in Europe with a full closet. That means, always, always, always carry an umbrella and a light raincoat with you, wear the appropriate shoes for sightseeing or outdoor activities. No sandals when hiking. Don't be that person. If you're going to a special location, always check what the recommended attire is, especially for afternoon tea.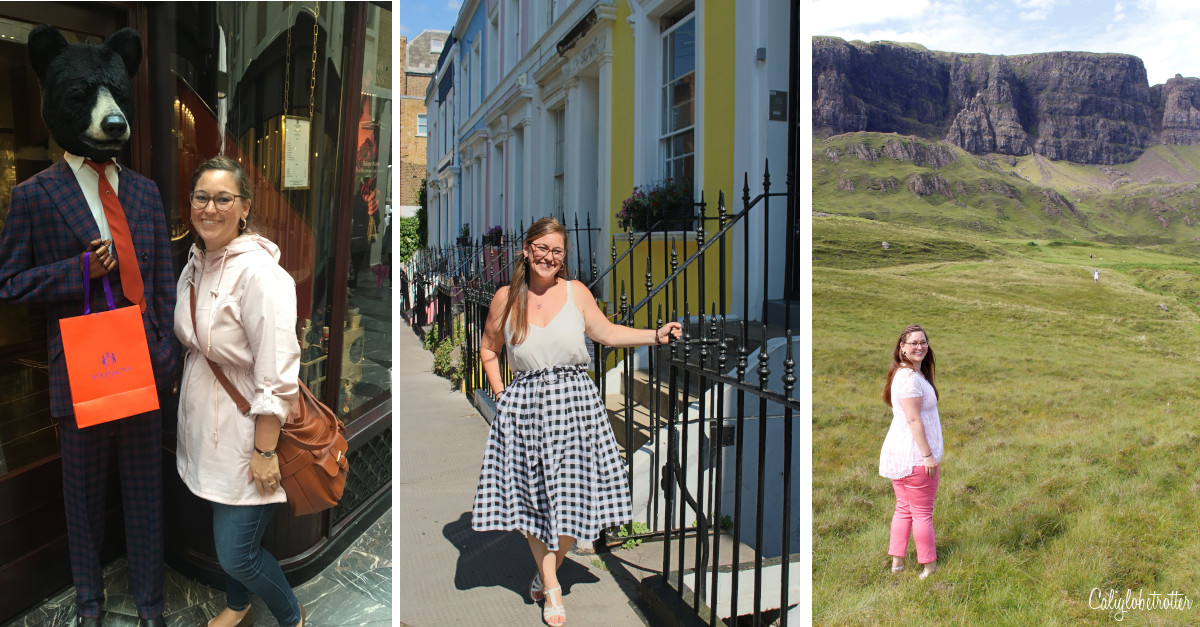 16. Not Dressing Appropriately for Religious Sites

Speaking of, when traveling to a new country, you should ALWAYS check on the customs of the country and find out what you should and should not do. I remember being 15/16 in Rome and wanting to go into St. Peter's Basilica, but because I was wearing shorts and a tank top I could not enter. Luckily, we had packed a pair of long capris for me to change into and a cardigan just in case, as we weren't sure! Luckily, I was able to change and enter the world's most famous Catholic church.
I would take that lesson with me wherever I traveled and always made sure I had something to cover my shoulders and legs.
However, on our honeymoon, it was the first time I had visited a country with a high Muslim population, so I was concerned about my clothes. I had done research and found that a long dress to my ankles would be fine, but I had to cover my head too before entering a Mosque. Unfortunately, on another day in Plovdiv, Bulgaria, it was a super hot day and we forgot my husband was wearing shorts, when we stumbled upon a Mosque to check out. I was allowed to enter by throwing a cloak to cover my body and my head, but my husband was forbidden to enter.
So the lesson here is, respect the cultural and religious customs of the country you are visiting, especially when visiting religious sites.
17. Wearing the Wrong Shoes
I get it, we want our cute shoes to match our cute outfits. But I promise you now, by the time you're done with your holiday to Europe, those shoes will be in the trash because the cobblestones destroyed them or because they hurt your feet like a female dog.
Don't underestimate the amount of walking you will do when visiting Europe, so you WILL WANT comfortable shoes to last you all day, otherwise your sore feet will prevent you from seeing everything you want to see! If you want to be like some true city dwellers, sightsee in your comfy shoes and carry a tote with your cute shoes to switch into for photos.

Your feet will thank you later and you can forget the 'gram!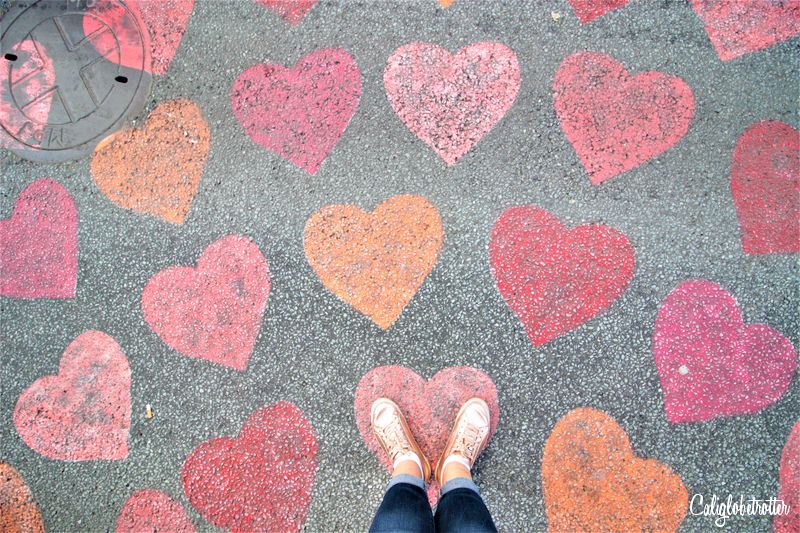 18. Overpacking & Bringing Your Entire Life With You on Holiday
You do not need to pack the whole house and the kitchen sink when visiting Europe! As I mentioned before, you definitely want to pack for all weather conditions. Bring a pair of pants which you can wear multiple times. A Cardigan. A Light Jacket. Comfortable Shoes. Beach Sandals for beachy days. Sleeping clothes. Plenty of skivvies and socks and your stomemvomfloppen bra. Perhaps a skirt or dress or two. Max. Learn to wear clothes that you can wear in multiple ways and still look like 10 different outfits.
Do not be one of those annoying tourists who has so many bags and can't get them on the train or bus fast enough and everyone is waiting on you, getting annoyed because you're blocking the walkway. Not going to lie, that was me too buuut that's literally because I MOVED my life to Europe. If you're visiting, and you don't have something, buy something new. Europe is the fashionista of the world, and as they say, "Pack half the clothes and twice the money!"
One suitcase! One carry on! One personal item! Better yet, just one carry on and one personal item!

Related: Essential Carry-On Items
19. Not Knowing About Siestas and When to Eat Dinner
When visiting countries like Italy, Greece or Spain, don't forget about Siestas! It's the time of day, which coincides with the hottest part of the day that many restaurants, shops and even churches close for a little naptime. That might mean finding a place for lunch or doing any sightseeing might be limited and you may need to reschedule some sights to earlier or later in the day.
Many restaurants may not even reopen until 7-8pm when the day is typically cooler and locals come back out from their homes to mingle. Many European countries nonetheless typically eat later in the evening, with 8pm traditionally being the busiest.
If you're not able to wait that long for dinner and typically eat around 5-6pm, I highly suggest carrying some snacks with you to hold you over and SKIP MCDONALDS/BURGER KING/KFC/SUBWAY!! Eat Local! Support Local!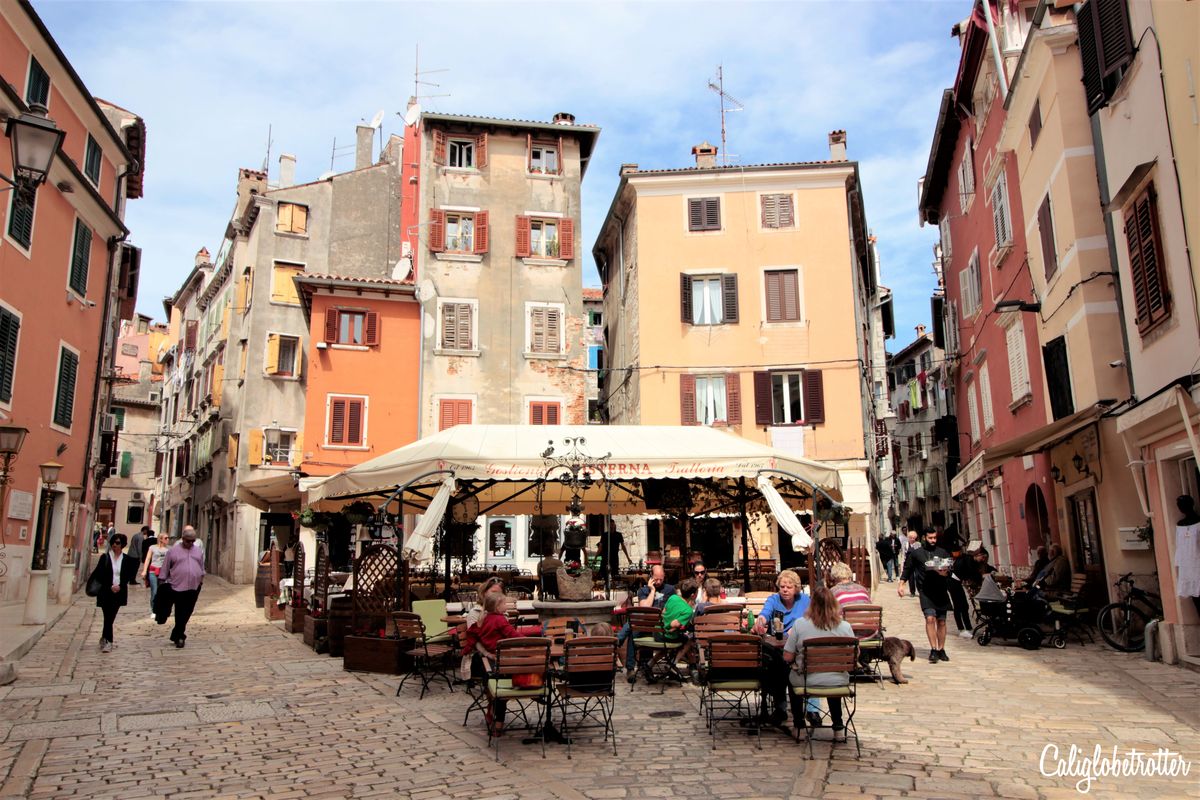 20. Eating at Restaurants Near Tourist Attractions
Stay away from restaurants near main attractions as the prices are always hiked up because of the easy convenience next to the sights for tourists. Worst of all, they only cater to tourists and the service is usually the most unfriendly. Go a few side streets over and you're likely to find cheaper and friendlier service and enjoy a more authentic experience.
Even if it takes you another 10-15 minutes to find a restaurant, it'll be worth it, I promise! We always do a full lap around before making a decision, like in Split, Croatia or Rovinj, Croatia. We also look for a restaurant that has character spilling out, drawing us in, that has a few people sitting outside. Try to look for restaurants where the locals are eating, because those are the ones that are the best!
Avoid restaurants that have boards with pictures advertising their food outside of the restaurant, or a waiter encouraging you to come in. That is a clear sign they cater to tourists, the food won't be that great and costs more than it should!
Sometimes it's inevitable, but try to avoid it.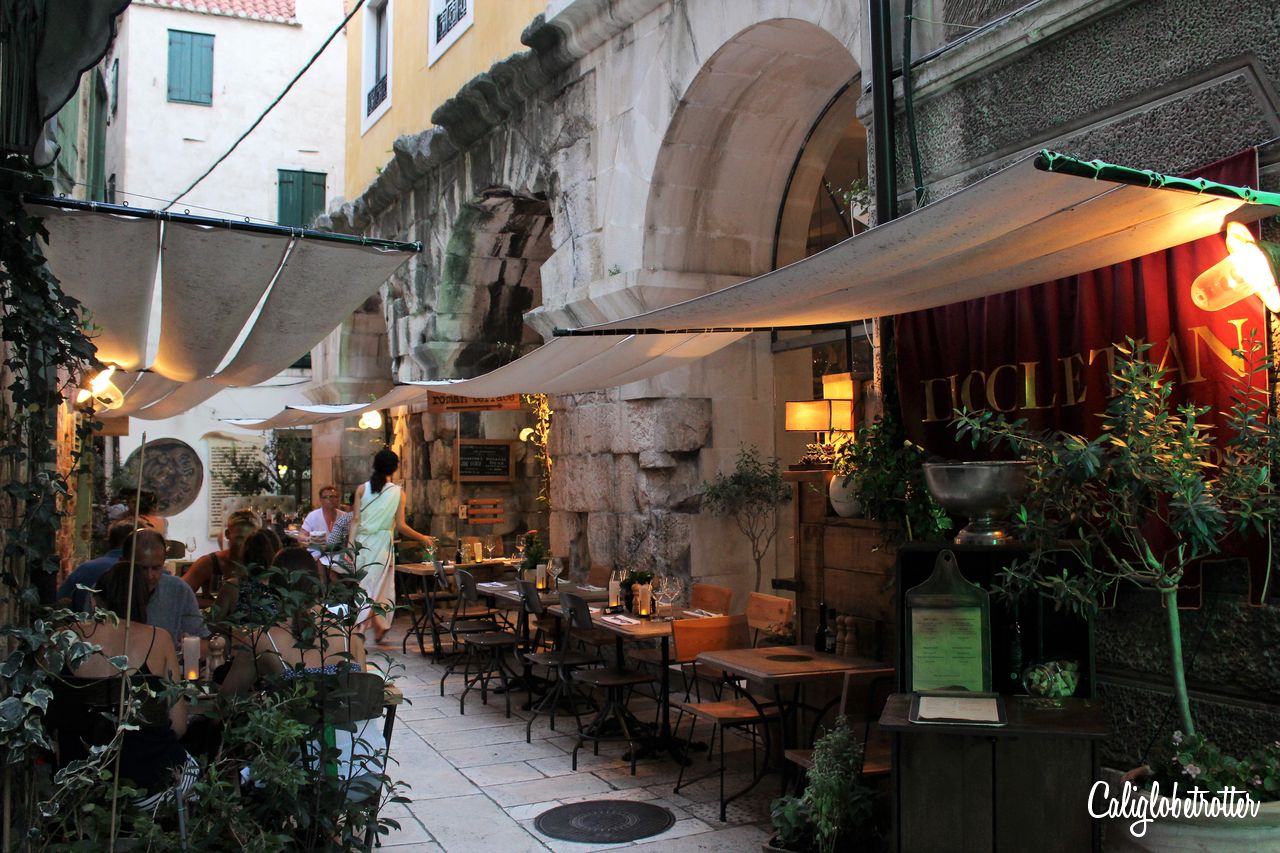 21. Eating the "Free" Bread

Whatever you do, don't eat the "Free" bread! If the waiters bring bread or any kind of snack without having asked for it, ASK IF IT COSTS before digging in! Even then, be prepared to pay for it, even if they said it was free. It's a popular restaurant scam! Even if it's only one slice! 
I knew this scam and fell for it in Barcelona while out for Tapas, even though they said it was free. Even after 10 minutes of arguing, we walked away having paid for it just to leave.
22. Skipping Breakfast at the Hotel

Not all hotels in Europe have breakfast included in the price of your accommodation, but if you scored one, take advantage of it EVERY DAY! If you don't, you're technically throwing money down the drain as you've already paid for it. Even if you don't have time to sit down and eat breakfast, at least grab some fruit and croissants with a cuppa to go.
But don't expect much. Most breakfasts at hotels is a simple "Continental" Breakfast which usually includes croissants, bread rolls, jams and Nutella. If you're lucky, you might also have a bit more of a buffet with cereals, eggs, sausages and bacon.
I do recommend eating out at a local cafe for breakfast, but only when it's not included in your hotel. If you have to pay for breakfast at your hotel, you might as well experience a traditional breakfast in a local cafe.
Related: 15 Things to Do When You Travel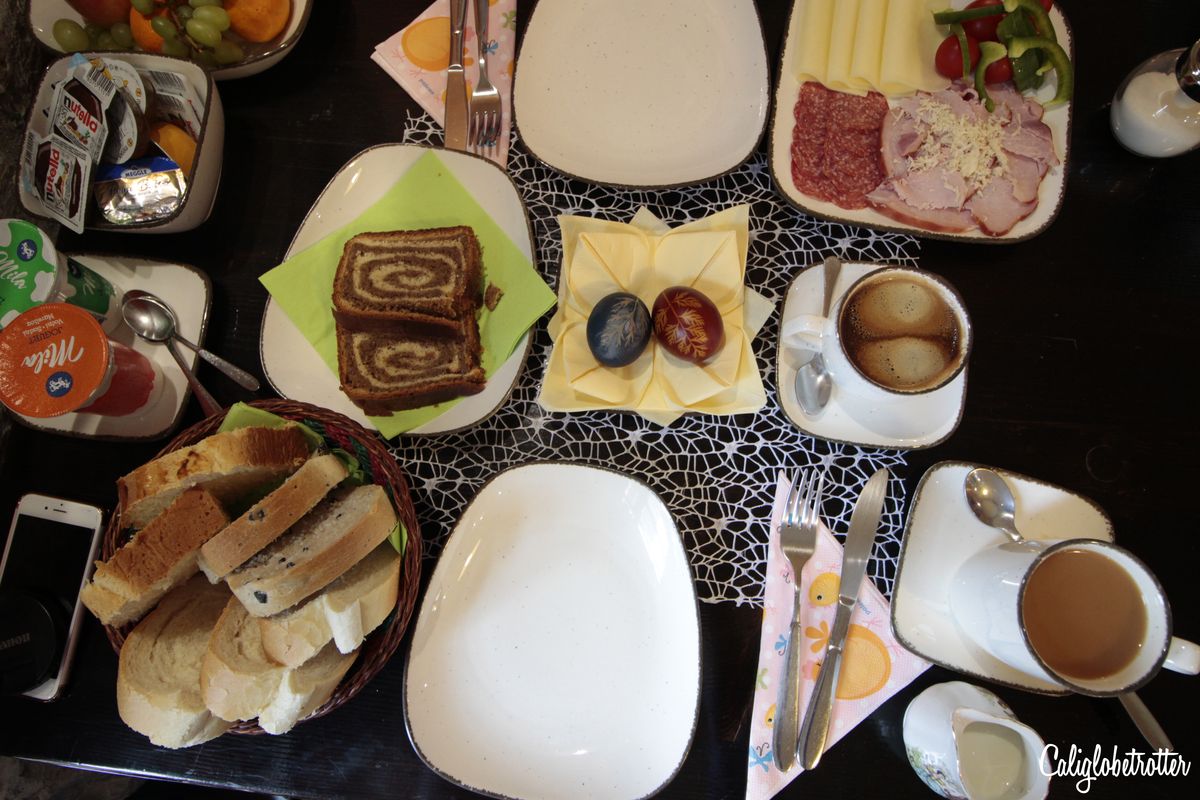 23. Not Indulging in the Country's Foodie Culture

I mentioned before not to eat at places like McDonald's/Burger King/KFC/Subway. Don't be so American like that. Indulge in local cuisine. Find a local restaurant and ask for the local specialty and you can bet your bottom dollar it'll be the best damn thing you've ever eaten. Go to a biergarten and order a schnitzel and bier in Germany. Enjoy a fancy Afternoon Tea in England. Learn to make pasta in Italy taught by an Italian grandma. Go to a traditional French pâtisserie and enjoy a fancy cake and coffee. Hell, relax in a historic Viennese coffeehouse all evening and soak up the culture!
Related: The ULTIMATE Guide to Eating in Germany

Related: A Foodie's Guide to Poland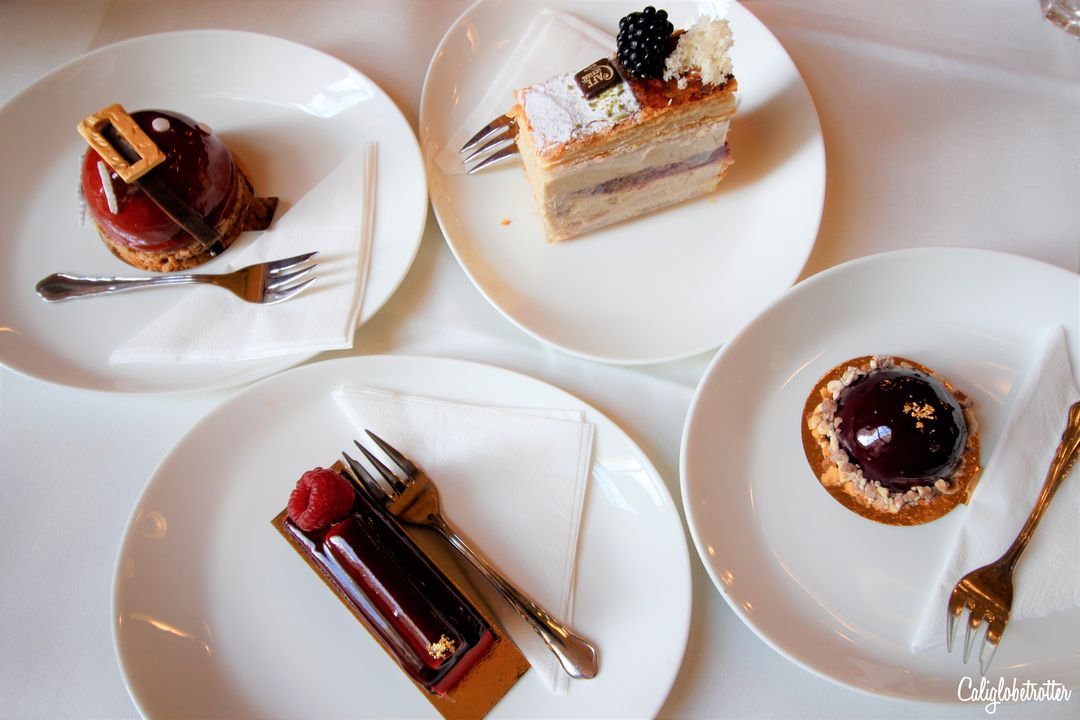 24. Letting Your Guard Down
Don't just think that because you're in Europe, you're going to be 100% safe. You never know when something might happen anywhere you visit, but the chances of something terrible happening in Europe are little to none. But that doesn't mean you should let your guard down.
There are pick-pockets in all major cities across Europe, so you should always make sure any wallets or purses are secured, especially when on public transportation or in large crowds. In those instances, I suggest putting your purse or backpack on the front of your body. Don't get trapped into conversation and let your guard down. Always pay attention to your surroundings and people pushing up against you.
Pick-pocketers are skilled professionals. Even when traveling with your family, encircling Grandma and Grandpa, they can still get to them. It happened to my family, it can also happen to yours. Even in the club!
As a tourist, you are an "easy target" because you're in a new city and are not familiar with the customs or the neighborhood. For example, while in Paris, don't let someone approach you and have you try on a bracelet. Once it's on, they will try to scam you and force you to buy it before they leave you alone.
25. Visiting the Tourist Traps
There's a reason why the main tourist attractions grab the most attention and have the huge amount of crowds lining up to see them: they're pretty damn awesome.
But don't fall into the gimicky tourist traps that suck you in only for your money. Gondola rides, the London Eye or jam-packed canal rides fall into that category and are there merely to make a shiny buck off of you.
You'll find many blog posts on tourist traps to avoid in Europe, and you should take them literally. But, you may find that certain attractions rated better than others and to each their own.
The overall lesson here: don't go somewhere just because someone told you to go or you read it somewhere. Do you're own research and find what interests you because then you're more likely to have a better time and more willing to dish out the cash.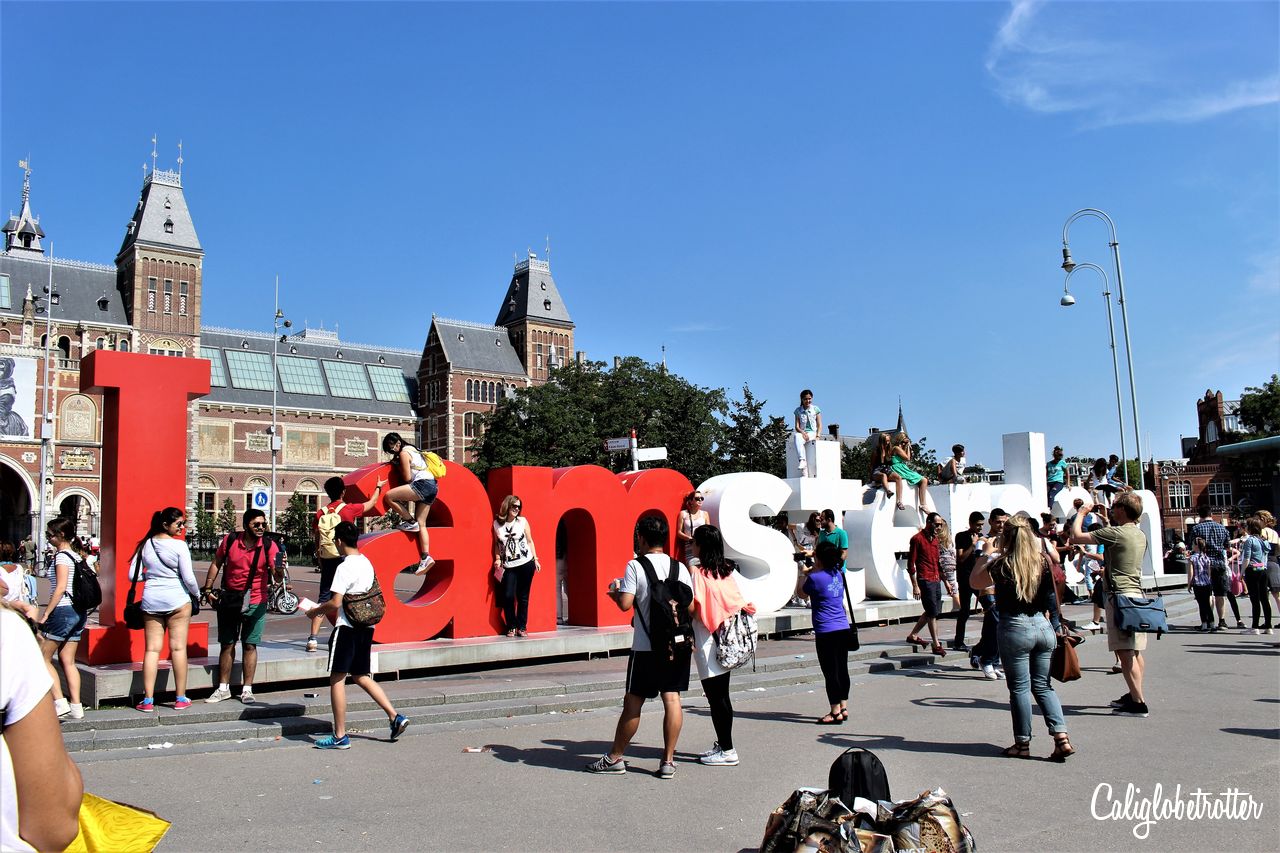 26. Not Booking in Advance
One of the worst things you can do is not book and prepare your sightseeing itinerary in advance. I have come a long way to be the hardcore planner that I am today through lots of trials and errors. When visiting big cities like London, Paris, Edinburgh or Rome, you NEED to book in advance if you want to see many main attractions.
The plus side to booking in advance is that usually there's a cheaper fee than buying a ticket at the door. Downside is living your holiday on a schedule. But without booking in advance, you might not be able to enter, and such was the case when I was 21 and visited the Leaning Tower of Pisa. We didn't know about booking in advance back then and yet, didn't have the time to wait in a two hour line to get in. So unfortunately, I came, I saw, I did not conquer.
27. Not Looking at Opening & Closing Times
When you don't bother checking the opening and closing times of main attractions, you might either miss a great time to visit without the crowds or downright miss being able to visit at all. You might be surprised to find that many main sights close at 4 or 5pm, even on a glorious sunny summer day when it feels like there is still half a day left till the sun sets at 10-11pm.
If you take the time to research every location you want to visit, you can plan which main attractions would best be to visit before the crowds. Taking advantage of going first thing in the morning or right before closing, you will miss the crowds. In fact, it's encouraged because when everyone and their mother rolls out of the hotel at 10am, they all head straight for the Eiffel Tower at the same time, causing massive queues. Many places even offer early bird discounts which over time will save you a lot of money if you can manage to do this often enough during your holiday. You can sleep when you're dead.

Worst of all, you may not be able to visit a sight, like a museum or castle that you want when you get there and they're closed. Some places are closed on Sundays, close early on Saturdays or are not even open.
28. Skipping the Free Sights

They say the best things in life are free, right? So why skip them!?
When planning my daily sightseeing itinerary, I always set a budget and divide our days into paid sights and free sights. Then I divide them into times best to see each location in a logical manner so we aren't backtracking.
The free sights can include parks, a few museums depending on where you are and churches usually (Except in England). And to be honest, you can see sooo much of Europe by only visiting the free sights! We have managed to see a TON of Europe without paying to enter or simply just admiring from the outside.
Heck, add in a little hike to your itinerary because that's definitely free and sometimes is the best part of any sightseeing!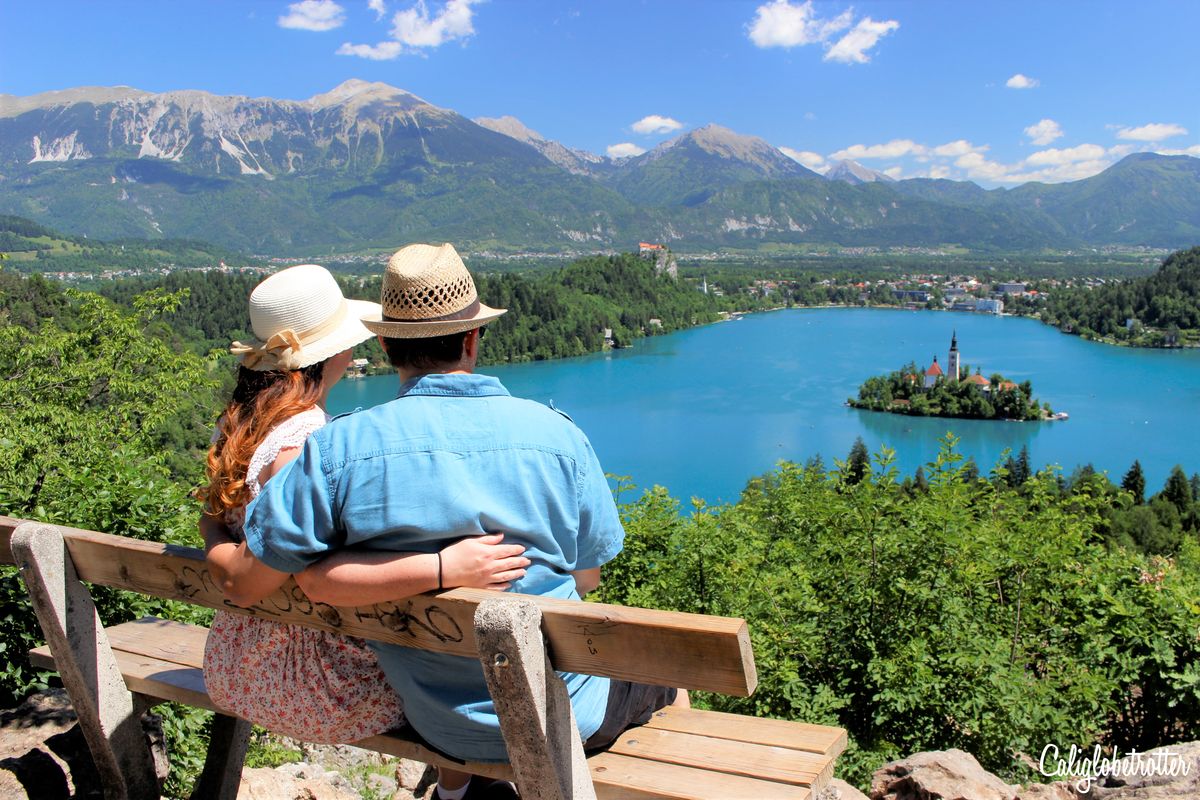 29. Not Walking Everywhere
Don't rely on public transportation 24/7. Especially in cities like Paris or London where using the Underground is an effective way to go across large cities. But you sure miss a lot while underground.
Consider mapping out a few sights you can walk to, and use public transportation for longer distances and when your feet need a little rest.
You'll likely even come to appreciate how walkable many cities are, no matter how big or large.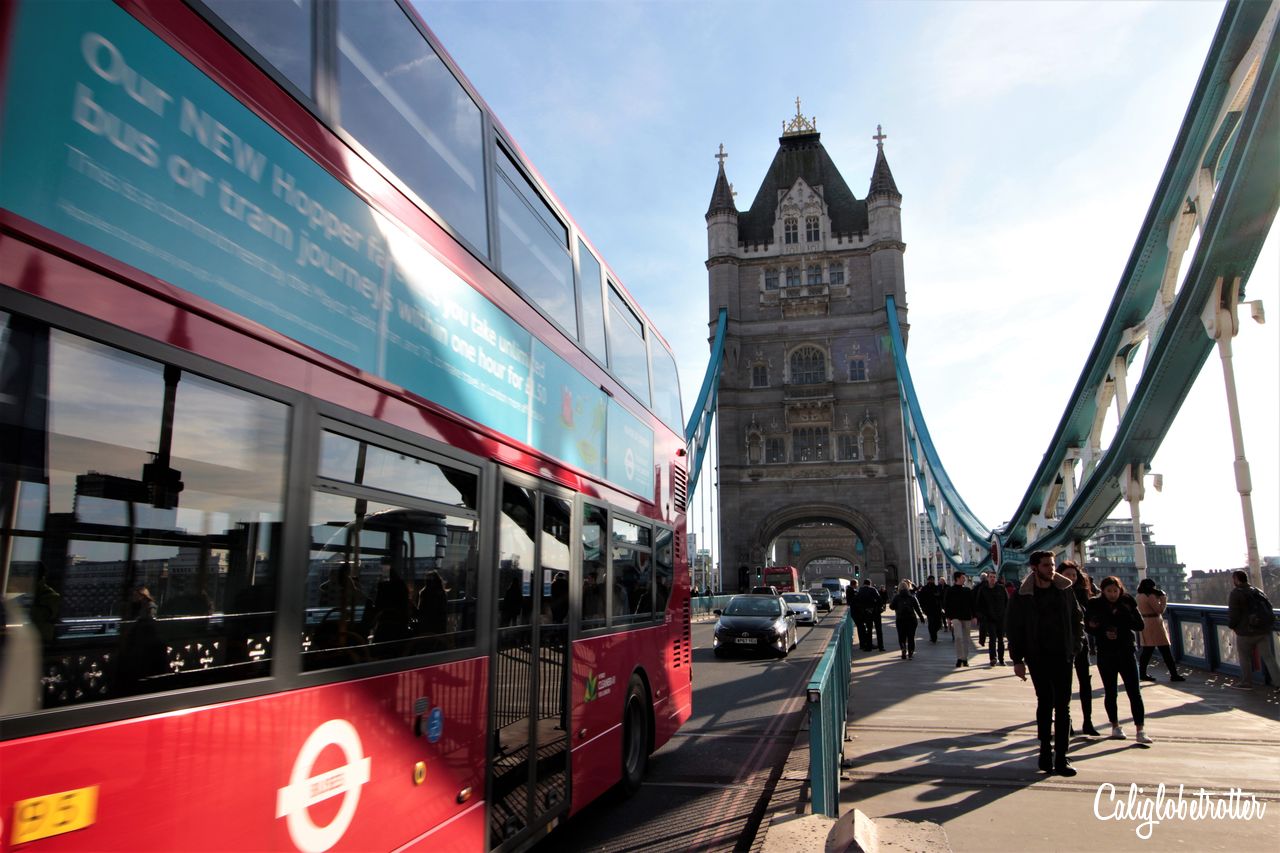 30. Sightseeing by your Travel Guide Book
Put the book down and get your nose out of the book. Do you research before traveling. Read some travel blogs (hey! You're here, you're already on the right track) and reach out to locals for advice, tips and secret gems.
There is a whole other city to see than the one in the guide book! And to be honest, those typically end up being all the most crowded places for a reason because they're the ultimate check off list of main sights to see and things to do.
Learn to go off the beaten path, visit a small museum or a quiet quarter of town perhaps not found between the pages of a book. Heck, that's how I found Wernigerode, Germany or Blaubeuren, Germany. Neither of these I could find in my Germany travel guides.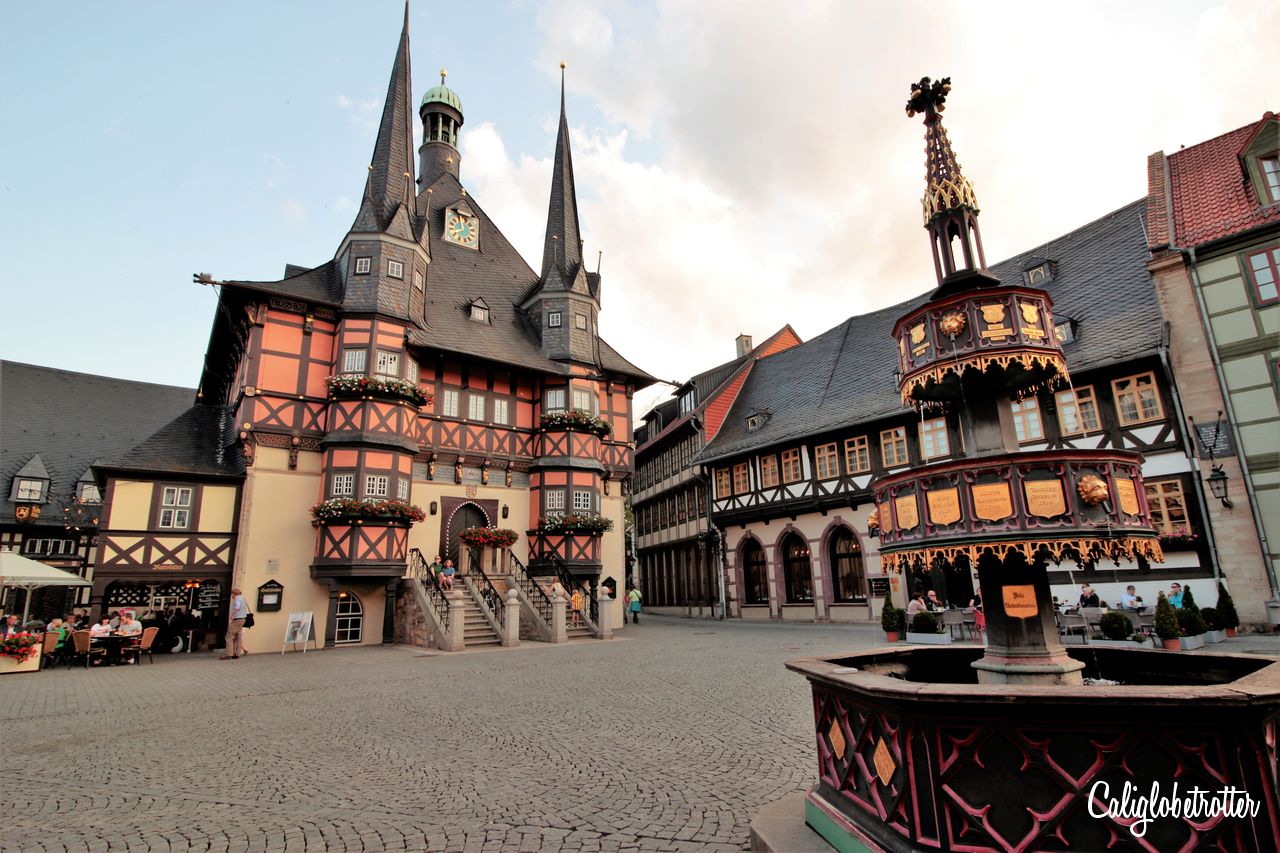 There are many ways one can go wrong while on holiday and as they say, live and learn. If should find that you made any of these mistakes, try to improve upon your touristic skills on the next holiday! You only become a professional traveler by experience anyways! And no one actually said you had to be a professional. You're on holiday, you're allowed to make some mistakes, but of course, it's better for everyone if you don't! Heck, even after all the traveling we've done, I still fall victim to some of my own suggestions. It can happen, but it's not the end of the world. Worst case scenario, it'll just end up being a funny memory later down the road!

If you're interested in visiting Europe and are looking for more information, I highly recommend using the Lonely Planet Travel Guides! Without these guides, I would be lost! These are my travel Bibles!
Disclaimer: This post contains affiliate links. If you click on one and make a purchase, I might make a little extra spending money, at no extra cost to you. As always, all opinions are my own and these products/services have been found useful during our travels and come highly recommended to you from yours truly!
Other European Travel Inspiration Posts:
15 Things to Do Every Time You Travel
40 of the BEST Day Trips from Frankfurt
The Most Picturesque Half-timbered Towns in Germany
The ULTIMATE List of Day Trips from Munich
Liked this post? PIN IT FOR LATER!!