Frankfurt am Main certainly has a lot to offer for anyone looking for something. But when you're short on time because you decided to make the most out of squeezing some sightseeing in in just a few hours before flying out of Munich, then you need to cut through hogwash and get right to the point. So here are my top 5 things to do in Frankfurt as quickly as possible while still enjoying the most the city has to offer!
Have a Layover in Frankfurt? PIN IT FOR LATER!!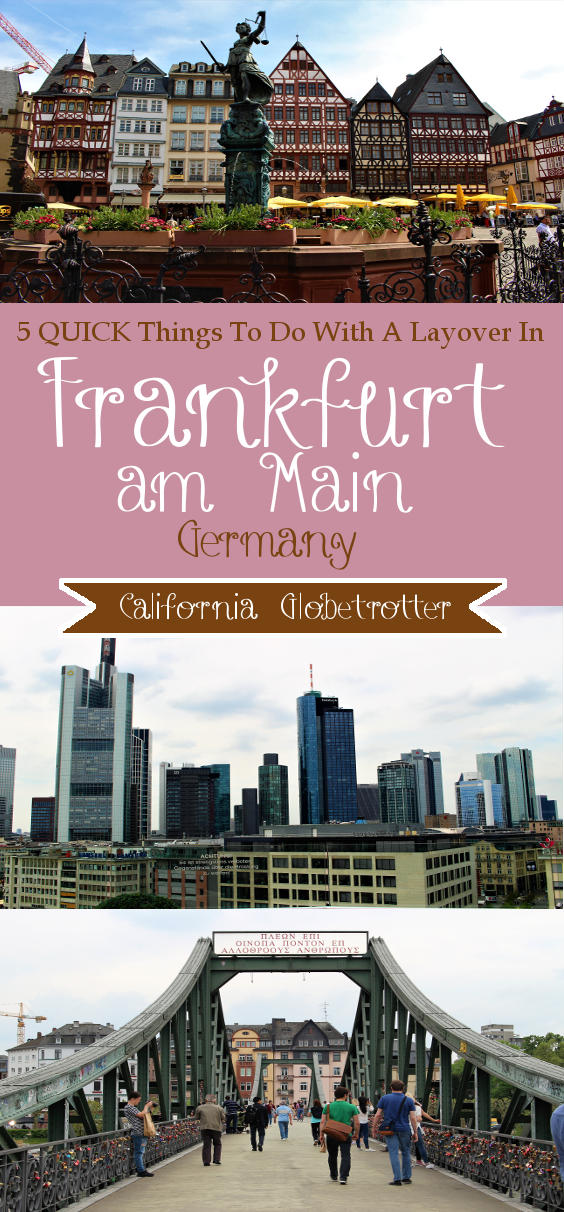 Check out the Kaiserdom
This imperial cathedral is one of the most important cathedrals in Germany, which was used from 1356 to 1562 for the coronation of German kings and Holy Roman Emperors, similar to Aachen's Pfalzkapelle. Built between the 13-15th centuries, the cathedral houses some priceless masterpieces such as the high alter.
Walk along the Main River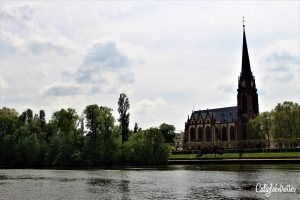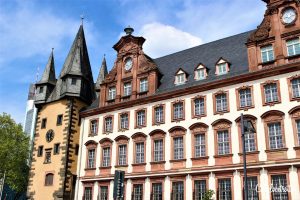 Nothing makes for a more enjoyable day than a stroll along a beautiful river, lined with beautiful churches and buildings, with a mixture of historic and modern architecture blending into one.
Take a stroll over the Eiserner Steg bridge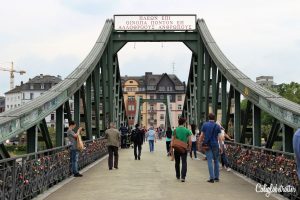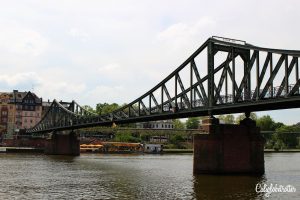 A small footbridge which crosses the Main offers lovers a chance to strap on a love lock as a way to profess their never-ending love for one another. Not that I encourage this, they do make for some pretty pictures, plus the bridge offers a great view of the city skyscrapers.
Fall in love with the Römerberg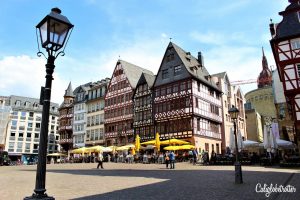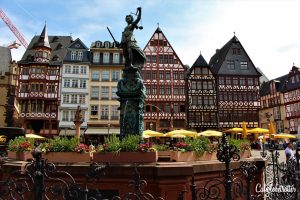 Like this post? Take it with you as GPS Guided App directly to your phone via GPSMyCity!
My absolute favorite thing about Frankfurt is the historic town square which includes a group of half-timbered houses commonly called the Ostzeile which date back to between the 15-18th centuries, as well as the Rathaus (Town Hall). Today, you can find several touristy restaurants and shops, as well as the Gerechtigkeitsbrunnen (Fountain of Justice). The square was practically destroyed during the war, but was rebuilt to its former glory.
Check out the views of Frankfurt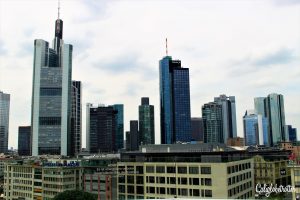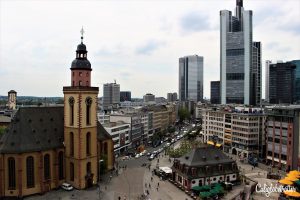 A little secret from one traveler to another, many Galleria Kaufhof shops in Germany are located in the city center, which all have a restaurant at the top of the building which usually offer some pretty astounding views. So, as soon as I spotted one, I knew I had to go up! Here, you can see the blending of historic and modern architecture from above! And the best part is: IT'S FREE!
While I am sure there is a lot more to see of Frankfurt, these were the easy and free things to see and do while in Frankfurt that offered the biggest reward for such little time there.
Where to Stay in Frankfurt:
⭐⭐⭐⭐ Hilton Frankfurt Airport – Located directly at the Frankfurt Airport, this futuristic hotel is incredibly comfortable before you catch your flight. I always stay here before flying out! 
⭐⭐⭐ B&B My Place – An adorable and cozy little hotel directly in the city center, not far from the Römer and from the Frankfurt Central Station. 
If you're interested in visiting Germany and are looking for more information, I highly recommend using the DK Eyewitness Travel Guide! Without these guides, I would be lost! These are my travel Bibles!
Disclaimer: This post contains affiliate links. If you click on one and make a purchase, I might make a little extra spending money, at no extra cost to you. As always, all opinions are my own and these products/services have been found useful during our travels and come highly recommended to you from yours truly!
Be sure to check out the Top Places to Visit in Germany!
Check out other easy day trips from Frankfurt:
Liked this post? PIN IT FOR LATER!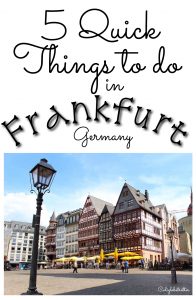 Save
Save
Save