Disclaimer: This post contains affiliate links. If you click on one and make a purchase, I might make a little extra spending money, at no extra cost to you. As always, all opinions are my own and come highly recommended to you from yours truly!
Let's admit it, if you're a hardcore wanderluster with an insatiable hunger to explore every crevice of the world, your house probably looks something like mine. Not entirely furnished because you would rather spend your hard earned money on travel than decorating your house, except when it comes to decorating your love of all things maps, travel inspiration, travel souvenirs and more.
Looking for travel decor? PIN IT FOR LATER!!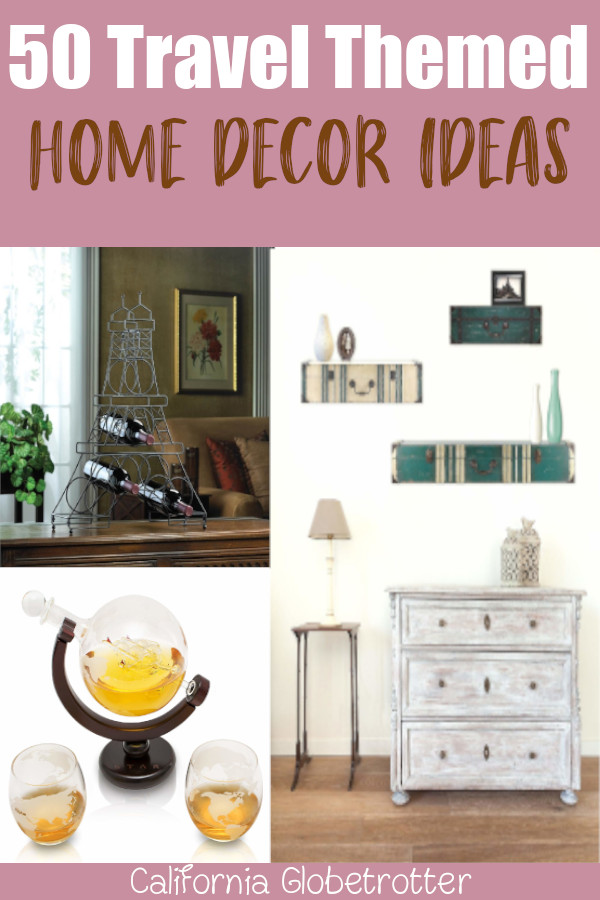 You likely have maps on every wall, pillows with maps, coffee cups with maps and anything and everything that is going to remind you of your past travels and the ones still to come! But, if you're just settling into a place of your own, and are as addicted to travel as I, then here are my favorite travel-themed home decor accessories!
Here I've gathered many of the best travel themed home decor items and dug deep into the depths of Amazon to find the most fascinating and unique home decor items to help give your home a travel-inspired makeover! Perhaps you want to decorate your home like your favorite destination, for example, London inspired home decor or perhaps you just want to showcase your love of world travel! So, I hope you find these travel-themed home decor accessories useful and inspiring and help you to incorporate travel into your home! Whether you're looking for wanderlust decor for your living room, bedroom, bathroom or even your garden, I've found something for every thing!
1. Corkboard Map
Luckies of London Corkboard Map

Love corkboards, maps and photography? What better way than to combine the two, grab some string and print your favorite photos and string the photo to the location in which is was taken!

Price: $34.99
2. Travel Quote Sign
3. Vinyl Travel Wall Decal
4. Eat Well, Travel Often Pillow
5. Travel Airplane Quote Vinyl Wall Decal

6. World Monuments Travel Photo Wall Decal

7. Whiskey Globe Decanter Set

8. Fashion Wall Art Travel Prints

Paris London Rome New York Fashion Wall Art Décor Travel Prints

Always been a big fan of these chic fashionista travelers since I bought mine while at university! Combine your love of fashion, travel and art with these rustic prints of chicas strolling in front of some of the world's most iconic monuments!

Price: $24.95
9. World Map Doormat

Welcome all house guests into your home no matter where they come from with this awesome world map doormat. Perfect for greeting your friends at the front door, use it in the bathroom or even the kitchen!

Price: $18.55
10. World Map Duvet Cover Set Bedspread

11. Never Stop Traveling Pillow

12. Travel the World Shower Curtain

13. Shadow Box Ticket Stub Holder

14. Wooden Globe Liquor Stand

15. Old World Map Vintage Leather Suitcases

16. Adventure Awaits Mug

17. Adventure World Map Crawling Mat for Infants

18. Wood Adventure Cutout

19. Scratch Off World Map with States and Flags

Scratch Off Map of The World with States and Flags. Black Travel Tracker Map 17×24

What a fun way for you or kids to keep track of your travels than by scratching off any country you've been to, along with its flag or perhaps to scratch off the states of the United States you've visited! Display this map proudly where all can see and it will surely be a conversation starter at any house party!

Price: $28.79
20. Lonely Planet's Ultimate Travel: Our List of the 500 Best Places to See…Ranked

21. Personalized Travel Fund Shadow Box

Personalized Adventure Fund Shadowbox – Fund Box

If you're anything like me, you need to physically see your savings to actually be effective at saving money! Grab this personalized shadow box to help keep you motivated to save money for your next adventure without feeling guilty throwing in a few bucks here and a few bucks there! By the time of your trip, you'll feel proud of your accomplishment!

Price: $44.95
22. Vintage Suitcase Wall Shelf

MCS 45886 Vintage Suitcase Wall Shelf in Distressed Cream Finish with Aqua Accent, 24MCS Vintage Suitcase Wall Shelf in Distressed Aqua Finish with Cream Accent, 36″MCS Vintage Suitcase Wall Shelf in Deep Aqua Finish, 18″

Spice up any room with these individual vintage suitcase wall shelves by zig zagging one from the other, add some blooms and your favorite travel books, and really showcase your love of all things travels!

Price: $46.99, $54.99, $31.99
23. Vinyl Record Player Vintage Suitcase Turntable

24. Telescope and Globe Book Ends

25. World Map Table Runner

d

Vintage World Map Long Table Runner

Class up any dining room table or living room table with this vintage world map table runner, a unique travel home decor option for showcasing your love of world travel!

Price: $22.39
26. Urban Tripod Compass Clock Table

Metal Round Clock Coffee & End Table

Grab this statement piece to spark conversation in any living room next to your sofa or armchair, not only to tell you the time but give you directions in life!

Price: $108.55
27. Metal Compass Wall Decor

A great piece of home decor for either inside your home as a wall statement piece or outside of your home to let all your neighbors know you'll go wherever the wind may blow!

Price: $34.48
28. Not All Who Wander Are Lost Compass Wall Decal

29. USA Scratch Off Map

30. Duvet Cover Passport Immigration Stamp

31. Custom Destination Directional Sign

32. Paris Inspired Ottoman / Footrest

33. Home & Garden Suitcase Side Table

Home & Garden Devon Suitcase Side Table

Extend your love of travel to your backyard terrace with this suitcase side table and decorate it with some potted flowers or use it as a side table in your living room!

Price: $119.97
34. Storage Trunk Set with Rose Gold Handles

35. Paris Eiffel Tower Wine Rack

Black Iron Eiffel Tower Paris France w 6 Bottle Wine Rack

Though I found mine at the World Market, I'm happy to report that you can also find this amazing Eiffel Tower wine rack, for the true wine aficionado and Francophile! Set it in a corner or next to a bookshelf and show off you love of both Paris and wine!

Price: $36.77
36. Vintage Airport Code Drink Coasters

37. Airplane Wine Bottle Holder

38. Nautical Wooden Ship Wheel Clock

39. Airplane Statuary

40. Old World Map Lamp

Travel – Old World Map Sport Silver Lamp

What could be more cozy than snuggling up on a sofa next to this beautiful old world map lamp to read a book or enjoy watching a TV show? Not much else!

Price: $52.99
41. World Map Trash Can

42. World Map Serving Tray

43. Departure Destinations Personalized Wall Art

44. World Travel Sights Tourism Bathroom Mat

45. World Wall Clock

My, Oh My! What a fun wall clock to display you love of world travel!? A fabulous idea: Buy multiple and set them all to the time zones of your favorite countries!

Price: $24.99
46. World Map 5 Countries Wall Clock

47. Airplane Bottle Opener

48. World Map Area Rug

Nothing says love of world travel like a huge display of a world map with this colorful watercolor living room rug!

Price: $69.99
49. Old World Map Room Divider

50. 2 in 1 World Globe LED Lights

Now, you probably don't want to grab one of everything unless you're totally OBSESSED with world travel like I am! Many of these items I do have for our home while others are on my waiting list once we move into a new, larger apartment! All these items give me the butterflies, that exciting feeling of looking forward to future vacation plans and remind me to never stop traveling! Though I also have to admit, I am a big map nerd and have maps plastered all over my living room and I can honestly say it's always a conversation starter and sharing our love of travel with others is always a fun way to encourage others to travel the world! So, I hope that these 50 home decor items help you to decorate your home! 
Other Travel Accessories:
25 Rose Gold Valentine's day gift Ideas for Miss Travelholic!
Fabulous Stocking Stuffers for Mrs. Traveler
13 Fabulous Birthday Gifts for Miss Traveler
Stylish carry-on Essentials for the Lady Traveler
10 Gifts Every Female Traveler Should Have
Liked this post? PIN IT FOR LATER!!