As we all know, I am a huge movie buff and love anything that has to do with traveling around Europe at any point in history. I love all types of films as long as they aren't horror films! Romantic, Comedies, Historic, you name it, I will watch it! Before I go on vacation somewhere, I usually try to find a movie or read a book that takes place where I am going!
Here is my list of movies you should definitely check out before coming on a trip to Europe which includes both chick-flicks and action-flicks for those nights you and your special someone are looking for something to watch!
Romantic:

Before Sunrise
Musical:

The Sound of Music
Drama/Historic:

Woman in Gold
Action: In Bruges
Romantic:

Copenhagen
P-G Rated:

The Prince & Me
Action: XXX
Romantic:

The Holiday, Shakespeare in Love, The Wedding Date, Notting Hill, Wimbledon
P-G Rated:

Harry Potter
Action:

The King's Men: The Secret Service, Sherlock Holmes, James Bond
Classic:

My Fair Lady
Musical:

Mary Poppins
Drama/Historic :

The King's Speech, The Queen, The Audience, The Other Boleyn Girl, The Young Victoria, The Duchess, Vanity Fair, Diana, Elizabeth, Elizabeth: The Golden Age
Romantic: The Devil Wears Prada, Chocolat, Julie & Julia, Ever After, Midnight in Paris, Before Sunset, A Good Year, An Affair to Remember
P-G Rated: Ratatouille, Beauty & the Beast, Tangled, The Hunchback of Notre Dame
Classic: An American in Paris, Sabrina (with Audrey Hepburn!), How to Steal a Million, Paris When It Sizzles, Two for the Road
Musical: Moulin Rouge, Les Miserables
Drama/Historic: Coco Before Chanel, Marie Antoinette
Thriller/Mystery: The DaVinci Code, The Bourne Identity
Comedy: Amelie
P-G Rated:

Sleeping Beauty
Action:

The Monuments Men, The Counterfeiters
Classic:

Chitty Chitty Bang Bang
Drama/Historic:

The Book Thief, Defiance, Goodbye Lenin
Comedy:

Beerfest, EuroTrip
Romantic: My Big Fat Greek Wedding, My Life in Ruins, Before Midnight
P-G Rated: The Sisterhood of the Traveling Pants 1 & 2
Musical: Mamma Mia!
Romantic: 

P.S. I Love You, Leap Year
Romantic: Under the Tuscan Sun, Eat Pray Love, Letters to Juliet
P-G Rated: The Lizzie McGuire Movie
Action: The Italian Job, The Tourist
Classic: Roman Holiday, La Dolce Vita
Drama/Historic: The Godfather, Romeo & Juliet
Thriller/Mystery: Angels & Demons
Comedy: EuroTrip, Just Married
Romantic/Historic:

Grace of Monaco
Romantic: Made of Honor
Romantic:

Vicky Cristina Barcelona
Comedy:

The Spanish Apartment
And for good measure…my favorite movie and the one vacation I haven't made it to yet – Under the Tuscan Sun in Positano!!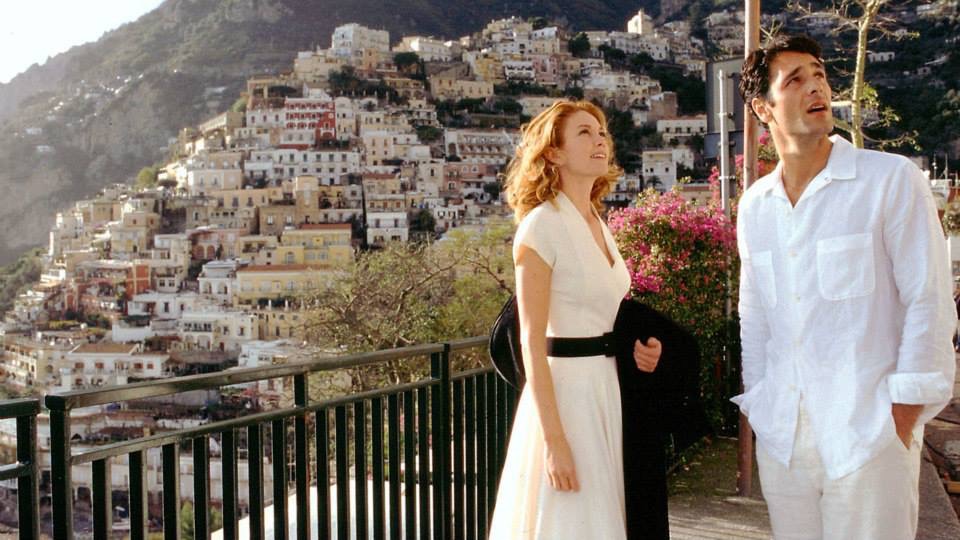 Other Movie Related Posts:
15 MUST-VISIT Audrey Hepburn Locations
Liked this post? PIN IT FOR LATER!!
Save