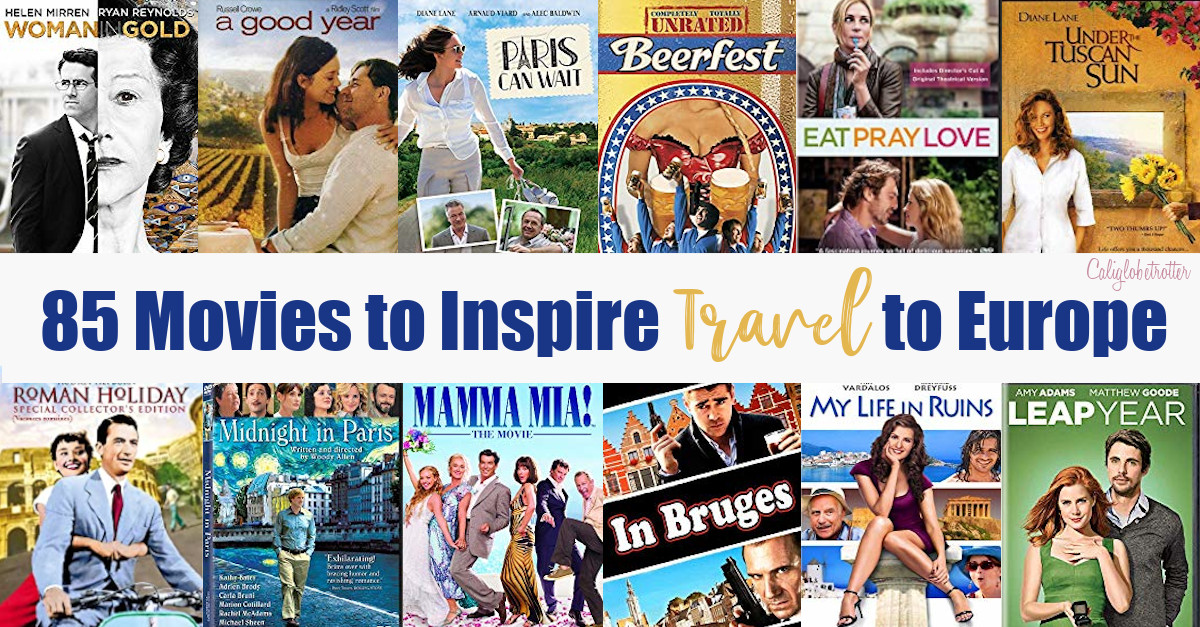 This post contains affiliate links. If you click on one and make a purchase, I might make a little extra spending money, at no extra cost to you. As always, all opinions are my own and these products/services have been found useful during our travels and come highly recommended to you from yours truly!
As we all know, I am a huge movie buff and love anything that has to do with traveling around Europe at any point in history. I love all types of films as long as they aren't horror films! Romantic, Comedies, Historic, you name it, I will watch it! Before I go on vacation somewhere, I usually try to find a movie or read a book that takes place where I am going!
Here is my list of movies you should definitely check out before coming on a trip to Europe which includes both chick-flicks and action-flicks for those nights you and your special someone are looking for something to watch!
Want to Watch These Movies? PIN IT FOR LATER!!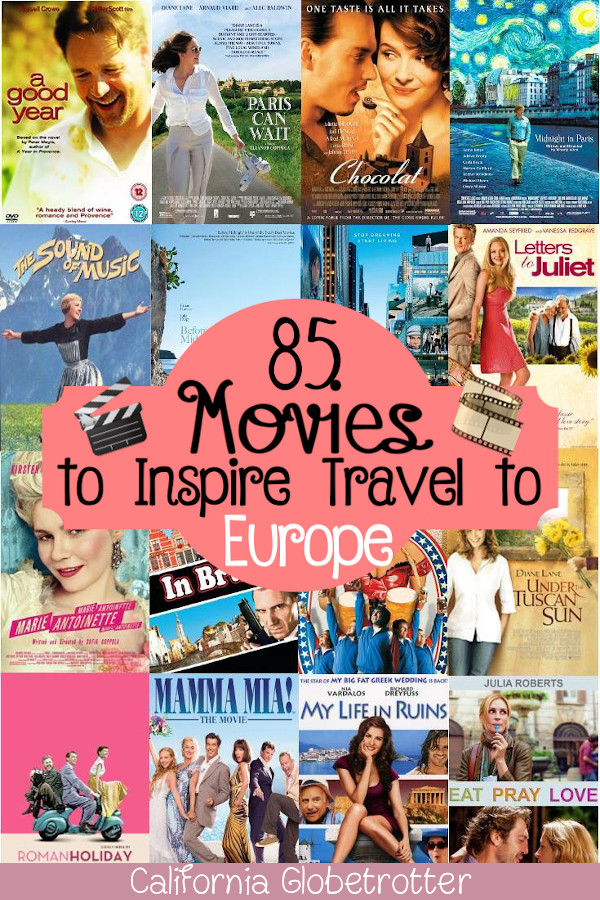 As Europe is one of the top destinations to visit in the world, there are a ton of films to inspire travel to Europe, but should you be interested in traveling elsewhere, there are so many films to watch for any country. For example, there are many Australian movies to watch before visiting Australia!
Austria
The romantic love story takes you on a journey to explore travel relationships. The American Jesse (Ethan Hawke) and  the French Celine (Julie Deply), meet on a train traveling through Europe. With only one night together, they spend it getting to know each other

before exploring Vienna

. Through this epic love story, one day together can feel like a lifetime and will make you want to hit the streets of Vienna.
A classic musical film for all generations! Based on a true story, Maria (Julie Andrews) leaves an Austrian convent in Salzburg to become a governess to the children of a Naval officer widower. Through the movie, she teaches the children to sing, frolicking through the Austrian hills and through Salzburg on the eve of the Austrian Anschluss by by Nazi Germany in 1938. Maria must decide whether to return to the abbey or marry the man she didn't expect to fall in love with. 
A historic drama film based on the true life of Maria Altmann (Helen Mirren), an elderly Jewish refugee living in LA, who together with her lawyer Randy (Ryan Reynolds) fought the Austrian government for almost a decade to reclaim what was rightfully hers, the iconic painting from Gustav Klimt of her aunt, Portrait of Adele Bloch-Bauer I, often referred to as "the Lady in Gold" or "The Woman in Gold". The painting had been stolen by the Nazis from her relatives and Maria Altmann took her legal battle to the Supreme Court. Maria and Randy make a journey to return to Austria along the process and are seen strolling through the

streets of Vienna

.
The story of the most beautiful woman in Europe, Elizabeth "Sissi", the Empress of Austria is practically unheard of beyond Austrians and Bavarians. She shied away from her royal duties to travel through Europe, focusing on her health and her physique. In this trilogy, the story depicts the early years of Empress Elisabeth of Austria and her beloved Franz Joseph, you just simply can't go to Vienna without knowing who she is before visiting the Hofburg Palace.
Belgium
| | |
| --- | --- |
| | In this action comedy, Ray (Colin Farrell) and Ken (Brendan Gleeson) play Irish hit men who are forced to lay low in Bruges, Belgium after a hit gone wrong. They live like tourists exploring the charming town of Bruges but along the way run into a few bizarre encounters as they await a call from their crime lord, Harry (Ralph Fiennes). The more Colin Farrell complains about being stuck in Bruges, the more you're going to fall in love and want to visit! At least that's how I discovered Bruges! |
| | A tour guide is taking a bus load of American tourists across Europe, which include an array of tourists from a WWII veteran, a wife and her cynical husband, an Italian-American meeting his relatives for the first time, young lovers and Samantha Perkins – beautiful, but slightly old-fashioned department store buyer. Stopping in London, England, the Netherlands, Brussels & Bastogne, Belgium, a boat ride from Koblenz to Wiesbaden, Germany, to Switzerland and finally Venice and Rome, Italy, displaying the hectic schedule of tourists traveling through Europe. |
Czech Republic
This romantic comedy will have you wanting to gallivant all over Europe as the Chasing Liberty wet filmed on location in

Prague

, Venice, Berlin, London and

Washington D.C

.! Anna Foster (Mandy Moore) is the 18 year old daughter of the President of the United States who rebels against the constant presence of the Secret Service by setting out on a European adventure seeking a bit of freedom, and along the way finds romance.
Denmark
| | |
| --- | --- |
| | After weeks of traveling around Europe, William (Gethin Anthony) arrives in Copenhagen, Denmark on a mission to discover his father's birthplace. Along the way he meets Effy (Frederikke Dahl Hansen) working at his hotel who is half his age. The attraction begins to grow and she's the only one who understands him. They explore the city of Copenhagen together and set off on an adventure to find William's grandfather, blossoming into a unique relationship that changes their lives forever. |
England
The Holiday is a romantic comedy which takes place both in Los Angeles, California and Surrey, England. Amanda (Cameron Diaz) and Iris (Kate Wniselet) are two lovelorn women from opposite sides of the world, who temporarily exchange homes to escape their heartbreaks during the Christmas season. Along the way, they unexpectedly meet the man who will put together their broken hearts. Fall in love with the cute cottages of Surrey and you just might be tempted to visit for yourself!

Related: Cottages of the Cotswolds

Ok, not your typical travel film, but for anyone who loves a good romance by William Shakespeare, this may just encourage you to head to England and catch a live performance the the Globe in London! Shakespeare in Love is a romantic period comedy drama film which depicts the imaginary love affair William Shakespeare (Joseph Fiennes) has with Viola de Lesseps (Gwyneth Paltrow) while he is writing Romeo and Juliet. 
Notting Hill is a romantic comedy set in

Notting Hill

, London. William "Will" Thacker (Hugh Grant) owns an independent book store, The Travel Book Co. in Notting Hill. One random afternoon, Will encounters Anna Scott (Julia Roberts), a Hollywood superstar when she enters his bookstore. A unfortunate encounter a few minutes later leaves Anna covered in his coffee and Will offering to allow Anna to change in his apartment just a few minutes away. Impulsively, Anna kisses him before leaving, igniting a flame between a Hollywood superstar an an ordinary man. This film will make you want to head straight for Notting Hill and stroll the adorable lanes!

Everyone knows Harry Potter, the story of a young wizard who discovered his magical heritage and attends the Hogwarts School of Witchcraft and Wizardry. With the help of his friends, Harry must face the dark wizard, Lord Voldemort, who killed his parents when he was just a baby, but failed to kill him. The movie is set in the magical world under the noses of Londoners. A few scenes throughout the movie, like at King's Cross Train Station will make you want to head for Platform 9 ¾! 

A British spy action comedy film follows the recruitment and training of a potential secret agent Gary "Eggsy" Unwin (Taron Egerton) into the secret spy organizations called "The Kingsman". Eggsy joins a mission to stop a potential global threat, and action scenes are filmed throughout London.

A classic neo-noir mystery period action film set in the heart of London, based on the eccentric detective Sherlock Holmes and his Dr. John Watson. The film is set in 1890 London and they are hired by a secret society to foil a mysticist's plot to expand the British Empire. This film will leave you with a sense of London in 1890, with the Tower Bridge still under construction. Perhaps you'll find yourself at the Sherlock Holmes Pub on a visit to the capital. 

A classic musical that takes place in London's Covent Garden. A poor Cockney flower girl, Eliza Doolittle (Audrey Hepburn) overhears an arrogant phonetics professor, Henry Higgens (Rex Harrison) that he could teach her to speak "proper" English by wagering she could be made presentable in the high society of Edwardian London. If this film doesn't leave you wanting to head to London, or the nearest horse track, then you must be tired of life!

Set in Edwardian London, George Banks returns home from a his job at the bank to learn that Katie Nanna has left their service after his children Jane and Michael have ran away again. The children are returned a short time later, and Mr. Banks sets to work to advertise for a new no-nonsense nanny. The children present their father with their own advertisement for a sweeter, kinder nanny. Mary Poppins soon lands on their doorstep and takes the children on adventures through London, even dancing on the rooftops of houses. This will make you want to grab your broomstick and start cleaning London's chimneys. 
France
Chocolat is a story of a young mother who drifts across Europe and arrives in the  fictional but charming, repressed French village of Lansquenet-sous-Tannes with her daughter and opens La Chocolaterie Maya. Vianne Rocher (Juliette Binoche) mouthwatering chocolates quickly begin to change the lives of the towns people while the town mayor struggles to push her out of the town. Things heat up with Traveller Roux (Johnny Depp) arrives into town. Even though this romantic story takes place in a fictional French town,many of the scenes were shot in the village of Flavigny-sur-Ozerain in Burgundy, France, and on the Rue De L'ancienne Poste in Beynac-et-Cazenac on the Dordogne River in Dordogne, France. 
Julia and Julia is a comedy-drama that contrasts the life of the famous chef Julia Child (Meryl Streep) in the early years of her culinary career while in

Paris, France

during the 1950s with the life of a young New Yorker, Julie Powell (Amy Adams) shortly after 9/11 who aspires to cook all 524 recipes in one year. As she attempts to cook every meal, she describes the challenges on her blog that gained her popularity. This film will make you want to head to Paris, sit down at a cafe and eat a croissant or even take a baking class. 
In this romantic comedy, Gil (Owen Wilson) is an unfulfilled Hollywood screenwriter who heads to Paris with his fiance, Inez (Rachel McAdams) on a holiday. While there, he must come to terms with the shortcomings of his relationship with his fiance. Every evening at midnight, as he is taking a stroll around Paris, he is mysteriously transported back the 1920s during the Jazz Age. Themes of nostalgia and modernism permeate throughout the film, inspiring you to want to follow your own dreams. 
The sequel to Before Sunrise, the film picks up where the story left off with the lives of the young American, Jesse (Ethan Hawke) and the French Celine (Julie Deply) intersect again nine years later, this time in Paris. Jesse's new novel, This Time, inspired by their night in Vienna nine years earlier has become a bestseller and he returns to Europe to do a book tour. While in Paris, he does a reading and the famous bookstore, Shakespeare and Company and there in the audience is Celine. If this doesn't make you want to stroll through Paris, peruse a bookstore and have a coffee, then I don't know what will. 

Russel Crowe (Max Skinner) stars in this comedy-drama as a high powered London stockbroker. He grows up at his Uncle Henry's vineyard in Provence, in south-eastern France learning to enjoy the finer things in life. Some 25 years later, he receives the news that his uncle has passed and he has inherited his the chateau, which he intends to fix up and sell. While there, he falls in love with the simple life of the French countryside he had forgotten about. This adorable romantic comedy will tempt you want to quit your job and head straight for the French countryside and learn life on a vineyard.

 A fantasy film by Walt Disney Pictures, an enchantress dressed as a beggar arrives at the ball seeking shelter in return for a rose. The cold-hearted prince refuses and she curses him and his servants, transforming them into household objects. She casts a spell over the entire castle, and warns the prince that the spell will not lift until he can learn to love another, before the last enchanted rose petal falls. Years later, in the charming

half-timbered village

of

Villeneuve

, Belle dreams of a life of adventure. This will make you want to head straight for Strasbourg or Colmar, France!
An American WWII veteran Jerry Mulligan (Gene Kelly) is now an expat in Paris trying to make a name as a painter. He soon falls for the charms of Lisa Bouvier (Leslie Caron) at the same time that his paintings gain the attention of a wealthy American heiress, Milo Roberts (Nina Foch), who is interested in more than just art. If this film doesn't make you want to pack up your bags and make a life as an expat, than I don't know what will!

A classic Audrey Hepburn film who plays the young daughter, Sabrina Fairchild, of a wealthy family's chauffeur that has been lovesick with David Larrabee all her life. David (William Holden) is an idly playboy, crazy for women who has never once noticed Sabrina. Distraught, she tries to commit suicide by carbon monoxide the night before she is supposed to leave for Paris, France to attend a culinary school, only to be found by the older Larrabee brother (Humphrey Bogart). While in Paris, Sabrina blossoms into a beautiful young woman.

A modern interpretation of the exuberant life of the infamous Marie Antoinette, Queen of France before the French Revolution at the Palace of Versailles, just outside of Paris. Played by Kirsten Dunst, Marie Antoinette finds life at court in Versailles stifling, frustrated by the fact that her and her husband, Louis XVI have yet to consummate the marriage. This film will leave you wanting to take a tour of the glorious Palace of Versailles and learn more about the last Queen of France.

Based on the novel of the same title, Robert Langdon (Tom Hanks), a professor of religious iconography and symbology from Harvard University soon finds himself as the prime suspect in a grisly and unusual murder of the Louvre curator Jacques Saunière. To prove his innocence, he must decipher hidden secrets in some of the most famous pieces of artwork in a scavenger hunt all over Paris and that he is actually looking for the Holy Grail. This will take you to some interesting sights in Paris well worth a visit!
| | |
| --- | --- |
| | A French romantic comedy which tells the story of a shy waitress (Audrey Tautou) who decides to change the lives of those around her for the better while struggling with her own isolation. It's a whimsical depiction of Parisian life set in Montmartre and is an absolute classic!  |
| | Anne (Diane Lane) is in Cannes, France with her husband Michael (Alex Baldwin), a successful movie producer. After the festival, her and her husband are supposed to go on a holiday to Paris, but the trip is soon delayed because they need to go to Budapest first. They plan to fly, but due to an ear infection, Anna can't go, so Michael's producing partner Jacques (Arnuad Viard) offers to drive Anne himself, but it quickly turns into a leisurely drive with Jacques stopping every so often to sample some new foods and openly flirting with Anne.  |
Germany
| | |
| --- | --- |
| | An all-time classic fit for the whole family! This musical adventure fantasy film begins in rural England with two children Jeremy and Jemima Potts growing fond of an old race car at a junk yard who implore their eccentric inventor father (Dick Van Dyke) to buy the car. The next morning, Caractacus Potts discovers that the sweets made by a machine he invented can be played like an instrument and he tries to sell them to Lord Scrumptious. He makes enough money to buy the car, which they name Chitty Chitty Bang Bang and they discover that the car can take them places. The story takes them to the fictional country of "Vulgaria", a kingdom which despises children. The castle is actually Schloss Neuschwanstein and will make you want to go now! |
| | My German husband will kill me for putting this in, but this comedy will get you pupped for a visit to Munich, Germany for Oktoberfest. At the funeral of their grandfather, Jan and Todd Wolfhouse discover that family tradition demands that they go to Oktoberfest to spread his ashes on the Theresienwiese. While there, the brothers unintentionally start a brawl which takes down an entire tent and soon find themselves partaking in the underground drinking game tournament called Beerfest. |
| | Nothing screams a European road trip quite as much as EuroTrip! This teen comedy follows Scott "Scotty" Thomas (Scott Mechlowicz), an American teenager who travels across Europe in search of his German pen pal, Mieke (Boehrs). His friends Cooper (Pitts) and siblings Jenny and Jamie (Trachtenberg and Wester) accompany Scott on his quest to find the girl of his dreams which takes him to London, Paris, Amsterdam, Bratislava, Berlin, and Rome, encountering a few awkward and embarrassing situations along the way that in the end only brings the friends closer together. |
Greece
| | |
| --- | --- |
| | This hysterically funny romantic comedy takes place among the ruins of ancient Greece, starring Nia Vardalos as Georgia Lanakopolis working as a tour guide whose life takes a personal detour. Her group gets mixed up in the situation while visiting the ancient ruins. She thinks she's a boring tour guide and soon finds herself with a group of misfit tourists more concerned with buying T-shirts than the history and culture of Greece. Along the way, her bus gets in an accident and her driver is replaced by another, more handsome driver, Poupi (Alexis Georgoulis). This film will make you want to pack your bags and explore the ancient ruins of Greece. |
| | A beautiful coming of age film about discovering what life is about and friendships that explore the fears and insecurities all young people feel as they enter adulthood takes place in the stunning scenery of Santorini, Greece and Mexico.  |
| | The much anticipated third film in the trilogy Before Sunrise, the story continues to follow Jesse (Hawke) and Céline (Delpy) nine years after the events of Before Sunset with the couple taking a summer vacation together to Greece. Life has moved on and the two must decide how their relationship should continue. Jesse want Céline to move to Chicago to be with him, so that he can be closer to his son Hank, but she feels it will cost her any chance of a life outside her family. |
| | Based on the songs of the successful pop group ABBA, this is one film that will make you want to pack your bags and go on a girls weekend to Greece! Meryl Streep plays the role of a single mother, Donna Sheridan whose daughter, Sophie (Amanda Seyfried) is getting married. Sophie has three possible fathers but doesn't know which one and wanting to find out, she invites all three Sam Carmichael (Pierce Brosnan), Harry Bright (Colin Firth), and Bill Anderson (Stellan Skarsgård) to the wedding.  |
Iceland
| | |
| --- | --- |
| | This movie, which follows Walter Mitty (Ben Stiller) helped to create a travel boom in Iceland. Walter is a guy who hates his job and dreams of adventure and soon finds himself as the liaison between Life magazine and the photographer Sean O'Connell. Life magazine wants to use one of Sean's photos but Walter soon realizes he has lost it and begins a journey to find Sean. Along the journey, he becomes more confident and begins to turn his dreams into a reality. The beautiful scenery in this film will leave you wanting to book a layover in Iceland! |
Ireland
This romantic drama tells the tragic story of a married couple who live in Manhattan whose lives are forever changed when Gerry (Gerard Butler) suddenly dies from a brain tumor. Holly (Hilary Swank) withdraws from her family and friends until her 30th birthday, when a cake is suddenly delivered, the first of many messages from Gerry, sending her on a new adventure. Each new message helps her to move forward with her life, while her mother feels they are holding her in the past. Finally, she is led to Gerry's homeland, in the beautiful countryside of 

Ireland

. 
This romantic comedy follows Anna (Amy Adams) who is determined to finally marry her boyfriend of many years on the only day of the year it's acceptable for a woman to propose, on Leap Day. She follows him to Ireland in order to propose to him and asks her handsome Irish innkeeper (Matthew Goode) to take her to her boyfriend in Dublin, but her plans are interrupted by a series of unlikely events.
Italy
Based on Frances Mayes' 1996 memoir Under the Tuscan Sun, the film is about a recently divorced writer, Frances Mayes who goes on a holiday getaway to romantic Tuscany on a whim, courtesy of her best friend Patti (Sandra Oh). While visiting the dreamy village of Cortona, she impulsively decides to buy a rundown villa in an attempt  it will change her life. Things start to improve and she starts to get to know her new home and renovating her house. This is romantic film should be at the top of your list, and may just make you want to follow in her footsteps.
Although only the opening scenes of the film take place in Italy, the film is about a team of thieves, Charlie (Mark Wahlberg), Stella (Charlize Theron), Steve (Edward Norton), John (Donald Sutherland) and "Handsome Rob" (Jason Statham) who plan to steal gold from a former partner in Venice who double-crossed them. The scenic chase through Venetian canals are enough to have you wanting to pack your bags and head to one of the most romantic cities in the world.
A biographical romantic comedy is based on the best-selling memoir of the same name by Elizabeth Gilbert (Julia Roberts) who is a top New York writer who comes to terms with her miserable life by leaving it all behind to "find herself". Her one year journey takes her to Rome, Italy where learns to love and enjoy food again, to India for meditation and prayer and to Bali, Indonesia where she finally discovers true love and inner peace. This film will make you want to visit (all) of the destinations, particularly to  Rome, Italy to eat a massive pizza and enjoy the simple things in life.
This romantic comedy chronicles the phenomenon of letter-writing to Shakespeare's most famous romantic heroine. Sophie (Amanda Seyfried) is a young American fact checker living in New York who goes on a pre-honeymoon with her chef fiance Victor (Gael Garcia Bernal) to Verona, Italy. Victor is unmoved by the romance of the town as he is too consumed with research of delicious Italian foods prior to opening his new restaurant, often neglecting Sophie. While strolling around the town alone, Sophie accidentally find an unanswered letter to Juliet by Claire Smith from 1957. Letters are typically answered by the "Secretaries of Juliet", but Sophie feels like she should be the one to answer it. A few days later, Claire Smith arrives in Verona with her grandson, to begin her search to find her long lost love, with the help of Sophie.
No travel themed movie list is complete without this Audrey Hepburn & Gregory Peck classic film! Ann (Audrey Hepburn) is the crown princess who becomes frustrated with her tightly scheduled life and has a bit of a meltdown. The doctor gives her a sedative to help calm her, but before she knows it, she's secretly sneaking out of her country's embassy. She eventually meets Joe Bradley (Gregory Peck) who is an expat American reporter. At first he doesn't recognize her, until the next day, news reports that the princess is "ill". He decides to show her around Rome, Italy secretly snapping pictures of her on the town, only to eventually fall in love with her. 

Rob Brydon has been commissioned by a newspaper to go on a road trip through Italy from Piedmont to Capri, partly following in the footsteps of the great Romantic poets. His friend Steve Coogan joins him, and as they journey through the beautiful Italian countryside, talking about life, love and their careers. The picturesque landscape will make you want to book a trip straight away to the Almafi Coast!

Related: Cinque Terre

A romantic comedy film most newly weds can probably relate to as they embark on their epic honeymoon through Europe stopping in Venice. Tom (Ashton Kutcher) and Sarah (Brittany Murphy) play a newly wed couple who head to Europe for a road trip, only to encounter one problem after another, from small Smart cars to blowing the electricity in a historic hotel. Can their new marriage handle these difficult times which should be the happiest moment of their lives? 
Monaco
| | |
| --- | --- |
| | This biographical film focuses on the life of the former Hollywood star Grace Kelly who became the Princess of Monaco by marrying Prince Rainier III, in April 1956. Over time, her marriage begins to struggle and she goes through an identity crisis as she considers returning to Hollywood to appear in Alfred Hitchcock's Marnie. This film will make you want to take a drive along Monaco's coastline and explore one of Europe's smallest countries! |
Scotland
| | |
| --- | --- |
| | This romantic comedy follows the life of a long time playboy Thomas "Tom" Bailey, Jr. (Patrick Dempsey). His best friend Hannah (Michelle Monaghan) has to go to Scotland for work and Tom soon realizes how much he misses her being gone and that he has fallen in love her. Upon returning home, Tom wants to declare his love for her only to discover that she got engaged to a wealthy Scot, Colin (Kevin Mckidd) and asks Tom to be her Maid of Honor. After arriving at Eilean Donan Castle in Scotland for the wedding, Tom realizes he is running out of time to stop Hannah. He meets all of Colin's family and must perform in a variety of Highland Games, in which the groom must compete to prove himself worthy of his bride. This funny comedy will have you packing your bags and heading to watch men in kilts compete in the Highland Games! |
| | Emma (Anne Hathaway) and Dexter (Jim Sturgess) meet at their graduation from the University of Edinburgh on July 15, 1988. Exact opposites, the two nevertheless find themselves attracted to one another and spend just one day together in the city before they go abut their lives. Of the course of the next 15 years, the film checks in on their lives on July 15th chronicling their success, failures, moments of happiness and tragedies.  |
Spain
| | |
| --- | --- |
| | A romantic comedy drama that focuses on two American women, Vicky (Rebecca Hall) and Cristina (Scarlett Johansson) who spend a summer in Barcelona, Spain where they meet an artist , Juan Antonio (Javier Bardem) who is attracted to both of them, while at the same time, still in love with his mentally and emotionally unstable ex-wife Marie Elena (Penelope Cruz). The film takes place in Barcelona, Aviles and Oviedo and will have you ready to book a ticket ASAP. |
Switzerland 
| | |
| --- | --- |
| | The story follows a young orphan Heidi (Anuk Steffan) who comes to lives with her Aunt Dete in the Swiss mountains. For the next few years, Heidi grows up happy with her grandfather a friend named Peter, but is often sad she can't go down into the village for school. For a short time, she runs away with her aunt to live in Frankfurt, Germany only to return a a little later and settles back into her mountain life! This film will leave you wanting to frolic through the rolling lush green hills in Switzerland.  |
While these are all movies to watch before coming to Europe, there are many more travel movies to inspire your wanderlust anywhere in the world!
And for good measure…my favorite movie and the one vacation I haven't made it to yet – Under the Tuscan Sun in Positano!!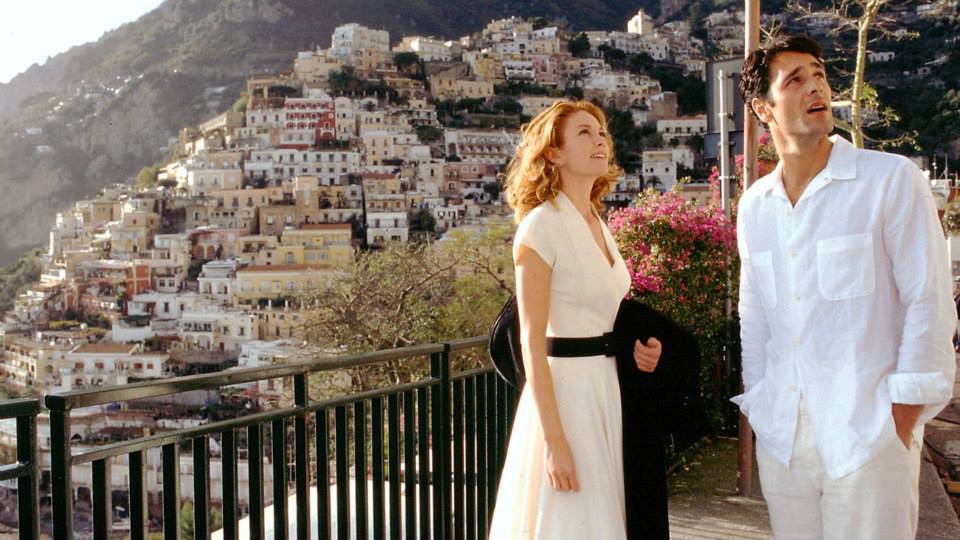 This post contains affiliate links. If you click on one and make a purchase, I might make a little extra spending money, at no extra cost to you. As always, all opinions are my own and these products/services have been found useful during our travels and come highly recommended to you from yours truly!
Other Movie Related Posts:
15 MUST-VISIT Audrey Hepburn Locations
Regency Novels to Read Before Traveling to Europe
Liked this post? PIN IT FOR LATER!!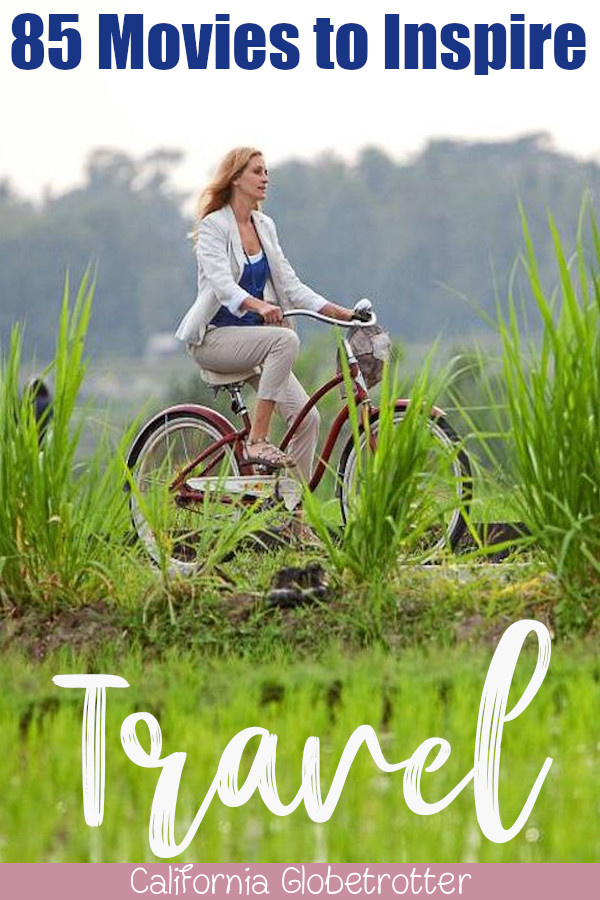 Save