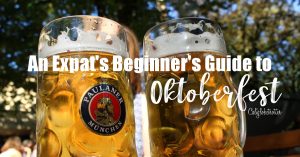 Disclaimer: This post contains affiliate links. If you click on one and make a purchase, I might make a little extra spending money, at no extra cost to you. As always, all opinions are my own and these products/services have been found useful during our travels and come highly recommended to you from yours truly!
It's a new year with lots of new adventures that lay ahead! Maybe people are getting out their Bucket Lists and checking which things to tick off this year! I'm sure most of you have always dreamed of going to the world's largest street fair with all the beer imaginable!
Between late Spring and early Autumn, it usually implies that somewhere in Bavaria, a beer festival can be found. 'Gemütlichkeit' is in full swing from Regensburg's Dult to the world's most famous beer festival: Munich's Oktoberfest and beyond!
Going to Oktoberfest? PIN IT FOR LATER!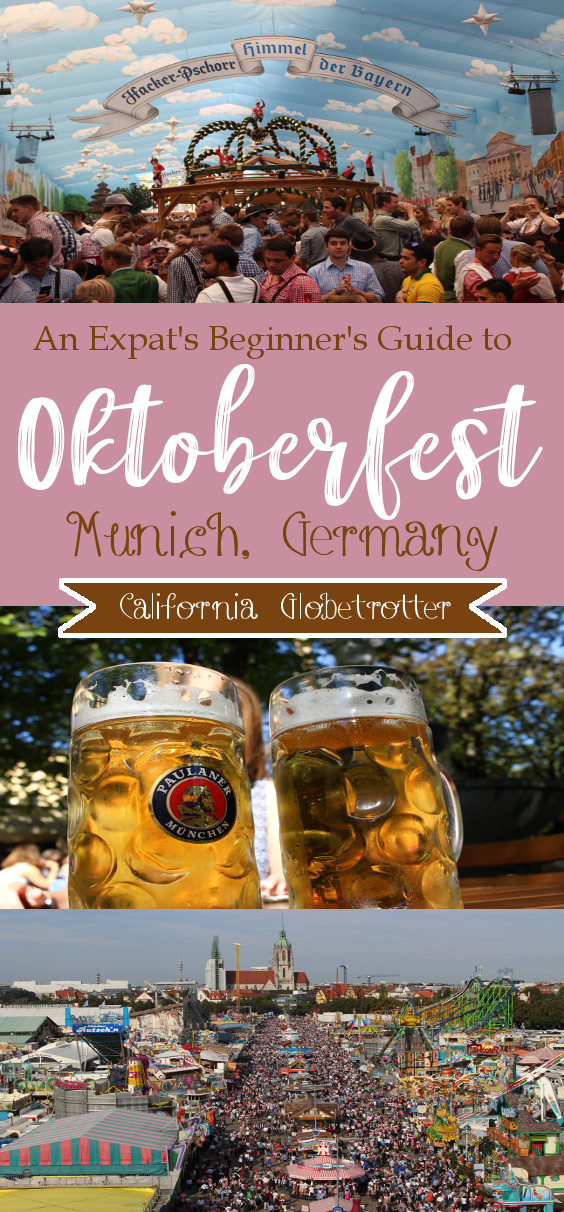 How to AVOID Looking Like a Tourist in Europe
Located in Munich, what is normally a simple oval meadow is turned into the world's largest, boisterous beer drinking festival with stalls, marquees, funfair, loud music and tons of people. For two weeks every year this folks fest takes place at the feet of the Bavaria statue, the patron saint of Bavaria, or as the locals call it, the "Weisn". So, if you hear people from Munich say they're going "auf die Wiesn", now you know what it means!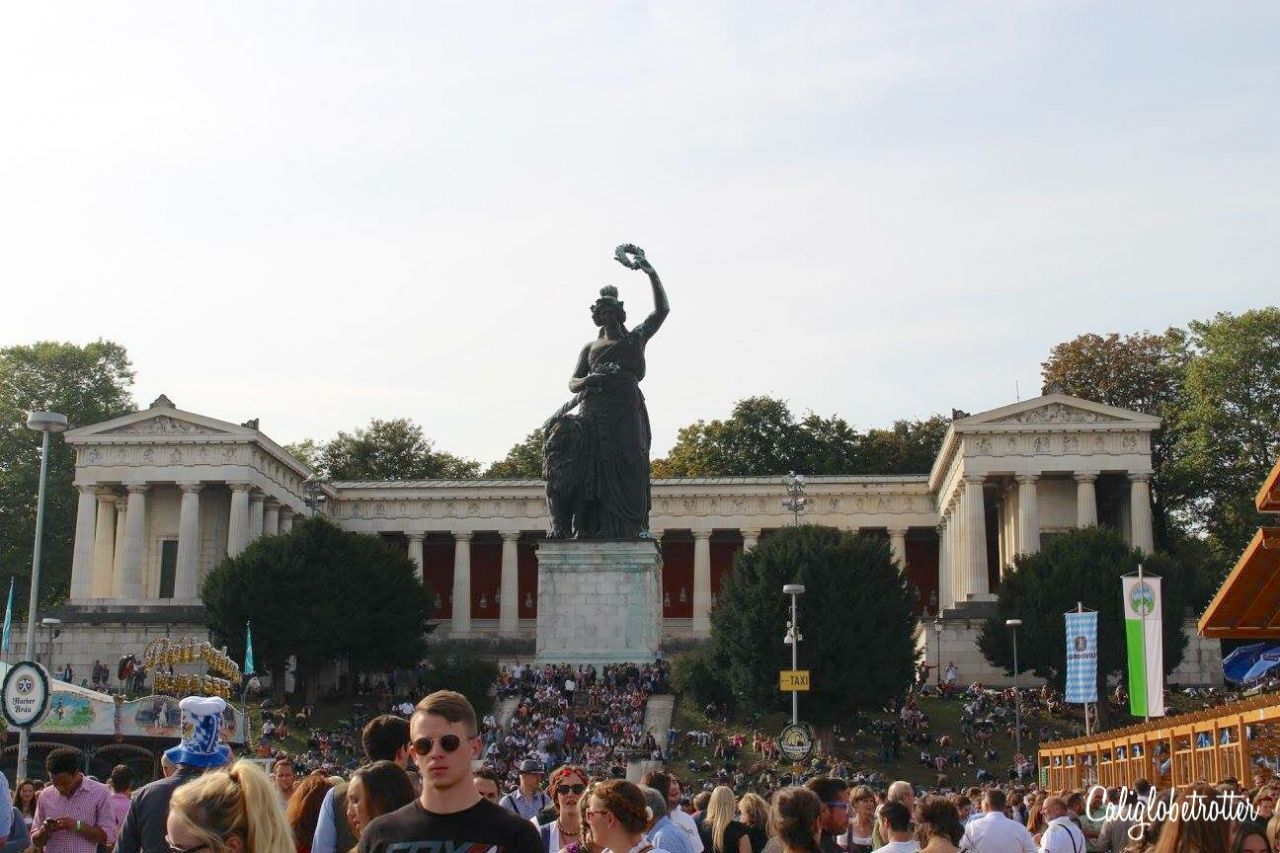 Millions of people flock every year to Munich to partake in the debauchery that includes massive beer glasses, called a "Maß", the wearing of traditional Lederhosen and Dirndl and swaying in harmony to "Ein Prosit, ein Prosit der Gemütlichkeit".
When Is Oktoberfest?
However, this world famous beer festival is NOT in the month of October as the name might imply! In fact, this thrilling festival takes place the last two weeks of September, usually ending within the first few days of October, making for one of the best fall festivals in Germany!
Oktoberfest 2021 – Saturday, September 18th  – Sunday, October 3rd CANCELLED
Oktoberfest 2022 – Saturday, September 17th  – Monday, October 3rd (extended)
Oktoberfest 2023 – Saturday, September 16th – Tuesday, October 3rd (extended)
Oktoberfest 2024 – Saturday, September 21st – Sunday October 6th
Oktoberfest 2025 – Saturday September 20th – Sunday October 5th
Oktoberfest 2026 – Saturday September 19th – Sunday October 4th
Oktoberfest 2027 – Saturday September 18th – Sunday October 3rd
Oktoberfest 2028 – Saturday September 16th – Tuesday October 3rd (extended)
If you plan to attend the festival on the opening or closing days, you'll be able to enjoy the related opening and closing ceremonies and parades and witness all the Bavarian pomp that goes with them.

When Did Oktoberfest First Begin?
It's always good to know a little bit of history of Oktoberfest before you go! Before it was known as "Oktoberfest", it was a simple wedding celebration between Ludwig of Bavaria (who would later become King Ludwig I) and Princess Therese of Saxe-Hildburghausen. On October 17, 1810 a horse race was held to celebrate the royal marriage. It was held on the Theresienwiese, an area which is used for large festivals just outside Munich. A whopping 40,000 people attended this special event and by the next year, it was decided that the event should be continued.
Since that day, it has substantially grown into the world's largest party, attracting more than 7 million visitors (!!!) every year lasting for a total of 16 days of absolute debauchery!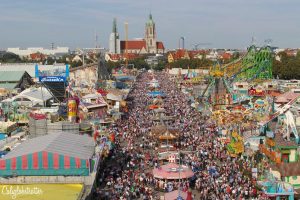 How Do I Get To Oktoberfest?
Head to to the Theresienwiese in Munich! But leave your car behind! If you're coming from anywhere outside of Munich, either drive your car and park in one of the surrounding towns such as Freising. However, for a good time, leave your car at home and head to Munich by public transport.
How do I get there?
S-Bahn (city train):
Station "Hackerbrücke"
U-Bahn (subway):
Option 1:   U4/U5 station "Theresienwiese" Option 2:   U3/U6 station "Goetheplatz" Option 3:   U3/U6 station "Poccistraße"
A common phrase here in Bavaria to help you find the nearest beer festival is "FOLLOW THE LEDERHOSEN". Don't worry about getting lost. All the people are heading in the direction of Oktoberfest!
When Is Oktoberfest Open?
Tents open and beer is served from: Monday to Friday:   10 am to 10:30 pm Saturday, Sunday and holidays:
9 am to 10:30 pm
Tents close everyday at 11:30 pm Last call is always 1 hour prior to closing!
Amusement rides: 10 am to midnight
Is There An Entrance Fee?
NO! Admittance to the Oktoberfest and the tents are free of charge! All food, drinks and rides are charged separately. CASH ONLY for all purchases! Only if you plan to visit the Historical Weisn ("Oide Wiesn") you will pay a small fee of 3€.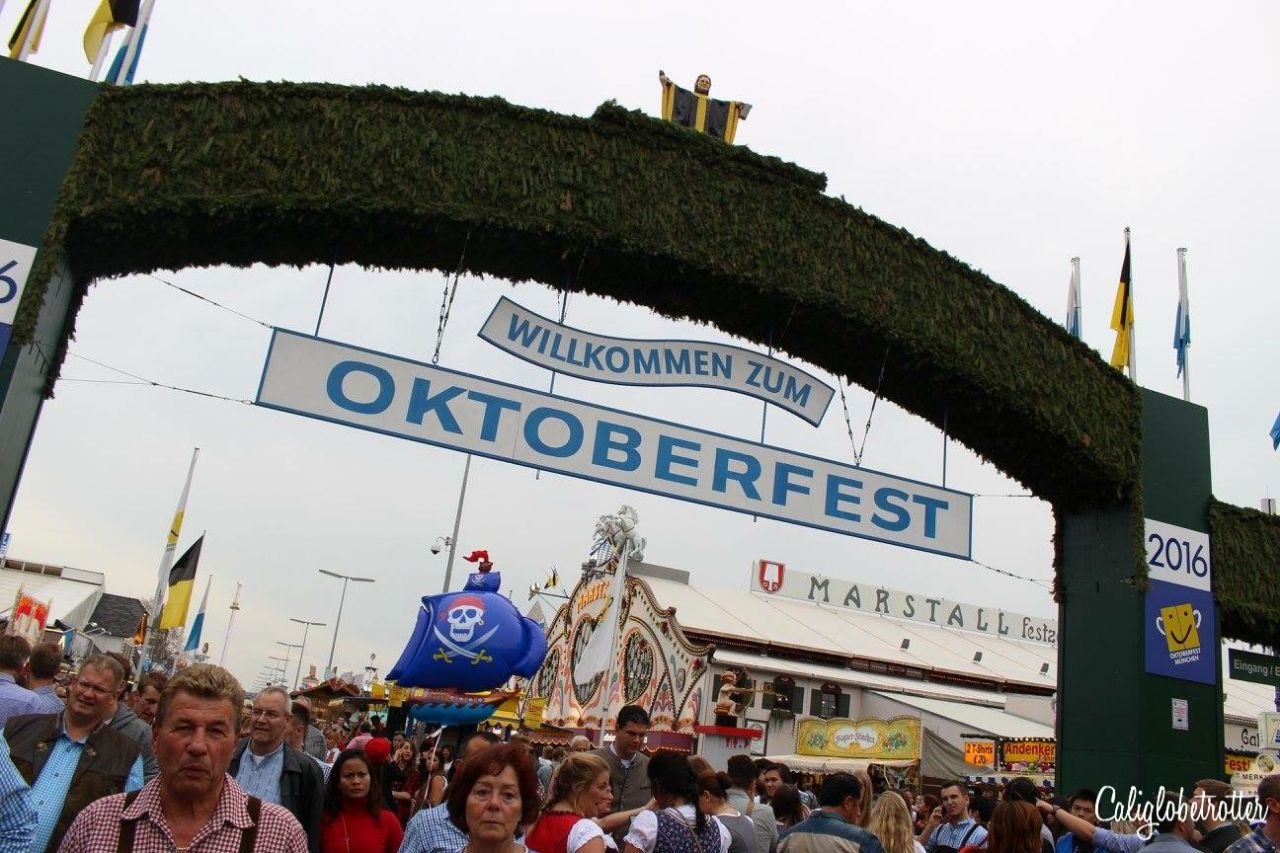 Which Beer Tent Should I Go To?
There are 14 massive beer tents as well as 21 smaller tents at Oktoberfest which are supplied by Munich's 6 largest breweries. Each tent has it's own unique personality and decor and vary in size. The largest tent can hold up to 10,000 people! The most popular tents are the larger ones that have been ornately decorated like the Hacker-Pschorr brewery's tent, Hacker (aka Bavarian Heaven), or the Paulaner brewery's tent, the Winzerer Fähndl.
Immediately upon arrival, you will notice that the tents are quite difficult to get into. There are endless lines waiting to get into the tents. Pick any tent which offers the chance to get in. There is a possibility that you may wait a long time to enter the tent, or you may need to move on to a different tent as security guards will be standing guard to prevent the tents from becoming overcrowded.
**KEEP IN MIND** No seat = no beer!
Until you have a seat, the waiter/waitress will likely ignore you or tell you to move out of the aisle as they need the space when carrying 8+ 1 liter mugs. Once you have a seat, a waiter will find you and take your order. It may take a while, but they will come!
STAY OUT OF THE WAY!!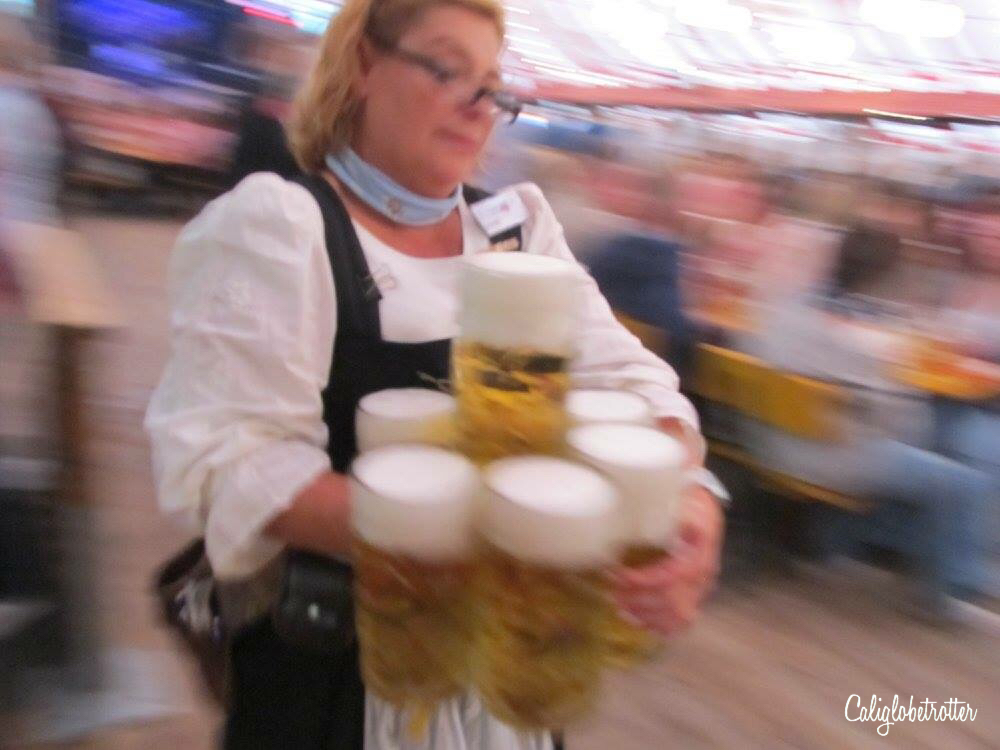 Weekends are by far the busiest time to visit Oktoberfest and the most difficult to get into a tent. It is best to arrive early in the morning (yes, drinking beer at 10am is ok!) or save your trip to during the week.
Can I Reserve A Table at Oktoberfest?
Yes, it is possible, but keep in mind beer tents start accepting reservations at the beginning of the new year and fill up quickly. Should you decide to book a table, keep in mind that you are booking a full table for no less than 10 people. After a reservation has been made, you will receive coupons and vouchers. These can be redeemed inside the tent upon arrival.
If you plan on reserving a table, keep in mind you're not only reserving a table for 10 people, but you will be required to buy food and drinks ranging anywhere from 20€ to 80€ depending on the day, time and tent.
Don't have enough people to reserve a table? Have no fear, do not despair! Between 30-50% of tables can't be reserved and are open to the public, meaning first come, first serve!
Food & Beer Inside The Tent
Wahoo! You've made it inside a tent and found a seat! Now order a beer and partake in the boisterous atmosphere and enjoy some of Munich's traditional cuisine!
Oktoberfest Beer
Each of Munich's 6 breweries provide Oktoberfest with their own special "Oktoberfest beer" which has 6% alcohol compared to the every day beer, therefore it is stronger than normal.
Oktoberfest is not a beer drinking competition so there is no need to guzzle down as much as possible! Pace yourself and enjoy the atmosphere! As a girl, I'd say 2 is plenty! 4 is way to much!
Each beer is served in large glass 1 liter mugs called a "Maß" and costs between 9.70 € and 10.10 € this year and is ONLY served inside the tents! If you don't get it, you don't get a beer!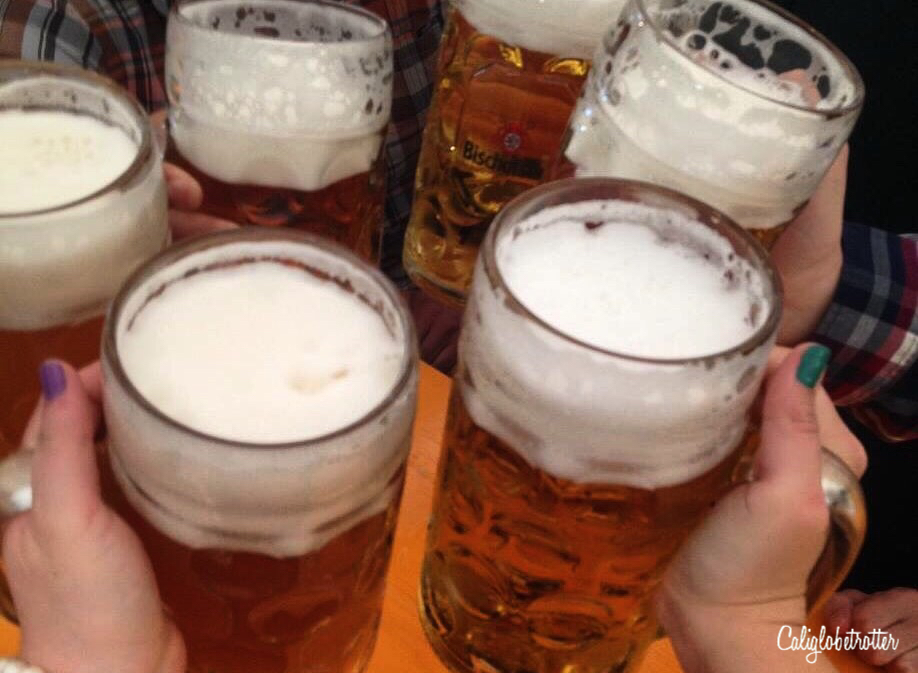 IMPORTANT: DO NOT attempt to steal the glass! Security guards will check all bags as it is illegal to steal the Oktoberfest mugs! Don't drink beer? Have no fear! All tents offer non-alcoholic drinks, including non-alcoholic beer!
Oktoberfest Food
Everyone is bound to find something to eat! Each tent offers traditional Bavarian cuisine.
Hendl (Grilled Chicken)
Schweinshaxen (crispy grilled pork knuckle)
Weißwurst (a white sausage) best eaten along side a big Brez'n (Pretzel)
Steckerlfisch (grilled fish on a stick)
and much more!
TIP YOUR SERVER!!
However, food is much cheaper outside of the tent than inside, and usually more simple, quick and easy.
Bratwurst semmel (Bratwurst sandwich)
Steckerlfisch (grilled fish on a stick)
Leberkäse (Bologna sausage sandwich)
Schokolade Erdbeeren (Chocolate Covered Strawberries)
Mandeln (Roasted Almonds)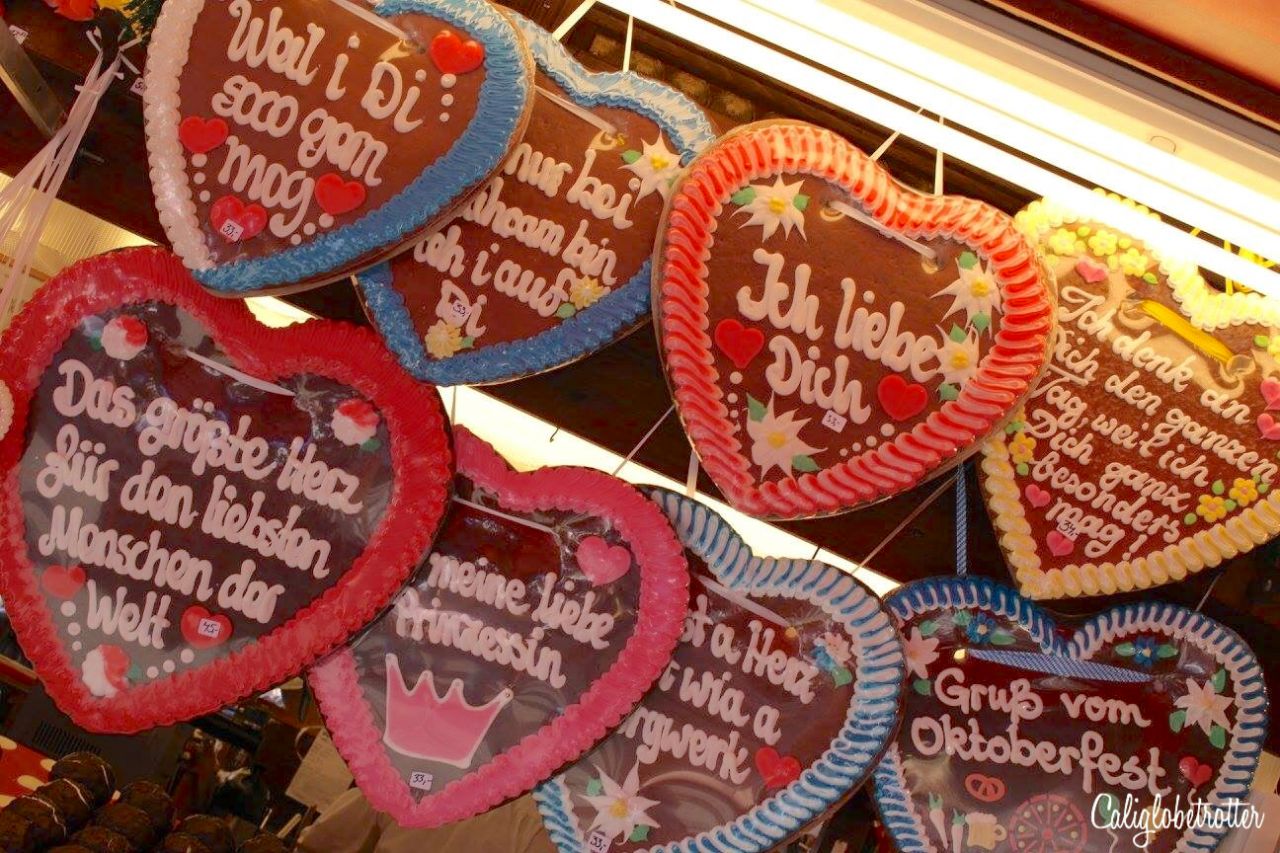 What Should I Wear to Oktoberfest?
Traditional Lederhosen and Dirndl are wore by the Bavarians, as well as by the tourists as a fashion statement. Traditional Tracht range in price between 80-1000€. It is not mandatory to wear the traditional clothing, but it certainly adds to the fun and makes for a great souvenir! There are many do's and dont's of Oktoberfest but the most important thing is to dress the part!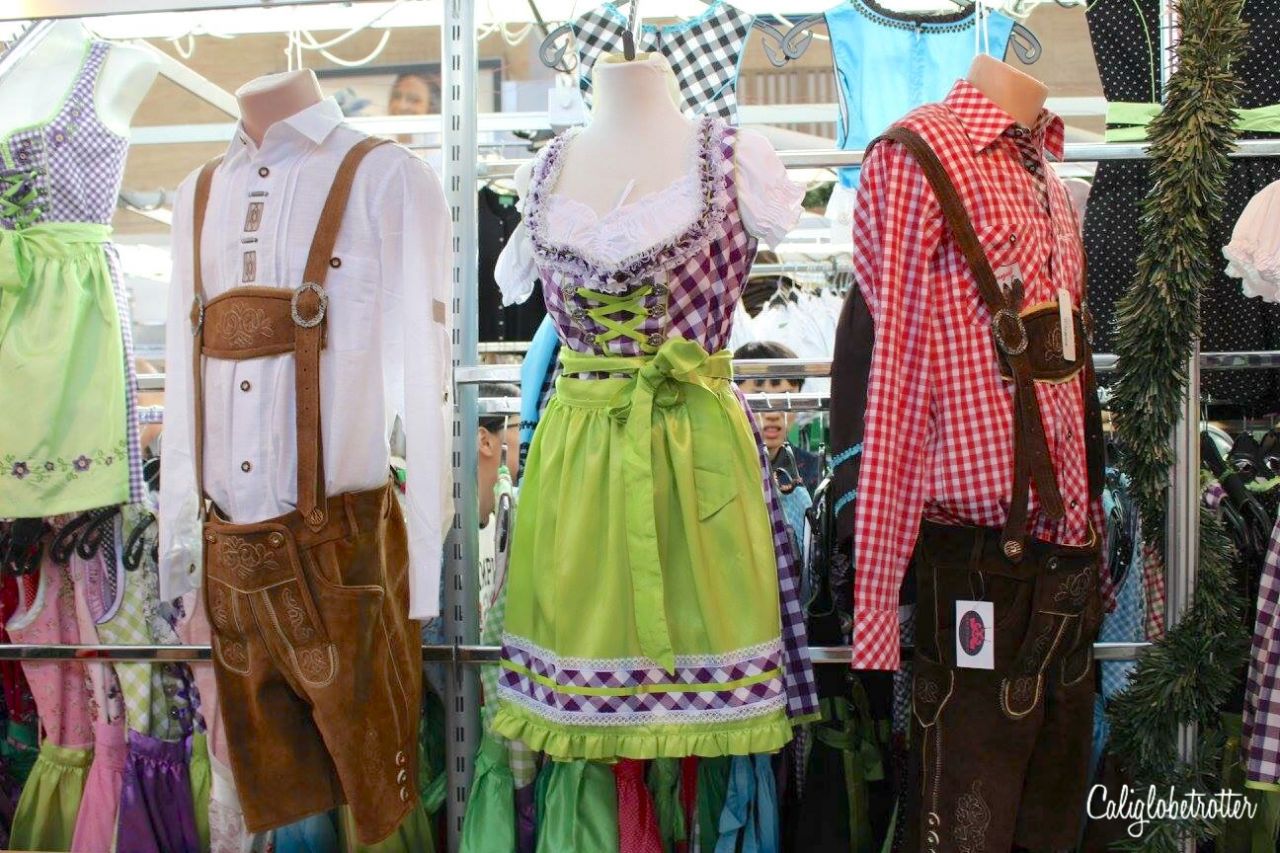 If you're interested in buying a pair of Lederhosen or a beautiful Dirndl, there are a plethora of Tracht shops throughout Munich.
TIP: For affordable Tracht, head to the clothing store C&A, which also offer plus-size Dirndls and Lederhosen!
Oktoberfest Fun Park
There are dozens of different rides you can take a ride on for some good ol' fun! Oktoberfest is so much more than just beer and there are many many things to do at Oktoberfest! There are plenty of family-friendly activities at Oktoberfest outside of the tents while i would typically say that inside the tents is not family-friendly.
The Ferris Wheel offers the best views over the entire Oktoberfest and Munich.
The "Toboggan" is the oldest ride at Oktoberfest which requires you to conquer the conveyor belt first.
The "Teufelsrad" is another of the oldest rides.
Bumber Cars is always a good choice and offers the most fun!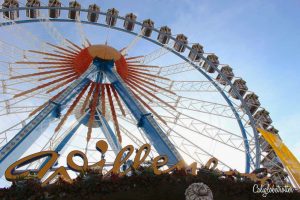 Learn The Language of Oktoberfest
So, obviously German isn't the easiest language to learn over night. Taking the time to learn a few easy German phrases prior to visiting can make your experience more enjoyable!
A stein of beer: ein maß (ß is a double 's' so the word is pronounced mass).
Thank you: Danke
Please: Bitte
You're welcome: Bitte schön
Cheers!: Prost!
Tips For Visiting Oktoberfest
Like all big festivals, there are bound to be pick-pockets so BE AWARE OF YOUR BELONGINGS!! 
DON'T PUT YOUR WALLET IN YOUR POCKETS
BUY A PURSE WITH A STRAP AND 1 ZIPPER (but don't put it on the floor!)
DON'T WEAR OPEN TOE SHOES/SANDALS
DON'T BRING ANY VALUABLES
DON'T TRY TO STEAL A GLASS MUG!!
DON'T ON ACCIDENTALLY LEAVE THE TENT! (You might not get in again!)
CHECK WITH SECURITY BEFORE LEAVING THE TENT
DON'T TENT HOP ON BUSY DAYS! YOU MIGHT NOT GET IN TWICE!
LEAVE BIG BAGS AND BACKPACKS AT HOME!!
FOR MORE INFORMATION:
HAVE FUN & DON'T BECOME ANOTHER "BEER CORPSE"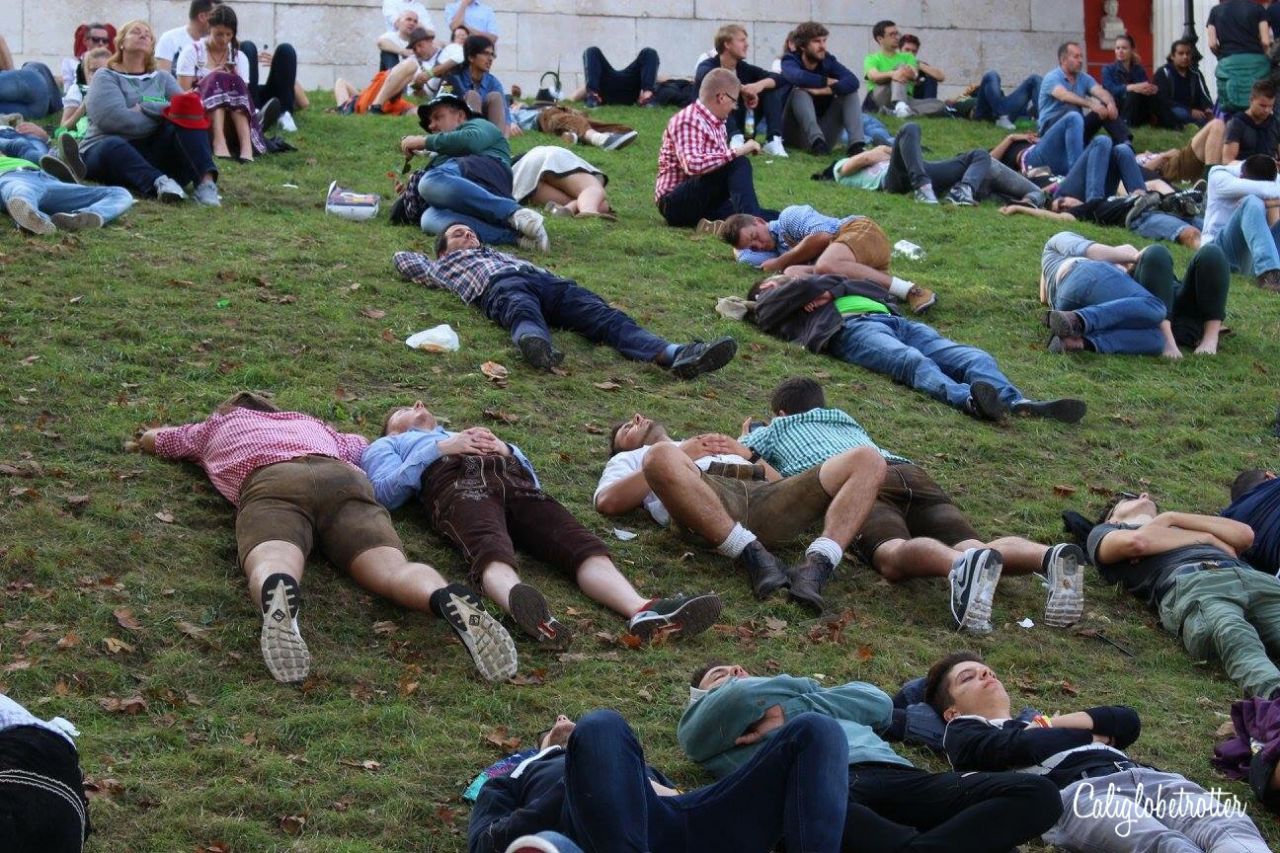 If you plan on staying in Munich for longer than just for Oktoberfest, then I highly recommend checking out Munich's main attractions, if you're not too hung over the next day! There are many things to do in Munich, but you can see a good portion of it in a single day or two. Some major sights include the Neues Rathaus (The New City Hall), the Hofbräuhaus and the Munich Residenz. And once you're done exploring Munich, then consider one of the many day trips from Munich to embark upon such as the classic day trip to Schloss Neuschwanstein "the Disney Castle".
Where to Stay in Munich:
⭐⭐⭐⭐ Hilton Munich City – a S-bahn ride away from the heart of Munich, this Hilton hotel provides comfy rooms and a fabulous breakfast!! 
⭐⭐⭐⭐ Holiday Inn Munich City Centre – Just down the street from the Hilton Munich City, the Holiday Inn is incredibly comfy and provides a large international breakfast, including Bavarian cuisine!
If you're interested in visiting Germany and are looking for more information, I highly recommend using the DK Eyewitness Travel Guide! Without these guides, I would be lost! This is my travel Bible!
Disclaimer: This post contains affiliate links. If you click on one and make a purchase, I might make a little extra spending money, at no extra cost to you. As always, all opinions are my own and these products/services have been found useful during our travels and come highly recommended to you from yours truly!
Other Posts About Munich:
The SPLENDOR of the Munich Residenz and Why You Should Visit It
The ULTIMATE List of Day Trips from Munich
The Beautiful Schloss Nymphenburg
Liked this post? PIN IT FOR LATER!!