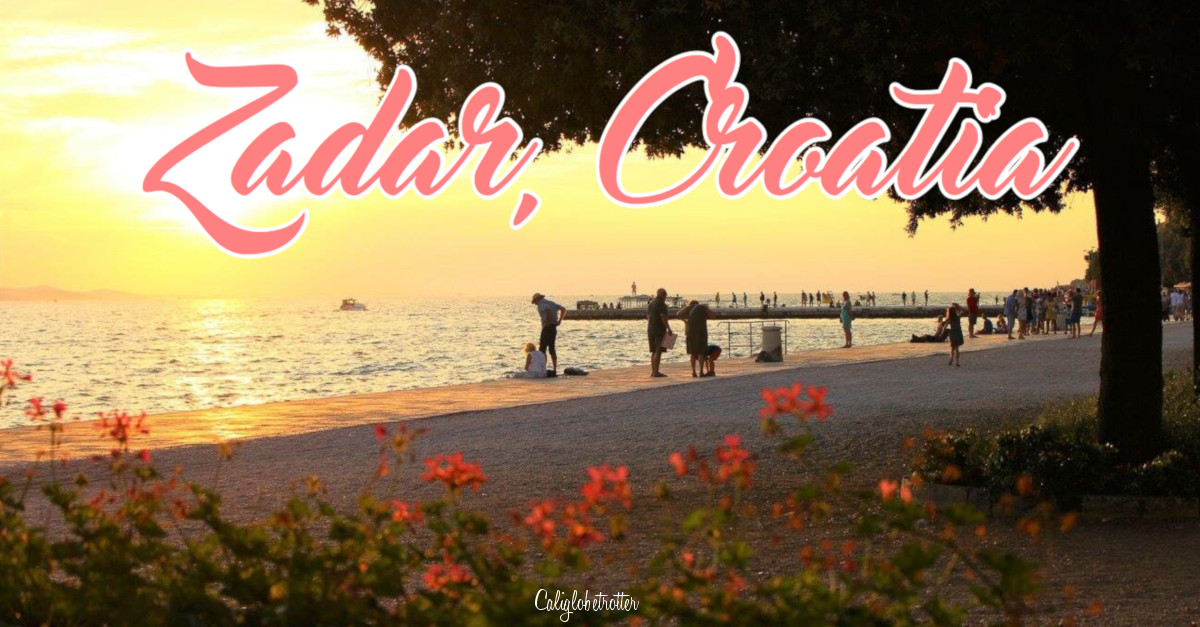 Disclaimer: This post contains affiliate links. If you click on one and make a purchase, I might make a little extra spending money, at no extra cost to you. As always, all opinions are my own and these products/services have been found useful during our travels and come highly recommended to you from yours truly!
Zadar is one of Croatia's many small town peninsulas that date back to the Roman era which hugs the coast of Dalmatia along the Adriatic Sea. Surprisingly, this little peninsula (and the surrounding modern town) is Croatia's 5th largest town with a rich history and many historic buildings.
Headed to Zadar? PIN IT FOR LATER!!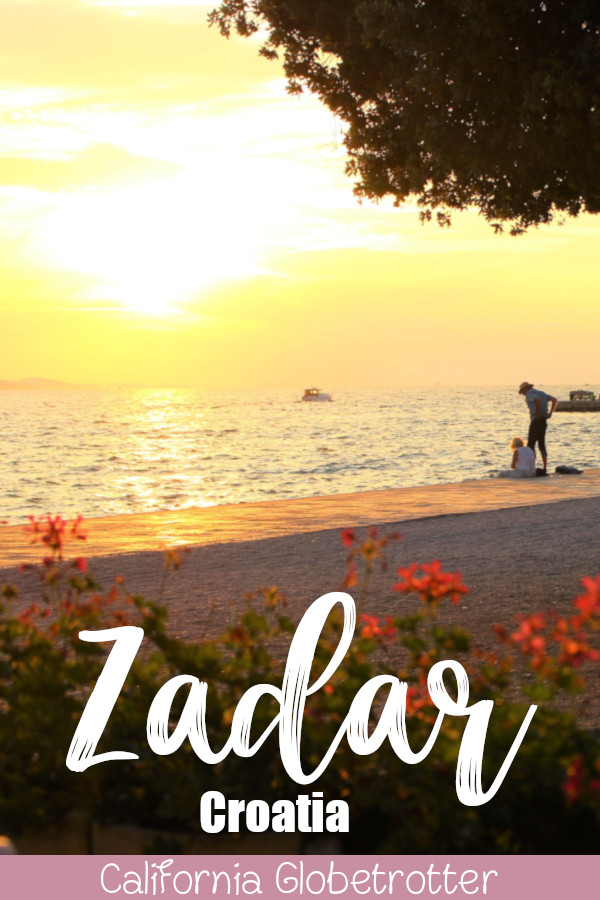 How to AVOID Looking Like a Tourist in Europe
Gorgeous Seaside Towns Along the Adriatic Sea
History of Zadar
The small peninsula town of Zadar has had a turbulent history making it an interesting stop for the night. While its present layout dates back to the time of the Romans, it flourished into a major port for trading in timber and wines. Over time the Venetians and the King of Hungary would fight over Zadar in the 12th and 13th centuries ultimately leading Zadar and other Dalmatian islands and cities to be sold to Venice. The name changed from Zadar to Zara and grew very prosperous.
During the First World War, Zara would be invaded by the Italians who were to originally granted to inherit this region because of the Treaty of London. By the Second World War, Zadar would play an important role and almost all of Dalmatia was handed over to Nazi Germany. Zadar would experience heavy bombing from November 1943 to October of the next year. Zadar would loose 2/3 of its population during the war.
An unsteady time of peace would follow after the war only to result in more fighting and conflict during the Croatian War of Independence from 1991-1995. Since then, Croatia has worked hard for peace and tranquility as they finally entered the Eurozone in 2007. Tourism has steadily picked up again and Croatia has now become the new-must-see destination on the Mediterranean Sea!
Where to Park in Zadar

As part of our 10 day road trip through Croatia, Zadar was our first introduction into Croatia's cities and upon reaching the town after a day trip to Plitvice Lakes National Park, we were a little bamboozled by the sheer size of the Roman Walls which still surround a good portion of the city. Because of these mighty fortress-walls, Zadar managed to keep much of its independence as compared to other neighboring towns, meaning it was never captured by the Turks.
Prior to arriving to the city, I had done thorough research as to where we could park since driving within the city walls is not permitted. Luckily, there is a bunch of parking spots on the outside of the city walls. You can pay 12 Kuna for 1 hour or find the tourist information shop just under one of the arches of the wall entering into the town to purchase a parking ticket for an extended amount of time.
Related: The PERFECT 2 Week Balkan Road Trip
Enjoy a Croatian Sunset
Croatian sunsets are some of the most amazing I have ever seen! Seeing as how we had arrived in the late afternoon to Zadar, we decided to stroll around in search of some good food. We found ourselves walking the pathway along the water and was handed a small menu brochure for a restaurant just 2 minutes up. We stopped and looked further into the menu and being too hungry to be picky, we sat down to enjoy the sunset and our meal. We ate at a restaurant called Tramonto which has Mediterranean cuisine. While the view was fantastic and we had an amazing sunset, I would not recommend eating here. We had a terrible experience with an incredibly rude waiter, poor service and food that was just ok. And I know that not just us also had terrible service because I watched all the surrounding tables also leave unhappy.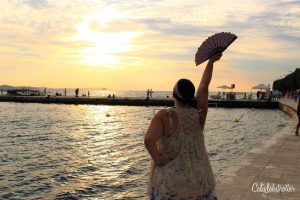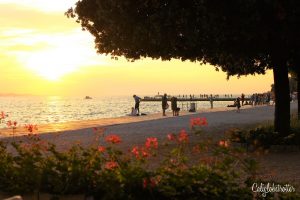 Explore Zadar's Historic Sites
Once finished, we meandered around the town, checking out the most important part of town and the main square. Here you can find  one of the main sights in Zadar, the circular Church of St. Donat which is one the greatest examples of Byzantine architecture. Although, it has not been used as a church since 1797 but it is still used to enjoy concerts here as the acoustics are very good.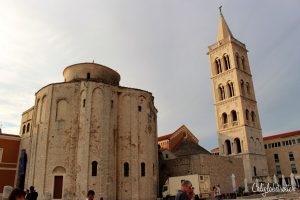 Just behind the Church of St. Donat is another church called St. Anastasia's Cathedral. From St. Donat you can see the tall tower from the cathedral, which you can climb for 10 Kuna if you're motivated enough during extreme heat. I am a lover of climbing towers and churches, but not in 91*F weather with a humidity index of 74%. I have heard that the view up there is amazing and overlooks the entire peninsula, considering it is almost directly in the center of town.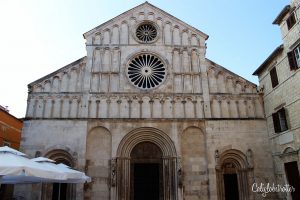 In this area, you can find old Roman ruins, which was difficult to capture a picture of with the hordes of tourists climbing all over them. We would later come back in the morning for a better and more peaceful view of this area.
Directly across from these two churches and the ruins is the Church of St. Mary which was built in 1066. It has undergone several alterations and now displays a Renaissance façade.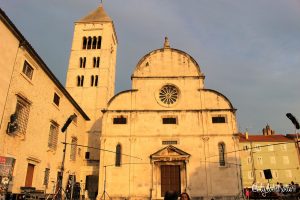 Catch a Summer Performance of Traditional Folk Dancing
Without a doubt, one of the best things about Croatia in summer was the outdoor performance of traditional folk dancing. Directly on the patio of this church during the evenings in summer, was a performance by Croats dressed in their traditional folk clothing. They danced traditional dances, sang beautiful songs and performed with their instruments for quite a long period of time. Being the short person that I am, the only way I could enjoy the performance was to record it on my iPhone so that I could see it above the heads of all the tall people.
Turns out, this traditional folk dancing is actually a famous group called LADO which was founded in 1949 to perform and share the finest examples of Croatian music and dance traditions. Turns out, they are considered to be a "traveling museum" and have been on all six continents and have received many awards. Lucky us that we ran into this free show!
Here is a video from this amazing performance!
Visit the Greeting to the Sun Both in the Morning and the Evening!
As night time was falling, we decided to make our way over to the Sea Organ and the Greeting to the Sun. However, by the time we got there it was already pitch dark and all we could see was the Greeting to the Sun lit up with many people trying to take selfies, just sitting and enjoying the colorful display change with the crashing of the waves.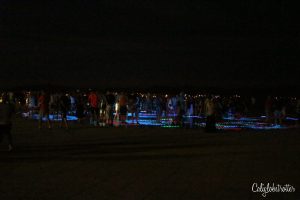 The best time to visit the Greeting to the Sun has to be early sunset as the lighting is perfect. Unfortunately, because there were so many people here during this time, it was almost impossible to hear the Sea Organ playing. So we decided to check it out first thing in the morning. When we came back, we almost had this area completely to ourselves which was much more enjoyable as it was incredibly peaceful to sit and listen to the crashing of the waves of the steps of the Sea Organ. Once the waves crash on the steps and the 35 pipes, air is pushed through and plays musical tunes of the waves through air holes in the ground.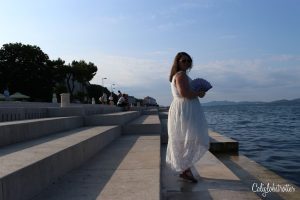 I have to say, getting up at 6am and walking around Zadar was one of the most beautiful and simple pleasures I have ever done. Its a time where the locals are out and you can see them starting to prepare for their day and the hordes or tourists haven't taken over the city yet. Its still and quite and the fresh cool air still has a small hint of coolness to it before the heat and the sun come out. We would do this several more times on our vacation.
Stroll along the Outer Edge of the Peninsula!
From here, we strolled along the entire embankment of the Zadar peninsula to the complete opposite end, where you can find the University. Here there was a statue of a man named Spiridon Brusina holding a large seashell. Having no idea who he was and seeing no plaque to give any indication as to who he was, I had to research him. Apparently, he founded the Croatian Society of Natural Sciences in Zagreb in 1885.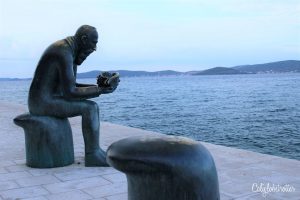 As we headed back to the hotel, we made our way over to the Captain's Tower and found other churches and Roman ruins, along with a small park. We walked through this small park and enjoyed a simple view over the Land Gate and a small boat docking area. This gate was once the main gate into the city and is now considered to be one of the finest examples from the Renaissance.
Overall, Zadar was a very small town to visit and while it was beautiful and interesting, I think I would have rather visited Pula or some other city with a bit more to do. However, considering we didn't spend more than 24 hours here, it was the perfect size town to do a quick day trip on our road trip down to Dubrovnik! There is not really, in my opinion, any reason to stay longer than a day or two, unless you really want to check out all the museums and go inside every single church.
Where to stay in Zadar: Central Square Guest House ⭐⭐⭐– a quaint "Air B&B" style hotel, the owners are incredibly friendly and will give you tips and advice for visiting the town!
Overall Experience:
We quite enjoyed our time in Zadar and definitely thought that it was one of the best cities to visit in Croatia. The fortress walls were really impressive and we loved stumbling upon an outdoor summer performance of traditional Croatian folk dancing, however, we were quite disappointed by the crowds even in this little fortress town. Unfortunately, visiting Croatia in summer means dealing with loads of tourists and having to stand in big crowds. There is simply no way to avoid hordes of tourists in Croatia in summer.
If you're looking to visit Croatia this summer, I highly suggest buying any of the following travel guides which I have personally used to help you navigate through this beautiful country! These are my travel bibles!
Disclaimer: This post contains affiliate links. If you click on one and make a purchase, I might make a little extra spending money, at no extra cost to you. As always, all opinions are my own and these products/services have been found useful during our travels and come highly recommended to you from yours truly!
 Croatia Travel Inspiration:
and a detour side trip to Mostar, Bosnia-Herzegovina!
Slovenia Travel Inspiration:

Picture Perfect Lake Bled, Slovenia
City Guide: Ljubljana, Slovenia
Liked this post? PIN IT FOR LATER!!
Save