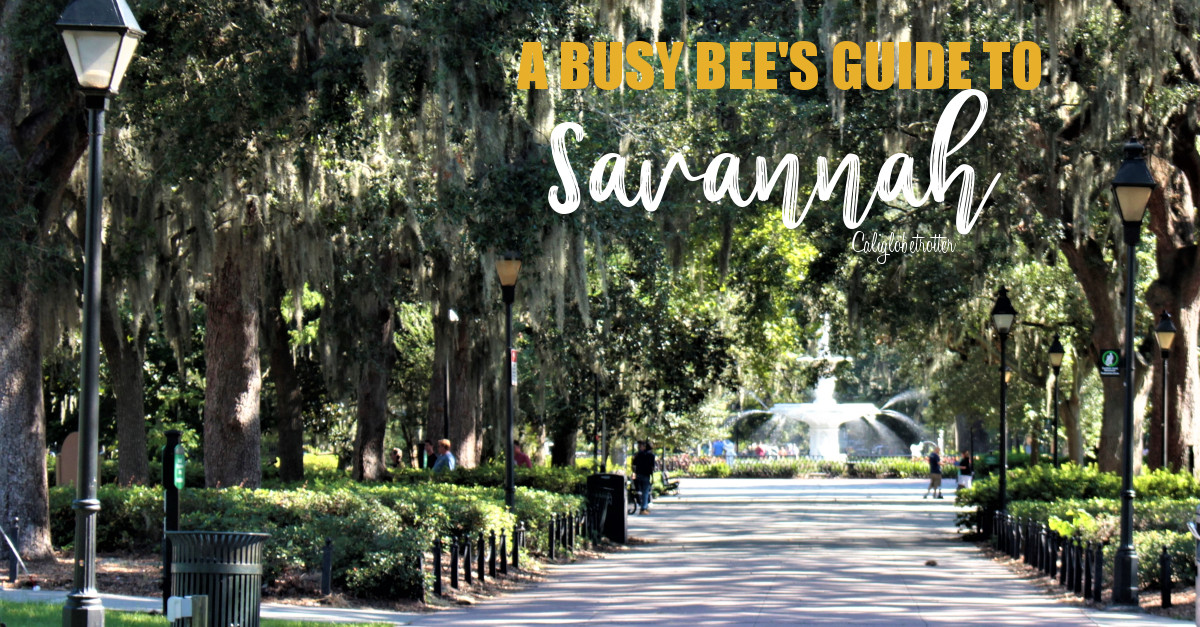 This post contains affiliate links. If you click on one and make a purchase, I might make a little extra spending money, at no extra cost to you. As always, all opinions are my own and these products/services have been found useful during our travels and come highly recommended to you from yours truly!
For years, I wanted to visit Savannah, Georgia since I was first introduced to southern charm in the Tom Hanks film, Forrest Gump. Antebellum historic homes, mammoth Oak Trees draped in moss adding to the charm of Savannah, perfectly laid out squares and neighborhoods, southern cuisine and southern hospitality all sounded like the perfect concoction to make one of the best cities in the United States, as well as my new favorite US city!
Want to Visit This Southern City? PIN IT FOR LATER!!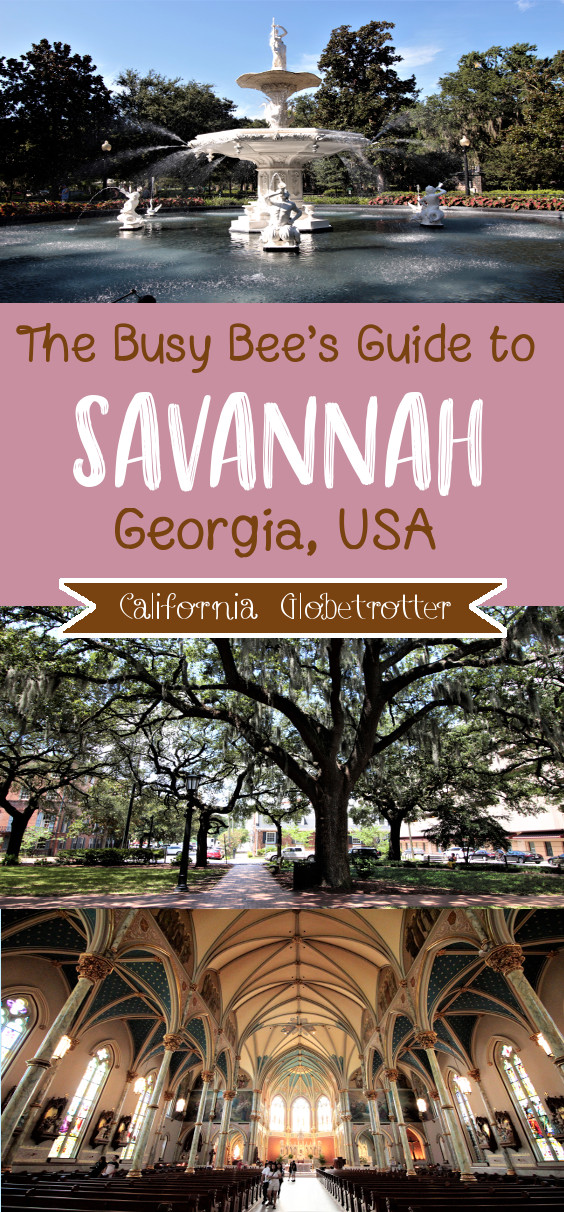 This article is now available as a mobile app. Go to GPSMyCity to download the app for GPS-assisted travel directions to the attractions featured in this article!
Best Time to Visit Savannah
Hot. Sticky. Humid. Mosquitoes. The "real South" includes states like Georgia, North and South Carolina, Alabama and Mississippi and much of the South (Southeastern USA) is best avoided in the summer if you're not able to cope with the heat, unless you absolutely have to. On the day we happened to visit, at the peak of summer, it just so happened to be the hottest day of the year in Savannah, and it was quite extreme. Turns out, July and August are considered "the low season" to visit Savannah. Not surprising as it was quite unbearable to sightsee in the humidity. If you should so choose to visit Savannah in the summer, then be prepared to take multiple breaks in doors to escape the heat and cool down with air conditioning and water. 
The best time to visit Savannah is actually during the shoulder seasons of summer, in early spring between April and May, as well as early fall between September to November. Apparently, visiting in Spring and Fall it's much cooler and much more comfortable to go sightseeing in Savannah, though it can also tend to be a little cold still, especially towards the end of November. 
Tips for Staying Cool in Savannah: Explore one park at a time, therefore staying shaded by the large Oak Trees. Try to start as early as possible, preferably around 8am, and visit the outdoor things that are open 24/7. As it gets hotter, visit some of the historic homes and other places you can visit once open to escape the heat. Take several breaks to cool down and grab a cold drink. Ask restaurants for a to-go cup and fill it with water as often as possible. If you feel at all dizzy or have extreme headaches, take a prolonged break, or head back to your hotel and continue sightseeing in the evening when it cools off. Ladies, bring a Lace Parasol Umbrella to help shade yourself! Had I had mine, I wouldn't have hesitated using it!
Historic Places to See in Savannah
Here I'll be providing you with 40+ things to do, see and eat in Savannah, Georgia, most of which we managed to do in a less than 24 hours, though some places were a bit further out and obviously we couldn't manage it, but I felt nonetheless that I should add it in in case you have more time to spend in Savannah. We took advantage of our time visiting Savannah by getting up early, walking and using the FREE Dot Express Shuttle to maximize our time in the city.
WANDER THE SQUARES
If you look at a map of downtown Savannah, you'll notice that the city is methodically laid out in perfect unison and for each neighborhood, there is a beautiful square. Since 1733, when British General James Oglethorpe laid out the city plan, there has been 24 lush, green squares, though today only 22 remain. Two were lost due to city development over time. Each square is shaded by mammoth Oak Trees and are surrounded by charming churches, historic antebellum homes, inns and museums. 
Savannah is a very walk-able city, so seeing a good portion of Savannah's historic squares is actually quite easy, so you'll want to do yourself the favor of meandering from one square to the next as these are considered to be the heart and soul of city.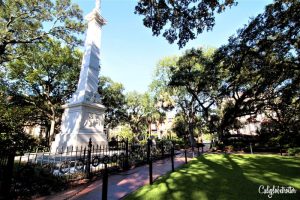 ADMIRE THE OAK TREES DRAPED IN SPANISH MOSS
Starting in the 19th century, large oak trees were planted in Savannah to provide shade to cool off under and year-round beauty, earning it the nickname "The Forest City". Today, the large oaks are swathed in picturesquely draped Spanish moss that Savannah is so famously known for. 
Fun Fact: The live oak has actually been the state tree of Georgia since 1937 and is one of three types of tree species chosen in the 1890s which is also the most distinctive to the South!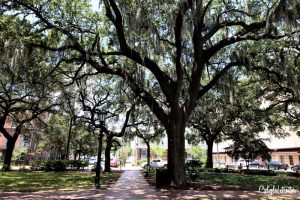 FOREST GUMP BENCH AT CHIPPEWA SQUARE
"Mamma always said, 'Life is like a box of chocolate, you never know whatcha gonna get'" – words that will forever stay with anyone who ever watched the Tom Hanks film, Forrest Gump. Those words, said on a simple bench in Chippewa Square has since made this square one of the most popular squares in Savannah. 
Though the bench was only a prop and is now on display at the Savannah History Museum, it's still worth a peak at one of the loveliest squares in Savannah.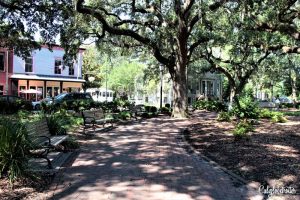 PERUSE FORSYTH PARK
Forsyth Park seems to be the beating heart of Savannah. Here, hundred of Mammoth Oak Trees are dripping with Spanish moss, with a glistening white water fountain at the center of the park. Locals and tourists convene on this pleasant park, either to snap photos or to take advantage of the open space by either having a picnic or even working out. No trip to Savannah would be complete without perusing this shady park. Stretching 30 acres in the heart of the historic district of Savannah, the park was designed to emulate other cosmopolitan cities such as Paris, France, New York City and even Peru!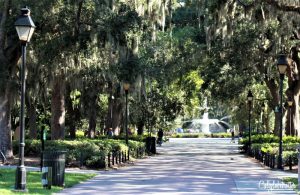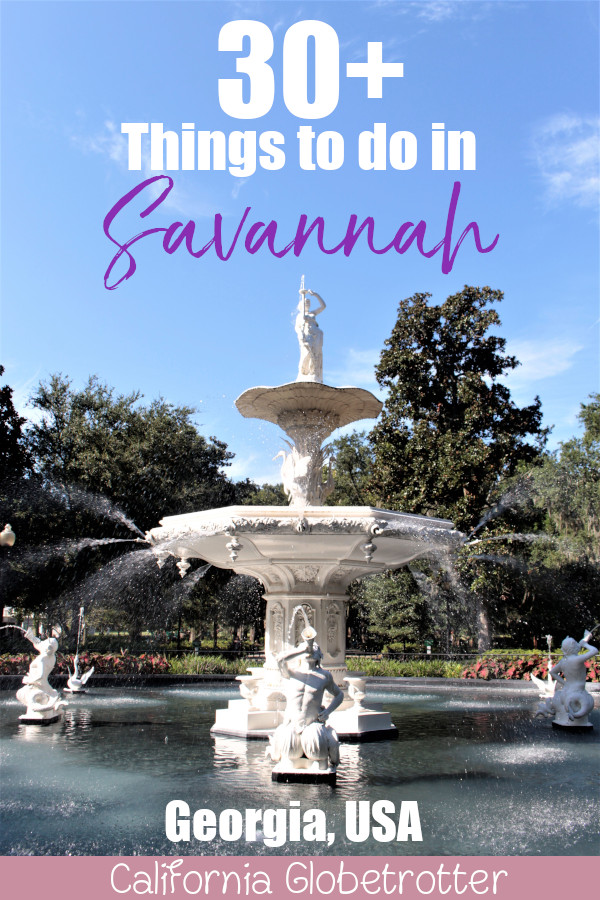 STROLL DOWN JONES STREET
A feast for eyes, Jones Street is considered to be not only the prettiest street in Savannah, but also one of the most charming in the United States! Its charm lies in the 19th century high-stooped Greek Revival brick mansions with lovely double staircases, wrought-iron gates and oak trees. Most of the homes here date between the 1850s-1860s, but by the 20th century, the street saw a decline in upkeep and by the 1960s, was one of the first large-scale renovation projects undertaken in Savannah. 
The name of Jones Street honors Major John Jones, a Revolutionary War hero who was killed in battle while serving for the Georgia Continentals.
There are a few interesting sights to see along Jones Street, but most notably will be Mrs Wilkes Dining Room, one of the most iconic restaurants in Savannah that serves up family-style southern cuisine. Get here early, as doors open at 11am and people are already lined up beforehand!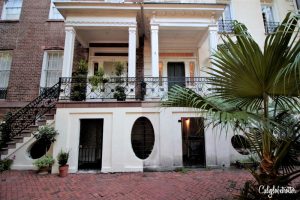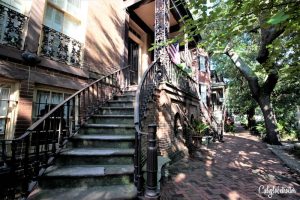 VISIT THE HISTORIC HOMES
Savannah's Historic District often appears as one of the top ten most beautiful historic districts in America, and it's clear to see why! Savannah's house museums are a staple of tourism in the city. With 20 houses to pick from, there is no reason whatsoever why you should be bored in Savannah! 
Many of the homes are museums featuring art, others are businesses and some are open to visitors who are interested in learning history about Savannah, its historic homes which were built exclusively for its elite residents in the early-to-mid 19th century. 
MERCER-WILLIAMS HOUSE
The "Crown Jewel" of Savannah is without a doubt the Mercer-Williams House, and if you had only time to visit one historic home, this is the ONE! 
Designed in 1860 for General Hugh Weedon Mercer (the great-grandfather of Johnny Mercer who wrote "Moon River"), the house wasn't completed until after the Civil War in 1868 by a new owner, John Wilder. 
Though the history of the house would soon become much more interesting after the murder of Danny Hansford, an assistant to Jim Williams, who was the only person in the state of Georgia to ever be tried four separate times for the same crime. The story of the murder would be retold in the 1994 book, Midnight in the Garden of Good and Evil: A Savannah Story. But most intriguing of all, the house had already been the scene of two prior deaths, adding to the mystery of the house.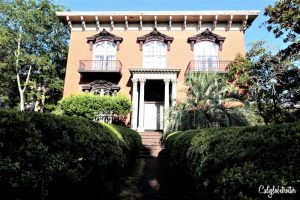 OWENS-THOMAS HOUSE
Quite possibly one of the most beautiful historic homes in Savannah, the Owens-Thomas House was built as a Regency style mansion in 1819 and is today considered one of the finest examples of English Regency architecture. According to the architect, the house was to be designed so that it would be "aesthetically compatible to Bath, England".
Taking up a full city block, the home was owned by the Owens family for more than 100 years and once operated as a lodging house which hosted notable guests like the Marquis de Lafayette, the Revolutionary War hero from France who helped the Americans win the American Revolution!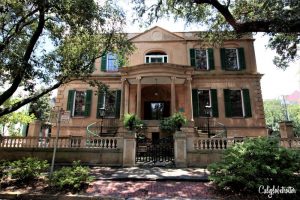 DAVENPORT HOUSE
Built in the 1820s by Isaiah Davenport, the Federal-style building showcases the lives of Savannah's elites in the early 19th century. The house was threatened by demolition in 1955, the Davenport House would become the first to be saved by the Historic Savannah Foundation, later becoming their office before being opened to the public in 1963.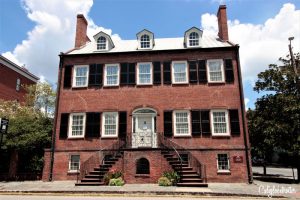 ADMIRE THE GINGERBREAD HOUSE
If ever there was a house seeped in elegance, than Savannah's Gingerbread House is oozing in it! It is the finest example of Steamboat Gothic architecture in America, dating back to 1899! Of course, this picture perfect house is most often used for weddings in Savannah, as well as other events and festivities in the heart of the Victorian District! Isn't it just cute as a button?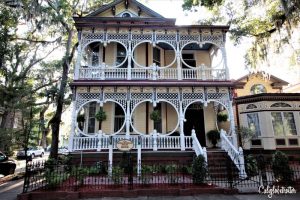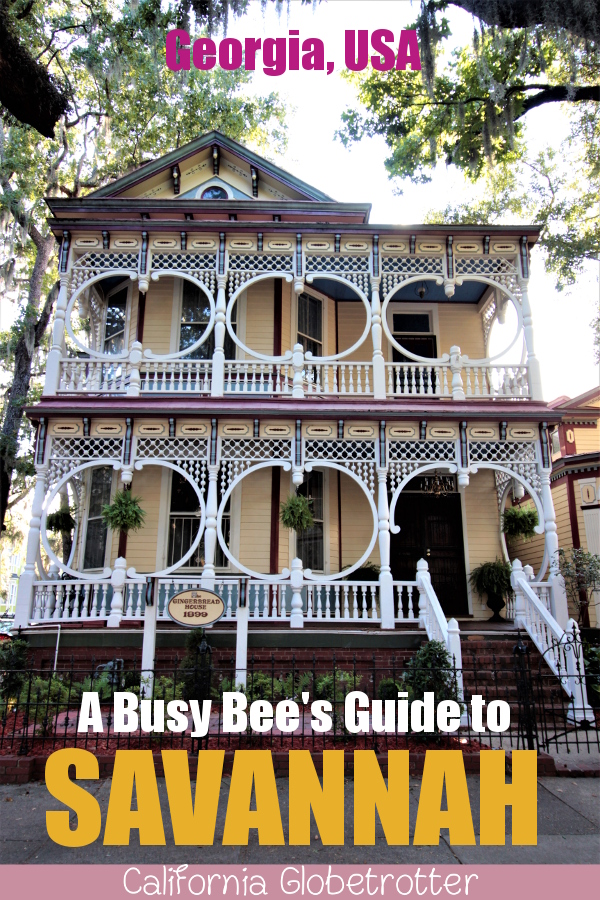 SEE THE BIRTHPLACE OF THE THE GIRL SCOUTS
From one fellow Girl Scout to another, don't go to the Birthplace of Juliette "Daisy" Gordon Low for Girl Scout Cookies unless it's spring, as they won't have any. Do go though to learn more about the woman who founded the Girl Scouts of America as a widow in 1912. The organization bought the house in the 1950s and today it's a museum dedicated to the history of the organization and how Daisy's legacy continues today, allowing many young girls and women to make memories to last a life time.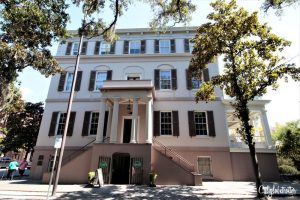 VISIT THE CITY MARKET
Stretching from Jefferson Street to West St. Julian Street and covering a total for four city blocks, the Savannah City Market has been the heart of the historic district since the 1700s. Whether you're come here for souvenir shopping or to catch a live outdoor musical performance, dining or even peruse some of the art galleries, all are welcome here in this busy hub-bub of an area.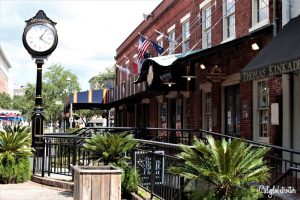 FIND THE JOHNNY MERCER MONUMENT
If you're a true Audrey Hepburn fan, than you'll recognize the name Johnny Mercer as the American singer and songwriter who wrote the now famous song "Moon River" in 1961 which she sang sitting on her fire escape balcony in Breakfast at Tiffany's. Born in Savannah, he would also help to co-found Capitol Records.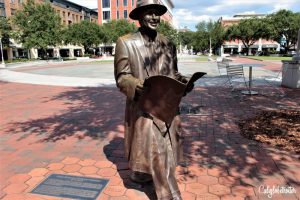 EXPLORE THE PROHIBITION MUSEUM
Not exactly your typical dry museum, the American Prohibition Museum is the only one of its kind in the United States and definitely one of Savannah's best kept secrets! Explore the era of speakeasies and learn about the rum-runners and troublemakers though the roaring twenties and thirties, as well as learn how to make your own hooch aka moonshine.
If you're not familiar, the Temperance Movement started at the beginning of the 20th century and by 1920, the sale and consumption of alcohol in the United States effectively became illegal, thus the need for speakeasies and illicit moonshine stills. The American Prohibition era would last from 1920 to 1933 until it was finally repelled. You can bet your bottom dollar that by 1933, there were a lot of thirsty people in the US!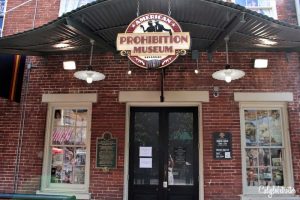 EXPLORE SAVANNAH'S PLACES OF WORSHIP
Whether you're religious or not, exploring some of the varied churches is worth ticking off your Savannah to-do list. Savannah's historic places of worship are some of the most beautiful in the United States I have seen to date. Many you can simply admire from the outside, but a few are worth taking a peak into. All of Savannah's churches are free to enter, though a small donation is recommended, and some offer a guided tour of the building, enlightening you to the history and architectural styles. 
FIRST AFRICAN BAPTIST CHURCH
Founded in 1773, the First African Baptist Church is considered to be possibly the oldest African-American congregation in the United States, though the building would be completed a full century later!
Of significance is the role the church played as a vital stop along the Underground Railroad to secretly move black slaves from the South to the North, where slavery was outlawed. Like Madison, Indiana and Cincinnati, Ohio, there were many cities across the United States that helped to move slaves to safety with the help of abolitionists.
If you're looking for interesting things to do in Savannah, the church offers tours which will show you holes in the floor which provided air to former slaves hiding before being further transported. However, keep in mind that there are no tours on the weekends. 
CATHEDRAL OF ST. JOHN THE BAPTIST
If there were one church you absolutely had to make time to see while sightseeing in Savannah, then it must be the Cathedral of St. John the Baptist, located on Lafayette Square. There is no doubt as to the beauty of its striking appearance, designed in the French Gothic style. Built in the early 1870s, the spires would not be added until 1896.
The church was the center of Savannah's Catholic population for more than 200 years, first serving the French and then the Irish, however, prior to its construction, Catholicism was actually illegal within the colony of Georgia for fear that Catholics would side with the Spaniards in Florida. However, it would be lifted by the end of the 18th century.
It is 100% worth a peak inside the church as the interior is exquisite and boats 81 stunning stained glass windows from Austrian Tyrol. This was one church I certainly had no problem donating to to preserve its upkeep.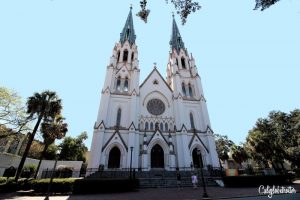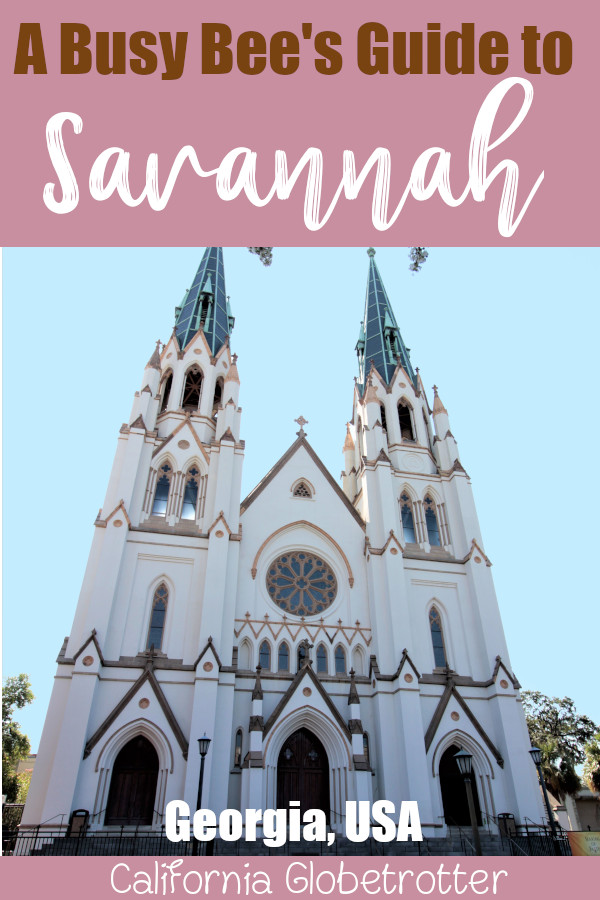 VISIT BONAVENTURE CEMETERY
Like the St. Louis Cemetery in New Orleans, the Bonaventure Cemetery is considered to be one of the most beautiful cemeteries in the United States, and even the world. Located on a former plantation, giant oak trees covered in beautiful Spanish moss add to the hauntingly beautiful atmosphere surrounding the incredibly intricate graves.
Though we personally didn't have time to visit one of the most beautiful graveyards in America as it requires a drive, it is one of the must-see sights in Savannah for those who don't mind walking through cities of the dead. It is, however, quite famous as it was also used on the cover of Midnight in the Garden of Good and Evil, as well as was used as a filming location for the movie directed by Clint Eastwood. 
You can either explore the grounds on your own, or you can do a Bonaventure Cemetery Tour where you will learn about notable burials here, like Johnny Mercer and the most notable ghost, Little Gracie Watson.
COLONIAL PARK CEMETERY
Dating back to 1750, the Colonial Park Cemetery is Savannah's oldest cemetery and the final resting place of Savannah's earliest citizens, including for the 700 people who fell victim to yellow fever in 1820, buried together in a mass grave. Located near Chippewa Square, the cemetery is reported to be one of the most haunted areas in Savannah, therefore, you can do a Ghost City Tour to learn about the ghosts of Colonial Park Cemetery.
TAKE A GHOST TOUR OF SAVANNAH
Savannah is considered to be one of the most haunted cities in the United States, and booking yourself on one of Savannah's best ghost tours is an absolute must, as long as you're not a big ol' scardy cat like myself. However, I did stop and grab a bunch of brochures from our hotel and this is what I found:
Looking for a grisly late-night tour of Savannah? Check! A horse and carriage ghost tour? Check! Or a Trolley Ghost Tour? Yup, got that too! Want to ride in a hearse or join a haunted pub crawl? Oh, ya, they got that one too! Paranormal activity tour? Fo'sho! There is something for everyone whether you're a skeptic or a true believer. 
RAINBOW ROW (E. BRYANT ST)
A cute and quaint little street in Savannah's Landmark Historic District, you can find a row of Carpenter Italianate houses with touches of Victorian details built around 1892, known as Rainbow Row. Just a short walk from the Pirates House Restaurant and Tavern as well as the Olde Pink House, we went to admire these individually colored vacation rentals in Savannah. 
Had I know they were vacation rentals and we were staying longer than a day in Savannah, I would have booked us here! However, the interiors are beautifully decorated in 18th and 19th century antiques, chandeliers and elaborate mirrors! Sounds like my kind of decor!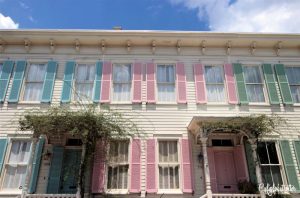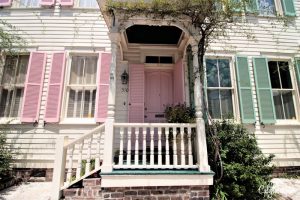 DO A RIVERBOAT CRUISE 
If you would like to bask in Savannah's antebellum charm, then perhaps you might enjoy a one of Savannah's River Boat Cruises aboard the River Queen, the Georgia Queen or even the new Savannah River Queen. 
EXPLORE RIVER STREET
Savannah's River Street nestled along the Savannah River was once a bustling place of cotton warehouses and cargo boats, however, today it's a place where you can find a variety of antique shops, boutique shops and mouth-watering restaurants and quaint brew pubs. 200 year-old cobblestones line the Historic River Street adding to the historic charm of Savannah. 
While perusing River Street, we stopped to talk to some hostesses at a restaurant, having every intention of returning for dinner, but sadly, with the heat and humidity, we didn't make it back. However, I highly recommend visiting River Street Sweets and grab a bite of their famous pecan pralines! You're welcome!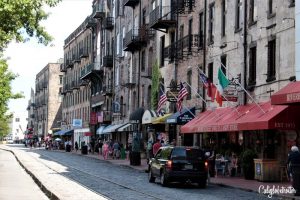 DRINK AT A PIRATES' WATERING HOLE
When I think of Pirates and Savannah, an image of Disney's Pirates of the Caribbean ride comes to mind, with pirates chasing young maidens, singing "yo ho yo ho a pirate's life for me" with a beer in hand. Unfortunately, while at The Pirates' House, a restaurant and tavern, there are no longer pirates bantering about, though it is a kid-friendly restaurant!
However, if you're into kitchy things, then a visit to the the Pirates' House is a must, as not only do they serve you pirate inspired drinks, in a complimentary cup, but a portion of the building is considered to be the oldest building in Georgia dating back to 1734, though the tavern wasn't established until 1753.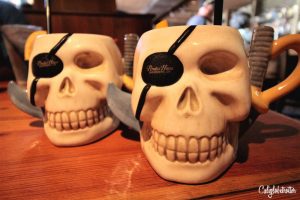 Sights to See Further Afield 
EXPLORE WORMSLOE PLANTATION 
The Wormsloe Historic Site has been owned by the same family since 1730, but what draws people to the Wormsloe Plantation is the mile-long driveway of 400 large oak trees covered in Spanish moss, planted in the 1890s that have been carefully pruned over decades to create a tunnel of trees creating a stunning effect for photographers. Just look at it!
Established by Noble Jones, one of Georgia's colonial founders, the home is still privately owned and occupied by his descendants. With a tour of the plantation, you'll receive a glimpse into the history of slave labor on the property and enjoy the nature trail past the tabby ruins which are considered to be the oldest standing structure in Savannah.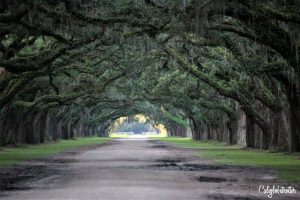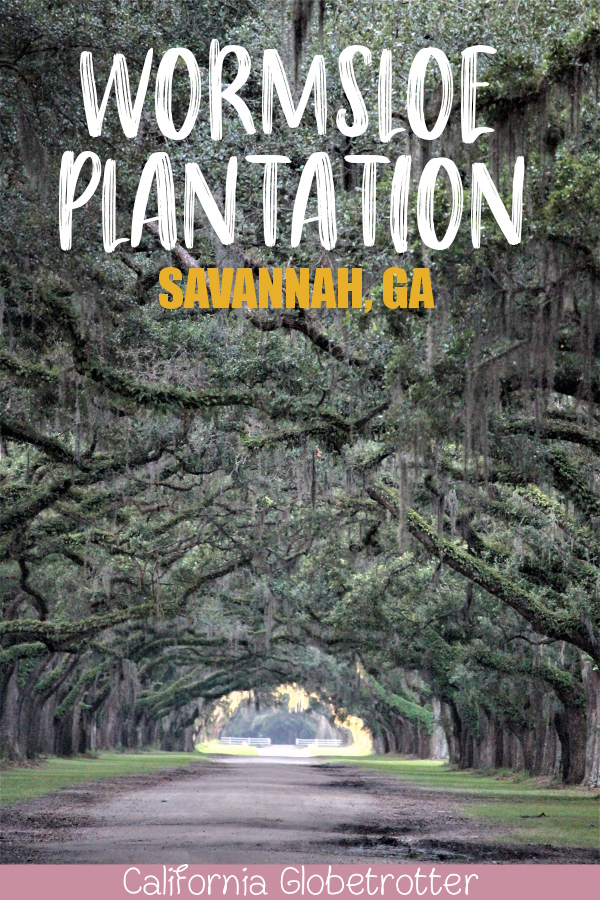 TAKE A DAY TRIP TO TYBEE ISLAND
Should you have more time, then a day trip from Savannah to Tybee Island is a whole other kind of southern experience, just 18 miles from Savannah. As a small barrier island, as Savannah's beach, it's a popular destination for fresh seafood, a day of sun, sand and beach which I discovered in the a local magazine in our hotel room. 
Things to Eat in Savannah
There is something to be said about Southern cuisine. It's mouth-wateringly delicious, hot and spicy, crispy and unlike anything you've ever had before. Nothing can prepare you for just how spicy it is, and just how much you should travel with your fat pants! Take everything you know about KFC and quadruple it in taste, spice and sass and you got yourself a taste of southern comfort food!
Developed in the American South, southern cuisine is influenced by a bled of African, English, Scottish, French, Spanish and Native American cuisines. Here I provide you with a list of food to eat in the South. 
PIMENTO CHEESE
A delicious spread of relish made from cheese, mayonnaise and pimentos (cherry tomatoes) blended together either into a smooth or chunky spread which is best when spread on bread, crackers, vegetables or sandwiches! Other seasonings that may be included are hot sauce, Worcestershire sauce, cayenne pepper, paprika, jalapeños, onions or garlic. 
FRIED CHICKEN
Often referred to as Southern fried chicken, it is a delicious chicken dish where the chicken has been floured or battered and then either pan-fried or deep fried creating the crispy outer texture. Best served with a side of mashes potatoes and gravy!
GUMBO
A popular stew from Louisiana, Gumbo includes meats like chicken and sausage, shellfish such as shrimp, roux-based stock and a thickener made from celery, bell peppers and onions, served over a bowl of rice.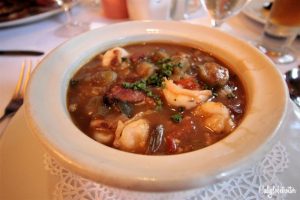 BUTTERMILK BISCUITS
Small, browned flour-based biscuits that have a soft interior, which are typically served with a meal. Americans enjoy eating these with breakfast by adding butter and syrup or honey, as well as jams or jelly. A popular meal with these are Biscuits and Gravy with sausage and sometimes added with eggs as a casserole. 
FRIED GREEN TOMATOES
Are exactly what you think they are: green tomatoes that are coated in cornmeal and fried. These usually make for a great appetizer, commonly found in the South. Sometimes, it is often dipped in buttermilk or even a beaten egg prior to being fried. 
GRITS
Made from corn, it is ground into a coarse meal and then boiled, and tastes slightly like polenta. Originated from the South, it typically comes as a side for breakfast, or as a popular dinner entree with shrimp. It comes in a variety of ways, like over-baked with cheese. 
MACARONI & CHEESE
Americans love their cheese, and nothing is more popular than Mac and Cheese, elbow noodles covered in cheese, often sprinkled with bread crumbs. Sometimes it also comes baked in the over making the top crispy. 
Where to Eat in Savannah
THE OLDE PINK HOUSE
Considered to be one of Savannah's most popular restaurants, The Olde Pink House gives you the opportunity to dine in luxury for affordable prices in the city's only 18th century mansion. While the house was built in 1771 for James Habersham Jr, it has found multiple uses during its lifetime, as a bank and Union Headquarters before being transformed into an elegant restaurant serving up traditional southern cuisine. 
Be sure to make a reservation beforehand, or if you're lucky enough to arrive just before the lunch crowd, you may get a table, which was our fate. We were meant to sit and ooooh, mmmm, and ahhhh at the deliciousness of our meals. I highly recommend the Country Fried Chicken with Vidalia Black Pepper Gravy, Mashed Potatoes, Collard Greens, while my husband order the Shrimp Gumbo. My step father ordered the day's special, a Shark burger while my mom stuck with traditional Fried Chicken with Macaroni & Cheese. Every.Single.Bite. was D-E-LICIOUS!
When you're done eating, you're invited to explore the house, upstairs you'll find the elegant 18th century ballroom, perfect for wedding receptions while downstairs you'll find an English-style pub!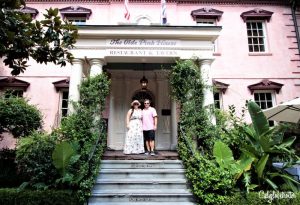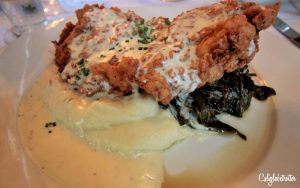 ELIZABETH ON 37TH 
Now, if you're a hardcore seafood lover, then Elizabeth on 37th is a great fine-dining locale in Savannah in yet another of the city's fine historic homes and serving up traditional American cuisine. 
MRS WILKES DINING ROOM
As previously mentioned, Mrs Wilkes Dining Room is one of the best places to eat in Savannah for southern cuisine and southern hospitality. Serving up traditional dishes such as fried chicken, gumbo, okra, black eyes peas and more, it's popular with everyone! 
Doors open at 11am, but people begin lining up beforehand to enjoy a family-style meal, sat round a table with strangers, digging in and bonding over good food! You'll pay a flat fee at the door on your way out, CASH ONLY!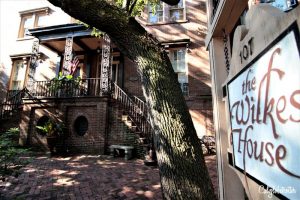 ALLIGATOR SOUL
Now, if you're looking for unique foods to eat in Savannah, than Alligator Soul lives up to its name, serving up meats like ostrich, kangaroo, antelope, and you guessed it, alligator. Have no fear though, the restaurant offers a wider selection of more traditional meats and seafood for those less adventurous!
CRYSTAL BEER PARLOR
Being far, far too exhausted and over-heated from a day's sightseeing, once back at our hotel, the cleaning lady was still on our floor, so we stopped to ask her for restaurant recommendations for Savannah, and without hesitation she said "Crystal Beer Parlor". And away we went. 
Decorated in Savannah memorabilia, the Crystal Beer Parlor clearly seemed to be the place locals flocked to for one reason: GOOD FOOD! Food straight outta this world. While we may have grudgingly shared burgers, it was for the dessert we saved ourselves for most. Homemade Chocolate Chip Cookie Sandwich, Mud Pie and Deep Fried Pound Cake. Is this what heaven looks like?!
Getting Around Savannah
Best thing about Savannah? The S.I.M.P.L.E. fact that Savannah is surprisingly a VERY walk-able city, which is hard to come by in the US. One thing I tell most Europeans when they visit the US, is "Don't walk everywhere" because typically American cities are far too big and spread out and often require a car. But, not here! 
Even pushing my mom around in a wheelchair, it was easy to get around (despite some of the uneven sidewalks) and therefore, I'd say that Savannah is even wheel-chair friendly. Though we predominantly walked around Savannah, there were times were we hopped aboard the Dot to save time, or took the ferry for fun. 
Parking can be difficult and expensive to find, but I honestly recommend parking your car and explore Savannah by foot!
RIDE THE DOT
One of the BEST things about Savannah is that the city provides the Dot Express Shuttle which is free for visitors to use. Shuttle buses come every 10 minutes stopping at 24 historic locations throughout the city. Best of all, it was air conditioned too! 
Not only that, but we were able to hop aboard the Savannah Belles Ferry for a little boat ride down the Savannah River as part of the journey, for free!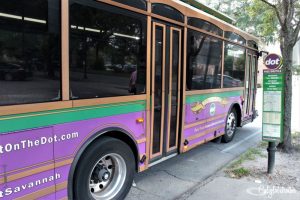 TAKE A TROLLEY TOUR
Want to avoid walking long distances, in the humidity and breeze through Savannah while learning about some of the city's history? Then perhaps adding Old Town Trolley Tour to your list of things to do in Savannah is right for you! Essentially a hop on/hop off-style trolley the air conditioned trolley will not only save your feet, but cool you down. 
Best Hotel in Savannah
⭐⭐⭐⭐B Historic – chic and modern, plush and comfortable, B Historic is located in the Savannah Historic District and offers Kitchen 320, serving urban Southern-inspired cuisine on site. Rooms are incredibly comfortable, staff are INCREDIBLY friendly and the hotel is in a great location, walking distance from many main sights in Savannah, all for an affordable price!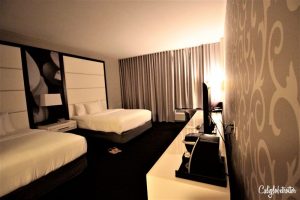 Overall Experience
Overall, I was very thankful to be able to see many of Savannah's main attractions as just a few days prior, my mom had fallen and broken her toe. B Historic saw my mom in a boot and offered us a wheelchair for the day which turned out to be a lifesaver. Without it, we wouldn't have managed to see as much as we did. However, while it is do-able to visit Savannah in 24 hours, I honestly would have preferred to say for at least a long weekend so that we could visit some of the further sights from Savannah as well as find more foodie places to eat in Savannah! But for only having one day in Savannah, we managed quite well. 
If you're looking for some extra guides to prepare your trip, here are my travel guide bibles to help you navigate through Georgia!
This post contains affiliate links. If you click on one and make a purchase, I might make a little extra spending money, at no extra cost to you. As always, all opinions are my own and these products/services have been found useful during our travels and come highly recommended to you from yours truly!
Other US Travel Posts:
Nashville, TN with the Music City Total Access Pass
A Tour of Jack Daniel's Distillery, TN
The ULTIMATE Neighborhood Guide to Louisville, KY
The COMPLETE Guide to the Kentucky Bourbon Trail
Madison, IN: The Midwest's Prettiest Town
Things to do in Pensacola, FL
Liked this post? PIN IT FOR LATER!!