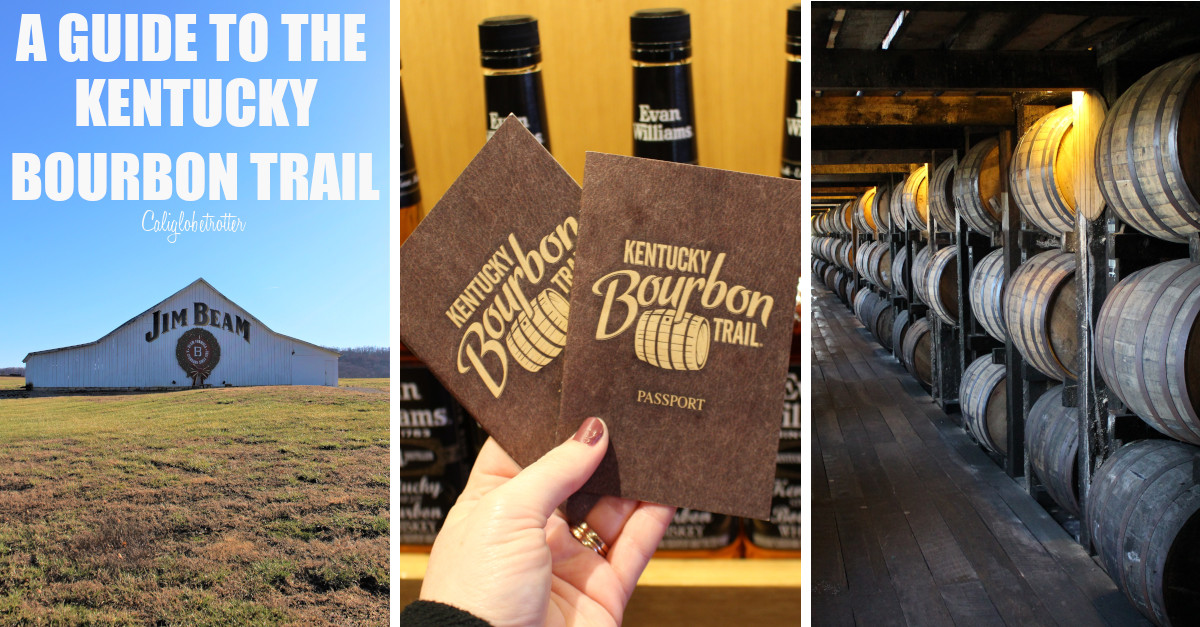 Disclaimer: This post contains affiliate links. If you click on one and make a purchase, I might make a little extra spending money, at no extra cost to you. As always, all opinions are my own and these products/services have been found useful during our travels and come highly recommended to you from yours truly!
Kentucky is currently experiencing what has recently become known as the "Bourbon Boom". The Bourbon industry is experiencing an increase in production and popularity as it has bounced back from the "Bourbon Depression". As the Bourbon industry has grown, so has tourism. What better way to learn about the Bourbon industry and history in Kentucky than to follow the Bourbon Trail! Stretching over 200 miles throughout bourbon country, there's no better way to experience a road trip through Kentucky than by doing bourbon distillery tours!
Update: Recently, Lonely Planet named The #KYBourbonTrail as one of their Top 10 destinations to visit in the US in 2018!! Bourbonism and tourism to Kentucky now go hand in hand, so let's get your Bourbon Vacation rollin'!
What is the Kentucky Bourbon Trail?
The Bourbon Trail is a collection of nine historic Bourbon distilleries stretching between Louisville and Lexington through bourbon country and majestic horse country, each offering a guided tour of their distilleries and a bourbon tasting. Each tour is unique and offers a different perspective and history of the bourbon industry in Kentucky and is one of the best foodie experiences in Kentucky and is the bourbon lover's Holy Grail! Even if you're not into drinking bourbon, following along Kentucky's historic trail can be fun for anyone and are some of the best day trips from Louisville! But let's just admit it now, bourbon tastes better when you're just steps away from the barrel!
There is no one specific start and end, as you have there option to visit each of the distilleries as you see fit. Visit all nine and get a free Bourbon Trail T-shirt or pick your favorites.
In the two weeks we were in Kentucky, we managed to visit all nine distilleries road tripping throughout the Bluegrass State. Here I'll guide you through visiting all nine distilleries and which were the best distilleries to visit on the Kentucky Bourbon Trail or which you could save for a rainy day. Hopefully this guide will to drinking and exploring the Kentucky Bourbon Trail will give you enough reason to visit!
In case you're interested, PIN IT FOR LATER!!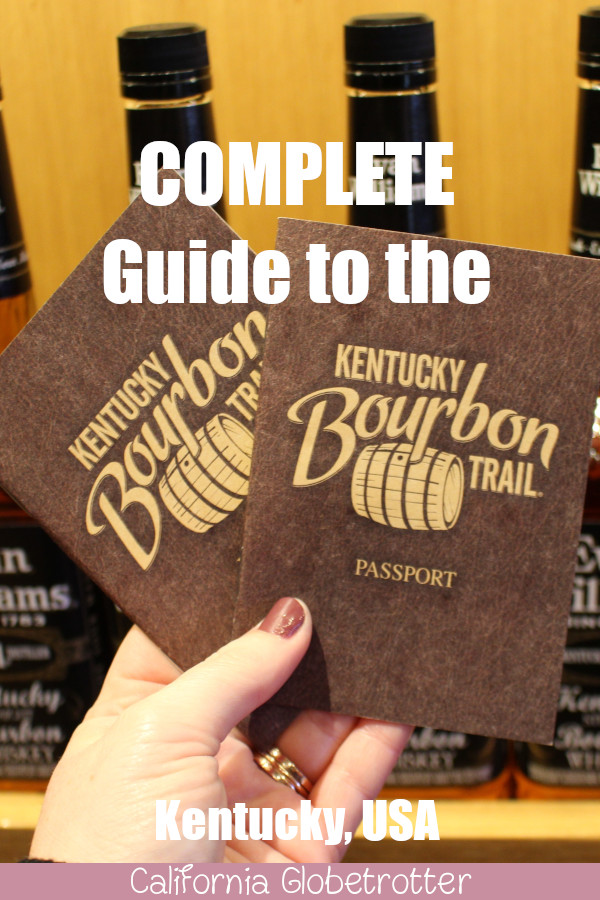 Amazing Drinking Trails Around the World
Before we get started, here are some fun facts about Bourbon:
2015 produced the second largest amount of bourbon since 1967
The Bourbon industry is currently experiencing a 315% growth
There are more barrels of aging Bourbon in Kentucky than people – that's 1.5 barrels for EACH person!
Each barrel weighs 500lbs
Bourbon is a strictly American product which is 95% produced in the state of Kentucky
Bourbon was America's #1 choice of drink throughout the 20s, 30s, 40s and 50s before steadily seeing a decline in popularity during the 60s and 70s as young adults moved away from anything related to their parents. By the 90s Bourbon was struggling to survive as Vodka and flavored spirits were becoming popular. Only in the last decade have we seen a revival and a thirst for locally produced goods.
Bourbon is a well-crafted drink not to be drowned by mixing it with something to hide the taste. It's created with a high level or artisan craftsmanship to tickle your taste buds!
Tips for visiting the Kentucky distilleries:
Most distilleries require you to do the guided tour if you want to do a tasting. Some do not!
Most distilleries are open between 10am – 3pm/4pm. Last tour is usually 30 minutes before closing.
Visiting in the summer during peak season can be quite hectic, therefore, I highly recommend going during the off season. We went during the Christmas holiday season.
If you plan to visit the distilleries at the weekend, then it is recommended to book any tours online in advance!
Almost all of the distilleries have their own Bourbon Balls, which I highly recommend buying at a local liquor store as they will be cheaper … and then stock them away from any prying hands!
Distilleries don't compete with prices against their customers who stock their product, therefore most products will be a bit pricier on location, however, some products may be hard to find at local liquor stores.
If you would like to do a guided tour of the Kentucky Bourbon Trail, then consider Mint Julep hitting up both distilleries on and off the trail, including both popular bourbon destinations and mirco-distilleries. 
Grab a copy of your own Kentucky Bourbon Trail Passport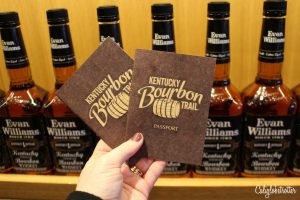 Upon visiting your first distillery, pick up one of the Bourbon Trail Passports for free and carry it with you at all times. All nine distilleries on the trail are listed inside, with a page to have your passport stamped upon your visit, as well as a place for some note taking! If you manage to collect all nine stamps along your quintessential bourbon experience, you can redeem your passport by mailing it in for a free Bourbon Trail T-shirt when they Mail back your passport! What could possibly be better than sipping on Bourbon and getting a free T-shirt to show off your accomplishment!?
Distilleries in and around Louisville
1. Evan Williams Bourbon Experience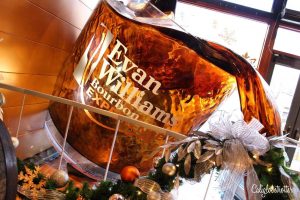 "May you always have Evan Williams Bourbon to share, health to spare and friends to care"
Located in the center of Louisville's historic town center, on "Whiskey Row", the Evan Williams Bourbon Experience takes you on a journey through time. This one is technically not a distillery, but more of a museum dedicated to Evan Williams and his bourbon. However, they do distill one barrel of bourbon every day, and it is recommended that visitors sign the guest book to be alerted when that barrel has aged to completion. Evan Williams is actually distilled at the nearby Heaven Hill distillery before being barreled and sent to age in Bardstown.
With one of the most technically advanced tours, you will learn about the history of Evan Williams as well as how Bourbon is made by traveling back in time to 1783. You will learn how he began distilling and a glimpse into "old Louisville" during Prohibition to present day, therefore making this tour the perfect "beginners guide to Bourbon".
At the end of your tour, you will sit down in a recreated 1960s bar to sample three of their bourbon whiskeys before being topped off with a Bourbon Ball. These are personally my favorite from all the Bourbon Balls!
Rating: ⭐⭐⭐⭐
Where: 528 West Main St. Louisville, KY  40202

Tour Price: $12
Website: evanwilliamsbourbonexperience.com
2. Stitzel-Weller / Bulleit 
"Some women are made of Sugar & Spice, but REAL women are made of Bourbon & Ice!"
Louisville's last urban distillery has had a turbulent history. At one point the distillery was forced to close in 1992 and their bourbons sold off to other distillers, but since 2014, it is once again up and running offering bold and spicy high-rye bourbon whiskeys. Today, they are among the Top 10 foodie tours in Louisville!
The famed Stitzel-Weller distillery served as the unofficial headquarters of the Bulleit Brand for many years. In 2014, the Bulleit experience opened at the Stitzel-Weller Distillery in Shively, a district of Louisville. Bulleit's very own distillery is set to open sometime during 2017 and are known as the "Frontier Whiskey".
Their warehouses and distillery has a rustic look and feel, as they patented the "Rickhouse" which is today how all distilleries store their bourbon.
They do not offer tastings unless you join their one hour guided tour. You'll be guided through several sections of the distillery, including into the Rickhouse for a glimpse of how the barrels are stored before sitting down for a thorough guide of their rye bourbons.
Rating: ⭐⭐⭐
Where: 3860 Fitzgerald Road, 5 miles from downtown Louisville
Tour Price: $10
Website: bulleitexperience.com
3. Jim Beam American Stillhouse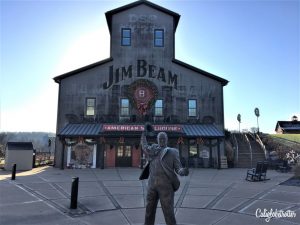 "Come as a friend, leave as family"
is the motto behind Jim Beam's Bourbon Distillery – by far the largest, most popular and influential bourbon distiller on the trail. The Beam family has been in business for over 200 years and has had the largest impact on producing bourbon. A Beam family member can be found to have worked at every distillery in Kentucky, as well as having helped to establish many other brands! But what makes Jim Beam special is that they age every drop of their bourbon twice as long as the law requires.
Located in Clermont, the Jim Beam American Stillhouse is not only one of the most picturesque distilleries but they also have the longest guided tour at 90 minutes, as well as a self-guided walking tour.
As this is the most popular distillery on the KY Bourbon Trail, it is highly recommended to book a reservation for a tour two days in advance! However, Jim Beam also offers a shorter 45 minute tour called Bourbon 101 which does not currently require a reservation.
Jim Beam also offers an Urban Stillhouse in downtown Louisville on 4th Street Live where you can also experience a bourbon education and tasting, as well as the chance to bottle your very own bottle of Jim Beam!
Rating: ⭐⭐⭐⭐⭐
Where: Clermont
Tour Price: Distillery Tour $12, Bourbon 101 $8
Website: jimbeam.com
4. Heaven Hill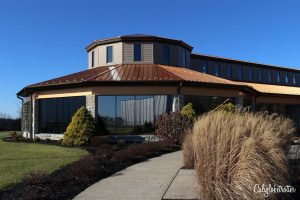 Right after the repeal of Prohibition in 1934, the Old Heaven Hill Springs Distillery opened. Since that time, they have expanded to include a variety of bourbon brands such as Elijah Craig and Evan Williams among others. Since it's founding, all of the Master Distillers have been members of the Beam family! Today, they run the Bourbon Heritage Center.
In 1996, the distillery burned to the ground in 15 minutes, taking the distillery and warehouses with it. The distillery has not been rebuilt and today, the Bardstown location is used for storing aging barrels of bourbon, while the production takes place at the Bernheim distillery in Louisville.
You can enjoy two different tours, the Mashbill Tour where you'll do the tasting inside the world's largest barrel, tasting three bourbons or the Connoisseur Experience, tasting five bourbons.
Rating: ⭐⭐⭐⭐
Where: Bardstown
Tour Price: starting at $10
Website: bourbonheritagecenter.com
5. Maker's Mark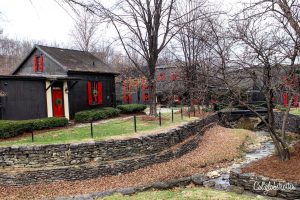 "It tastes expensive… and IS"
If there was one distillery you should visit, Maker's Mark would be it! Not only is the distillery absolutely adorable, but the tour was one of the best tours along the Kentucky Bourbon Trail and is incredibly fun and informative! But what made it such an amazing experience was the extremely outgoing staff! As another of the three registered Historic Landmarks in Kentucky, you can come here and also simply admire the unique looks of the distillery.
To reach Maker's Mark you will arrive one of two ways, both of which are through the beautiful Kentucky country side. Just follow your navigation if you end up on the windy, back country roads!
Maker's Mark is renowned for its uniquely dipped red wax appearance on the bottle. When trying to come up with a name for their company, the founder's wife came up with the name of "Maker's Mark", implying the unique trademark for a product of a company.
During the tour, they show you the four different fermentation steps and actually allow you to dip your finger in the sweet mash and try it! At the end of your tour, if you buy a bottle of Maker's Mark, you have the opportunity to self-dip your bottle into the red wax, but it's up to you if you would prefer to be liberal or conservative! I went conservative! Truly a remarkable experience!
Nearby is the town voted "The Most Beautiful Small Town in America" – Bardstown is conveniently located a short distance from Maker's Mark and once hosted the likes of Jesse James and President Lincoln when he was a young boy. Bardstown was also once the heart of the old bourbon country and could also be a great place to start your bourbon trail experience. 
Rating: ⭐⭐⭐⭐⭐
Where: Loretto
Tour Price: $9 for the Distillery Tour
Website: makersmark.com
Distilleries in and around Lexington
1. Woodford Reserve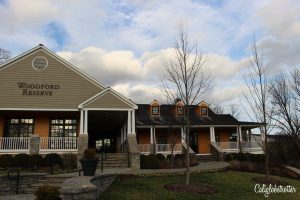 To reach the oldest and smallest distillery on the Bourbon Trail, you will drive through the romantic Kentucky countryside with one horse farm after the other with picket fences. As Woodford Reserve is the oldest, it is also one of only three registered Historic Landmarks along the trail, plus it is the official Bourbon of the Kentucky Derby! Tucked away deep within the bluegrass hills, Woodford Reserve was built to reflect both Irish and Scottish stone architecture.
With a very modern and upper-class feel they do a great job showcasing their historic distillery, offering a variety of tours and tastings, depending on your level of interest. By far one of the most expensive tours, we opted out of doing the tour another day since we missed the last tour by 20 minutes, but were able to catch the next tasting. As the weather was so great on this winter day, we were able to enjoy the tasting outside on the balcony overlooking the distillery.
While I am sure the tour would have been absolutely amazing, the tasting guide was rather brisk with us. Not only was the tasting over in 20 minutes with only a brief history on the distillery, but we only had the chance to try two bourbons for $8.
Rating: ⭐⭐
Where: Versailles
Tour Price: starting at $14
Website: woodfordreserve.com
2. Four Roses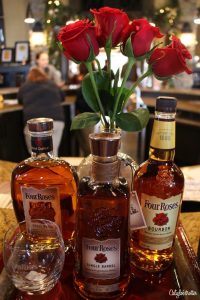 "One City, Two Gangs, Three Rounds, Four Roses"
Four Roses Distillery has a very unique Spanish mission architectural influence to it making it a rare sight in Kentucky and was built in 1910.
The history of the name of Four Roses is actually quite romantic. Legend has it that the founder was smitten with a Southern Belle and asked for her hand in marriage. She replied that if her answer were "Yes", she would wear a corsage of roses on on her gown to the upcoming grand ball. He waited for her to arrive at the ball and when she did, she was wearing four red roses pinned to her gown. Lucky guy!
At one point, Four Roses was the top selling bourbon in the US throughout the 20s – 50s. They began exporting the good bourbon overseas to Japan, but could not sell it in Kentucky. Over time the quality of their bourbons declined and the Japanese would buy the distillery and restore it to its former glory. Today, they are experiencing a 212% increase in production and sales!
Here, it is possible to do a tasting without the tour, which is nice after having visited all the distilleries as they begin to be a little repetitive.
While doing your tasting, you'll be shown the iconic picture of The Kiss on V-Day of the sailor kissing a nurse in Times Square, with an advertisement of Four Roses. You'll try several bourbons, including their Yellow Label and as a bonus, you can keep your tasting glass!
Rating: ⭐⭐⭐⭐
Where: Lawrenceburg
Tour Price: $5
Website: fourrosesbourbon.com
3. Wild Turkey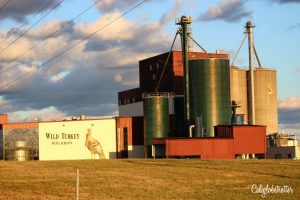 "Where we come from, we don't drink Jack & we don't wear Crowns, we just give 'em the Bird"
Wild Turkey Kentucky Spirit is one of the most popular bourbons and best selling bourbons both in the US and in the world. Known by a dozen different nicknames such as "The Dirty Bird", "The Screaming Eagle", "The Kicking Chicken" Wild Turkey has a reputation of being the bad boy of bourbons. What makes Wild Turkey unique is the fact that of all the distilleries, they are the only ones who do not rotate their barrels around. Barrels are typically rotated so that all barrels evenly age, as the bottom is generally cooler than the top, and the middle section is known as "the sweet spot".
Tour the distillery and see the fermentation process of how bourbon is made, watch a short clip on the tour bus about Matthew McConaughey being both a celebrity spokesman and creative director before having your tasting. I highly recommend trying the American Honey!
Everyone's opinions are different and this distillery we felt was the most rushed of all the tours and shuttled around on a tour bus. We were quickly rushed through the distillery and our tasting which gave you no time to enjoy the tour. On the plus side, they give you a free Wild Turkey souvenir glass!
Rating: ⭐⭐
Where: Lawrenceburg
Tour Price: $10
Website: wildturkeybourbon.com
4. Town Branch / Alltech Brewing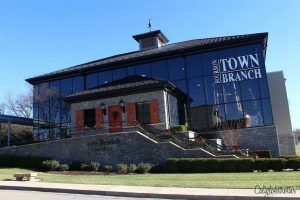 The Bourbon Trail Lexington KY picks up with Town Branch – both a distillery and a brewery. With their one hour and fifteen minute tour, you can visit both and have a tasting at both! You will receive four chips to use at your discretion. You can choose to taste four beers or four bourbons, or you can mix it up and try a few of each.
Located in downtown Lexington, the tour begins with a brief explanation of the brewery before having a tasting, where you might have the chance to meet the Master Distiller, like we did! As I found I am not a fan of bourbon after all, therefore, I chose instead to spend 3 of my 4 chips tasting the beers! I highly recommend trying their Kentucky Bourbon Barrel Ale as well as their Bourbon Barrel Stout!
Then you will continue on and receive a brief explanation of their bourbons before having your tasting in the same room as the massive copper distillers from Scotland. By this point I was quite bourboned-out, so I chose to try the Coffee Bourbon Liquor with cream which was quite interesting. Perfect for you coffee-lovers out there!
Rating:⭐⭐⭐⭐
Where: Lexington
Tour Price: $10
Website: kentuckyale.com
Bonus Distillery
1. Buffalo Trace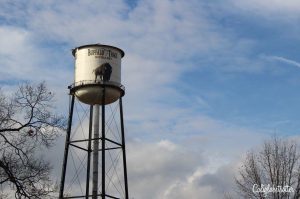 "I'd rather be someone's shot of whiskey than everyone's cup of tea"
Buffalo Trace is an exception to the Bourbon Trail as they opted out of joining. Buffalo Trace gets its name from Ancient buffalo paths that once led American pioneers and explorers to new frontiers. One of these trails led to the banks of the Kentucky River where Buffalo Trace Distillery has been making bourbon whiskey the same way for more than 200 years.
There are several tours including a Bourbon Barrel Tour, but in order to do the tasting you must do a tour. The Trace Tour is complimentary (free!) but were such large groups it took a bit away from truly enjoying the tour. For the first half hour, you sit in a room where the guide gives explains the history of bourbon making and the history of Buffalo Trace in detail before shuffling you to one of the warehouses.
At the end of the tour, you have a large group tasting free of charge with two different bourbons as well as either a vodka or "moonshine". As a bonus, you will be able to try their DELICIOUS Buffalo Trace Bourbon Cream straight and as a Root Beer float! This is absolutely to die for!
Rating:⭐⭐⭐
Where: 113 Great Buffalo Trace, Frankfort, KY 40601

Tour Price: Complimentary
Website: buffalotracedistillery.com
My Recommendations:
We were lucky to be home for the holidays for just over two weeks and we were able to spread out all ten distilleries, hitting two distilleries on any given day. I've read that it's possible to do all nine distilleries in one weekend, but that's a bit much and you're unlikely to be able to manage all the tours as each tour is an hour long and honestly, they do get a bit repetitive. But by the time you finish all nine tours, you'll be ready to be a master Distiller!
If you're unsure where to begin, I highly recommend beginning with the Evan Williams Bourbon Experience in downtown Louisville as it walks you through the distilling process and history of Bourbon in Kentucky. It's like an introduction guide to learning about Bourbon before you visit all nine distilleries.
If you're short on time, here are the distilleries you MUST visit and which were our favorites!
Maker's Mark
Jim Beam
Four Roses
Town Branch
Buffalo Trace
If you're looking for some extra guides to prepare your trip, we enjoyed these the following items, both before and after our trip to Kentucky! The first gave us a lot of history and information about the Kentucky Bourbon Trail while the second we purchased along our journey for some home cooked meals in the future! And of course, my faithful Travel Guide Bible, the DK Travel Guide: USA!
Disclaimer: This post contains affiliate links. If you click on one and make a purchase, I might make a little extra spending money, at no extra cost to you. As always, all opinions are my own and these products/services have been found useful during our travels and come highly recommended to you from yours truly!
Day Trips in Kentucky:
An INTENSIVE Beginner's Guide to Exploring Louisville
Where to Find Street Art in Louisville, KY
8 Quick Things to do in Lexington
Why EVERYONE Should Visit Old Friends Farm
Amazing Drinking Trails Around the World
Liked this post? PIN IT FOR LATER!!