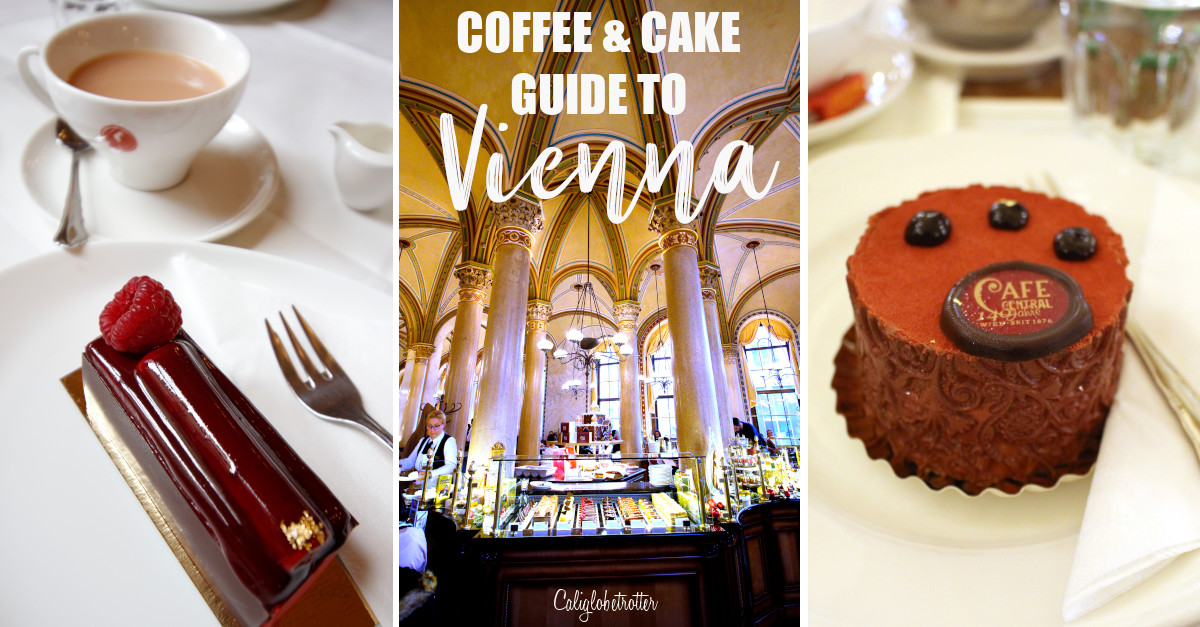 Disclaimer: This post contains affiliate links. If you click on one and make a purchase, I might make a little extra spending money, at no extra cost to you. As always, all opinions are my own and these products/services have been found useful during our travels and come highly recommended to you from yours truly!
Before you go to Vienna, you should be forewarned, there will be A LOT of coffee and cake breaks as this tradition is and has been a large part of Viennese culture dating as far back as 1683. This tradition is so ingrained into the culture that UNESCO has declared it as an "Intangible Cultural Heritage" since 2011 and is therefore one of the best things to eat & drink in Vienna. And seeing as it was my birthday, what better way to eat my cake!
Legend has it that while Vienna was being liberated from the second Turkish siege in 1683 by the Polish-Habsburg army, a sack was found with strange beans, which were thought to be camel feed that should be burned. The sacks were given to an officer named Jerzy Franciszek Kulczycki who supposedly started the first coffee house. However, facts stated that the first coffee house was actually opened the year before. But, the legend continues that after a bit of experimentation, Kulczycki added some sugar and milk to the coffee and thus began the Viennese coffee tradition.
When visiting a coffeehouse, you will be transported to another time and place, more specifically, towards the end of the 19th century. There are a few things to know about drinking coffee in Vienna before you get delve in to Vienna's coffeehouses. Viennese cafes are known for their opulent fin de siècle decor, severs decked out in formal, pressed uniforms and freshly brewed coffees.
Towards the late 19th and early 20th century, leading writers of the time were drawn to these cafes filled with such ambience that inspired frequent meet ups and even a little bit of writing.
Sitting down for a cuppa coffee and a slice of delectable cake is the opposite of the hustle and bustle atmosphere most restaurants give off. No, when coming to one of these cafes, it's a place for both locals and tourists to unwind, sit for a nice chat or even stop and read a book and simply live in the moment. Enjoying a coffee and cake is one of the tops things to do in Vienna and is best indulged with friends! 
There's where to eat in Vienna and then there's where to eat coffee & cake in Vienna, with the latter being of more importance, CLEARLY! So I've got you covered on many of the best places for coffee & cake in Wien so that you can eat your way through the city! Leave behind any guilty feelings you might have and bring your fat pants! No counting calories either! Calories don't count on vacation, right?… RIGHT?
So which one(s) should you visit? – And yes, I made that plural because going to just one is not enough!



In case you're salivating already, PIN IT FOR LATER!!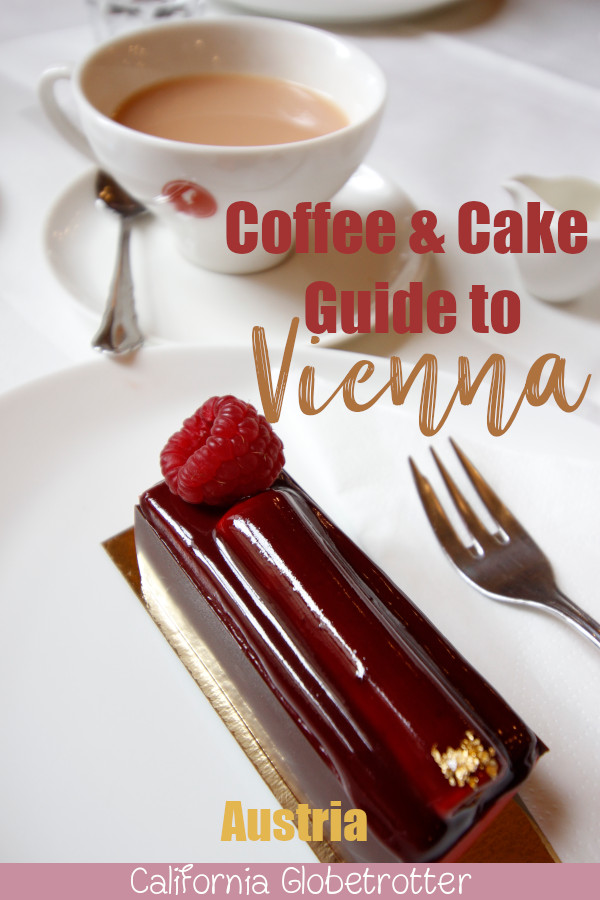 This article is now available as a mobile app. Go to GPSMyCity to download the app for GPS-assisted travel directions to the attractions featured in this article!
How to AVOID Looking Like a Tourist in Europe
Tips for Visiting Vienna:
If you're looking to visit Vienna, then I highly consider investing in the Vienna Pass which gives you free entry to over 60 main attractions in Vienna including museums and monuments, ultimately saving you both time and money! Zoom right through long queues with the FastTrack entry bonus as well as take full advantage of the Hop-On-Hop-Off bus tour in Vienna!
Café Central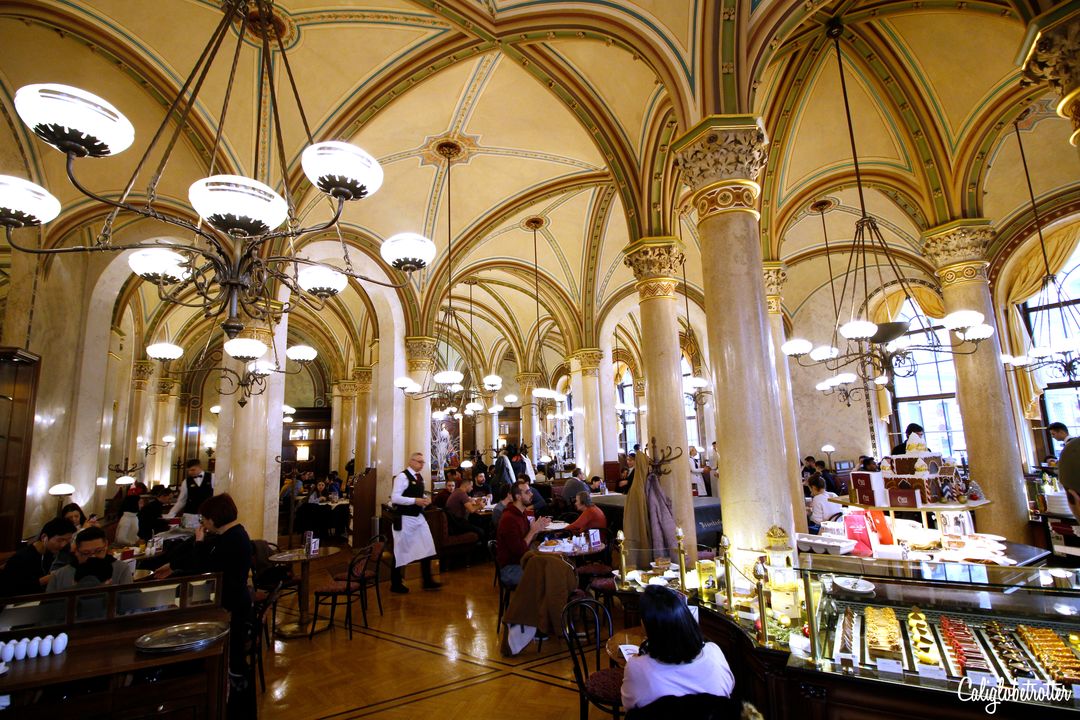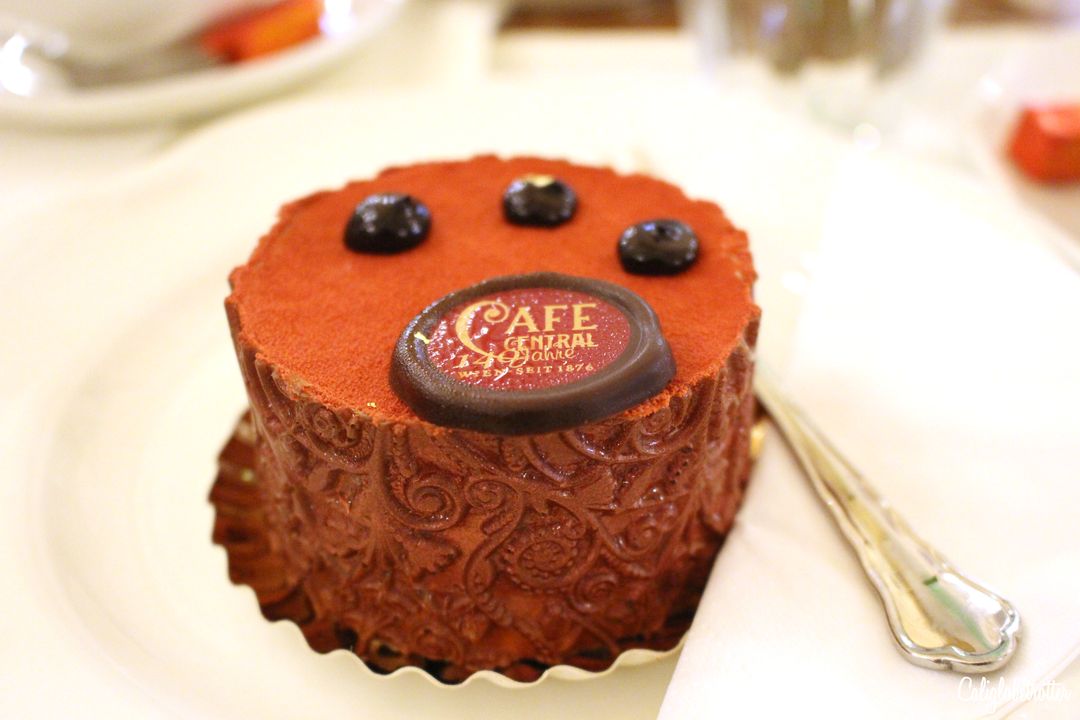 As the most popular coffeehouse in Vienna, it is quite possibly the most delicious as well, you'll be lining up with other tourists just to get a table, so don't be surprised if you see the line out the door, but I PROMISE you now, it is worth EVERY minute of the wait!
Café Central has the best architecture, the best ambience, the best service, the best cake assortments and the best food! Should there only be time for one cafe, this would be the one!
The cafe first opened in 1876 and was quickly one of the main meeting points for many intellectuals. Famous writer and poet Peter Altenberg even had his mail delivered to his this cafe and even became a permanent visitor, greeting you as you walk in, as well as other notable visors often included Leon Trotsky and Sigmund Freud. Quite personally, I wouldn't mind having my mail delivered here! 
In fact, while here, we took our time enjoying a full continental breakfast with a coffee, before devouring a slice of heaven each. Unfortunately, during the holiday season, Cafe Central does not reserve tables, so that meant standing in line for 20 minutes prior to opening to make sure we got in. During the holidays, the line was practically wrapped around the block, so get there early!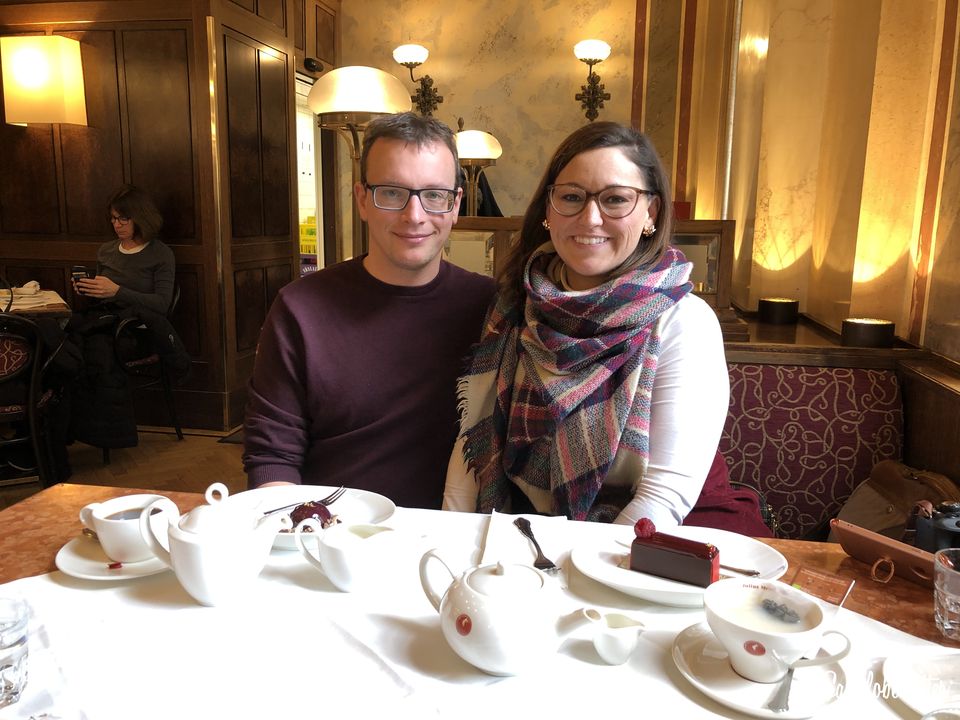 The prices are a bit more expensive here than other cafes, but you're paying for so much more than just coffee and cake. You're paying for the entire experience and you'll be hard pressed to find another cafe equal to its splendor and eating here is the ultimate foodie experience in Vienna!

Drooling yet? Heart pounding? I sure hope so!
Highly Recommended: Central Surprise and a cup of Earl Grey Tea or the Maria Theresia
Address: Herrengasse 14, 1010 Wien, Austria in the Palais Ferstel, on the corner of Stauchgasse
Website: Café Central
Café Sacher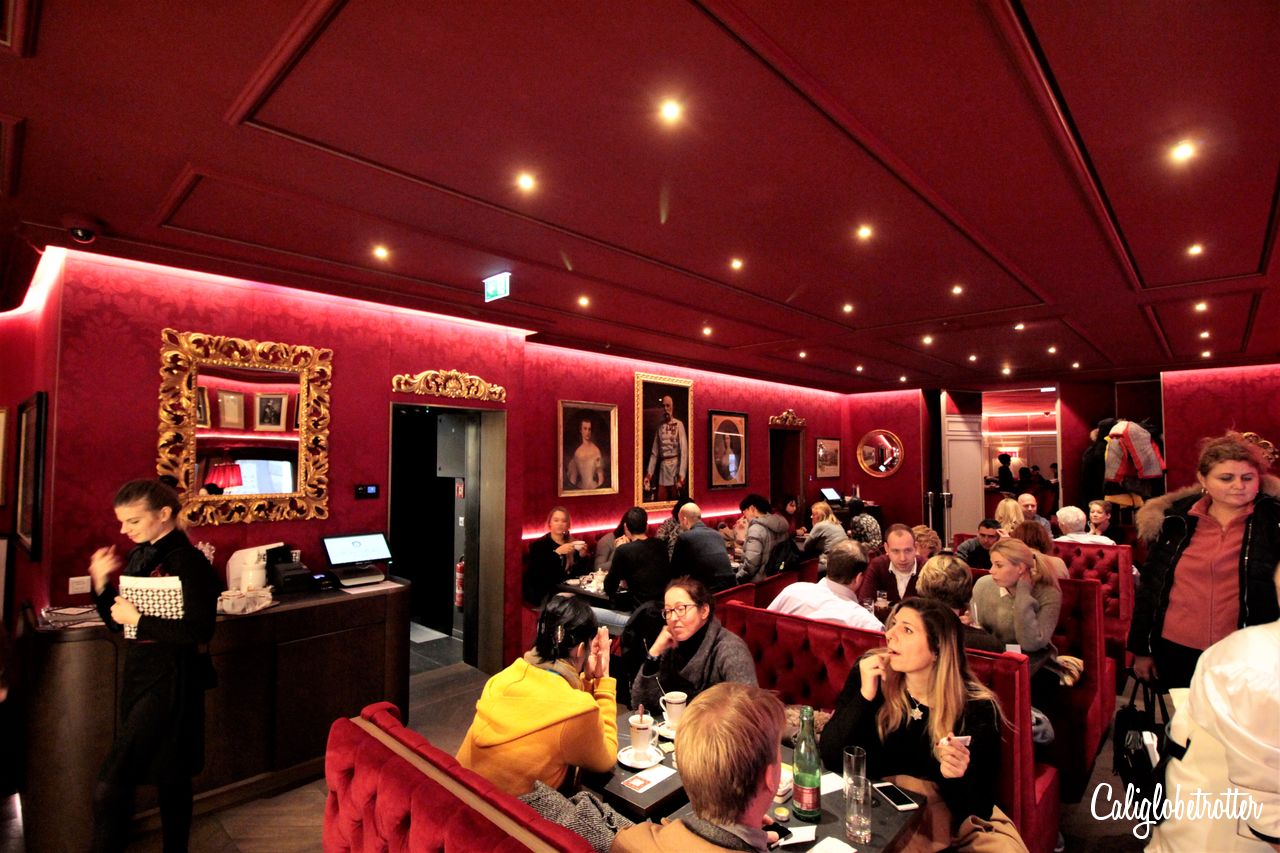 In Vienna, Café Sacher, found in the Hotel Sacher, is an institution in Austria and therefore one of the most important coffeehouses in Vienna and offers another chance to escape to the 19th century with its red damask walls and staff who wear authentic style, starched pressed uniforms. The cafe has cozier rooms that are smaller and still offer that formal presentation.
Franz Sacher became famous for his Sachertorte, a chocolate cake filled with apricot filling is so good, you won't want to miss this yummy cake! Created or a reception given by Austrian State Chancellor, this cake has been eaten by everyone from Emperor Franz Joseph, Queen Elizabeth II and Prince Phillip to John Lennon and Yoko Ono.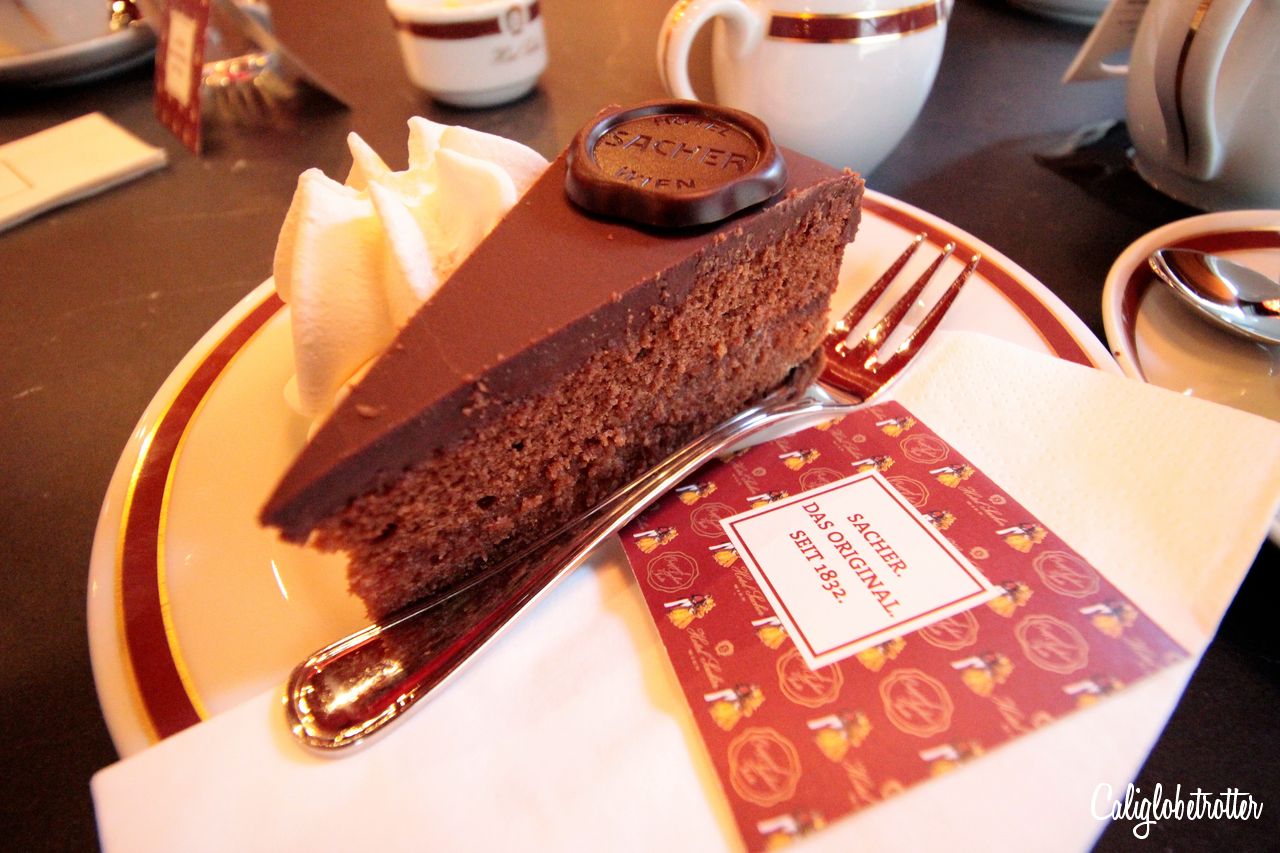 Should you not be able to make it to Café Sacher in Vienna, have no fear, there is another in Salzburg! 
Highly Recommended: Sachertorte
Address: Philharmoniker Str. 4, 1010 Wien, Austria
Website: Café Sacher
Café Schwarzenberg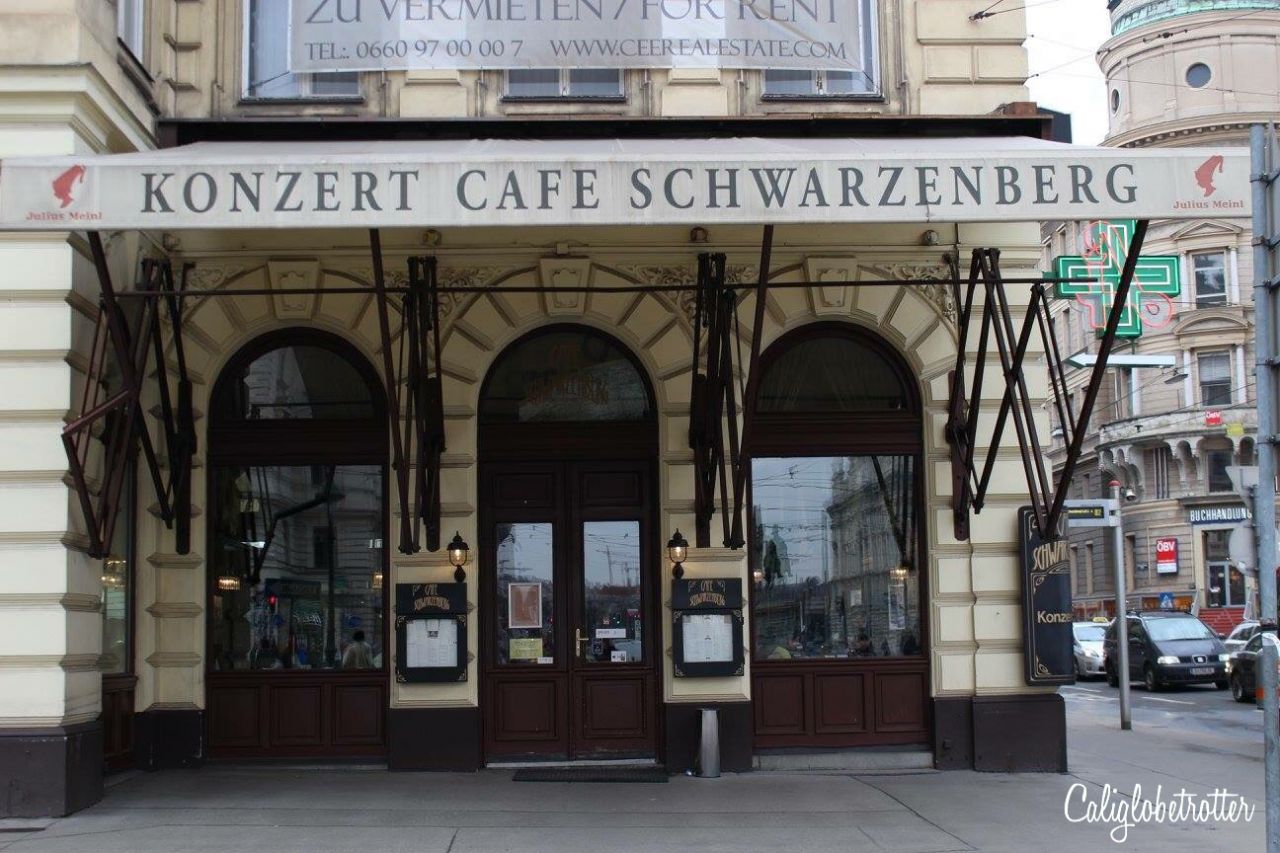 Café Schwarzenberg is the oldest existing Ringstraße coffee house, opened during the construction of the prestigious boulevard in 1861 and unlike other coffeehouses in Vienna, the cafe did not not cater to a clientele of artists and intellectuals and therefore was more a place for influential entrepreneurs and financiers.
The interior of the cafe has remained mostly unchanged since opening, and has a more relaxed, casual atmosphere than the previous two. The servers are still equipped with freshly pressed black uniforms and the cakes are on display as soon as you walk in the door.
Here, there is more of a feeling that this cafe is more visited by locals rather than tourists, who come to sit and enjoy their coffee and cake with no intention of rushing the experience, especially on evenings where the cafe provides coffee house music! So if you're looking for a more authentic coffeehouse to visit in Vienna, this is it!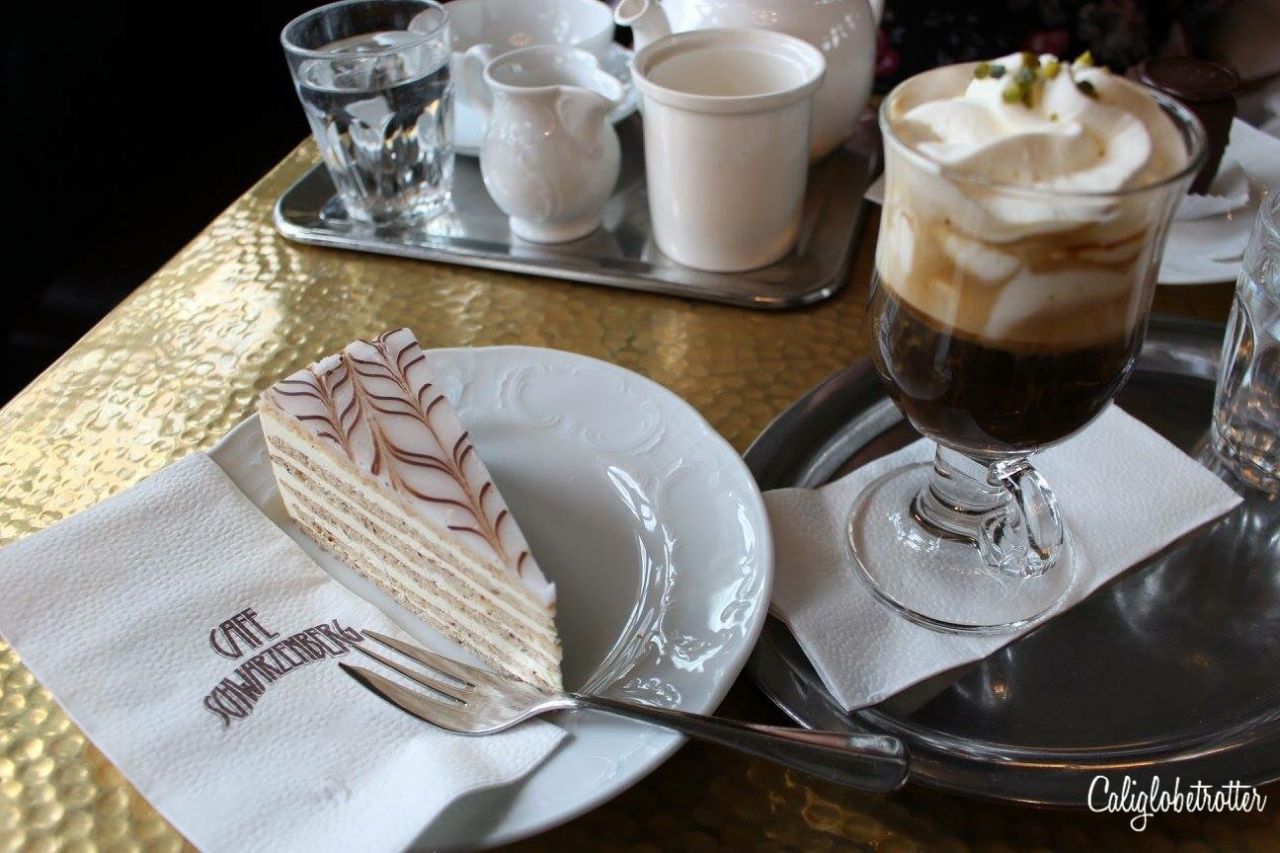 Uncontrollably salivating yet?
Highly Recommended: Sacher-Putschwürfel and the Kaffee Mozart
Address:  Kärntner Ring 17, 1010 Wien, Austria (at Schwarzenbergplatz)
Website: Café Schwarzenberg
Café Landtmann
Located on the ground floor of the Palais Lieben-Auspilz, the cafe has been nicknamed "Vienna's most elegant Café" since its opening in 1873. It's a popular meeting place for actors, politicians, officials, and journalists as it's just opposite city hall and next to the Burgtheater and quickly became popular with prominent figures such as Sigmund Freud.
Upon visiting the cafe, you'll quickly notice that the cafe is quite popular and has even expanded their cafe with a modern, glassed extension, but walking further into the cafe, you'll see that the interior is decorated in a simple, classy way and yet again, the servers are dressed in their finest uniforms.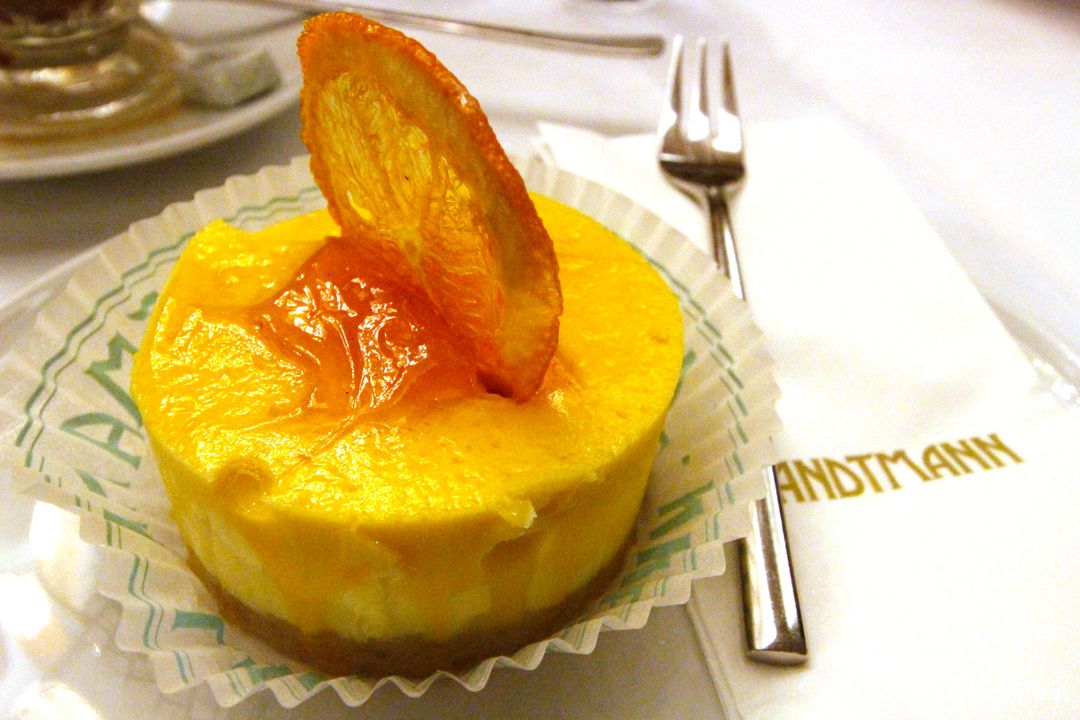 If I could recommend but one thing, it would be to have breakfast at any of these beautiful cafes. Get there early and you'll be able to enjoy breakfast like a local before the hordes of tourists come! Indulge your senses in a delicious Eggs Benedict before diving into dessert. And no, it's never too early for dessert!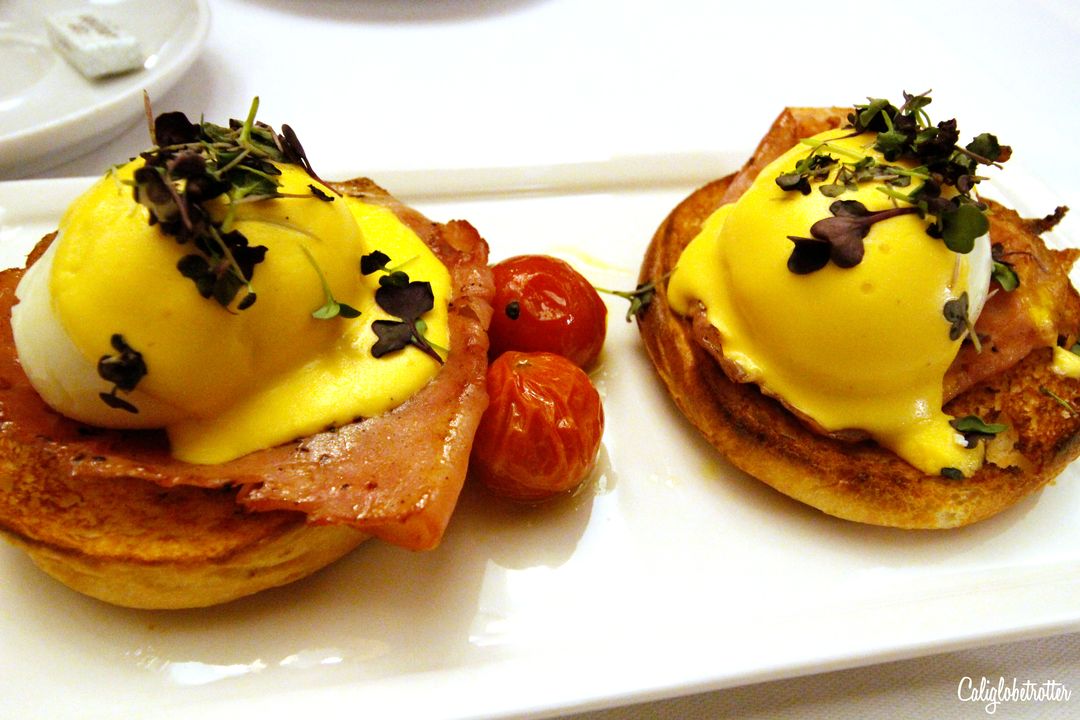 Isn't it just heavenly!? Dont'cha just want one, or two, or more!?
Highly Recommended: Edelweistörtchen

Address: Universitätsring 4, 1010 Wien, Austria, near the Burgtheater & Rathaus
Website: Café Landtmann
Demel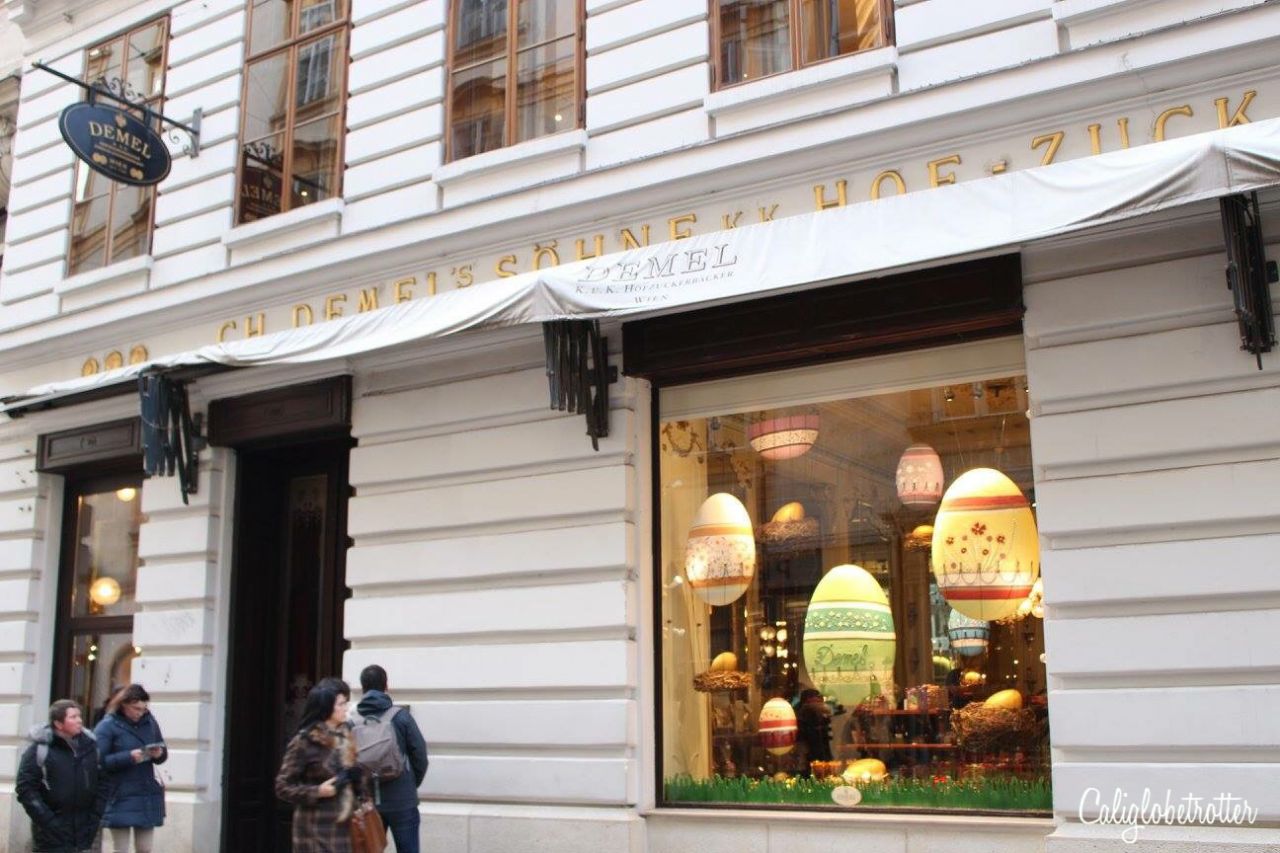 Demel is more of a pastry shop and chocolateire than a Viennese style coffee shop, known for their sweet scones, cream cakes and strudel. For that reason, it shouldn't technically be on the list, but it's just too delicious not to miss! Plus, they have held the title of "Purveyor to the Imperial and Royal Court" since 1874, which says a lot!
Directly in front of the Hofburg Palace, waitress are dressed in white aprons, known as Demelinerinnen address you in the third person, a tradition dating back 200 years. The downstairs level is a showcase of their most delectable treats. Head upstairs if you're looking to sit down and enjoy a cup of coffee and cake.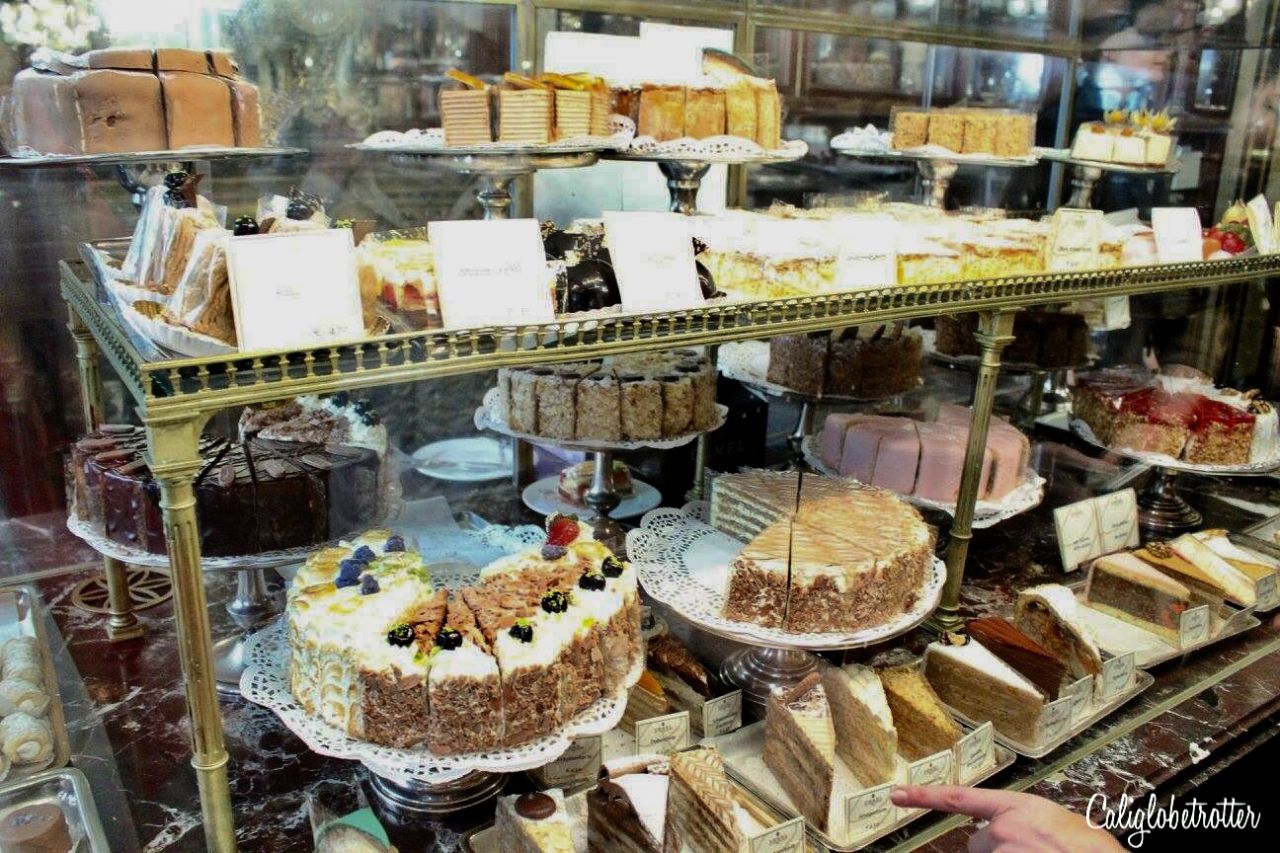 Each room is decorated in the rococo-period salon and dominated by big, beautiful chandeliers, which we all know I love! Notable customers have included the Empress Elizabeth "Sisi" and actress Katarina Schratt.
Highly Recommended: Sorry, I can no longer remember the name!
Address: Kohlmarkt 14, 1010 Wien, Austria, in front of the Hofburg Palace where all the horses carriages wait
Website: Demel
Gerstner K.u.K Hofzuckerbäcker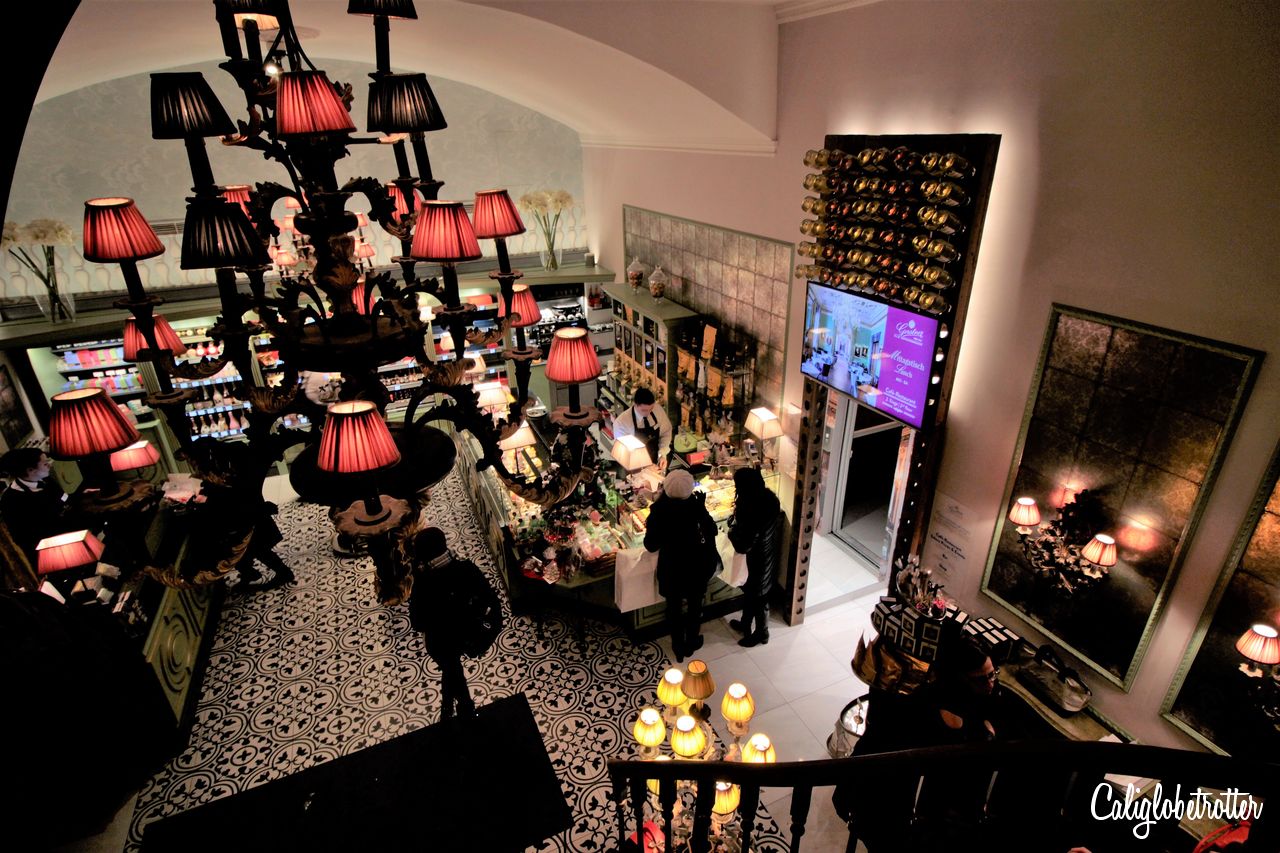 For over 170 years, Gerstner has been one of Vienna's greatest pastry and chocolate makers. Opened by Anton & Barbara Gerstner, they provided the imperial court and Vienna's socialites with only the best confectionery deserts. Downstairs, you'll find the small display case of delicious cakes and dessert, such as a variety of truffles, including a gold flaked Vanilla Truffle, while a corner is also dedicated to the gift shop. Upstairs, you'll find luxurious couches and decor to sit back and enjoy your choice of cake and coffee/tea. 
Space is limited, so there was a short wait. It seemed that the wait here was much less extreme than other more popular cafes, but is equally as charming and well worth the 5 – 10 minute wait. The cakes downstairs looked mighty delicious, but I opted for a simple chocolate cupcake with a rich raspberry cream sprinkled with sprinkles which paired very well with my cup of Earl Grey tea. 
Highly Recommended: Chocolate Cupcake with Raspberry Cream
Address: Kärntner Strasse 51, 1010 Vienna (vis-à-vis of the State Opera)
Website: Gerstner K.u.K Hofzuckerbäcker
Other notable cafes in Vienna to visit:
Where would I be without my trusty DK Travel Guides? Lost probably! With quick details, easy to follow suggested sightseeing routes, I can find my way through any city! 
Disclaimer: This post contains affiliate links. If you click on one and make a purchase, I might make a little extra spending money, at no extra cost to you. As always, all opinions are my own and these products/services have been found useful during our travels and come highly recommended to you from yours truly!
Day Trips from Vienna and more:
12 Day Itinerary: Prague, Vienna, Bratislava and Budapest
Guide to Vienna's Christmas Markets
7 Day Road Trip Through Austria
Liked this post? PIN IT FOR LATER!!
Save
Save
Save
Save