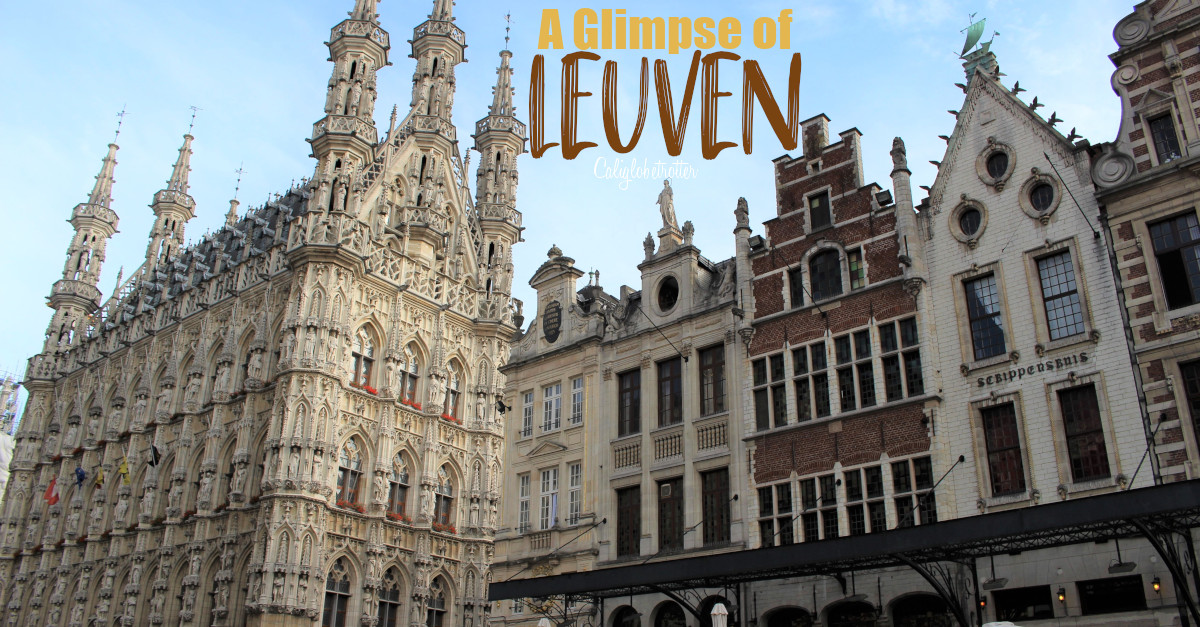 Disclaimer: This post contains affiliate links. If you click on one and make a purchase, I might make a little extra spending money, at no extra cost to you. As always, all opinions are my own and these products/services have been found useful during our travels and come highly recommended to you from yours truly!
Just an easy day trip from Brussels, about 16 miles (25km) is the historic Flemish town of Leuven which is vastly overlooked by the tourists all headed directly to the capital. This town originally grew from a simple camp of Julius Caesar to an important trading center for cloth before becoming one of the most prestigious university towns in Europe, home to important scholars such as Erasmus. Today, the town has a predominant university feeling.
As usual, I was looking for stupid pretty towns in Europe when I stumbled upon Leuven. What drew me to this town was the stunning Stadhuis (city hall), one of the main sights to see in Leuven, which was built and designed in 1439-63 so as to show off the wealth of the city's merchants. I first discovered this town via Pinterest and knew I would have to see this stunning piece of architecture. The city hall is renowned for its tall and long structure as well as the intricately carved and decorated façade of medieval figures in 300 niches which tell folktales and biblical stories.
Love Charming Towns? PIN IT FOR LATER!!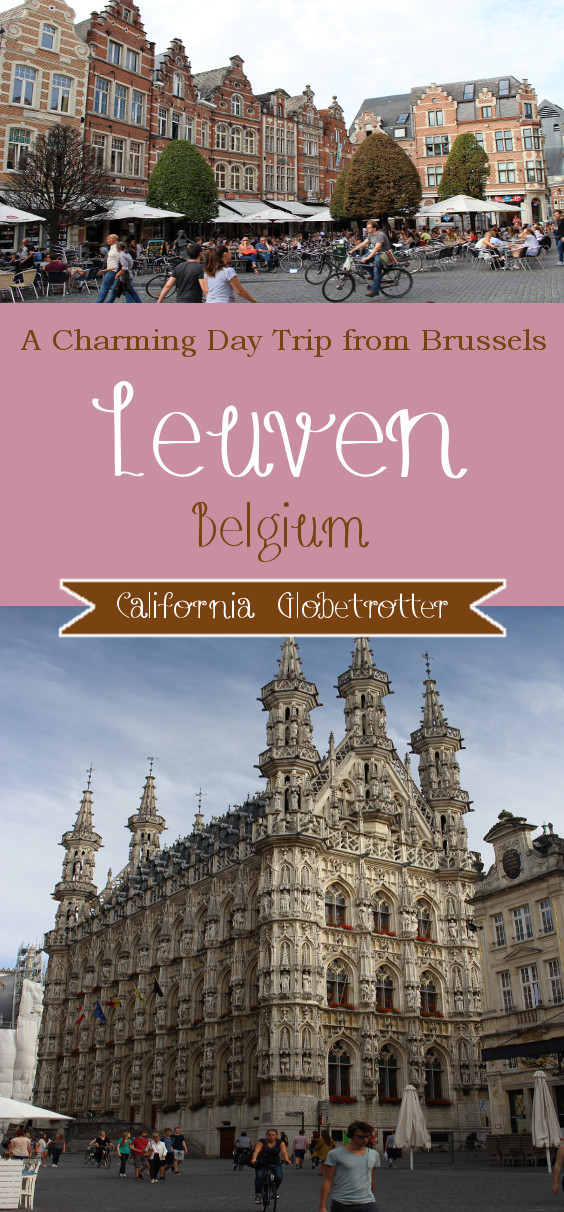 Like this post? Take it with you as GPS Guided App directly to your phone via GPSMyCity!
How to AVOID Looking Like a Tourist in Europe
The Most Beautiful City Halls in Europe
Be sure to grab my full Belgium Travel Itinerary for 3, 5 or 7 Days!
On the drive into the town, we discovered that the Stella Artois Brewery, one of Belgium's most famous brands. Had we known sooner prior to our sporadic drive into Leuven, we would have planned to visit and do a brewery tour as the next best thing after Belgian chocolate and frites is definitely beer!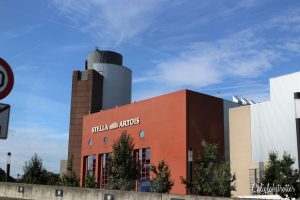 Upon walking into town, before seeing any of the main sights, I knew I was going to fall head over heels in love with Leuven when I laid eyes on quite possibly the most beautiful Post Office ever with pink and white bricks in that traditional Belgian architecture I love so much! Just look at this beauty!!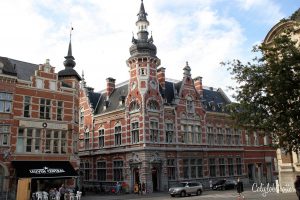 The Stadhuis dominates the Grote Markt (Grand Square) which is also filled with many cafes and restaurants in the surrounding 17th century guild houses. Like Brussels, the Grand Square is turned into a flower carpet with a specific theme made of begonias which takes place every two years. The next should take place August 2020.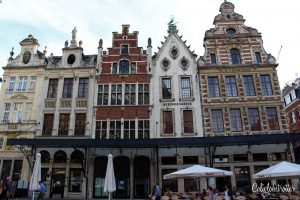 Also found in the Grand Square is the St. Pieterskerk (St. Peter's Church) with an interesting history. The church took over 200 years to build, but the towers weren't added until 1507. However, once the towers were added, the foundations proved to be inadequate and began to sink. The project to build three colossal towers would have made this church the tallest in the world at the time of being built, but due to the weakness of the foundations as well as a lack of funds, the towers were never completed and were removed, thus capping the towers just above the churches' roof. To make matters worse, the church has been destroyed twice during both World Wars. One thing we found interesting about the church was the statue of a bell hammer in gold struck the bell on the hour.
Just behind the church is a small fountain called Pieter de Somerplein which depicts the image of a student reading a book while simultaneously pouring water into his head which mocks the town's university population. I'm sure many of us have at one point felt like we were pouring endless water through our heads during our studies.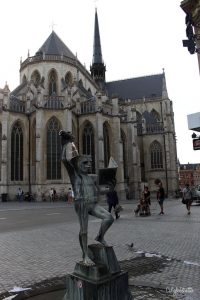 While in our desperate search for Belgian Waffles as well as dinner at a Fritterie, we stumbled upon the Oude Markt, also known as the "longest bar in the world" with over 40 different cafes, restaurants, bars and pubs concentrated in one area. Unfortunately, it seemed that any hint of a tourist season was long gone as many of the bars and restaurants had packed up for the summer or were already closed. I absolutely couldn't get enough of this market though as there were an unlimited number of guild houses lining the entire square.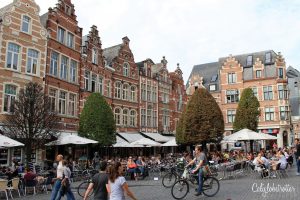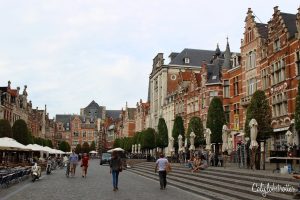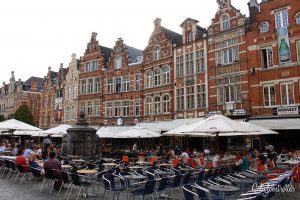 Finally, as we made our way towards the University of Leuven, we discovered another local hang out for the students of Leuven. It was here we found a fritterie worth waiting for: Villa de Frit! The best things to eat in Belgium is anything from a fritterie. We decided to go for the deep fried hamburgers and fries with special sauces.
Related: A Taste of Europe Bucket List
The University of Leuven can be found in the center of Leuven and was established in 1425, making it Belgium's oldest university. Today, the university has over 50,000 students, making it the largest university in Belgium and is always ranked within the top 100 universities of the world.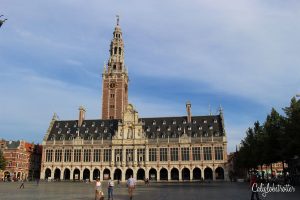 On our way out, we finally found the one and only waffle stand across the street from the St. Pieterskerk, on the corner next to a very old looking pub with over 400 different types of Belgian beer. Being a beer lover, I surprised myself by choosing the waffle over the beer. I know, what's wrong with me! But as much as I love beer, I had to have the waffle! You just haven't lived unless you've had a true Belgian waffle!!!!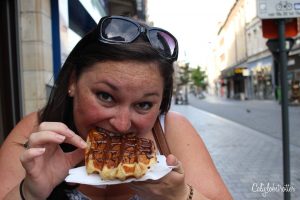 Overall, if you're looking for something a little off the beaten path other than visiting the most popular towns of Brussels, Bruges or Antwerp, taking a side trip to Leuven is definitely a great way to get away from the crowds of people.
If you're interested in visiting Europe and are looking for more information, I highly recommend using the DK Eyewitness Travel Guide or Lonely Planet! Without these guides, I would be lost! This is my travel Bible! As well as two books on Belgian beer I highly recommend for understanding Trappist beers and all of Belgium's beers!
Disclaimer: This post contains affiliate links. If you click on one and make a purchase, I might make a little extra spending money, at no extra cost to you. As always, all opinions are my own and these products/services have been found useful during our travels and come highly recommended to you from yours truly!
Other Belgium Related Posts:
Eat, Drink & Sightsee Your Way Through Brussels
The Budget-Friendly Guide to Ghent
3 Days of Debauchery at the Aalst Carnaval
The Blissful Belgian Coast: Blankenberge Beach
 Liked this post? PIN IT FOR LATER!!