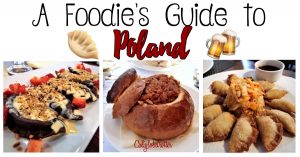 Disclaimer: This post contains affiliate links. If you click on one and make a purchase, I might make a little extra spending money, at no extra cost to you. As always, all opinions are my own and these products/services have been found useful during our travels and come highly recommended to you from yours truly!
Prior to visiting Poland, I found myself looking on Pinterest for typical traditional Polish foods. I rarely go looking for foodie posts about a destination as my best way of finding the most traditional food is to always ask for a recommendation, or usually looking for the special of the day as its usually the best. Yet, here I was salivating over my keyboard by the delicious posts I was looking at. I was hungry for Polish foods weeks before visiting, so by the time I arrived, I knew exactly what it was I wanted to try! So, now I'll share with you what to eat in Poland and have you salivating all over YOUR keyboard!
Hungry Yet? PIN IT FOR LATER!!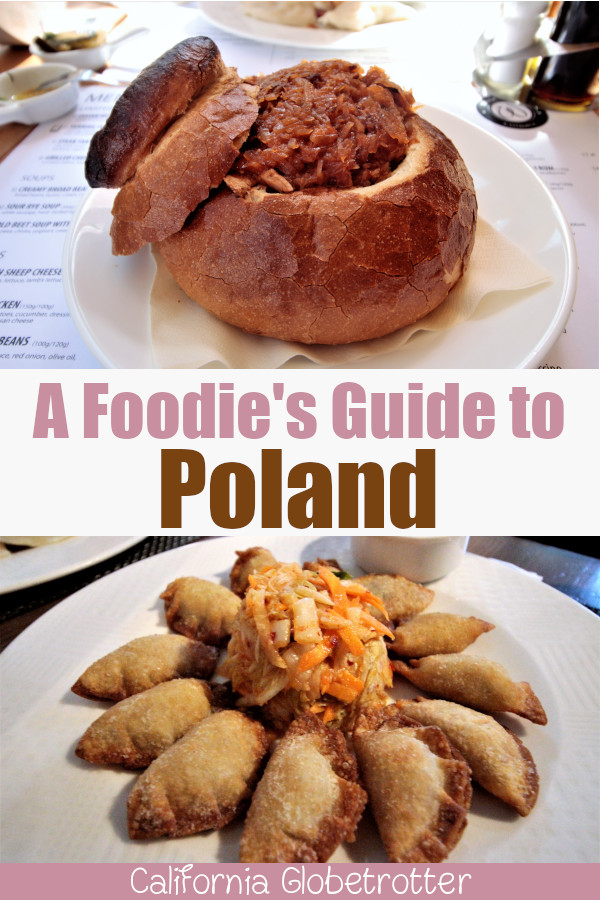 How to AVOID Looking Like a Tourist in Europe
15 Things to Do When You Travel
Pierogi, Perogi, Perogi
First and foremost, let's begin with one of the most traditional, most popular meal in Poland and the most delicious meal I've ever had in my life. You simply CAN NOT, I repeat, CAN NOT leave Poland without trying as many variations as possible! 
Pierogi are ravioli-style filled dumplings either with cream cheese, ground meat, potato and fruits. Typically they are served with friend onion, butter or bacon bits drizzled on top with a side of sauerkraut. They come moist or even fried. You can typically find these at any traditional Polish restaurant.
Dessert Pierogi can be stuffed with quark (a type of cream cheese) fresh fruit filling, such as cheery, strawberry, raspberry, blueberry or plum.
For dinner, my friend M took us to Pierogarnia Mandu which is the best place for Pieorgi in Gdańsk and trust me, it's worth the wait! There are two locations in Gdańsk! Here, you can even try fried Pierogi called Mazurskie or you can try any of the other variations like the Russian style dumplings, Pielmieni.
Address: 
ul. Kaprów 19D (entrace from Obrońców Westerplatte Street) 80-316 Gdańsk
ul. Elżbietańska 4/8 80-894 Gdańsk
We popped into one of the top cafes in Sopot, a chocolate cafe Pijalnie Czekolady Wedel, to hide from the flash of rain only to discover that it's also a chain which can be found in every major city center in Poland.
We each ordered something different from chocolate pierogies with strawberries and a caramel drizzle, to a raspberry chocolate cake combined with a Rose Flavored Hot Chocolate. And you can bet your patotootie when we got to Wroclaw, we went again!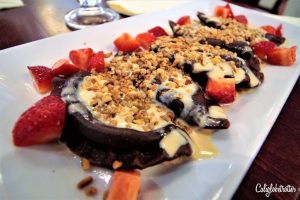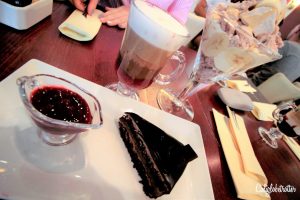 Bigos
Often translated as "Hunters' Stew", this delicious bowl consists of cabbage and sauerkraut, onions and spices mixed with slices of Polish kielbasa sausages. It is one of the most traditional Polish meals typically served with slices of bread to better soak up every drop! And believe me, I did! Other variations of the dish include chicken, pork, beef or game. This was possibly my second favorite meal while in Poland!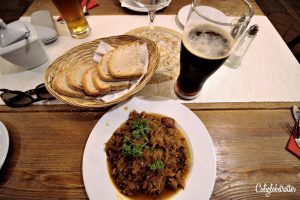 This meal is also quite traditionally found in Belarus, Lithuania and Ukraine. This was the perfect meal in the evening after a hard days sightseeing! One of the top restaurants in Wroclaw is the City Hall Restaurant, Piwnica Świdnicka, which is the oldest restaurant in Europe with equally charming Medieval decor! The beer hall restaurant is named after the brewer which once sold their beer here. Today, you can find traditional Polish cuisine!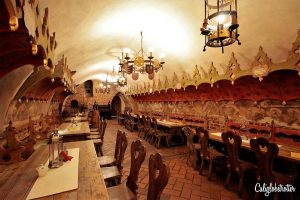 Another similar version came in a bread bowl which made it extra delicious!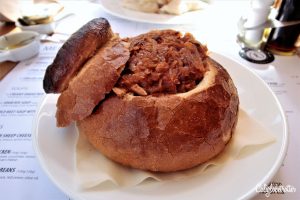 Barszcz
This deep red beetroot soup, also called Borscht, is flavored with lemon and garlic and is often served with beans or potatoes. While eating at the Wroclaw Town Hall, my husband enjoyed this very much with a side of bread!
Typically the soup is made made by combining meat with sautéed vegetables, beetroots and include cabbage, carrots, onions, potatoes and tomatoes. There are different variations of the soup and it can come either hot or sold, with meat, fish or vegetarian. It can also be a hearty meal or a clear broth.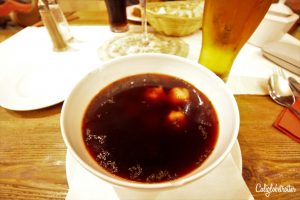 Golonka
Brought to Poland by German citizens who lived in what is now called Poland, Golonka is simply a roasted pork knuckle but is considered to be one of the best meals to eat in Poland. The ham hock is the end of the pig's leg, just above the ankle and below the meaty ham portion and is also quite popular here in Bavaria as well. Traditionally it is served with a side of potatoes or sauerkraut. In Poland, it is served with a small dish of mustard seeds and horseradish.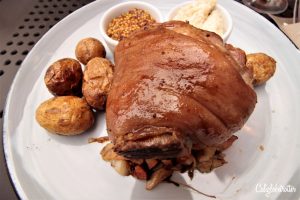 I had never had one before in Germany and so I wanted to try it since it was on the menu, however, this particular one was quite fatty but I have since tried another one and it was much crispier. 
Pierś z kaczki 
Another typical Polish dish is a roasted duck which was served with a side of white asparagus and a creamy sauce. Roasted duck is also a popular meal here in Bavaria which normally comes with a side of rotkraut (red cabbage) and some potato dumplings.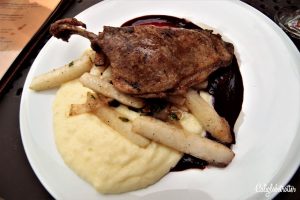 Żurek
This scrumptious sour rye soup with pork sausage was definitely a favorite of mine. It's a soup made from sour rye flour which normally comes served with pork sausages or pieces of smoke sausage, bacon or ham. Occasionally, you may find a boiled egg in it as well. The wheat flour version of this soup would be the Barszsz above. This is a very authentic Polish meal which can be found throughout Poland and Belarus and is sometimes served in an edible bread bowl or with boiled potatoes.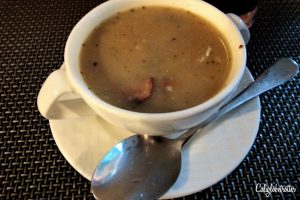 Starters
(Left to right) The next three I was brave enough to try it when visiting my friend in Gdańsk took us to a 'Zakąski Przekąski' (literally 'Appetizers & Snacks' bar) which is open 24/7 which was decorated in Communist nostalgia.  The trendy new bars have been dubbed "Polish Tapas" offering cheap, local appetizers which are usually served cold with a vodka drinks and is one of the best things to do in Poland for a night out on the town which are pretty much considered a Polish snack. The menu is more like answers to a game show with 'Foods that follow Vodka'. Many such bars existed prior to WWII and are bringing back simple traditional Polish meals that was lost under the Communist regime as there were often rationing. Not pictured are the 3-4 shots I was given and the fear I had that I would get totally trashed next to my Polish friends.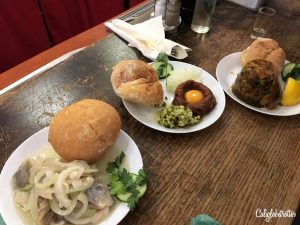 Herring (Śledź) is a very popular appetizer in Poland which comes pickled, in oil, with onions or even sour cream. There are hundreds of different ways Poles eat their Herring including even frying it up. 
Tarar (Tatar Wołowy) translates to steak tartare which is always made of beef of the best quality, for example sirloin or tenderloin. It is ground until it is very fine and comes served raw with an egg yolk, sour cucumbers, onions, a little oil, salt and pepper. It was the popular thing served at parties in the 70s and 80s, especially in Germany. With the opening of these shots and starter bars popping up all over Poland, tartare is making a comeback!
Pork in Jelly (Zimne Nóżki)
has been an integral part of Polish cuisine possibly as far back as 1518. Different parts of the pig, as well as other cold cuts are used, often decorated with cooked vegetables like green peas which needs to be prepped and left to sit over a slow fire for at least 5 hours, which then created a time of glue that
curdles the liquid into a jelly form. Of the three appetizers, I like this one the most. 
Address: Pijalnia Wódki i Piwa – Długi Targ 35/38/B/C (entrance from ul. Kuśnierska), Gdańsk
Gołąbki
Other traditional Polish foods include Gołąbki, also nicknamed "little pigeons" is simply Stuffed Cabbage which is a popular dish throughout Europe, predominately in Poland, Ukraine, Lithuania, the Czech Republic, Romania and even into Germany with variations changing by location, if only slightly. Typically, the cabbage is stuffed with minced beef or pork, chopped onions and bread crumbs or rice then popped in the oven and served with a side of either polenta, potatoes or puree.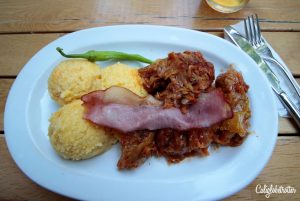 Ice Cream
Polish love Love LOVE their ice cream! I don't think I've ever seen sooooo many ice cream shops and soooo many people with their tongues out licking an ice cream! I almost felt like we were doing something wrong by NOT have one in our hand every 5 minutes!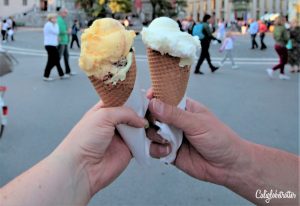 St. Martin's Croissant
It is absolutely 100% ESSENTIAL to find, buy & devour possibly not one but two of Poznań's famous croissant, St. Martin's Croissant. Traditionally, it is eaten on November 11th – St. Martin's Day, but it can be found year round. It's so special it can ONLY be made in Poznań. Unlike normal croissants, these are jam packed with almond paste, nuts and poppy seeds and come in a unique shape. Just off the corner of the Old Market Square, near the Fountain of Neptune on Paderewskiego Street, you'll find a small  one woman bakery shop selling fresh croissants and other sweet treats. If you have more time, consider taking a cooking class to learn to make these special croissants at Rogale.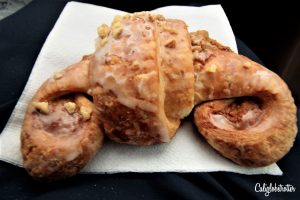 Donuts
Other must-try Polish food includes devouring Donuts (Pączki) which are incredibly popular in Poland as Poles are a very religious people who follow the rule that they can consume as may donuts as they want on Fat Tuesday. Drawing commie-style lines, Stara Pączkarnia (Old Pączki Shop) in Wroclaw isn't actually that old as it only dates back to 1989, which is the oldest any private company can be in Poland. Walk down Świdnicka and you'll immediately come to a ridiculously long line. Not knowing what it was, I walked up to the window and took a peak and to my eyes I saw a delicious display of a variety of non-orthodox stuff jelly donuts. From Rose to Plum and papaya to chocolate, I knew I'd be getting in line for some of the best street food in Wroclaw! My inner fattie was sad I was only allowed to buy one!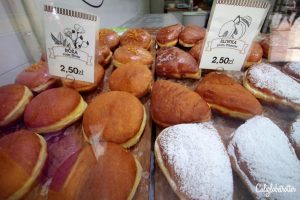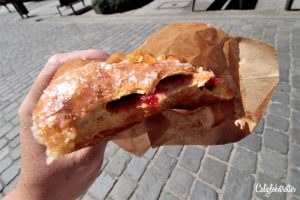 There are three shops in Wroclaw, so go find them all. After all, they'll never know you already visited the others! 😉 
Address:
Kuźnicza 29A
Świdnicka 24
Ruska 60
Browar Złoty Pies (Golden Dog Brewery)
Just at the corner of the main square in Wroclaw, you'll find Złoty Pies – one of the best bars in Wroclaw. This brewery has some of the most interesting twists on beer and cocktails I've ever seen. As a live brewery, all stages of the beer making process happen right before your eyes. Złoty Pies offers five types of craft beer – lager, IPA, wheat, amber, and porter which are parred with any of their modern Polish dishes which change with the seasons. While there, we enjoyed a sample platter of beers however I particularly enjoyed the Golden Weizen which was infused with grapefruit.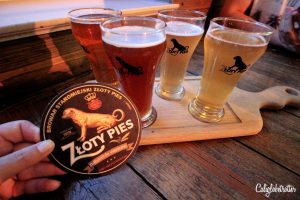 Address:  ul. Wita Stwosza 1-2 , Old Town
Książęce Beer
Is a popular Polish beer I saw throughout many restaurants, however one in particular tickled my fancy so many I lost count of how many I thoroughly enjoyed! Książęce's Ciemne Lagodne is a dark mild beer and is similar to Schwarzbier in northern Germany. It has a delicious infusion of barley malt, delicate flavors of honey and sponge cake with aftertastes of caramel, chocolate and roasted coffee.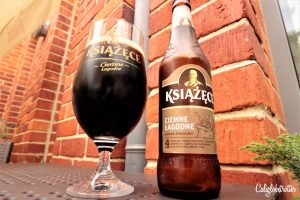 Weranda
If you're looking for the best cafes in Poznań, look no further than this glorious cafe called Weranda, which is actually a chain. What I really loved about this cafe was that the interior decor was incredibly vibrant and unique, making for a picturesque environment while sipping on my Rose iced latte! Yes, I'm still obsessed with anything rose flavored. To be honest, I really wanted the very American style pancakes with bacon and maple syrup, but that's only available for breakfast!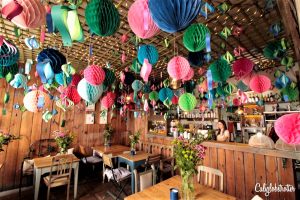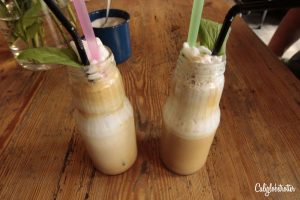 Address:  Świętosławska 10, 61-870 Poznań, Poland
I hope I've left you hungry and salivating all over your keyboard now and have inspired you to travel to Poland, if only for the food! I mean, let's me honest, it's half the reason we travel, right??! These were definitely only a portion of the hundreds of Polish foods you NEED to try and only a dip in the bucket! As I continue to visit Poland, I will add to this list of best Polish foods to try!
If you're interested in visiting Europe and are looking for more information, I highly recommend using the DK Eyewitness Travel Guide: Europe! Without these guides, I would be lost! This is my travel Bible as well as some of my favorite cook books and the Ultimate Foodie Book!!
Disclaimer: This post contains affiliate links. If you click on one and make a purchase, I might make a little extra spending money, at no extra cost to you. As always, all opinions are my own and these products/services have been found useful during our travels and come highly recommended to you from yours truly!
Other Poland Travel Guides:
Where to Find Gdansk Street Art
Experience the Charm of Wroclaw: What to See, Do & Eat
The Dwarfs of Wroclaw: How Many Can You Find?
Hungry Yet? PIN IT FOR LATER!!