There is nothing more delightful, pleasant and cozy than sitting down at your favorite beer garden in Bavaria and enjoying a crisp, cold Maß beer from the local brewer on a hot and sunny day, sitting under a chestnut tree. This is the true and ultimate idyllic perfect Bavarian summer.
But where, did it all begin?
In the 16th century, Germans were restricted to the Brauordnung (Beer regulations) that forced beer brewers to produce their beer only between the months of September and April. This was because fires were less likely to break out during the cooler months as compared to the hot summer months. This Beer Regulation can be traced back to 1539, but for every extreme limitation, there is an extreme desire to find a solution to every problem.
During the summer months, only warm, flat beer was served and beer lovers did not approve. So the Munich brewers found a solution to their problem. They cut out huge blocks of ice during the winter months, built large cellars and put the blocks of ice in the cellar, therefore, resulting in nice, cool beer year round. Turns out, it was also very beneficial to brew beer at cooler temperatures, as well as maintaining the temperature of the beer, so as to produce a purer lager.
To help keep the cellars cooler, the brewers added large chestnut trees above the cellars. Eventually, a few tables and chairs were added, along with a few snacks and a cold beer. Thus began the evolution of the Bavarian beer gardens in Munich. However, it is unknown just which brewer officially started the "biergarten" tradition, as they generally evolved over time. But, it must be one of the top six brewers in Munich – Löwenbrau, Hofbräuhaus, Augustinerbräu, Paulaner, Hacker-Pschorr and Spaten.
They soon became quite popular and began causing some problems as they were now poaching customers from innkeepers and taverns. Throwing a fit, they petitioned that brewers should not be allowed to sell beer directly to the public. They succeeded and beer was banned from these new watering holes. It was inevitable, but it lead to some serious hostilities, and Bavaria's first king, Maximilian I stepped in and decreed that the brewers could continue to sell beer to the public, however, they were not allowed to sell food.
Thus began the tradition of bringing one's own picnic, or "brotzeit" to the beer garden to enjoy with a cold beer. But by 1897, biergartens were finally allowed to sell food with their beers, however, by then it was already quite traditional to bring one's own food.
There are characteristics which distinguish between a restaurant and a biergarten. For a biergarten to be considered authentic, it must allow its patrons to consume food, for free, which they have personally brought, which includes a checkered table cloth and the biergarten has the characteristics of a garden. Restaurants, generally have tables already set for serving guests.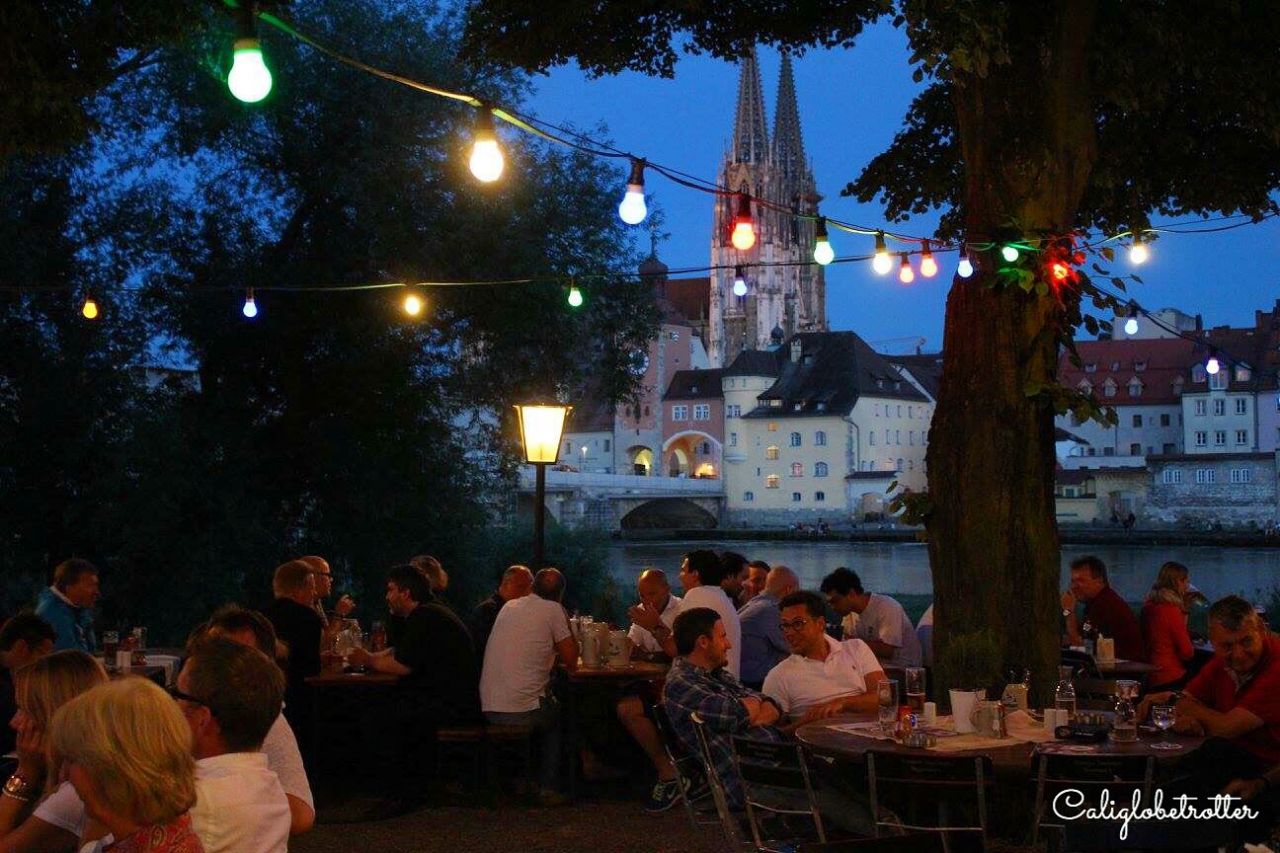 In 2012, biergartens celebrated 200 years of Bavarian beer garden traditions. One of the most notable reasons for why the tradition of biergartens have lasted for so long, is that at a biergarten, everyone is equal. People from every class, profession and gender gather under the chestnut trees to enjoy a cold beer with family or friends, in what the Bavarians call "Gemütlichkeit" – a feeling of coziness and happiness. Today, biergartens generally open as soon as the weather warms up again in the early spring and closes by fall.
What can you find in a typical Bavarian Biergarten?
Most importantly, good quality, pure, flavorful BEER! Since 1516, there has been a "Beer Purity" law which regulates the production of beer. All German beer must follow a strict guideline of barley, hops, and water. Later, wheat would be added when they realized the benefits. The most important rule when drinking in a biergarten is to toast as much as possible, therefore, creating that friendly Gemütlichkeit atmosphere!
Radler – A Helles (light) beer mixed with lemonade
Dunkles Radler – A Dunkles (dark) beer mixed with lemonade (Trust me, these are perfect for hot days)
Weizen – Also known as Hefeweizen – A wheat beer
Dunkles Weizen – A dark wheat beer
Helles – A light lager beer (not light as in light in calories)
Pils – A blond, clear beer
In a typical biergarten, you can find many varieties of hot and cold snacks thank to Catholic meatless Fridays. Many of these snacks are perfect for a simple "brotzeit" (bread time) for lunch or dinner. This usually includes some form of bread, slices of meat, sausages and spreads.
Any slice of bread covered with butter or a spread
Obatzda – A delicious cheese spread, sometimes mixed with beer, topped with slices of fresh onion and chives, with some pretzels.
Bavarian Sausage Salad – an absolute favorite in biergartens – slices of sausage, onions and chilves in a tart marinade
Bread Dumpling Salad – sliced Knödel (bread dumplings) topped with radishes, sherry vinegar and pea shoots.
Bavarian Potato Salad – Every region in Germany has a slightly different variation of their own potato salad
There are plenty of traditional warm dishes too, that are beloved by all.
Roasted Duck/Chicken – a roasted chicken/duck with a brown sauce and a Knödel
Roasted Pork – (Schweinebraten) – a mouthwatering slab of pork that has been roasted, sometimes served with a crunchy crust, with brown sauces and sauerkraut
Schnitzel – There are several forms of schnitzel, but traditional Bavarian schnitzel is your typical schnitzel "Wiener Art" – breaded, with a lemon on the side. No sauce and usually with pan-fried potatoes or fries.
Meat Patties – (Fleischpflanzal) Hamburger meat rolled into patties, served with a sauce and potato salad or pan-friend potatoes
And lastly, Dessert!! (Nachtisch) – Although most desserts are technically saved for Kaffee und Kuchen (coffee and cake) in the afternoon as a perfect snack between lunch and dinner.
Applestrudel – almost iconic when anyone thinks of any German dessert, usually served with vanilla ice cream
Kaiserschmarrn – a type of fluffy pancake usually served with raisins, cinnamon, powdered sugar or apple sauce.
Now, it's time to get your biergarten on!
We bought the following book for Bavarian Biergarten Cooking at home and LOVE IT! I highly recommend you to get this amazing cookbook which includes recipes and history of Bavarian Biergartens!
Disclaimer: This post contains affiliate links. If you click on one and make a purchase, I might make a little extra spending money, at no extra cost to you. As always, all opinions are my own and these products/services have been found useful during our travels and come highly recommended to you from yours truly!
More posts related to beer:
Bavaria's 5th Season: STARKbierzeit
Adlersberg's Palmator Starkbierfest
A Boat Cruise Down the Danube to Weltenburg Abbey
Liked this post? PIN IT FOR LATER!!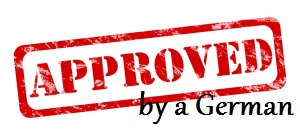 Save
Save
Save
Save