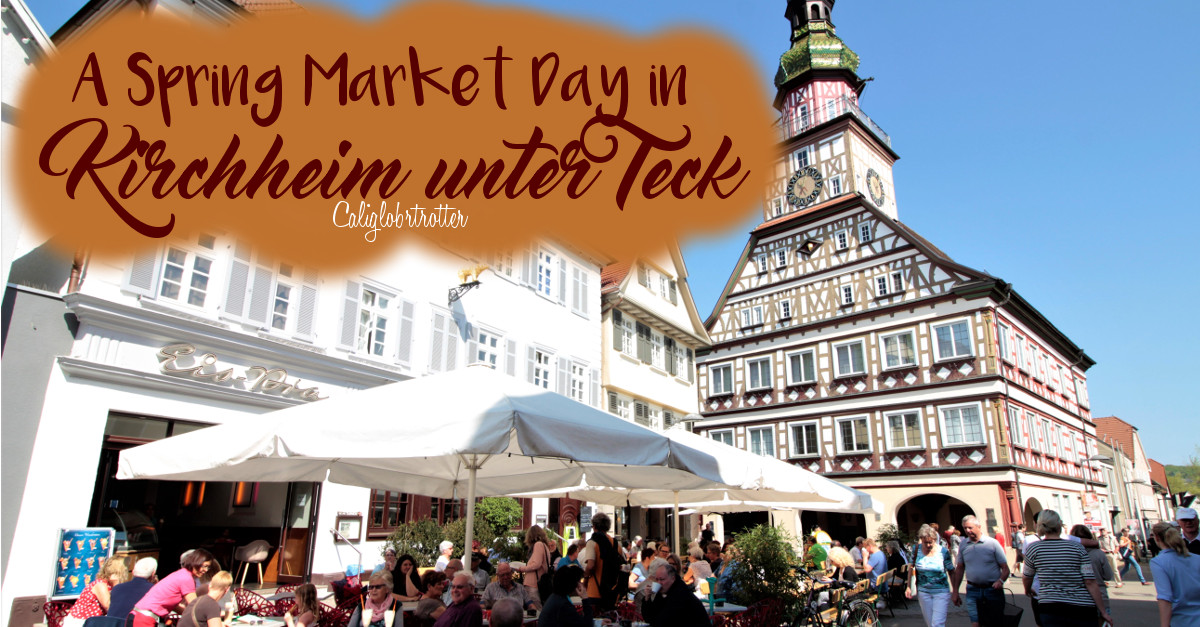 An abnormally warm spring after a relatively mild winter season and the occasional spurts of cold wind from the east. Typically Germany in March is a tease, temperatures peaking at around 70°F before plunging back down into the low 40s by April. Yet this year, March in Germany was rather a gloomy month, still suffering from the occasional affects of "The Beast from the East". So, when temperatures were predicted to reached 80°F at the weekend, we hopped in the car and made a road trip out of it to several half-timbered towns in Baden-Württemberg, including Kirchheim unter Teck. An adorable timber-framed town left out of every single Germany travel guide for reasons unbeknownst to me but for which I will now bewitch you with its charm!
Want to Surrender to the Charm of Kirchheim unter Teck? PIN IT FOR LATER!!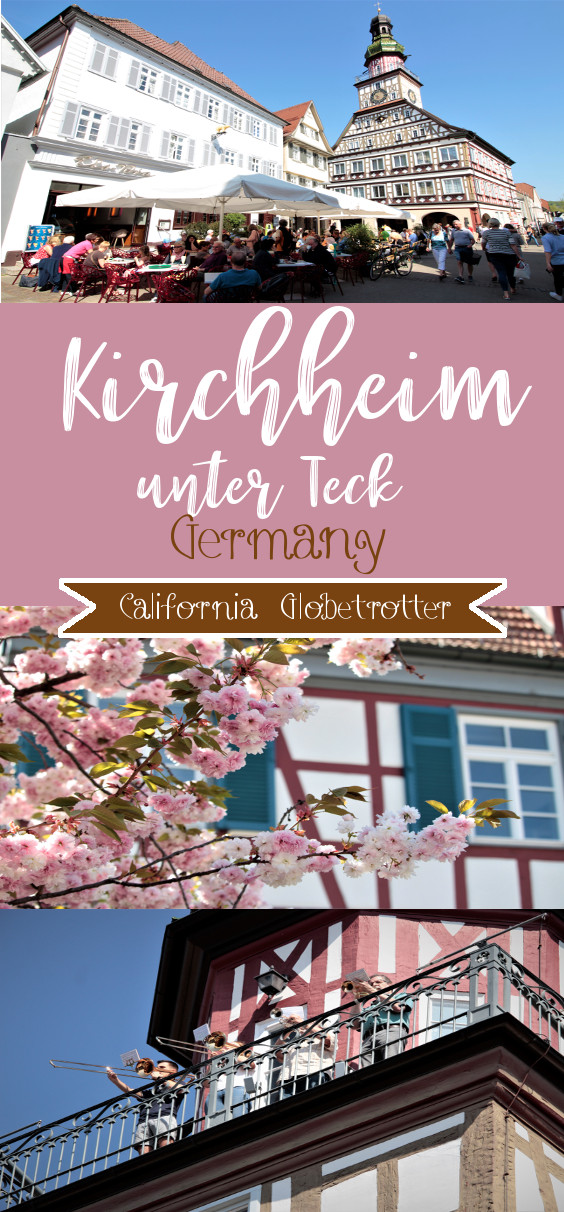 This article is now available as a mobile app. Go to GPSMyCity to download the app for GPS-assisted travel directions to the attractions featured in this article!
How to AVOID Looking Like a Tourist in Europe
Where is Kirchheim unter Teck, you might ask?
Practically unheard of beyond southern Germany, this half-timbered town is just a 32-minute drive from the capital of Baden-Württemberg and just 45 minutes from Ulm in the district of Esslingen at the foothills of the central Swabian Alb, making for the perfect little day trip from Stuttgart or even a casual day trip from Ulm!
Located along the German Timber-frame Road (Deutsche Fachwerkstrasse) (also sometimes referred to as "German Timber-frame Route") which stretches from the River Elbe in northern Germany all the way down to Lake Constance in southern Baden-Württemberg. Divided into seven major sections of areas loaded with one charming half-timbered town (Fachwerkstadt) after another, Kirchheim unter Teck can be found along the southern region which extends from the Neckar and the Black Forest down to Lake Constance (Bodensee). 
The German Timber-frame Route stretches nearly 3,000 km (1,864 mi) across Germany and was established in 1990 to preserve the cultural heritage of a variety of styles of half-timbered buildings and towns which now consists of 98 timber-framed towns adorning the German countryside. Unfortunately, compared to more popular, larger towns, most of these half-timbered towns are rather quite towns and don't get the attention they deserve – one of the many reasons why I love to share each adorable, pop-up, fairy tale town in Germany with YOU! And no other country on the planet has more half-timbered, fairy-tale buildings and towns than Germany!
History of Kirchheim unter Teck
While the first documented record of the town didn't appear until 960, the history of Kirchheim unter Teck dates as far back as the Neolithic era as well as the Celtic and Roman era. It gradually grew into an important market town between the 9th and 10th centuries before being upgraded to a city by the end of the 13th century. However, towards the end of the 14th century, the town's decline steadily began as the dukes of Teck had to sell their lordship one piece at a time before being incorporated into the property of the counts of Württemberg. After that a string of unlucky events continued to plague the city, from being besieged, quartered, plundered and ravaged by the plague all as a result of the Thirty Years' War, ultimately culminating in a devastating fire in 1690 which destroyed a huge portion of the town. But, let's look on the bright side – all of these unlucky events helped to preserve the size and historic quaintness about it!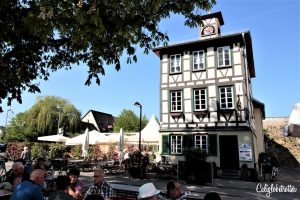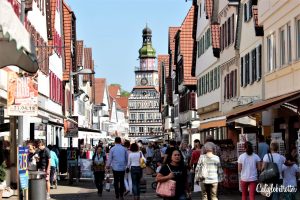 Today, Kircheheim unter Teck's appeal is the eye candy half-timbered buildings that are scattered here and there throughout the town with each main street leading towards one incredibly impressive city hall. The focal point of any town, it comes as no surprise that shops and cafes line the streets all leading towards one of the loveliest half-timbered city halls in Germany! Reminiscent of a wedding cake, the city hall is beautifully designed reaching towards the sky with its tower and green onion-like tower.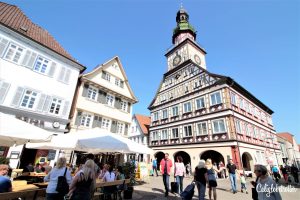 On the day of our arrival, the town was bustling with sun-seekers, all eager to take advantage of this beautiful. abnormally warm April weather we were in the midst of. Cafes were over flowing with people hungry to cool off with an ice cream at 11 o'clock in the morning, hiding beneath sun umbrellas and merrily chatting away. 
We turned right to begin walking down Marktstrasse and to our surprise, the street was already packed with people. Turns out, we arrived on a busy spring market day. Vendors were out selling flowers, mini street food vendors were out and the smell of cheeses and salamis wafted through the air while musicians drummed a merry tune. Spring was in full bloom here and the cherry trees encircled the Marktplatz!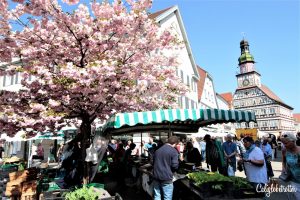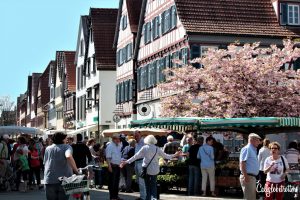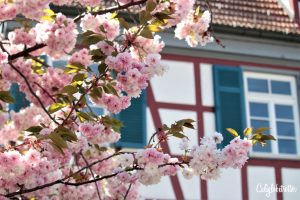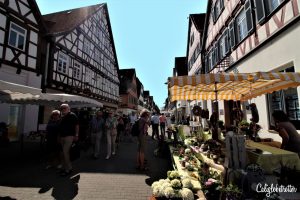 We meandered from one street to the next, following the trail of half-timbered houses, admiring St. Martin's Church and the Grain House before we were suddenly pulled back to the Kirchheim unter Teck city hall with the sudden sound of music emanating from the upper portion of the tower. Much to our surprise, trumpeters play every Saturday from the Rathaus Tower, playing on all four sides – a tradition which dates back at least to 1524 despite the fact that the Kirchheim unter Teck Rathaus was built in 1722. More information on this I could not find.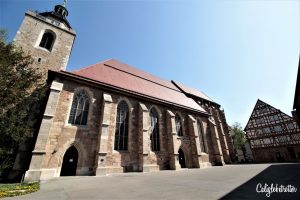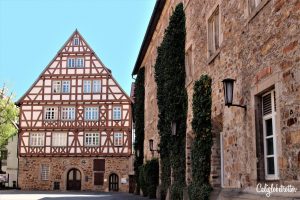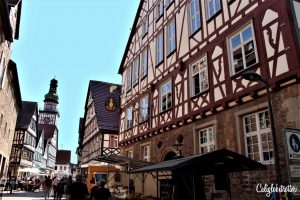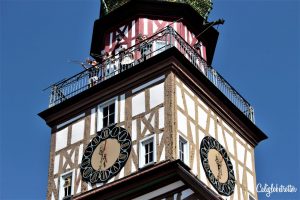 Nonetheless, it is one of the most beautiful city halls in Germany and also has coffered ceilings in the arcades with the Württemberg coat of arms while the clock on the tower shows the phases of the moon – the only one of its kind in Southern Germany.
While we didn't find sooo many things to do in Kirchheim unter Teck, we had an enjoyable peruse through the town and sadly, because we were on a little bit of a budget, we didn't sit down to enjoy an ice cream or coffee here. I had packed us a mini picnic and as we were driving to our next half-timbered destination we stumbled upon a lovely park out in the countryside just a few minutes drive from the town. We pulled into the parking lot, sat on the bench and enjoyed the views.
Then much to our delight, we discovered an apple orchard in full bloom. We saw a few people meandering around also taking pictures so we spent a good hour simply frolicking around in the grass scattered with daisies. Note to self: Don't wear white leggings when frolicking around in a field full of daisies otherwise you risk getting yellow splotches all over your pants and looking like a dirty girl in the next town.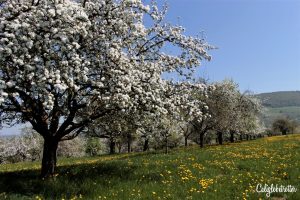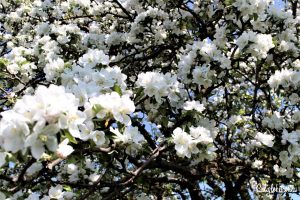 Best of all, just across the street was one of my favorite things about living in Germany: A flower field where you can cut your own flowers, pay and go (Blumen: Selbst schneiden). This tulip field was no Kreukenhof Gardens, but I still had to frolic through it in one of my new spring dresses! Florals on Florals on Florals!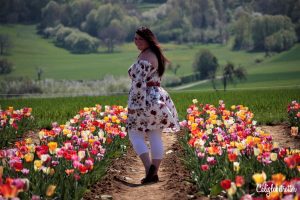 If you're interested in visiting Germany and are looking for more information, I highly recommend using the DK Eyewitness Travel Guide! Without these guides, I would be lost! This is my travel Bible!
Disclaimer: This post contains affiliate links. If you click on one and make a purchase, I might make a little extra spending money, at no extra cost to you. As always, all opinions are my own and these products/services have been found useful during our travels and come highly recommended to you from yours truly!
Day Trips from Kirchheim unter Teck:
The Heart of the Black Forest: Triberg 
The Medieval Wine Town of Esslingen am Neckar
Schloss Lichtenstein: The "Little Brother" of Schloss Neuschwanstein
Love Half-timbered Towns? PIN IT FOR LATER!!