My darling, darling boyfriend planned and surprised me with a weekend trip to once of Europe's most romantic cities. No, not Venice or Paris. Those can be overrated. Surprisingly, he chose Vienna, Austria as our weekend getaway. While one might not think of a large city such as Vienna even remotely romantic, and let me tell you, I was also a skeptic, I returned home with considerably different point of view. After all, what could be more romantic than strolling along beautiful buildings, wandering a castle with a love story that will move you, delicious cafes and horse-drawn carriage rides!?
Looking for Romance? PIN IT FOR LATER!!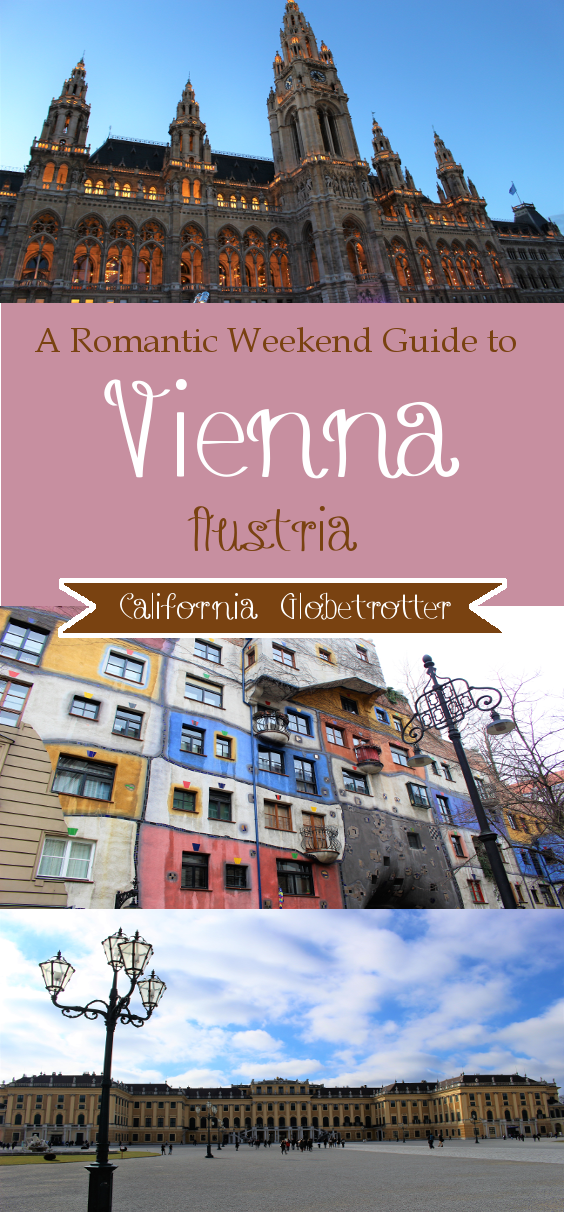 Like this post? Take it with you as GPS Guided App directly to your phone via GPSMyCity!
Day 1:
Stephan's Cathedral
As is usual for us, the first place we like to start our sightseeing trips is in the city center, usually at the most beautiful cathedral. In Vienna, that is Stephansdom which is surround by many narrow medieval alleys, shops and cafes. The cathedral itself dates back 800 years and I'm sure has seen plenty of love stories walk through its doors. The spire of the cathedral is considered to be the symbol of the cathedral as well as for Vienna.
Romantic Tip: For those interested, you can even climb up the tower to have a romantic view over the city, especially at sunset!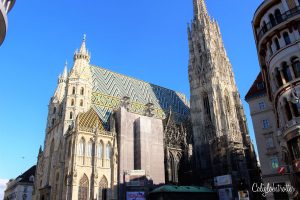 Then slowly make your way while walking down the Graben, which is Vienna's bustling part of the city with plenty of fashionable shops, restaurants and cafes with the beautifully sculpted Plague Column in the center.

Peter's Church
Just around the corner is the Peterskirche, another of Vienna's oldest and very beautiful churches which was actually founded in 792 by Charlemagne. The inside of this church is absolutely stunning with an incredibly luxurious organ.
Romantic Tip: Take a seat in a pew together and admire the stunning frescoes!
Viennese Coffee & Cake
One of the most important parts of visiting Vienna is certainly sitting down for a coffee and a delicious cake in one of the many cafes around town. This is definitely an ingrained cultural identity here and I can see why a "coffee and cake break" is important. An afternoon well spent sipping hot coffee and nibbling on a delicious piece of heaven brings a day of content! Two of the best cafes we tried happen to be Café Demel (left), which once provided the palace with its scrumptious treats, as well as Café Central (right) which was definitely our favorite. Not gonna lie, we went there twice just for the "Central Surprise" which is "a beautiful blend of orange caramel, Bavarian cream and chocolate". (For More on Vienna's Coffee & Cafes)
Romantic Tip: Find a back booth, order the Central Surprise and feed each other bites of each other's cake while listening to a romantic piano tune.


The Hofburg, the Sisi Museum & the Treasury
Finally we made our way to the Hofburg, which was the former Emperor's residence. From Michaelerplatz, the majestic entrance to the Hofburg stands before you. Part of the complex Imperial Palace is the Alte Burg which was once the residence of the now mysterious Empress Elizabeth aka "Sisi", the Crown Jewels and the Imperial Silver. Being an absolute history nerd and regency lover, I naturally had to do a tour of the palace.
Romantic Tip: Look at wedding decor by visiting the Crown Jewels and the Imperial Silver! 🙂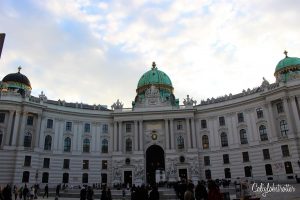 While today the life history of Sisi is somewhat mysterious, the love that her husband, Emperor Franz Joseph was certainly inspiring. He definitely loved her possibly more than she loved him, but the love he carried for her even though she was most often anywhere but Vienna, is true commitment.
A Horse-Drawn Carriage Ride Through Vienna is a Must!
From both the Stephansdom and in front of the Hofburg, one can catch a horse-drawn carriage ride. They say one has not truly been to Vienna until they have gone on a horse-drawn carriage ride. You can catch a ride for either 20 or 40 minutes, or you can even negotiate with the drivers, especially if you have the Vienna card. The best time of day to do a ride is absolutely as the sun is just beginning to set and into the Blue Hour. The ambiance couldn't possibly be more romantic, and is actually quite the perfect time for any marriage proposals! I should know because my darling boyfriend proposed to me while enjoying one of these romantic rides.
Romantic Tip: Snuggle up on a cold winter evening under a soft blanket just before sunset as you trot through the town. And just at the right moment, your boyfriend should propose!
Naturally, I said YES! Gentlemen, take notes!

Vienna City Hall
Between mid January and the beginning of March, in front of the Vienna City Hall you can find the Vienna Ice World skating rink. Perfect for couples looking to skate in unison together while enjoying the glow of the city hall and the aroma of Glühwein wafting in the air. While we did not personally ice skate, it was sure lovely to watch others.
Romantic Tip: Ice skate hand in hand beneath the impressive Vienna City Hall anytime throughout the winter! Warm up by sharing a glass or two of Glühwein!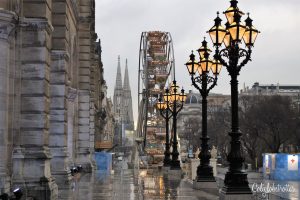 Go for a Romantic Dinner
In the city center, just off one of the side alleys from the Graben is Reinthaler's Beisl, a very quaint restaurant which serves traditional Austrian cuisine, especially Wiener Schnitzel. Space is limited, therefore more private, so make a reservation before hand! 
Romantic Tip: Snuggle up in a booth and look deep into each other's eyes while you spoon feed each other. No, no I'm kidding. But snuggle up together on a booth and talk about the future together!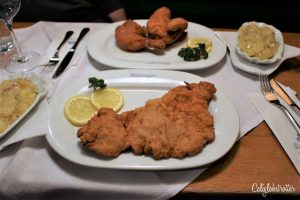 Hofburg Theater
Also known as the Burgtheater, this glorious theater is one of the most prestigious theaters in German speaking countries. Originally built under the reign of Maria Theresa, it was replaces in 1888 in an Italian Renaissance style. The theater was almost completely destroyed during World War II, but has been immaculately renovated.
Romantic Tip: Spend an evening at the theater, whether or not you understand German and watch a heart-throbbing performance! Love transcends all languages!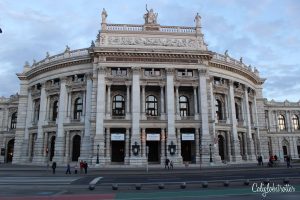 Day 2:
Schönbrunn Palace
The next morning we headed over to the Schönbrunn Palace, home to one of Austria's most romantic love stories. The palace itself was completed in 1744-49 under the reign of Maria Theresa. She and her husband, Francis I, Holy Roman Emperor loved each other so deeply, they couldn't stop having children. 16 in fact! One of whom included the infamous Marie Antoinette who would later become the Queen of France. They loved each other so deeply, that upon the sudden death of her husband, Maria Theresa wrote in her diary the exact length of their loving marriage and would continue to wear black for the rest of her life. What could possibly be more inspiring to a new couple recently engaged the day before!?
Romantic Tip: Spend some time learning about one of Austria's greatest love stories to inspire a love like no other!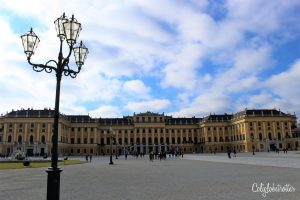 Karlskirche
Not far from the Schönbrunn Palace is Karlskirche, a church which was erected after the devastating plague that hit Vienna in 1713. Emperor Karl IV promised to build a church dedicated to St. Charles Borromeo, the patron saint of the plague, once the city was delivered from its plight. 
Romantic Tip: Cuddle on one of the many park benches facing the church and just admire the lovely church and the surrounding park!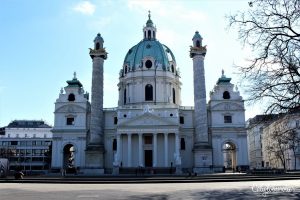 The Austrian National Library
We also took a couple more strolls through the main city center again, (mostly so we could enjoy another coffee and cake from Café Central!) but so we could also check out the Austria National Library which is another stunning library that absolutely must be seen in Europe which can be found in the Hofburg Complex at Josefsplatz. Frescos dominate the ceiling, endless rows of books line the walls and statues add to the stunning beauty.

Hundertwasserhaus & Kunsthaus
Lastly, before leaving Vienna, we made sure to check out the Hundertwasser Haus – a unique apartment complex building created and designed by the famous Austrian artist, Friedensreich Regentag Dunkelbunt Hundertwasser which translates to something more like "Peace-realm", "Rainy Day", "Darkly multi-colored", "Hundred Water".
The building is among several in Vienna as well as in Germany and other parts of the world that showcase his unique artistic abilities to combine nature and architecture together, incorporating elements of a Moorish mosque with the features of Spanish villages and Venetian palaces.
Romantic Tip: Admire the combination of art, architecture and nature while strolling hand in hand around the famous buildings! Take a few selfies kissy kissy too!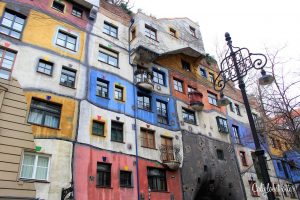 Not far away is the Hundertwasser Kunsthaus, another of his colorful buildings. The Kunsthaus showcases some of his best work and also includes a small gift shop. Consider taking a tour!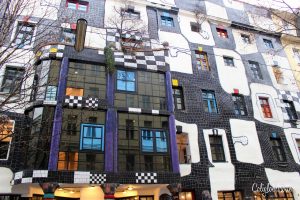 So, as I mentioned before previously, I left Vienna with a new outlook on city romance. A city can be as romantic as you possibly make it to be, so long as you're with the one you love! Vienna will now always have a very special place in my heart as the night that changed my life forever! <3
Romantic Tip for Where to Stay: Imperial Riding School Renaissance Vienna Hotel ⭐⭐⭐⭐- As a surprise trip to Vienna that would result in a proposal, my now husband booked us at this exquisite luxury hotel with comfortable beds with a delicious breakfast!
For more on places to visit in Austria:
12 Day Itinerary: Prague, Vienna, Bratislava and Budapest
A Delicious Guide for Coffee & Cake in Vienna
Guide to Vienna's Christmas Markets
New Year's Eve Fireworks in Salzburg
Europe's MOST Breathtaking Libraries
Like this post? PIN IT FOR LATER!
Save
Save
Save
Save
Save
Save