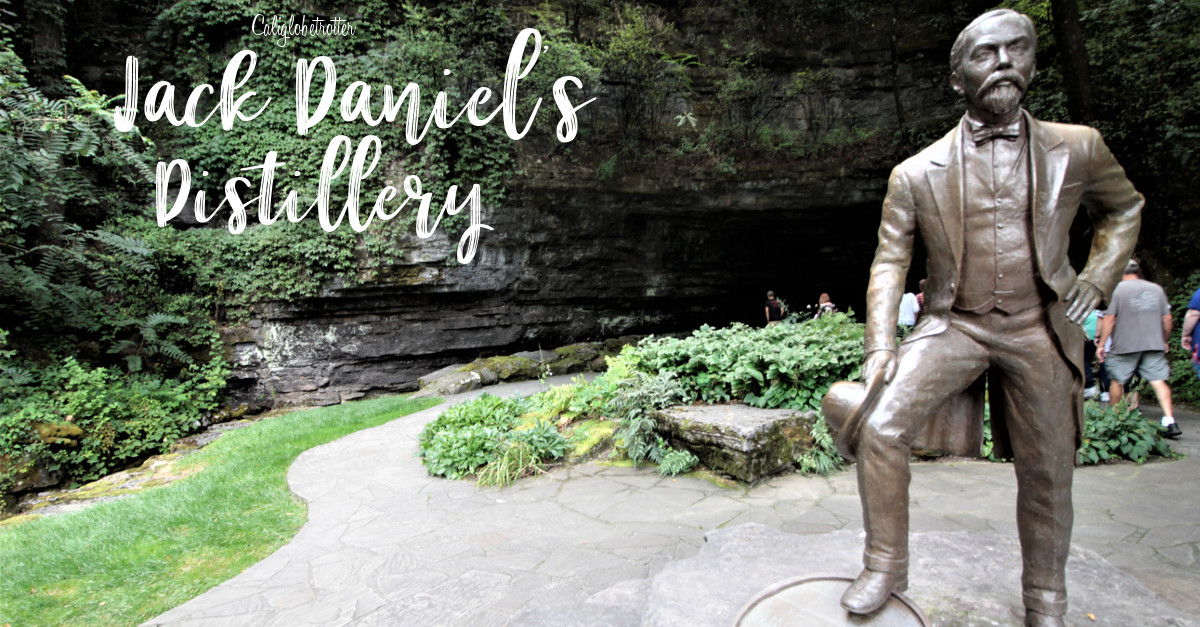 Super BIG thanks to Jack Daniel's for hosting me and my family and for treating us to an awesome time while in Tennessee! This post contains affiliate links. If you click on one and make a purchase, I might make a little extra spending money, at no extra cost to you. As always, all opinions are my own and these products/services have been found useful during our travels and come highly recommended to you from yours truly!
Jesus may have turned a river into wine, but Jack turned water into whiskey! Deep in the south, in one of those typical "Small Town USA" towns is actually home to a BIG legacy: the world-famous Jack Daniel's Distillery. By now Jack Daniel's Whiskey is a household name and everyone has a story to tell from the good ole days! College parties, concerts, rodeos, rock bands and bad boys all have one thing in common: they love Jack! Whether you're a whiskey aficionado or a history buff, a visit to the Jack Daniel's Distillery in Lynchburg, Tennessee is a unique outing! 
Love Jack? PIN IT FOR LATER!!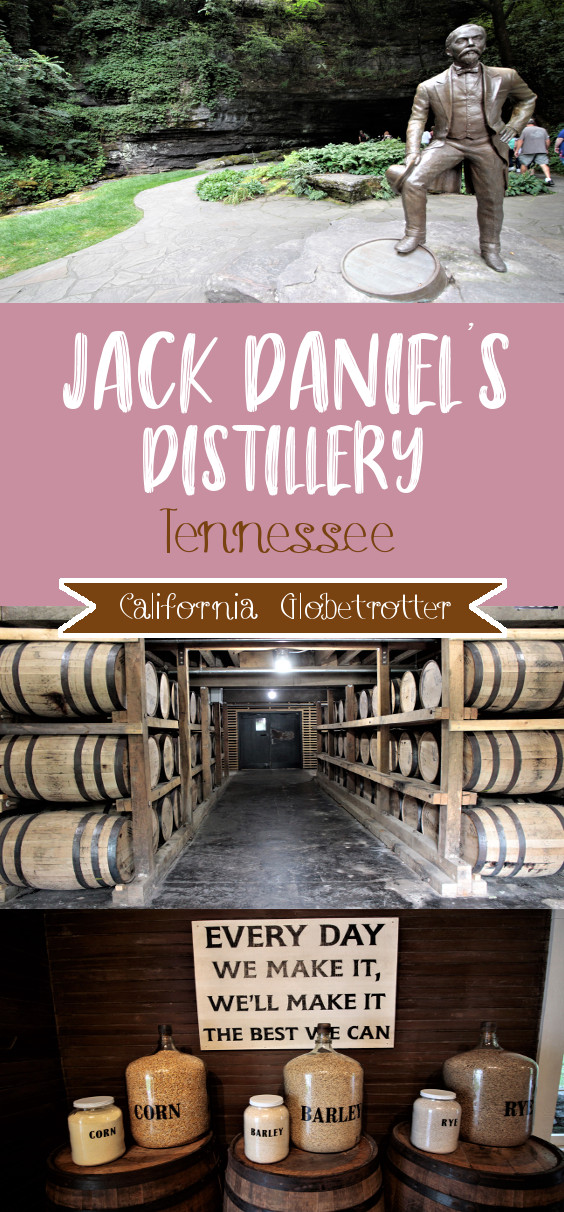 This article is now available as a mobile app. Go to GPSMyCity to download the app for GPS-assisted travel directions to the attractions featured in this article!
Where is Lynchburg, Tennessee?
Just under a 2-hour drive, Jack Daniel's Distillery is an easy day trip from Nashville as well as just over a 3 hour drive from Atlanta, Georgia and 4-hours from Louisville, Kentucky. Located in a one-stoplight town in southern Tennessee on the outskirts of Lynchburg, TN with a population of +1/-1, Jack Daniel's brings in a whopping 300,000 visitors a year to see how Tennessee whiskey is made in this DRY TOWN. What is a dry town? A dry town are towns which don't allow the sell of alcohol within their city town limits. Clearly, Lynchburg, TN has a serious drinking problem and is still stuck in 1920 during a time when drinking alcohol was prohibited.
Related: Day Trips from Louisville, KY 
Stretching from Memphis to Knoxville and from Chattanooga to Nashville, the Tennessee Whiskey Trail takes you through some of beautiful back country roads hitting up 30 of Tennessee's whiskey distillers. Located in the "middle" of the trail, partaking in a Jack Daniel's Distillery Tour is a great way to walk though the 150-year history of Jack Daniel, his namesake products and how whiskey is made, bottled and enjoyed as well as how the Prohibition impacted the business, the rise of the family business and making it into a household name not just in America, but around the world. Clearly, making it "the best we can" every day paid off.
Tours of the TN Whiskey Trail: Mint Julep Tours | Whiskey Bent Tours | Tennessee Whiskey Tours | Tennessee Whiskey Trail Tours
Who is Jack Daniels & How Did It All Start?
You might know Jack Daniel's whiskey but perhaps you don't know Jack! Born Jasper Newton "Jack" Daniel possibly in 1849 in Lynchburg, TN, he was the youngest of 10 children, he would be a forced to be reckoned with. His mother died shortly after his birth and his father during the Civil War and at the age of 7, he quickly became acquainted to the local minister and local storekeeper, Reverend Dan Call who saw potential in young Jack and decided to teach him how to distill whiskey, not exactly the most appropriate job for a child. Nonetheless, Jack learned the trade from one of Rev. Call's slaves, Nearest Green, meanwhile his congregation pressured him to give up whiskey distilling as it also wasn't a exactly appropriate for a man of the cloth to be doing in his free time. So, when Jack was 20, Rev. Call sold him the business for only $25 and established Jack Daniel's Tennessee Whiskey in 1875 making it the United States' first ever registered distillery!
Standing at a mere 5 feet 2 inches, he had to be quite charismatic and fiery in order to get anything done. Jack often attracted a looot of attention in small town Lynchburg where you can imagine gossip was a favorite past time. "God love him, but did you hear…." While he never married, he was quite the ladies man and always had a lady or two on his arm who found him quite interesting as he was an avid traveler, always bringing back unusual items and was known for throwing a good party. He also disappeared for a few days on his 21st birthday only to reappear looking like a true gentleman. When he died in 1911 at the young age of 61, two chairs we placed in front of his grave so that the women in his life could mourn him properly.
All bourbon is whiskey but not all whiskey is bourbon!
How is Jack Daniel's Whiskey made & How is it different from Bourbon & other Whiskeys? 
There's a fine line between Kentucky Bourbon and Tennessee Whiskey, that's for sure. But no matter if you're in Kentucky, Tennessee or perhaps in Scotland or Ireland, there are a standard set of rules one must follow in order to be called "whiskey". No matter, everyone has their own spin on it, with a unique taste befitting of everyone's preferred palate taste. 
While Jack Daniel's whiskey has many of the same basic ingredients that make whiskey such as corn, malted barely and rye which is then distilled in massive copper stills, what sets Jack Daniel's whiskey apart from others is that the white whiskey is then drip filtered through 10-foot stacks of sugar maple charcoal though you might assume that would affect the taste, but surprisingly, it doesn't.
Like Kentucky Bourbon, Tennessee whiskey is then stored in newly burnt handcrafted barrels where it will sit and age between 4 to 7 years giving it its distinct color and taste. The weather surprisingly plays a big role in the aging process and depending on if the weather is particularly cold or hot, the whiskey will either speed up or take longer, therefore, having a master distiller on site is a vital part of the whiskey making process, ensuring that the taste and color are perfect each and every time. Unlike bourbon, whiskey is stored in rickhouses but never rotated to ensure an even quality throughout all barrels. In fact, once in the rickhouse, the Jack Daniel's barrels stay put, offering up a variety of different tastes which produces the selection of whiskeys we know and love.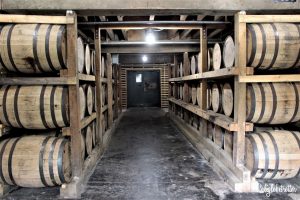 It's ready when it's ready!
Prohibition & How it Affected Jack Daniel's Whiskey
In 1904, Jack Daniel's Black Label Old No. 7 won a gold medal at the St. Louis World Fair – the very fair which also gave us the hot dog, the ice cream cone, iced tea and Dr. Pepper. Yet, despite all of these classic American creations, Jack had a knack for standing out and Old No. 7 continued to gain popularity despite the Temperance Movement gaining momentum – the complete abstinence of alcohol from daily life, especially in Tennessee.
By 1910, Tennessee passed a statewide prohibition law barring the distilling of alcohol within the state, therefore distilling operations transferred to St. Louis, Missouri and Birmingham, Alabama however, none of the whiskey produced here was ever sold due to quality problems. Obviously, as the water which has been purified by limestone rocks wasn't able to move. And by 1920, the 18th Amendment prohibited production nationwide ultimately putting Jack Daniel's out of business until the law was repealed in 1933 by the 21st Amendment, but it took until 1938 before it was FINALLY overturned in Tennessee and things got going again only for production to be stopped once again because of the Second World War to help supply resources. 
Touring the Jack Daniel's Distillery
Jack Daniel's Distillery Tour & Visitor's Center
Be forewarned that the Visitor's Center is not to be confused with the recently built Welcome Center. You'll head to the Welcome Center where you will begin your tour and buy your tickets, if you haven't already pre-booked online. This is also your first introduction to the whiskey production so you can study up, you don't want to be a complete newbie! For those with tinsy-tiny bladders, this is your last chance for a restroom…..so empty out while you still can!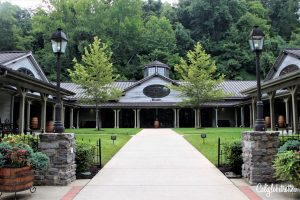 The Rickyard
Along the tour, you'll head down to the Rickyard, a part of the distillery that plays one of the most vital roles in the whiskey-making process. It's here that they burn gargantuan towers of Jack Daniel's sugar maple wood until it becomes charcoal which is later used in the filtration process, making Jack Daniel's Tennessee whiskey we all know and love.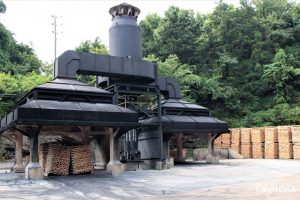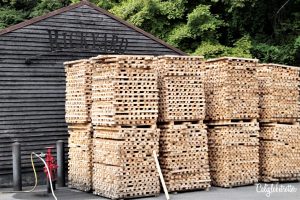 The Cave Spring 
There's a reason why Jack chose to build his distillery right here in small town Lynchburg and why it is the ONLY JD distillery on the entire planet, and it wasn't because it was a dry town, that's for sure! No, actually, the story of Jack Daniel's Tennessee Whiskey dates back over 200 million years ago with the formation of the Cave Spring Hollow. Upon the collision of the North American and African tectonic plates, the formation of the ultimate ingredient for a bottle of Jack was created. Turns out that the Cave Spring Hollow produces 800 gallons a minute of iron-free natural spring water at a consistent 56°F making it the perfect ingredient for the whiskey fermentation process. Whod'a known that geology would play a role in the making of the world's best selling whiskey. Without the spring, Jack Daniel's wouldn't be Jack Daniel's!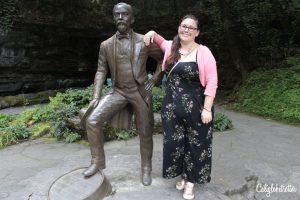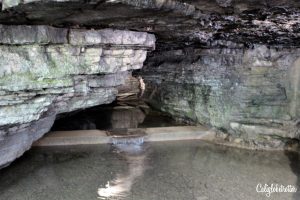 Jack Daniel's Original Office
It somehow came as no surprise whatsoever to learn that the man behind the label had quite a gritty, spitfire personality and what intrigued me most was the legend of how he died. Supposedly, he was so angry one morning as he couldn't remember the safe combination, that he kicked his safe so hard that he broke his toe resulting in a wound that would never heal properly. Now, ain't nobody ever died from a broken toe, buuuut when you don't see a doctor, gangrene can set it and ultimately, it would lead to a blood infection thus killing him.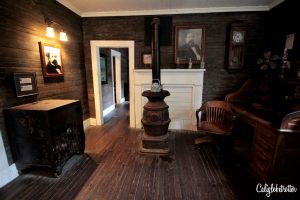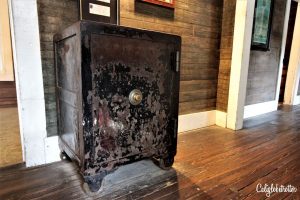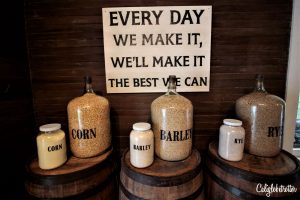 Grain Mill, Stills & Mash
Eventually you'll come to the heart of the distillery known as the Still House where 80% corn, 12% barley and 8% rye is fermented, using the same recipe Jack insisted on. Over 100,000 gallons of mash ferments here at any given point for a total of six days before being distilled in large copper bubbles and walking into the still house is like walking into a wall of carbon dioxide and smells like dozens of loafs of bread being baked, but if you are lucky enough, you might even get to peak inside one of the Grain Mills and get a good whiff of the mash, giving you the ultimate contact high. 
You'll be able to peak inside and see the cool bubbling fermentation taking place turning into 140 Proof whiskey and guess what?? We were lucky enough to be allowed to try that yellow, sticky, stinky goo and surprisingly a day old batch is quite sweet compared to three days.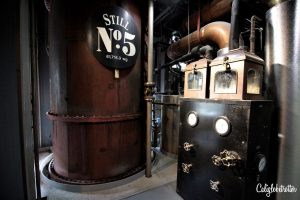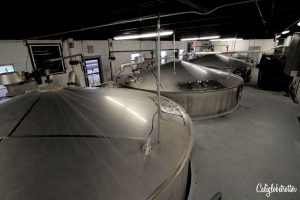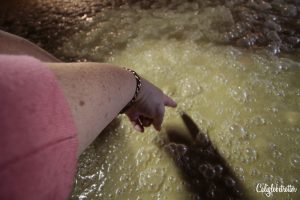 Charcoal Mellowing, Barrel Making & Bottling
The state of Tennessee calls it the "Lincoln County Process", others simply call it the charcoal mellowing, but in Lynchburg, it's known as "The Extra Blessing". Charcoal mellowing is an old approach that Jack insisted on and is one of the most important steps in the production of Tennessee whiskey that is still used even today! 
Jack Daniel's mellows their whiskey in charcoal of their own creation, ultimately entitling it to truly be called Tennessee whiskey. Many might think that just because it is made in Tennessee it must be a whiskey, but in order for it to be a true Tennessee whiskey, after being distilled to an alcohol content of 70%, it must be mellowed through handmade charcoal, drop by drop which takes more than a week.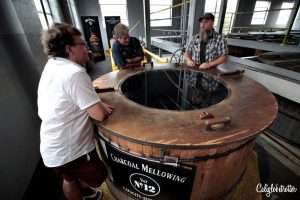 And as if there wasn't already so much to be impressed about, Jack Daniel's is the only distillery in the world that makes their own barrels! All barrels are handmade from American white oak, toasted and charred on the inside to bring out the natural sugar of the wood and caramelize it. Three times a week, three times a day, employees of Jack Daniel's pile sugar maple pallets, pour raw unripened whiskey over it sets fire to them until burning down into embers before being used to mellow the whiskey. Unfortunately, we missed that bonfire!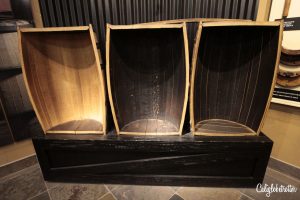 Each barrel is used only once before being sold off to be used for wine, Scottish whiskey and hot sauce makers or even turned into some fancy whiskey barrel tables and whatever else the Etsy gods can think of! Oh how I would love to decorate my house in whiskey barrels! If you want one, be sure to head down to the local Lynchburg town square to the Jack Daniel's Barrel Shop.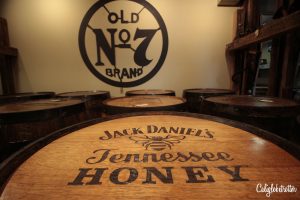 Jack Daniels Whiskey Tasting & How to Drink Whiskey
Barrel House
It's here where the party really gets started and what you truly want to come to the Jack Daniel's Distillery for. Just admit it right now. You want to swish your whiskey around in a tumbler, gently sipping and swirling it around your mouth to bring out the different flavors. You'll want to start with baby sips to get over the initial shock to the palate.
If on the Flight of Jack Distillery tour, you'll get to try the family of five – the classic Old No. 7 aka "Black Label", Gentleman Jack, Jack Daniel's RYE, Tennessee Honey and Tennessee Fire. Surprisingly, though they all differ in taste, they are all made from the same base recipe in the same exact way, but it's only after the aging process that they are filtered once more as is the case with Gentleman jack or by adding additional flavors such as Honey and Fire liqueurs. 
I'm definitely not your whiskey girl aficionado, but I do like a little Jack'n'Coke every now and then though at one time, that was my go-to drink. However, having now tried the Tennessee Honey and loving the praline notes, GOOD GOLLY MISS MOLLY, I DO HEREBY BELIEVE I HAVE A NEW FAVORITE DRINK! Although, the Tennessee Fire tasted like fall in a glass with all that warm cinnamon and I could easily see myself sitting on a back porch balcony one day with my dawg, feet up on the porch railing watching the fall leaves flutter to the ground. 
PS. Jed is the BEST tour guide! He was highly knowledgeable of all things Jack, down to earth and funny!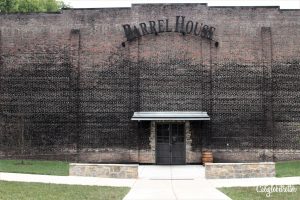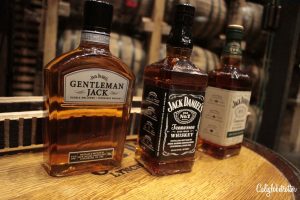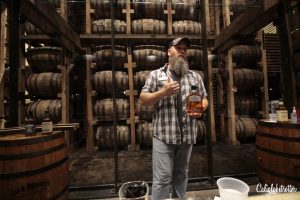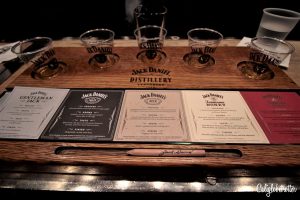 Let's Talk Drinks
Turns out, there are quite a lot of Jack Daniel recipes when it comes to creating the right drink for you. As I said before, Jack'n'Coke was always my go-to drink, but to be honest, that's because I didn't actually know that there were so many different variations! So, what can you do with Jack Daniel's whiskey? 
Jack Daniel's Souvenir Shop
White Rabbit Bottle Shop & Jack Daniel's Hardware Store
Be sure to bring home some Jack Daniel's souvenirs for those who couldn't partake in the whiskey fun! Your tour will conclude in the souvenir shop and it's the only place in Lynchburg where you can BUY JACK and get your bottles engraved and personalized to remember the experience!  
However, the official Jack Daniel's General Store is about a block or two away in the Lynchburg main square in the Hardware Store that was at one time exactly that, and owned by Jack Daniel's as a source of income to survive during the Prohibition. Today, bar supplies, T-shirts with the Jack logo, inspired glassware and much more can be found here!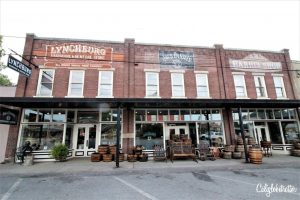 Miss Mary Bobo's Boarding House
I'm sure after your lengthy tour, you'll probably be quite famished and ready to get your grub on at Miss Mary Bobo's Boarding House Restaurant – the epitome of Southern hospitality and cuisine! Everything is served family style and you'll be sat round the table with 8-10 other people all ready to dig in. A hostess dines with you (like, are they hiring'?) at the head of the table, providing insightful history of Lynchburg, the boarding house and describing the food you're about to devour. This is one family dinner you do NOT want to miss and a visit to Lynchburg just wouldn't be complete without it!
Like Jack Daniel's, everything on the menu is homemade and changes daily, and it doesn't get better than that. Southerners truly love mama's kitchen and you'll likely be served traditional sweet tea and anything from fried okra, black eyed peas, cheesy grits, fried chicken, cole slaw, cornbread and baked apples with a "special touch". Top it all off with a delicious dessert from either a fudge brownie with caramel and whipped cream that I could just drown my woes in or Chess Pie, loaded with sugar on sugar on sugar.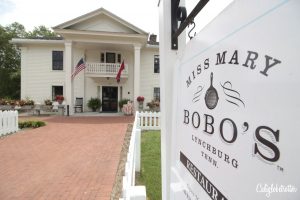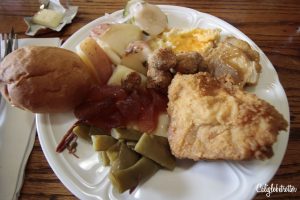 Visiting the Jack Daniel's Distillery
Address
Jack Daniel's Distillery Visitor Center: 133 Lynchburg Hwy, Lynchburg, TN 37352
Jack Daniel's Distillery:  280 Lynchburg Hwy, Lynchburg, TN 37352
Lynchburg Hardware General Store: 51 Mechanic St S, Lynchburg, TN 37352
Tour Options
There are five tour options for exploring the Jack Daniel's Distillery, so choosing the right one for you is vital to a perfect experience! 
MR. JACK TOAST IN THE HOLLOW TOUR

Length: 30 minutes including sampling | Prices: $15 for adults 18-20 may tour | Must bring valid photo ID | Military & Senior discounts available | Bus ride through distillery grounds | Tours are Monday – Thursday 11:20am – 3:20pm, once per hour | Sampling of Jack Daniel Old No. 7 

Short on time but still want to visit? From the comfort of your seat, take a guided driving tour though the town of Lynchburg and the Jack Daniel's Distillery while learning about the people who have made Jack Daniel's world-famous. End your tour with a toast to Mr. Jack Daniel with a glass of his signature whiskey. 

THE DRY COUNTY TOUR

Length: 1 hr 10 min | Prices: $15 for adults 18 + | Children $7 10-17 years old | under 10 are free | Military & Senior discounts available | Tours are Monday to Sunday 9am – 4:30pm | Tours every 15 minutes | No Whiskey sample

For those interested in walking through the history of Jack Daniel's Distillery without a whiskey tasting. Perfect for everyone of all ages and for those who are resist the temptation, pregnant, teenagers and those on the clock! Great for those who simply want to learn the ins and outs of whiskey making, the history and about the founder – Mr. Jack.
ANGEL'S SHARE DISTILLERY TOUR

Length: 1 hr 30 min including sample | Prices: $25 for adults 18+ | Must bring valid photo ID | 18-20 may take tour, 21+ can sample | Military & Senior discounts available | Tours are Monday to Saturday 9:45am – 4:30pm and Sundays 11:15am – 4:30pm | Sample includes: Jack Daniel's Single Barrel, Jack Daniel's Barrel Proof, Jack Daniel's Single Barrel Rye & Jack Daniel's Sinatra Select and Gold 27

A guided tour of Jack Daniel's Distillery followed by a tasting for in the Barrel House which includes a sample from the Single Barrel Collection as well as two limited edition whiskeys. 

 THE TASTE OF LYNCHBURG

Length: 3 hours | Price: $100 | 21+ only | Special tour offered only Friday and Saturday at 9:15am & 1pm, check-in 20 minutes prior | Lunch at Miss Mary Bobo's Boarding House Restaurant with to/from transportation | Includes Angel's Share Distillery Tour | Sample of: Jack Daniel's Single Barrel, Jack Daniel's Barrel Proof, Jack Daniel's Single Barrel Rye, Jack Daniel's Sinatra Select, and Gold 27 | Includes commemorative gift | No discounts apply   

Combine a Tennessee whiskey tour of the distillery and a tasting tour of Angel's Share Whiskeys with a down-home southern cuisine at Miss Mary Bobo's Boarding House Restaurant!
 FLIGHT OF JACK DISTILLERY TOUR
Length: 1 hr 30 min including sample | Prices: $20 for adults 18+ | Must bring valid photo ID, only 21 + may sample | Military & Senior discounts available | Tours are Monday to Saturday 9:30am – 4:30pm & Sundays 11am – 4:30pm | Sample 5 of Jack Daniel's Whiskeys: Jack Daniel's Tennessee Whiskey, Jack Daniel's Tennessee Fire, Jack Daniel's Tennessee Honey, Gentleman Jack and Jack Daniel's Rye
Enjoy a tour by one of the top storytellers who guide you through the Jack Daniel's Distillery and the process of making Tennessee whiskey. Finish off your tour at the Barrel House 1-14 where you will be able to sample the 5 most popular whiskeys and liqueurs!
Things to Know Before Visiting
You MUST Bring a valid ID
No Bags, No Purses, No Backpacks, No Strollers, No Open Containers and No Weapons allowed on the tours! Lockers are available on site.
Fanny Packs, Clutch/Wallet, Service Animals, Cameras and Baby Slings ARE ALLOWED
Most of the tour is outside & there is a lot of walking, so you should dress for an outdoor tour and wear good shoes! 
Photography is NOT allowed inside the Jack Daniel's distillery tour [I was given special permission]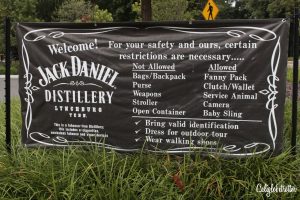 Where to Stay in Lynchburg, Tennessee
Lynchburg, TN
Hampton Inn and Suites Lynchburg – Now if you're looking to be as close as possible with all the comfort and amenities of a great hotel, then staying at my favorite chain hotel is always a good choice!
Murfreesboro, TN
Hampton Inn & Suites Murfreesboro – Now, visiting Jack Daniel's Distillery is an easy day trip from Nashville, but if you're looking to hit up both in a short time, consider staying in Murfreesboro to shorten the amount of driving time between both locations. I can never go wrong with a Hampton Inn as the beds and pillows are ALWAYS super fluffy, the kind you wanna take home and the breakfast is always plentiful! 
If you're looking for some extra guides to prepare your trip, here are my travel guide bibles to help you navigate through Tennessee!
This post contains affiliate links. If you click on one and make a purchase, I might make a little extra spending money, at no extra cost to you. As always, all opinions are my own and these products/services have been found useful during our travels and come highly recommended to you from yours truly!
Other Posts from the South:
Easy Wall Murals to Find in Nashville
Nashville with the Music City Total Access Pass
A Busy Bee's Guide to Savannah, GA (30+ Things to do!)
Liked this post? PIN IT FOR LATER!!