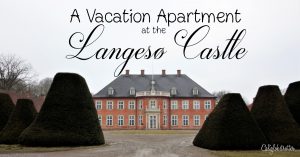 California Globetrotter was invited by Langesø Castle to be a guest, but as always, all pictures and opinions are entirely my own! Finden Sie hier den Post auf Deutsch!
A few weeks ago, I had the honored privileged of being a guest at Langesø Castle, located next to a long and narrow lake in Denmark which gave its name to the lovely manor house meaning 'long lake' in Danish. When I was approached, I honestly had never heard of this hotel and with a quick research about the area, I quickly knew I would take up their offer. 
Visiting Denmark soon? Stay at Langesø Castle & PIN IT FOR LATER!!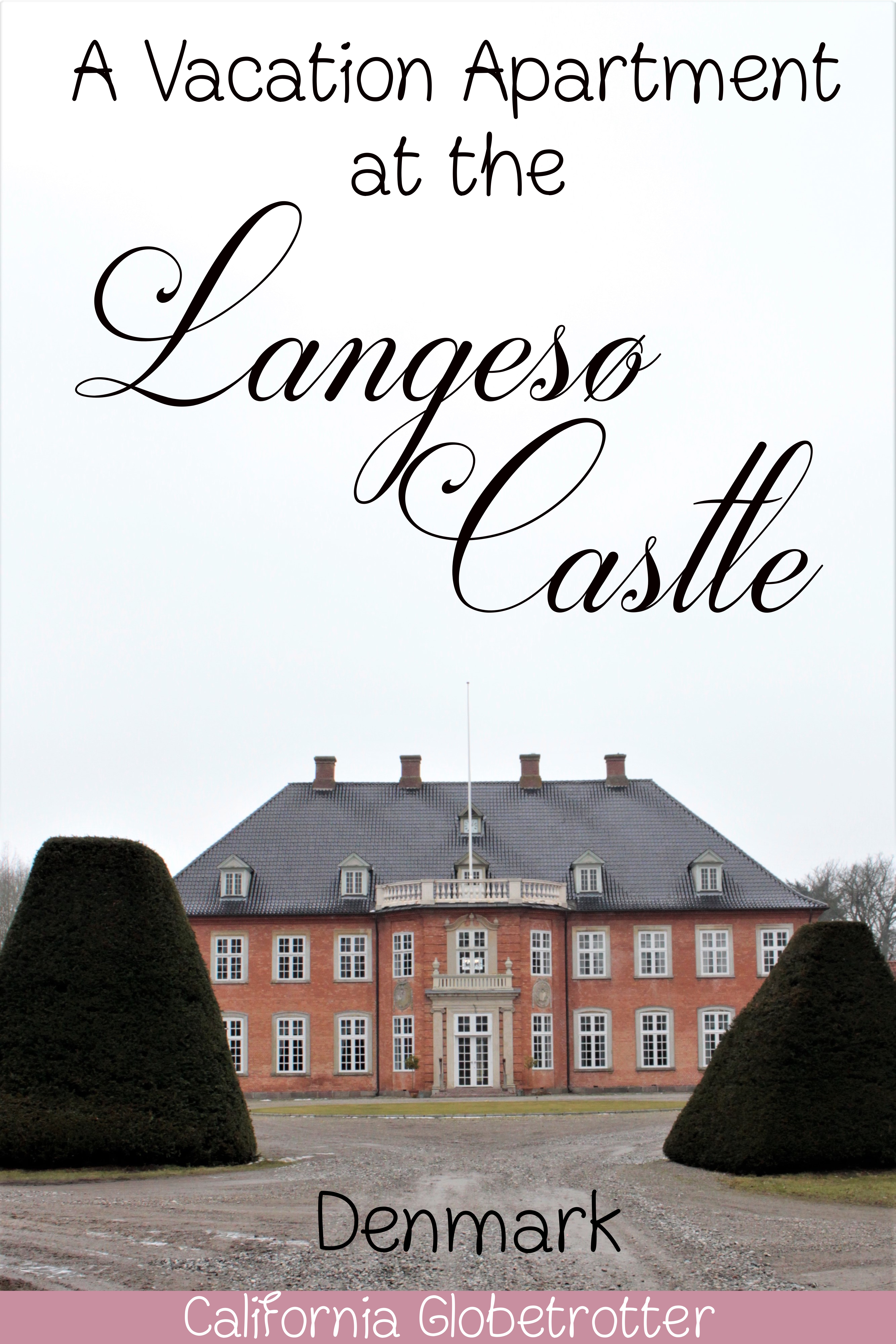 Location
When considering a visit to Denmark, it's all about location, location, location! Am I right? Or am I right? Located in the southern region of Denmark called Nordfyn, the nearest airport is Sønderborg Airport, 59.5 km. Langesø Castle is around 46.7 km from Kolding and 48.7 from Svendborg as well as being located almost 20 km from the nearby town of Odense, home of Hans Christian Andersen. Langesø has more than 300,000 visitors per year, which makes it the most visited private forest in Denmark.
In general, we found it quite easy to reach the castle by car along the E20 and is said to be one of the best places to stay in North Funen! Once we arrived, we quickly parked our car free of charge and unloaded to a weekend of relaxation!
If you're a true lover of all things fairy tales, then you'll immediately recognize the name Hans Christian Andersen as being the author of "The Emperor's New Clothes", "Little Mermaid", "The Nightingale", "The Snow Queen" and so many more including my personal favorite, "Thumbelina!" Plus, Hans Christian Andersen even lived at the castle for a while and describes Langesø Castle as the most beautiful on Funen!
About Langesø Castle
Immediately upon arrival, we rolled up to the stunning red brick manor house which dates back to 1774-78 in our little A1, yet somehow it felt like a complete crime! Where was my white carriage!? Needless to say, this was quite possibly the most historic building I had ever had the pleasure of staying in! As history would have it, an older castle dating back at least a 100 years more was once closer to the lake, but had to be demolished as it was located too close to the lake, therefore, threatening the integrity of the building.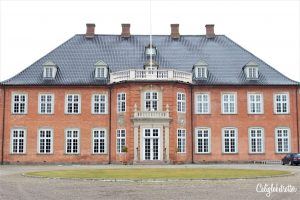 Over the centuries, Langesø Castle has had many owners, predominantly from one of the three noble families Skinkel, Bryske and Berner. Lacking any heirs, upon the death of the last owner, the manor house was donated to a foundation whose chairman must always have a member of the Berner family and is to this day, privately owned. However, Langesø Castle is still used as a family home, the 10th generation of the aristocratic family Berner Schilden Holsten still lives here!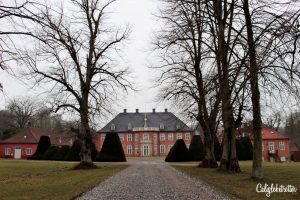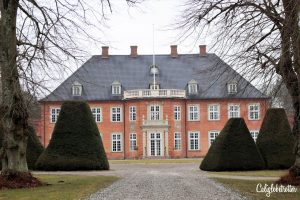 You'll even find a charming little Castle Chapel built in 1870 along your walk near the lake in the middle of the woods. Getting married soon? Considering the Castle Chapel which is a popular wedding venue!
Visiting Denmark around the holidays? Then consider stopping by for the Christmas Market at Langesø Castle which is open on weekends and has an average of 30,000 visitors per year! Be sure to walk around the surrounding forest which has some perfectly impressive trees. You'll also notice that there are a lot of Christmas tree nurseries nearby from which even companies in Munich bought trees from!
The Vacation Apartments at Langesø Castle
Honestly, we walked into our vacation apartment and felt right at home. Staying in the Baronness' Apartments, a painting of the Baroness greets you and a coat rack welcomes you to hang your coat up, take off your shoes and immediately wash away any stress. Immediately upon entering, I was impressed by the authentic furniture which had a combination of wood decor, floral accents and some modern amenities! What I truly loved about it all was that I could see, feel and even smell the history of the building as I walked from room to room.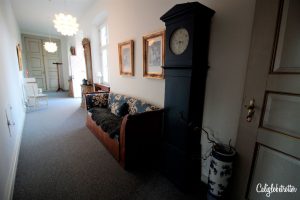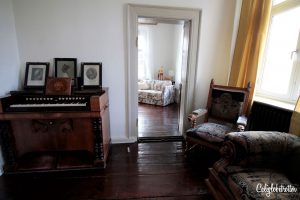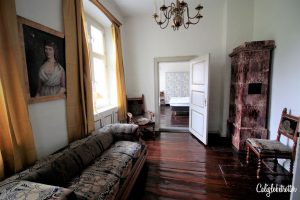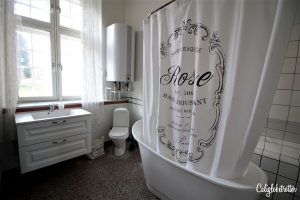 Everything you could possibly need while on holiday is provided for you, from a comfortable couch to a spacious kitchen where everyone can help throw together a delicious home cooked meal to even a luxurious bath tub, and of course, a cozy bed to fall into! Bring some board games or cards and gather round the table for an evening of fun!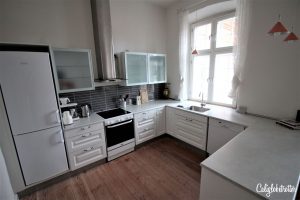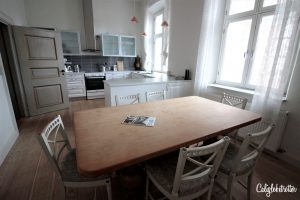 The apartment allows for a group of up to ten people to comfortably enjoy a relaxing stay without feeling like you're stepping all over each other! With four bedrooms and a double sofa bed, the whole family can travel together! You know what the say, "families that travel together, stay together!" Completely encircled by the surrounding forest, the area is incredibly peaceful, sometimes almost eerily quiet for this city girl!
But I certainly channeled my inner princess, whether or not my husband could see the crown! Just admit it, we've all dreamed of living in a castle, right?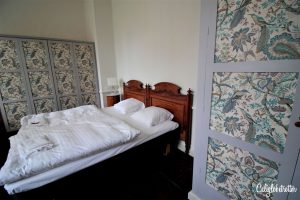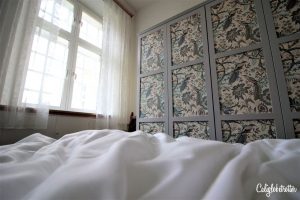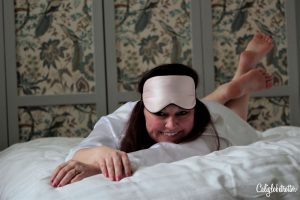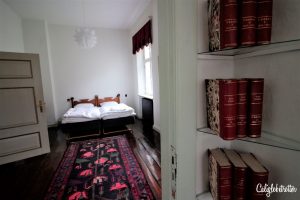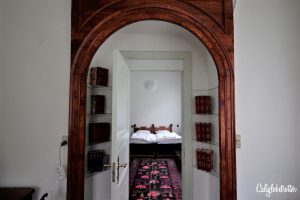 Since we were in Denmark and all, we completely and utterly took part in what is known as "Hygge" which is a Danish word for the feeling or mood of coziness, wellness and contentment which has come to define the Danish culture. More simply put, we put on our coziest socks and pajamas, turned the TV on, enjoyed a cup of hot chocolate and watched it snow outside. Later, I spent a few hours reading which I rarely have time to do, as well as some water coloring!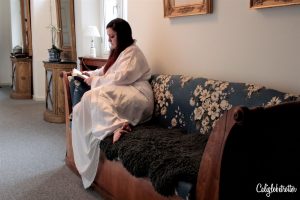 At the end of our stay, we were asked to clean up the apartment ourselves a bit and leave it as we had found it, which I had absolutely no problem doing as that is what is required of you when you have a Timeshare. We did the dishes and put them back where they belonged, took the sheets off the beds and put them next to the front door along with the dirty towels to make the cleaning process much easier for the staff! 
Sports and Leisure at Langesø Castle
At Langesø Castle, there's something for everyone! Literally!
✓Do you love going for long walks? The castle is surrounded by a large, luscious forest which quickly enticed me to go for a relaxing walk along one of the paths around the lake to stretch our legs after driving 10 hours to get here! Surprisingly, the lake was frozen over for the first time in who knows how long!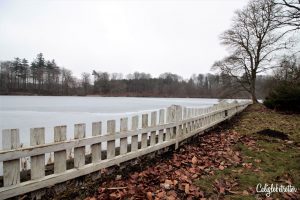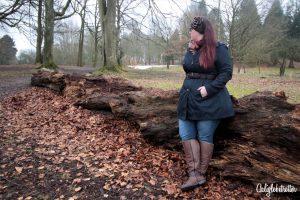 ✓Do you enjoy romantic picnics? I'm sure that during late spring and summer, the area is ten times more beautiful when Mother Nature decides to use her brush strokes! During the warmer months, I would have easily found a nice patch of grass along the banks of the river and even enjoyed a picnic!
✓Do you golf? Langesø Castle offers two courses, a 9-hole par-3 Pay & Play situated close to the lake and castle, as well as a more challenging championship 18-hole course. As an added bonus, you can enjoy the Himalaya Putting Green which recently opened in 2014 and was inspired by the legendary St. Andrews course in Scotland! Langesø Golf Course is often called the "hidden golf pearl" of Danish golf, so it must be top notch! Plus, they even have a PRO PGA golf teacher if you're looking to start! 
✓Do you mountain bike? The consider hooking yourself up with a license to hit the MTB trails through the Langesø Forest at Morud and riding till you feel satisfied! It was even the first privately built Danish single track in a forest and stretches 25 km for both beginners and advanced bikers!

✓Do love riding horses? The castle grounds also include a variety of horse trails which can easily be explored to your hearts content! Contact the Langesø Manor administration to get a licence. Roads and trails are open daily from 6:00am to sunset since the forest is privately owned!
✓Do you enjoy fishing? Bring your fishing gear and bait a hook! At the beautiful Langesø Lake, you can catch carp, walleye and pikes and then cook them up upon return to your apartment! Fishing license for the lake: DKK 50,-/day. You need to fish by boat. Boat rental: DKK 70,-/day
✓Do you love the cozy quietness of a lake? The consider renting a row boat, not just for fishing, but for simply enjoying the surrounding nature and have a romantic time!
✓ Do you love ice cream and waffles? Then be sure to head to Langesø Castle's Vaffelhus nearby in the summer where you can devour some delicious crafted ice cream, waffles, coffee and muffins! #FoodieAlert
Restaurants
Guests can also enjoy an on site restaurant, Cafe Victoria Golf should they prefer not to cook a home cooked meal every night! After all, you came to relax! We enjoyed both a delicious English Breakfast which was quite a hearty meal to last you through your round of golf or day of sightseeing! Open daily from 11-9pm where you can enjoy watching others play golf while you eat from the terrace!
More information on Facebook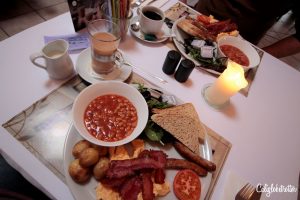 Final Thoughts on Langesø Castle
Overall, we thoroughly enjoyed our weekend stay at Langesø Castle! The staff and owner were incredibly friendly and accommodating. There was no need to worry about any language barrier as they all spoke English quite well! When we travel, we often try to find hotels which offer a full kitchen so that we can cook a few home cooked meals to help lower the cost of travel expenses. But it definitely isn't something I would do every night as obviously trying the local cuisine is of utmost importance, which is why we only enjoyed breakfast at the restaurant on site. 
The only negative aspect I found was that the hotel lacked any wifi access and in this day and age, being connected 24/7 seems almost like a must! However, works are underway to modernize the castle and bringing high fiber optics to allow for better internet usage! Although, it's not the worst thing to disconnect from the internet sometimes!
Overall, if I ever found myself visiting the island of Funen again, I would definitely make this my first choice option for hotels near Odense! It's in a prime location, close to the city but still completely peaceful. There weren't dozens of other tourists and we had the place completely to ourselves which made for a enjoyable weekend! Plus, how often can a girl say she had the chance to stay in a castle? 
Nearby Popular Attractions 
In case you plan to visit any of these nearby popular attractions, consider then a stay at Langesø Castle! 
Badstuen Culture Centre 

11.6 km

Odense Castle 

12 km

Odense Central Library 

12.1 km

Train Station Odense 

12.1 km

Funen Art Gallery 

12.2 km

Skt Knud's Cathedral 

12.3 km

Odense City Hall 

12.3 km

Odense Zoo 

12.4 km

Hans Christian Andersen 's Home 

12.5 km
Liked this post? PIN IT FOR LATER!!