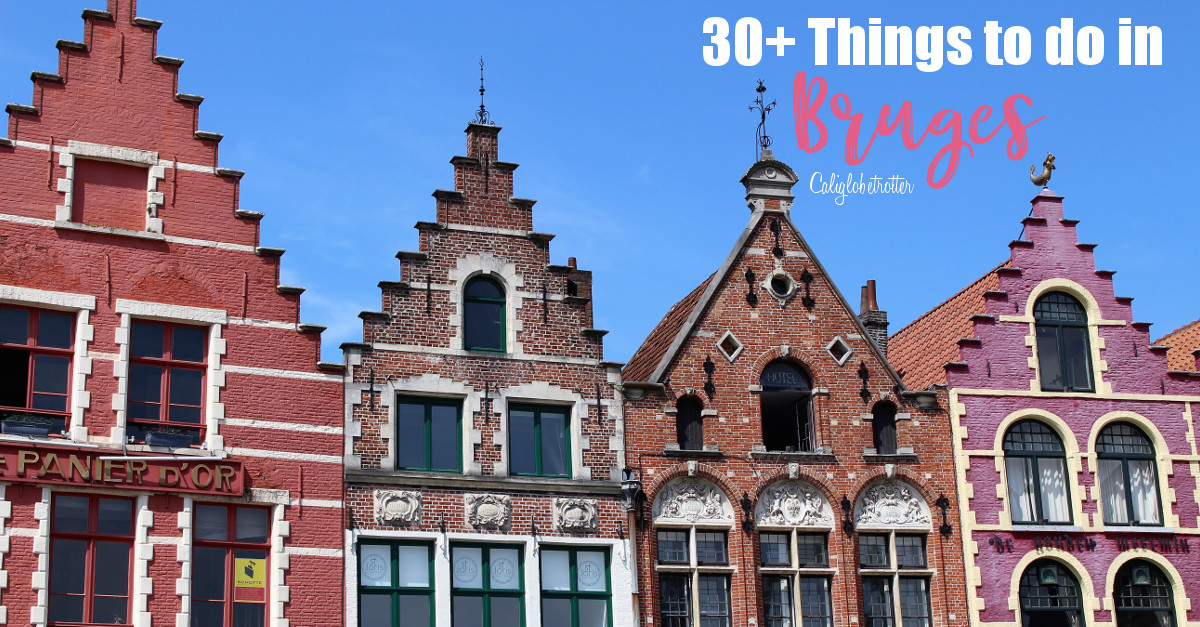 Disclaimer: This post contains affiliate links. If you click on one and make a purchase, I might make a little extra spending money, at no extra cost to you. As always, all opinions are my own and these products/services have been found useful during our travels and come highly recommended to you from yours truly!
Let's be honest, Bruges is definitely one of the most romantic cities in Europe which easily gets overlooked by its popular neighbor, Paris as well as Venice. Bruges is often called the "Venice of the North" with its crisscrossing canals which encloses its historic center making it one of the most beautiful canal cities in Europe. Whether you take a stroll during the day or during the night, romance will certainly be found in this quaint town as you stroll hand in hand.
Be sure to grab my full Belgium Travel Itinerary for 3, 5 or 7 Days!
Love Chocolate, Beer & Architecture? PIN IT FOR LATER!!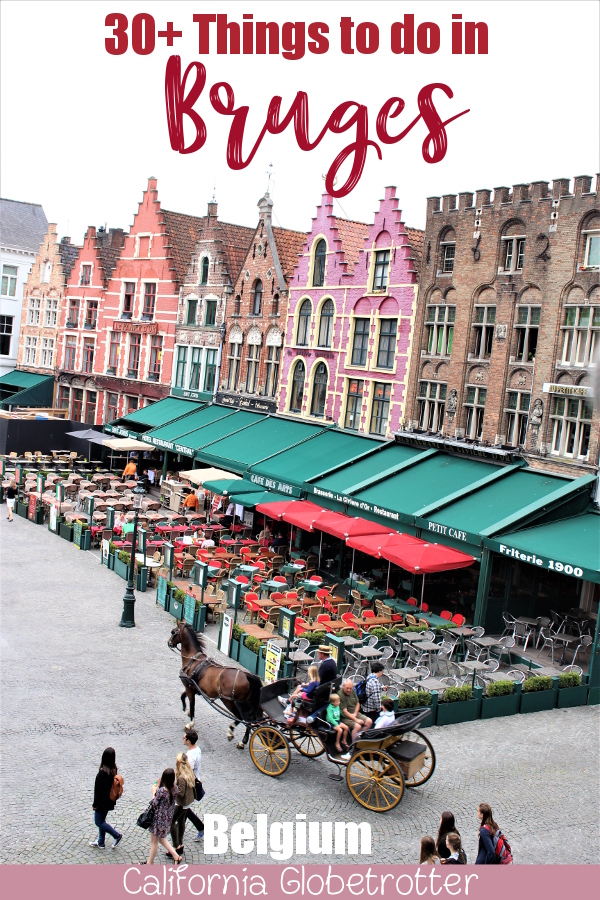 How to AVOID Looking Like a Tourist in Europe
Your ESSENTIAL Guide to Europe
The Most Beautiful City Halls in Europe
Like this post? Take it with you as GPS Guided App directly to your phone via GPSMyCity!
It is also more than just an easy day trip from Brussels. It is so much more beneficial to your health to slow travel, really enjoy the sights and take in the atmosphere. While Bruges definitely caters to the hordes of tourists who come in, you can find peace and serenity in the bustling little town. It's definitely worth to take the extra time to explore the hidden gems tourists miss when they're busy checking off their bucket list. 
Many people also ask the questions, Bruges or Ghent? Having been to both, Bruges is incredibly romantic with a ton of charming canals, stunning architecture and horse-drawn carriages, but that beauty comes with a price: #Overtourism.
However, if you're looking for a similar feel without the crowds and more laid back city feel, then Ghent is right for you with equally impressive architecture, romantic canals and embankments to stroll along and one of the most interesting culinary scenes in the country! But honestly, you can't go wrong with either as they're both some of the most stupid pretty towns in Europe and a trip to Belgium is the ultimate girl's weekend trip location!
So, what are the main things to see in Bruges?
Well, turns out there are many things you can do in Bruges in a weekend! Not only will you have enough time to circle the entire town twice, but you'll be able to do a canal boat tour, try some Belgian beer and waffles as well as admiring the beautiful architecture! You definitely don't want to miss Bruges' main attractions, but try not to get lost meandering along the canals!
Grote Markt, the Belfort Tower and Gilded Houses
As you make you way through town to begin your sightseeing in Bruges, you'll want to head directly for the Grote Markt (Main Square). Here, everyone congregates to admire one of the most beautiful main squares in all of Europe. In every which direction you look, there is something to admire, from the domineering Belfort Tower overlooking the square, to the very castle-esque Provinciaal Hof to the colorful array of 17th century gilded houses.
The Belfort Tower, built between the 13th and 15th centuries, in an octagonal bell tower, stretching 272 ft with 366 steps to the top. With a famous carillon that has 47 bells, romantically chimes periodically throughout the day, the Belfort Tower chimes. Even your ears are treated to a treat in Bruges!
It's here where you can catch a romantic horse-drawn carriage ride to gallop through and around Bruges. You'll come to discover that Bruges is a very quaint, compact town and is therefore, easily to explore by foot.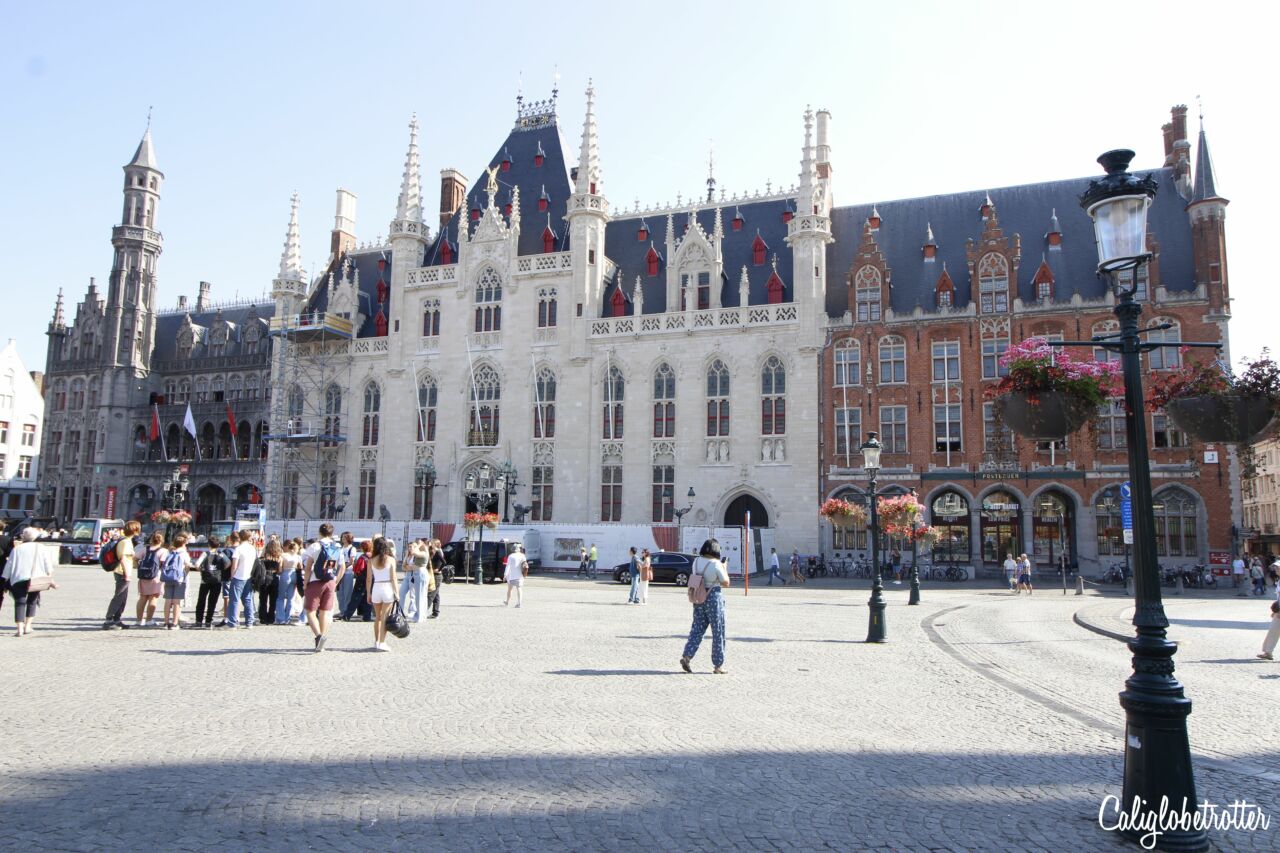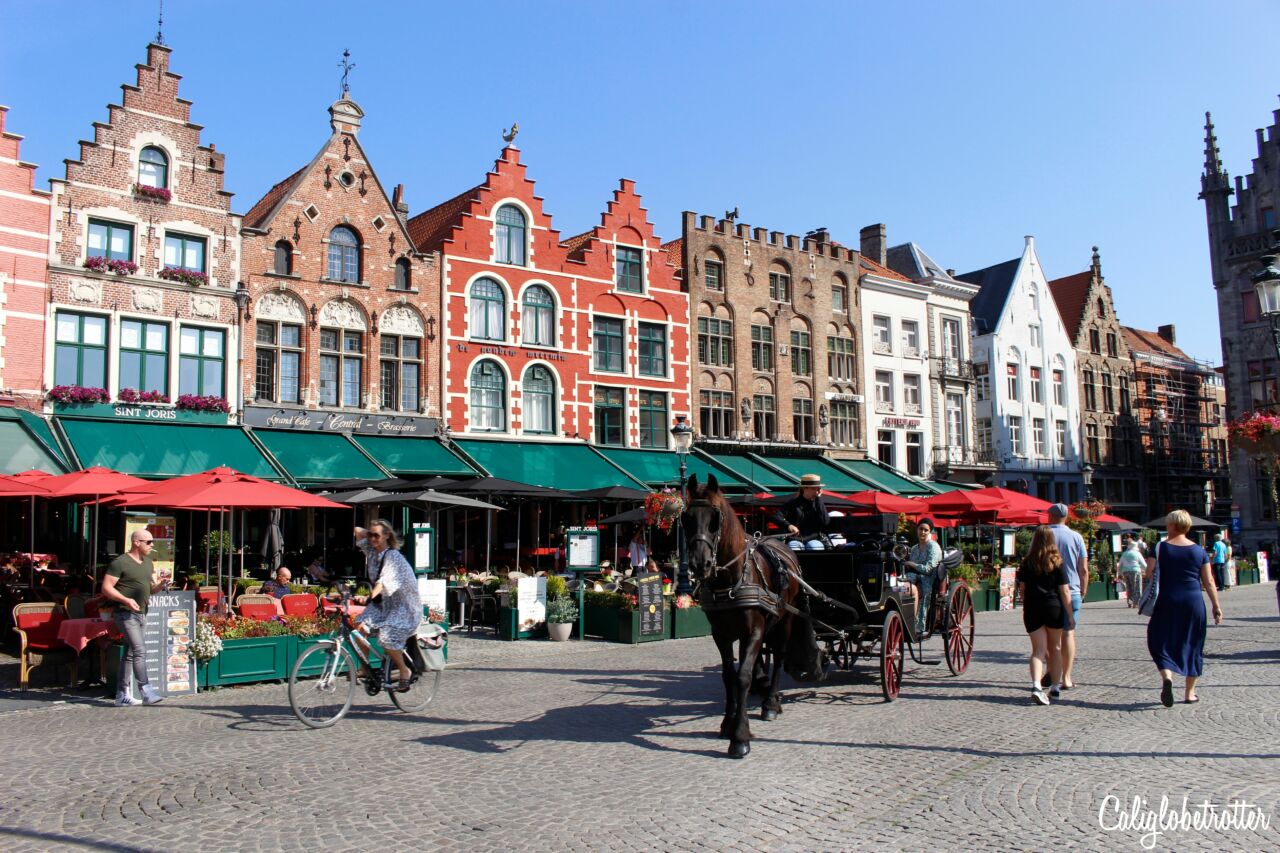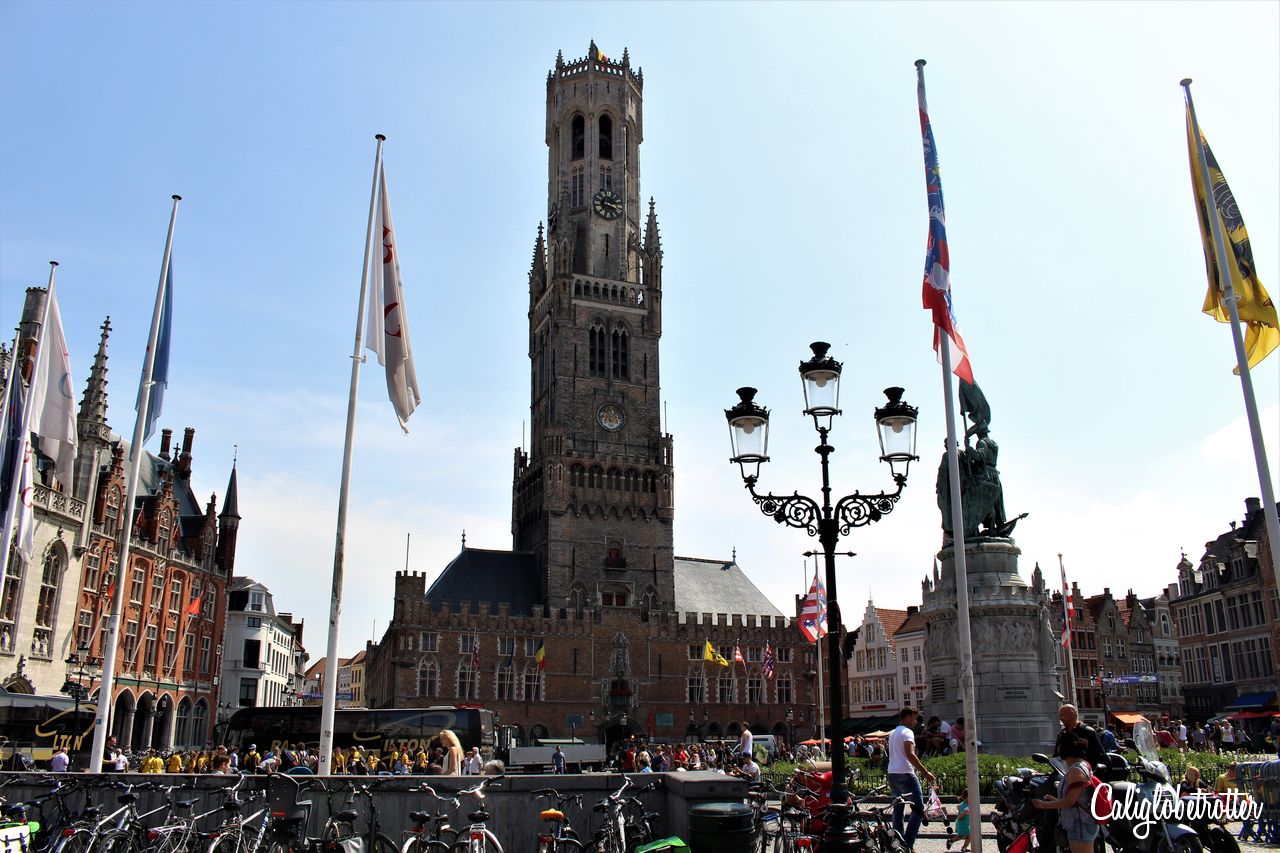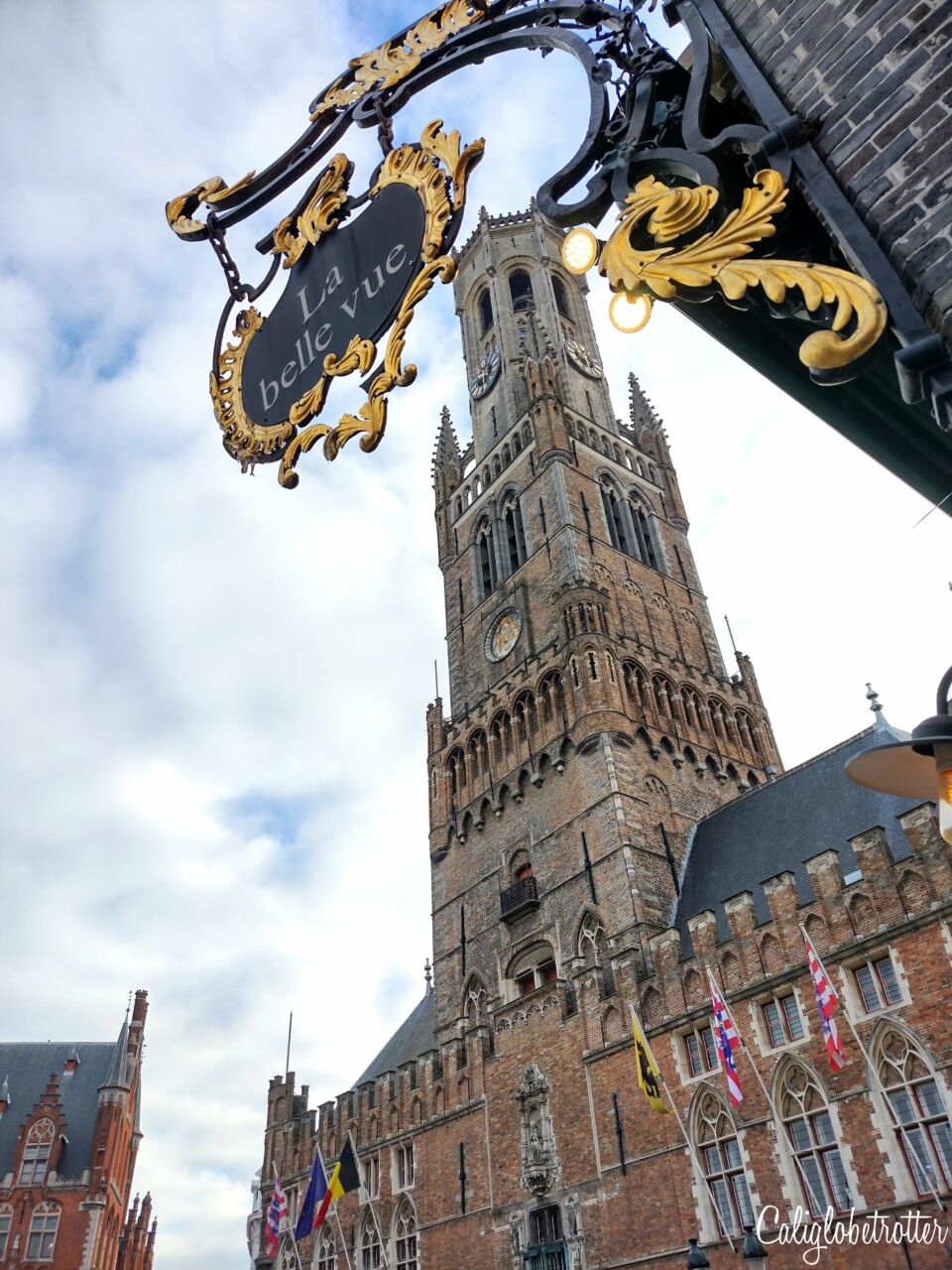 If you have the time, energy and the money, then consider spending the 14€ to climb up the Belfort Tower which will over some of the most stunning views of Bruges. However, if this is not desirable, then head Historium Bruges (the dark building next to the Provinciaal Hof), where you can go to the second floor to the Duvelorium Beer Bar, grab a drink and enjoy the views over the square from the balcony. Best of all, it's a bit of a hidden secret in Bruges and is rarely ever crowded!
The Burg & the Stadhuis
Once you've had you're fill of the Grote Markt, go to the right of the Provinciaal Hof and you'll eventually come to another square called The Burg. Here, you can admire the very castle-esque Stadhuis with it's romantic turreted towers and fine detail. It is without a doubt one of the most beautiful city halls in Europe! The Bruges Stadhuis was completed in 1375! And now I wonder to myself WHY exactly don't we build stunning buildings like this anymore?!?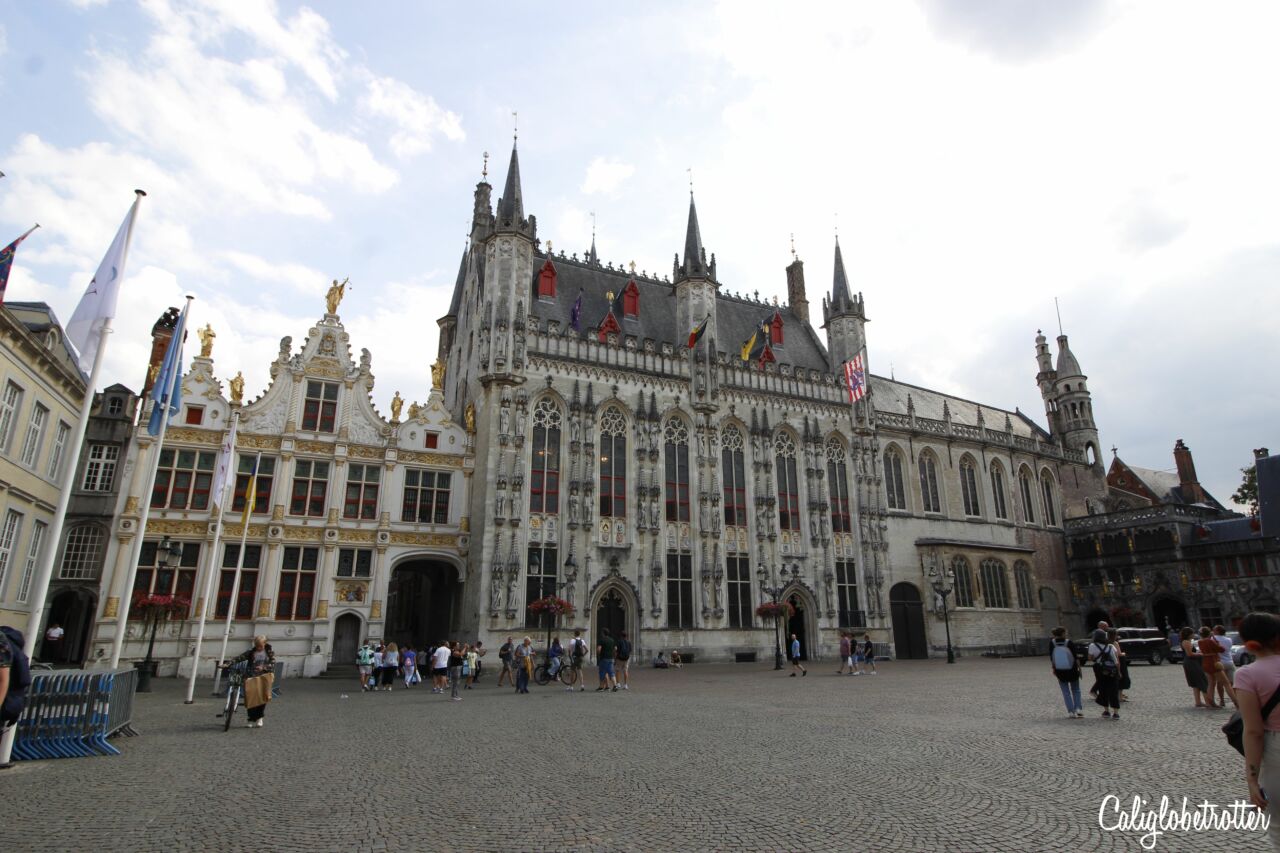 Here, you'll also find the Heilig Bloed Basiliek (Basilica of the Holy Blood). I highly recommend taking a peak into this tiny basilica that is wedged into the corner, up the winding stairs to admire the interior craftmanship. On display is one of Europe's most sacred religious artifacts, a sacred phial said to contain a few drops of blood and water from the body of Christ.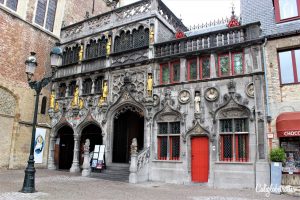 Often found parked on the edged of the Burg is a little mini-van which sells some of the best Belgian waffles in town! Every time we see it, there's always a line waiting for one, so be sure to grab one! Afterwards, stroll through some of the shops directly to the right of the Basilica. Here, you'll find chocolate, Belgian lace and more!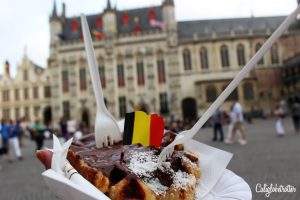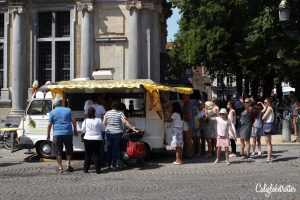 The Vismarkt & Around
After you're admired all the architecture around the Burg, then head through the gilded arch which connects the Stadhuis to the ornate 18th-century court house known as the Brugse Vrije. The alley, known as the Blinde Ezelstraat (Alley of the Blind Donkey) connects the Burg to the Vismarkt, the fish market, on the backside of the city hall.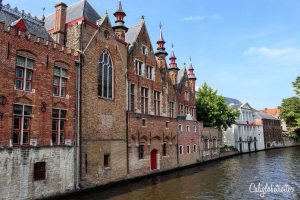 The Vismarkt is an elegant 18th-century outdoor fish market with colonnades. While I have never seen any fresh fish sold here on the many times I've ever been, there are however, some local artists selling their artworks and crafts. Directly opposite the Vismarkt on the corner is one of my absolute favorite lace shops in Bruges, called Tilia Bruges. 
It's also here, you'll find one of several docking stations to catch a canal boat ride. From early March to Mid-November, you can take a ride on one of many canal boats that will offer this history of Bruges in a variety of languages, English, German and French.
You'll eventually wander through to the other end of the Vismarkt or find yourself in yet another tiny, charming square filled with quaint restaurants. Once through here, you'll come to a "main street", Rozenhoedkaai, where you'll come to one of the most picturesque corners of Bruges. On a bended curve in the canal, you'll find more pick up locations for the canal boats. 
Off in the distance, you'll find my favorite bar, the 2Be Bar, a great place to enjoy a flight of Belgian beers overlooking the canals. Here you'll find many beers on tap as well as bottle beers. My favorite? The Chocolate Quad from Barista! Yes, a Belgian Chocolate Beer! 
As you make your way to the 2Be Bar, you'll also walk along a rather unique wall display of hundreds of beer bottles and their corresponding beer glasses on display, known as the Beer Wall.
And off in the distance is the backside of the Belfort Tower.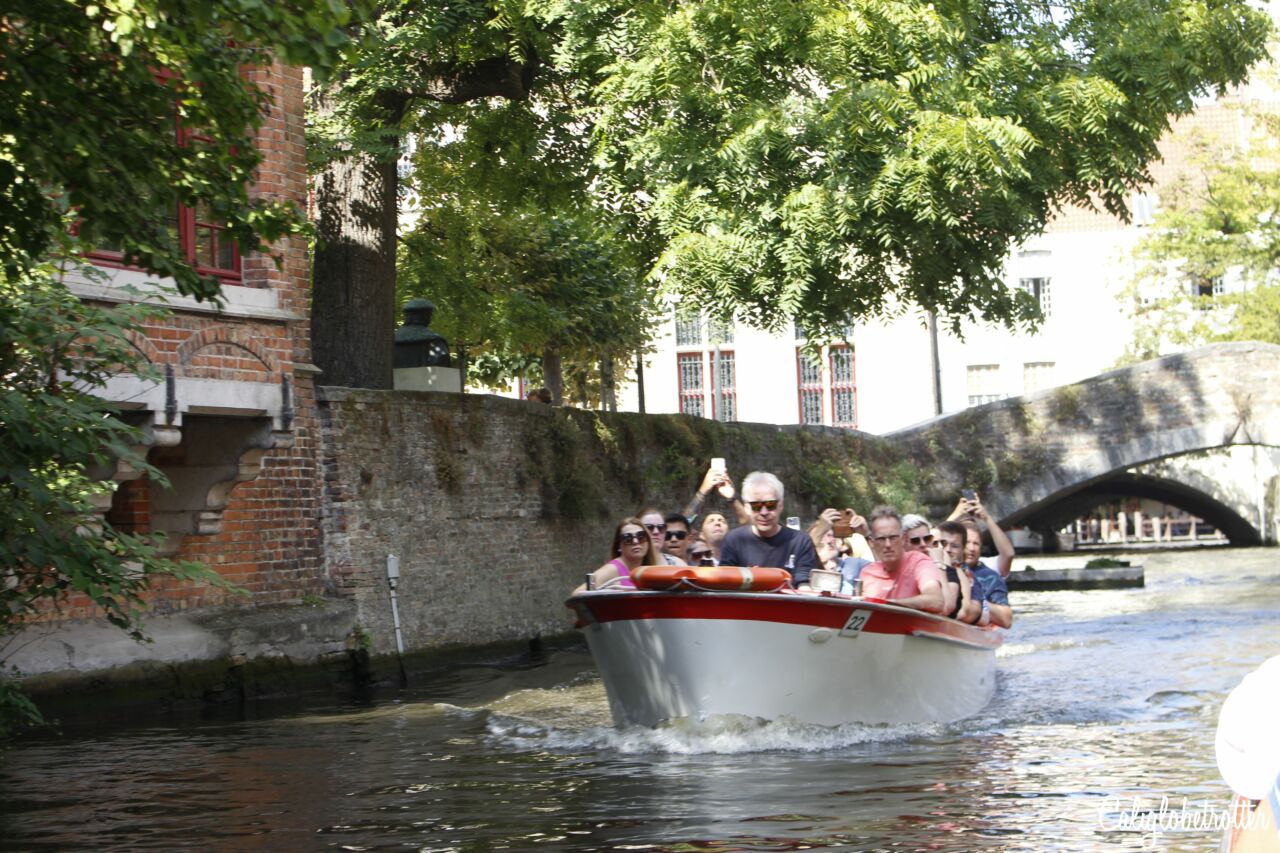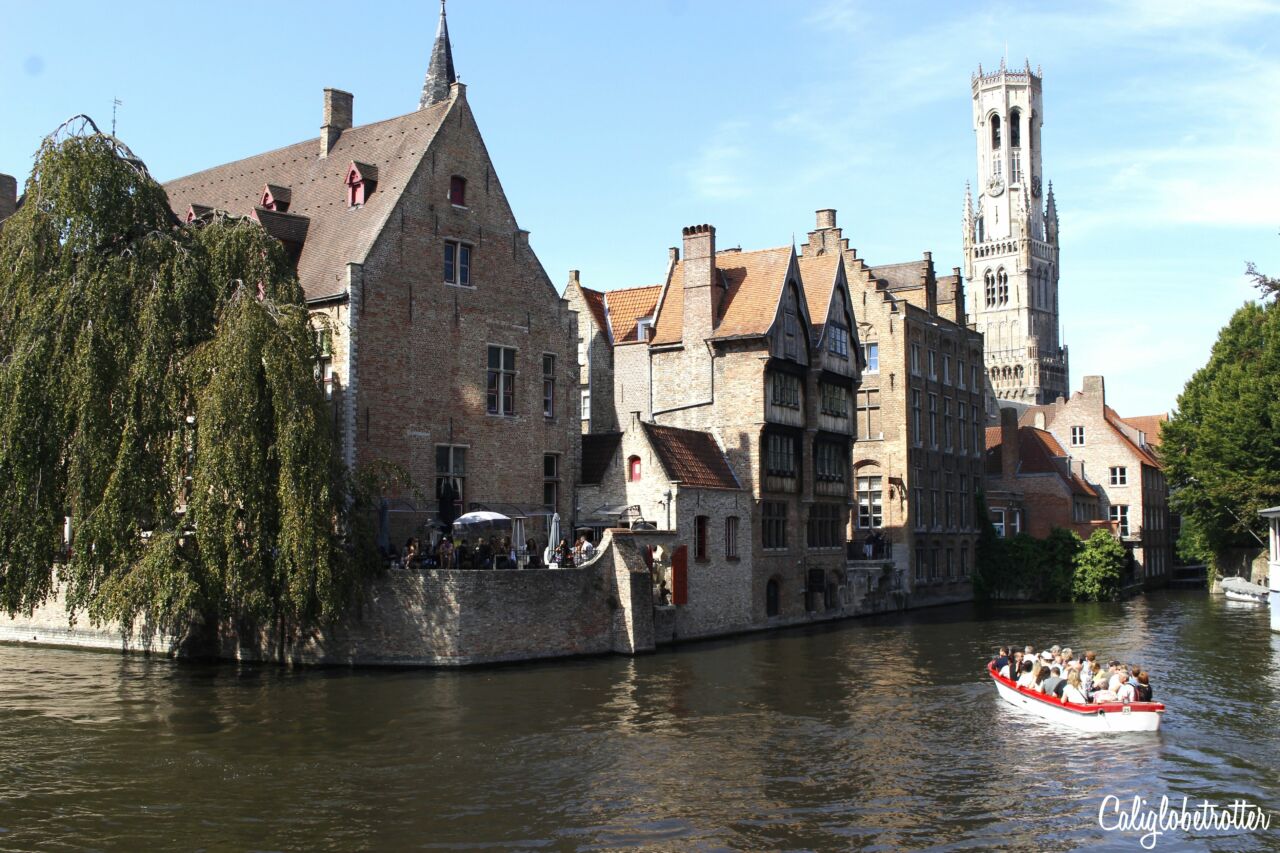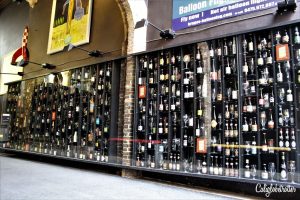 At one point, you'll start to wonder where to eat in Bruges and as you walk along Rozenhoedkaai, you'll find another of my favorite lace shops in Bruges, Kantenparadaijs, located just a few doors down from my favorite Belgian Fritterie in Bruges, Casa Patata.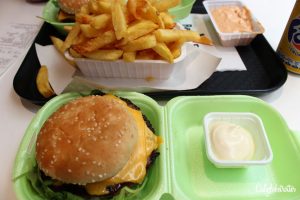 Along Wollestraat
Along Wollestraat (street), you'll find dozens of quaint shops, cafes, restaurants and even the entrance to the 2Be Bar. Some of my favorite shops on this street include a unique tea shop, the Het Brugs Theehuis, home to every shape, size and caricature tea pot you can imagine. 
On Wollestraat, you'll also find a few chocolate shops to grab some of the world famous Belgian chocolate, but perhaps save that towards the end of your day, especially if it's hot and you still have lots of sightseeing ahead of you.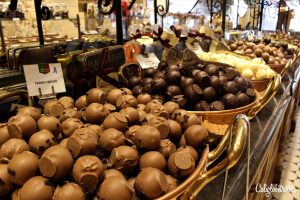 You'll also find the House of Waffles, both with indoor seating and a sidewalk window to order some of the best waffles in Bruges from! And just next door is the Historic Torture Museum of Bruges.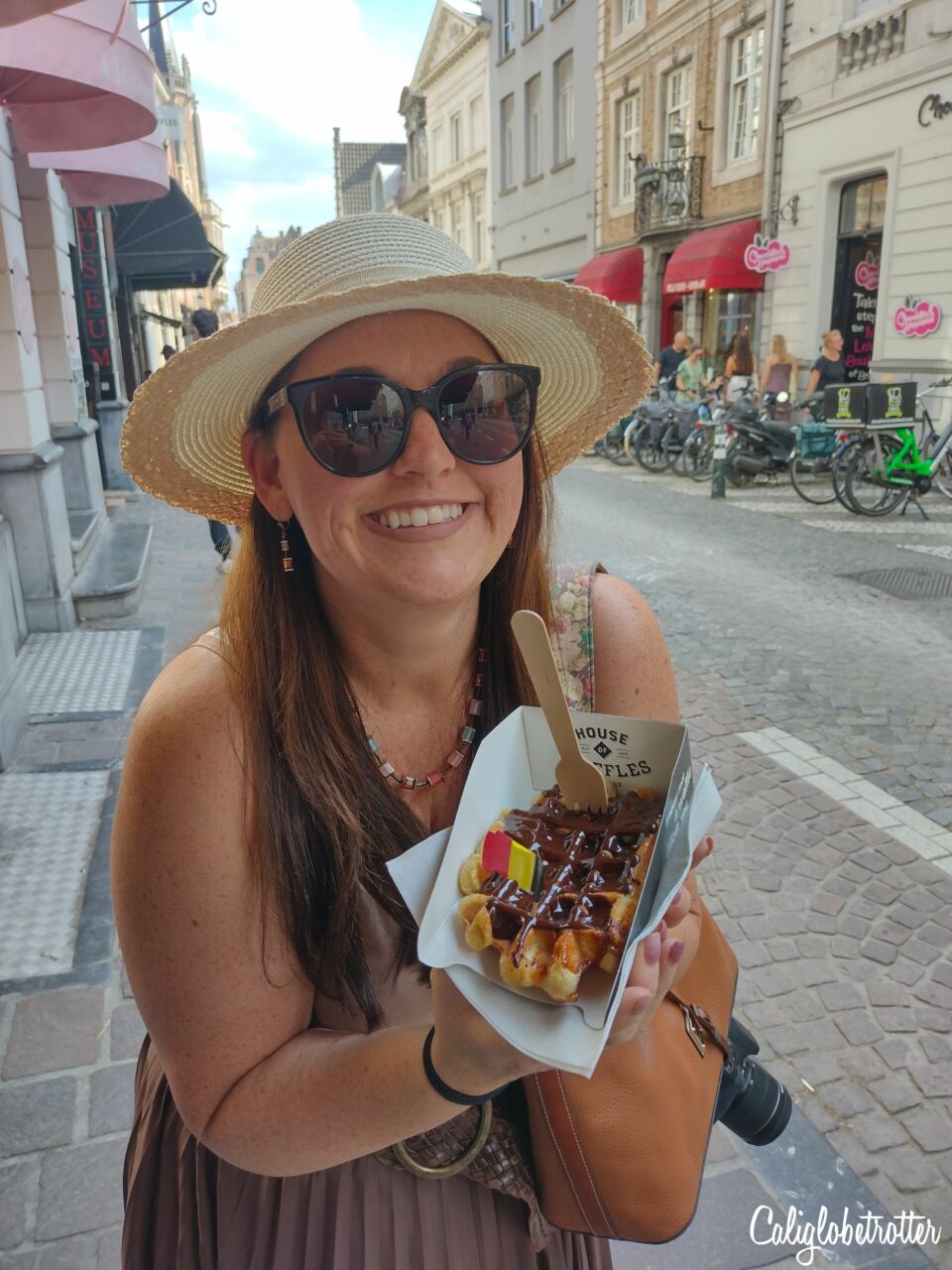 The Welcome Church of Our Lady
This street will eventually lead you back to the Belfort Tower and the Grote Markt, but you'll eventually, want to make your way to Onthaalkerk Onze-Lieve-Vrouw (Welcome Church of our Lady), a conglomeration of a variety of architectural styles that evolved over the 200 years building process. This particular church is worth a visit because it's home to Michelangelo's 1505 sculpture of the Madonna and Child, made even more famous from the book/movie the Monument Men that portrayed the story of rescuing historic artifacts and works of art before falling into the hands of the Nazis during the Second World War. 
Places to Drink Belgian Beer in Bruges
One of the best places to visit in Bruges is definitely the Bier Palais, which has on display hundreds of Belgian Beers and some of the corresponding glasses. At the end of the shop, you'll find a makeshift summer beer garden for visitors to sit down and enjoy a beer. Perhaps, buy a few to sample before continuing to explore some of Bruges' most popular attractions.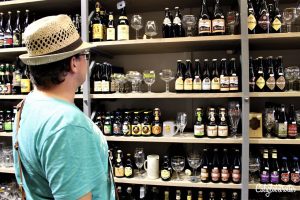 You can also take a tour of the Brouwerii de Halve Maan (Half Moon Brewery) – one of the oldest breweries in Bruges since 1856 with a lovely little beer garden to sit and enjoy the atmosphere.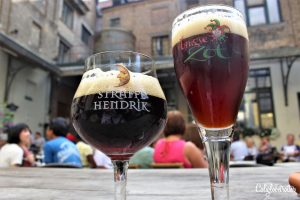 Don't Miss These Other Interesting Things to do in Bruges:
Check out the Frite Museum to learn the history and secrets of Belgium's national culinary triumph – Belgian fries!

Then check out the Choco-Story museum to learn how cocoa is made into chocolate, of course with a tasting!

Take a walk through the make-shift antique market along the canal
Along your canal boat tour, you will also be shown a peaceful and charming little park at the end of one of the canals, which is home to dozens of swans who have been inhabitants here since 1488.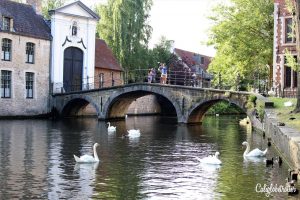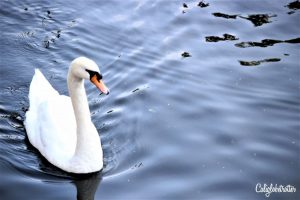 Tour the Belgian Lace Museum
Bruges is especially world famous for their lace making skills. Ancient lace making skills and techniques are still carefully kept alive in Bruges, and with a visit to the Kantecentrum, you can learn how Belgian lace is made and watch women delicately make lace. Every afternoon, except on Sundays and holidays, you can watch the lace demonstration.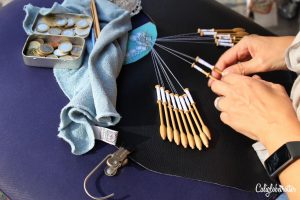 The "Vesten"  – Old Fortifications Windmills 
Just a bit further from the Lace Museum, you'll eventually come to the outer skirts of the old town of Bruges, where you'll find the last 4 windmills in Bruges, in case you were looking for some unique things to do in Bruges. It's also a great place to pack a picnic and sit and enjoy the quietness of the park for a bit.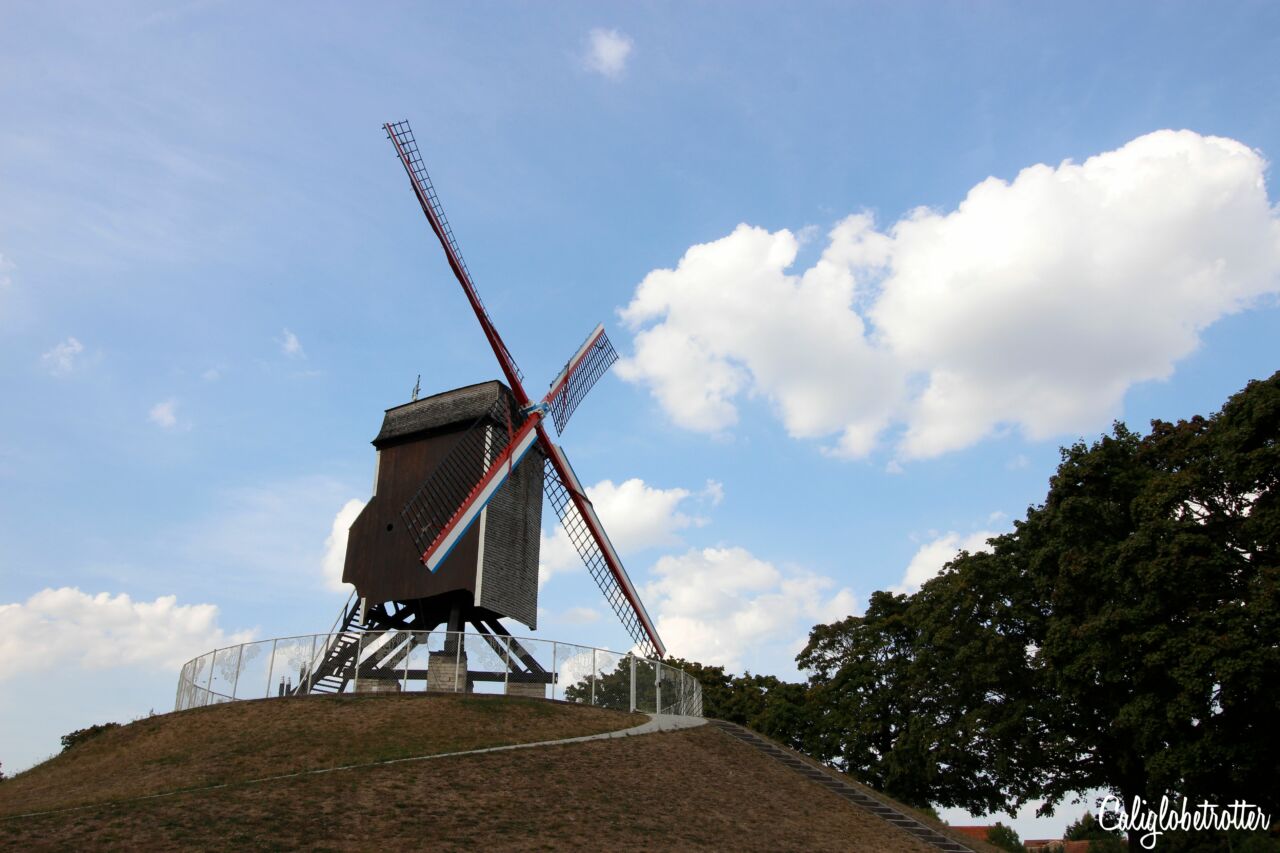 Jan van Eyke Square & Statues
If you've seen the movie In Bruges, then as you explore many parts of Bruges, many sites will look familiar, most importantly, the Jan van Eyke square, where Colin Farrel sat on this famous bench. However, the statue is of more importance than where Colin Farrell sat, as it's of Jan van Eyke, a famous painted famed for his Early Netherlandish painting style, most famously Portrait of a Man.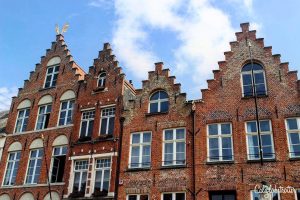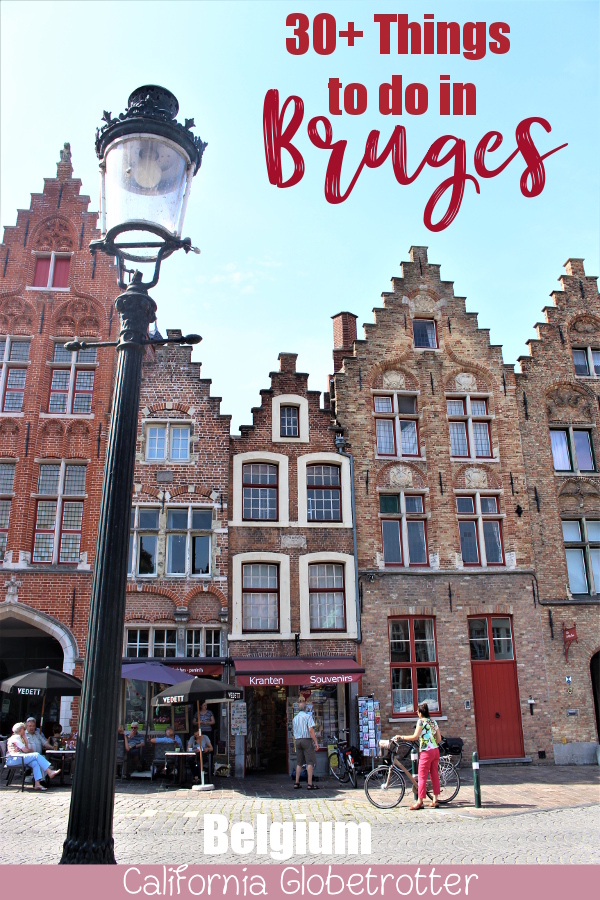 Blue Hour Photography in Bruges
One of the best things to do in Bruges without a doubt is to stay long enough that most of the tourists have left for the day, the main squares have emptied out, thus providing the optimal time to take some stunning Blue Hour photos of Bruges, at the peak of the town's beauty.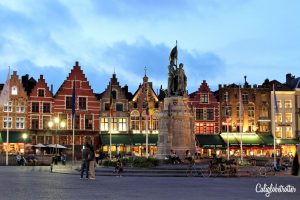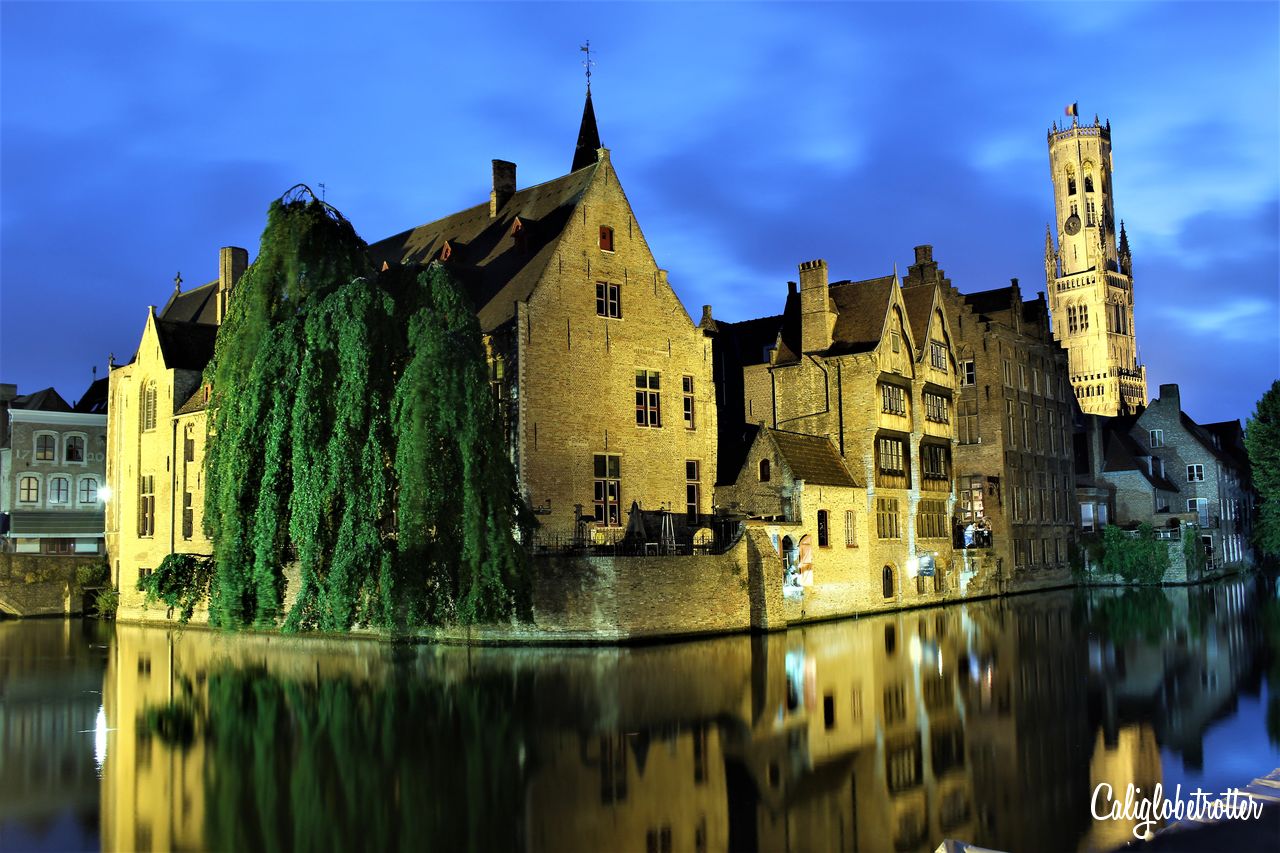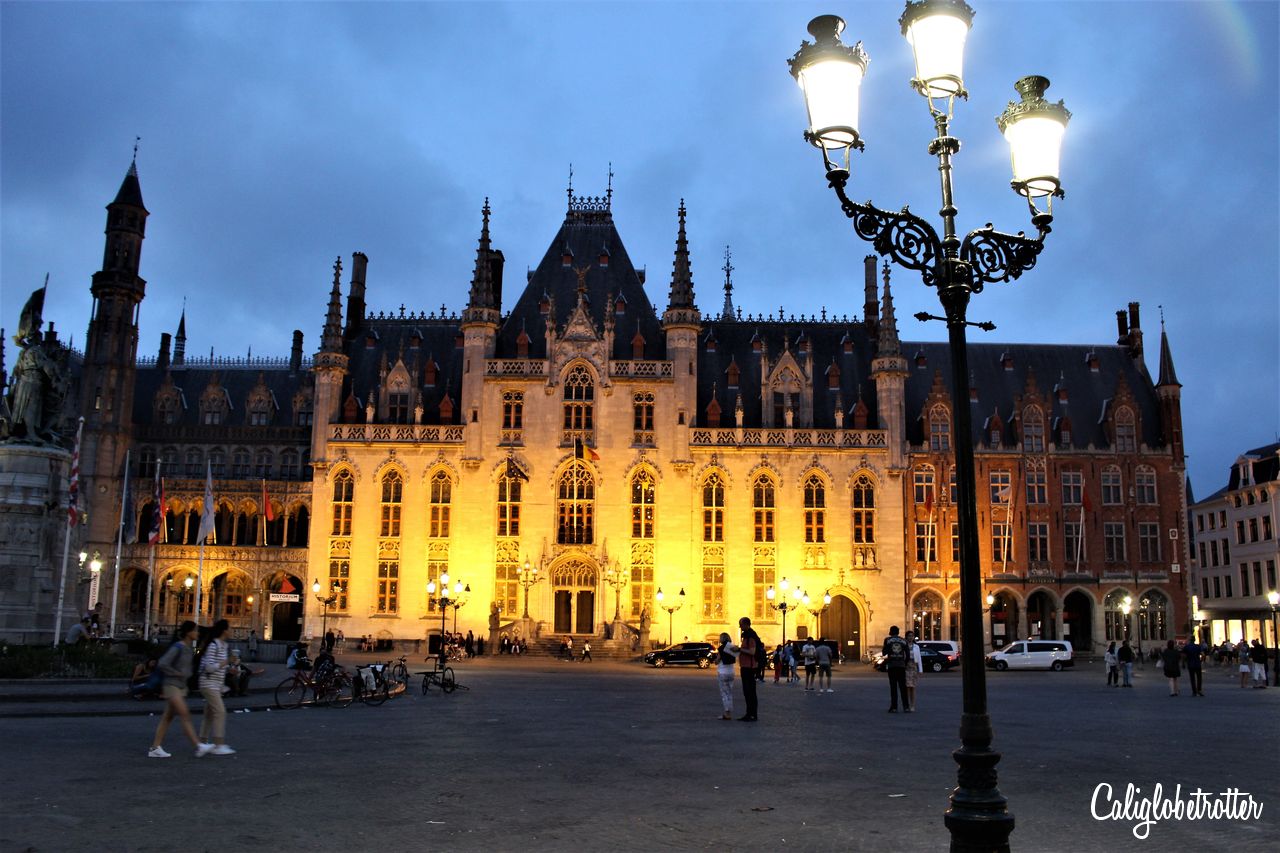 Where to Stay in Bruges:
Hotel 't Putje ⭐⭐⭐ – We stayed at this adorable little hotel on the edge of the Old Town during our first visit and loved it!
Hotel Loreto ⭐⭐⭐ – This is a great hotel if you're looking for a last minute hotel in the heart of the Old Town that is comfortable and affordable and has a great breakfast!
If you're interested in visiting Europe and are looking for more information, I highly recommend using the DK Eyewitness Travel Guide or Lonely Planet! Without these guides, I would be lost! This is my travel Bible! As well as two books on Belgian beer I highly recommend for understanding Trappist beers and all of Belgium's beers!
Disclaimer: This post contains affiliate links. If you click on one and make a purchase, I might make a little extra spending money, at no extra cost to you. As always, all opinions are my own and these products/services have been found useful during our travels and come highly recommended to you from yours truly!
Belgium Travel Inspiration:
Eating, Drinking & Sightseeing Your Way Through Brussels
The Budget-Friendly Guide to Ghent
3 Days of Debauchery at the Aalst Carnaval
The Blissful Belgian Coast: Blankenberge Beach
Liked this post? PIN IT FOR LATER!!