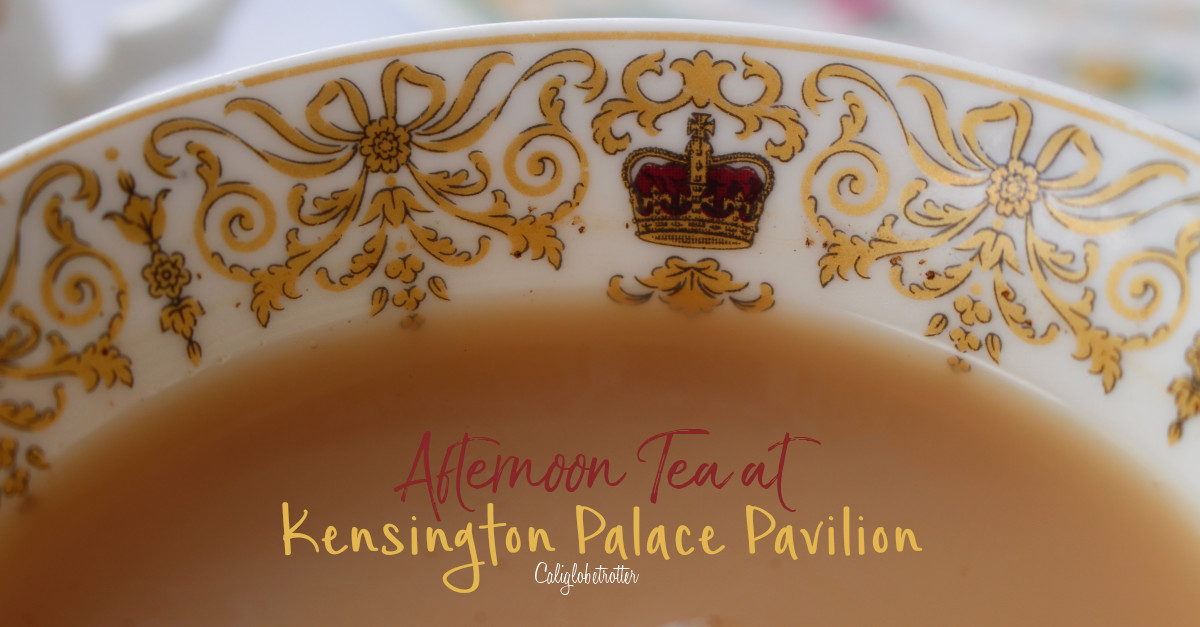 Disclaimer: This post contains affiliate links. If you click on one and make a purchase, I might make a little extra spending money, at no extra cost to you. As always, all opinions are my own and these products/services have been found useful during our travels and come highly recommended to you from yours truly!
When in England, afternoon tea as much as possible is my motto! There are a million possibilities for afternoon tea in London, so it can be quite overwhelming to decide where to enjoy a tea that best fits your needs, budget and personality. Enjoying an afternoon tea at Kensington Palace is a great way to combine some London sightseeing with a bit of culture. Known as one of the best locations in London for an afternoon tea, the advantages of an afternoon tea at Kensington Palace are lengthy!
Love Afternoon Tea? PIN IT FOR LATER!!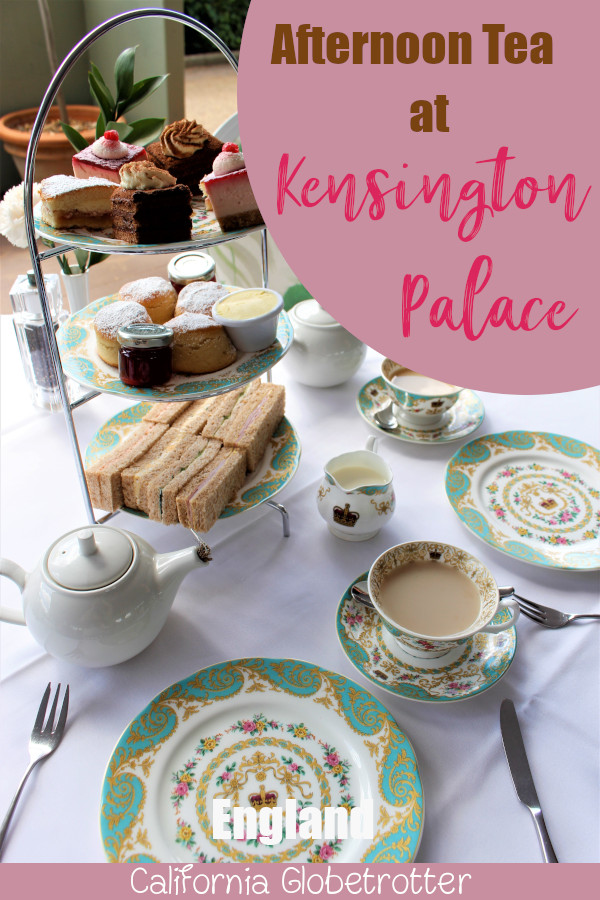 A Traditional London Itinerary with the London Pass
Afternoon Tea Etiquette – 15 Do's & Don'ts of Afternoon Tea
Germany isn't exactly known for afternoon tea, but instead coffee and cake, so being a tea-lover, I try to book an afternoon tea every chance I get when in England! It was only a short time ago that I learned that afternoon tea didn't just apply to England though, but that one could enjoy an afternoon tea around the world. Each and every afternoon tea is different and unique in their own way, and comparing them never helps to make a decision in my opinion. However, the few teas I've been to in London, I have managed to schedule into our sightseeing plan so that we were never backtracking and included something to see.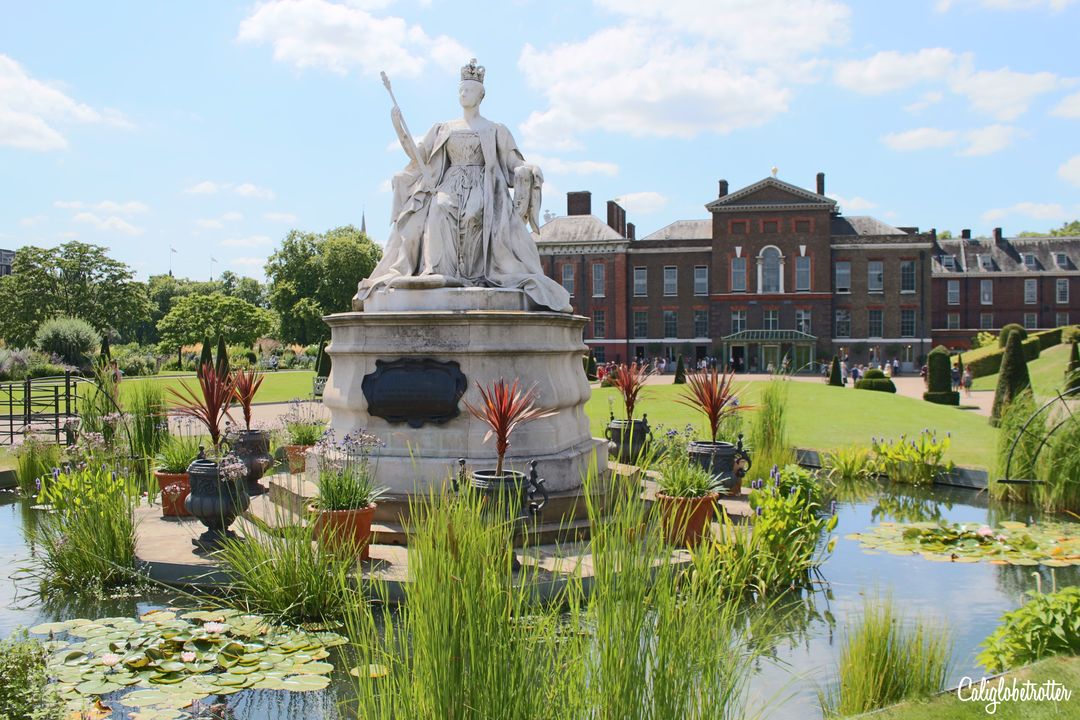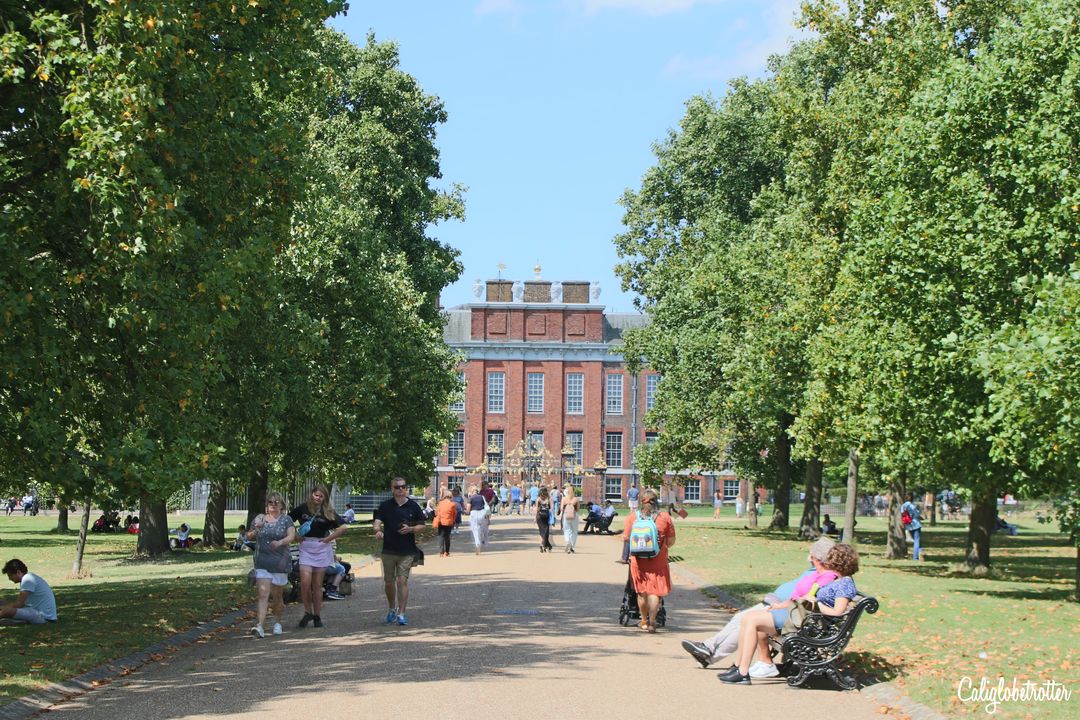 Afternoon Tea in London
London has so many options for afternoon tea, from a Mad Hatter tea to Beauty and the Beast afternoon tea. And while I would love to do one of those, I can imagine they are in high demand for the simple fact that they are without a doubt Insta-worthy. Choosing an afternoon tea can come down to your budget and how much you're willing to splurge, if you would like a more casual experience or a bit classier. For me, I always love a good excuse to dress appropriately for an afternoon tea experience in London. After all, it's pinkies up!
Our first experience with a London afternoon tea was last year when we went to Fortnum & Mason, one of the top establishments in London renowned for their afternoon tea parlor and variety of tea blends. And for the price we paid and the experience, it was worth the splurge. But not all teas need to be so pricey.
"I don't drink tea to wake up, I wake up to drink tea"
Kensington Palace Afternoon Tea
What drew me to book an afternoon tea at Kensington Palace wasn't the fact that it's the only royal palace in London where one can enjoy a tea and hope to bump elbows with the Young Royals, but more for the fancy china. I'm a sucker for beautiful fine china and a reason to get all gussied up and feel like a princess. You never know if Prince Harry might suddenly become single again after all or when one might suddenly find themselves invited to tea with the Queen!
Not to be confused with the Orangery, the Kensington Palace Pavilion has a full frontal view of the famous Sunken Garden, planted in 1908 which Princess Diana loved so much when she lived here. It makes the perfect background setting to a lovely afternoon tea on a gloriously warm summer afternoon in London. Though to be honest, it was quite a surprise to enjoy a tea sitting outside and I'm so glad the weather was so perfect. However, had the weather not been pleasant, the tables would have been inside the Pavilion.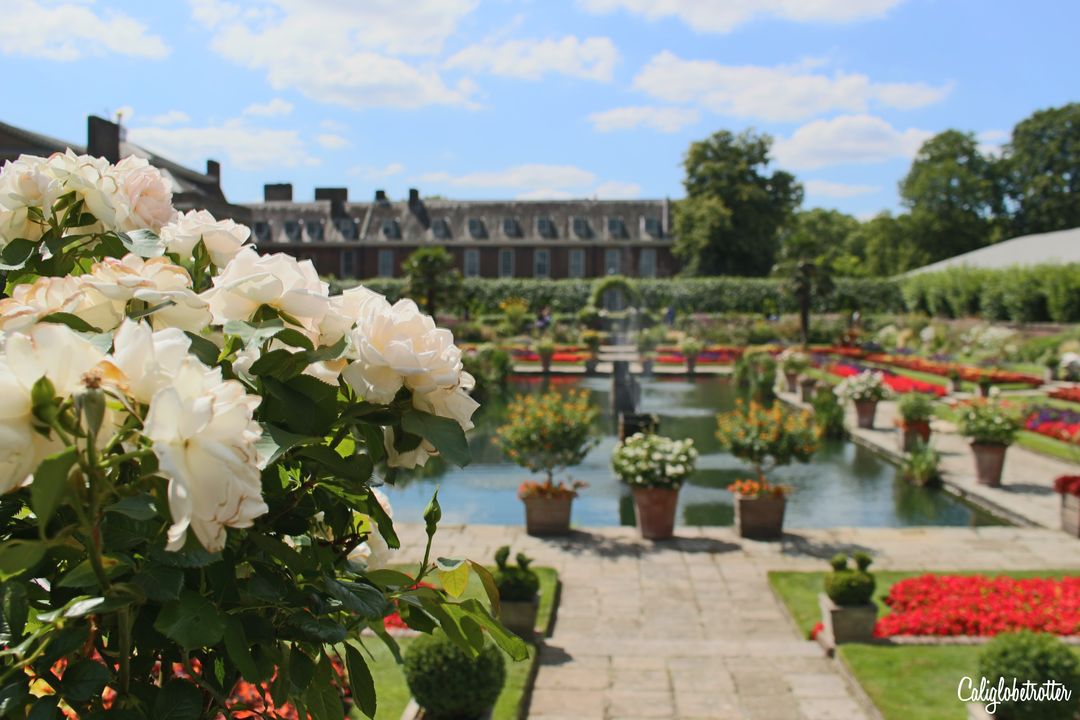 However, had the afternoon tea actually been inside the Pavilion, I think I would have been a little bit disappointed, as the building itself felt so shabby and cheaply made and there were no decorations on the inside to help fill the large, empty dining area. The walls were even so thin, even in the restrooms you could hear the kitchen cooks.
Though with Kensington Palace being one of London's main attractions, with the Pavilion off to the side from the Palace, it didn't feel like we were enjoying a tea with a bunch of tourists walking by or taking photos. It was still a quiet location and all the tables were spaciously separated from one another which gave the feeling of privacy.
And while there is a dress code requirement before one can enjoy an afternoon tea at the Pavilion, the rules didn't seem to apply too much in person. I saw many people in casual dress and even shorts and sneakers. While I consider this a huge faux pas, I can't expect everyone to dress for the occasion, especially as afternoon tea has become really quite mainstream in the last few years, therefore, perhaps taking away a bit of the special occasion feeling it possibly once held.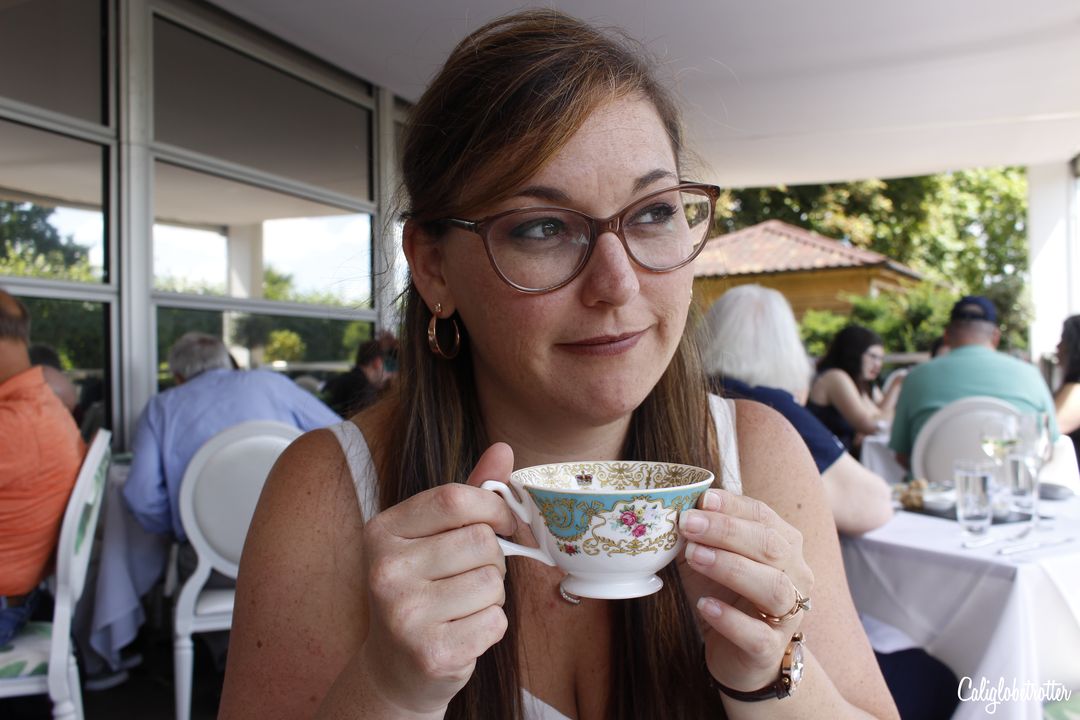 "Tea is a cup of hope in a world full of chaos and Mondays"
Traditional Afternoon Tea
Immediately off the bat, we were greeted with prompt and friendly customer service and were shown right away to our table. It wasn't before long, that we quickly ordered our teas and our scheduled basic afternoon tea. While Kensington Palace does also offer a Royal Tea and a Children's Tea, we decided to not splurge and go overboard. Today's afternoon tea would serve mostly as our lunch between sightseeing.
An overview of the the afternoon included a variety of specialty tea blends, or coffee should one so desire, a variety of dainty sandwiches which included cucumber sandwiches, a fish sandwiches, egg salad sandwiches and ham with mustard. While the sandwiches were delicious, they were rather simple. The second tier included Lemon Scones which matched perfectly with the strawberry jam and clotted cream before we reached the top tier full of delicious goodies which included a strawberry cheesecake, a double chocolate cake as well as a slice of lemon cake with powdered sugar. Now, I know that all sounds like a load of sweetness, but an English friend of mine always told me "If you leave an afternoon tea and you're not high on sugar, then something is wrong". Though to be honest, double chocolate cake always defeats me. It's always too sweet, and I NEVER say that!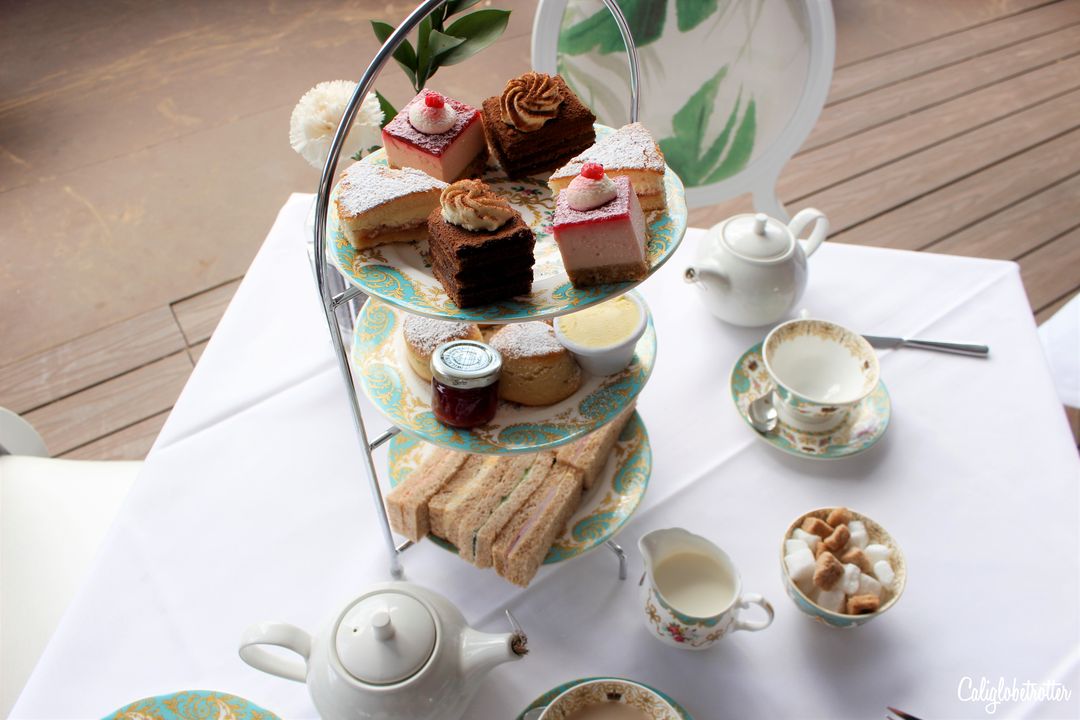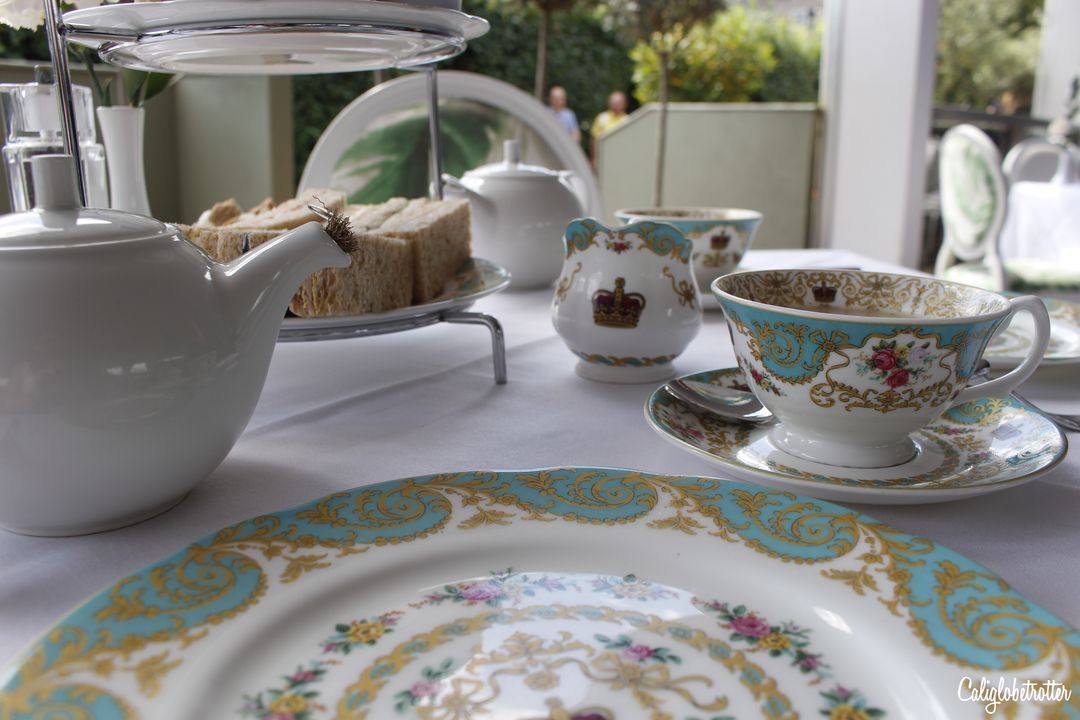 "You can't buy happiness, but you can buy tea, and that's kind of the same thing"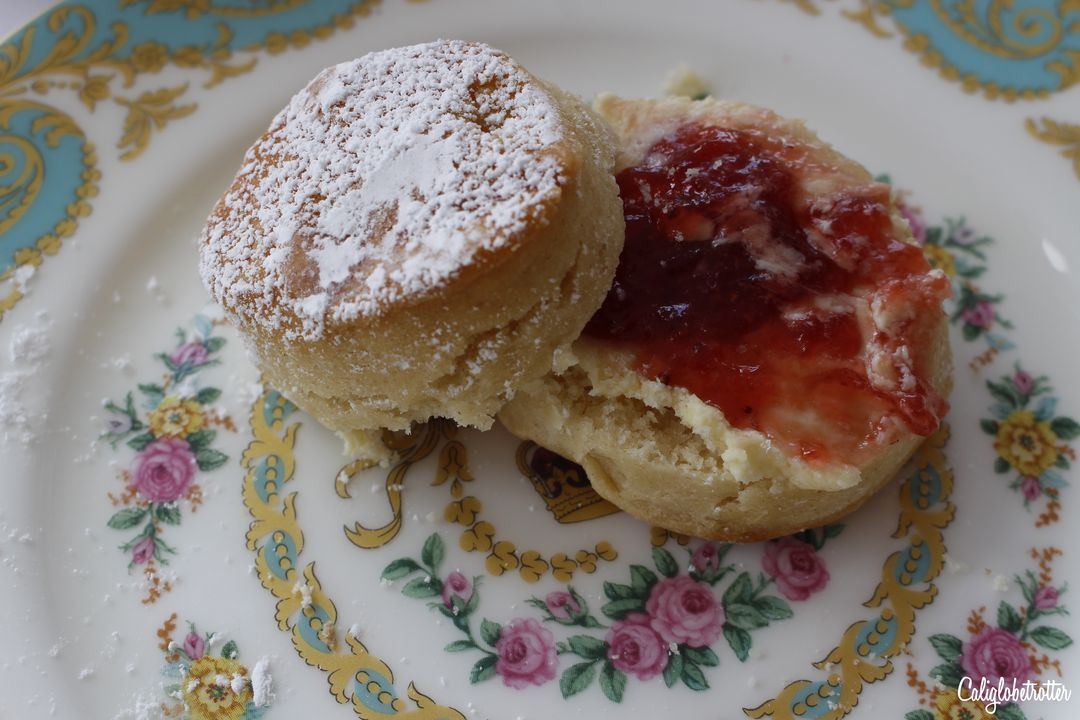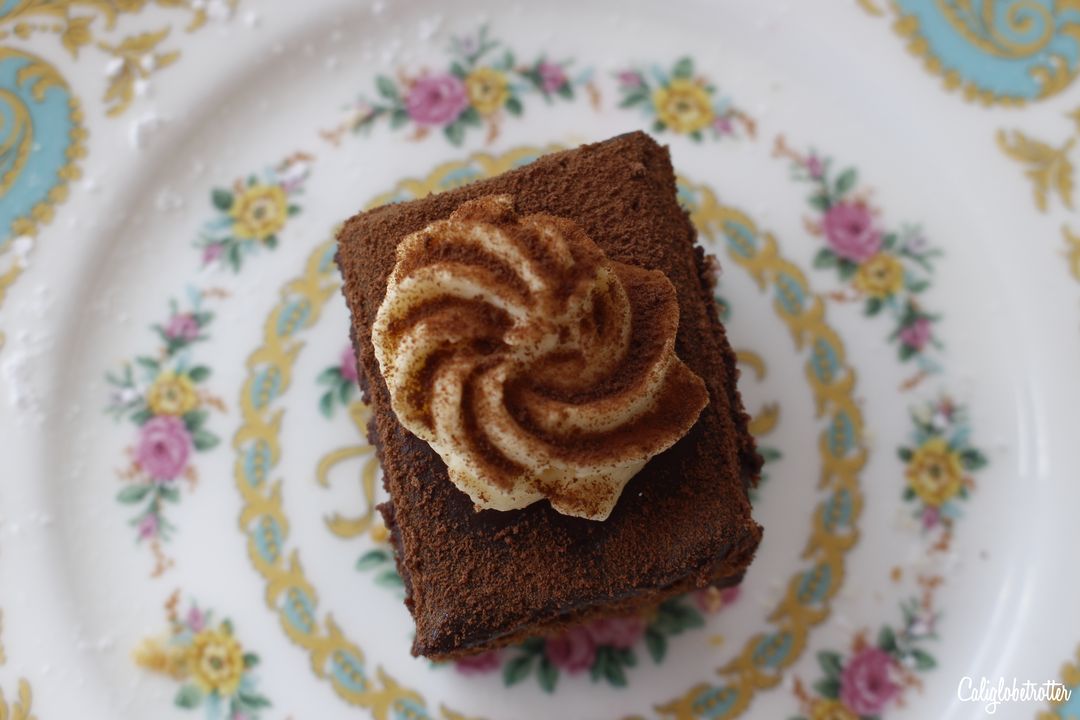 We each had our own little tea pot, which we both had filled. Though I have to say that I was disappointed in the fact that we were not given fresh tea leaves again, but instead were just given a refill of hot water, thus our second batch of tea was not as strong and flavorful as the first.
What We Thought
We thoroughly enjoyed our afternoon tea at the Pavilion, though for 34£ per person, we felt it wasn't quite as satisfying as our first at Fortnum & Mason, where we left with extra cake and a box of goodies to go. I'm always a little down in the mouth when an afternoon tea doesn't come with Coronation Chicken Sandwiches, but I can't expect it to be at every tea as each one is so different. We were quite disappointed that we weren't given a second fresh pot of tea and it was obvious that they had simply refilled our pots. And as previously mentioned, we were glad to have been seated outside as compared to the inside which had absolutely no furnishings or decorations.
Would we go back? Should the occasion occur again, sure, why not? It was a lovely experience overall and I don't think anyone could truly have a bad experience at afternoon tea. It's just simply the best time to enjoy a leisurely lunch and tea without the pressure of being hustled out of the restaurant. We took our time eating, especially as it was quite a lot of food for two people, who at one point would have had no problem scarfing down the food, but having been on Weight Watchers for the past half year, it was hard to get through all of that food.
Unfortunately, we did not receive an invitation to tea with the Young Royals, which obviously was a huge disappointment! 😉
If you're interested in visiting London and are looking for more information, I highly recommend using the Lonely Planet England Travel Guide! I've recently converted to LP's more thoroughly detailed travel guides which I find way more useful, but I am still a big fan of DK Travel Guides!

Disclaimer: This post contains affiliate links. If you click on one and make a purchase, I might make a little extra spending money, at no extra cost to you. As always, all opinions are my own and these products/services have been found useful during our travels and come highly recommended to you from yours truly!
Day Trips from London:
Beyond London: Reasons to Visit York
A Self-Guided Walking Tour of Oxford
The Cotswolds: An Area of Outstanding Natural Beauty
Where to Take Afternoon Tea Around the World
Liked this post? PIN IT FOR LATER!!