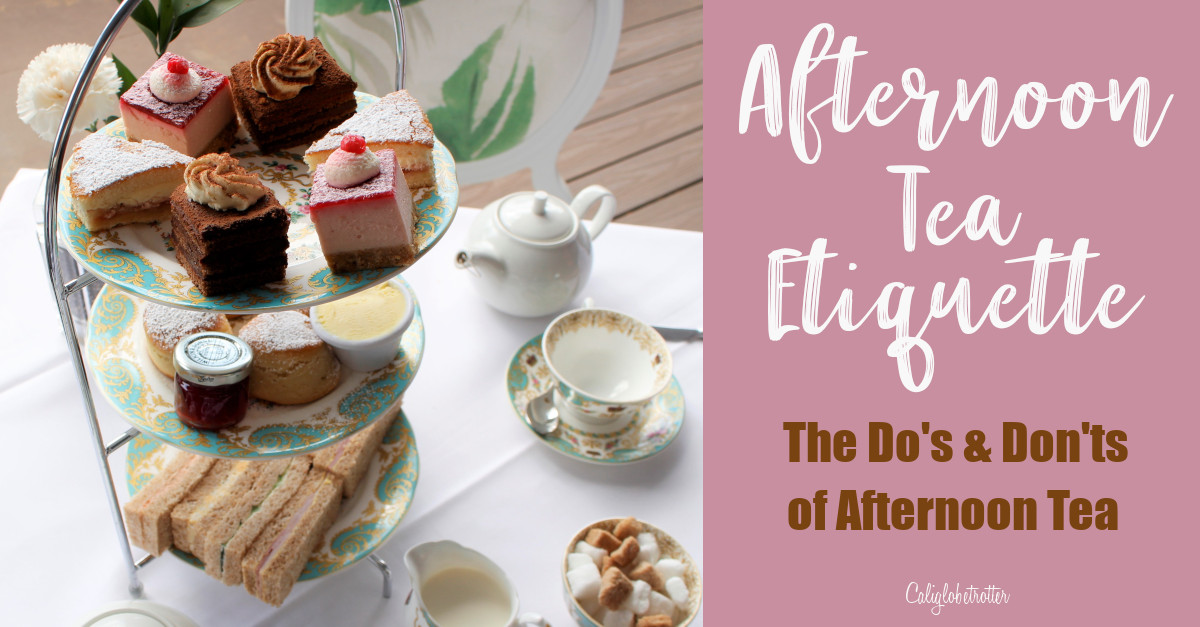 Disclaimer: This post contains affiliate links. If you click on one and make a purchase, I might make a little extra spending money, at no extra cost to you. As always, all opinions are my own and these products/services have been found useful during our travels and come highly recommended to you from yours truly!
So, you've discovered one of the most quintessential British traditions, afternoon tea. You've seen the Brits take tea on The Crown and Downton Abbey and now you want to experience a traditional afternoon tea the next time you're in the United Kingdom, but you don't know the first thing about taking tea. You want to own your afternoon tea experience more like a Duchess and less like a newbie. Have no fear, with these simple tips and tricks for afternoon tea, you'll soon be a tea snob, adding an afternoon tea to every holiday and soon you'll even host your own tea party!
Learn Afternoon Tea Etiquette! PIN IT FOR LATER!!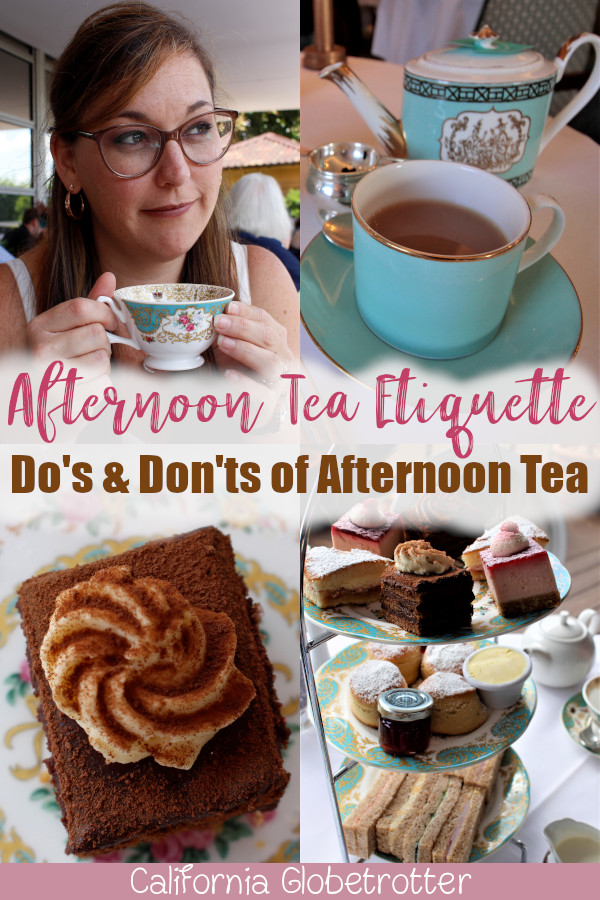 Where to Take Afternoon Tea Around the World
Afternoon Tea at Kensington Palace Pavilion, London
Scottish Afternoon Tea at Brewhemia, Edinburgh
I'm ashamed to admit, I had been to England nearly a dozen times before I was finally introduced to afternoon tea. As soon as I learned of this beautiful and very typical British custom, I booked my first afternoon tea at Fortnum & Masons for my birthday. Go big or go home is always my mentality. If I was going to do this, I was going to do it right. But we were nervous and weren't entirely sure what to expect, how to dress, how to behave or how long to steep the tea. We didn't even know the order in which to eat our way through a tier of afternoon goodies. Was it top to bottom or bottom to top? Do you start with the sandwiches first, or go straight for the delicate and dainty cakes and sweets at the top? All we knew was that there was a dress code of "casual smart".
Pinkies up or down? Can I dunk my scone or biscuit in my tea? How should I stir my tea? How do I dress for an afternoon tea?
So I'm here to help you navigate your first afternoon tea experience, whether at one of London's renowned tea establishments, such as Fortnum and Mason, or whether you're looking for a more relaxed, casual experience.
What is Afternoon Tea?
Afternoon Tea is a special time of day set aside to sip on dainty tea, typically with fine china. Delicate finger sandwiches are beautifully sliced, scones are topped with clotted cream and jam, and scrumptious delicate desserts top off the whole experience. Afternoon tea is typically held between mid to late afternoon as a way to curb the hunger between lunch and dinner. It's a great excuse to avoid apologizing for what you said when you were hangry!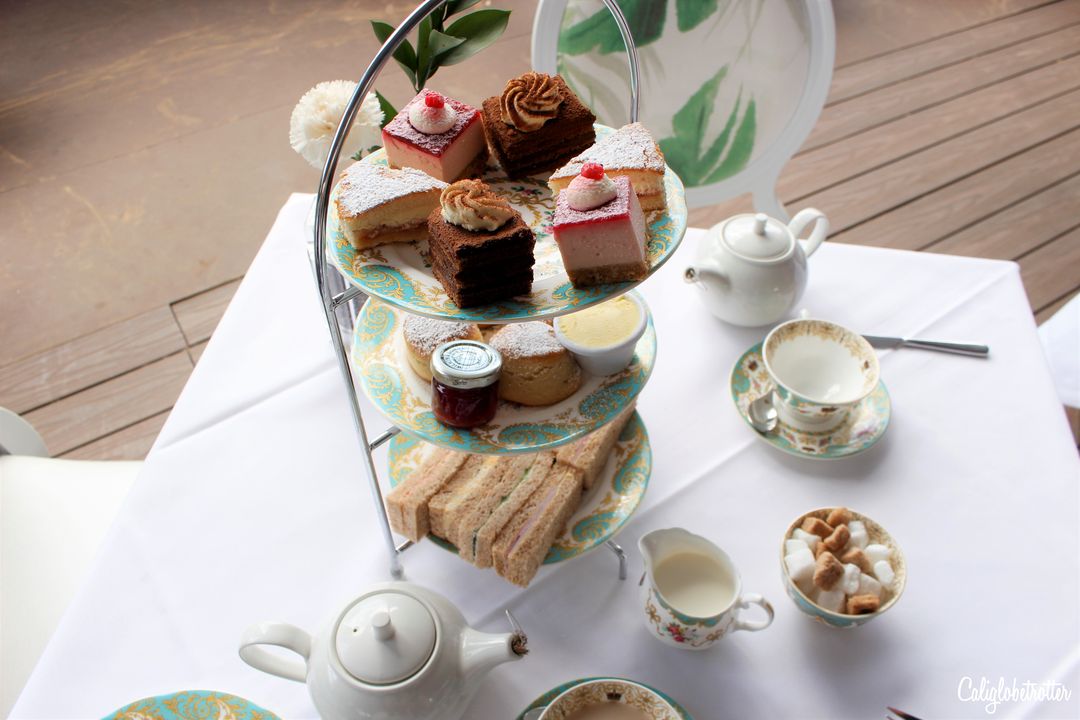 History of Afternoon Tea
The afternoon tea ceremony dates back to 1840 when the seventh Duchess of Bedford, Anna, was in a bit of a conundrum when she often found herself hangry. With breakfast served early in the morning and dinner typically eaten around 8pm, and lunch was not yet a thing, she often found herself hungry by 4pm. Unable to cope with the hunger, she asked for tea and a few slices of bread to snack on secretly in her boudoir.
Soon, the Earl of Sandwich came up with the idea of making dainty sandwiches and adding cake. By 1880, the Duchess of Bedford had turned it into quite the fashionable social event when she started inviting her friends to join her, moving the afternoon tea to the drawing room.
When is Tea Served?
Traditionally, tea time in England is between 4:00-5:00pm, however, when looking to book an afternoon tea, each establishment varies. The earliest you'll likely find an afternoon tea is around 11:00 or 11:30am, and never later than 5:00-6:00pm.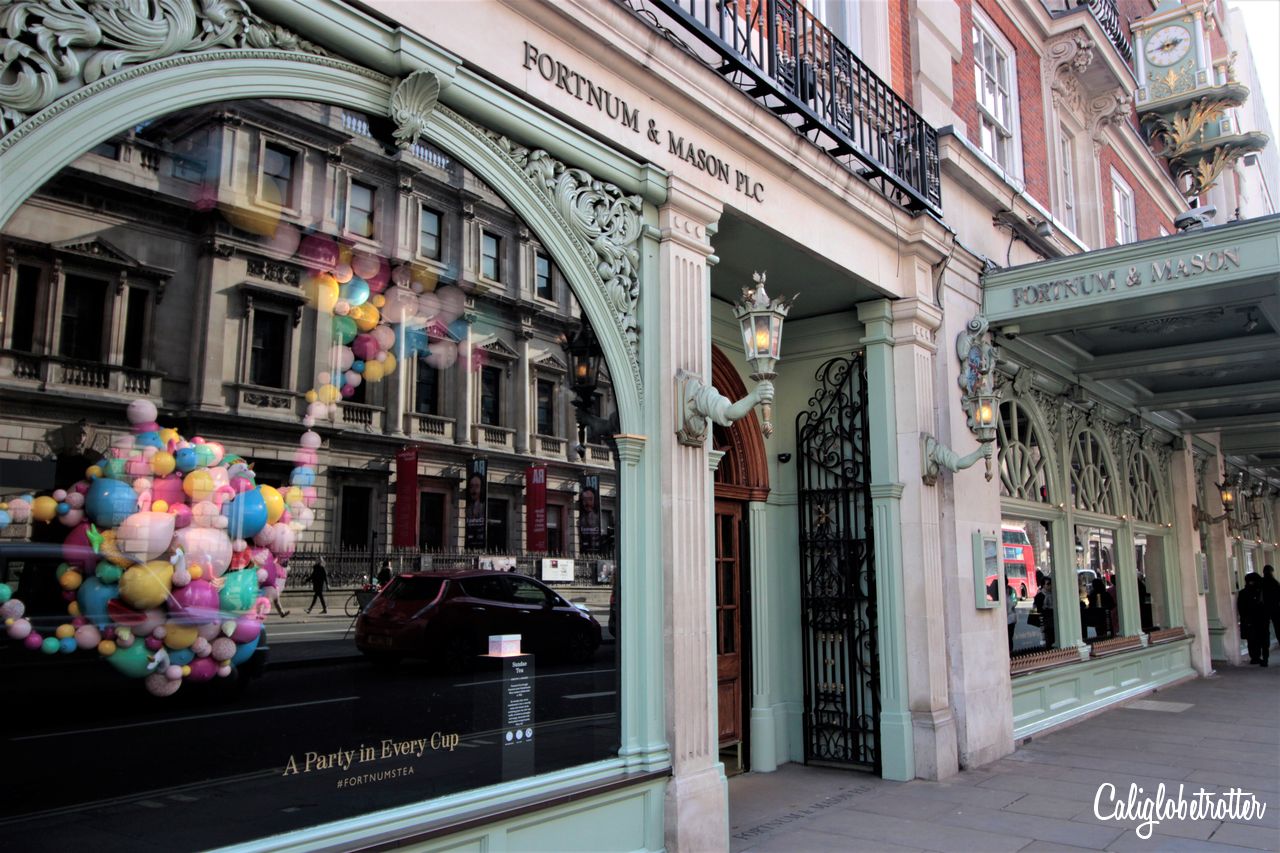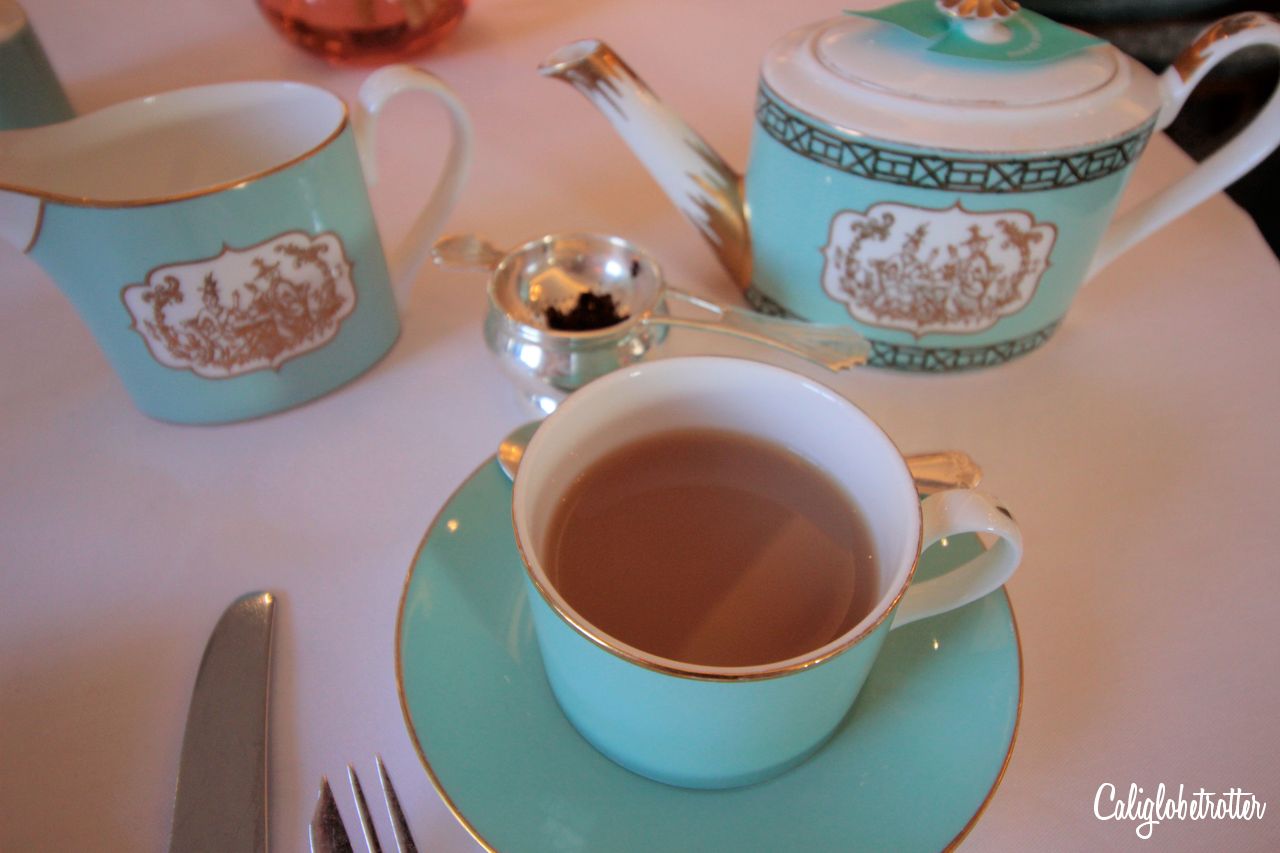 How Much is an Afternoon Tea?
Prices vary depending on how fancy you're willing to go. Big name tearooms like those above will cost a pretty penny and tend to start around £60.00 per person. Prices increase when you start adding champagne.
However, don't be turned off by the price, there are more affordable afternoon tea in London, such as themed afternoon teas like the
Mad Hatter Afternoon Tea
at
£48.00
per person.
And even still, you can pop into any tea room and find budget-friendly afternoon teas! And to be honest, the BEST afternoon tea I ever had was
£12.00
per person in
York
and the portions were enormously fantastic!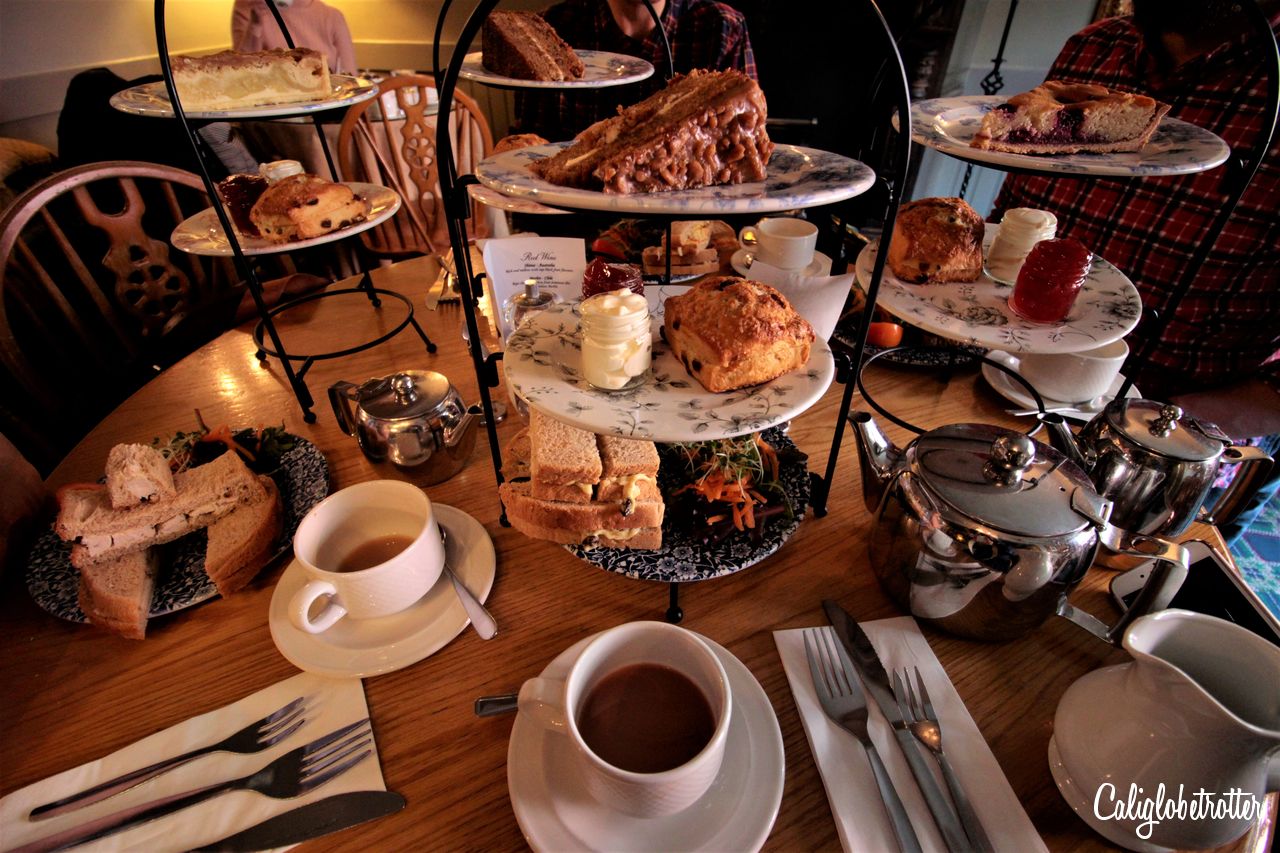 What Type of Tea is Served?
Typically, you'll always be offered a variety of delicate black teas, perfect for combining with a dose of milk and/or sugar. Some of the most popular black teas served will be Earl Grey, Assam or Darjeeling, which sometimes will also be infused with delicate flavors. You can also often choose from herbal teas, if you want to avoid the caffeine in black teas.
What Food Can I Find on an Afternoon Tea Menu?
Food found on an Afternoon Tea menu typically are light snacks and sweets and come in three components, beautifully arrange over a three-tiered plate platter.
Starting with the bottom tier, bite-sized savory sandwiches include cucumber sandwiches, Coronation sandwiches or a variety of flavored sandwiches thinly sliced and arranged on the tier. You may also find mini sausage rolls or other savory snacks to accompany the sandwiches.
The middle tier is always filled with traditional, freshly baked scones, and likely will come in a variety of flavors, from traditional (plain), to with fruits, or lemon flavored. Sweet scones are served with clotted cream and strawberry jam, while sometimes, you may also find savory scones, such as bacon and cheese scones or cheese and jalapeno scones, best served with butter.
At the top of the afternoon tea food pyramid, are the delicate sweets. You'll find tiny bite-sized petite fours typically wrapped in marzipan, biscuits, miniature cakes and many other assortment of sweets.
How Do I Eat My Way Through an Afternoon Tea?
If you can control your impulse to begin with the top tier of sweets, you typically begin with the sandwiches and savory snacks, then the middle tier with scones and clotted cream and jam, before devouring the sweet cakes in a lady-like or gentlemanly fashion.
You'll be served a pot of tea with loose leaf to steep, typically 3-6 minutes depending on the the desired strength of your tea. Once you finish a pot of tea, you can order a refill of hot water to re-steep the loose leaf, or buy a second pot of tea.
If you love tea as much as I do, you likely won't want to share one pot of tea with your tea drinking buddy, so I recommend each person ordering their own pot. In this way, you can also try multiple types of teas.
What is the Difference Between High Tea & Afternoon Tea?
While "high tea" likely sounds fancier to you than "afternoon tea", it's not, as it is a hearty meal served family style around a high table (such as a dinner table) as compared to an afternoon tea which was typically eaten in the drawing room, where women sat on lush sofas accompanied by elegant side tables.
"High tea" is simply another reference to dinner being served, anywhere between 5-8pm.
Are There Other Variations of Afternoon Tea?
Now that you understand the difference between an afternoon tea, also known as a "low tea", and a high tea, you can move on to a few different variations.
If you're not looking for the full afternoon tea experience, a Cream tea is the simplest version of an English tea which comes with 1-2 scones with clotted cream and jam, with a large pot of tea. Be careful though, it's not always referred to as "Cream Tea" throughout all of England. Sometimes it's just known as a scone with tea.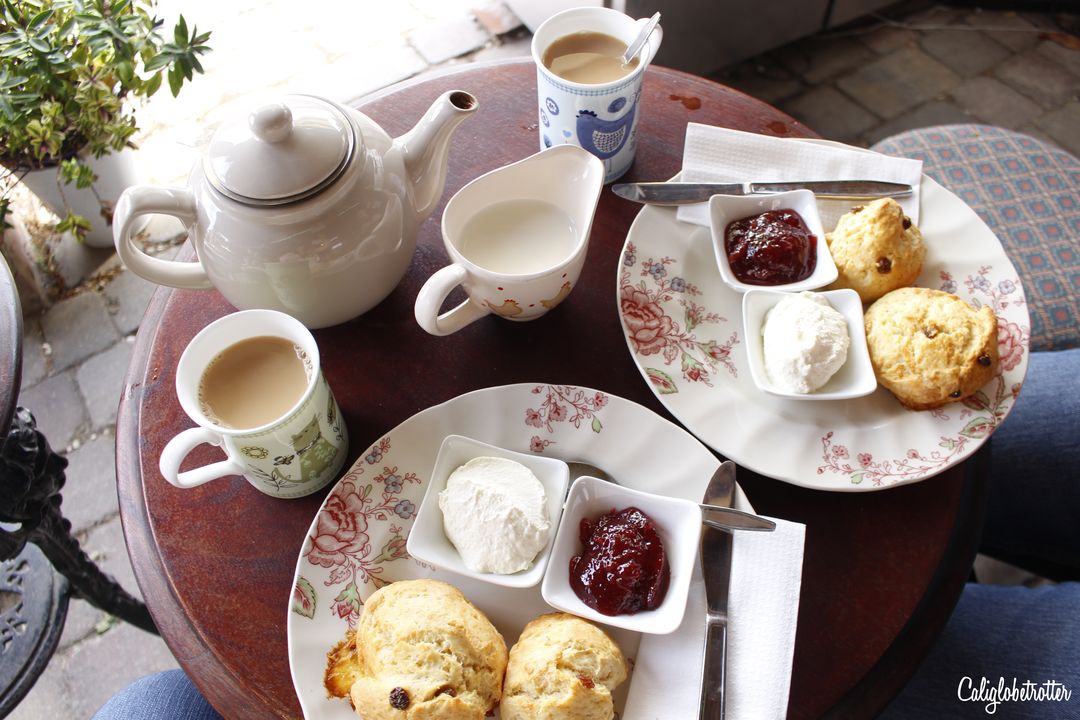 Light Tea
If you're more of sweet tooth kind of person, then a Light Tea is for you. It's the same as an afternoon tea, just without the savory sandwiches. So literally, just the scones and exquisite sweets, with a pot of tea. Because why waste the calories on sandwiches when you can eat petite fours and macaroons!?
Full Tea (aka Afternoon Tea or Low Tea)
This is the full blown version afternoon tea, loaded with a pot of tea accompanied with sandwiches, scones and sweets.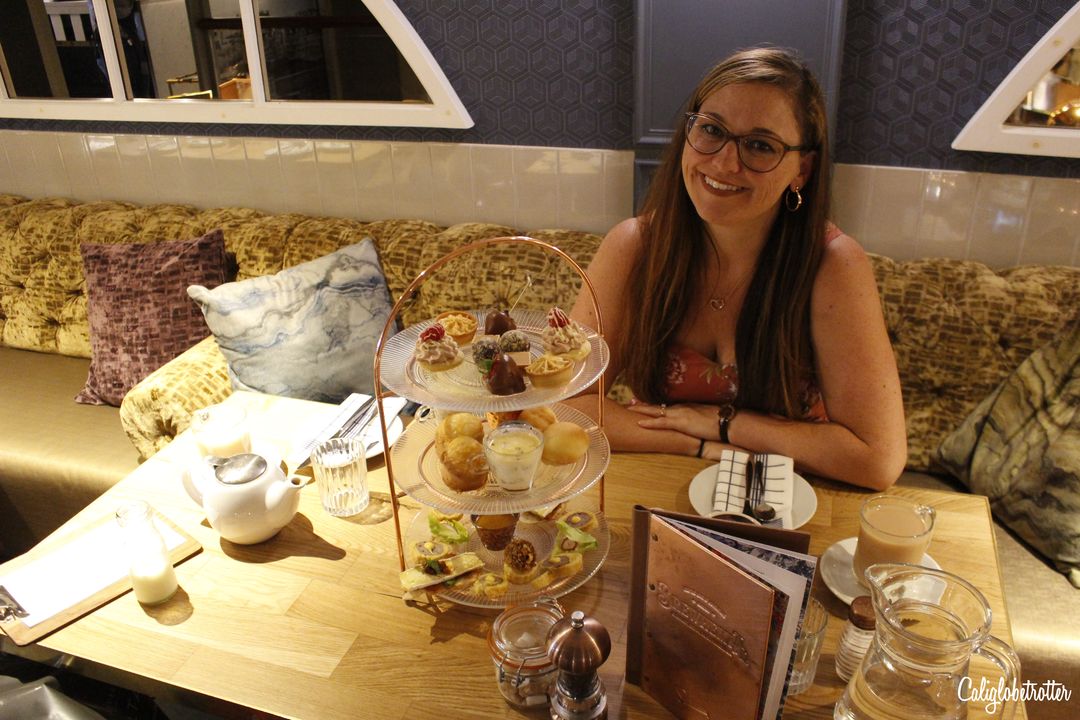 Royal Tea
If you want to add a bit more luxury to your afternoon tea, simply adding a glass of champagne or sherry with it makes it suddenly much more acceptable to drink in the afternoon!
What is the Dress Code for Afternoon Tea?
Leave your sweat pants, yoga pants, tennis shoes and baseball hats in the hotel. These are generally frowned upon when entering a tea establishment.
At most restaurants which serve an afternoon tea, the dress code is typically "casual smart" or "business casual". A pair of nice jeans for men and women is ok, unless otherwise stated on the website.
For Women
Casual dresses, skirts or nice slacks paired with a nice top is acceptable. You do not need to show up in a full ball gown.
For Men
Nice slacks, a buttoned up shirt or polo shirt is acceptable. It is not necessary to wear a full blown three piece suit and tie, but it also wouldn't be considered over the top, especially in London, where most men wear suits to the office. Shorts are frowned upon.
Themed Afternoon Tea
In the last years, afternoon tea has become mainstream once again as it has become more accessible for all people. And with that comes creativity which means not all afternoon teas need to be "traditional" and "stiff". There are many fun afternoon teas in London, many of which are also family-friendly. There are more places to take afternoon tea around the world than just England, so keep that in mind!
Overall, there is a themed afternoon tea to suit everyone's preference, just be sure the check out this amazing list of London's best themed afternoon teas!
Etiquette Rules for Afternoon Tea
Do's & Don'ts for Drinking Tea
Lady Lolo's Etiquette course is now in session! Here are your questions about afternoon tea answered with the do's and don'ts of tea etiquette so you can enjoy a proper English afternoon tea! Clink Clink!
Rule 1: Ordering Tea
Tea is an uncountable noun which means when ordering, we don't ask for "a tea" but rather "some tea".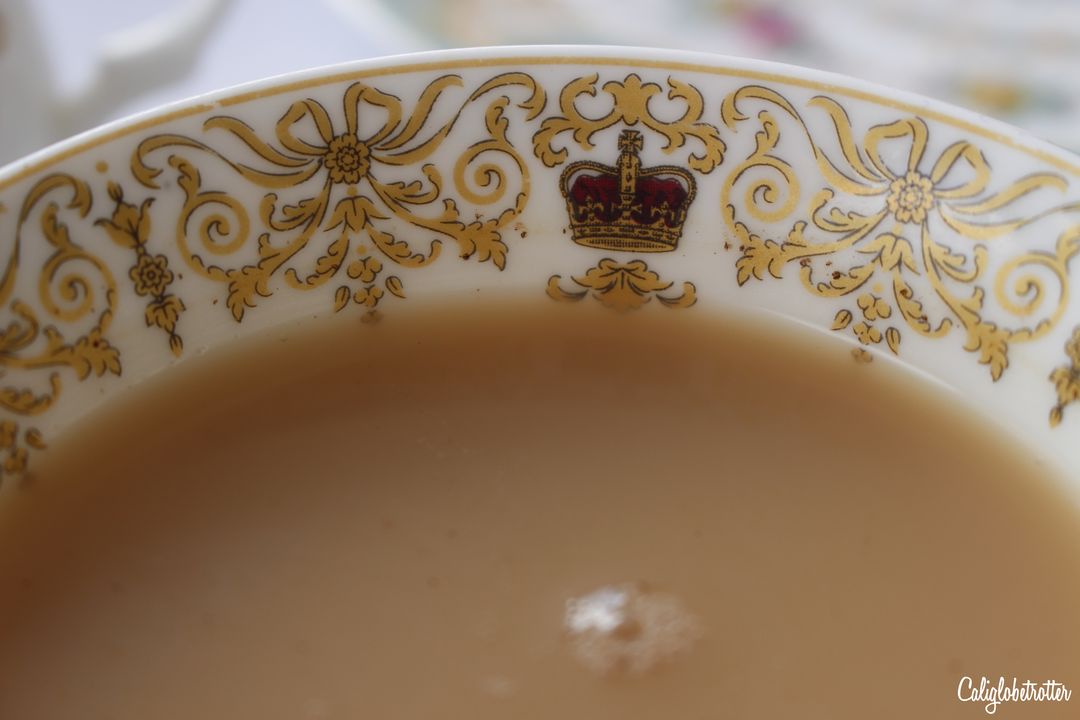 Rule 2: Tea Assembly
To each their own many might say. Everyone has their own way of preparing their perfect cup of tea, however, according to British tea drinking etiquette, the following is a good rule of thumb to follow, though I myself am a rebel.
Spoon desired amount of sugar into cup
Fill your tea cup 3/4 of the way full
Add desired amount of milk
Now, you are not obligated to drink your tea with sugar or milk. To each their own. And perhaps you prefer your milk first and then your tea, this is also acceptable, though out dated as that was originally intended to prevent the fine china from shattering, which is no longer a concern.
Rule 3: Stirring
It doesn't matter what you add to your tea to suit your preferences, but when it comes to stirring there is a right and wrong way to stir a cuppa tea. Place your spoon at the 6 o'clock position of the cup, and fold the tea towards 12 o'clock, while avoiding touching the cup so as to prevent "clinking" sounds.
Once done with stirring, do not leave the spoon in the cup, but remove it and place it on the saucer to the side of the cup.
Rule 4: Steeping Time
Again, to each their own. Depending on how weak or strong you like your black tea, it's recommended to steep your loose leaf tea anywhere between three to six minutes. But be sure to ask the recommended time for each particular tea, as over steeping your tea will cause it to go bitter.
Rule 5: Loose Leaf or Tea Bags
When doing afternoon tea, loose leaf is always the better option. Be careful of over steeping your tea, but add hot water to pot to re-steep. If re-steeping, steep your tea for the preferred time, for example 3-6 minutes. Then add an additional minute for second steep.
Be sure to use a tea strainer should you be using loose leaf, otherwise you'll end up with leaves in your cup.
Rule 6: Pinkies Up?
Definitely not! This is one of the biggest misconceptions about drinking tea and is a huge faux pas! Sticking out your picky to help balance your cup is a myth and doesn't actually help whatsoever.
Don't stick your finger through the hook of the cup, but hold your cup with you thumb and finger, with another hand gentling steadying the cup.
Rule 7: Can I dunk my biscuit into my tea?
In the privacy of your own home, this is acceptable, but when out in society, it is best to avoid this as it looks a little crass.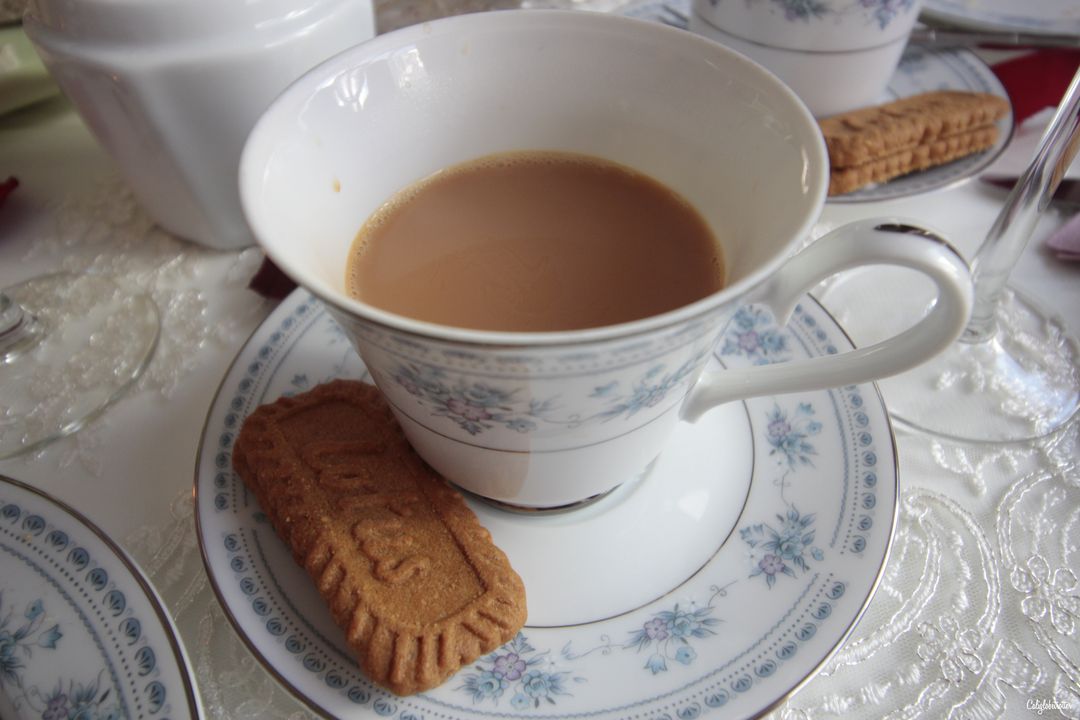 Rule 8: Drinking the Tea
Two things about actually drinking your tea. First of all, DON'T slurp! You're not drinking in the barn. Secondly, when sipping from your cup, look into your tea cup and not over the rim of your tea cup. Supposedly, this is to make a woman look more demure, or simply just to keep an eye on your tea.
Take small sips. There's no need to guzzle steaming hot tea in seconds. And don't blow on it. You're not in a hurry, let it cool down on its own time. You're not a savage!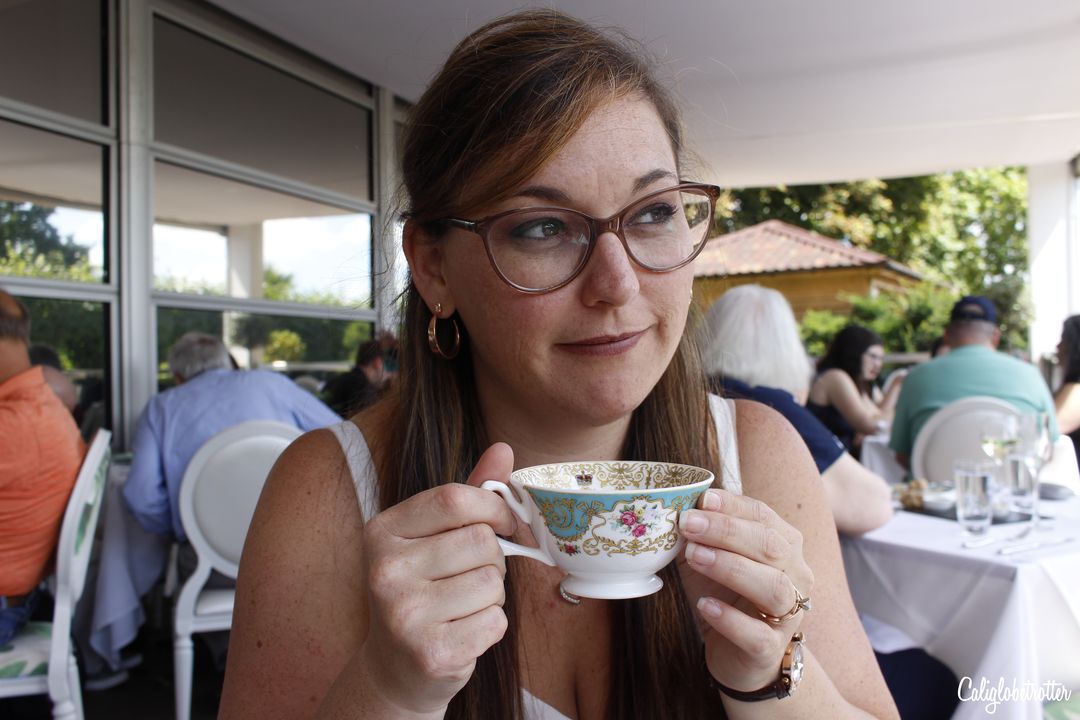 Rule 9: Cream or Jam First?
The biggest conundrum of afternoon tea, as well as all of life's questions. While people from Cornwall and Devonshire both claim to have invented the cream tea, each also have their own way of assembling their scones with toppings. In Devon, its cream first, then jam, while the Cornish believe jam first, then cream. It really comes down to personal preference.
Add your cream and jam to both halves of the scone, but don't sandwich the scone back together after adding the condiments.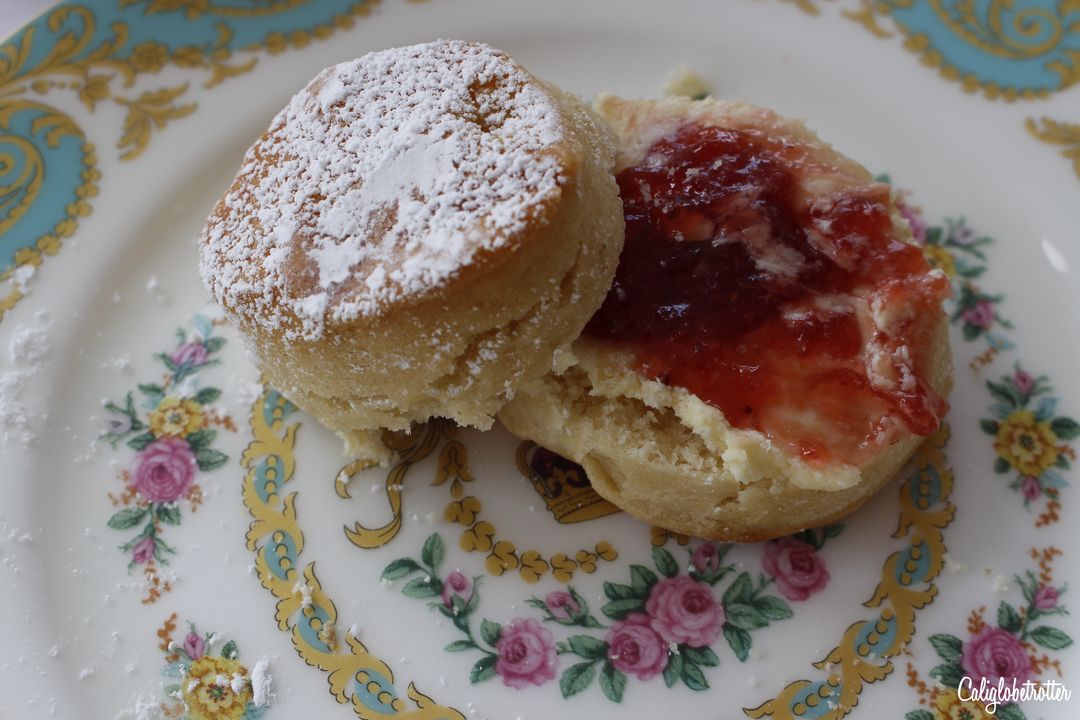 Rule 10: Don't Use Cutlery
Avoid using cutlery to cut up or pick up your dainty sandwiches and snacks. Everything is considered finger food! Even for your scones, you shouldn't cut them in half with a knife, but instead break them apart with your hands before using the knife to add condiments to both sides.
Rule 11: Napkin Placement
Place your napkin to the left of the plate, with the open edge to the right.
Don't place napkin on the chair when excusing yourself!
Rule 12: Sit Up Straight
Do try to sit up straight in your chair, with legs crossed.
No manspreading, no slouching, no leaning to one side of your chair.
Rule 13: Order of Operations
As previously mentioned, when eating your way through the afternoon tea, begin with the bottom tier with sandwiches and work your way up to the top tier with the sweets.
Do not jump ahead to the next tier until all tea goers are ready to move on together. There is no rush to devour the goodies, and tea is a leisurely activity, meant to be savored.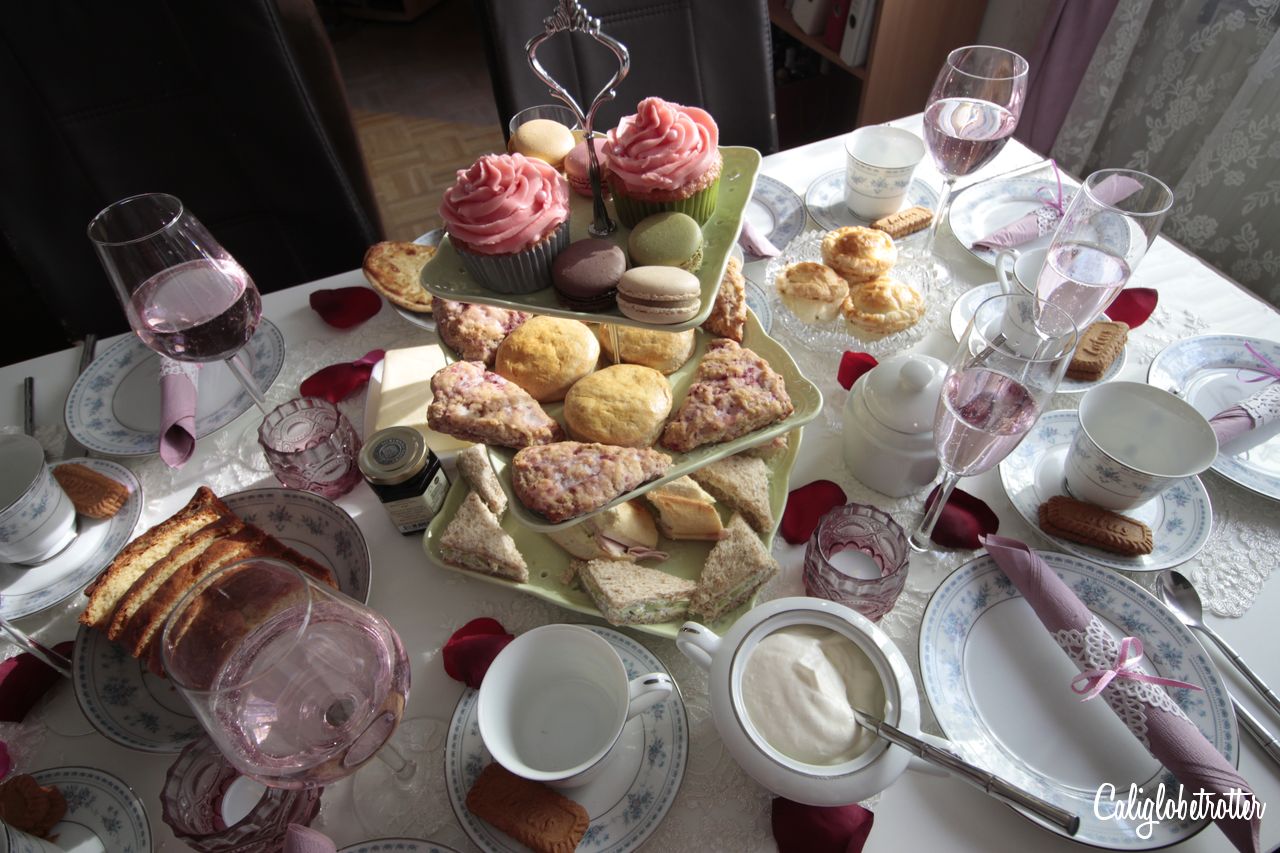 Rule 14: Keep Phones Off the Table
You'll likely want to take your photos of the beautiful arrangement, dainty cakes and sweets. If you must (hey!), do it quickly and quietly, then remove cameras and phone from the table and try not to disturb your tea partners and surrounding guests.
Rule 15: Signaling That You're Finished
Don't cross your cutlery in a 'X' form on the plate. That's very American. Instead, place your knife in your fork at 4:20. This signals to the waiter that you're finished and they can clear away the plates.
If you're not finished, place your cutlery at 8:20 position with the fork (tines down) at the 8:00 and knife (blade facing you) at the :20.
So now you should be ready to tackle a traditional British afternoon tea the next time you're in the United Kingdom. But, don't just think it stops there! You can find classy hotels around the world that offer afternoon tea, which means you don't actually have to be in the UK to experience this truly wonderful British tradition. Simply check with your hotel if they offer an afternoon tea, or simply search for afternoon tea + name of city you plan on visiting.
Looking to host your own afternoon tea? Below are some of my FAVORITE afternoon tea must-haves that I highly recommend to ensure a smooth, beautiful tea party at home!
Disclaimer: This post contains affiliate links. If you click on one and make a purchase, I might make a little extra spending money, at no extra cost to you. As always, all opinions are my own and these products/services have been found useful during our travels and come highly recommended to you from yours truly!
More Foodie Posts:
Like this post? PIN IT FOR LATER!!