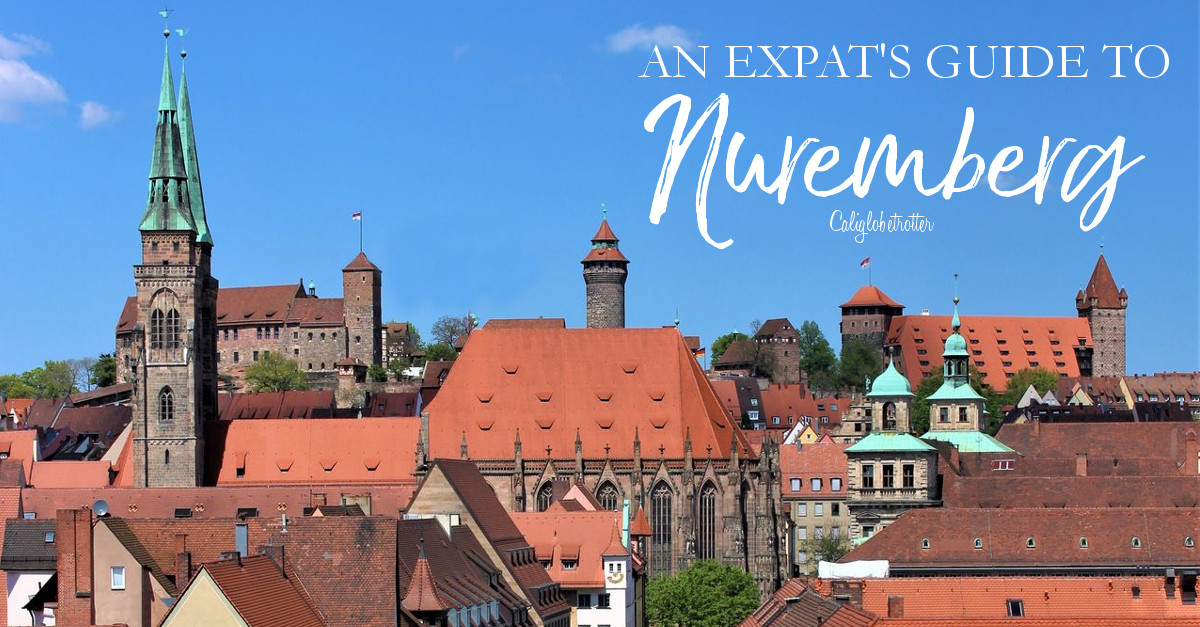 Disclaimer: This post contains affiliate links. If you click on one and make a purchase, I might make a little extra spending money, at no extra cost to you. As always, all opinions are my own and these products/services have been found useful during our travels and come highly recommended to you from yours truly!
Nuremberg is one of my favorite cities to visit in southern Germany. And just like Munich, every time I go I see a little bit more. There is so much to see and do in Nuremberg, you could never be bored. It's only an hour away from Regensburg and is one of the top destinations in Bavaria! Here's how you can spend a day in Nuremberg!
In case you're interested, PIN IT FOR LATER!!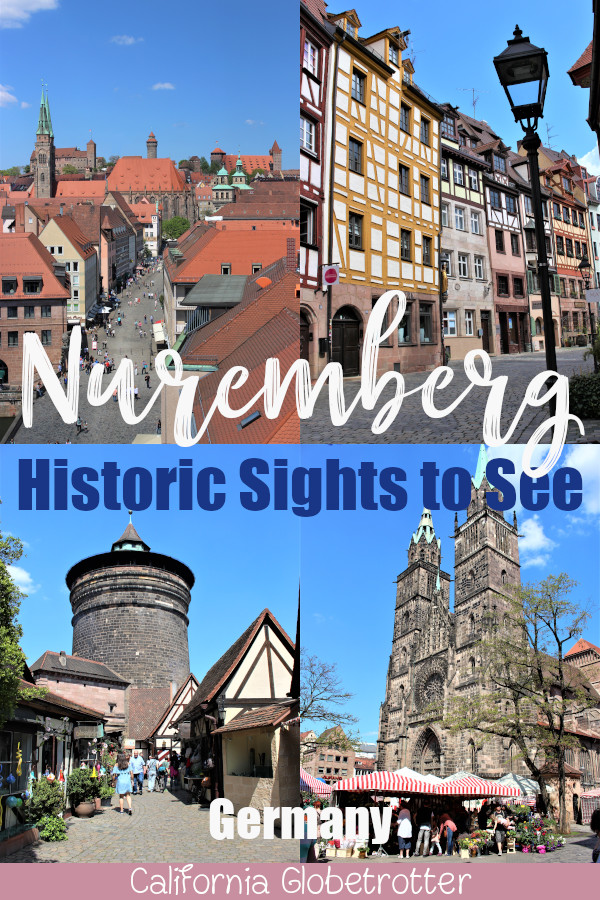 How to AVOID Looking Like a Tourist in Europe
This article is now available as a mobile app. Go to GPSMyCity to download the app for GPS-assisted travel directions to the attractions featured in this article!
Nuremberg is famous for a few things: their Lebkuchen (gingerbread) which is popularly sought after in the Weihnachtsmarkts and of course, one of the best things to east in Germany, the delicious sausages. But Nuremberg will always have a dark history connected to WWII and there is no escaping it here. It was also here where the Nazis held their large rallies and where at the end of the war, those terrible high Nazi officials were tried for their crimes against humanity in the Nuremberg trials.
Related: Discovering Nuremberg's Nazi Past
Many people often ask the question "Which is better? Munich or Nuremberg?" And honestly, I can't recommend Nuremberg enough!! I love it and prefer going to Nuremberg more than Munich. Both cities are way overcrowded and a bit expensive, but personally, the architecture is so much more fascinating in Nuremberg than in Munich, despite the fact that Munich has one of the most amazing city halls in Germany! I feel like here it's less suit and tie and more casual and laid back and I truly believe that it's one of the best cities in Southern Germany and is a great day trip from Munich!
However, on the plus side, with the River Pegnitz flowing throughout the city, you can easily get lost and have a romantic meandering stroll through the town and see the true beauty of Nuremberg. This is my favorite things to do in Nuremberg and there is always something new to find.
Upon reaching Nuremberg at the Main Train station, you will be immediately impressed by the train stations. I think it is one of the most beautiful train stations in Germany. It's incredibly massive with many shops, cafes and fast food restaurants inside, most of which stay open 24 hours a day. It is definitely a main train hub for Bavaria.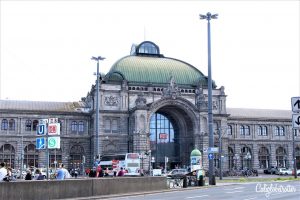 As soon as you walk out of the front of the train station and follow the underground walkway to the city, to the left you will find the Handwerkermarkt where the shops still look Medieval and all the products here are hand made.
Nuremberg is also still partially surrounded by the Medieval wall. Unlike the wall in Rothernburg ob der Tauber, you can not walk on the wall but only along it. It is still rather amazing and there are more towers and gates still attached. You can try to walk along if you want. We did once and I don't even know if we saw the whole thing. Most of the wall is sporadic and is not one long continuous wall.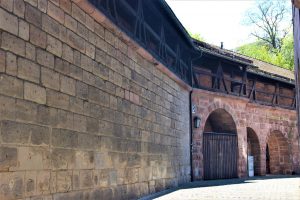 Throughout the city, there are several old city gates that were once a part of the town wall which date back to the 15th century. Many of the towers suffered from severe damage during the war, but have been rebuilt to their former glory. I have not yet seen all of the towers, so I guess that means I need to go on a tower hunt!
A very controversial fountain which sits in front of the White Tower with ring of statues portraying Hans Sachs' poem 'Bitter-sweet Married Life'. The fountain, called Ehekarussell translates to The Marriage Merry-go-Round and displays images from courtship to married life and finally to death. You can see the married couple change throughout their lives from a happy young married couple to older people with personality and finally to skeletons. Some of the sculptures within the fountain are pretty grotesque and display images I wouldn't personally want a child to see. It seems more like an image of hell than anything else. But the funniest part is that even in death, the wife is strangling her husband and he can never get away from her! I'd say it's one of the strangest things in Nuremberg!
There are two churches that look pretty similar and I always have a hard time telling them apart until I look carefully at my pictures. There is the St. Lorenz-Kirche and the Kirche St. Sebald. Kirche St. Sebald is the oldest church in Nuremberg built in 1230-1273 while St. Lorenz-Kirche is considered the most important building in Nuremberg. Both are equally amazing to look at.
Nuremberg is unfortunately full of little ups and down hills. If you go down into the Hauptmarkt (Main market) you will find the Frauenkirche and the Altes Rathaus (Old Town Hall).
Unfortunately, like many towns and cities in Germany, Nuremberg also received heavy bombing during WWII and was completely restored to its original glory. However, it's neighboring city of Regensburg was able to survive the WWII fully intact!
The Hauptmarkt is the location of the famous Christkindlesmarkt (Christmas market) at Christmas time. Rows and rows of Christmas stalls line the market to leisurely stroll through, if you're brave enough to walk through the crowds. Nuremberg's Christmas market is one of Germany's most famous markets, especially for their Lebkuchen (Gingerbread cookies) and sausages.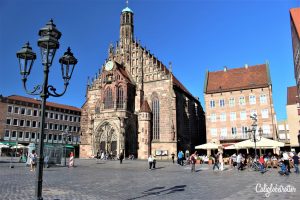 When you're in Nuremberg, it's essential to stop at one of the many sausage food stalls spread throughout the town. Nuremberg's sausages are some of the most famous sausages in Germany and the most delicious and you can grab a Wurstsemmel (a sausage with bread sandwich) to snack on for lunch, especially if you're looking for budget-friendly places to eat in Nuremberg!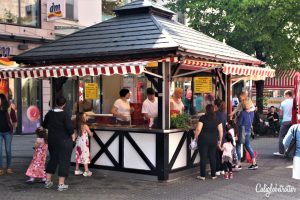 Though, if you'd prefer to sit down and enjoy your sausages in a quaint, cozy and historic atmosphere, then just caddy corner from the Hauptmarkt you'll find the Nürnburger Bratwursthäusle. Here you'll be served up not just historic Nuremberger sausages and sauerkraut, but also traditional Franconian dishes, however, most come here for the delicious sausages that have been grilled up here since 1312 perfectly paired with either local beers such as a variety of Tucher brews dating back to 1303, which include the Tucher Urbräu Hell, the Tucher Urfränkisch Dunkle or the Tucher Kellerbier.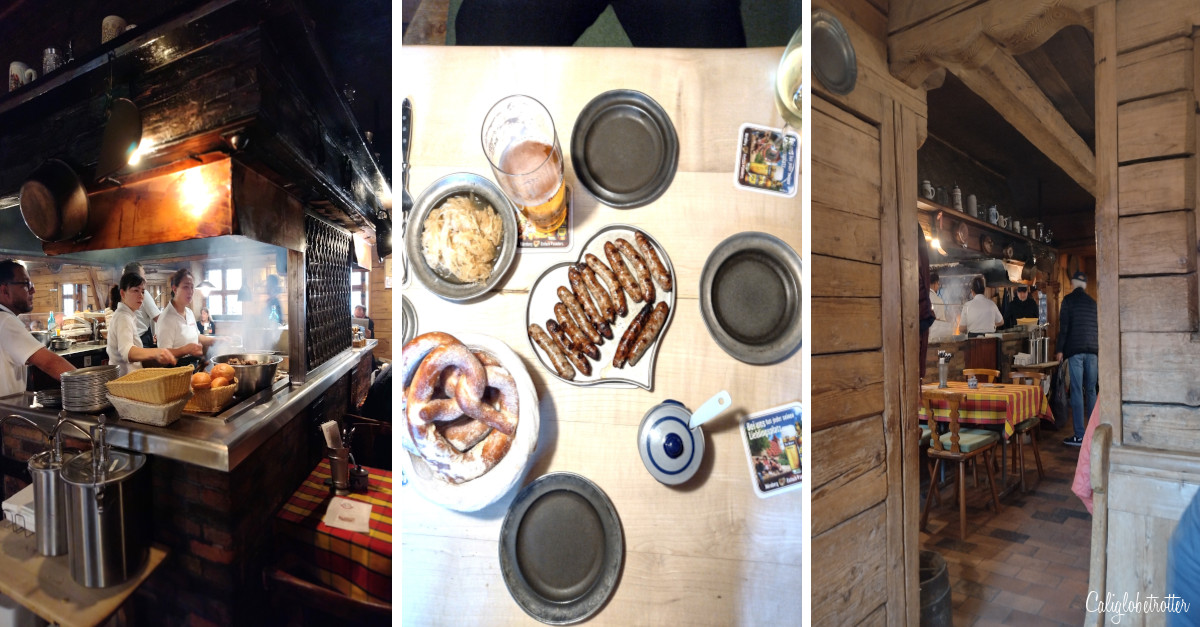 There are often some sort of market here throughout the year and dominating the square is the Frauenkirche. Everyday at noon, the church clock displays a procession of Electors paying homage to Emperor Charles VI who commissioned the church.
The other main attraction in the Hauptmarkt is the famous Schöner Brunnen (Beautiful fountain) which was added tot he square in 1385, but replaced by a replica in the 20th century. There are two two rings, one gold and one black which are hidden on the fence surrounding the fountain that people constantly search for. It is said that those who find them with have good luck if they spin them. So keep your eyes peeled!!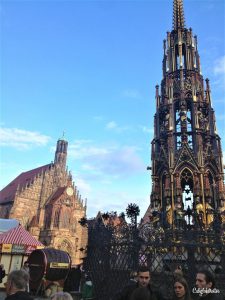 Perched up on a hill near Albert Dürer's house is the Kaiserburg (Castle), one of Nuremberg's top attractions. It is free to walk all around the castle and snap some great pictures of the view over Nuremberg. Up at the Kaiserburg, you can also find a youth hostel in the old Emperor's Stables. The castle dates back to the 12th century and when walking up the steep hill to the castle, your first view will be of the Fünfeckturm (Pentagonal Tower) which dates back to 1040! The castle itself is one of the main attractions in Nuremberg!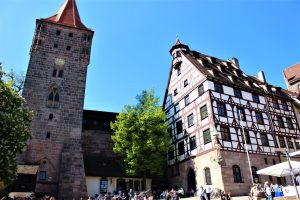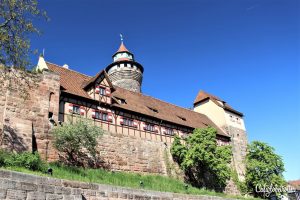 As we were recently walking around Nuremberg, I happened to look up and see people on the rooftop of a parking structure. We decided to take the elevator up and check out the view. When you go up to the top floor, you can check out the most amazing view of Nuremberg with a direct view of the Kaiserburg (Castle). From the rooftop, you can hear the different musicians playing beautiful music in different parts of the town and watch all the people walk down a main street. I would have to say it's one of the most beautiful panoramas in Nuremberg!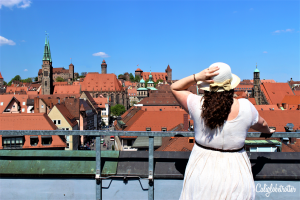 Weißgerbergasse is one of the few historic parts of the city that survived the destruction of WWII. The colorful array of half-timbered houses along this little alley all date back to the Medieval Ages. This is one of the most romantic streets in Nuremberg, and we even loved it so much we took some of our engagement pictures here! If you're looking for one of the most romantic things to do in Nuremberg, taking a stroll down this lane certainly does the trick!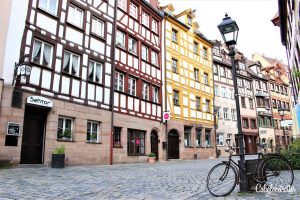 The River Pegnitz flows through Nuremberg and the Heilig-Geist-Spital sits in the center of Nuremberg. This is actually a hospital that was founded in 1332 and built in the Middle Ages. Today, it is just a retirement home for some lucky pensioners!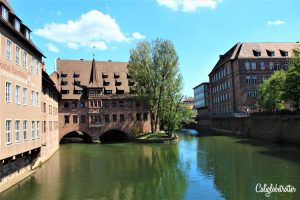 Another popular and very romantic area to walk around, despite the name is the Hangman's Bridge. This wooden bridge dates back to 1457 and every town between the 16th-19th centuries, had a hangman. Nuremberg's hangman lived in the tower and had to live in accommodation separate from the city as his job was considered "dishonest" and to be an acquaintance was not acceptable. Nonetheless, it is a very picturesque part of town, which I absolutely love!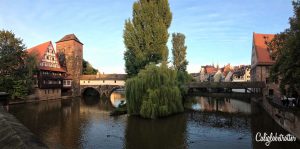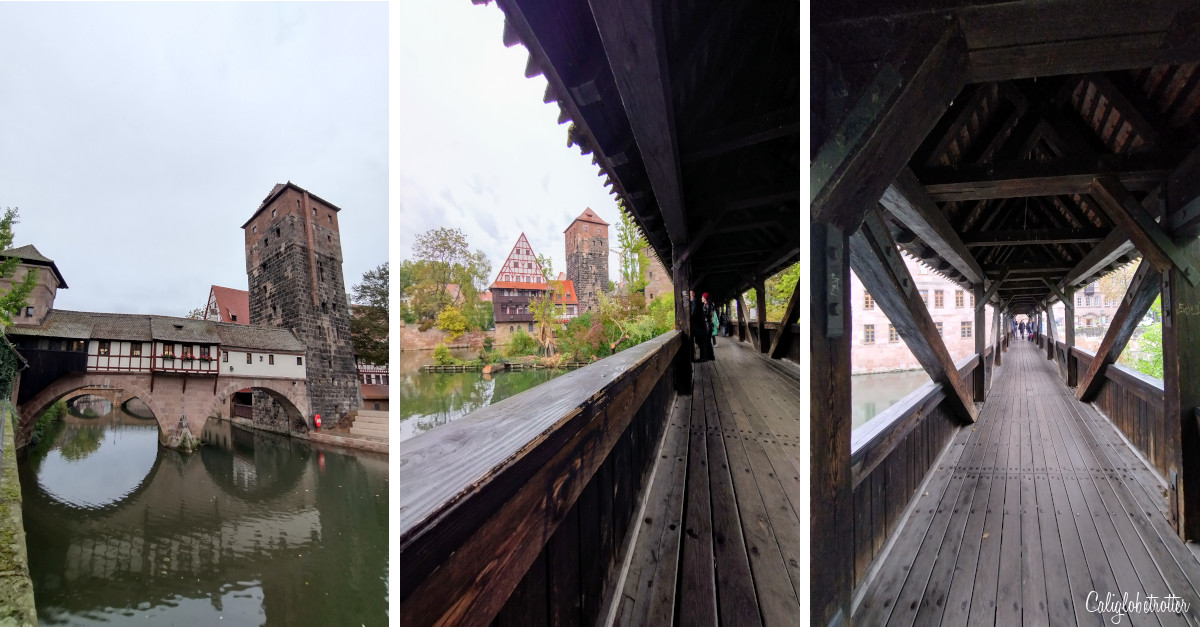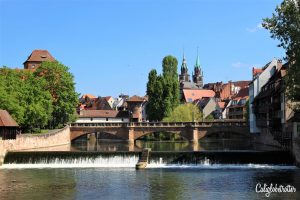 One of our favorite restaurants in Nuremburg is actually an Irish Pub called O'Sheas. I highly recommend stopping here and enjoying some fish'n'chips or a good shepherd's pie. Behind the restaurant a bit is an old church that was destroyed during the war and was left destroyed so as to show the damage done by the Nazis. It was the first time I had ever seen something on purposely left destroyed in Germany as a reminder of the horrors of the war.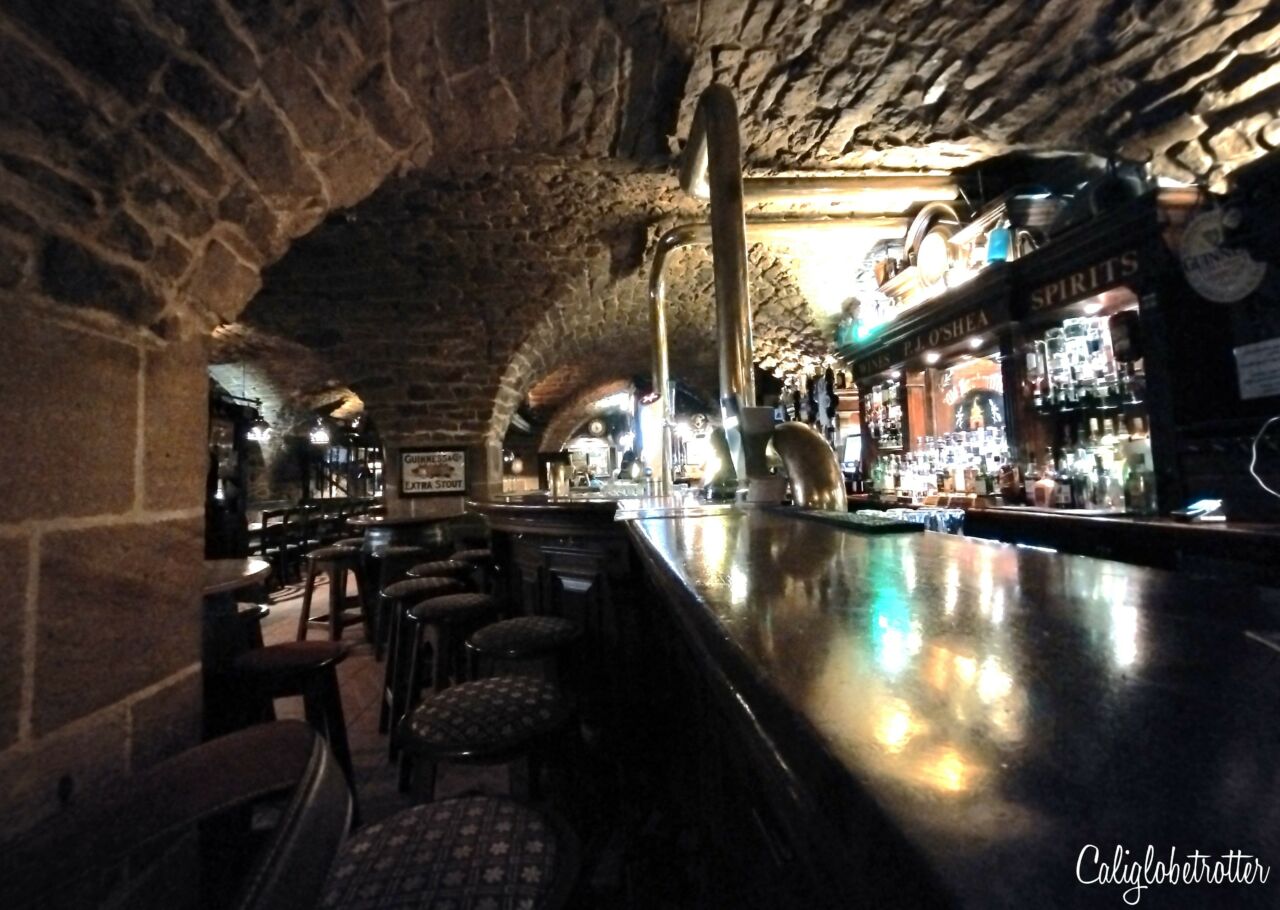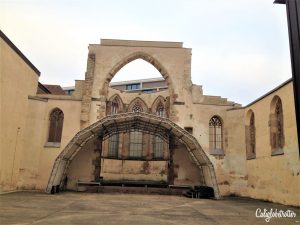 Another interesting church to check out is the St. Elisabethkirche which was originally part of the secondary house of the Teutonic Order of the Knights. It's a simple looking church, but I really loved the architecture.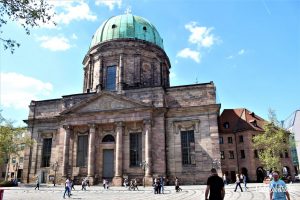 Events & Festivals in Nuremberg: Nuremberg is one of those big cities that ALWAYS has something going on. From it's amazing Christmas Markets to its Old Town Festival, you can find amazing festivals in Nuremberg, so be sure to check the Nuremberg Events Calendar before going! But, keep an eye out for offbeat festivals in the Franconian region from Bamberg Zaubert to the International Samba Festival in Coburg!
Where to Stay: Motel One Nürnberg-City ⭐⭐⭐– During a weekend business trip, we stayed at Motel One, which soon became one of my favorite chain hotels in Europe. Near the Main Station, my favorite style of decor and a delicious breakfast, this is one hotel I'd always recommend!
If you're interested in visiting Germany and are looking for more information, I highly recommend using the DK Eyewitness Travel Guide! Without these guides, I would be lost! This is my travel Bible!
Disclaimer: This post contains affiliate links. If you click on one and make a purchase, I might make a little extra spending money, at no extra cost to you. As always, all opinions are my own and these products/services have been found useful during our travels and come highly recommended to you from yours truly!
Day Trips from Nuremberg!
Liked this post? PIN IT FOR LATER!
Save
Save
Save
Save
Save
Save