Prior to visiting family in Louisville, I searched endlessly for a travel guide on Pinterest for things to do in Louisville as it would be our first visit. My parents had recently moved to Kentucky and we would be exploring all that the state had to offer together. But to be honest, I couldn't really find many conclusive posts and the things I found were scattered through my pin board, making it quite frustrating when wanting to go back and check a resource. I was also quite disappointed to find that my faithful DK Travel Guide also didn't have a book for Kentucky.
Why is that!?
Well, after having spent just over two weeks in Kentucky and doing a lot of sight seeing, I discovered that thanks to the recent "Bourbon Boom" that the Bourbon industry is experiencing, it has spread to an increase in tourism as more and more people either want more locally produced goods or they have a general interest in learning more about the Kentucky Bourbon Trail. So, my only conclusion at this point, is that because it's becoming a new trend to visit Kentucky and there aren't enough travel guides out there to fulfill the demand.
In case you're interested, PIN IT FOR LATER!!
This article is now available as a mobile app. Go to GPSmyCity to download the app for GPS-assisted travel directions to the attractions featured in this article.
Well, if I hadn't already mentioned Bourbon, would you even know where to begin in Kentucky? Do you even know the capital? What is Kentucky known for?
Well, let me introduce to you Kentucky via Louisville by giving you some quick facts!
While you might think that Louisville is the capital of Kentucky because it is the largest city in the state with 760,000 people, you would be wrong. Actually, Frankfort is the capital! Gotcha!
Louisville was founded in 1778 by George Rogers Clark and was named after the French monarch, King Louis XVI of France, making it one of the oldest cities in America.
As Kentucky and Indiana share a border and a river, it is also known as "Kentuckiana".
Bourbon whiskey has been produced in Kentucky since the 18th century because of the influence that limestone has on the taste and color.
Kentucky is home to Kentucky Fried Chicken as well as the Kentucky Derby.
Main Sights to See in Louisville:
Churchill Downs: Home of the Kentucky Derby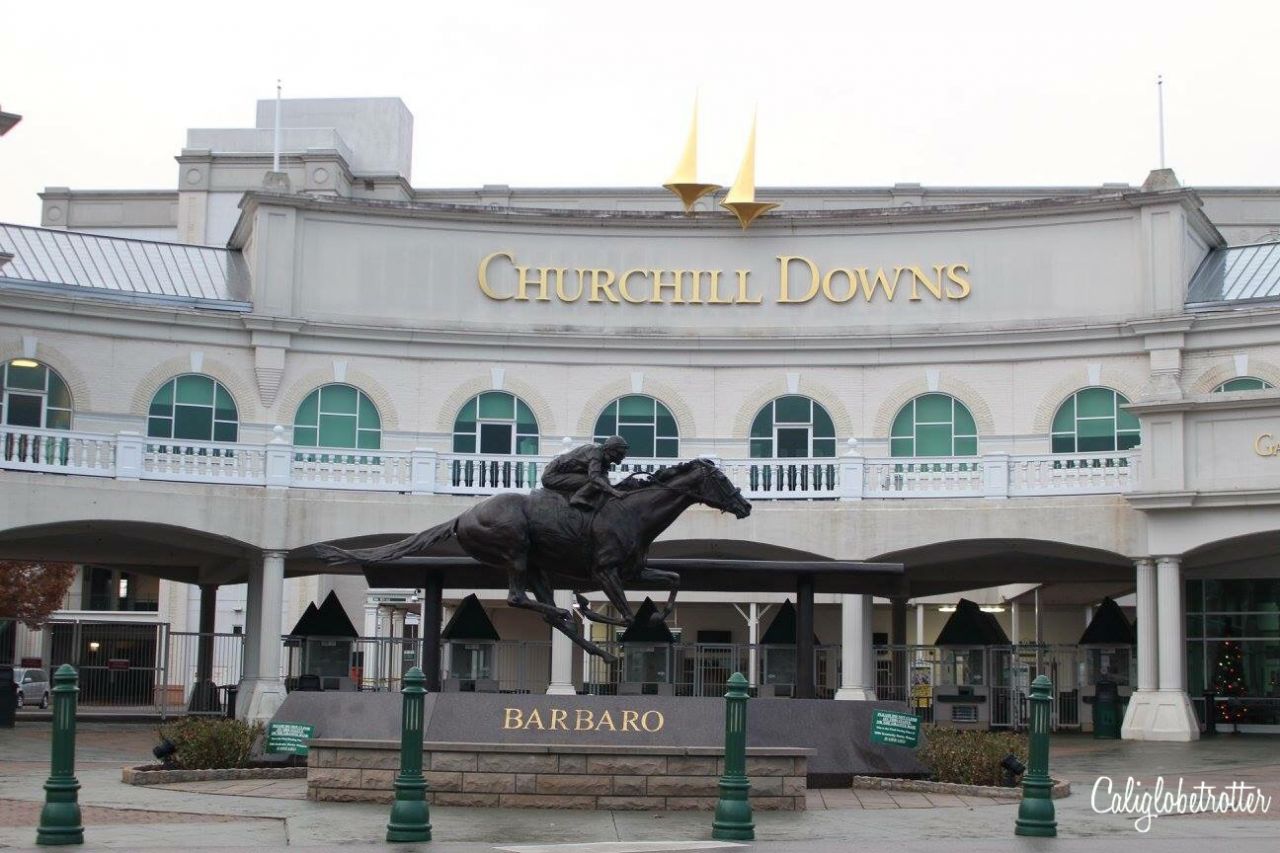 A bit further out from downtown Louisville, this is a historic must see sight! Since 1875, Churchill Downs has been the home of the famed Kentucky Derby, a Thoroughbred horse race also known as "The Most Exciting Two Minutes in Sports". The Kentucky Derby caps off two weeks of thrilling horse racing on the first Saturday in May. On this day, everyone sports their best and most exciting formal clothing and most famously, the hats!
Where: Gate 1 on Churchill Downs® Racetrack / 704 Central Avenue, Louisville, KY 40208
Website: Derby Museum
Tours: 30 minute tour includes a historic walking tour of the track!
Adults (15-64): $15
Seniors (65+): $14
Children (5-14): $8
Children (Under 5): FREE
Louisville Slugger Museum & West Main District
Located next to the Evan Williams Bourbon Distillery, you'll find the Louisville Slugger Museum, home to the creator of the baseball bat. Baseball has played and still is a huge American favorite past time dating as far back to 1791 in Pittsfield, Massachusetts. They started making baseball bats in 1884 when 17 year old John Andrew "Bud" Hillerich created the first professional bat for Pete Browning. Today, you can visit the museum and watch how baseball bats are made and see the world's largest baseball bat at 120 ft tall and weighs 34 tons leaning against the museum!
Where: 800 W Main St, Louisville, KY 40202

Adults – $14

Seniors (60+) – $13

Kids (6-12) – $8

Kids 5 & Under – Free
West Main District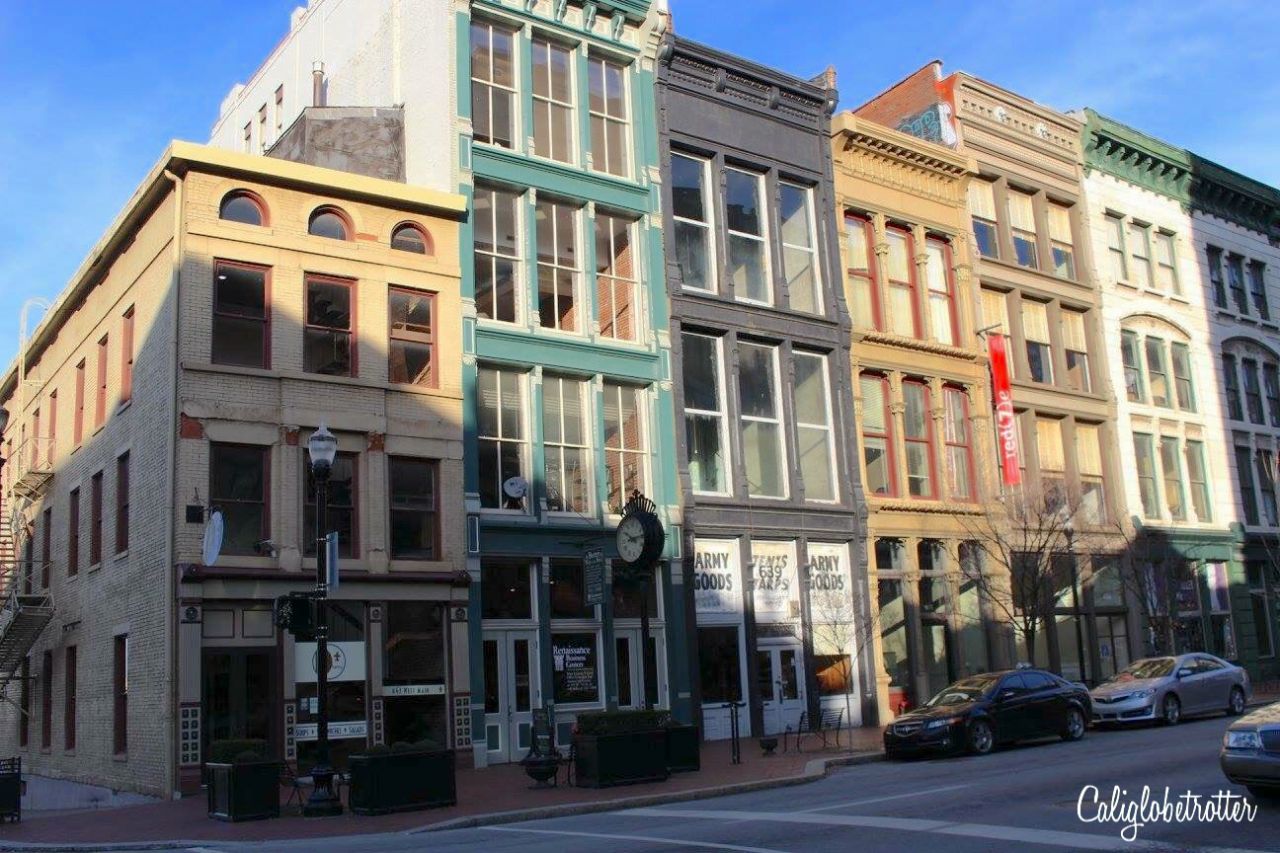 Like this post? Take it with you as GPS Guided App directly to your phone via

GPSMyCity
One of five districts in Louisville, this one is considered to contain some of the oldest buildings in the city. Located on the same street as the Louisville Slugger Museum and the Evan Williams Bourbon Experience, this historic part of town has fantastic architecture and a very European feel to it with one colorful building after the other. You'll find plenty to do as you stroll down the streets brimming with museums, bars, distilleries, restaurants and shopping! Keep an eye out for the Statue of David!
Other museums include:
4th Street Live!
This is the center of all entertainment and retail shopping in downtown Louisville which first opened in 2004. 4th Street Live also hosts some major performances throughout the year, as well as being the party place to be on New Year's Eve!
Here you'll find some of the best known restaurants such as T.G.I.Fridays and Hard Rock Cafe, including a variety of bars for throwing back some shots, or you can head over to the Jim Beam Urban Stillhouse and test out some Bourbon, or bottle your own bottle of Jim Beam!
Website: 4th Street Live!, Jim Beam Urban Stillhouse
The Palace Theater
Only one of two historic theaters to survive the urban renewal, The Palace Theater is a great place to catch a movie by stepping back in a time long since gone. Opened on September 1, 1928 it was considered to be an "architectural marvel!" The Louisville Palace undertook a massive restoration to recreate the opulence of its glory days. Today, the theater hosts Broadway attractions, local, national, and international performing arts presentations, classic films, and concert engagements!
Website: Louisville Palace
Address: 625 S 4th St, Louisville, KY 40202
The Belle of Louisville
Take a ride on the Belle of Louisville and step back in time on this historic Mississippi-style steamboat built in 1914 which still offers passenger dining while sailing down the Ohio River. Originally known as the Idlewild, she served as a ferry boat between Memphis, Tennessee and West Memphis, Arkansas. By 1949, she became the most widely traveled river steamboat in American history and has been recognized as the oldest and most authentic river steamboat.
The best chance for a ride on the Belle of Louisville is between April – October, otherwise cruises are limited between November – March. However, you do still have a chance to visit the steamboat while it is docked.
Website: The Belle of Louisville
Address: 401 W River Rd, Louisville, KY 40202
The Brown Hotel
This 16-story, 600 room hotel first opened its doors in 1923 and is famed for being a Louisville legend, loved by generations of visitors for its Georgian-Revival grace and Southern hospitality. This historic luxury hotel has ballrooms, shoppes, meeting rooms, and restaurants. Stop by for lunch or dinner and try the most famous and sinfully delicious dish, "The Hot Brown", first created in 1926 by the hotel chef, Fred K. Schmidt. This is one meal you CAN NOT miss in Louisville!
Website: The Brown Hotel
Address: 335 W Broadway, Louisville, KY 40202
Old Louisville – National Historic District
The third largest historic district in the United States, a drive around this neighborhood will transport you back in time. Rows upon rows of historic houses, churches and schools, each and every single house has a unique Victorian architectural structure. Despite its name, Old Louisville was actually developed in the 1870s, nearly a century after Louisville was founded and was once home to the wealthiest residents. Today, the houses are still just as beautiful and have been pretty well maintained, although some still need some TLC.
Website: Old Louisville
Tours: Drive/Walk around for free, or join a tour May – September at 11:00am and 1:30pm
$10 per person
$5 students (with ID)
12 and under FREE
Address: 1340 S 4th St, Louisville, KY 40208
Cave Hill Cemetery
Not your typical tourist destination, but trust me you'll want to visit this historic Victorian-style cemetery rich in history. Developed in 1846, Cave Hill was created in the popular garden-form with winding paths, graves across hill tops as well as lakes and ponds.
The cemetery is home to the final resting place for many Civil War soldiers. During the Victorian period, it was common practice to show your wealth, even in death, therefore many of the headstones and graves are quite elaborate! Some of the most famous graves include Colonel Sanders who created KFC, George Rogers Clark who was an American Revolutionary War military officer who also founded Louisville and more.
Website: Cave Hill Cemetery
Tours: A variety of tours are available, or you can do a self-driving tour, but please remember this is a final resting place.
Address: 701 Baxter Ave, Louisville, KY 40204
Street Art and Where to Find It:
Street Art is popping up all over the place, and Louisville flourishes in vibrant and particular creativity. We found tons of wall murals while driving around town, got out and snapped a few pictures before heading on to the next. For the full guide of where to find all some of the amazing artwork we found, check out my post of Where to Find Street Art in Louisville.
Address: Downtown Louisville near 2nd and Market
Distilleries to visit:
Evan Williams Bourbon Experience
Located on the historic Whiskey Row in downtown Louisville, Evan Williams comes fully equipped with a tasting room, retail shop, and an exciting interactive tour. Evan Williams was Kentucky's very first commercial distiller, therefore is rich in history!
Where: 528 West Main St. Louisville, KY  40202

Tour Price: $12
Website: evanwilliamsbourbonexperience.com
Stitzel-Weller / Bulleit 
Louisville's last urban distillery has had a turbulent history. At one point the distillery was forced to close in 1992 and their bourbons sold off to other distillers, but since 2014, it is once again up and running offering bold and spicy high-rye bourbon whiskeys.
Where: 3860 Fitzgerald Road, 5 miles from downtown Louisville
Tour Price: $10
Website: bulleitexperience.com
Where to Eat:
Sidebar at Whiskey Row
If you love Bourbon & Burgers, look no further! This is the best place in town for both! Located under the shadow of the 2ns Street Bridge, near the KFC Yum! Center on the old historic Whiskey Row, this bar has an awesome American feel to it with a witty theme of US Government and Bourbon. I guess they go hand in hand!
These burgers have a unique Southern flavor to tickle your taste buds! I'll be your personal jury and tell you right now, they were the best damn burgers I've ever had! Pair it with any glass of bourbon or treat yourself to the Bourbon Ball Milkshake! I'm definitely guilty as charged!
Website: Sidebar at Whiskey Row
Address: 129 N 2nd St, Louisville, KY 40202
Personal Favorites:
Ambulance Chaser – Henry McKenna bourbon BBQ sauce, cheddar cheese, applewood bacon, tomato jam and tobacco onions! (Preferably without tomato jam!)
Hung Jury – Beer cheese, bourbon mushrooms and onions.
Mutual Agreement – Topped with smoked pepper-jack cheese, pulled pork, Henry McKenna bourbon BBQ sauce, coleslaw and pickled onions.
Doc Crow's Southern Smokehouse
Located just around the corner from the Sidebar at Whiskey Row, here you'll find traditional American Southern cuisine with very diverse barbecue options.The portions are quite large, easy enough to share, with leftovers.
Website: Doc Crow's Southern Smokehouse
Address: 127 W Main St, Louisville, KY 40207
Personal Favorites:
Doc's Chicken – Slow smoked & buttered-basted half chicken
Stuffed Baked Potato – Loaded with bacon, scallion, sour cream & melted cheddar, served with choice of beef brisket or pulled pork
Beef Brisket – Texas style brisket with pickles and onions
Wild Eggs
If you're looking for a good hearty American breakfast, brunch or lunch, Wild Eggs is considered to be one of the best restaurants in Louisville! Offering a variety of unique eggy combinations, you'll enjoy.every.single.bite! Enjoy a glass of freshly squeezed orange juice with your meal!
Website: Wild Eggs
Address: 121 S Floyd St, Louisville, KY 40202
Personal Favorites:
Breakfast Burrito – Flour tortilla stuffed with scrambled eggs, chorizo, cheddar-jack cheese, poblano pepper and onion. Topped with queso fundido, sour cream, pico de gallo, avocado and green onion served with skillet potatoes. (Tips: Skip the sour cream! Replace the beans for a side of Hashbrown Casserole)
Mr. Potato Head Casserole – Hashbrown potatoes basked with sour cream, diced onions, spices and cheddar-jack cheese. Topped with breakfast sausage, diced tomatoes, poblano peppers, roasted mushrooms, queso fundido and an egg your way!
Sweet Home Apple Bourbon Crepes – Warm crepes filled with sweetened cream cheese, apple bourbon compote, candied pecans, vanilla bourbon sorghum, whipped cream, powdered sugar and cinnamon.
Cracker Barrel
Although this restaurant isn't specifically from Louisville, it does offer some pretty damn good Southern Comfort cuisine, and Kentucky considers themselves to be from the South. The first Cracker Barrel opened in Lebanon, Tennessee, just south of Kentucky in 1969. Open for breakfast, lunch and dinner, you can have country home-style breakfast all hours of the day! Now that's my kind of restaurant! But first you'll have to drag me out of the adorable knickknack shop!
Website: Cracker Barrel
Address: 2701 Crittenden Dr, Louisville, KY 40209
Personal Favorites:
Grandpa's Country Fried Steak – Two eggs cooked to order with Grits, Sawmill Gravy, homemade Buttermilk Biscuits, real butter and the best Preserves, Jam n' Apple butter (on request) we could find. Served with Fried Apples or Hashbrown Casserole and Chicken Fried Chicken or Country Fried Steak
Old Timer's Breakfast – Two eggs cooked to order with Grits, Sawmill Gravy, homemade Buttermilk Biscuits, real butter and the best Preserves, Jam n' Apple Butter (on request) we could find. Plus Fried Apples or Hashbrown Casserole and Choice of Smoked Sausage Patties, Thick-Sliced Bacon, Turkey Sausage or Turkey Bacon.
If you're looking for some extra guides to prepare your trip, we enjoyed these the following items, both before and after our trip to Kentucky! The first gave us a lot of history and information about the Kentucky Bourbon Trail while the second we purchased along our journey for some home cooked meals in the future! And of course, my faithful Travel Guide Bible, the DK Travel Guide: USA!
Disclaimer: This post contains affiliate links. If you click on one and make a purchase, I might make a little extra spending money, at no extra cost to you. As always, all opinions are my own and these products/services have been found useful during our travels and come highly recommended to you from yours truly!
Other posts related to Kentucky:
The COMPLETE Guide to the Kentucky Bourbon Trail
Where to Find Street Art in Louisville, KY
8 Quick Things to do in Lexington
Why EVERYONE Should Visit Old Friends Farm
Amazing Drinking Trails Around the World
Liked this post? PIN IT FOR LATER!!
Save
Save
Save
Save
Save
Save
Save
Save