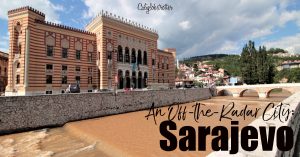 Disclaimer: This post contains affiliate links. If you click on one and make a purchase, I might make a little extra spending money, at no extra cost to you. As always, all opinions are my own and these products/services have been found useful during our travels and come highly recommended to you from yours truly!
When I first told family in 2015 we were trekking into Bosnia-Herzegovina for a day trip to Mostar, their eyes got wide and their first question was "Is it safe to visit Bosnia?" I don't blame them for asking that. During the 90s, Bosnia-Herzegovina had a bad reputation for being one of the most dangerous places in the world and my parents likely watched images on the news of the horrors that took place here. Yet, despite their concerns, we did our research and went for it. And we wanted more.
Just in case you're interested, PIN IT FOR LATER!!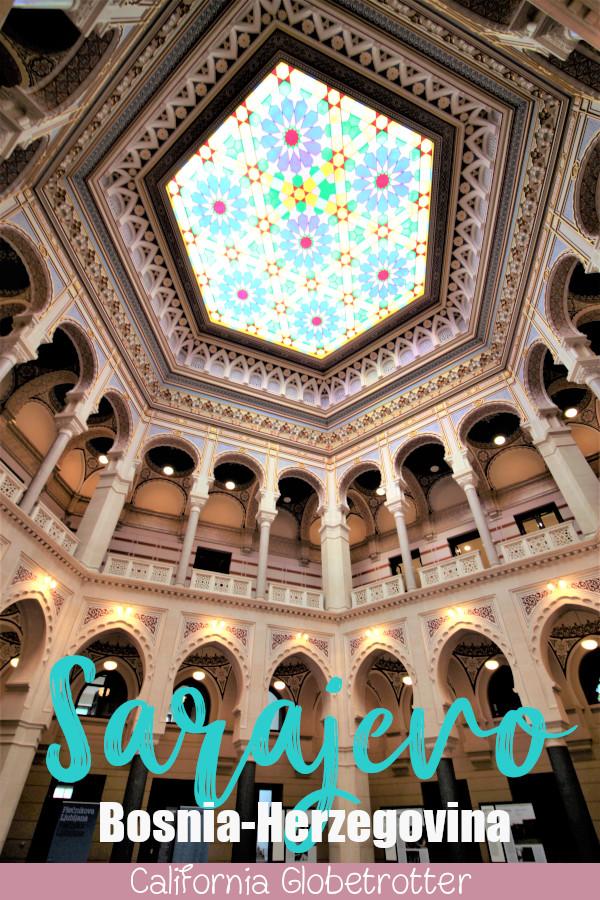 This article is now available as a mobile app. Go to GPSMyCity to download the app for GPS-assisted travel directions to the attractions featured in this article!
How to AVOID Looking Like a Tourist in Europe
The Most Beautiful City Halls in Europe
If you had asked me before our trip, "What do you know about Sarajevo?" I would have replied, "It was the city that the Austrian Archduke Franz Ferdinand had been assassinated in in 1914, the powder keg which began the First World War. Beyond that, I couldn't tell you much.
While scrolling on Pinterest as one of my favorite past time hobbies, I came upon a few posts about Sarajevo which piqued my curiosity. So when we were planning our two week Balkan honeymoon, we had planned to stop in Jajce and Sarajevo. Unfortunately, the former we had to skip as the infrastructure in Bosnia is practically non-existent and took us much longer to arrive in Sarajevo than we had intended.
Turns out, Sarajevo is actually quite interesting and full of history and tales, often nicknamed "The Jerusalem of Europe". The capital is quite famous for its cultural and religious diversity as people of different faiths – Islam, Catholicism, Judaism and Orthodox have all coexisted in this melting pot for centuries. 
That is, until the 1990's when the Bosnian War exploded and the city suffered extensive damaged under the longest siege in modern history, for a whopping 1,425 days. Since the end of the war, the city has been extensively reconstructing its glorious past and is now the fastest growing city in Bosnia-Herzegovina, which is still quite often easily overlooked.
We weren't quite sure what to expect upon arrival, however, we soon found that the city had an "east meets west atmosphere". One minute it felt like we could have been strolling the Bazaars in Istanbul or meandering along beautiful Viennese-style streets. Turns out, I was right. As history would have it, Bosnia had at one point been under the control of the Ottoman Empire during the 1400s before the Austro-Hungarian Empire took over in the late 1800s. While walking though town, you'll even come across a line marker in the ground, dividing East and West Europe.
1. Visit the Vijecnica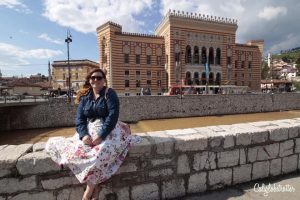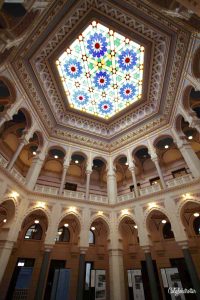 First and foremost, start your visit to Sarajevo by taking a gander inside the impressive neo-Moorish Vijecnica, the main attraction in Sarajevo which was built in 1892-94. It was originally intended to be the City Hall, but by the end of the Second World War, it was turned into the National Library.
Before the Bosnian War, the library held 1.5 million volumes and more than 155,000 rare books and manuscripts. Unfortunately, on August 25, 1992, Serbian forces purposely shelled the library and destroying a majority of the irreplaceable books and one person died trying to save the books.
Fast forward 20 years, fifteen of which were spent restoring the library to it's former glory, the Vijecnica reopened to the public in 2014. For a small fee of 3 KM (students) / 5 KM (adults), you can take a gander inside and admire the exquisite reconstruction, hand painted intricate designs and the stunning stained glass ceiling.
2. "Inat kuća" (the spite house)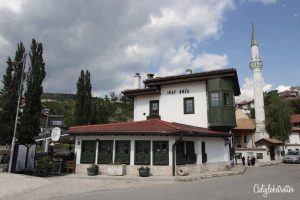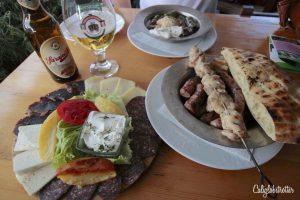 Prior to building the City Hall, the Austrian-Hungarians originally wanted to build it on the northern side of the Miljacka River, however this was impossible at that land belonged to a stubborn man named Benderija. Refusing to give up his land and have his house destroyed, Benderija finally agreed after some seriously long negotiations on two conditions. The first condition was they they move his house brick by brick it the exact same way and rebuild his house on the other side of the river and to give him a bag of gold coins. The officials had no choice but to give in to his demands and in 1985 the house was rebuilt, and is now called "Inat kuća" (the spite house). In 1997, the home was turned into a traditional Bosnian restaurant and definitely was one of the best restaurants in Sarajevo which we ate at after our peak inside the City Hall.
Eating and sightseeing in Sarajevo is quite affordable because of the difference in currency, but even still, if you want to visit Bosnia-Herzegovina on a budget, it's quite do-able! For this meal alone, for two people cost us less than 15€!
3. Meader Through the Old Bazaar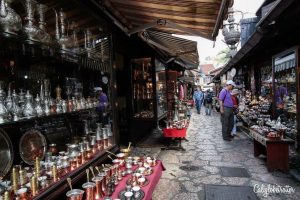 Baščaršija is Sarajevo's heart and soul, a place filled with endless shops, cafes and restaurants for locals and the few tourists to come together and enjoy that Istanbul atmosphere I mentioned earlier. Here, the city feels practically unchanged since the 15th century and still has some old world vibes.
Kazandžiluk Street is Baščaršija's oldest cobbled stoned street and translates to "Coppersmith Street", rightly named as here you'll find a plethora of cute shops selling copper knickknacks such as traditional coffee pots, plates and more. You'll even find the occasional bullet for sale too.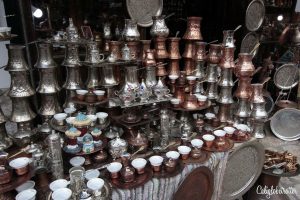 The Sebilj, located in the center square of Baščaršija, is one of the symbols of Sarajevo.It is an Ottoman-style wooden fountain built by Mehmed Pasha Kukavica in 1753. This square is also commonly nicknamed "the pigeon square" mostly by tourists, as it has been overtaken by the birds. Surprisingly, there are a few replicas of this fountain, gifted by Sarajevo to Belgrade, Serbia and St. Louis, Missouri.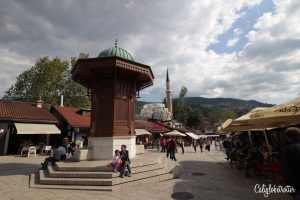 4. Visit the Gazi Husrev-beg Mosque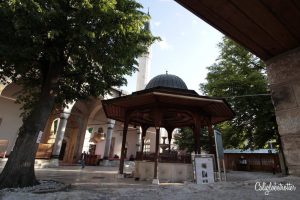 A famous Ottoman architect, possibly by the name of Acem Esir Ali built the Gazi Husrev-bey Mosque in 1532. Today, it is the largest historical mosque in Bosnia and Herzegovina and was the first in the world to receive electricity, in 1898.
Again, during the Siege of Sarajevo, Serbian forces purposely targeted the mosque and received foreign help directly after the war in its reconstruction.
We did not enter the mosque as we were not adequately dressed for entering. So we only took a peak through the gates. As it is a place of worship, visitors are asked to dress moderately. Should you decide to visit, women must have a skirt/dress/trousers which cover the ankles as well as a headscarf to cover the head and shoulders. Men must wear trousers, no shorts!
5.

Shop Some More in the Bezistan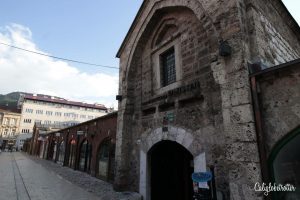 In case you didn't get your fill of shopping while walking through the Old Bazaar, then you can have a second chance here. Gazi Husrev-bey Bezistan is a covered market that was built in 1555 lined with more shops which sell handbags, jewelry and more souvenirs.
Just outside of the Bezistan is the Taslihan, which was a stone inn built in 1543, during the greatest expansion of Sarajevo. It was built of stone and covered with vaults and domes and was one of the greatest of its kind in the region. Unlike other inns, this particular inn was free of charge and could hold up to 90 guests. The purpose of the inn was to provide accommodation to merchants and their horses during a time trading goods in the city.
Caught on fire several times, the last and final time in 1879, the remains were rediscovered over a century later during the expansion and renovation of Hotel Europe directly next to it.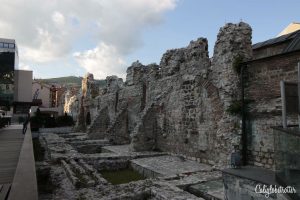 6. Visit the Museum of the Assassination of Archduke Franz Ferdinand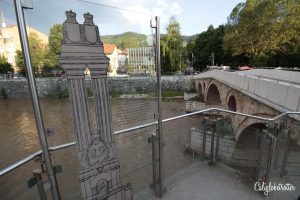 For some reason, being a WWI/II history buff, the name Franz Ferdinand always stuck in my head. Knowing that name, meant I could remember that just over 100 years ago, the shot that killed Archduke Franz Ferdinand and his wife Sofia during a visit to Sarajevo by 18 year old Bosnian Serb Gavrilo Princip would light the powder keg which would erupt into one of the bloodiest wars the planet would endure.
Today, there is a museum dedicated to the life of the Archduke and his wife and is one the highly recommended museums to visit in Sarajevo. This is also a small plague just at the northern end of Latin Bridge (Latinska ćuprija) to mark the location of the assassination. There had previously been a monument standing here which was unveiled in 1917, but it was removed in 1919 for some reason unbeknownst to me. From 1918 to 1993, the bridge was formerly called Principov Most, named after the assassin to memorialize him and the assassination. It wasn't until 1993 that the bridge regained its original name.
7. Eat Baklava & Drink Bosnian Coffee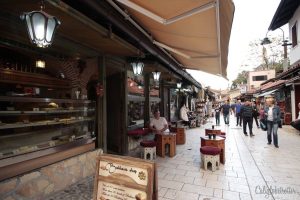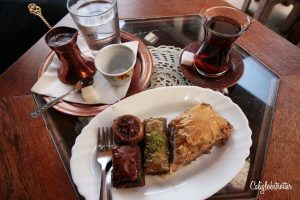 After all that walking, your feet are probably tired and your mouth a little parched. So why not head back to the Old Bazaar and find yourself a relaxing place to sit back and enjoy some traditional Baklava, a delicious and sweet pastry dessert with layers of filo filled with chopped nuts and sweetened with syrup or honey.
What better place to get your Baklava on than at stopping at the best Balkava cafe in Sarajevo, the Baklava Shop!? It's the first shop to have 25 Turkish-Bosnian homemade baklava which includes Pistachio, Nutella, chocolate, walnut and more starting at 1 KM a piece! Plop down on their adorable cushiony Ottoman-style decor outside and people watch! In a hurry? Take it to go!
Be sure to order some traditional Bosnian coffee as well as Turkish tea to wash down your delicious desserts! Grand total for 4 pieces of Baklava, tea and coffee: 10,50 KM!
8. Find the "European Jerusalm"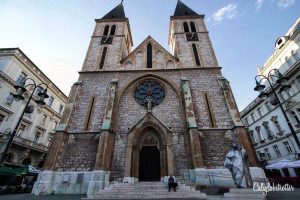 Remember how I mentioned different faiths all resided in this one city? Well, here in Sarajevo, you can find a mosque, a synagogue, a Catholic church and an Orthodox church. While we didn't go looking for all of them, we did however stumble upon the Catholic church, in the "European quarter" of town. They are, however, all relatively close. And I have already previously mentioned the mosque.
9. Visit the Yellow Fortress &/or the White Fortress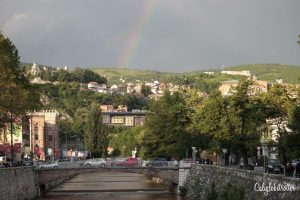 Perched high up on the hill, off in the distance is the White Fortress was built to protect to the city, but unfortunately, it wasn't sufficient enough to prevent the town from being sacked by Eugene of Savoy in 1697. So five more bastions were added along the wall, including  The Yellow Fortress (Zuta Tabija) is one of the fortifications that made up the defensive wall of the old town, Vratnik. However, it lost its significance once the Austro-Hungarians took control over Sarajevo. Today, it offers some fantastic views over the city, however, as we had arrived later than planned in the city, we were not able to visit.
10. Take a Moment to Remember at the "Sarajevo roses"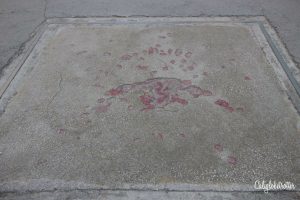 The Sarajevo Roses serve as a reminder of what the people of Sarajevo had to endure during the Siege of Sarajevo. The "roses" were created by filling in red paint where the damage from an explosion in the city took place, memorializing the place a life was lost. Should you stumble upon one, take a moment to remember those who lost their life, whether or not you knew the person.
Where to Stay in Sarajevo
During our visit, we stayed at Hotel Latinski Most ⭐⭐⭐, in the heart of Sarajevo, just opposite the historic center. Built between 1881-1883, the hotel is just 15 meters from the Latin Bridge.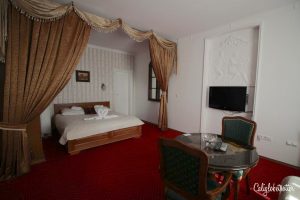 Other Things NOT to Miss in Sarajevo (which we did!):
Sadly, we ran out of time to visit some of the other sights we had planned. So I'll share with you other interesting things to do in the city, should you have an extended stay!
Avaz Tower – Enjoy a view over all of Sarajevo in Bosnia's tallest building
Sarajevo Tunnel Museum – Learn about this amazing tunnel which helped save the lives of 2-3 million people during the longest siege
Once famous Olympic Bobsled Site in Trebević mountain from 1984
Food for Thought
While I might have named Sarajevo an "off-the-radar" city, you also have to remember why it is not quite on everyone's travel bucket list. 22 years ago the country's worst war finally came to an end, resulting in the the most devastating conflict in Europe since WWII and the country has since slowly been getting back on its feet.
I was a little hesitant to visit Bosnia again, unsure of how I should dress. While previously been in Mostar during the middle of summer, wearing a summer maxi dress didn't seem to be a big issue, especially in a tourist destination. Sarajevo on the other hand, I assumed would be a little more lenient as it has a diversity of faiths. Turns out, there is no reason to worry about the way you dress, but I would still recommend dressing modestly.
Knowing that, and having already previously seen some buildings still sitting in ruin with scars of the country's dark past while in Mostar, I didn't expect anything less in Sarajevo. Bosnia is a beautiful country and I hope to one day better explore more of the country, but I think it's important to note that as a travel blogger, I post the pretty side of travel. Not everything is all sunshine and roses, therefore, I think it's important to share at least one picture so you aren't caught off guard if it's your first time.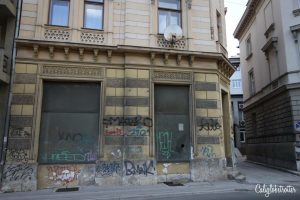 However, I am personally hesitant to go back until the country has better infrastructure. Most of the country's roads and bridges were destroyed during the war. Driving through the country on our own, on "main roads" practically falling into ruin, through some back country towns made for some frightening moments and my imagination ran wild with worst case scenarios. But, we came out without a scratch and no problems!
Do I recommend visiting Sarajevo? Obviously! Definitely! Otherwise I wouldn't have written this post! It's definitely a beautiful city rising out of the ashes of its past and definitely worth a visit! It will be interesting to see how tourism will change in the next 10-20 years as infrastructure and tourism improve.
Tips for Driving in Bosnia & Road Conditions: 
BiH currently has ZERO highways. You will be driving on mostly one lane back roads. A highway is currently under construction outside of Sarajevo. There is a new toll road which has been built, and is being continuously extended stretching from Zenica and Sarajevo (6 KM), but that's about it.
As you'll be driving on a single lane road, overtaking can be quite difficult in such dangerous conditions. DO NOT try to overtake unless you have a clear view!
The average driving speed on the one lane roads is around 50kmp as you'll be mostly driving through small villages, therefore, PLAN FOR EXTRA DRIVING TIME.
DO NOT SPEED and be careful of corrupt police pulling over foreigners who might try to accuse you of speeding. If possible, try to record your speed with your navigation system.
Street lights flash green before turning red, therefore, flashing green lights does not mean you have plenty of time to go through the light!
Tunnels have no internal structure with no lights or ventilation. Turn your lights on!
Prepare yourself for potholed roads for the entire length of your drive, and drive slowly! Last thing you want it to pop a tire in the middle of no where with no sign of help anywhere!
Before driving into Bosnia, make sure you have a full tank and fill up every chance you get, just in case! There are a limited number of gas station and you do not want to be stranded! In Bosnia, your tank will be filled for you!
Don't rely on a GPS Navigation system to get you anywhere in Bosnia as the roads have no yet been mapped out yet. Knowing this in advance, we bought a map book of Europe which included Bosnia to get us to Sarajevo.
Crossing the border from Croatia into Bosnia can take 30 minutes – 1hr (in low season). I can imagine after May, lines may take longer.
You must show your car insurance papers, car registration and passports!! If you're renting a car, check with your car rental company.
It's also recommended to have an international driving license (for this entire road trip) although not necessary (except for Albania and Kosovo).
Dangers on the Road
It is a common occurrence to see cows and other livestock walking along the road. Try not to speed around corners because they may be just around the bend.
Stay on all main roads!!! Do not wander off on to dirt paths or off the side of the road. There are still hundreds of landmines yet to be cleared.
Keep an eye out for local farmers driving on the road with a horse/donkey buggies. For obvious reasons, they don't go very fast, so do not overtake unless you have a clear path!
Bosnians like to tailgate and overtake at the first (unsafe) chance they get, putting both themselves and yourselves at risk of practically causes an accident. Slow down and let them pass.
Looking for more practical information on Bosnia-Herzegovina? Grab a copy the following travel guides which we found incredibly useful on our trip and has something for everyone from outdoor activities to historical sites!
Disclaimer: This post contains affiliate links. If you click on one and make a purchase, I might make a little extra spending money, at no extra cost to you. As always, all opinions are my own and these products/services have been found useful during our travels and come highly recommended to you from yours truly!
Other Balkan Travel Inspiration:
The PERFECT Two Week Balkan Road Trip
A Day Trip from Croatia: Mostar, BiH
10 Day Road Trip Through Croatia
Liked this post? PIN IT FOR LATER!!