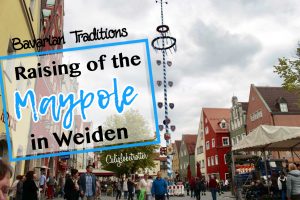 If there is one thing I love about living in Germany, it's learning about the many historical traditions that are hundreds of years old that are still celebrated with enthusiasm. If there's a public holiday in Germany, you can bet your knickers there's a public celebration somewhere. And if you're in Bavaria, there are even more public holidays.
May 1st, which is commonly known as International Workers' Day was created by to celebrate the working class. Organizations and trade unions around the world, come together to demonstrate energetically in city centers.
However, May 1st is also a historical holiday to welcome the coming of Spring and villages throughout Europe celebrate this day with the raising of a wooden pole called "Maibaum" (Maypole), usually decorated in flowers and ribbons, with the occasional tree which dates back at least to the 13th century. There is some speculation that the maypoles were in some way a continuation of a Germanic pagan tradition and is celebrated in many countries in Europe and part of North America. In Bavaria, almost every small town and city holds a Maibaum celebration, so you'll have plenty of options to watch this amazing tradition!
Myth or Fact?
There are many myths as to why this tradition began, with many believing it is a symbol for the world axis, a reverence for sacred trees or the idea that May is the most common month for Germans to get married. Or more simply, maybe it's just part of the merriment of the return of warmer days, for which no further explanation is needed.
In Bavaria, the Maypoles are usually white and blue stripes, symbolizing the Bavarian flag. Poles can also be quite plain and unpainted, but each will have signs and decorations representing the different trades and guilds for that village. At the top of the pole, there is a tiny bit of actual tree growth left sprouting out the very top of the pole and wreaths and ribbons are added to further decorate the Maypole.
Just an hour north of Regensburg, is the small town of Weiden in der Oberpfalz which puts on a relatively big show for the raising of their Maypole, which we spent the afternoon checking out and where I had the most delicious espresso with nutella!!
Most Bavarian villages have a club known as the "Burschenverein" that is similar to FFA associations. Prior to May 1st, the young men of the club go out to the woods to choose a tall straight pine tree that is then felled and hidden away for safe keeping.
Every Maypole is in danger of being stolen and held for ransom by rival towns in the region prior to May 1st. Local boys from the village stand guard to protect their Maypole. But, should they let down their guard, they will have to pay a hefty price IN BEER and food to get their Maypole back. The most spectacular theft of them all occurred back in 2004 when some clever thieves stole the maypole from the top of the Zugspitze using a helicopter.
Only towns with a Maypole may steal from another.
A Maypole can only be stolen after it has been prepared for celebration.
Sawing or damaging the maypole is NOT allowed!
The Maypole must be returned on time for May Day celebrations.
On May 1st, towns people and onlookers gather in the center of the village to watch the raising of the Maypole anew, with plenty of flare to entertain anyone. Bavarians will put on their traditional Tracht, an oompah band is likely to be nearby with beer within easy reach. Towns people might dance, drink or eat some delicious food while waiting for the procession to begin.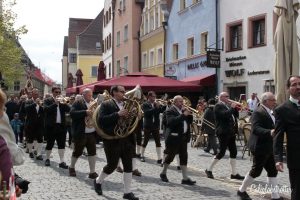 When the time came to raise the Maypole, historically, there was a lot of heavy lifting and it was a strenuous task by a group of men to lift the pole with the help of long poles and put it in the hole in the ground. Today though in Weiden, much of the heavy lifting is done by a massive crane which will swing it into place. Sadly, we thought this took away some of the historical fascination with this tradition, as other Maibaum festivals we had been to did it the tough way, with a few grunts and beer breaks in between.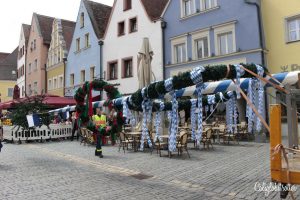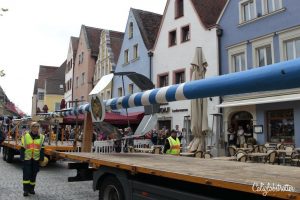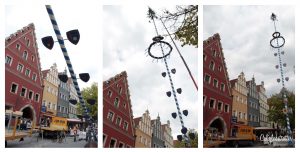 Once the Maypole has been hoisted into place, the real celebrations can get under way with more dancing and drinking. Townsfolk will bring out their traditional dance moves, stomping, clapping, swishing of skirts and a lot of hollaring. In Bavaria, it is common for the Maypole to stand tall in the town center for the rest of the year, to be taken down a few days prior to replacing it.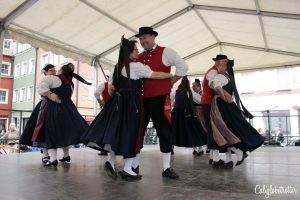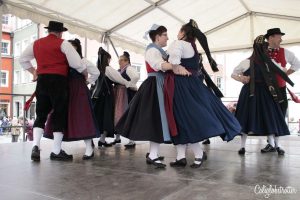 Last year (2016) the dancers did a methodical dance with many intricate moves and twirls, wrapping the base of the pole with blue and white ribbons, but this was the first time in 20 years. This was part of the tradition I had been dying to see, as I had been to other Maypole ceremonies in Bavaria and none had done this, but this year (2017), they didn't repeat this dance.
To welcome spring, this year we headed to the small Bavarian village of Weiden, a population with just over 42,000 people +1/-1. Not all Maypole celebrations are as lively as the one we witnessed in Weiden. The town's Maypole was decorated with famous hometown heroes and the annual ceremony began at 2pm.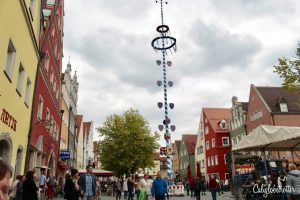 In Weiden, the ceremony takes place in the Marktplatz, and here you'll find many typical fest tables and benches lined up like at any other festival in Bavaria. Near by, a grill will be prepping sausages and the beer will be waiting for thirsty fest-goers, or you can have a seat at one of the many cafes and restaurants in the Main Square, giving it the nickname "The Livingroom of Weiden". Maibock is typically drank during this time of year, a paler, more hoppy version generally made for consumption at spring festivals.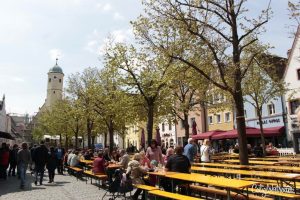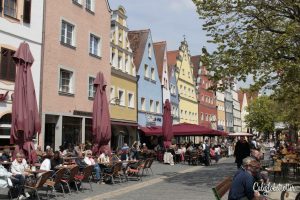 The best thing about visiting these smaller Bavarian towns is that these celebrations aren't held to large crowds and are mostly unheard of to tourists. The townsfolk aren't putting on a show for fame and glory, but to continue a centuries old tradition. However, we were quite surprised to see just how many people were here to enjoy the festivities, and lots of English as the Grafenwöhr American Army base is nearby.
If you're interested in visiting Germany and are looking for more information, I highly recommend using the DK Eyewitness Travel Guide! Without these guides, I would be lost! This is my travel Bible!
Disclaimer: This post contains affiliate links. If you click on one and make a purchase, I might make a little extra spending money, at no extra cost to you. As always, all opinions are my own and these products/services have been found useful during our travels and come highly recommended to you from yours truly!
Other Related Posts:
Königssee Almabtrieb: Cows with Flowers!
A Bavarian Thanksgiving: Erntedankfest Bad Gögging
Adlersberg's PALMATOR Starkbierfest
Liked this post? PIN IT FOR LATER!!
<