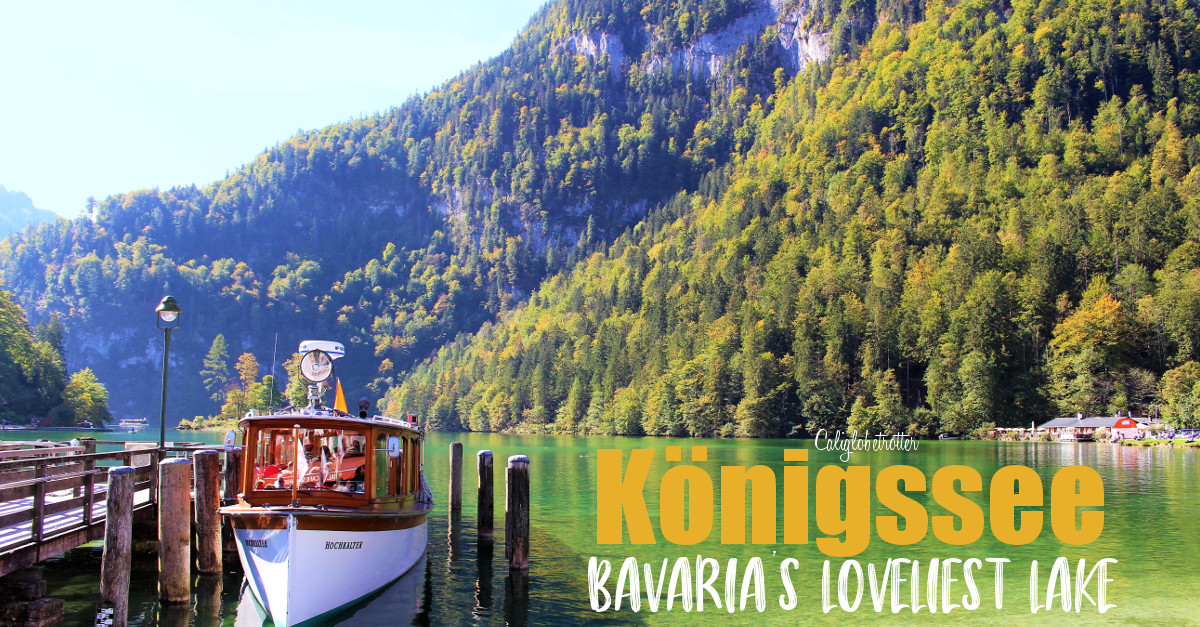 Disclaimer: This post contains affiliate links. If you click on one and make a purchase, I might make a little extra spending money, at no extra cost to you. As always, all opinions are my own and these products/services have been found useful during our travels and come highly recommended to you from yours truly!
Located at the base of the surrounding Berchtesgaden Alps in the Berchtesgaden National Park lies Bavaria's most exquisite and stunning fjord-like lake. With crystal clear, emerald green waters, Königssee is one of the most popular and well-known lakes in Bavaria. With stunning steeply rising mountains engulfing the lake to a height of 8,900 feet (2,700 m), it is a place that will leave you speechless in awe for hours on end.
Want to See It For Yourself? PIN IT FOR LATER!!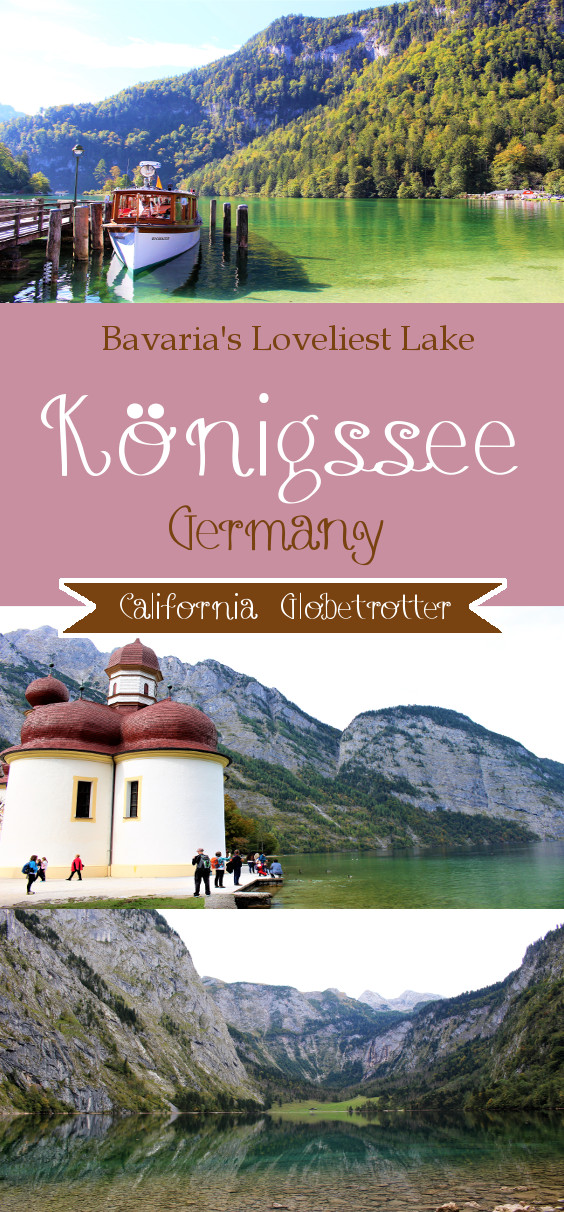 How to AVOID Looking Like a Tourist in Europe
Where to Stay near Königssee:
Our hotel, Hotel Grünberger ⭐⭐⭐ was only a 10 minute drive away, in Berchtesgaden, which gave us plenty of time to explore the area, and had some amazing view of its own from our balcony!
History of the Lake
While the name Königssee might have you believe that the lake is named after a King, it actually is not. Since the time of Louis the German in 817-843 until Elector Maximilian I Joseph in 1806, there had not been a king. However, the name Königssee probably stems from the name Kuno from the 12th century meaning local nobles.
The lake has maintained its pristine beauty thanks to environmental protections that have been in place for over a hundred years! The boats here that take tourists to and from each end of the lake have been electric since 1909. No other boats, other than row boats are permitted on the lake, including all sports activities.
The First Reason For Our Visit: Almabtrieb!
First and foremost, the best reason to visit Königssee was because it was the time of year for an annual event. Between the beginning of Spring to the beginning of fall, happy cows frolic and nibble away in the lush Alpine pastures, high within the mountains. Towards the beginning of September, herders slowly start the process of bringing the cows back down the mountains in what is called an Almabtrieb and it's one of the best fall festivals in Germany. If all the cows survived the summer in good health, they are crowned with decorative crowns. You also often see Almabtriebs for sheep and goats, but these are a little less glamorous but equally adorable! It's honest to goodness one of the best things to do in Germany in early autumn!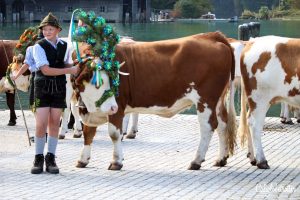 Next up: The LOVELIEST lake not just in Bavaria but in Germany!
The boats dock at the only town which hugs the lake, Schönau am Königssee and leave every half hour. There are plenty of boats, all named for different areas of the lake. The lake is almost 5 miles long ( 7.7 km), 1.1 miles wide (1.7km) and is Germany's third deepest lake. I highly suggest taking a boat ride across the lake, as it's without a doubt one of the best things to do while at Königssee and is also very family-friendly! Though the leaves where just beginning to change when we visited, Königssee is one of the best places to visit in Germany in autumn!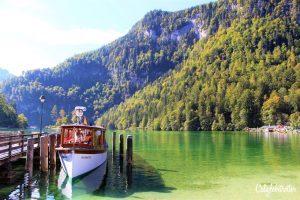 Gliding along the smooth, endless emerald-green waters, we first sailed past the docking garages and a small little island. The moment was so beautifully breathtaking as the sunlight hit the water just right, illuminating the emerald green water set against a beautiful backdrop. Off in the distance, at the top of a mountain, you could catch a quick glimpse of Kehlsteinhaus (Eagle's Nest) – the house built as a 50th birthday gift for Adolf Hitler. Too bad he was afraid of heights to enjoy the house on a daily basis. I would have been in heaven!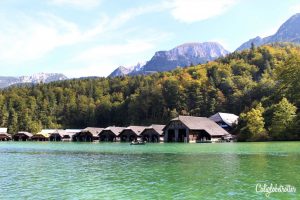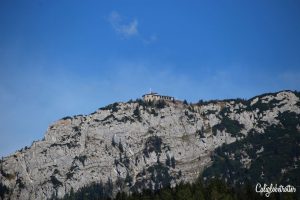 Tourists can enjoy the 30 minute boat ride to the church and stop for a few minutes to allow the boatman to play a tune on his trumpet and the echo bounces back from the mountain walls. But this doesn't always work! In the afternoons, when the weather gets windy, it makes it difficult for the echo to bounce back. But we were lucky and had perfect weather.
I tried to take a video and you can enjoy a little snippet of our boat man playing his guitar and the slight echo in the background.
First Stop: St. Bartholomew Church
Besides doing a strenuous hike, the boats are the only way to cross the lake in order to reach one of Germany's most beloved pilgrimage sites, the St. Bartholomew church and hunting lodge, renowned for its red-capped onion domes set against a steep backdrop of a massive, sky high mountain. The church is dedicated to the patron saint of alpine farmers and dairymen. Quite fitting, as during the summer months, cows are brought to the lush pastures to graze to their hearts content with herders watching over them all summer before they are brought back into town in the Autumn in a procession known as "Almabtrieb". There has been a church here since 1134 and the current church has stood here since 1697.
Here you can stop and rest and enjoy a meal at the biergarten. During the summer, they serve fresh fish caught straight from the lake. Other than that, no fishing is allowed.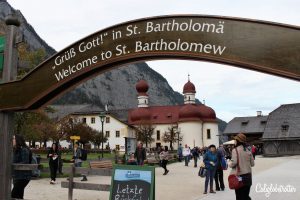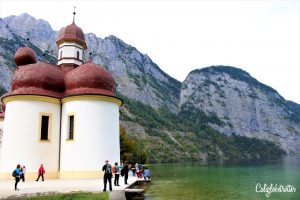 Continuing On
Being the beginning of Autumn after a long, unusually dry and hot summer this year, it wasn't surprising to see that several of the waterfalls had long since dried up. However, there were two waterfalls still trickling along. You could only imagine how much more beautiful the would have been in full force with snow melt in early spring/summer. This waterfall is named Schrainbach and clearly spills into the lake.
Second Stop: Salet & Obersee
If you buy the extended ticket, you can take the boat just another 25 minutes to Salet, the southernmost point of the lake. There isn't much here other than an alm house where the herders live during the summer months. But if you're willing to hike an easy 10 minute walk, there you will find Obersee. As if, Königssee wasn't already beautiful enough, the still, deep emerald-green waters of Obersee will blow you away with the stunning reflections of the surrounding mountains in the water with an adorable old wooden boat dock.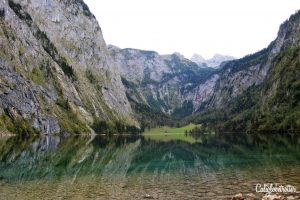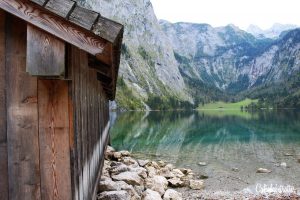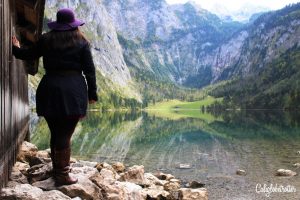 While, I had intended this trip to be a bit more quite, away from the tourists, I was sorely mistaken. Königssee is incredibly popular with the tourists and the boats are jam packed tourist to tourist all hoping to soak in the stunning natural beauty that is Königssee, so it is clearly no longer one of Germany's hidden gems many claim it to be. It's clearly one of the top places to visit in Germany now, though luckily, it's not as crowded as other places we have been. Boats are limited to a certain number of tourists, and only a certain number of boats trek across the lake per day. Being crammed into tiny boats like sardines and having the beauty of Obersee distorted by crowds of tourists all trying to get the same picture, it almost ruined the peacefulness of the lake. Not going to lie, I wanted my pictures just as badly as the next tourist, but I was respectful enough to understand that lots of other people wanted their pictures without tourists in it.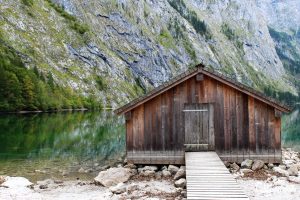 Taking the Electric Boats:
Roundtrip to St. Bartholomew – Adults 13,90 €
Roundtrip to Salet via St. Bartholomew – 16,90 €
Family ticket (2 Adults/4 kids 6-17) – to St. Bartholomew – 34,80€
Family ticket (2 Adults/4 kids 6-17) – to Salet – 42,30 €

Note!: Salet is only accessible from April to October
Boats run everyday except December 24th or extremely bad weather: storms, heavy fog, or when the lake is frozen.
For more prices check the website.
Recommendations (Some I wish I had known!):
Sit on the right hand side of the boat when heading to St. Bartholomew so as to get a great view of the church.
Go earlier or almost at the end of the day so as to avoid the crowds, this way you don't have to stand in the long lines at St. Bartholomew to go back to Schönau am Königssee.
Buy a combination ticket for both the boats for Königssee as well as tickets up the Jennerbahn. The Jennerbahn tickets are valid for longer than one day. (We will have to go back as the weather was too rainy to go up). This will save you a few euros if you are interested in doing both!
Not far from Königssee is Hitler's Kehlsteinhaus (Eagle's Nest) which sit atop a peak overlooking the lake.
Also not far from Berchtesgaden/ Königssee is Salzburg, Austria as well as old Salt Mines which you can tour.
If you're interested in visiting Germany and are looking for more information, I highly recommend using the DK Eyewitness Travel Guide! Without these guides, I would be lost! This is my travel Bible!
Disclaimer: This post contains affiliate links. If you click on one and make a purchase, I might make a little extra spending money, at no extra cost to you. As always, all opinions are my own and these products/services have been found useful during our travels and come highly recommended to you from yours truly!
Other things to do in Berchtesgaden:
Königssee Almabtrieb: Cows with Flowers
A Cable Car Ride Up To The Jenner
5 Things to do in Berchtesgaden
Liked this post? PIN IT FOR LATER!!
Save
Save