One of the ultimate things about traveling is getting to experience the sun setting on the other side of the world. There are a billion sunsets to be had, each one romantic and special in its own way to be had. Some sunsets are more special than others and some are meant to be spent alone to contemplate the glory of life.
No matter where you are in the world, each sunset has it's own story. These are my best sunset travel pictures each with a story to tell and a memory to last a life time. All of my pictures were taken with my old Canon PowerShot SX130 IS, usually on SCN. None of my pictures are edited.

America
California
Home Sweet Home. I've watched many a sunset along the coast of California. I have more memories here than anywhere else in the world. Unfortunately, most of my pictures from that time were before digital cameras and blogging became popular. However, I have two from my last sunset before moving to Montana in 2009. The first
picture is from the Oceanside Pier. I knew I wasn't going to see the ocean again anytime soon so I wanted to say a proper goodbye to the beach I grew up on in Carlsbad called Tamarak Beach.
Oceanside
San Francisco
Just this last holiday season, I went home for Christmas finally. While home, my boyfriend and I met some friends in San Francisco to ring in the new year. I have been to San Francisco a hundred times growing up and not once did I ever have such a clear and amazing sunset. For the first time ever, there was no fog and I could see clearly all the way to the Golden Gate Bridge as well as the Alcatraz Prison!
Kentucky

2016

Just this past Christmas we visited Kentuckyfor the first time. We were surprised by the crazy, extreme weather that Kentucky can get. One day it's 28*F and the next it's clear blue skies and 70*F! I would call that some pretty bipolar weather! But it sure made for some damn good sunsets, unfortunately, every time there was a beautiful sunset, we were driving on the freeway. I was of course in the passenger seat clicking away!
Outside Louisville
Lexington
Then there was the few brief moments as the sunset was just beginning before we got in the car that we happened to be walking around the Thoroughbred Park.
Montana 2009-2012
Most of my amazing sunset pictures came from the time I lived in Montana. That was when I got my new camera as a Christmas gift. Going into Glacier National Parkwas one of my family and mine's favorite past time, no matter what time of year. Either for hiking or just enjoying the scenery.
During the winter, the park turns into a magical winter wonderland. My cousin from England came for a visit during Christmas so we took her in. We ended up having the most perfect pastel sunset backdrop against the glistening white snow!
Glacier National Park
During the summer months, you can drive to the very top of Glacier National Park. This road is called "Going to the Sun" Road because you drive so high you can almost touch the sky! The views are to die for!
Kalispell
During the summer months, rodeo season comes to town at the County Fair! I decided to go one evening with a friend and it just so happened to take place during Fire Season. I find that fire season actually makes for some pretty spectacular sunsets. I snapped a few at the rodeo with a bunch of cowboys lined up against the railing, making for a perfect silhouette.
The rest of the pictures are from nights driving around Kalispell and Columbia Falls where I was forced to pull over on the side of the road and snap some pictures. In Montana, I always carried my camera with me because I never knew when I was going to need to snap a few pictures! The most beautiful was along the Flathead River I crossed over every night to go home. Again, fire season produced the best sunsets! These were all from summer 2011, my
last summer in Montana before I moved to Europe!
Yellowstone National Park
Summer 2011 my best friend came up for a visit. We decided to do a road trip from Kalispell to Yellowstone National Park for a weekend trip. We spent more time in the car due to construction than was worth going to the park, as when we got there the sun was setting. Our hotel was two hours away from the park as that was the closest and cheapest we could find on such short notice. So, needless to say, we didn't see so much of the park but were rewarded for our efforts with a bright pink sunset!
Europe
Croatia
Zadar
On our recent trip through Croatia, we had several amazing sunsets an amazing sunset while eating dinner along the embankment of the peninsula of Zadar. We specifically sat at this restaurant just to watch the amazing sunset we had been enjoying walking around.
England
London
While living in Londonfor six weeks studying to get my TEFL certificate to teach English abroad,
friends and I often went out for drinks. One night we found an awesome Dutch pub not far from the Tower Bridge. We hung out all evening taking pictures of Tower Bridge and the pretty cool sunset we had!
Germany
Regensburg
This is my new home and going for evening strolls along the Danube river offer the most spectacular sunsets. Unfortunately, in my opinion, it's incredibly hard to get a great shot of the Regensburg Cathedral at sunset because the sun sets to the east of the cathedral, therefore there isn't a place behind the cathedral to get a great shot, unless you're lucky enough to fly over the cathedral. Nonetheless, sunset on the Danube in Regensburg is pure golden glory.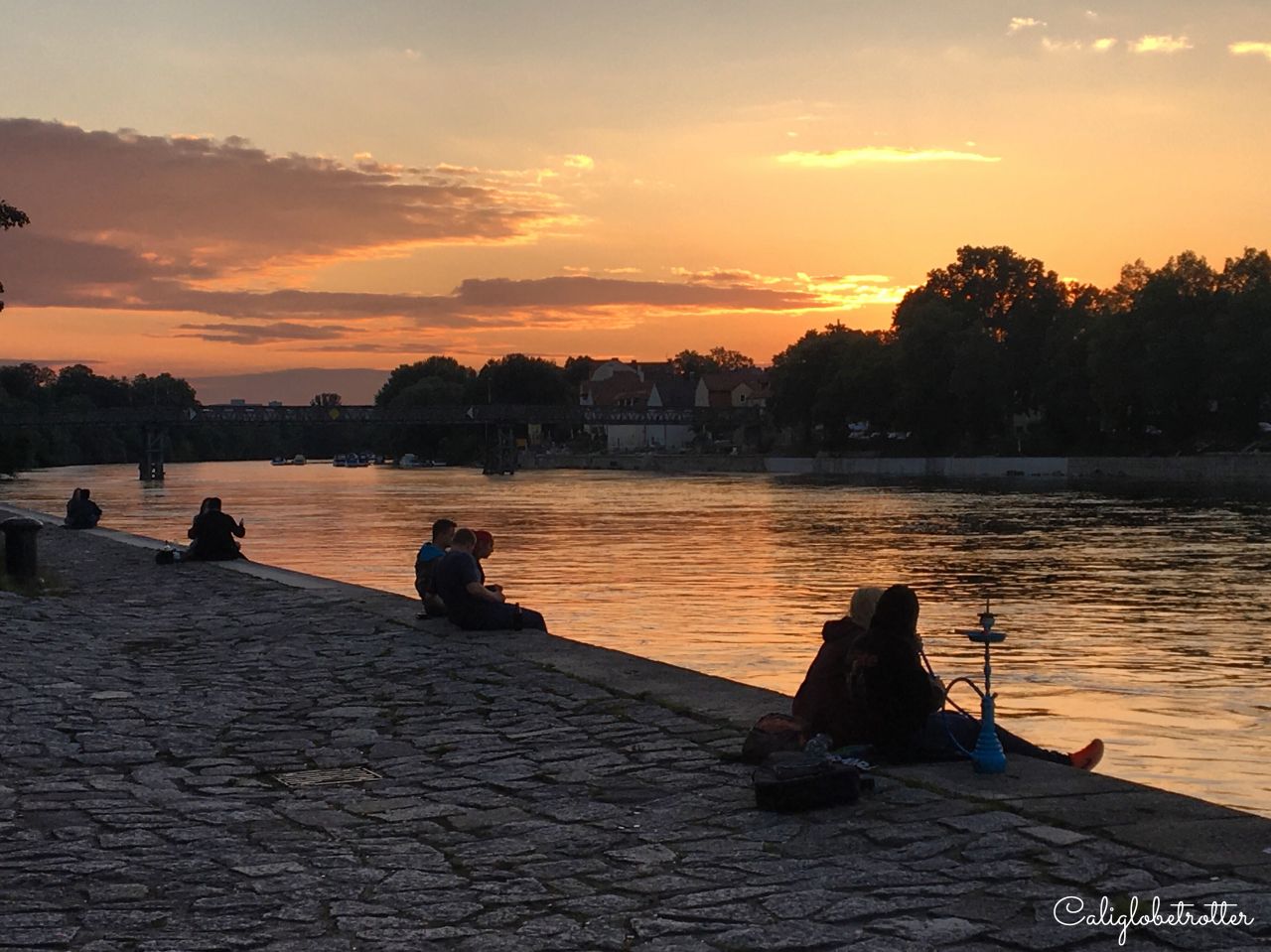 Twice a year, Regensburg has it's own mini-version of Oktoberfest, called Dult. While walking around my very first Dult, I was greeted with a pretty fabulous sunset. The first of many amazing nights drinking in beer tents!
Italy
Cinque Terre
Hans and I spent a couple of days on the coast of Italy in Cinque Terre. Unfortunately, we didn't have such perfect weather until our last night there. So this picture was snapped from my iPhone from our hotel while enjoying our last romantic evening in one of the most beautiful places in Italy! I know now not to rely on my iPhone for great pictures!
Rome
While studying abroad in Heidelberg for a year, some friends and I went to Rome for my 22nd birthday. We had such a great time doing all kinds of things on our Roman Holiday. While there we saw the sun start to set on the Coliseum one day as well as over St. Peter's Basilica from the top of the Spanish Steps.
Slovenia
Ljubljana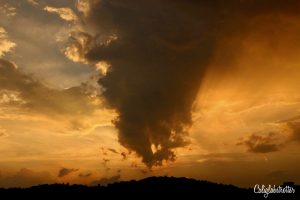 On our recent road trip through Slovenia to Croatia, we stopped for a night in Ljubljana. We walked around the town and then went back to the room to freshen up for a late night stroll. While in our hotel on the 8th floor, I looked outside just in time to see this beautiful sunset with a heart in the clouds. My camera was sitting on the bed as we had just came back to the room. I quickly grabbed the camera and snapped this photo before it blew away!
Where has been your best travel sunset photo memory?
Liked this post? PIN IT FOR LATER!!
Save
Save
Save
Save
Save