I finally made it to Poland, but only about 50km across the German border into Poland. A good friend of mine told me about an amazing little town in Poland just across the border called Boleslaweic that was popular for selling beautiful, hand painted pottery. I have been hooked ever since she first told me and I finally made it a year or so later! This little trip was supposed to be a girls roadtrip to do some pottery shopping, but things didn't work out. I refused to loose my chance to go and I was ready to do some Christmas shopping! So Hans and I found a time to finally go yesterday!
While living in Europe, this is one road trip you'll definitely want to consider taking in order to get some beautiful pottery for your house!
How to Get There:
From Regensburg, Bolselaweic is a 5 hour drive heading north towards Dresden, going around the Czech Republic instead of through it. We rented a car and left right after I finished work on Friday at 4:30pm. The drive there was easy and smooth and Boleslaweic is just about 48km across the German/Polish border. The A4/E40 takes you directly to Boleslaweic from Germany and is really the easiest and most direct route from Bavaria.
Parking
Almost all of the pottery stores are free to park near. There is usually lots of street parking. Should you go during the festival weekend, some lots will charge  €1 a car to park. Otherwise, parking is not a huge problem.
WARNING!!: Keep an eye on your car and make sure to put your purchased goods in the trunk of your car!! We came out of a store and saw a man circling our car and cleaning our windows with a towel. Perhaps he was a beggar, but nonetheless, it was a little disconcerting to see someone touching and circling our car!
Just some interesting history about Poland and Pottery: This portion of Poland originally belonged to Germany before the war, therefore, you may see signs with both the German and Polish names of the town. For example, Bolselaweic in German is also Bunzlau. After the war, Poland's border was expanded westward.  Polish pottery dates back to the Medieval Times and has evolved as students from The Academy of Fine Arts in Wrocław make their way to the ceramic factories to introduce new styles and patterns. All the ceramic patterns are hand drawn and can be used for serving varied meals, heating up in microwaves and roasting dishes in the oven. Bolesławiec stoneware is ovenproof, acid proof and waterproof. The following are official trade marks of true Polish Pottery:
From the left, the first and fifth trade marks are from Ceramika Artystyczna (CA); the third and sixth are Zaklady Ceramiczne Boleslawiec (ZCB); the second is Manufaktura Boleslawiec (MB) and the fourth is Wiza.
Where to Stay:
We stayed at a cute little hotel which was very cheap called Zielony Dom . The receptionist is very nice but spoke barely any English and seemed not to understand German either. The room was simple and cute and we had a huge balcony, but just a forewarning, if you go anytime between fall and spring, I suggest bringing extra night clothes because our room stayed cold the entire night! It's not far from many of the shops and near the bridge on the map.
Where to Shop:
The Blue Beetroot hotel has already put together a thorough guide to every shop and what they sell, their location and hours and what currencies they accept. This is an absolutely necessary helpful tool to have to plan out which stores you want to hit up! The locations are numbered and the guide has more detailed information (Complete Guide to Pottery Shopping in Poland).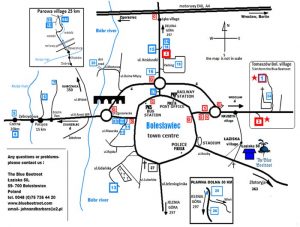 Know The Quality of Pottery
Not all Polish Pottery is created equal and prices vary depending on the quality of the pieces depending on their defects. Each piece of pottery will be tagged with a sticker giving the price and the quality. Try to stick with #1 or #2 as they are the best quality. Sometimes, only the trained eye can find minor brush stroke defects.
Pottery Quality Guide:
"Gat 1" is the best quality; there aren't any defects in the pot whatsoever.
"Gat 2" pots may have a stray brush stroke.
"Gat 3" may have a crack in the glaze.
"Gat 4" may have a chip.
"Gat 5" cannot be used in the oven
Prices also vary depending on different patterns or styles. This is either because the pattern is rare and hard to come by or in high demand. Prices will be much higher if you find a piece with some unique and rare colors.
First of all, parking was kind of hard and we had to park on a muddy little area to the right. We walked in and the store was still empty at 8am. Obviously the high tourist season isn't during the winter! Hans and I looked around for a while before we bought some Christmas gifts for some people. The sales assistant didn't bother us and let us look around alone.
For my first time to a ceramic shop, I felt a bit overwhelmed because there were so many beautiful patterns in all shapes and sizes from cups, saucers, bowls to vases, teapots and more. I had such a hard time deciding.
Directly across the street are more shops back to back to back. We made it no further than this corner of town. I was told to find the ceramic palm tree on the wall and I would find the shop that had the % off if you got in line to buy your goods before 9am.
Manufaktura is one of our favorite stops as there were so many different patterns and the prices were the best we had found. This is the blue shop to the left of the Ceramic Palm Tree.
When you first walk in, there is a staircase leading to the left. If you go upstairs you will find a room with a bunch of pottery for 30% off.
When we made it back downstairs we found two patterns that we both liked, but Hans' pattern won and we bought several beautiful matching pieces. I am OCD and have to have the same matching pattern. I love it so much! This was by far my favorite shop!
We just hit up shop after shop here collecting pieces and Christmas gifts for people. The next shop over is the Sklep Firmowy Tyrcz . This shop had a lot of very patriotic pottery with blue and white stars and plates with the Air Force or Army logo. Obviously, the US Marines are not in Germany since there were no plates. They also have an upstairs but not full of discount items. Against the back wall are discounted items, but be careful because many items are chipped or cracked and mismatched.
We didn't make it to any other ceramic shops because we reached our quota for spending and bought something for everyone on our list. But, I did do quite a bit of research before we went and here are some other stores you should check out if you decide to go! Andy's I have heard is an amazing store with beautiful patterns. I have heard that their prices also run a bit higher, but are of good quality. Henry's is also a popular pottery shop. Unfortunately, I wasn't able to find a website, but this fellow blogger has some helpful information about the shop
I really wanted to visit Zakłady Ceramiczne Bolesławiec, but we never made it there. I guess I will just have to go again because this seems to also be a very popular shop!
This little lady also has some very useful tips and information about all the shops in Bolselaweic which I highly suggest checking out! Our Military Life Abroad
Visiting the town of Boleslaweic
After we did some damage in the pottery shops, we decided to take a quick stroll through the town center, which is very beautiful and completely refurbished, but just a block outside the city center, the buildings look run down and old. We snapped a few shots of the town before hurrying back to our car. After our strange encounter with the possible beggar snooping around our rental car, we were hesitant to stay too long.
This is the pattern Hans and I bought. We didn't buy much for ourselves, just some things we needed to prepare for a family Thanksgiving next weekend. A gravy bowl, mashed potatoes bowl, bread plate and two bowls for soups/veggies and of course I had to buy myself a cup. The assistant was nice and even gave us a small adorable heart shaped Christmas ornament. But its so un-Christmasy, I could probably leave it out all year round! Best thing of all, it magically matches our pattern!
Dream of going to Poland to get some of this beautiful pottery but can't make it there? Have no fear, you can buy some here!
Disclaimer: This post contains affiliate links. If you click on one and make a purchase, I might make a little extra spending money, at no extra cost to you. As always, all opinions are my own and these products/services have been found useful during our travels and come highly recommended to you from yours truly!
Liked this post? PIN IT FOR LATER!!
Save
Save
Save
Save
Save
Save