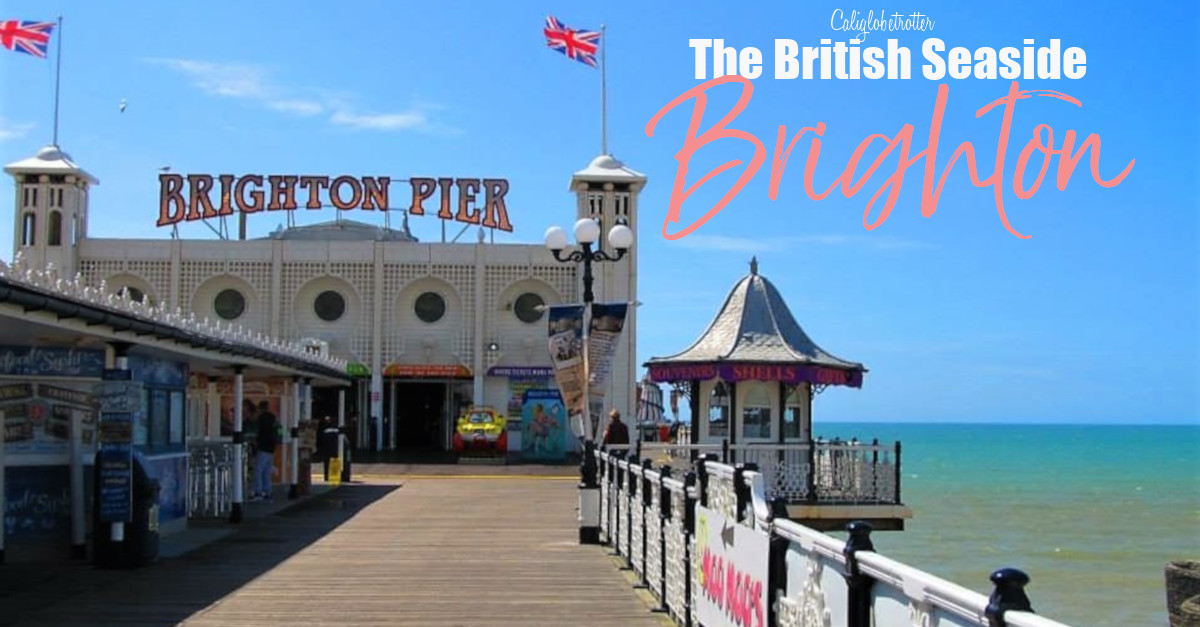 Disclaimer: This post contains affiliate links. If you click on one and make a purchase, I might make a little extra spending money, at no extra cost to you. As always, all opinions are my own and these products/services have been found useful during our travels and come highly recommended to you from yours truly!
They say that "When a man is tired of London, he is tired of life." If such a thing could ever be possible, then Brighton is the perfect location to get away and recharge! Brighton is synonymous with lots of fun in the sun, gallivanting around town and relaxing! While the town is full of fun and exciting things to do, it's also incredibly Instagrammable! Renowned for its diverse communities, quirky shopping, a hip cultural, music, arts and foodie scene, Brighton is and has been a popular destination for tourists. It's also been named as one of the hippiest and happiest places to live in the UK!
Want to Play on the Beach? PIN IT FOR LATER!!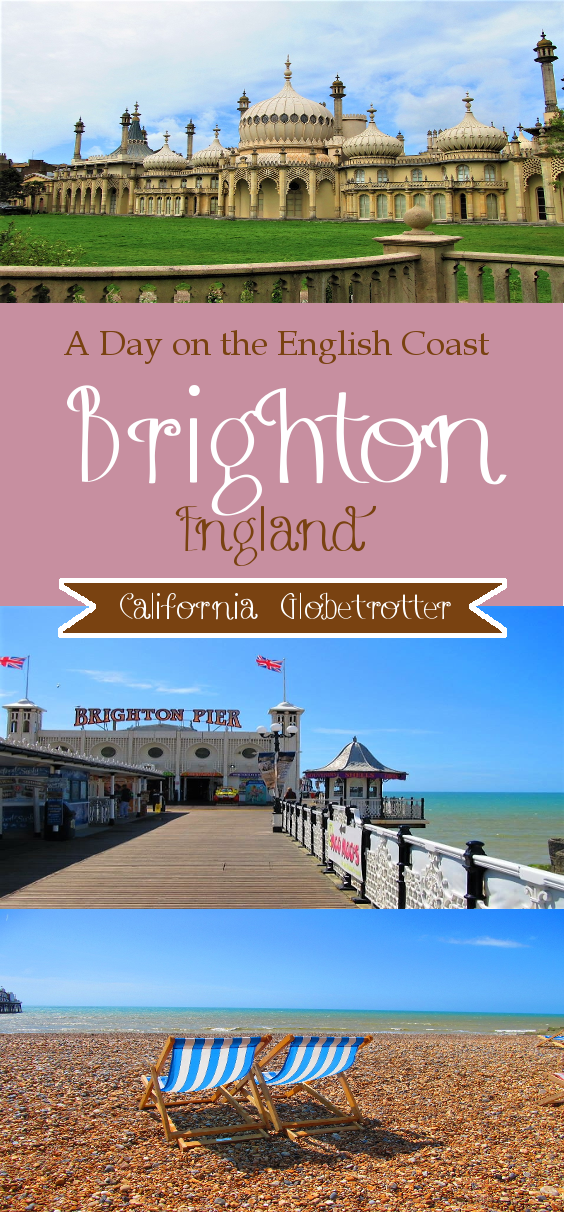 How to AVOID Looking Like a Tourist in Europe
Your Essential Guide to Europe
History of Brighton
Just an hour or two (depending on traffic) south of London, is England's most popular seaside town which became popular after the railroad finally reached this seaside resort in 1841! Ever since, the population has grown, as well as the tourists who seek to see more of England other than just London.
With a long history of secret liaisons and secret getaway weekends, it became increasingly popular after the Prince of Wales, who would become George IV moved here to secretly marry his lover Mrs. Fitzherbert. His spirit still lives on as many people are attracted to this seaside town, not just for the beautiful waters but also his one of a kind farmhouse which he turned into the lavish Oriental palace, the Royal Pavilion.
The Royal Pavilion
Quite possibly the most popular tourist attraction in this beach town is without a doubt the Royal Pavilion, a castle unlike any other in England. The Prince held extravagant parties while he lived here, therefore he commissioned a builder to create something to compare to their lavish parties. Today, is stands as one of the most unique palaces in England that looks more like it belongs in India rather than England!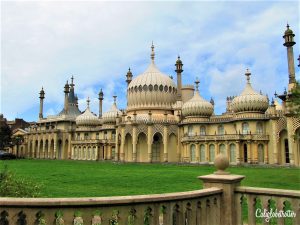 It is free to walk around the entire Royal Pavilion and snap some amazing pictures, but you can also check out the inside of the palace which is just as amazing as the inside! Adults can pay up to £11.50 but you can save a pound by downloading the Brighton App on your phone! Check out the website for more information!
Since the Royal Pavilion is right smack in the middle of Brighton, it makes it easy to just walk in any which direction to check out the adorable, colorful and quirky town. Anyone who is anyone will find something that suits their needs.
Stroll the Lanes and Oogle at the Bling Bling
Just behind the Royal Pavilion you will find the Lanes. Once part of the heart of the old fishing town of Brighthelmstone before it became the Lanes, it offers an engrossing maze of antique shops, jewelry shops and pubs to add a creative and unique spunk to anyone's day trip to Brighton! Soak up the atmosphere in a coffee shop or enjoy a pint of beer and watch the shoppers meander through the Lanes.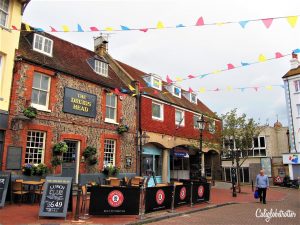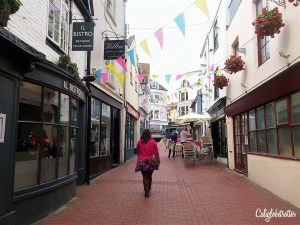 We stopped and grabbed a bite to eat for brunch at a pub called the Royal Pavilion Tavern, just across the Royal Pavilion before meandering through the Lanes, which I would highly recommend to anyone looking for a delicious British meal.
Let Out Your Inner Child on the Brighton Pier
Off in the distance is the beautiful Palace Pier, also known as Brighton Pier, which was built in 1899 in a late-Victorian fashion that caters to every adult's inner child. Since opening, the pier has constantly been illuminated by 3,000 light bulbs which add an extra special touch of a romantic ambiance when walking around the pier.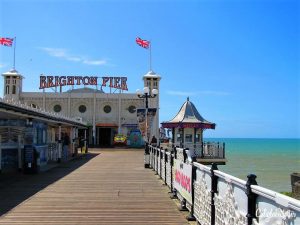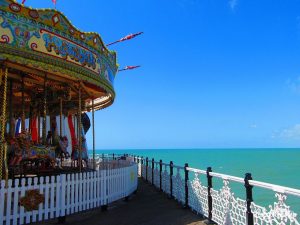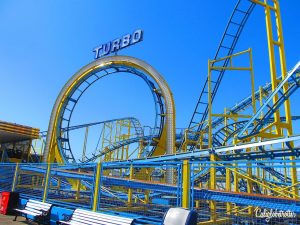 Upon reaching the pier, you are welcomed for free on to the pier, which greets you with delicious snack stands, tempting you to stop for a bite to eat. Then, once crossing the gates boundaries, let your inner child run free. There are arcades, restaurants, a bar, shops and an entire little amusement park with a rollercoaster, a picture perfect carousel and more all surrounded by a stunning turquoise green water.
Make sure to stop and enjoy the beauty of the pier by renting an adorable  blue and white stripped chair for free and stare out at the endless blue water or face the coastline of Brighton. Careful though, its easily to fall asleep as you let your mind, body and soul slip into a breezy nap.
Plop Your Bum Down on the Beach
After all, you came here for the beach, right?! However, you won't find soft sandy beaches here but instead many colorful little pebbles. Yes, it could be uncomfortable to lay on, so consider renting one of the adorably cute blue and white stripped chairs and sit back and enjoy the views!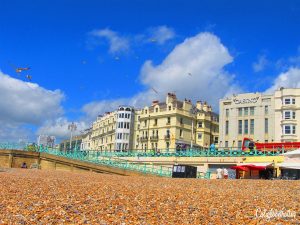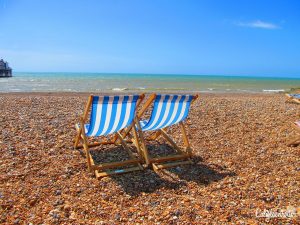 Walk Along the the Coastline
Afterwards, we strolled on down to the coast and walked along the beach strip which offered beautiful blue water views of the English Channel against the beautiful brown stone beach. Brighton adds a special touch of awesome to this seaside town by having cafes, restaurants and carousels down on the beach.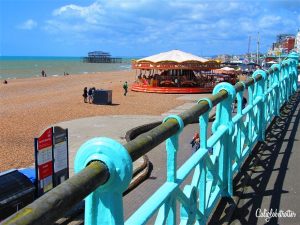 Take a long, meandering stroll to the left of the pier (if you are facing the pier), and you will come upon the Brighton Wheel, which offers 12 minute gondola rides which offer some pretty amazing views. How could it not, when you are surrounded by such a treasure trove as Brighton! Unfortunately, we didn't have the time to do this!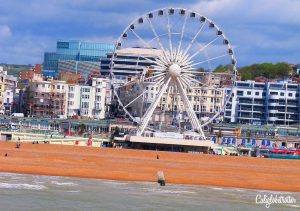 Just beyond that is the world's oldest electric railway which is surprisingly, still in use! It dates back to 1883 and take passengers to and from the Marina Station to Brighton. Unfortunately, (again) it was too early in the morning when we found it and therefore didn't get the chance to see the train.
The Ruins of the West Pier
Directly in front of the Hilton Hotel, lays the ruins of the former West Pier, which was at one time a rival pier of the more famous Brighton Pier. The pier opened in 1866 and eventually closed in 1975 when it was too expensive to main. Since the end of WWII, the pier gradually lost popularity and the company who owned it eventually filed for bankruptcy. Several fires destroyed it even further and over time it was beyond repair. Major sections have collapsed in 2002 and 2003.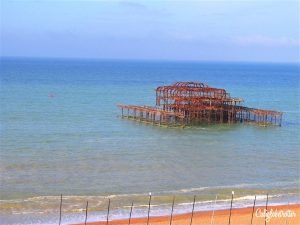 Finally in 2010, further demolition took place to make way for the new and upcoming attraction coming to Brighton: the i360 tower which will offer stunning views over Brighton. The company which owns the ruins of the West Pier hope that the creation of the viewing platform will lead to the reconstruction of a new pier.
Where to Eat & Stay
There are a few other touristy tidbits to check out if you have the time, but for the most part these are the main attractions. Further down the beach front, to the right of the Brighton Pier are lots of Chippys where you can stop and have fresh fish'n'chips! We stopped for a bite to eat the next day at the Regency Restaurant, as any visit to the English coast demands!
Hilton Brighton Metropole Hotel – Located directly along the coastline with an oceanfront view and direct view of the West Pier ruins, we were able to enjoy this comfortable hotel with our leftover Hilton Points!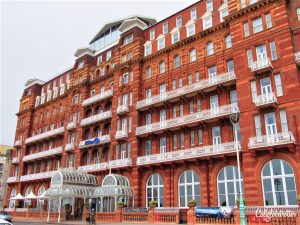 Warning! Being a sea town means that weather is likely to change quick! We had fog roll in and within 30 minutes you couldn't even see across the street anymore! Which was a bummer and cut into our evening stroll!
Don't Miss…The Seven Sisters
Not far from Brighton, just about a 30 minute drive east and a bit west from Eastbourne, lies the iconic rolling undeveloped white chalk cliffs of the Seven Sisters. You might have seen these beautiful cliffs in movies like Robin Hood: Prince of Thieves and of course Atonement.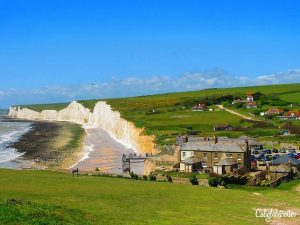 These cliffs are gradually being eroded away by Mother Nature and are even beginning to create an eighth sister. Considering that this is a largely undeveloped part of England, there isn't much here beyond the rolling hills. If you can manage a small hike up a hill, meander around walking over the tops of the cliffs, but I highly suggest you DO NOT sit on the edge of the cliffs since they are easily eroding away.
The cliff peaks and dips between them are all individuals named. Here is the list of names:
Haven Brow
Short Bottom
Short Brow
Limekiln Bottom
Rough Brow
Rough Bottom
Brass Point
Gap Bottom
Flagstaff Point (continuing into Flagstaff Brow)
Flagstaff Bottom
Flat Hill
Flathill Bottom
Baily's Hill
Michel Dean
Went Hill Brow
If you're interested in visiting London and are looking for more information, I highly recommend using the Lonely Planet England Travel Guide! I've recently converted to LP's more thoroughly detailed travel guides which I find way more useful, but I am still a big fan of DK Travel Guides!

Disclaimer: This post contains affiliate links. If you click on one and make a purchase, I might make a little extra spending money, at no extra cost to you. As always, all opinions are my own and these products/services have been found useful during our travels and come highly recommended to you from yours truly!
Day Trips from Brighton:
A Traditional London Itinerary with the London Pass
The Cotswolds: An Area of OUTSTANDING Natural Beauty
A Self-Guided Walking Tour of Oxford
Liked this post? PIN IT FOR LATER!!
Save
Save