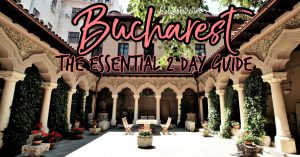 Disclaimer: This post contains affiliate links. If you click on one and make a purchase, I might make a little extra spending money, at no extra cost to you. As always, all opinions are my own and these products/services have been found useful during our travels and come highly recommended to you from yours truly!
Bucharest. A sprawling capital city with over 500 years of fascinating history and culture, blending old crumbling buildings with new, hip cafes and shops. Wait, are you sure I didn't mean Budapest? Yes, I'm sure. Wouldn't want to mix up the two cities like Michael Jackson did during his visit in 1992. But to find these cool and unusual places in Bucharest, you have to break out your investigative skills. 
Want to Explore Bucharest? PIN IT FOR LATER!!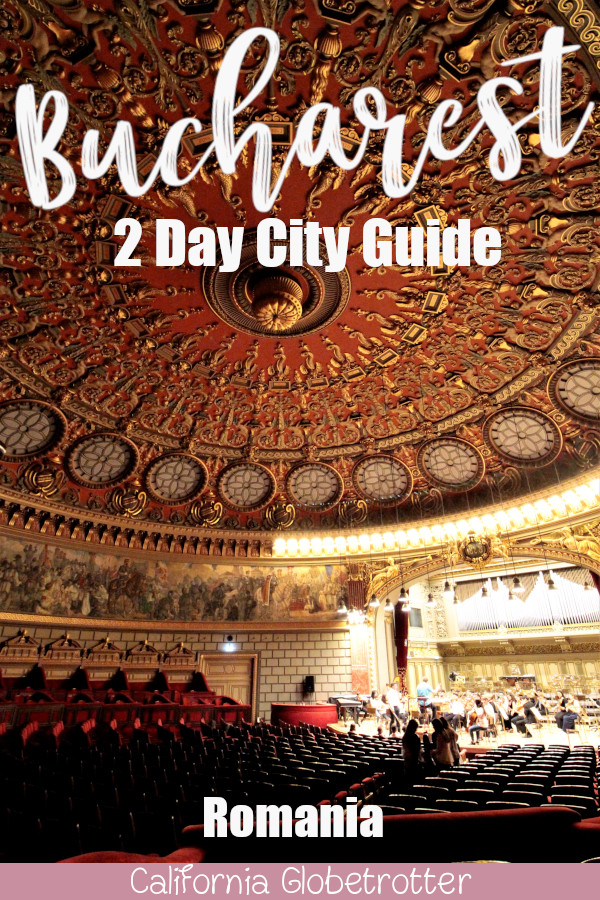 This article is now available as a mobile app. Go to GPSMyCity to download the app for GPS-assisted travel directions to the attractions featured in this article!
How to AVOID Looking Like a Tourist in Europe
After two days in Bucharest, I felt like Harriet the Spy. I had to research like crazy for interesting sights to see. I bought a few tour guide books. I spoke with a local travel blogger friend, Vlad from Eff It, I'm on Holiday and I made friends with the guy at our hotel. I wanted to see anything and everything. I wanted to fall in love with this beautiful city while on my two-week Balkan road trip honeymoon.
Visiting this massive, busy, chaotic and aesthetically pleasing city stunted by several decades under communist rule will be unlike many other European capitals which are polished, pretty and pompous. And what I discovered while exploring the city is that Bucharest is not for lazy tourists. Everything is spread so far out, many things are hidden in plain sight behind crumbling facades or narrow passages, giving it that cool, hipster feeling you might find in Berlin. And surprisingly, Bucharest is often nicknamed the "Paris of Eastern Europe" for it's classical feel, lovely parks, cafes and nightlife as well as the fact that it was literally modeled after Paris. So, if you plan to visit Bucharest, I've got you covered for an extensive two days of sightseeing!
History of Bucharest
You simply can't go to Bucharest without understanding a bit of history about the country beforehand. 
First mentioned in 1459, the Citadel of București" would become the residence of the infamous Wallachian prince Vlad III the Impaler, who might have been the inspiration for Bram Stoker's Dracula.
Fast forward to the 18th century and you have a city that had been rebuilt after several natural disasters and fires before being ping-ponged back and forth between the Habsburg Monarchy and Imperial Russia. By 1862, Bucharest would become the capital of of newly founded principality of Romania and by 1881 become the Kingdom of Romania under King Carol I. 
During the Second World War, Romania was part of the Axis Powers and therefore, suffered severe damage by Allied bombings. After the war, the country came under Communist rule. During Nicolae Ceaușescu's leadership, he traveled to China and North Korea where he became inspired to build a grand regime which included demolishing many historical buildings under the program of systematization.
In December 1989, anti-government uprisings took place in Timișoara where Ceaușescu ordered the military to open fire on people he deemed a political threat which eventually led to mass rioting and civil unrest. Little did he know, Ceaușescu and his wife would only to be captured, tried and convicted of sabotage and genocide. They were both executed and the following 30 years would see a slow but steady improvement in conditions. Today, Bucharest is very much a bustling up & coming city for anyone looking to explore beyond Western Europe. 
Day 1: Downtown and Old Town Bucharest
What to do in the Old Town of Bucharest
Piata Unirii (Union Square)
No place better to begin your sightseeing than in one of the largest squares in Bucharest. It is here in front of a historic looking clock, next to the fountains your free walking tour will begin. The square is a significant transport hub with the largest boulevard in Europe, even larger than the Champs-Élysées in Paris by 4 m long and 1 m wide. Don't mind the occasional bather in the fountains which remain filled and on. From here you'll head into the Old Town and begin sightseeing in Bucharest!
Related: 15 Things to Do When You Travel
Hanul Lui Manuc
Built as an inn in 1808 by a wealthy Armenian, it has seen a plethora of transformations throughout its history. While it has always operated as a hotel and is Bucharest's oldest hotel, it also housed a restaurant, a bar and a coffee house and today is one of the best restaurants in Bucharest for traditional cuisine!
Recommended: Stuffed Cabbage with Polenta or Cevapcici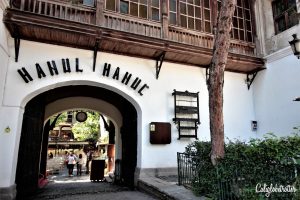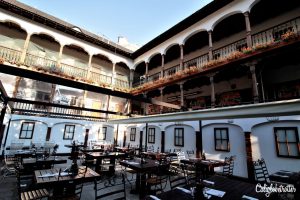 Walking through the arched gateway into the inner courtyard will present you to a beautiful restaurant serving authentic Romanian cuisine. For a while, the hotel was shut for restoration as well as a disagreement with the city about the modernization of the building taking place once the Manuc family reclaimed the building after the fall of communism. Supposedly, within the next three years, the hotel will be open for overnight stays. Directly opposite the inn is the Old Court Church.
On the outer portion of Hanul Lui Manuc on the western side, you'll find one of the coolest coffee shops in Bucharest, The Urbanist. Not only do they serve unique drinks, like a Rose or S'mores flavored milkshake but they also sell clothes and have a live DJ. Not being a hipster myself, I did feel slightly out of place, but anything rose flavored and I'm all over it!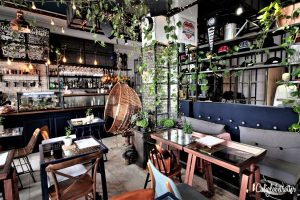 Biserica Stravopoleos (Stavropoleos Monastery)
Located in the heart of the Old Town is a church that is well over three centuries old with a gorgeous facade that has an arabesque feel to it which is still used today. The inner stone built cloister is flanked by Neo-Roman columns dating back to 1904. You'll likely still see a few nuns going about their business once the gates to the courtyard and church have been opened. Today, it's one of the most important historical sights in Bucharest!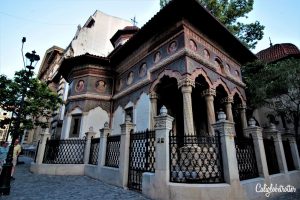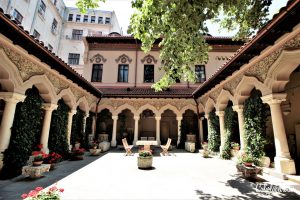 Caru' cu Bere
Not far is the a tavern dating back to 1875, one of the best bars in Bucharest which is famous for its ornately decorated interior with Gothic vaulted ceilings. For most visitors to the city, this is generally their first stop, but if you're like us and are early risers, the best time to go to avoid the long lines is early in the morning for breakfast, even if it is rather plain and simple. Perhaps the dinner is better and this is why there are ridiculously long lines.
The founder of the tavern had traveled to Germany to learn to make beer, came back and began selling beer from a wagon. But whatever you do, don't say the German "Prost" as in Romanian, it means "stupid". Not far is the National History Museum which is housed in the former Post Office building.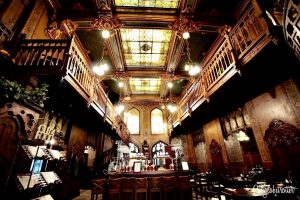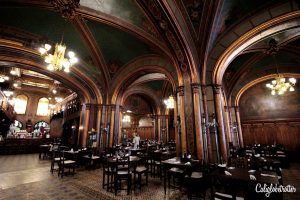 Carturesti Carousel
Inconspicuously hidden among a row of cafes and restaurants is one of the most elegant shops / bookstore you'll find in the city center on Lipscani Street which was an important commercial street in the 19th century. The Carturesti Carousel bookstore is housed in the house of a family of bankers from 1903 which was later seized by the communists before finally being refurbished and transformed into the coolest spots in Bucharest!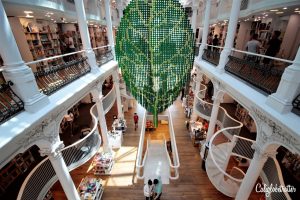 Pasajul Macca-Vilacrosse (Macca Villacrosse Passage)
A secret little passage way separating Lipscani Street from Calea Victoriei Avenue is the Macca-Villacrosse passage with its yellow glass ceiling illuminating several of the coolest cafes, bars and shisha hot spots where locals gather to catch up with friends. Built in 1891, the passage is one of the many reasons why Bucharest earned the nickname "Paris of the East", although today the passage has significantly faded and needs some TLC. However, that certainly doesn't stop people from coming and enjoying the atmosphere. It's definitely a unique thing to see in Bucharest!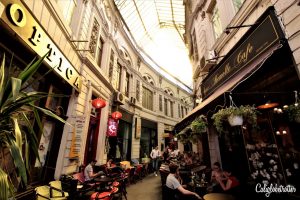 Where to Eat in Bucharest: 
Just feet from Hanul Lui Manuc is City Grill, a restaurant which came highly recommended by our tour guide which offers traditional Romanian cuisine and the most delicious dessert of my life. You cannot leave Bucharest without trying Papanash (Papanași) – a Romanian traditional fried round pastry, usually filled with a soft cheese such as urdă and any kind of sour jam such as blueberry jam. 
North from Old Town
Piata Revolutiei (Revolution Square)
Dominating the square is the former Communist Party Headquarters, a Stalinist monolith similar to Sofia. It is here on the balcony that Ceaușescu saw the rise and fall of his regime. Today, the square has two very contrasting memorials dedicated to those who perished during the revolution, Glory to Our Martyrs and the more controversial monument strangely named Monument of Rebirth which is a plain marble column with what looks like a bird's nest. Locals jokingly call it the "Olive on a Stick".  To the right is the University Library and just opposite is the Royal Palace.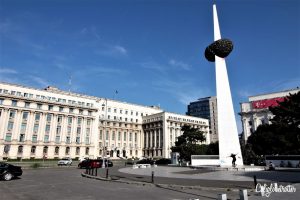 Ateneul Român (Romanian Atheneum)
With the title of being Bucharest's finest building, you simply can't pass up the opportunity to take a peak inside this magnificent Neoclassical concert hall. The outside is fronted by six elegant columns while the interior of the concert hall is immaculately designed in a deep red and gold while the surrounding walls depicts the most important moments of Romanian history. It is one of the few remaining circular auditoriums in Europe and was funded almost entirely by the citizens of Bucharest. We were able to purchase a ticket for a few lev to watch a rehearsal performance and escape from the heat and enjoy one of the top attractions in Bucharest!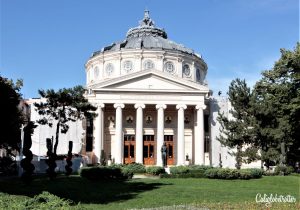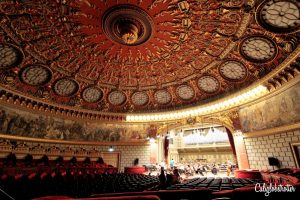 Cantacuzino Palace (Muzeul National George Enescu)
If you're looking for more unique things to see in Bucharest, then just north from the Romanian Atheneum is the former palace built for mayor and former prime minister,  Gheorghe Grigore Cantacuzino in 1901-03. His son inherited the house who later died prematurely. His wife would later remarry George Eneschu, Romania's greatest composer. Today the house is a museum dedicated to the artist. The French Baroque/Art Nouveau palace was so beautiful, we went out of our way to find it simply for the picture. Not having the time nor the will, we didn't visit the museum but simply admired the beautiful palace which needed some touching up.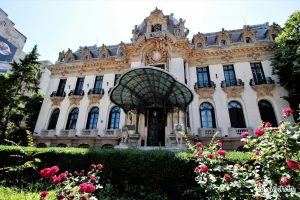 West From the Old Town
Palatul Parlamentului (Palace of Parliament)
Dominating the entire Bulevardul Unirii is the megalomaniac brainchild of Ceaușescu – the Palace of Parliament which is 350,000 M² making it the heaviest building in the world as well as one of the largest. With 12 floors above and another 8 below ground, including a gigantic theater which can hold 600 people and has an impressively large chandelier while scattered throughout the palace are another 4,500 chandeliers out of the 11,000 that were planned. Can I say "chandelier paradise?" There are an unknown and uncharted amount of tunnels leading to every major building in the city and supposedly, after the revolution, three men explored the tunnels and were found 3 days later near the airport. Should you be able to do a tour, it's considered to be the best thing to do in Bucharest and you'll be one lucky duck!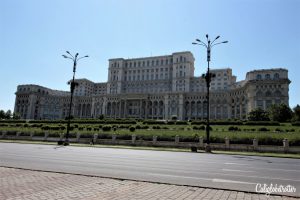 By the time Ceaușescu was overthrown in 1989, the palace was only 70% finished and the citizens didn't know what to do with it. Finally, in 1994 the new government decided that it would house the Senate and the Parliament. Today however, 70% of the building still remains empty. It is considered to be the second largest administrative building in the world after the Pentagon with heating and lighting costing a whopping $6 million a year!! Now, I don't think I'll ever complain about my bills again! 
Visiting the Palace of Parliament
If you're wondering how to visit the Palace of Parliament, portions of it are open to the public however, you must call 24 hours in advance to make a reservation. Unfortunately for us, when I called they weren't accepting visitors. However, should you wish to visit, you'll need to hand over your passport and go through strict security measures like at an airport. 
Opening Hours: 
March – October, daily between 09:00 – 17:00 (last tour at 16:30)
November – February, daily between 10:00 – 16:00 (last tour at 15:30)​
Admission:
There are several different tour options, but the Standard Tour is about 45 minutes – 35 LEI/person

Additional costs – Photo & Video camera: 30 LEI
Phone:  + 40 733 558 102 or +40 733 558 103.  E-mail: cic.vizite@cdep.ro
The Mihai Vodă Monastery 
Under the dictatorial rule of Ceaușescu, Bucharest faced radical redesign for his grandiose project to build the Palace of the People (Palace of Parliament). The existence of many important buildings were threatened which were deemed insignificant to the dictator. 30,000 people were forced from their homes and an entire historical district with around 9,000 homes, churches, synagogues and other buildings were demolished. 
To preserve almost a dozen churches as well as other important buildings, engineers were challenged to find a way to save them. While other countries would have simply dismantled the buildings and rebuilt them, engineers came up with the brilliant idea of transporting them hundreds of meters to safety by railway tracks. The ground around the buildings were dug out, a concrete support was made, tracks were laid and hydraulic levers and pulleys were used to slowly move the buildings.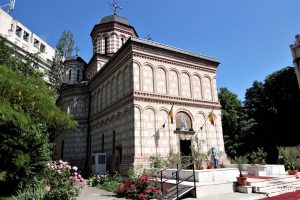 The Mihai Vodă Monastery was the most impressive achievement of the engineers who not only moved the largest church, which is technically a monastery, in tandem with its standalone tower. They successfully moved the 9,000 ton monastery 24 meters (78 feet) from its original location not far from the Palace of Parliament. Sadly, most of the buildings which were moved were hidden behind large, Soviet style buildings, such is the case with the monastery which can be found in the courtyard making it for an interesting sight to see in Bucharest!
Day 2: The Northern Suburbs
Arc de Triumpf 
Located along Șoseaua Kiseleff which is a long, elegant avenue lined with lime trees is the Arc de Triumpf, which was built in 1878 for an independence parade. Originally built in wood, it was later replaced with stone between 1935-36 and built to look similar to the Arc de Triopmhe in Paris, displaying the Francophilia that swept through Romania's upper class during the 19th century. Like the original, the arc is located in the middle of a hectic roundabout and visiting it is practically impossible.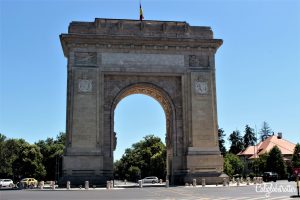 Muzeul Satului (Village Museum)
One of two top rated museums in Bucharest is the Village Museum – a collection of indigenous houses and farms from around Romania founded by Royal Decree in 1936 covering 15 hectares along the shores of Lake Herăstrău. Far off the touristy sightseeing to-do list, this open air museum is fascinating to stroll through to admire the different variations in traditional architecture giving you a glimpse into the typical home of Romanians. With over 60 original houses, farmsteads, churches, watermills and windmills, it is one of the greatest outdoor museums in the Balkans. The museum is mostly visited by local school children out for a field trip to study Romanian history.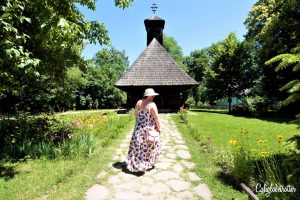 Website: Muzeul Satului
Opening Hours: 9:00 – 19:00, Mon 09:00 – 17:00 (Museum is open, houses are not)
Admission:
Adults 10 lei
Seniors 5 lei
Students/Children 2,50 lei

Audio guides are available for 50 lei or 8 lei on your smartphone.
Guided tours in English, French, Spanish, Italian & Russian 300 lei, call in advance
How to Get Here: Take the M2 (blue line) from Universitatea Bucuresti (University Square) to Piata Charles de Gaulle (Aviatorilor). 
Herăstrău Park 
Originally full of marshes, the area was drained between 1930-35 to provide the city with a place of respite. Starting from the metro station Aviatorilor, walking in the direction of the Village Museum, you'll walk through a lovely park with a few ponds with black swans (my first ever 20 ever), a European Union Founders' Monument strangely designed with massive heads statues of the founders before coming to a small island known as the Island of Roses. Locals convene in this park for relaxing picnics and casual paddle boat rides on the lake. Just beyond is where you can find the Hard Rock Cafe Bucharest which we happily stumbled upon and went inside to cool off with a drink!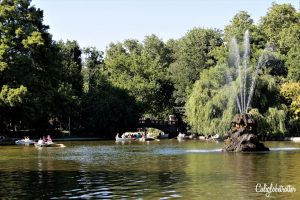 While visiting and walking through this park is farther out than many tourists will likely go, I was recommended to visit by Vlad from Eff It, I'm on Holiday as he is a local who knows best! And he was right, it was truly a lovely area!
Things to Know Before You Go
Romania has been part of the EU since 2007, however they don't use the Euro. It's practically impossible to use your euros as you'll be mostly using Romanian Lei (RON).
Conversion rates to RON are incredibly good, making everything AFFORDABLE and CHEAP! An average meal will set you back roughly 15-20 € for two.
Like Sofia, many buildings are on the brink of crumbling but I never got the impression were in an unsafe part of town. In fact, you can find a Beautiful Decay Free Walking Tour!
Bucharest is SAFE! However, we were recommended by our hotel to always take a taxi to and from the city, and, my friend Vlad said there are some areas he wouldn't visit but these are off the tourist path. But, still watch your personal items.
One negative aspect was the amount of beggars which come up to tourists dining outside.
More on traveling to Romania 
How to Use the Public Transport in Bucharest
Using the Metro in Bucharest
The Metro, buses, trolleybuses and trams form Bucharest's transportation network, which covers all of the city. We found the metro system to be pretty tourist-friendly and easy to navigate. There are four metro lines, and they cover most of the central part of the city, as well as residential areas of Bucharest. 
Metro tickets (cards) can be bought in every metro station. Two-journey tickets cost 5 lei (about 1.10 €), 10-journey – 20 lei (about 4.50 €) and 1-day pass costs only 8 lei (about 1.80 €).
Using Taxis in Bucharest
…are known to try to rob you for every penny if they know you're a tourist. Our hotel recommended that we use the Clever Taxi app so as to avoid this. By using the app, you can request a taxi with the lowest price, generally you want a taxi that starts at 1.70 lev. The taxi picks you up right on location, will text you when approaching and afterwards, you can rate the driver. TRUST ME when I say, don't take a taxi without using the app! Never hop in a taxi just hanging out waiting for a passenger because they will try to rip you off. Drivers barely speak any English. 
Where to Stay in Bucharest
⭐⭐⭐⭐  Hotel Boutique Lafayette – decorated in classy 19th century French decor, this hotel is just a 5 minute taxi drive away from the Old Town, offers a 24 hour front desk with super friendly employees who speak perfect English as well as free private parking on site.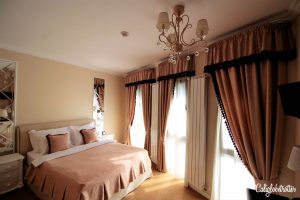 Though, if you're looking for budget travel accommodation, there are plenty of hostels in Bucharest which won't break the bank, all great recommendations and within easy reach of the city center.
Looking for more practical information on Balkan Travel? Grab a copy the following travel guides which we found incredibly useful on our trip and has something for everyone from outdoor activities to historical sites!
Disclaimer: This post contains affiliate links. If you click on one and make a purchase, I might make a little extra spending money, at no extra cost to you. As always, all opinions are my own and these products/services have been found useful during our travels and come highly recommended to you from yours truly!
Day Trips from Bucharest:
3 Transylvanian Fantasy Castles in Romania
Timișoara: The "Little Vienna" of Eastern Europe
The PERFECT Two Week Balkan Road Trip
Liked this post? PIN IT FOR LATER!!