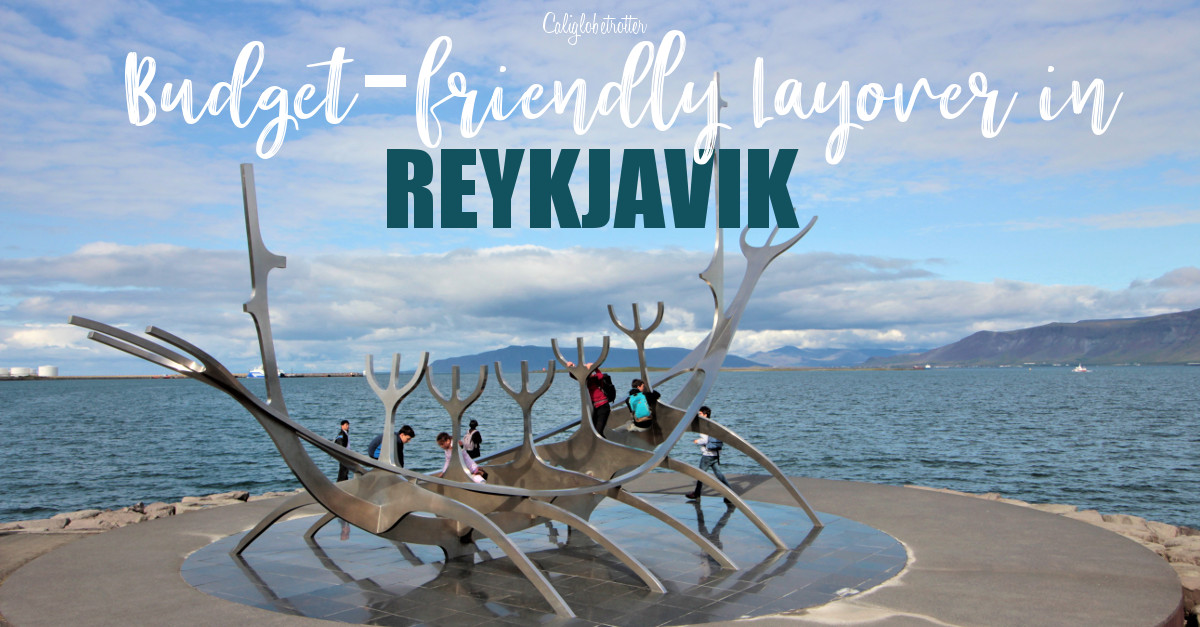 Disclaimer: This post contains affiliate links. If you click on one and make a purchase, I might make a little extra spending money, at no extra cost to you. As always, all opinions are my own and these products/services have been found useful during our travels and come highly recommended to you from yours truly!
Iceland. A place of astounding natural beauty. A place once many had heard of, but few had the privilege of visiting. That is until Iceland implemented an extended layover plan for up to seven days to boost tourism to the island. Today, it's one of the top destinations to visit in the world as well as one of the best layover destinations and is on everyone's bucket list. As such, there is not much more I can say about Iceland that hasn't already been said for this tiny island in the Atlantic. So, instead, I'll just show you some of the highlights of the capital of Iceland, Reykjavik!
Planning a Layover in Iceland? PIN IT FOR LATER!!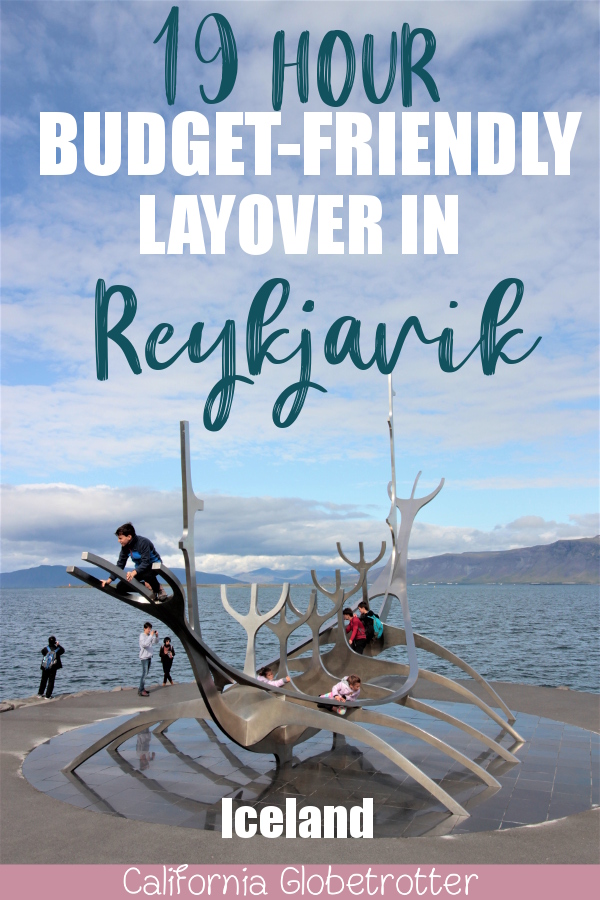 Flying a Budget Airline from Europe to US
With a last minute decision to head to the US for the summer, we scored cheap flights with WOW Airlines from Frankfurt to Cincinnati, Ohio with a layover in Reykjavik in both directions. We were concerned about what it would be like taking a budget airline for a long haul flight to the US, but we thought, what's there to lose? We decided to give it a go. We knew that we wouldn't have all the extra amenities on flight like normal airlines, such as relatively terrible flight times, having to pay for drinks and food, no mini TV screens to watch films and limited weight limits for luggage and carry-ons. Deciding that these factors were not such a negative aspect, we clicked to buy our tickets.
Upon our first flight, we realized that we should have perhaps downloaded some movies on to our computer to help entertain ourselves for the duration of the flight. However, these turned out to be unnecessary as the flight offered the chance to rent an iPad to watch films but, surprisingly we were incredibly tired and slept the entire length of our flight. However, the biggest problem for us was being so thirsty that we bought 3 bottles of water on board which was rather expensive. Normally, we always bring our own water once through security, but we had forgotten to buy some. 
If you're don't care about the lack of amenities or the extra cost, fly with minimal luggage and carry-ons, come prepared with entertainments and beverages / snacks, long haul flights with a budget airline is easy peasy as 1,2,3!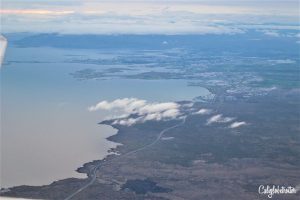 What You Need in Your Carry-On for a Layover in Reykjavik
We chose to do our extended layover in Reykjavik on the return flight from the US to Germany as a great way to end our summer in the US! With a 19 hour layover in Iceland with Wow Airlines, it was a short enough layover that we did not have to pick up our luggage upon arrival. Instead, it stayed at the airport, waiting for our next flight. 
However, I recommend packing basic necessities in your carry-on for a short layover in Reykjavik such as warm clothes, shoes and perhaps a swimming suit if you plan on visiting one of the best thermal pools near the Reykjavik airport, the Blue Lagoon. 
If you choose to take advantage of an extended layover in Iceland up to a maximum of seven days, then you most likely will have the chance to pick up your luggage. 
Free Things to do in Reykjavik
Since the plan was to visit Iceland on a budget with limited time in Reykjavik, we opted to look for free things in Reykjavik for a 1 day itinerary in Iceland. To be honest, we mostly casually walked around, hitting up several of the main sights to see in downtown Reykjavik within walking distance of our hostel. 
A problem we encountered with a layover in Iceland with only 19 hours and terrible arrival / departure times meant that many of the guided tours / free walking tours were either too early, too long or didn't have multiple time availability that fit our allotted time. That left us doing a self-guided tour of Reykjavik with a complimentary city map from our hostel to explore the city on our own, in a jet-lagged, zombie-like state of mind. Though there are many other affordable things to do in Reykjavik, we sadly just didn't have enough time to check out some of the other sights, such as the Icelandic Phallological Museum or the Perlan Museum for the ice caves.
Check out the Sun Voyager and Harbor Front / Sólfar
Considering that our hostel was located just off the Harbor Front, it was how we began our scenic walk along the waterfront and into the city center. We were able to enjoy a relatively warm, clear day for August and admire the mountains off in the distance. 
Without having to look for it, we found one of the most iconic photo spots in Reykjavik, the Sun Voyager, which is an ode to the sun and the promise of undiscovered territory and freedom. This was a family-friendly spot in Reykjavik for those traveling to Iceland with kids.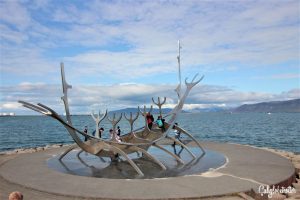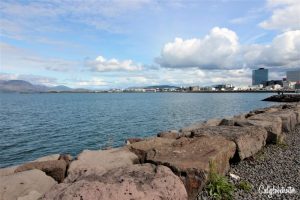 Visit Harpa
Just a bit further down from the Sun Voyager was a building I recognized immediately as the Harpa, Reykjavik's concert hall on the waterfront. Unique in appearance, it's worth admiring from both the inside and the outside in order to fully appreciate the intricate designs of the building. It's free to wander around the inside, however there is also a little shop inside to peruse while you warm up. How much you spend is entirely up to you!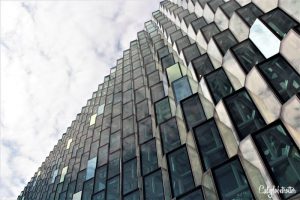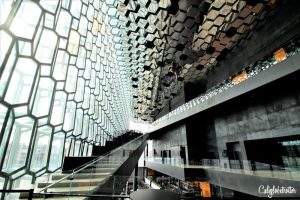 Go shopping down Laugavegur and Skólavörðustígur Streets
As the main shopping streets in Reykjavik, you'll be able to do some guilt-free window shopping and peak into a few boutique shops. If shopping isn't your thing, perhaps you will find a restaurant, cafe or pub to enjoy while strolling around. 
Now normally, we aren't such scrooges when it comes to drinking a few beers at the local bar, splurging on delicious foodie must-haves, but in Reykjavik we were penny pinching like our lives depended on it. Iceland is incredibly expensive and things add up quickly.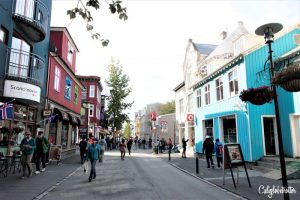 Budget Tip: If you want to drink in Iceland, then consider picking up alcohol at the duty-free shop at Keflavik Airport as it's much cheaper than in any pubs in Reykjavik! 
From Skólavörðustígur street, you have a stunning direct view of Halgrimur's Church with a rainbow path leading the way to the pot of gold! Ok, so we found no gold, but it did lead us to quite a magnificent church!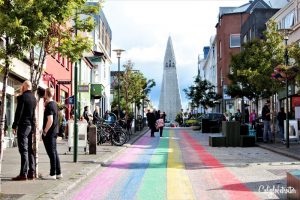 Admire Hallgrimur's Church / Hallgrimskirkja
As the tallest church in Iceland, Hallgimur's Church towers over everything in Reykjavik and is quite the site to behold. The church itself is FREE to enter, however, should you be more motivated, there is an elevator to the top which offers panoramic views over Reykjavik for 900 ISK per person ( 7 €/ $8.35 ). Not feeling like splurging, this was one tower we opted out of. 
Nonetheless, the church was quite mesmerizing to look at as the architecture designed it to resemble the basalt lava flows in Iceland, therefore, making it one of the most unique buildings in the world and quite picture-worthy!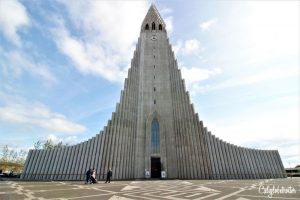 Reykjavik Street Art
Even without the street art, Reykjavik is one of the most colorful cities in Europe! Many of the houses and roofs are colored in an array of colors. Now that the city has added a splash more of color with street art in Reykjavik, it's even more vibrant! Simply walking along Laugaveguar Street, you will stumble upon several wall murals. I'd say that Iceland took the term "Street Art" literally!
Related: Nasvhille Street Art, Louisville Street Art, Gdańsk Street Art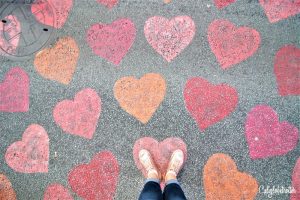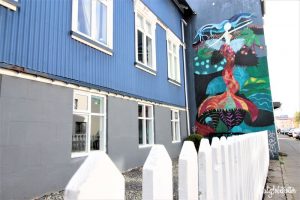 Try an Icelandic Hot Dog
I didn't know this until just now, but Baejarins Beztu Pylsur is considered to be the best place for hot dogs in Reykjavik. I'd say we got scored big time because it truly was quite possibly the best hot dog I ever had! I'm not sure what the fascination is though, but Icelandic hot dogs are unlike any I've ever had before. After sharing quite possibly the worst fish & chips in my life which we paid 2000 ISK ( 16 € / $18.50 ), we stepped next door to the hot dog stand and ordered up two hot dogs.
While the gentleman made the hot dogs, I asked him what was on it. First, the bun, then a layer of caramelized onions and French onions before being drizzled in honey mustard. Sounds like an odd combination, but it was very D-E-LICIOUS!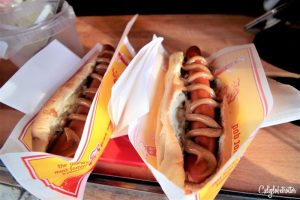 Drinks at KEX Gastro Pub
Back at our hostel, we enjoyed a complimentary drink on the house due to the construction next door which totally did not bother us, but hey, who's to deny a free beer? Turns out, the Kex Hostel Pub, also called Drinks Bar, is actually one of the top places to drink in Reykjavik with a laid back vibe everyone can get on board with – from couples to solo travelers, to tourists and locals alike, everyone convened on this eclectic bar!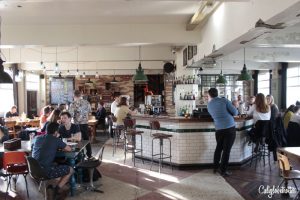 More things to do in Reykjavik we would have liked to have visited:
Nautholsvik – the geothermal beach with a hot spring

Laugardalslaug

 – the city pool that's open from 10am – 10pm

National Gallery of Iceland
National Museum of Iceland
Einar Jonsson Sculpture Garden – free entrance, near Hallgrimskirkja
Where to Stay in Reykjavik on a Budget
I highly recommend staying in a hotel in Reykjavik near the main city center as the city is not very big and thus very walk-able. Everything is within walking distance and there is no need to rent a car or bus around everywhere once you're downtown.
KEX Hostels – Offering both guest rooms and dormitory rooms, rooms are simply decorated. Some rooms have a private bathroom, others you must share. Should you have to share, come equipped with shower sandals. Best of all, the hostel is conveniently located not far from Laugavegur Street. Only being there for 19 hours, we didn't want to splurge on a nicer hotel and found that this was the most affordable hostel in Reykjavik without getting too bare in amenities. 
Clearly too jet-lagged to remember to take a photo of our room! 
Getting to Reykjavik from KEF Airport
We pre-booked our airport transportation with Gray Line bus company, which picked us up directly at the airport and dropped us off in front of our hostel. By specifying the exact date of your arrival and departure time, the bus will be organized for you. We also found it to be the most affordable way to get to/from Reykjavik to the Keflavik Airport (KEF).
As it's a 45 minute bus ride one way, so we recommend booking a bus pick up for an hour after your arrival and 2 hours prior to departing, thus ensuring you don't miss your bus or flight. However, should you miss your bus pick up for any reason, we were informed that we could catch the next shuttle bus. 
What Should You Wear in Iceland in Summer?
Considering that we only had a short 19 hour layover in Reykjavik, I didn't delve deep into research about things you need to know before going to Iceland, like what you should wear. We were headed to the US for a 2 month summer holiday, so I certainly didn't pack any jeans or sweaters or jackets, while my husband at least had pants. Half-way through our holiday, I randomly decided to check the summer temperatures in Iceland. They were a whopping 55°F (12°C) and I knew then, I had better buy a new pair of jeans and a sweater for our layover. And boy, was I GLAD! 
Upon arrival at Keflavik Airport, I was still wearing summer clothes and quickly needed to change into something warmer. I'm so glad I packed a few days worth of warm clothes in my carry-on, but unfortunately the same could not be said about my poor husband who forgot to pack his long sleeve shirt in his carry-on, thinking we would be picking up our suitcases. Luckily though, in the sunshine, it was quite nice and for us, we didn't really need a jacket, but when that wind blew or we walked in the shade, it quickly got cold!
July and August are definitely one of the most popular times to visit Iceland as the weather is at its mildest, yet still slightly cold. If you're trying to decide whether to visit Iceland in July or August, here are some of the best things to do in Iceland in July!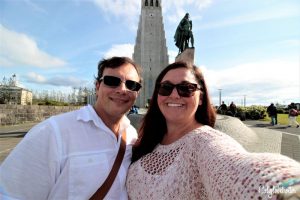 Overall Experience
Clearly, 19 hours wasn't enough to see all of the main sights in Iceland, do the classic Golden Circle tour or experience a thermal bath in Iceland. But, after our short trip to Iceland, I personally was turned off by how expensive Iceland was. And we wondered WHY is Iceland so expensive? Curious as to why prices were so extreme and knowing there was more to the story that just import fees, we discovered that Iceland's tourism has seen an increase in visitors fivefold since 2010! An island with a population of 332,000 people, the island welcomed 2.3 million visitors in 2017!
Dated from March 2017, The Telegraph informs us that Iceland considered adding an additional tax on tourists via hotels, excursions and food as way to deter tourists from visiting Iceland, therefore helping to reduce overcrowding. Iceland has such a fragile environment and 2.3 million people is just not a viable option for the protection of the environment, or for the locals.
Sure, I only glimpsed a tiny, tiny fraction of the stunning natural beauty of Iceland, but with that said, I personally would be more interested in visiting the Faroe Islands before returning to Iceland. 
Should you decide to still want to visit Iceland, these are travel guides and similar items I found most useful or wish I had brought with me!
Disclaimer: This post contains affiliate links. If you click on one and make a purchase, I might make a little extra spending money, at no extra cost to you. As always, all opinions are my own and these products/services have been found useful during our travels and come highly recommended to you from yours truly!
Other Budget-Friendly Posts:
The Budget-Friendly Guide to Ghent, Belgium
A Traditional London Itinerary with the London Pass
Nashville with the Music City Total Access Pass
Liked this post? PIN IT FOR LATER!!