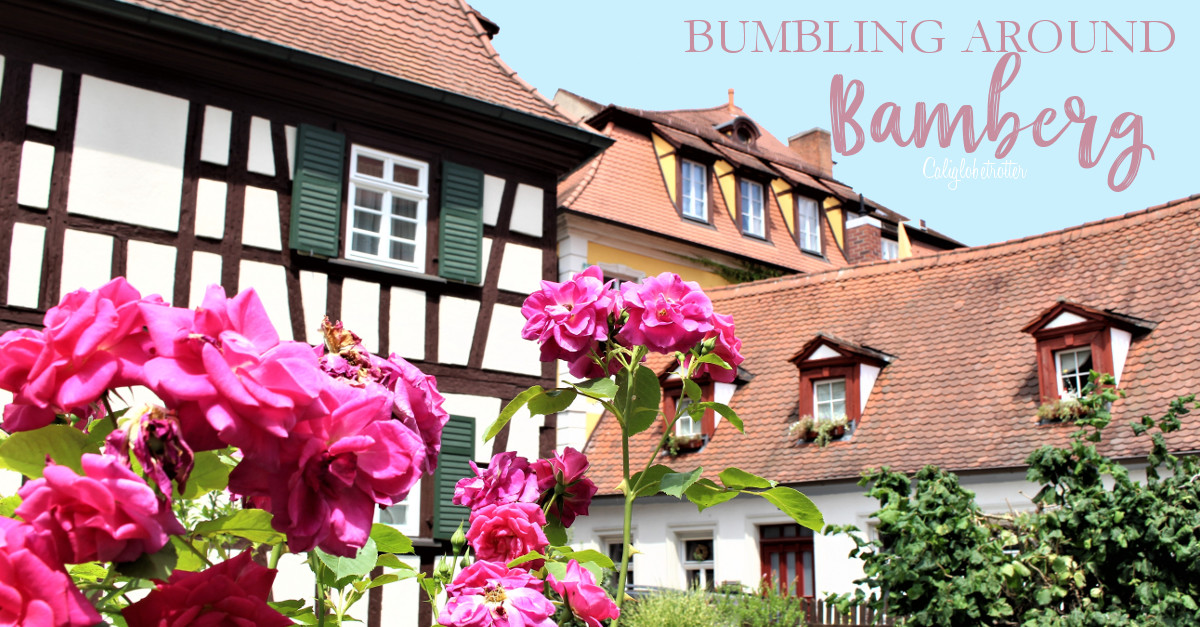 Disclaimer: This post contains affiliate links. If you click on one and make a purchase, I might make a little extra spending money, at no extra cost to you. As always, all opinions are my own and these products/services have been found useful during our travels and come highly recommended to you from yours truly!
Unless you live in Germany or travel extensively throughout Germany, it's highly likely that you haven't heard of this adorable Bavarian town! More tourists looking to experience Germany head for Nuremberg, Munich or Berlin and while those are all great cities, you should consider visiting Bamberg for something little different. Even though it isn't connected with the Romantic Road that stretches from Würzburg to Füssen, it certainly is worth a quick peak if you're checking out the route already!
If you're looking for stupid pretty towns in Europe, it doesn't get much prettier than Bamberg!  After all, with a 1,000 years of history, excellent beer and a UNESCO World Heritage site title, it's bound to offer something amazing, right? If you're wondering what to do in Bamberg, look no further! I've got you covered for all the best things to see and do in Bamberg, one of the best cities in Bavaria, making for one of the most awesome day trips from Munich!
What makes Bamberg truly special is that it's one of the few towns in Germany to have survived not only the Second World War but also the Thirty Years' War with little to no damage making it one of the most historically preserved towns in Germany! You can truly get a sense of life in the Middle Ages with the small winding alleys, the plethora of half-timbered buildings just oozing with charm and the impressive cathedral perched above the town. 
In case you're interested, PIN IT FOR LATER!!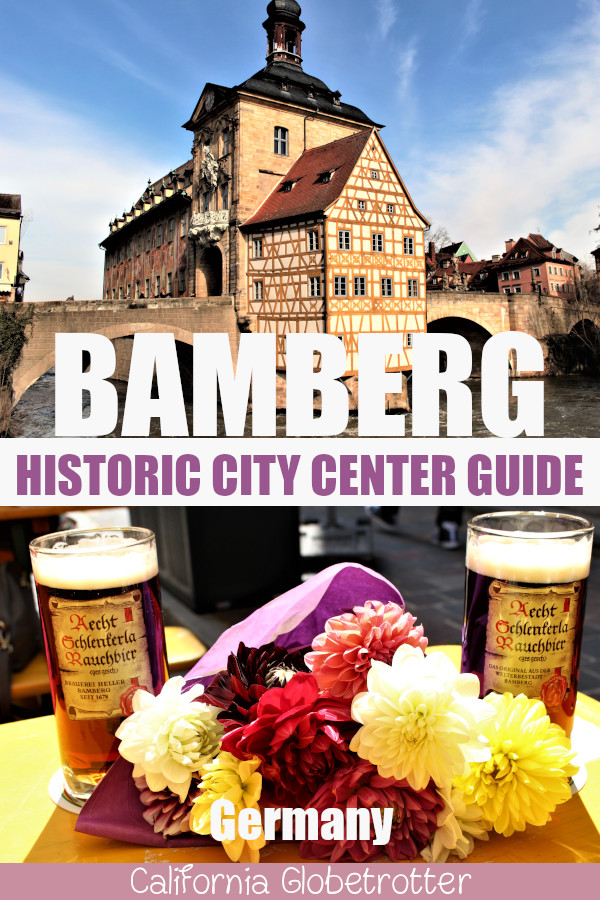 This article is now available as a mobile app GPSMyCity! Go to to download the app for GPS-assisted travel directions to the attractions featured in this article!
How to AVOID Looking Like a Tourist in Europe
STUNNING City Halls in Germany
The Most Beautiful City Halls in Europe
Once you have either meandered through the streets from the train station or parked in town and after you have taken a peak around some of the shops that line the allies, head straight for the historic city center and start your Bamberg sightseeing at the Altes Rathaus (Old City Hall) or you can plan to do a free walking tour in Bamberg through the Old Town. When in Bamberg, I highly suggest doing a Guided Beer Tour as Bamberg is renowned for being a beer capital in Germany! 
Old Town Hall (Altes Rathaus)
The bridge, which straddle two bridges over the Regnitz River flowing beneath it. For the best view of the entire bridge, take a stroll over the Untere Brücke. The exterior walls on the old town hall have magnificent and colorful frescoes making it quite picturesque and one of the most important tourist attractions in Bamberg not to miss as it's one of the most beautiful canal cities in Europe!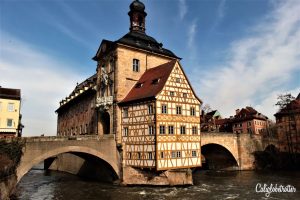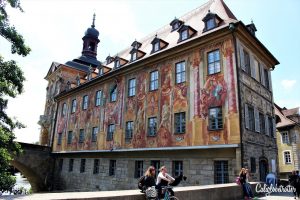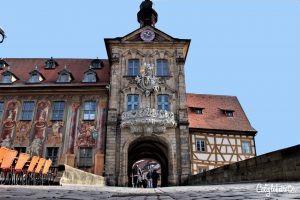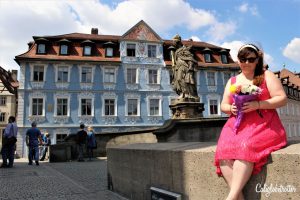 Sit Down For a Coffee & Cake 
You just can't go anywhere in Bavaria without sitting down to enjoy at least one…or two coffee and cake sessions! At one end of the Altes Rathaus you'll find a quaint little cafe called Cafe Riffelmacher which has some lovely little cakes and chocolates.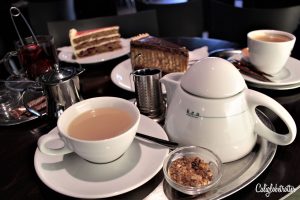 If you're looking for a more traditional coffee and cake shop, consider visiting the Cafe am Dom not far from the cathedral. With simple decor and comfy booths, you'll be stepping back into a classy time long since gone and serve up their adorable cakes on a heart shaped plate!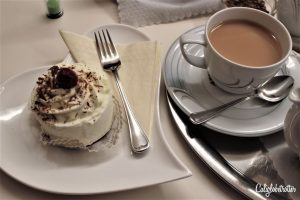 Bamberg's Hills and Half-timbered Houses
There are seven hills that make up Bamberg each crowned with a beautiful church. As you make your way up Cathedral Hill to go to the Bamberg Cathedral, you'll pass several adorable half-timbered houses and catch a glimpse of the cathedral peaking out through the gaps.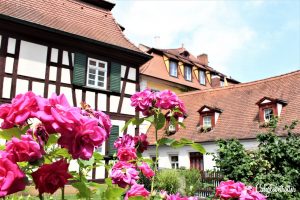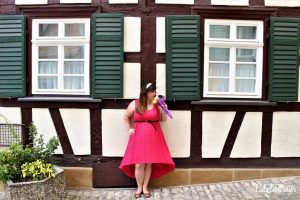 Bamberg Cathedral (Bamberger Dom)
The Bamberg Cathedral is perched upon Cathedral Hill (how fitting, right?!) Unfortunately, this cathedral has had terrible luck! Since its construction in 1004, the church has been burned to the ground twice and subsequently rebuilt twice, each time incorporating different building techniques. While taking a look around inside, keep a look out for the Bamberger Reiter – a rider dating from 1230 that many scholars are still puzzled over the identity of.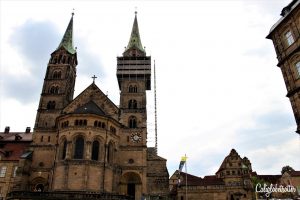 Alte Hofhaltung
Next to the cathedral is the old residence of the former bishops built in the 15th and 16th centuries. It is beautifully decorated with flowers adding to the appeal of the building. Today, it is quite often used as an outdoor theater performance court yard.

New Residence & Rose Garden (Neue Residenz & Rosegarten)
Just caddy-corner to the Bamberg Cathedral is the L-shaped Neues Residence which has richly decorated apartments (not that I would know…). 
However, by walking through the arches of the Residence you will find the Rose Garden. And by roses, I mean thousands of roses in every shape, size and color in 70 beds.
Not only will you find a rose garden here, but a small cafe and a great view over the historic city center, as well as a glimpse of the Michaelsberg Abbey, you guessed it, perched upon the Michaelsberg hill.

From the Rose Garden, you'll also find a wonderful view over the historic city center with endless red tiled roofs as far as the eye can see.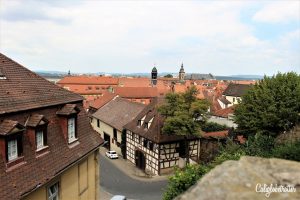 Enjoy a Smoked Beer (Rauchbier)
Bamberg is home to nine breweries with 50 different types of beer. Not only that, but there are another 80 breweries located within 15 miles of the town, therefore, the nickname "Beer City" is quite appropriate! So while in Bamberg, it is absolutely necessary to try as much as possible!
One beer not to miss that is iconic to Bamberg is the Aecht Schlenkerla Rauchbier, so be sure to stop at Schlenkerla for a famous glass of Smoked Beer. Schlenkerla has been brewing beer since 1405! It has a unique and distinct flavor, but it's worth a try! If beer isn't your thing, simply enjoy a nice meal at the restaurant as it's often one of the top restaurants in Bamberg which serves traditional Bavarian cuisine!
There are only two places in Europe that brews Rauchbier and the second one is in Cesky Krumlov in the Czech Republic!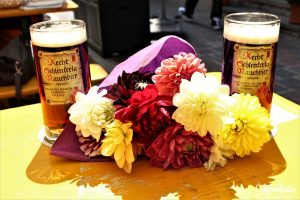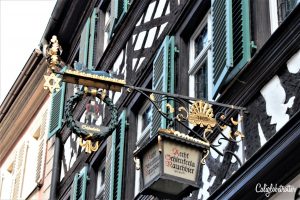 Little Venice (Klein Venedig)
As you were walking over Obere Brücke checking out the Altes Rathaus, you probably saw some pretty adorable little houses hugging the edges of the Regnitzarm River. This adorable little part of the historic district is known as fisherman's cottages which is one of the top sights to see in Bamberg! You truly get a sense of what life might have once been like to live and work along the river front!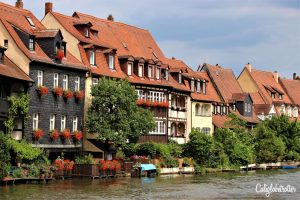 Overall, Bamberg is definitely worth a visit as it is only about half an hour by car from Nuremberg. Luckily, the Bamberg is one of the few towns that survived the Second World War with little to no damage, therefore, the town is one of the best preserved Medieval towns in Germany and definitely one of my favorite towns we return to over and over again!
If you're interested in visiting Germany and are looking for more information, I highly recommend using the DK Eyewitness Travel Guide! Without these guides, I would be lost! This is my travel Bible!
Disclaimer: This post contains affiliate links. If you click on one and make a purchase, I might make a little extra spending money, at no extra cost to you. As always, all opinions are my own and these products/services have been found useful during our travels and come highly recommended to you from yours truly!
Day Trips from Bamberg:
Liked this post? PIN IT FOR LATER!!
Save
Save
Save
Save
Save
Save