Disclaimer: This post contains affiliate links. If you click on one and make a purchase, I might make a little extra spending money, at no extra cost to you. As always, all opinions are my own and these products/services have been found useful during our travels and come highly recommended to you from yours truly!
This is one of those moments where I am slightly homesick for my home state of California and I start reminiscing about all the amazing things to do, see and eat when in the Golden State!
From an endless amount of pristine beaches to a variety of theme parks, vineyards all up and down the state, to snow-capped mountains, California offers a never-ending amount of things to do and see, for both locals and visitors. Many of these destinations can be visited with a road trip along the Pacific Coast Highway (PCH)!
Here I will compile some of the most popular, well-known and beloved sights to see to the overlooked, less-touristy places one can visit throughout the state!
In case you're interested, PIN IT FOR LATER!!
SOUTHERN CALIFORNIA
1. GRAB A DRINK IN SAN DIEGO'S GASLAMP QUARTER
Known as the National Historic District, the Gaslamp Quarter has become the heart of San Diego as the place to shop, dine and dance while admiring the historic buildings dating back to the 1880s.
2. VISIT THE HISTORIC HOTEL DEL CORONADO
The Hotel del Coronado was opened in 1888 in classic Victorian grandeur along San Diego's Pacific shore. Films like Some Like It Hot were produced here and the hotel hosts a list of Top A-Listers who have stayed at the hotel.
3. CHECK OUT THE OLD POINT LOMA LIGHTHOUSE
Opened in 1855, the lighthouse was only used for 36 years. Today, visitors can view the lighthouse keeper's living quarters just as they were in the 1890s.
4. TAKE A STROLL THROUGH BALBOA PARK
Balboa Park was founded in 1868 and includes an expansive park, historic buildings, museums and even the San Diego Zoo.
5. DRINK A BEER AT ONE OF SAN DIEGO'S MANY LEGENDARY BREWERIES
Over the last decades, San Diego has become the home of pop up breweries striking success as Craft Beer has gained popularity. My favorite? Stone Brewery in Escondido.
6. EXPLORE THE LA JOLLA COVES
La Jolla is an upscale coastal resort town along the cliffs and coves where San Diegans enjoy exploring the coves along the shore, and occasionally watching the sea lions who beach here.
7. EAT A HOT APPLE PIE IN JULIAN
When San Diegans want to get away from the city, they head up the mountain town of Julian to enjoy Hot Apple Pies, most famously sought after during October.
8. STROLL THROUGH THE CARSLBAD FLOWER FIELDS
My hometown favorite – Every Spring, the hillside in Carlsbad blooms with flowers of every shade of the rainbow and makes for a lovely sight to see!
9. CHECK OUT SALVATION MOUNTAIN
Leonard Knight spent 25 years of his life transforming a simple hill into an artistic masterpiece. The hill is now covered in inspiring, colorful murals and messages.
10. TAKE A HIKE IN JOSHUA TREE NATIONAL PARK
Established in 1936, Joshua Tree offers much to explore. From the unusual Joshua trees to stunning desert vistas as well as interesting hikes where one can discover lost mines.
11. GO WINE TASTING IN THE TEMECULA VALLEY WINE REGION
Diegans head to Temecula, the wine capital of Southern California, to spend the afternoon wine tasting their way through the valley by renting limousines.
12. VISIT THE TOWER AT LAGUNA BEACH
Located along the Victoria Beach is the Pirate Tower built along the cliffs, white sandy beach and blue waters.
 13. PLAY IN THE WORLD'S HAPPIEST PLACE ON EARTH: DISNEYLAND/CALIFORNIA ADVENTURE
No matter your age, Disneyland is the place where your inner child can roam free!
14. GET SCARED AT KNOTT'S BERRY FARM
During October, this classic amusement park turns into Knott's SCARY Farm as characters hide, chase and scare those who are brave enough to enter.
 15. ENJOY A SUNSET AT HUNTINGTON BEACH
Known as the absolute "surf city, Huntington Beach includes surf museums, competitions and an endless amount of surfers who can be admired from the pier.
 16. TAKE A DRIVE DOWN SUNSET BOULEVARD
Winding its way for 26 miles from downtown LA to the Pacific Coast Highway, this drive was made famous by classic movies. Today, Sunset Boulevard is lined with homes of the rich and famous, luxury hotels, restaurants and nightclubs.
 17. HIKE UP TO THE HOLLYWOOD SIGN
How could anyone pass up the opportunity to hike up to the famed Hollywood Hills without checking out the Hollywood sign!?
 18. WALK DOWN THE HOLLYWOOD WALK OF FAME
Hollywood Boulevard is still renowned around the world as a street filled with glamour from the Golden Age. Today, the glamor might be gone, but there is still plenty to see such as the Walk of Fame, Mann's Chinese Theater, El Captain Theater and more!

 19. PLAY AT THE SANTA MONICA PIER
With some of the best weather in California, friendly shops and a largely pedestrian-only area, it makes for one of the best places to take a stroll or even take a ride on the small amusement park located on the pier.
20. STAY THE NIGHT ON THE RMS QUEEN MARY
This beautiful luxury liner sailed its maiden voyage from Southampton, England to New York City in 1936. Sailing weekly to and fro, it played many roles. From luxury liner, to troopship during WWII, to finally a permanently docked hotel in Long Beach. The ship is also known as one of the top 10 most haunted locations in America.
21. EAT A DOUBLE-DOUBLE CHEESEBURGER AND ANIMAL STYLE FRIES FROM IN-N-OUT
Located mostly in the America Southwest (California, Nevada, Utah, New Mexico, Arizona, Texas), you haven't experienced California UNLESS you have had a Double-Double.

22. SCUBA DIVE/SNORKEL ON CATALINA ISLAND
Just 21 miles off the coast of California is the small island of Catalina which has some of the best coral reefs and colored fish perfect for taking a swim!
 

CENTRAL CALIFORNIA
23. TAKE A STEP BACK INTO THE GILDED ERA AT HEARST CASTLE
Hearst Castle isn't your typical European-style castle, but a massive mansion house built by the newspaper tycoon William R. Hearst. Here, Hollywood royalty were lavishly entertained.
 24. VISIT THE SCANDINAVIAN SETTLEMENT TOWN OF SOLVANG
A group of Dutch educators established this Scandinavian colony in 1911 and today tourists can tour the city in a horse-drawn streetcar, see the windmills, eat a beer garden and feel like they are back in Europe!
25. STROLL THE STREETS OF SANTA BARBARA
Santa Barbara is a unique city as it was completely built in a Mediterranean style architecture which also includes the Santa Barbara Mission.
 26. GO WHALE WATCHING IN MONTEREY BAY
There are few locations where you can catch a glimpse of humpback whales. So pack your camera and prepare yourself as sightings aren't entirely uncommon.
 27. CAMP OR HIKE IN BIG SUR
With 100 miles of breathtaking mountains, cliffs, rocky coves meeting the sea, Big Sur is a great place to get away from the city life, as there are no towns and very little sign of civilization here.
 

NORTHERN CALIFORNIA
28. HIKE UP HALF DOME IN YOSEMITE NATIONAL PARK
Standing almost 1 mile above the valley floor, Half Dome has become the symbol of Yosemite National Park. If you're brave and experienced enough, you can climb/hike the gargantuan mountain. And yes, a visit to Yosemite National Park in the rain is even impressive, should that ever actually occur!
29. RIDE THE DELTA RIVERBOAT ACROSS LAKE TAHOE
By far one of the most beautiful bodies of water in California, what better way to explore it than by taking a ride on a paddle wheeler!
30. EXPLORE THE WINCHESTER MYSTERY HOUSE
In 18884, the heiress of the Winchester Rifle, Sarah Winchester bought a small farm house in San Jose. Under the impression that the continual expansion of the house would exorcise the spirits of those who had been killed by the Winchester rifle. For 38 years, 24 hours a day, 7 days a week, the house was continuously expanded until her death in 1922.
31. TAKE A RIDE ON A SAN FRANCISCO CABLE CAR
Cable cars first appeared in 1873 in the hope of transporting people up and down the steep, rolling hills of San Francisco. by 1906, there were over 600 cars in use. Today, there are only thee original cable cars in use.

You'll definitely need a good 4 days in San Francisco to see as much of it as possible!
32. ENJOY THE VIEW OF SAN FRANCISCO'S GOLDEN GATE BRIDGE
From Golden Gate Park, you can explore the amazing Japanese Tea Gardens as well as find an amazing view of the Golden Gate Bridge.
33. EAT IN CHINESE FOOD IN CHINATOWN
If you're looking for some amazing Chinese food, then Chinatown in San Francisco is the place to find it. With authentic looking Chinese architecture, lamps and restaurants, it is the place to go!
34. EAT CLAM CHOWDER IN A BREAD BOWL AT FISHERMAN'S WHARF
What could possibly be better than a steamy bowl of clam chowder in a freshly baked, sourdough bread bowl on a cold, foggy San Francisco day to warm you up?
35. ADMIRE THE CALIFORNIA STATE CAPITOL BUILDING IN SACRAMENTO
Built in 1860, the Capital Building is one of the most impressive buildings in the state with a Renaissance Revival style and a tall central dome. From here, the governor of the state operates his daily business. No, Arnold Schwarzenegger is no longer the governor of California.
 36. DISCOVER THE OLD TOWN OF SACRAMENTO
Spanning six blocks, Old Sacramento is a small district which preserves many historic buildings that were built during the Gold Rush in 1849.
 37. GO WINE TASTING IN NAPA AND SONOMA VALLEY
Who doesn't need another excuse to go wine tasting in California?? Especially when the winery looks like a castle, such as Castello di Amorosa.
 38. WANDER THROUGH THE REDWOOD NATIONAL AND STATE PARKS
One of the most breathtaking sights to see are the massive Redwood trees. After all, how could something be so large!?
 39. CAMP IN THE MCARTHUR-BURNEY FALLS MEMORIAL PARK
A childhood favorite of mine, there is no more beautiful place to camp than near some of the most stunning waterfalls in California.
 40. VISIT THE GLASS BEACH IN FORT BRAGG
Have you ever experienced a beach with sand with any other color than white or black sand? Well, you'll be in for a treat when you head to Fort Bragg and check out the colorful rocks and stones which were created by pollution. Who knew pollution could be so beautiful? It's one of the most unique places to visit along a Pacific Coast Highway road trip!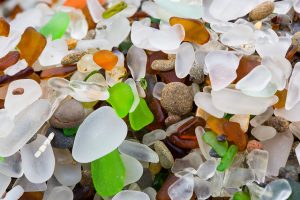 41. VISIT ONE OF CALIFORNIA'S MANY MISSIONS
There are 21 missions that can be found along the California Historic Mission Trail, near or along Highway 101. All of the missions are named after the Spanish monarchy which had financed expeditions to California for the empire's expansion. My favorite: Mission San Luis Rey in San Diego!
Heading to California soon and want to take all the best places with you? Then I highly recommend using the DK Eyewitness Travel Guide for California! Without these guides, I would be lost! These are my travel Bibles!
Disclaimer: This post contains affiliate links. If you click on one and make a purchase, I might make a little extra spending money, at no extra cost to you. As always, all opinions are my own and these products/services have been found useful during our travels and come highly recommended to you from yours truly!
Be sure to check out more blogs about California!
23 Things You Will Miss About California
New Years Eve in San Francisco
Liked this post? PIN IT FOR LATER!!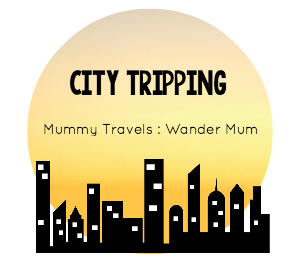 Save
Save
Save
Save
Save
Save
Save
Save
Save