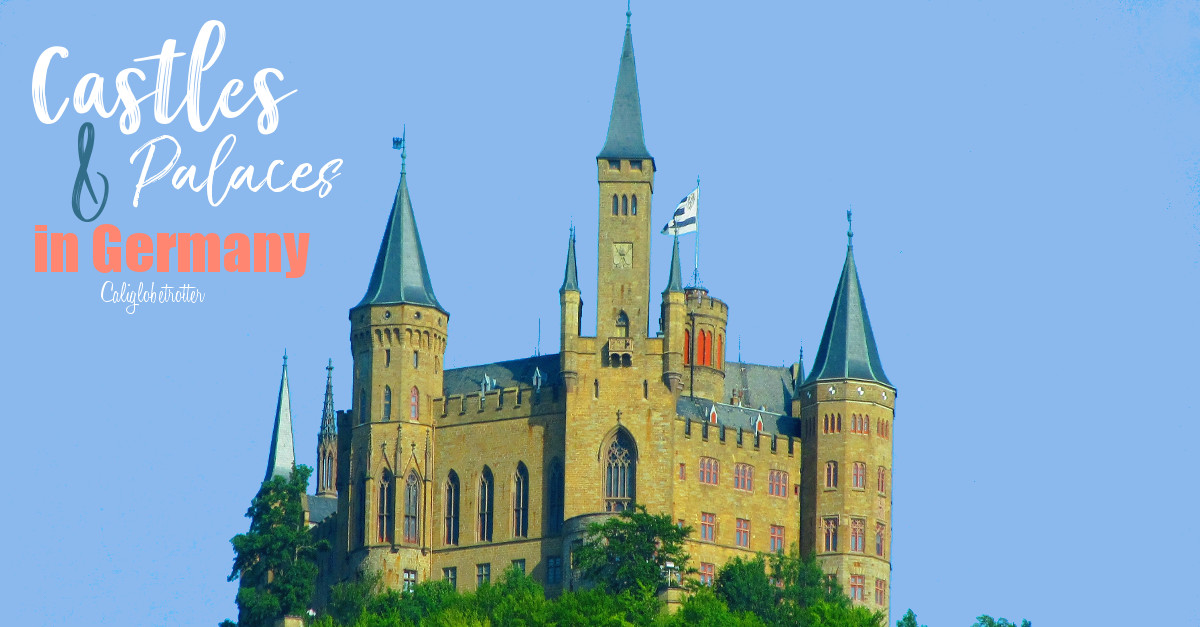 Disclaimer: This post contains affiliate links. If you click on one and make a purchase, I might make a little extra spending money, at no extra cost to you. As always, all opinions are my own and these products/services have been found useful during our travels and come highly recommended to you from yours truly!
Germany certainly has no shortage of castles perched upon hills overlooking many scenic rivers and valleys. Castle spotting is definitely a favorite past time while driving through the country on a road trip. Some castles are as romantic as any homeless romantic could possibly imagine and even inspired Walt Disney, some are unique and no less impressive while others lie in ruins but still hold a special charm.
Some are called a 'Burg' and others are called a 'Schloss'. So, what's the difference, you might ask?
If you LOVE castles, PIN IT FOR LATER!!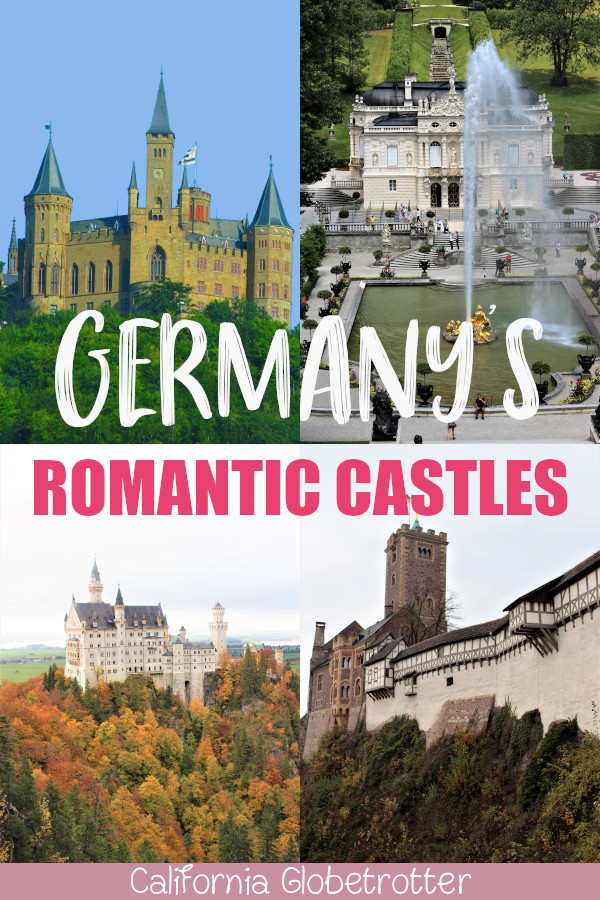 How to AVOID Looking Like a Tourist in Europe
A Burg:
is usually a fortress that was built for protection during the Middle Ages by the nobility. During this time, things were unsteady and turbulent, so the nobility needed protection from unwanted visitors. In the beginning, these Burgen (plural) started out as just a watch tower where people took refuge and gradually, over time expanded the towers into a strong, steady and fortified "castle" accommodating those seeking shelter within.
A Schloss:
is much more elegant and romantic than a Burg as these were generally built after the Middle Ages and usually were built as a residence for the nobility. They were not constructed to be a fortress for protection against outsiders. This was because the turbulent times from the Middle Ages had relaxed a bit and the nobility no longer felt the need for massive fortresses for protection. Instead, the nobility built these palaces for to impress, as is seen immediately upon entering the Grand Hall of many palaces.
1. Neuschwanstein Castle
Perched atop a mountain overlooking the Schwangau valley below, Schloss Neuschwanstein (New-Swan-on-the-Rock-Castle) was the first of King Ludwig II's romantic castles to be commissioned. Starting in 1868, plans were made to replace the ruins of a medieval castle to make way for the castle we know today and was planned to be his personal retreat since it was not big enough to house the royal court.
Unfortunately, like the rest of his castles, with the exception of Schloss Linderhof, the castle was never completed due to King Ludwig II's untimely and mysterious death in 1886. After 17 years of construction, only 14 of the 360 rooms were completed. Today, it is Germany's most visited tourist attraction and one of the most iconic German castles!! (More on Schloss Neuschwanstein here)
2. Hohenschwangau Castle
Upon arrival to Schwangau, many are amazed to find that just across the village is another castle. Schloss Hohenschwangau is easily over shadowed by the glory of Schloss Neuschwanstein. Actually, of the two castles, Hohenschwangau is actually older and is where young King Ludwig II spent much of his childhood.
While it might not be the most exciting castle you'll see, it's certainly worth a quick peak and a walk around the castle grounds. It's from the Schloss Hohenschwangau courtyard that you'll find one of the best views of its more famous neighbor! (More on Schloss Hohenschwangau here)
3. Herrnchiemsee Palace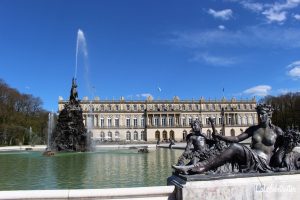 Located on an island on Chiemsee (Lake Chiem) in one of the most beautiful lakes and is an easy day trip from Munich is the last of King Ludwig II's stunning palaces to be built. Having been so inspired by the French monarch, he built this palace in honor of King Louis XIV "the Sun King" in Versailles. Therefore, Schloss Herrenchiemsee is almost an exact replica of the Palace of Versailles, found just outside of Paris but on a much smaller scale, as it was never completed. It was the final palace that the king would begin building and by far one of the most magnificent.
The palace was built between 1878 and 1885 and King Ludwig II only got the chance to stay in the palace for a few days, just the year before his death. Immediately after his untimely and mysterious death, the palace was finally opened to the public. By the time the King died, only 20 of the 70 rooms in the palace were complete. The sections that were not completed were later demolished. (More on the Herrnchiemsee Palace here)
4. Linderhof Palace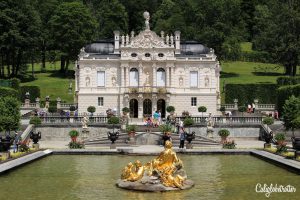 Of King Ludwig II's three castles, this is probably my favorite and is another castle in Germany near Munich! As mentioned previously, the small palace of Schloss Linderhof is located near Ettal was the only castle that the king lived to see be completed, which he even had the luxury of living in for the remaining 8 years of his life. This palace was inspired by the Palace of Versailles in Paris and you can see the stunning artwork in honor of the French monarchy.
King Ludwig II had a very extravagant taste in style and loved gold artwork throughout his castles. Schloss Linderhof is no different and every room is designed in beautiful French style with golden Rococo artwork. Eventually, he became more and more recluse and lived more like a hermit. From 1875 onward he only slept during the day and lived at night. Otherwise, he surrounded himself with beauty and therefore created a fantasy world around him in which he could escape. (More on the Linderhof Palace here)
5. Heidelberg Castle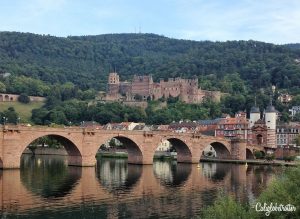 Of all the castles in Germany, the Heidelberg Castle a personal favorite and is a unique castle which has had the unlucky misfortune to have been struck by lightning, not just once, but TWICE! In 1537 and again in 1746. The second bolt destroyed almost everything that had been rebuilt from the fire of the first bolt! Therefore, this castle was abandoned and is today one of the most beautiful castle ruins in Germany!
You can take the Bergbahn up to the castle and have a look over the entire Altstadt of Heidelberg. You will have a fantastic view of the Alte Brücke (Old Bridge) and the Neckar river. (More on the Heidelberg Castle here)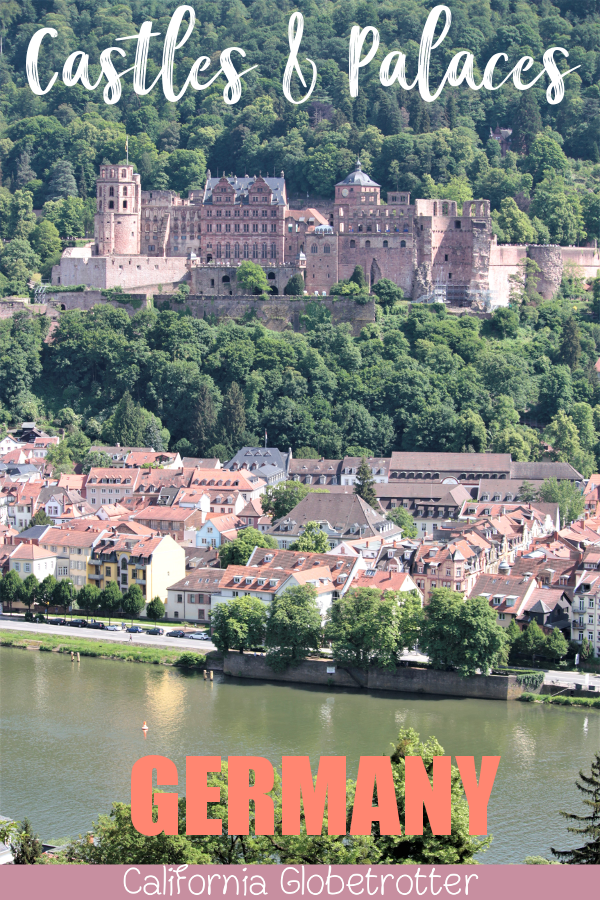 6. Reichsburg Castle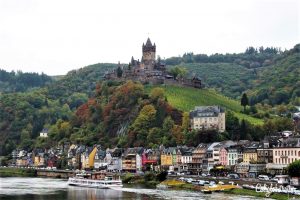 Quite off the beaten track in Germany, but not completely unknown to tourists, the Imperial Castle is surrounded by rolling hills of vineyards making for a very picturesque castle perched above the town of Cochem. It's without a doubt one of the coolest castles in Germany and is one of the best castles to visit near Frankfurt. 
The castle we see today perched above the scenic town is not the castle that originally stood there in the 12th century. That castle was destroyed by the French King Louis XIV in 1689. The castle would sit in ruins for 180 years before a wealthy Business man named Louis Ravené decided to buy the ruins and restore it to it's original Romanesque beauty. Surprisingly, Ravené began reconstruction on the castle the same year that King Ludwig II of Bavaria decided to reconstruct the now famous Schloss Neuschwanstein. (More on the Reichsburg Castle here)
7. Burg Eltz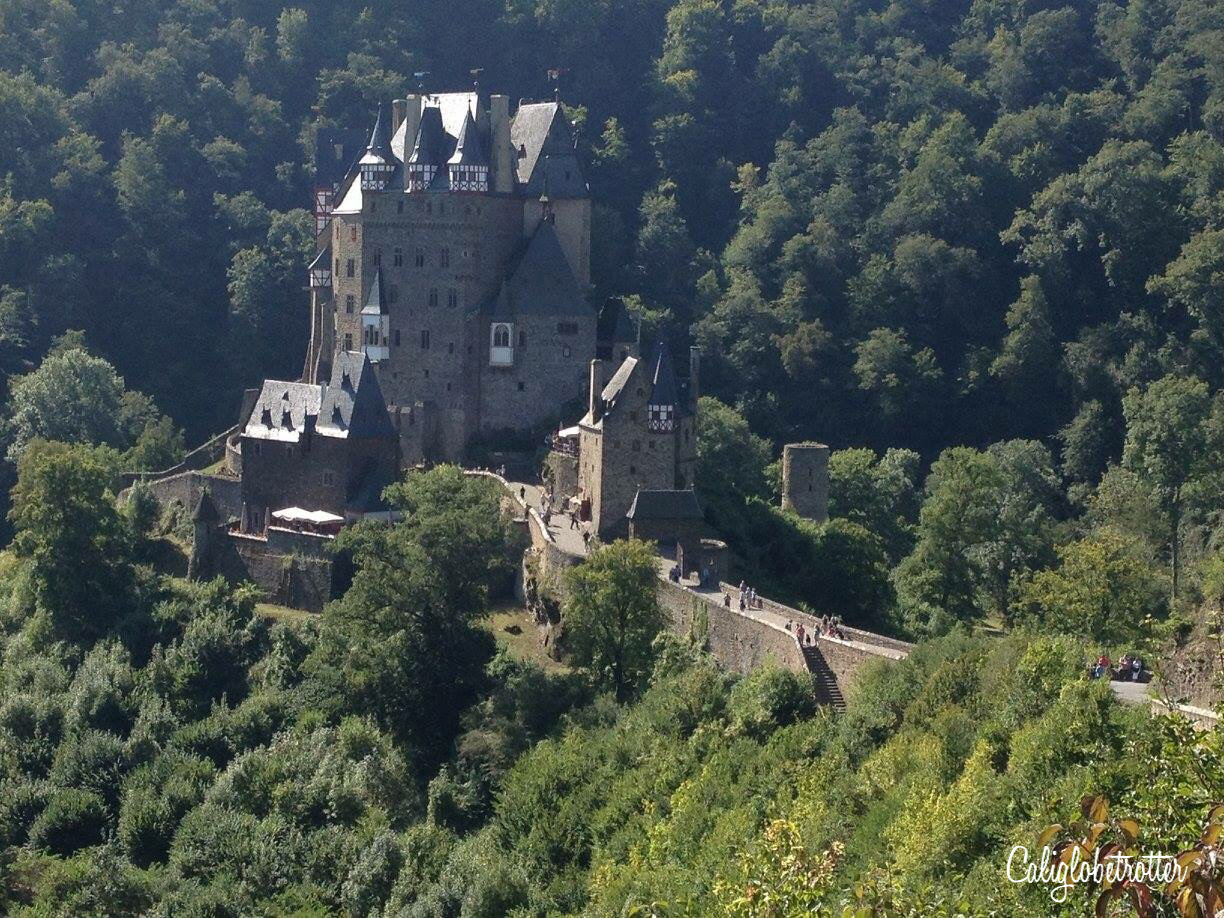 Not far from the Reichsburg Castle in Cochem is Burg Eltz, a medieval castle located between Koblenz and Trier which sits a along the Mosel River. This is one of the most beautiful regions in Germany and where the Mosel flows into the Rhine.
The castle is part known as a "Ganerbenburg" which means that the castle is owned by a community of joint heirs. Three branches of the family line have sections in this castle, but only the Rübenach and Rodendorf parts of the castle are open to the public. The original family from 33 generations ago still lives in and owns the castle. That's over 800 years! Therefore, only a few sections of this castle are open to the public. (More on Burg Eltz here)
8. Burg Hohenzollern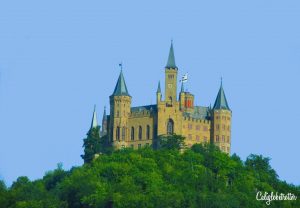 Perched high upon the top of a mountain in the Schwäbisch Alb, built for strategic defense against intruders, sits the Burg Hohenzollern. Built first as a fortress in the 11th century, it has been destroyed and fallen into ruins only to be rebuilt a third time, in it's current form.
Falling into ruins over time, it would later be rebuilt a third time as a family memorial for Hohenzollern by King Frederick William IV of Prussia. He had been traveling to Italy and wished to stop and learn about his family history by climbing Mount Hohenzollern. He designed the castle based on castles from the Loire Valley in France that now stands as one of Germany's most visited romantic castles with up to 300,000 visitors per year. Eventually, over time, this fortified residence would eventually turn into a castle with works of art throughout the castle. Today, the castle is still privately owned by the Brandenburg-Prussian family line. (More on Burg Hohenzollern here)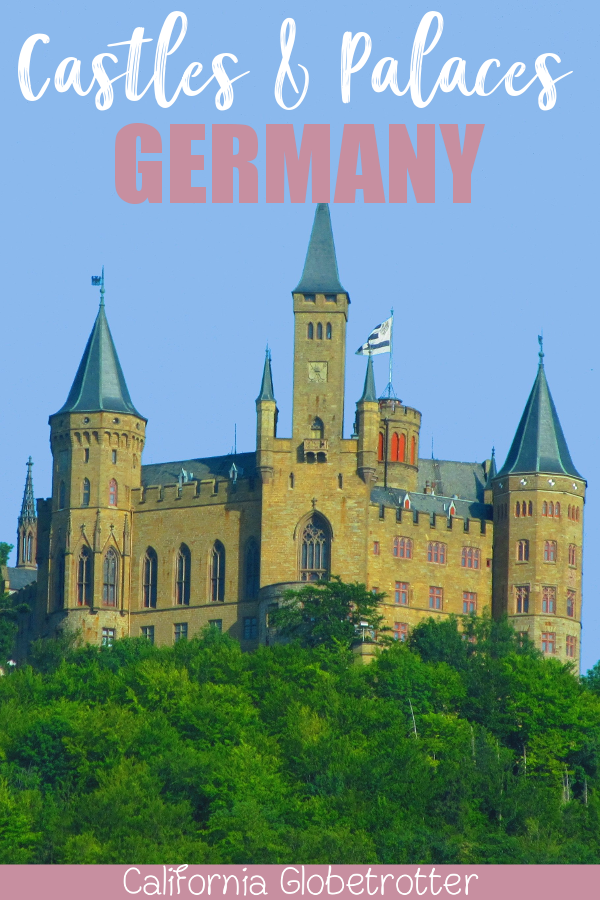 9. Lichtenstein Castle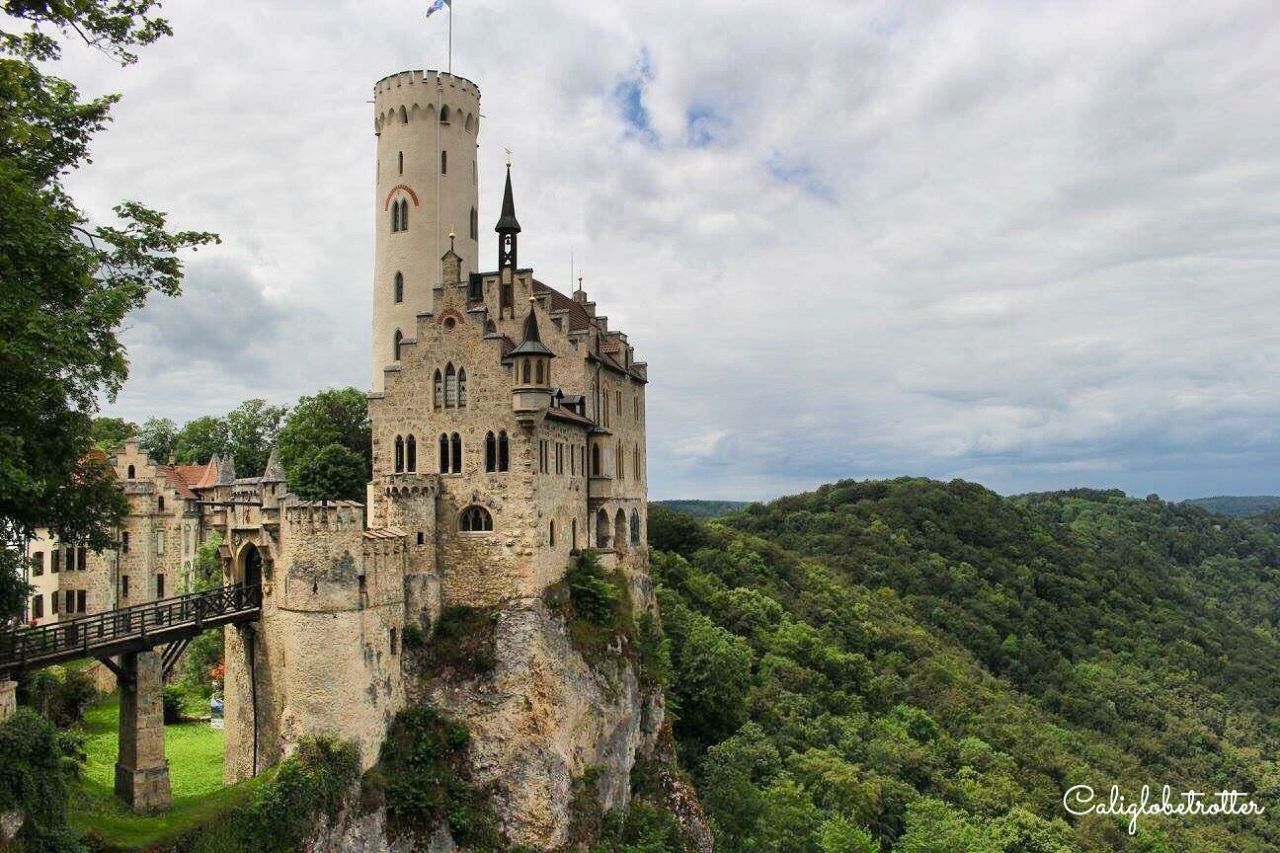 Known informally as "The Little Brother" to Schloss Neuschwanstein, it can be easily overlooked, but it has just as many charms and romance as any other castle, just without the hordes of tourists!
Compared to many other castles in Germany, this castle is a relatively young castle. Technically, there has been a castle here since around 1200, however it was destroyed twice – once in 1311 and again in 1377. A new castle was built about 500m away but soon fell into disuse and ruins. It wasn't until 1840 when the castle would be redesigned, renovated and built up further by Duke Wilhelm of Urach who was inspired by the novel Lichtenstein written by Wilhelm Hauff. (More on the Lichtenstein Castle)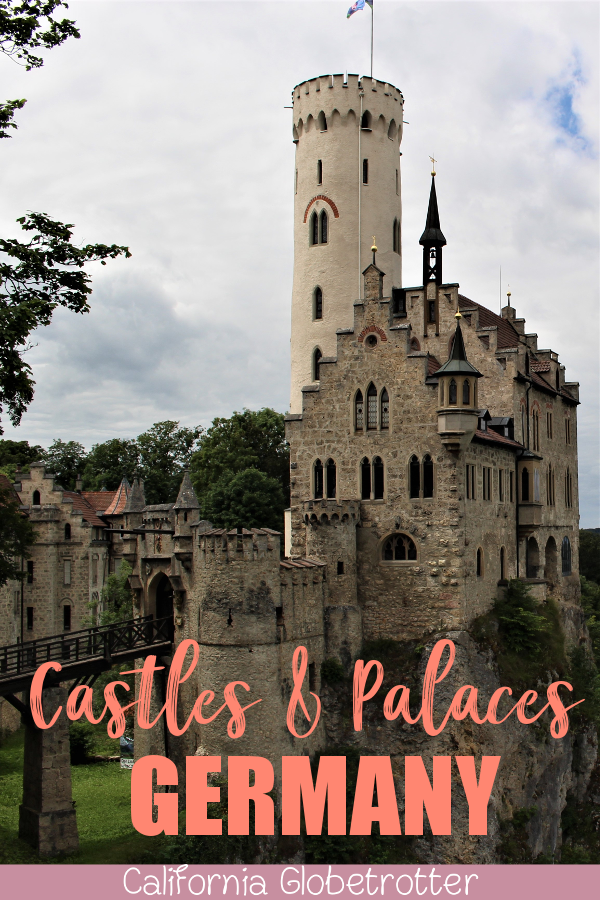 10. Nymphenburg Palace

In the outskirts of Munich, you can find the beautiful Schloss Nymphenburg which started out as a summer residence and was given as a gift the wife of Bavarian Elector Ferdinand Maria for the birth of their son and future heir to the throne who would eventually build Schloss Neuschwanstein and more. It was expanded and enlarged into the many different buildings, pavilions and the massively beautiful outdoor gardens in the popular French style in the front and the back of the castle, which include several different pavilions. (More on the Nymphenburg Palace here)
11. Munich Residenz  

Originally built as a castle in 1385 and eventually turned into the royal residence of the Wittelsbach family and later as a government seat from 1508 – 1918. The Residenz is one of the largest city palaces in Germany, it has 10 courtyards, each unique. Inside you'll discover the Antiquarium. Stretching 216 feet (66 meters) long, the room is was built by Duke Albrecht V in 1568 to showcase his antique sculpture collection, hence the name. It is the museum's oldest room. The Residenz also houses the Bavarian Crown Jewels in the Schatzkammer (the Treasury). (More on the Munich Residenz here)
12. Wartburg Castle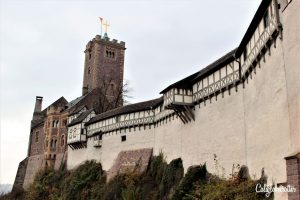 A castle few have heard of Wartburg Castle is every bit as romantic as any other castle and is worth the visit as it's one of the most historic castles in Germany! Whether you're an architect fanatic, a history nerd or simply a hopeless romantic, Wartburg Castle perched over the town of Eisenach should be added to everyone's #GermanyBucketList! Considered to be on of the most important castles within Germany, not just for its beauty but for its history. The first German castle UNESCO World Heritage Site which holds significant importance to the identity of Germany, was a place of refuge for Martin Luther and even inspired an opera, Tannhäuser, therefore, making it one of the best castles in Germany to visit! (More on Wartburg Castle here)
13. Meissen's Albrechtsburg Castle
Perched on a small hill above the historic city center of Meissen is the Albrechtsburg Castle, Saxony's first and oldest castle. The Albrechtsburg Castle and Meissen is believed to be the birthplace of the state of Saxony when it was first founded in 929. The construction of the castle began in 1250 and by 1710, the castle was turned into Europe's first porcelain manufactory by Augustus the Strong. The discovery of producing porcelain was an accidental discovery, when originally trying to reproduce gold. Instead, "white gold" was discovered. The castle was used as a porcelain factory for 153 years before moving to a new location and the castle being painstakingly restored to its former glory. (More on Albrechtsburg Castle here)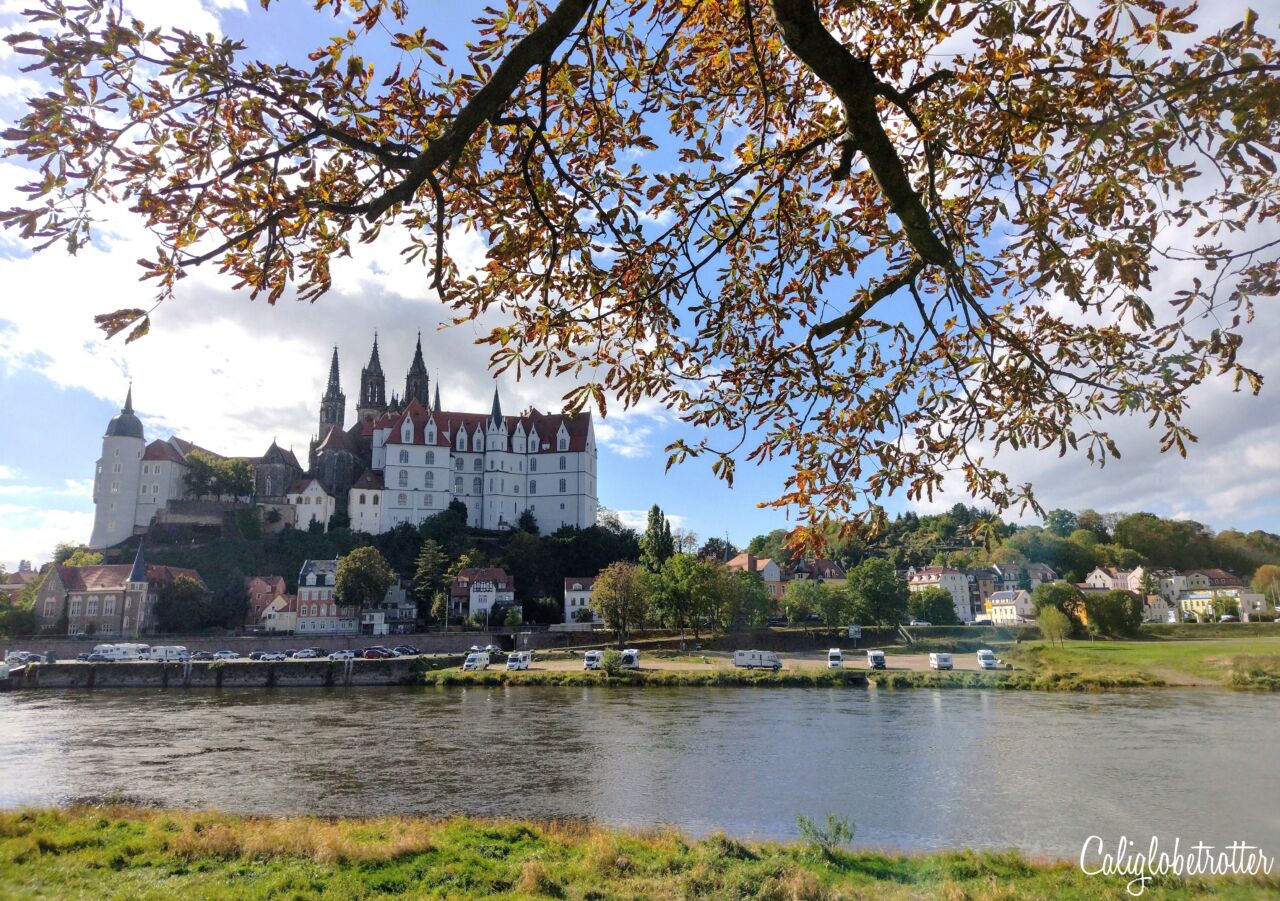 14. Schloss Moritzburg
Located between Meissen and Dresden, Schloss Moritzburg is a yellow ochre colored castle and used as a hunting lodge by Duke Moritz of Saxony, built atop a little island in the middle of a lake surrounded by a bit of forestry. Built between 1542 and 1546, and was inhabited until 1945 when the last Prince of Saxony was ousted by Soviets.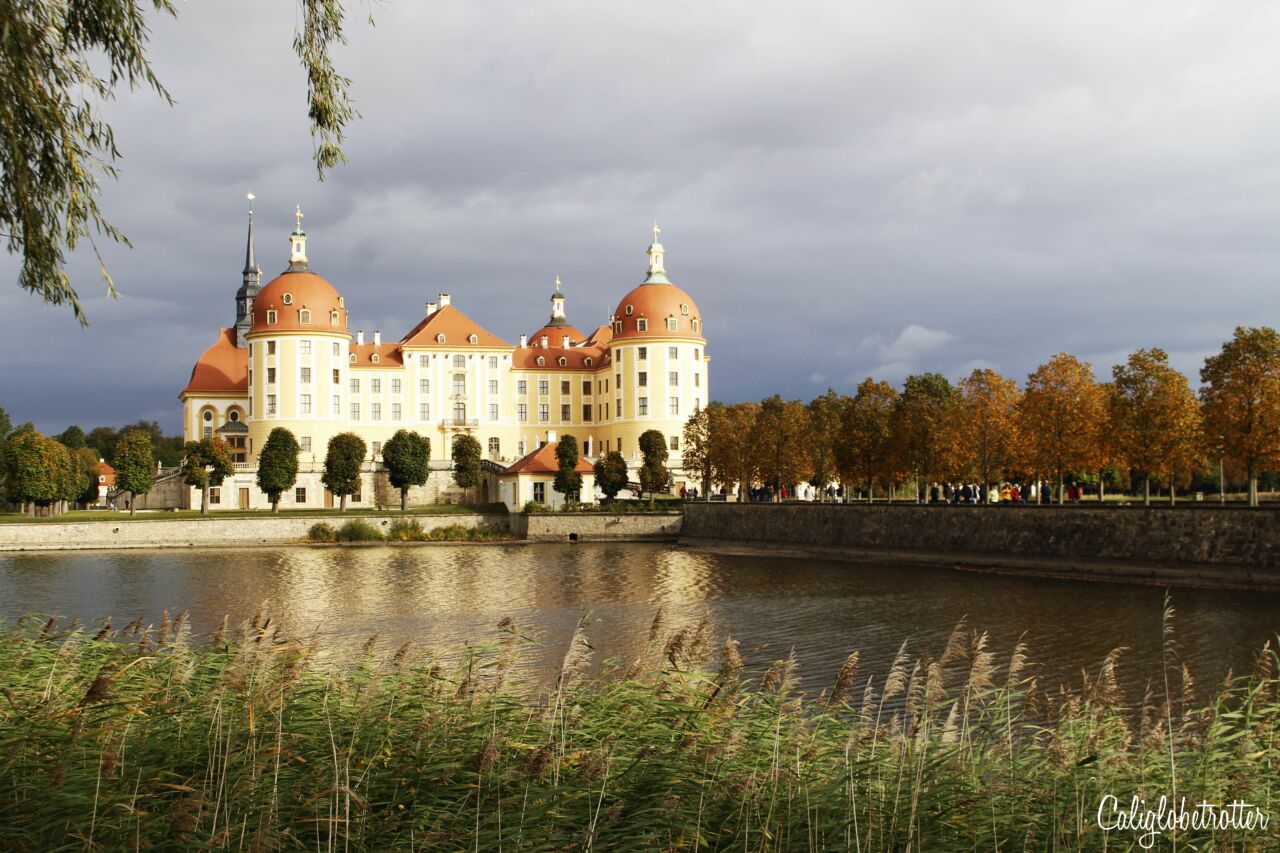 Stay tuned for more castles as we continue to visit more of Germany's beautiful castles!
If you're interested in visiting Germany and are looking for more information, I highly recommend using the DK Eyewitness Travel Guide! Without these guides, I would be lost! This is my travel Bible!
Disclaimer: This post contains affiliate links. If you click on one and make a purchase, I might make a little extra spending money, at no extra cost to you. As always, all opinions are my own and these products/services have been found useful during our travels and come highly recommended to you from yours truly!
Other Castles in Europe:
The Romantic Castles of King Ludwig II of Bavaria
Hluboka Castle in Ceske Budejovice, Czech Republic
The Royal Pavilion in Brighton, England
Liked this post? PIN IT FOR LATER!!
Save
Save
Save
Save
Save