This is a sponsored post and California Globetrotter was invited by Bottle Stops as a guest on the wine tour, as well as a guest of me and all hotels in Mainz, but as always, all pictures are mine unless otherwise stated and all opinions are entirely my own! This post also contains affiliate links ans should you click on one and make a purchase, you'll be helping to support California Globetrotter at no extra cost to you!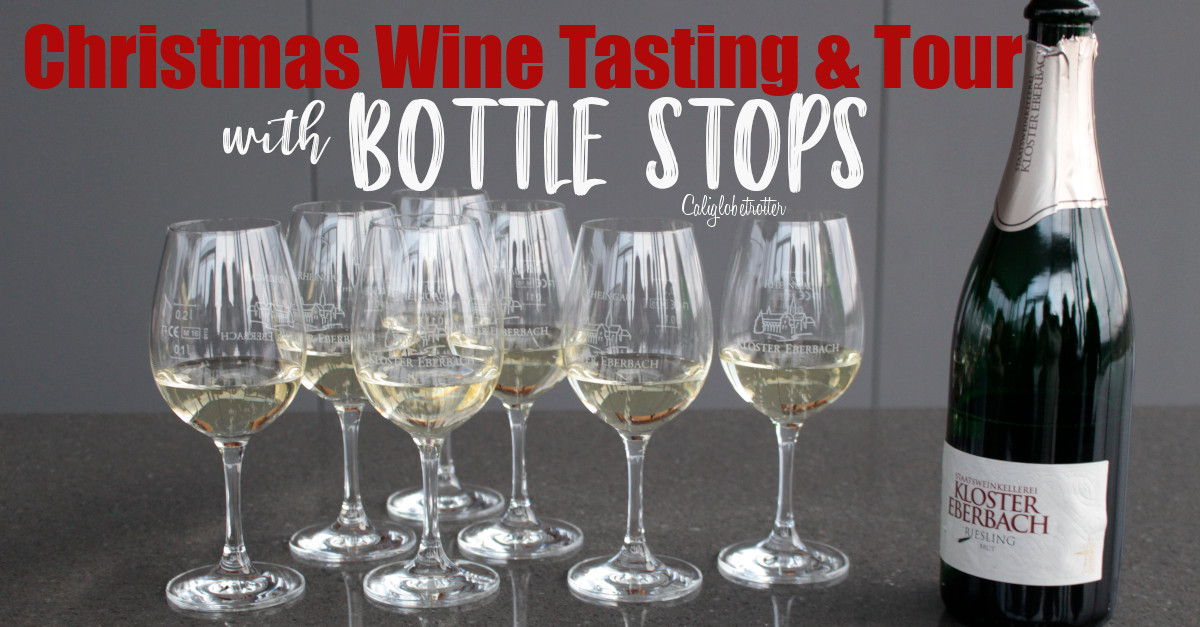 The holiday season is upon us, and that generally implies there's more eating a drinking as we go about our merry ways. Whether you're adding wine to the cook or heading to the Christmas Markets for some warm Glühwein, there is much merriment to be had. But why not consider spicing up your holiday season with a wine and tasting tour with Bottle Stops, a wine and tasting tour in Germany dedicated to enlightening locals and tourists about the wines from one of the most beautiful regions in the country.
Want to do a Wine Tour in Germany? PIN IT FOR LATER!!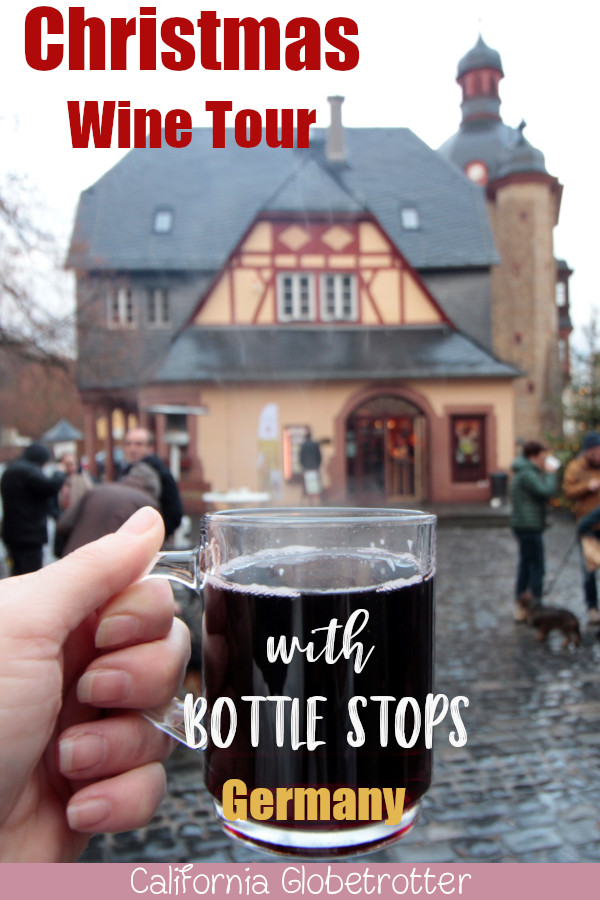 35 Photos to Inspire Christmas in Europe
EVERYTHING You Need to Know About German Christmas Markets
When I was offered the chance to join a group of travel, food and wine bloggers to do a wine and tasting tour of the Rheingau region with Bottle Stops, I jumped on the chance to say, "Yes!" I'm no wine connoisseur and I'm definitely not a wine snob, but I do love a good wine. When it comes to swishing, sipping and spitting, I'm not very good at detecting flavors. Wine is wine to me. But I thought perhaps this tour would be a good chance to smooth out some of my rough edges when it comes to wine. 
Bottle Stops is a local company based out of Mainz, Germany's wine capital, which provides guided tours into the German wine regions of the Rhein, Mosel and Nahe Rivers. They take you behind the wine to meet local wine makers and companies which work together to promote local wines. Your guide and founder of Bottle Stops, Jérôme, is highly knowledgeable about the region, the local wines and the history of wine making all the way back to the the Roman times! With his wine-o-mobile, he transports you all over the region giving you a plethora of history and information on each company, castle, vineyard or bottle of wine that you drink!
Best of all, Bottle Stops offers a variety of wine tasting packages, from a single Day Tour, Mainz City Tour and Tasting, Private Tours and now even a multi-day tour! Doing a wine tour in Germany is one of the best things to do when visiting the Rheingau/Rheinhessen region!
Where to Stay in Mainz
But first, I had to check into my rather awesome hotel, Hotel Mainz | me and all hotels, just caddy corner from the Mainz Hauptbahnhof. Just a hop, skip and jump away from the main train station, I quickly felt at home in this urban home away from home hotel. Literally, as I walked in the door, I stepped into the "Mainzer Wohnzimmer" (Mainz Livingroom) and quickly made myself comfortable while I waited for check in. A mix match of sofas and armchairs in a variety of styles gave the hotel quite an eclectic feeling.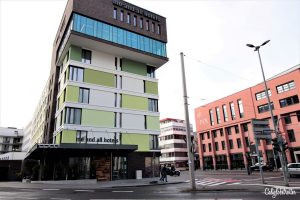 Once I was allowed to check in, I scoped out my room, which combines industrial design with recycled timber with a hint of sarcasm. I so badly wanted to plop down on the most comfortable looking bed I've ever seen in a hotel, but that would have to wait just a little while longer. And to be honest, it was worth the wait and so, so, sooo difficult to get out of bed the next morning.
We had a quick tour of the hotel, which allowed us a glimpse of the fitness and sauna area, spread out over two floors with a rooftop terrace overlooking Mainz. Now, that was honestly a view I could work out to any day! Plus, it's an added bonus that the fitness area had all of the newest work out equipment!
The wellness area though was quite enticing. I could easily imagine that after a nice shower and some time in the sauna, that I would feel at ease while lounging around on the comfortable lounges, surrounded by climbing and hanging plants giving it the ultimate urban jungle feel!
Then we were greeted to a tasting of Sechzisch Vierzisch, one of the local hero businesses the me and all hotel helps to support. Written in local dialect, Sechzisch Vierzisch is a play on words for 60/40, an important ratio for their Rheinhessische Kultweinschorle. If you've ever traveled to Germany, then at some point, perhaps you've had a "Schorle", whether it be a weinschorle, apfelschorle or any other combination of a fruity drink with fizzy water. In other words, a spritzer. Here, this local hero beautifully blends several flavors to create a unique twist on your average weinschorle.
The three flavors that we sampled were Rosewein + Orangenlimonade (Rose wine and Orange limonade) which was without a doubt my personal favorite, while there was also the Weißwein + Wasser (White wine and water) and lastly, Weißwein + Wasser + Basilikum (White wine, water and Basil).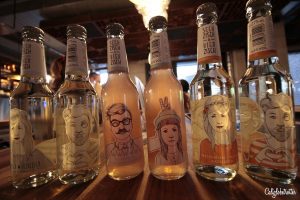 Mainz Christmas Market
Afterwards, we hit up the Mainz Christmas Market, where we met the Chief Executive of die Mainzer Winzer for a Glühwein. Now, let me let you in on a little secret. Not all Glühwein is good Glühwein. If you've had enough in your lifetime, you probably recognize when a Glühwein is too sweet or not sweet enough. You can tell when it's the bottled, store-bought Glühwein or you can tell when it's homemade. In Mainz, there are 26 wine families that are part of the Mainzer Winzer organization and at the Christmas Markets, their Glühwein must be pure red wine, either Dornfelder or a Portugese wine, and only spices may be added. That means no juices and no fruits may be added to it, and I have to say, it was honestly one of the best glasses of Glühwein I've ever had!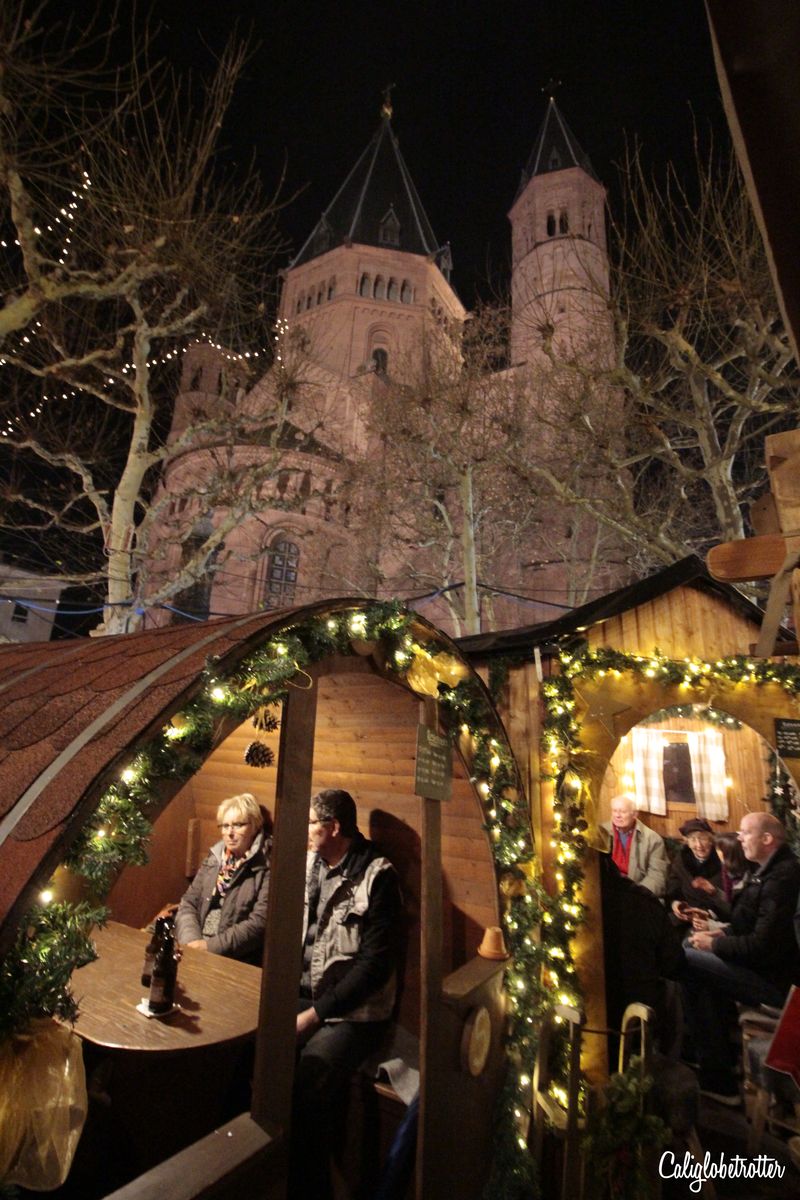 After our brief introduction, we had a quick look around the Mainz Weihnachtsmarkt, enjoying the festive decorations, large Christmas trees and the adorable wine huts you can rent for the Christmas Market season (a year in advance, if not more!) Quite honestly, this is the one of the best Christmas Markets in Germany for wine lovers!
Dinner at Laurenz Mainz
Finally, it was time for dinner. The moment we had all been waiting for! Just a few minutes walk from the Christmas Market, is Laurenz, a wine bar, restaurant and wine store! This cozy and quaint little restaurant had such a relaxing ambience, and in the presence of good company, we thoroughly enjoyed our evening. While we had an especially prepared meal to be perfectly paired with our wine, I can only imagine that everything else on their menu is equally as fabulous as our meal was. And I'm pretty sure that I died and went to heaven that night because I've never had anything quite so delectable before!
We started out with our choice of Duck Soup with Ravioli or Lobster Bisque, with a White bread Crostini before we mmm'd and ahhh'd our way through our main entree, Venison saddle with Tramezzinicoating, chestnut creme, red cabbage and sweet potato creme perfectly paired with Malterdinger Spätburgunder 2014. Seriously, it's hard to imagine what that tastes like without having it for yourself, but believe me when I say that it was an explosion of deliciousness in my mouth! Then dessert came, and I died all over again with Kerbelwurzel, Feldsalatpuree with white chocolate sorbet, Vanille-Orange and salted Macademia.
Mainz Wine Bank
We ended our evening with a walk up to the Mainz Wine Bank, a private club for wine lovers in the heart of Mainz, where Jérôme spoiled us with a glass of dessert wine to top off the night. But what makes it special was that this bottle of Rheingau Riesling dates back to 1976! But what I found the most interesting was the wine bank itself, located 70m below ground and is used in a similar fashion as a timeshare. Like a timeshare, you pay a membership fee, and own in one location but can have access to many other resorts around the world. It's the same concept at the wine bank except here, people store their most prized bottles of wine!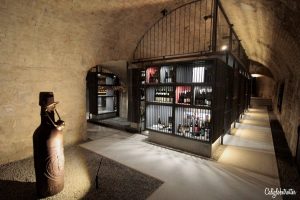 Steinberg Keller at Kloster Eberbach
After a fabulous night sleep, I literally had to tear myself out of bed to do a Christmas tasting at a German winery, the Steinberg Keller where we had a private tour with Dennis Linke. While we didn't go up to Eberbach Monastery, I was actually there as a teenager with my high school exchange program, and that itself is definitely worth a peek. However, if you can manage a wine tour at the world famous Steinberg vineyard, just 300 meters away which recently opened it's doors in 2008 with the most modern advances in wine production.
This new cellar is 14m deep while the vineyard lies above it. Producing at least 2.5 million bottles of wine per year, the method here is still quite simple. The most gentle way to work with grapes is with gravity, pressing the grapes to extract the juices so that they flow before they are fermented. We were guided through the processing sector before enjoying a glass of white wine down in the cellar where the wood barrels are stored.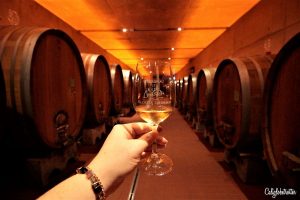 While at the vineyard, we had a sample of the Kloster Eberbach Riesling Brut as well as their Schlossberg Riesling from 2017, both of which I found quite refreshing!
Georg Breuer, Rheingau
Located in Rüdeshiem an Rhein, George Breuer is a family owned winery, famous for producing Rieslings. We were given a personal tour by Theresa Breuer, the granddaughter of George Breuer. Also known as a "Garage Winery", because their production of wines is made locally on the family estate.
Theresa showed us the garage and cellar where the wines are produced before taking us yet again down into another cellar which was built by her father to allow guests to also enjoy the wines, where we would spend the next hour tasting six of their wines in a romantic candle lit environment.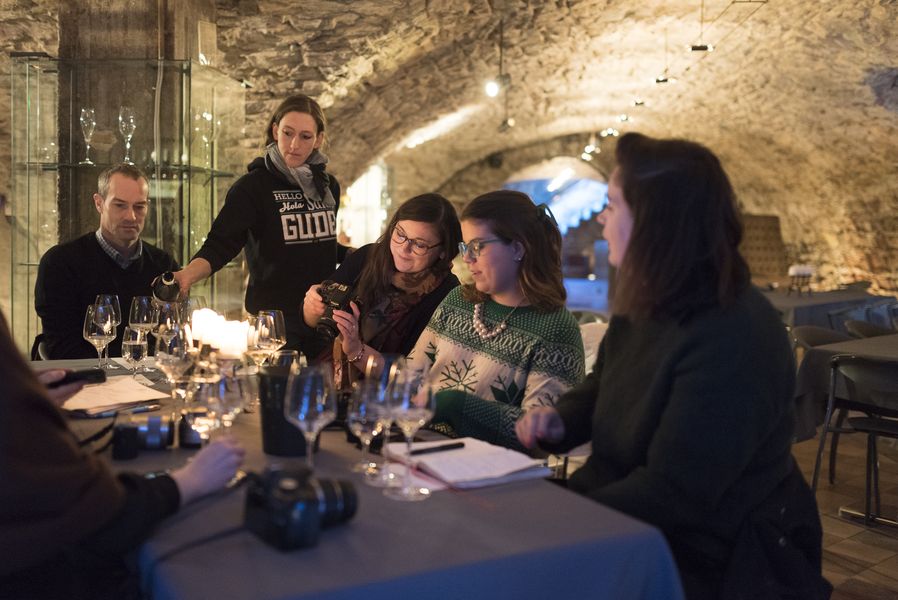 She enlightened us on the different wines we were drinking, how some wines are perhaps fruitier with an intense ripeness while others are crisper with a rougher edge to them, which comes from the different plots of vineyards they have stretching along the Rhein River. Depending on whether the grapes come for a lower laying vineyard or from a slopped vineyard, the impact of the sun can have an effect on the taste of the grapes.
My personal favorite from the six that we tried was the 2017 Terra Montosa, a Rheingau Riesling which is a blend of their best vineyards, perfect for drinking in the colder months. It's also the youngest vineyard to be bottled, giving it an even fresher taste to it.
Lunch at Rheinwelt
By now, we were feeling good with our wines, but now we were hungry. What better way to top off a wine tour than at a "Las Vegas" style, serve yourself wine bar and store? Located in Rüdesheim am Rhein,  Rheinwelt, puts a twist on your average wine tasting! Wait, where's the food? Have no worry, here, you can peruse 160 wines from 80 estates within 165 river kilometers, depositing a coin for each wine you wish to sample inside of a former historic wine tank, all while your food is being prepared!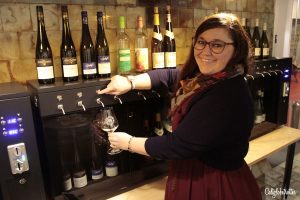 Here you can experience true homemade soul food, a variety of cheeses, meats and bread to be mix and matched to your delight! Everything from the food on your table to the goods on stock are all personally hand picked by the owner, from the daily bread to the exquisite cheeses from the Rheingau region. After consuming a ridiculous amount of bread with a variety of cheeses and salamis and ham, to spreads, we were quite content and made our merry way to our next destination.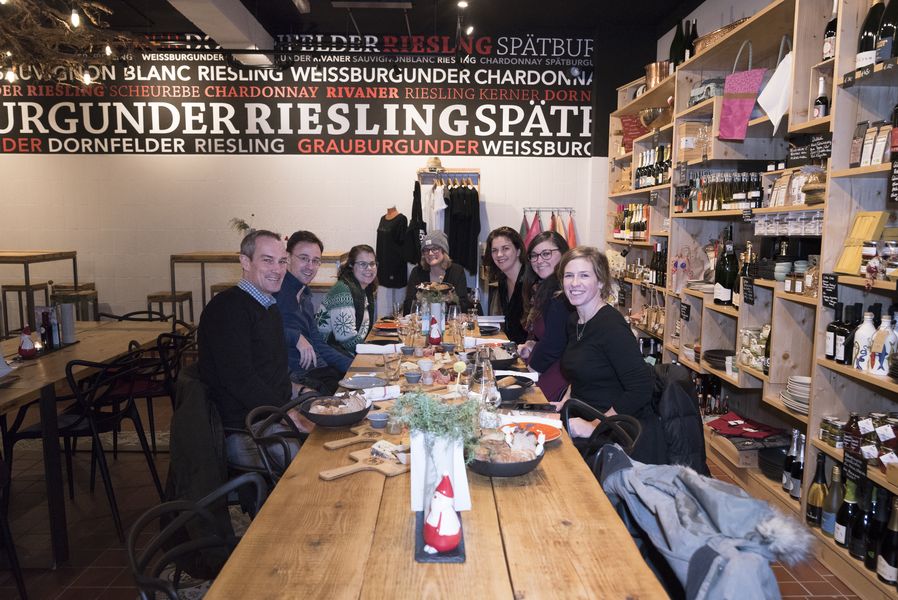 Schloss Vollrads Weihnachtsmarkt im Schlosshof
What better way to end a wine tour than at a castle WITH a Christmas Market?! Though upon arrival, it was down pouring so we had the pleasure of having a small private tour of Schloss Vollrads and learn a little bit about the family that founded this castle and wine estate, which might possibly be the oldest in the world! Producing only Rieslings here, they have been in business as far back as 1211, with a bill of sale to prove it, though Riesling wasn't actually created until the 1450s. The family made their wealth in the production and sale of wine and for many years, living in a tower house until the two-winged estate was built in 1684.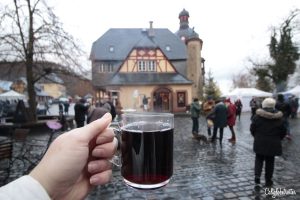 Eventually we made out way to the Christmas Market, but not before good ole St. Niklaus came to read to the children. Desiring more wine, we made our way to the nearest Glühwein stand where we enjoyed the locally produced cup of warmth! Afterwards, we perused the stalls, admiring many of the locally made knickknacks and even snapping a few shots of some festive llamas and reindeers.
Overall Opinion
I'd do it all again in a heartbeat! I thoroughly enjoyed our tour with Jérôme from Bottle Stops who was both a delight and incredibly well-educated on all things wine! He was able to answer any and all of our questions, led us into inviting conversations about the history of wine and was very accommodating! I've already mentioned that I'd love to do another tour, especially a biking tour through the region with my husband one day and when we do, I'll definitely be reconnecting!
So honestly, if you're looking for a wine tour in Germany in the wine capital, then by all means, consider a tour with Bottle Stops! It was such a delight and it would be a shame if you passed up an opportunity to learn more about great German wines!
If you're interested in visiting Germany and are looking for more information, I highly recommend using the DK Eyewitness Travel Guide! Without these guides, I would be lost! This is my travel Bible!
Disclaimer: This post contains affiliate links. If you click on one and make a purchase, I might make a little extra spending money, at no extra cost to you. As always, all opinions are my own and these products/services have been found useful during our travels and come highly recommended to you from yours truly!
More posts from the Wine Region:
The Darling Storybook Town of Rüdesheim am Rhein
The Delectable Town of Bacharach
Cochem & the Reichsburg Castle
Liked this post? PIN IT FOR LATER!!