After months of living in Germany, completely surrounded by land and no water and being from California and all, I needed a beach trip! When I had discovered the wonderful world of Pinterest, Cinque Terre was the first place I pinned and I knew I just had to go!
We decided to go to Cinque Terre, Italy because we wanted to have a change of pace on our vacation and do something a bit more relaxing and scenic rather then just looking at a bunch of buildings that after a while start to look the same.
Cinque Terre in Italian means "Five Villages" which includes Riomaggoire, Manarola, Corniglia, Vernazza and Monterosso al Mare. These five villages are popular for being very small towns hanging on to the cliffs of the coast of Italy, which make for some pretty fantastic hiking.
Lonely Planet ranked Cinque Terre as the 241st best travel destination in the world and "if you ever tire of life, decamp immediately to Cinque Terre". It is one destination that you just can not pass up the opportunity to enjoy!
We had to drive through La Spezia in order to go up the backside of the mountain we would be staying on to reach our hotel. We drove long winding roads, which would have been ridiculous in any other country but somehow totally befitting of Italy, before reaching our hotel. Our hotel, Il Borgo Di Campi, sits on a cliff overlooking the Ligurian Sea, which is connected to the Mediterranean Sea. I booked the hotel strictly for the view!
It only seemed right to rent a convertible, after all, we were going to Italy. It was an eight hour drive from Regensburg to La Spezia and through a lot of beautiful country side. We drove through Austria, which just looks as perfect as anything else in Germany. And then as we were crossing the Italian Alps/Dolomites the land began to change. The rivers were crystal blue and tons of buildings that you could tell were hundreds of years old, some still alive and others falling into ruins, but left to let the passerby imagine the history of its life.
If you decide to drive to Italy, be prepared to pay money on many toll roads but it was worth it because the highways were pretty empty and the roads were nice. It was strange, most of the highway seemed to be one large bridge and tunnels through a valley of mountains.
Although everything comes with a price. Our price was climbing 200 steps up and down our hotel to reach either the hotel room or our car. It was worth it. There were a few negative things about the hotel such as the room staying damp and nothing ever dried. But we also had our own little kitchenette, so we packed a bunch of food with us to make our own breakfast and bring sandwiches along on our excursions. But naturally for dinners, we ate yummy Italian food to our hearts content!
On our first half day there, we decided to drive into Vernazza. Just a bit of advice: leave the car behind and take the trains in. Parking is very limited!
So we parked in this small parking spot way up in the middle of the mountain and had to walk down along a "river" which flowed into Vernazza. You can tell that in 2011 they had a terrible flood as buildings were hanging off the cliff and stairs were dangling leading to nowhere. As we walked into Vernazza, you are immediately surrounded by colorful, vibrant buildings and tourists everywhere! I was not expecting that Cinque Terre would be so popular and have so many tourists. I thought it would still be a quiet unknown vacation destination. I was wrong. There are people sitting everywhere enjoying the sun or trying to find comfort in the shade to cool down. We walked around and finally sat down by the boats and enjoyed the view.
Vernazza
Our vacation was one of relaxation so we didn't rush through anything. Then we strolled along to find some yummy Italian dinner. Only the restaurants seem to close at 5 and re-open at 7. I forgot how late Italians eat their dinners. So we managed to find a restaurant to eat at. Because Cinque Terre is on the coast of Italy, most of their meals consist of something with fish. Considering I hate fish, I had to stick to the basics. I began with a Picante Salami pizza, while Hans went with something fishy. I naturally had a class of delicious red wine, a Chianti. Note to self: don't drink wine when its so hot, it just makes me hotter!
"There is no time to be bored in a world this beautiful"
Before we had arrived in Cinque Terre, the weather had said thundershowers and rain for the whole weekend we were there. I was really rather disappointed. But luckily it was only on Saturday morning. We woke up early intending to go for an easy hike (I had hurt my ankle running to the bus before we left on our trip) and then head into Monterosso al Mare for the day. We waited until about noon to finally leave to see if the storm would clear up. It eventually did, but man those thunderstorms are powerful! It knocked out our electricity in the hotel room and I felt like it shook the building.
We parked in La Spezia so that we could experience the train through the tunnels going to each village. There is a little shop at the train station where you can buy tickets and speak to people about the trails. We wanted to hike, but that day the trails were closed because of the possibility of more rain & thunder. We got off at Monterosso al Mare and immediately found somewhere. We sat right along the beach, overlooking all the people laying out in their beach chairs and umbrellas.
Monterosso al Mare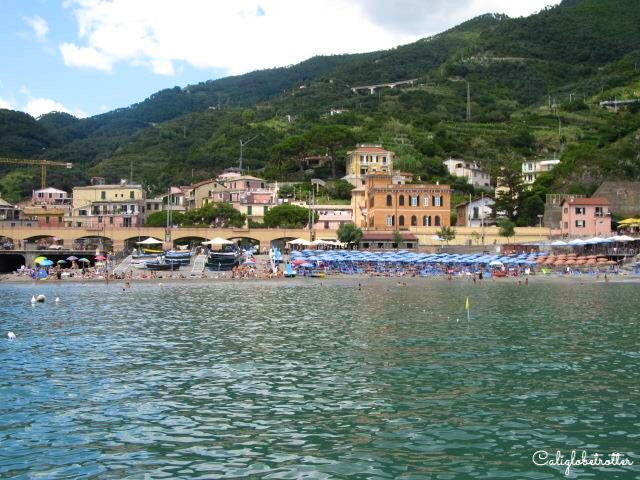 While we were in Italy we ate and drank slower. Enjoying that Italian quality of life. The weather didn't clear up until a bit later in the afternoon. After sitting there for so long looking at the water, sitting in the heat, we decided to just have a beach day. So we rented an umbrella and two beach chairs and went swimming in the cool blue water and laid in the sun.
I brought along a book titled "One Night in Italy" which I had thought would be perfect for our Italian trip. It was an incredibly enjoyable afternoon, and very interesting to watch these two little Italian girls take the beach chairs next to me, and as the hours passed, the Italian family kept accumulating other sunbathers. It was so awesome to hear so much Italian and to watch them interact and kiss each other on both cheeks, yelling loudly and laughing. At that moment I had wished I was a loud Italian with a big family.
Not far off in the distance in Monterosso al Mare, you can see a strange looking round cement block with rectangle squares in it. There are two of these in Monterosso al Mare and they are actually WWII Bunkers that were used to spot in coming enemies. Finding out some of the history of these bunkers is incredibly difficult and whether or not they are open to the public, I am not entirely sure.
On Sunday I woke up bright and early to check the weather outside. It was so nice that I pounced on Hans to get up so we could get a move on! We decided to drive into Portovenere (which is not related to Cinque Terre, but is also highly popular). Portovenere gets its named from the Roman times and is dedicated to Venus – the goddess of love and beauty who arose from the foam of the sea. Good god almighty, parking was rough. But thankfully they had a bus system since we had to park at the top of a huge mountain.
Portovenere
Portovenere was absolutely beautiful. It is a bit bigger than the other villages along the coast, and there were alleys of shops to walk around. I wanted to buy some handpainted sunflower kitchen stuff, but I felt too guilty spending the money so I didn't. Now I wish I had just bought them. Oh well, that just means I have to go back, right!?
Portovenere has a small beautiful church called the Church of St. Peter which sits at the tip of a cliff, overlooking the water. On the other side, we saw a bunch of people swimming and jumping from the rocks, and others laying in the sun on the most uncomfortable slab of stone like it was their bed. It was here we decided to stop and eat our picnic lunch.
The Cove behind the Church of St. Peter we ate lunch!
View from our boat tour
After walking around a bit more, we decided to take a boat from Portovenere all the way to Monterosso al Mare.  There were little stands near the boat docks where you could look at the prices and times and speak to someone about the prices and where you want to go. Here is the website of the company we took. We did a round trip from Portovenere to Monterosso al Mare and back. It was relatively cheap and I think we paid about 24euros per person for the entire day.
Riomaggoire
The boat ride was amazing and offered great views of each village.  The boat docks first in Riomaggiore, which are actually two different towns on different cliffs to be combined into one. One side is the fishing village and the other side was the peasants' village. Riomaggoire.
Manarola
Then the boat continued on to Manarola. At this point I wasn't ready to get off. So we rode the boat to Monterosso al Mare, with the intention of going back on our way home to Manarola. We never did. So I left Cinque Terre unsatisfied because I didn't really get to see every village. We wanted to go here because there is a hiking trail called Via dell'Amore, "Love's Trail. Unfortunately, this was closed due to repairs from the mudslides last year.
 Corniglia
The boat then skipped over Corniglia because it doesn't technically have a dock. It is one the hardest villages to get to and doesn't reach the coast line. Instead it is perched on top of the hill. It is the oldest village dating back to 177 B.C.  Corniglia – by far the hardest village to get a picture of since we didn't stop there. 🙁
Monterosso al Mare…again!
Then the boat sped on to Vernazza, which was formed about the year 1000. And the last stop was Monterosso al Mare, which is the youngest of the villages dating back to 1400 A.D. It is here that there is a strip of beach which one can lay out on and easily swim in the water. We decided to just find somewhere to have something to drink. So I ordered an awesome Lemoncino spritzer! This is a much make at home drink! I was brave and tried the olives….but I just couldn't handle them! At this point, it turned out to be too late to go to Manarola, so we headed back to Portovenere and drove home a bit early.
We decided to have dinner at the hotel, which offered amazing views of the sunset. This was our most romantic dinner and we splurged a bit, with a nice red from Vernazzo called "Cheo", a appetizer with yummy stuff. I got a lasagna and Hans something fishy again. Then we tried to order a Tiramisu, but they were all out and we ended up with this delicious coffee ice cream thing. Oh man it was gooood.  This was our last night in Cinque Terre, so we wanted to enjoy every last bit of the time there. In the morning, we got up early and had breakfast on our terrace watching the sunrise.
Sunset on our last night from our hotel It was one of the most beautiful trips I have ever taken and I cant wait to go back again in the future. The water was so blue, the colors of the buildings so faded and beautiful, and the flowers so vibrant. The food was delicious and the wine was amazing. I was truly sad to leave.  For anyone who loves hiking or beautiful beaches, then I suggest you go to Cinque Terre!
Check off your Travel Bucket List with Lonely Planet's ULTIMATE Travelist book which ranks all of the BEST locations on the planet! It makes for great home decor or a conversation starter!
Disclaimer: This post contains affiliate links. If you click on one and make a purchase, I might make a little extra spending money, at no extra cost to you. As always, all opinions are my own and these products/services have been found useful during our travels and come highly recommended to you from yours truly!
Other Amazing Posts:

Top 10 Most Adorable Towns in Europe!
Liked this post? PIN IT FOR LATER!!
Save
Save
Save
Save
Save
Save
Save
Save
Save
Save