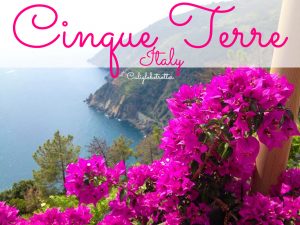 Disclaimer: This post contains affiliate links. If you click on one and make a purchase, I might make a little extra spending money, at no extra cost to you. As always, all opinions are my own and these products/services have been found useful during our travels and come highly recommended to you from yours truly!
Cinque Terre in Italian means "Five Villages" which includes Riomaggoire, Manarola, Corniglia, Vernazza and Monterosso al Mare. These five villages are popular for being very small towns hanging on to the cliffs of the coast of Italy, which make for some pretty fantastic hiking. Not far is Portovenere and together with Cinque Terre, they were designated a UNESCO World Heritage Site in 1997.
Want to See Cinque Terre for Yourself? PIN IT FOR LATER!!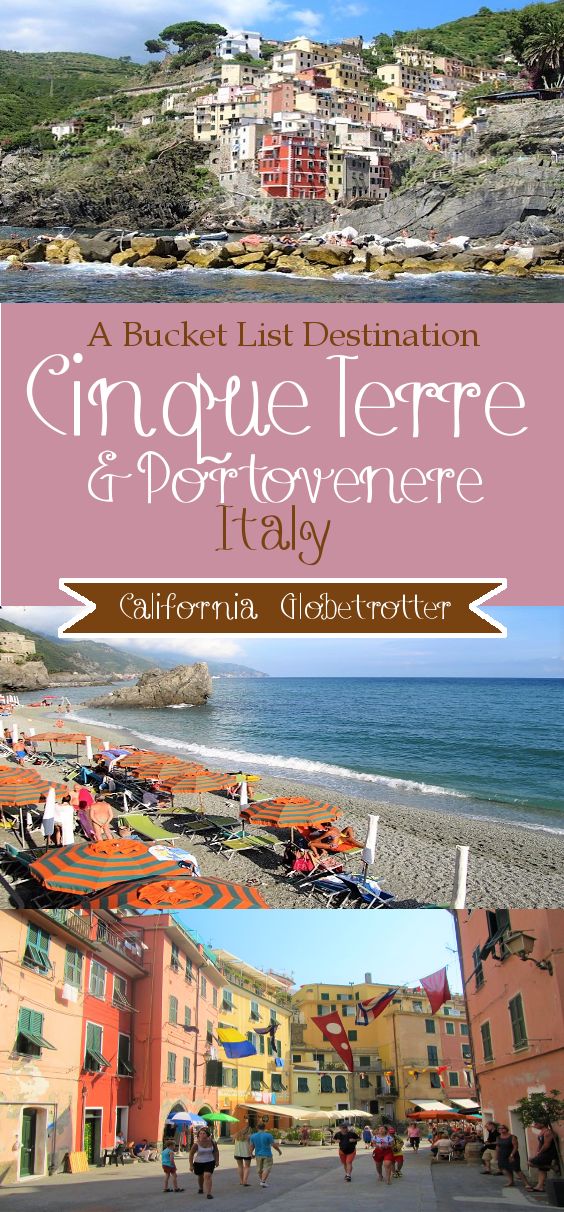 How to AVOID Looking Like a Tourist in Europe
Have you ever seen a picture on Pinterest and so desperately wanted to visit? Cinque Terre had given me hardcore wanderlust and within my first year living abroad, it was the first big trip I HAD to take. 
Lonely Planet ranked Cinque Terre as the 241st best travel destination in the world and "if you ever tire of life, decamp immediately to Cinque Terre". It is one destination that you just can not pass up the opportunity to enjoy! That seems low, but out of 500 destinations, it's pretty high on the list, but don't let the number fool you! 
I was quite taken back by just how busy Cinque Terre was and how many tourists were there. I thought I had found a gem, as compared to Venice that few ventured to, yet, turns out there is a limit now to how many people can visit the small villages of Cinque Terre per year. However, on the plus side, like the evenings in Venice, Cinque Terre seemed to clear out with all day time visitors moving on to their next location, leaving only the tourists who planned to stay overnight. 
Where to Stay in Cinque Terre:
If you're looking for affordable accommodation in Cinque Terre, with amazing views away from the crowds of tourists, then consider Il Borgo Di Campi. Each studio or apartment is simply furnished and has a private garden or terrace furnished to enjoy the countryside surrounded by olive groves overlooking the Ligurian Sea. 
Although it was a tough choice to decide where to stay in Cinque Terre as there were so many accommodation options in any of the five villages or along the coastline. Ultimately it all comes down to to what you;re looking for. We wanted to be able to do a little homecooking to save some money, so a kitchenette was vital.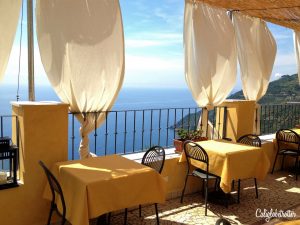 Although everything comes with a price. Our price was climbing 200 steps up and down our hotel to reach either the hotel room or our car. It was worth it. We also had our own little kitchenette, so we packed a bunch of food with us to make our own breakfast and bring sandwiches along on our excursions. But naturally for dinners, we ate yummy Italian food to our hearts content!
Tips for Driving in Cinque Terre
On our first half day there, we decided to drive into Vernazza. Just a bit of advice: leave the car behind and take the trains in. Parking is very limited!
So we parked in this small parking spot way up in the middle of the mountain and had to walk down along a "river" which flowed into Vernazza. You can tell that in 2011 they had a terrible flood as buildings were hanging off the cliff and stairs were dangling leading to nowhere. As we walked into Vernazza, you are immediately surrounded by colorful, vibrant buildings and tourists everywhere! I was not expecting that Cinque Terre would be so popular and have so many tourists. I thought it would still be a quiet unknown vacation destination. I was wrong. There are people sitting everywhere enjoying the sun or trying to find comfort in the shade to cool down. We walked around and finally sat down by the boats and enjoyed the view.
Vernazza
The village of Vernazza has a long history as a bustling fishing community. Even today, you can still see fishers coming and going to collect the freshest fish of the day for many local restaurants. The most iconic photo of Vernazza is from the hiking trail coming in from Monterosso al Mare, but unfortunately I had twisted my ankle just two days prior to arriving in Cinque Terre. But walking though the village is incredibly colorful and sitting down on the banks of the small port eating a gelato is equally enjoyable!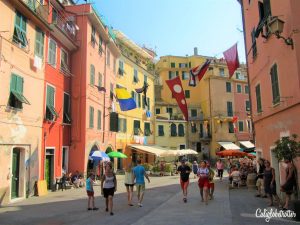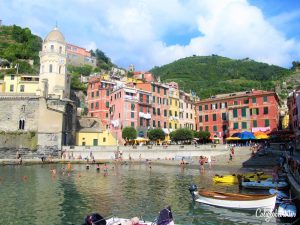 Our vacation was one of relaxation so we didn't rush through anything. Then we strolled along to find some yummy Italian dinner. Only the restaurants seem to close at 5 and re-open at 7. I forgot how late Italians eat their dinners. So we managed to find a restaurant to eat at. Because Cinque Terre is on the coast of Italy, most of their meals consist of something with fish. Considering I hate fish, I had to stick to the basics. I began with a Picante Salami pizza, while Hans went with something fishy. I naturally had a class of delicious red wine, a Chianti. 
The next day we would check out some of the other villages by parking in La Spezia and taking the train through the tunnels going to each village. There is a little shop at the train station where you can buy tickets and speak to people about the trails. We wanted to hike, but that day the trails were closed because of the possibility of more rain & thunder. 
Monterosso al Mare
The largest of the five villages, Monterosso al Mare is the only village with access to a real pebbly beach. Of all the villages, it's also the most popular and the most expensive to stay in. If arriving by train, you will exit directly in the heart of the town, before walking by shops and restaurants. Head along the main promenade for the classic view of colorful umbrellas and beach chairs perfectly aligned along the entire beach.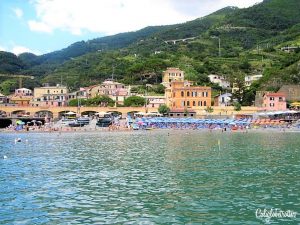 At one end of Monterosso's beach is Il Gigante, a statue holding up the remains of a once majestic villa from the 1900s. You'll also likely notice large round cement bunkers along the coastline left over from the Second World War which are no longer in use. 
While we were in Italy we ate and drank slower. Enjoying that Italian quality of life. The weather didn't clear up until a bit later in the afternoon. After sitting there for so long looking at the water, sitting in the heat, we decided to just have a beach day. So we rented an umbrella and two beach chairs and went swimming in the cool blue water and laid in the sun.
One of the most striking buildings in Monterosso al Mare in the Old Town Chiesa di San Giovanni Battista (Church of St John Baptist) located in Piazza Don Giovanni Minzoni with it's charming black and white stripes both inside and outside. 
Portovenere
Located at the tip of the peninsula, Portovenere is not considered to be part of Cinque Terre, but is equally just as charming and is the entrance to the Gulf of Spezia. From here, it is possible to hop aboard one of the many tourist boats which stop at each of the villages, sort of like a hop-on-hop-off boat tour of the five villages.  Prior to getting on board, we decided to check out the town.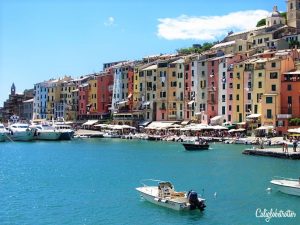 Portovenere was absolutely beautiful. It is a bit bigger than the other villages along the coast, and there were alleys of shops to walk around. I wanted to buy some handpainted sunflower kitchen stuff, but I felt too guilty spending the money so I didn't. Now I wish I had just bought them. Oh well, that just means I have to go back, right!?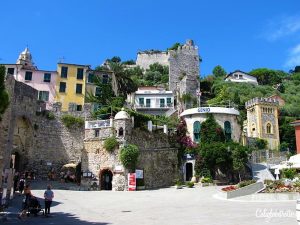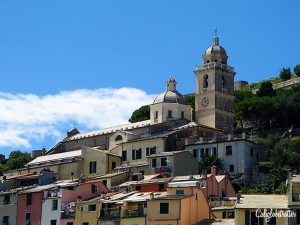 Portovenere has a small beautiful church called the Church of St. Peter which sits at the tip of a cliff, overlooking the water. On the other side, we saw a bunch of people swimming and jumping from the rocks, and others laying in the sun on the most uncomfortable slab of stone like it was their bed. It was here we decided to stop and eat our picnic lunch.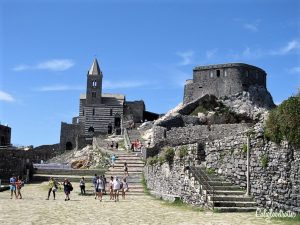 Directly behind the church was a little cove where we discovered locals sun bathing and playing along the rocky shore. We felt that it was a beautiful quiet spot to sit down and enjoy our picnic lunch.
View from our boat tour
After walking around a bit more, we decided to take a boat from Portovenere all the way to Monterosso al Mare.  There were little stands near the boat docks where you could look at the prices and times and speak to someone about the prices and where you want to go. Here is the website of the company we took. We did a round trip from Portovenere to Monterosso al Mare and back. It was relatively cheap and I think we paid about 24 euros per person for the entire day.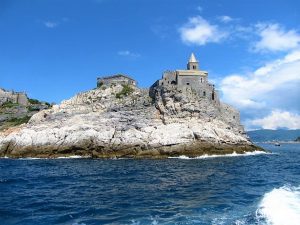 Riomaggoire
The boat ride was amazing and offered great views of each village.  The boat docks first in Riomaggiore, which are actually two different towns on different cliffs to be combined into one. One side is the fishing village and the other side was the peasants' village and is the southern-most village. Be sure to walk around the staircases or down one of the many hidden alleys. Enjoy the picturesque harbor and more colorful fishing boats lining the harbor.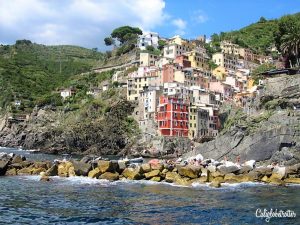 Manarola
The second smallest village of the five, Manarola is equally vibrant and picturesque. It was the next stop along our hop-on-hop-off boat tour, and we considered getting off, but it was clearly the most popular stop. We decided that we would hit up the town on the way back, however, we never made it. We wanted to go here because there is a hiking trail called Via dell'Amore, "Love's Trail. Unfortunately, this was closed due to repairs from the mudslides last year. So I left Cinque Terre unsatisfied because I didn't really get to see every village.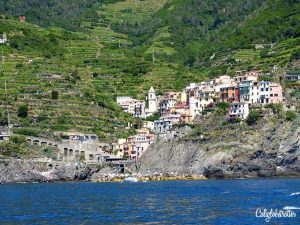 Corniglia
The smallest village of the five, Corniglia is also the most difficult to reach therefore the boat completely skipped over Corniglia because it doesn't technically have a dock. It is one the hardest villages to get to as it doesn't reach the coast line. Instead it is perched on top of the hill. It is the oldest village dating back to 177 B.C.  Corniglia – by far the hardest village to get a picture of since we didn't stop there.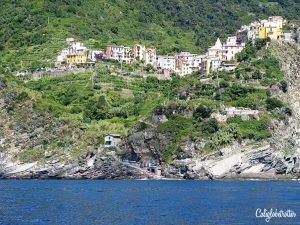 Overall Experience
The water was so blue, the colors of the buildings so faded and beautiful, and the flowers so vibrant. The food was delicious and the wine was amazing. I was truly sad to leave and I felt like my photos didn't do the villages justice as this was before I invested in a quality camera. I was also quite sad that I had twisted my ankle and the weather wasn't always perfect for hiking which prevented us from the most iconic views of the villages. For anyone who loves hiking or beautiful beaches, then I suggest you go to Cinque Terre!
If you're interested in visiting Germany and are looking for more information, I highly recommend using the DK Eyewitness Travel Guide! Without these guides, I would be lost! This is my travel Bible!
Disclaimer: This post contains affiliate links. If you click on one and make a purchase, I might make a little extra spending money, at no extra cost to you. As always, all opinions are my own and these products/services have been found useful during our travels and come highly recommended to you from yours truly!
Other Amazing Posts:

Top 10 Most Adorable Towns in Europe!
Liked this post? PIN IT FOR LATER!!
Save