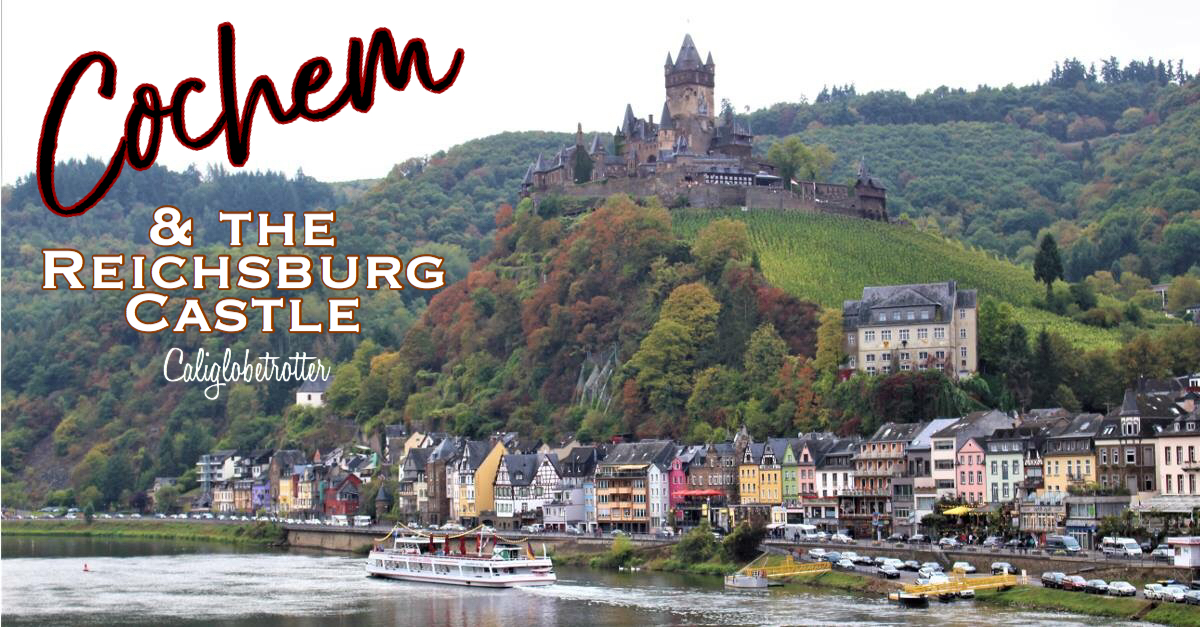 Disclaimer: This post contains affiliate links. If you click on one and make a purchase, I might make a little extra spending money, at no extra cost to you. As always, all opinions are my own and these products/services have been found useful during our travels and come highly recommended to you from yours truly!
When you think of Germany, you undoubtedly imagine castles like Schloss Neuschwanstein or half-timbered towns like Rothenburg ob der Tauber. But what if I were to tell you, that there is more to Germany beyond the most touristy places of other romantic castles and historic towns offering a glimpse into the past? Would you believe me?
I hope so, because I'm about to introduce to you the small historic town of Cochem, located in Rhineland-Palantine, not far from Koblenz which sits along the left bank of the Mosel river making it one of the top attractions in the Mosel Valley!
In case you're interested, PIN IT FOR LATER!!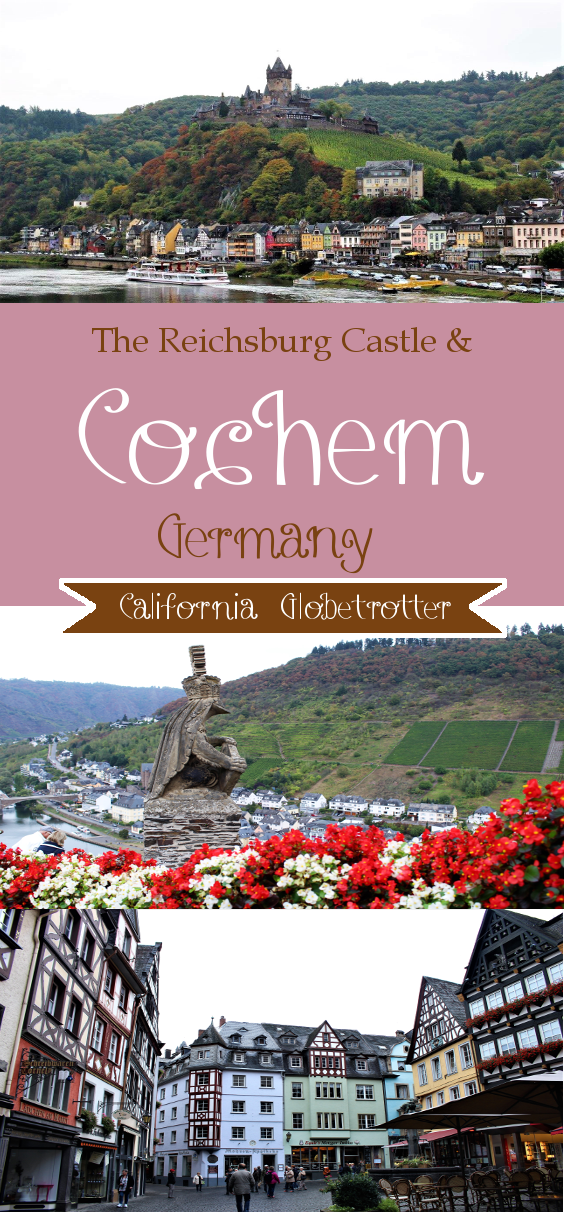 This article is now available as a mobile app. Go toGPSMyCity to download the app for GPS-assisted travel directions to the attractions featured in this article!
How to AVOID Looking Like a Tourist in Europe
Quite off the beaten track in Germany, but not completely unknown to tourists, this picturesque town with his cobbled-stoned allies and half-timbered houses is packed with quaint cafes and restaurants, surrounded by rolling hills of vineyards topped with the an Imperial Castle which is one of the most unique castles in Germany to visit and is as STUPID PRETTY as they come!
Have I wet your taste buds yet?
While the town is certainly small and can be easily seen within a day, there are plenty of reasons to extend your stay. No need to hit this town with a wham-bam-thank-you-ma'am, checked you off my bucket list!
Undoubtedly the reason most tourists flock anywhere is because of the hope they will be transported back to a time when kings and queens ruled, prince charming rode up on his white horse and saved the damsel in distress and towns that are absolutely Disney-eqsue. Thanks a lot Disney for giving me unrealistic hopes & dreams!
Reichsburg Castle (aka Cochem Castle)
Though fall was just getting underway when we visited, autumn is clearly the best time of year to visit Germany as the country in plunged into vibrant reds, yellows and oranges in what is known as a "Golden October". So it's rather redundant of me to say as it's so obvious, but Cochem is one of the best places to visit in Germany in autumn!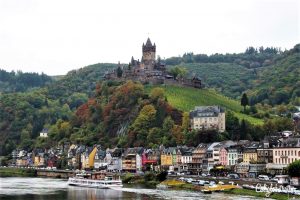 The castle we see today perched above the scenic town is not the castle that originally stood there in the 12th century. That castle was destroyed by the French King Louis XIV in 1689. The castle would sit in ruins for 180 years before a wealthy Business man named Louis Ravené decided to buy the ruins and restore it to it's original Romanesque beauty. Surprisingly, Ravené began reconstruction on the castle the same year that King Ludwig II of Bavaria decided to reconstruct the now famous Schloss Neuschwanstein.
Different days bring different events to the castle. You may find a wine fest going on, a Castle fest (first weekend in August), a Knight's meal (every Friday & Saturday) and so much more making for some of the best experiences to have in Germany!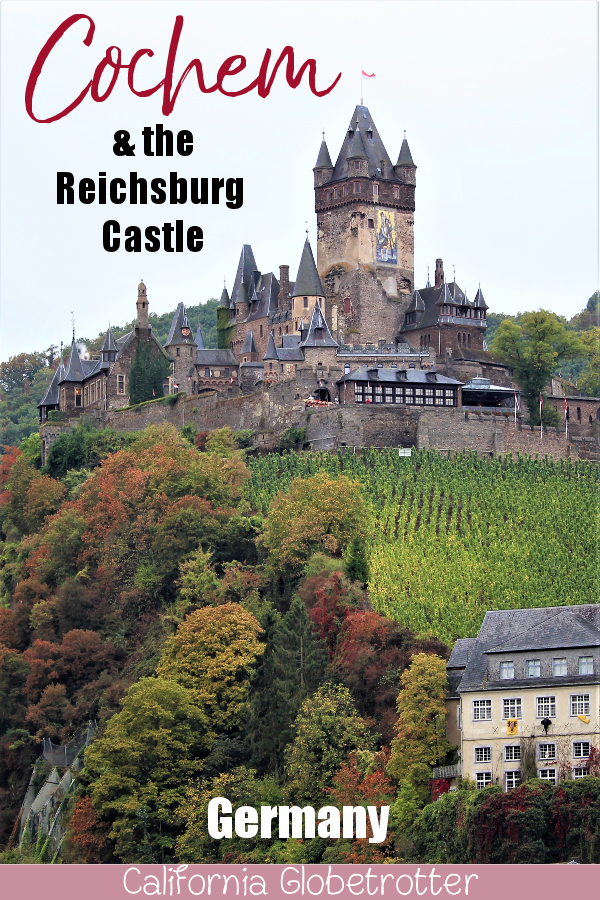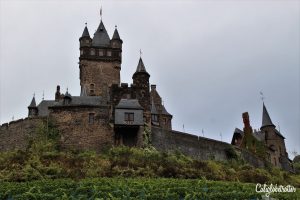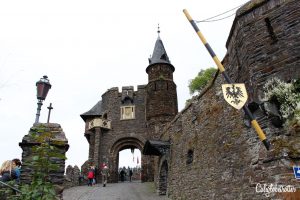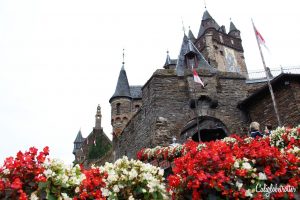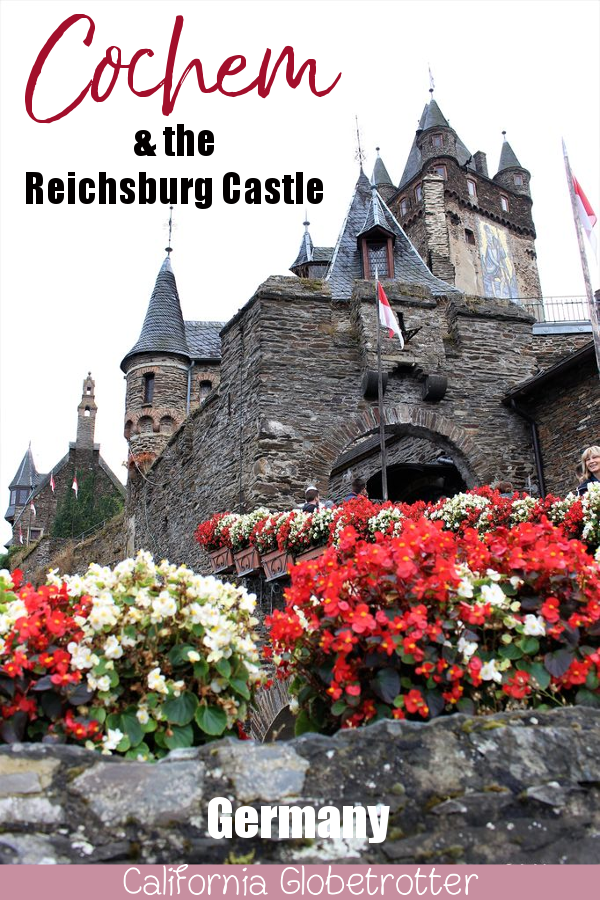 Tips for Visiting the Reichsburg Castle
The castle is only open from March 12 – November 1st (+/- a few days depending on the year) from 9am to 5pm with guided tours.
Adults cost 6 €, children 3 € (Details here)
The tour takes about 40 minutes and are in German but come with an English translation card.
There is no parking at the castle, and highly not recommended to try.
There is a shuttle bus which takes you up to the castle. (Details here)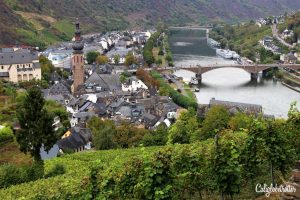 Have I suckered you in yet? Is your mouth drooling yet? No, well here's another picture to make your jaw drop!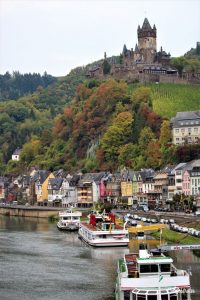 Take a Stroll Along the Mosel Promenade
The Mosel river is one of the longest tributaries of the Rhine. Like the Rhine, the Mosel was once an important trading route between France and Luxembourg. The banks of the river are steep and are lined with endless rows of grapevines and castles. Castles were built along the river as a way to collect tolls from merchant vessels coming up and down the rivers.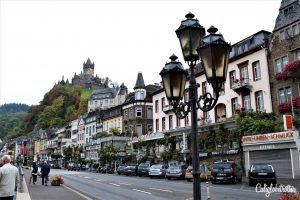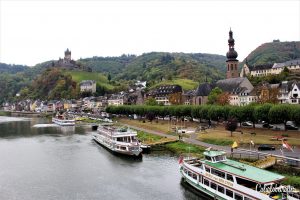 Meander Through the Historic Town
Put away your map and stroll through the small allies and hang out in the Market Square. Here you'll find the Rathaus (City Hall) and the pretty St. Martin fountain. Here you'll be able to stock up on some souvenir goodies or stop and enjoy a cafe! If you love to staying in hotels in the heart of the town, then consider staying at Hotel am Markt, directly in the square. We enjoyed an incredibly comfortable stay here!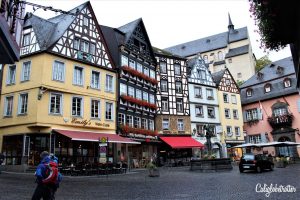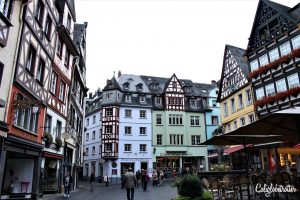 Go Wine Tasting
Considering that you'll be in the heart of the wine region, you'll be able to enjoy some of the region's most delicious wines throughout the entire year. During the month of June, there is the Mosel Wine Week where you can try more than 300 wines from 12 wine stands! (But not as once!)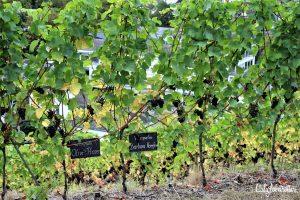 Take a Ride on the Mosel-Wein Express
Not looking forward to doing a bunch of walking? Then hope aboard the Mosel-Wein Express! This small street train is an affordable way to explore Cochem and is packed with fascinating information about the historic town. The ride takes about 30 minutes and begins near the Visitor Center. You can catch the train from under the Main Bridge near a colorful wall mural of the town's history.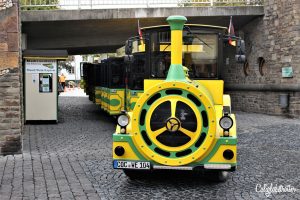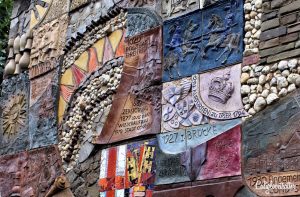 Sample Some Mustard
Yes, mustard. I know, it sounds strange but believe me it's quite interesting! Just across the river and to the left of the bridge, is the historical mustard mill of Senfmühle. It is one of the oldest mustard mills in Europe and one of the last few mills. There are assorted kinds of exceptional gourmet mustard which still follow historic recipes dating back to the 15th century and select ingredients. Sampling is free!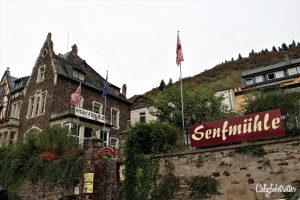 Overall, I'm glad we went a little out of our way from the Rhine Valley to come here for a day trip! I specifically waited until the fall to come to this town because every picture I have ever seen of the town and castle was stunning in fall foliage. It was just a dreamy and just as magical as any other castle in Germany! I particularly enjoyed the lack of tourists here and visiting Cochem is one of the best things to do in Germany in autumn!
There is plenty more to do and we were sad that we couldn't squeeze it all in! It's definitely one of the most breathtaking regions in Germany, so we will return!
If you're interested in visiting Germany and are looking for more information, I highly recommend using the DK Eyewitness Travel Guide! Without these guides, I would be lost! This is my travel Bible!
Disclaimer: This post contains affiliate links. If you click on one and make a purchase, I might make a little extra spending money, at no extra cost to you. As always, all opinions are my own and these products/services have been found useful during our travels and come highly recommended to you from yours truly!
More on the Mosel Valley & Nearby:
The Delectable Town of Bacharach
The Darling Storybook Town of Rüdesheim am Rhine
Liked this post? PIN IT FOR LATER!!
Save
Save
Save
Save
Save
Save
Save
Save
Save
Save