I am sure that at some point, every expat living abroad writes one of these comparison blogs about the differences between America and wherever they are living. Living in Germany has been a complete 360* change in how I live my life compared to in the States. I don't feel that I have ever truly experienced "Culture Shock" of all the times I have lived in Germany. It has always felt right to me, normal as if it had always been missing from my life. But there are definitely some strange German quirks that take some getting used to!
1. Supermarkets
In the US, we have aisles upon aisles of delicious food to choose from. And within those aisles, there are multiple options to pick from of the same product!
For example, peanut butter. We have shelves and shelves of different kinds of peanut butter. Not here in Germany. You get two options, expensive and inexpensive. The expensive is the good kind at 2.59€ and the inexpensive at 1.59€. However, here in Germany size apparently doesn't matter and peanut butter comes in smaller sizes. And these jars, are about a little more than 1 measuring cup compared to the massive jar you get in the states.  Needless to say, if you're lucky, you MAY get two options but the bigger the supermarket, the more likely you could have a few more options!
2. Chhhhheese
You would think that being in a part of the world where you can find the biggest, fattest slabs of cheese, you would have more than one kind of cheese! And I am a CHHHEEEESE kid! I also love to buy shredded cheese… A LOT! But there are only a few kinds of shredded cheese you can get here in German supermarkets. I definitely miss having more options such as cheddar cheese or Mexican cheese etc. I can sometimes find cheddar cheese but then it comes in the large Costco/Metro super-sized fashion. But if you're serious about your cheese, you can go to the Metro which is like a Costco and grab one of these babies!
3. The Kitchen!
As an American consumer, coming from the land where everything is overly massive, I am quite used to and fond of large, double door refrigerators. I enjoy the simplicity of having plenty of room for anything in my fridge, no matter the size. Here in Germany? It is standard to have a fridge that is about half the size of the standard American fridge.
Unfortunately, I am not so lucky and have an old style, fridge which can barely hold enough food for my traditional Thanksgiving dinner during the holidays. I miss my American fridge A LOT and when I come into contact with someone who has one here, I find myself hugging their fridge and eyeing it with jealousy.
For the record, that little white box in the top right hand corner, ya, that's my freezer. It's about the size of a shoe box…
4. BEER o'clock!
Beer is not just an alcoholic beverage in Germany, it is a way of life, a part of every day culture. Germans are incredibly proud of their beer so why should you have to wait until 5pm for to enjoy one?
11 o'clock beer on your break? HECK YES! Count me in! It is commonly acceptable here in Germany to go to lunch and have a beer and then return to work. This is sooo very un-American. People do it in the States, but then they get looked at because they're drinking before 5 o'clock, therefore, they MUST be an alcoholic!
In Germany, every hour is 5 o'clock! 
I once had a friend who stayed with me and was shocked when one day we went for a walk around town and I suggested a break to sit down and have a beer. She looked at me like I was crazy and said, "Now? It's only 1pm!!" I said, "What better time!" Plus, German beer is absolutely delicious and CHEAP! There is a law that states there must be at least one non-alcoholic beverage cheaper than beer on the menu! And this is usually sparkling water.
 5. Coffee & Cake Break
Another amazing thing is taking time out of your day for a "coffee and cake" break. You can go for a nice cup of coffee and a slice of cake at any time of the day. Which is especially relaxing on a cold day during the winter or a nice afternoon sitting outside on the streets of Regensburg. My waist line does not enjoy this new cultural tradition, which I limit myself to mayyybe once or twice a month if that. This is just something we don't do in the States. I can't think of any coffee and cake shops in the US that I have ever been to just because.
6. Closed on Sundays
The US is considered the land of workaholics and 24 hour shops and drive-thru anythings. As an American girl who loves to shop, I took advantage of shopping whenever and wherever I felt like it. I never had to worry about what day of the week it was or what time a store closed.
But here in Germany?
Be prepared to plan in advance if you need food from the supermarket before a Sunday or holiday. Be prepared to buy anything you need before 8pm (at least in Bavaria – 10pm in other states). Bavaria is especially strict that ALL stores, even supermarkets close no later than 8pm. Sundays are still considered a sacred family day where everyone is entitled to a day of rest. That means everything except restaurants, bars and the movie theater. Otherwise, ALL shops are closed. Sundays are a day for spending it relaxing around the house, a long casual walk or a trip to the nearest coffee & cake shop!
7. The Wonderful World of Public Transportation
I looooooove having my car in the US, going for long drives, with the windows down and the music up. There is nothing better than the wind blowing in my hair and just cruising down PCH enjoying the fantastic ocean views.
But, in Germany, I don't need a car. I can get around so easily within a city with public transportation that it makes it unnecessary to own a car. It makes me wish that the US had a better transportation system all over the country.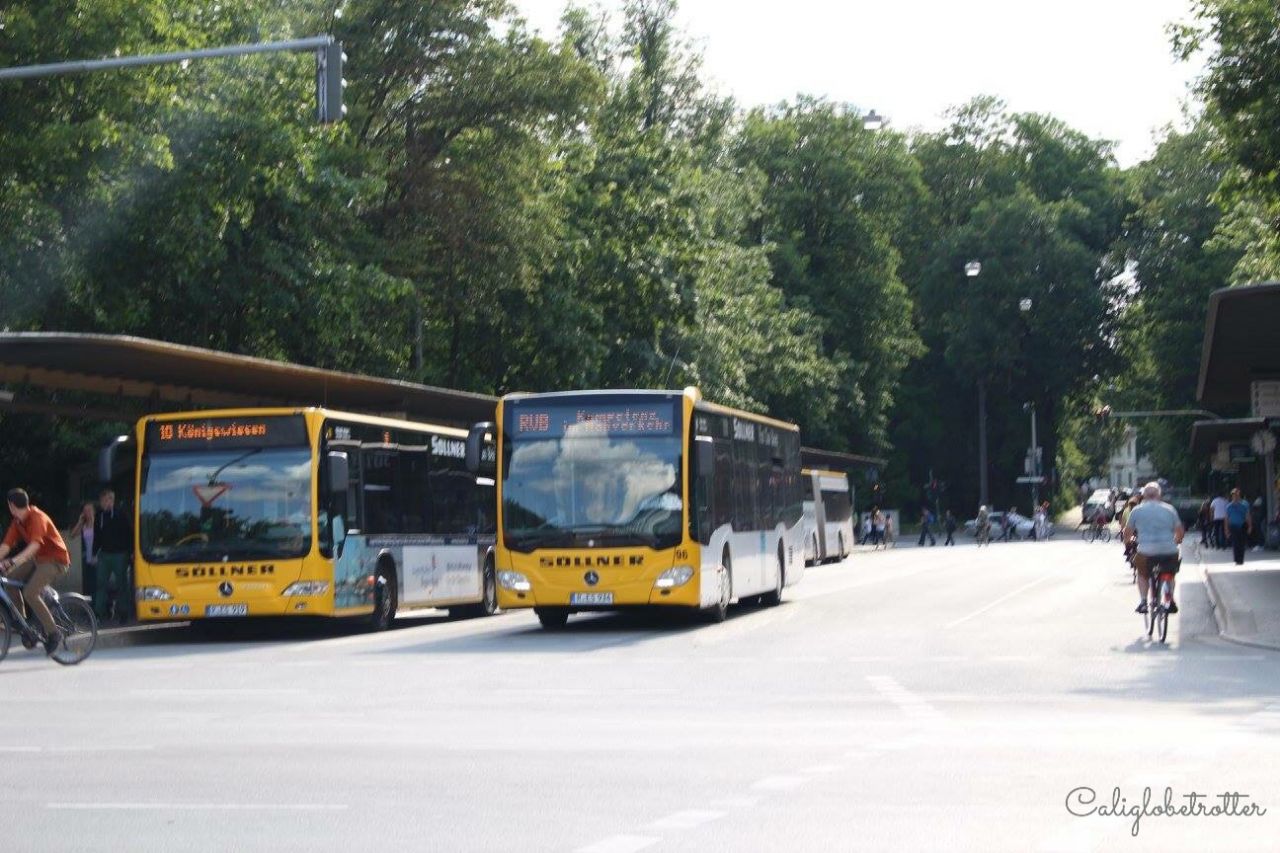 8. The Infamous "Lover's Bridge"
I'm not going to lie, but I am a relatively spoiled only child and I had the comfortable pleasure of growing up with a Queen sized bed all to myself. Until I moved to Germany.
When Hans and I finally moved in together, we invested in a brand new bed. Unfortunately, buying a Queen sized mattress is very expensive and rather difficult to get into small apartments. So the most common form of a "Queen" sized bed in Germany (and many parts of Europe, especially in hotels) is putting two twin sized mattresses together. The downside to this is falling into the crack between the two mattresses, so you are forced to try to manage with the "Lover's Bridge". This lovely device is a long, foam T that is supposed to keep you from falling into the center. Unfortunately, this doesn't always work. Eventually though we did manage to buy a full Queen sized foam mattress topper to place over our two beds. Now I sleep much more soundly! zzzz….
 9. Dinner Reservations For Two
Want to go out for dinner at the last minute at 5pm in the States? Sure no problem! You might have to wait 10-15 minutes and add your name to a list before you can be seated, but no big deal.It's rare that you make a dinner reservation for a casual dinner.
Here in Germany, it is highly recommended that you call the restaurant beforehand and make a reservation. This has taken me a long time to get used to. It is possible though, that if you walk into a restaurant around dinner time without a reservation, you may not be able to sit down to eat, even though the tables are empty with reservation cards for 8pm. If you're lucky and you get to the restaurant at 6, they will tell you the tables are reserved and that you have to be finished by 7. I have a hard time with this because sometimes we don't know we are going to end up eating out for dinner and it can be hard sometimes if you're just a "walk-in" customer.
10. The World-Famous Autobahn!
I mentioned earlier how much I loved to drive my car, Betsy, in the States. For me, driving is very therapeutic especially when it's just me and the road. Hans and I have taken quite a few road trips and once we hit the Autobahn, I am giddy like a little school girl at the thrill of driving so fast. Sometimes I am just downright astounded to see how fast other drivers are speeding past me, coming out of nowhere.
Coming from the States, anything over 65mph is considered reckless driving even though I've been known to break the speed limits! Germans though are incredibly amazing drivers and take driving very seriously. Now that I've had my German license for a year, I understand the need for speed a little better!
Save
Save
Save
Save
Save