If you've ever moved anywhere in your life, perhaps you'll randomly meet someone from where you just left. When you move across the world, it's even more fascinating to meet someone who literally swapped places with you.
You start to wonder why they moved there, when you so desperately wanted to leave. What is the appeal? But by becoming friends and getting to know them better, perhaps you can finally see what you were so blind to beforehand. Home is a place you grew up. You knew everything about it, or at least you thought you did. You've walked by that big church a million times and never gave it a single thought. You've walked down that street a hundred times and never saw that cute little cafe. That is, until you discover your hometown through the eyes of a newcomer.
Such is the case when two girls on two opposite sides of the world discovered one another's blogs. One sunny day, I was in the middle of my morning routine, blogging, posting on Instagram and  checking e-mails when I opened an e-mail about a potential collaboration. Jennifer from Discovering Legacies, had asked if I would be interested in sharing my favorite destination in Germany, along with other travel bloggers. I immediately said, "Yes! Why not?"
Further into the e-mail Jennifer introduced herself as having been born and raised in Germany who moved to Los Angeles, California and got her BA in English. She enjoys all the wonderful things that make California so special.
It practically sounded like my life story in reverse! I'm from San Diego, California, got my BA in German and moved to Germany for the castles and small towns!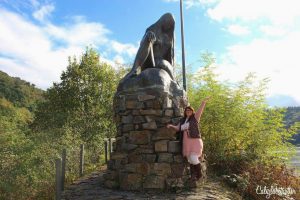 We knew then, we had to do an interview and see what it is about each other's home countries that we loved sooo much that we just had to pack up and move! Read my full answers on Jennifer's page here.
So, without further ado…here are our questions and answers about swapping homes!
When did you move?
She said: I moved in mid-August 2008, one year after being out of high school, at age 19.
I said: I moved to Germany from Montana in September 2012 after getting my TEFL Certificate in London.
With whom did you move?
She said: Nobody. All my family and friends stayed back in Germany. I only knew my exchange family in Orange County.
I said: I moved alone to Germany. I had no family here and only had one friend in Germany who let me stay with her until I found a job.
Why did you move/choose there? 
She said: At 16, I filled out a form for a four-week high school exchange program stating that I like palm trees and swimming (or the ocean – whichever, it was close to these). An unknown, super amazing human being decided to match me with an exchange family in Orange County, California. When they showed me Las Vegas, San Diego, and Los Angeles, I fell in love with L.A.'s traffic and terrible air quality, jk, I mean the beaches and people. Also, it felt like home. Another reason was that I never wanted to study in Germany. I've always longed to study abroad.
I said: My life has always been intertwined with Germany. I began learning German at 13-14, had a family trip to Germany, did a one-month exchange program with a family in Wiesbaden, studied abroad in Heidelberg and finally made the permanent decision to move back.
What was the hardest thing to adjust to?

She said: The hardest thing to adjust to were the people. There were the crazies, who would stalk me or do things for a living like I had never known anyone to do, i.e. being THE pickup artist on TV; there were the homeless people who were in such bad shape as I had never seen it before; there were the gang members who told me things I wish I could forget; and there were the people who were two or more hours late – come on y'all – that was a huge culture shock as "punctuality" stands next to "German" in the dictionary.
I said: The strict rules by which Germans live by. There are very strict rules, especially depending on where you live in Germany, that dictate when and how you can do something. It was hard to adjust from being able to do laundry, vacuum or even blow dry my hair whenever I wanted to only certain hours of the day.
What was the best thing about your move?
She said: The best thing was my personal growth. When I tell people today that at 19 I would sit at a table with new people and old friends and not say more than two sentences, they look at me in disbelief. I transformed from a shy introvert into a social butterfly with lots of friends from all kinds of cultures and backgrounds. I learned how to navigate life in a foreign country, with different languages and cultures on a different continent.
I was also fortunate enough to meet so many interesting people who have changed my life and myself for the better and I've surely become stronger, very non-judgmental, and open-minded.
I said: At first I thought it was the food and travel. However, I wouldn't know it till much later, but moving to Germany would be the best decision I have ever made because it led me to my husband. 
What do you miss?
She said: One thing Americans are just not good at making: bread, rolls, unsalted butter and pastries, chocolate, gummy bears, and all the other food. The US just don't care as much about food as Europeans. Just compare fresh produce from both the US to Germany, Italy, or France, for example.
I said: Only a Californian would say this, but I miss In'N'Out like crazy! There's nothing better than grabbing an old-style burger and driving down PCH with the windows down and amazing sunsets.
What do you not miss?
She said: I don't miss the uptightness (I didn't even think that's a word, but according to Word, there's no mistake) of Germans: they can be so tense in some situations.
Three examples:
I meet an Uber driver and invite him to my party. If you did that in Germany, the Uber driver would most likely politely decline because he would think I'm weird.
If you're at a party in Germany, you most likely find one group of friends OR several groups of friends together. If you don't know anyone, you're probably going to stay the outsider. In California – NO WAY JOSE! You can walk up to people, they will spark a conversation with you, and there will be lots of people from different places. I have met SO MANY of my closest friends at parties!
Germans play by the rules and want everything to work at a certain pace by a certain time. If it doesn't they can get upset. In L.A., people are more relaxed (admittedly, some of them make be puffing too much of a certain substance).
I said: In no way do I miss California traffic. It was horrendous and I wasted so much of my time getting anywhere because of traffic. At all hours of the day! It's so wonderful to have the autobahn and be able to drive as fast as you want on certain portions.
What is your biggest pet peeve about your new home?

She said: Capitalism – but that's all over the US, not just California. Education is expensive as hell, rent is rising literally by the minute, and insurance will cost you an arm and a leg, especially the extra/hidden fees. Especially government things are ALL ABOUT MONEY! If people could, they would buy their own intelligence with it (they already buy others'). Bleeeeh… And actors/models/producers who are only trying to be your friend if you can get them somewhere.
I could add more things such as big ol' gaps in between toilet stalls or only using forks to eat, but these things are generalizations about the US and I already wrote about them here.
I said: The constant need for Germans to stare is so annoying, nerve-wrecking and awkward! I have seriously had to directly ask people, "Can I help you!?" to get them to stop staring! It's so rude! Stop it!
How did your friends/family react to your move?

She said: My friends were sad, of course, but happy for me at the same time. My mom is the less emotional one of my parents, so she made it seem like she didn't care much, but dad was very sad and always afraid that something will happen to me.
I said: My mother supported and encouraged me to go because she knew it was my dream. But both of my parents are always worried something might happen with all the craziness in the world right now. At the beginning some family though it would turn into a big, expensive mistake. Turned out it was the best decision!
What can you recommend to others who want to move to California/Germany?
She said: California is a very diverse state and so are its cities. Definitely visit before you move and see if you fall in love with the place or/and if it feels like home. L.A. surely has the best climate, but can get overwhelming and crowded at times. San Francisco has a European feel to it, has gorgeous beaches, but you have to deal with foggy and windy weather! There are lots of college towns along the coast, and lots of family friendly places as well. I'd call San Diego the more compact, but also more "boring" version of L.A. Also, definitely consider if any of these cities are somewhere where you want to raise your kids or just a place for a phase in your life.
I said: Visit the small villages and towns, don't just go to the big cities. You'll find more of the history, culture and traditions to give you a true sense of the Germans. And try all the food!
What's better about California/Germany?

She said: Uh, have you ever been on the 101 – the Pacific Coast Highway – the PCH? The turquoise-blue ocean, the beach, the palm trees – it can't get any more beautiful than that! Also, I LOVE the diversity of cultures and foods and the high number of creatives and dreamers, especially in L.A. Most have a very optimistic outlook on life. And even if your job or whatever else is shitty right now, L.A.'s sunny skies will instantly make you feel better and a visit including an hour of people watching at Venice Beach will surely make you smile.
I said: It's not necessarily what's better about Germany specifically, but what's better about Europe as a whole. Europe is incredibly old and there is a ton of fascinating architecture, history and traditions that the US just doesn't have. Plus fairy-tale castles!
Will you ever move back?
She said: You know, I've said I'll never leave L.A. and I'll never move back to Germany. Both have happened – somewhat. But at the end of the day, I don't see myself in Germany for the rest of my life for sure! In L.A. – that's much more likely (it just has to be with another President).
I said: Eventually. When the time is right, or after I've traveled to all the places I want to go. The struggle is real to be so far away from family. I love both places so much. Maybe I'll just jump back and forth every decade!
Did you have issues regarding language?

She said: At first, definitely. I failed an English literature class in my first semester. The teacher actually said: "You need a lot of help" – yeah lady, you try moving to a different continent with a different language and write an essay in a form you're not familiar with. I definitely should have taken that class way later. But you know what – I switched my major to English a couple of years later.
I said: Yein. (Yes and no for you English speakers). German is an incredibly hard language to learn! There are and always will be jerks out there who treat non-native speakers unfriendly, and while that is incredibly demotivating and frustrating, I have to remember that they will always be jerks. Don't even get me started on Bayerisch! 
Where would you recommend others to visit in your former home and in your current home?
She said: Oh man, I made a whole audio guide on the places to see in L.A./California. But to shorten this: Include a few O.C. beaches, Venice Beach, drive along the PCH, and San Francisco for sure. DO NOT go to L.A. without someone who knows the city well. You may end up disappointed and I would never want that. Ask away if you need tips.
For Germany, I'd recommend Berlin, Munich, and Hamburg city-wise. And if you're a history buff, drive along the Castle Road in Southern Germany! For beautiful countryside, go to the South of Bavaria or The Black Forest (and please try the real deal of Black Forest Cake!) or check out "Saxon Switzerland" with the Bastei Bridge. In case you want to experience a German fairytale town, visit my hometown Schwaebisch Hall or Barcharach.
If it'll be your first time visiting, check out my article and video about 16 things to know before traveling to Germany and my two cents about how to budget for you Germany trip.
I said: When it comes to California, it's amazing how many people have never actually heard of San Diego. Many either want to go to San Francisco or Los Angeles. But that's it. San Diego is a gem and it's so incredibly beautiful and gets easily overlooked, but there is definitely a lot to do there! Going to Balboa Park will definitely be worth your time!
For Germany, Regensburg is also easily overlooked by big cities like Berlin, Frankfurt or Munich. and because it's between Nuremberg and Munich. It too is a charming gem, filled with beautiful alleys and colorful buildings. But there are so many wonderful places, I even wrote a post about the top places to visit in Germany!
What's your favorite thing to do in your current vs. former home?
She said: My favorite thing to do in California is drive along the PCH (only when there's no traffic), chill at a beach with some friends, and attend Da Poetry Lounge in L.A.
In Germany, my favorite thing to do is EATING, closely followed by checking out castles and other historic buildings.
I said: Going for long bike rides along the river. It was never something I did in the US either because there were no biking lanes and there are crazy drivers or because I didn't have a bike. My ultimate favorite thing to do is to visit all the romantic castles in Germany!
Which one do you call home?
She said: L.A. is my home because it feels like home! Germany never has. I've always wanted to venture out and leave that country…
I said: Both will always be home. But I'll never feel 100% at home here in Germany. But wherever my husband is, is where home is!
__________________
Turns out, we have a lot in common about how we feel when it comes to things we love and despise about both countries! We were both brave souls who ventured half way across the world for the life we knew we wanted since we were both tweens.
It's amazing how similar people's stories can be, even thousands of miles apart! Just goes to show that no matter where we originate from, we all want the same things in life. A beautiful place, good beer, friends and family and happiness in all that we do!
To read my full answers, head over to Jennifer's blog, Discovering Legacies!
Liked this post? PIN IT FOR LATER!!
Save
Save
Save
Save
Save
Save
Save
Save