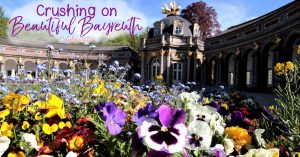 Disclaimer: This post contains affiliate links. If you click on one and make a purchase, I might make a little extra spending money, at no extra cost to you. As always, all opinions are my own and these products/services have been found useful during our travels and come highly recommended to you from yours truly!
Perhaps you may have heard of Richard Wagner along your travels through Germany, especially if you have visited any of "Mad" King Ludwig II of Bavaria's castles as he was often the inspiration behind many of the brilliant themes throughout the castles. But perhaps you've never heard of Bayreuth, a relatively quaint sized town in northern Bavaria that lovers of German music associate with. But Bayreuth is so much more than just that and owes much of its appeal to the Margravine Wilhelmine who brought sophistication and charm to the town. 
Want to Visit Germany's Baroque City? PIN IT FOR LATER!!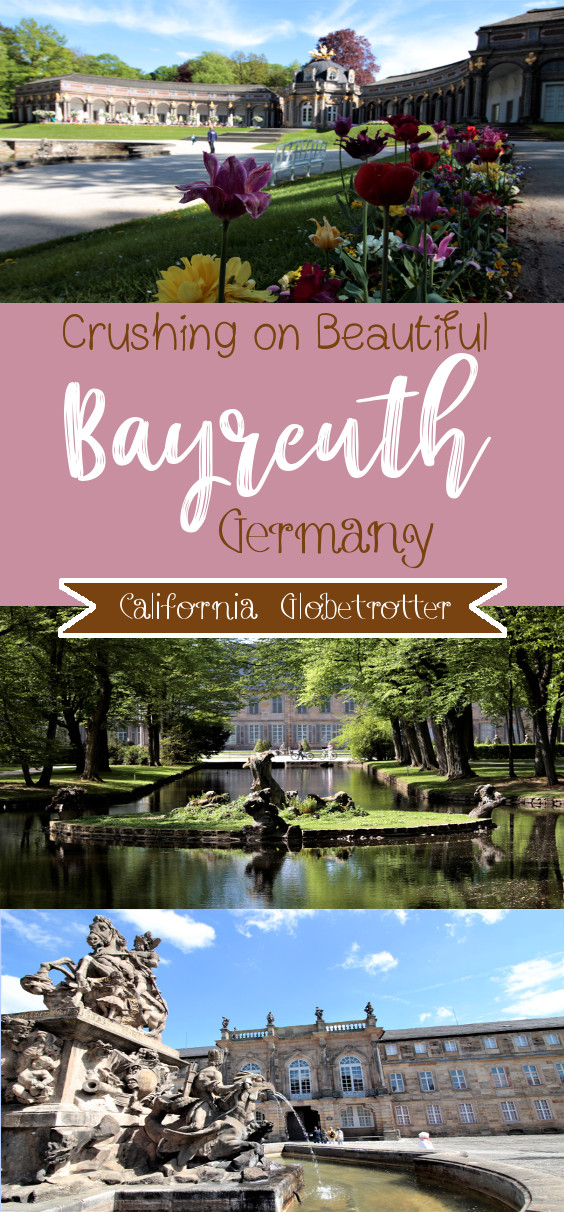 This article is now available as a mobile app. Go to GPSMyCity to download the app for GPS-assisted travel directions to the attractions featured in this article!
How to AVOID Looking Like a Tourist in Europe
Bayreuth & Richard Wagner 
Despite being a rather underrated city in Germany, for many lovers of classical German music, Bayreuth is synonymous with Richard Wagner, a famous 19th century composer and theater director, who took up residence here in 1872 until his death in 1883. His early career was quite bumpy but he did not become fully established until his success of his romantic opera performances Tannhäuser and Flying Dutchman in Dresden. "Mad" King Ludwig II of Bavaria became a big fan and his Wagner's sponsor and incorporated aspects of Wagner's operas throughout his castles so I could say they had a bit of a bromance.
The town is also renowned for hosting the Bayreuth Festival, where each July and August, Wagner Festivals are held and have consistently sold out since its inauguration in 1876. Supposedly, waiting lists for tickets are known to be booked out 10 years in advance! The Festspielhaus, located a short distance out of the city center, was especially built to promote Wagner's greatest masterpieces, most notably The Ring of the Nibelung. Originally, Wagner had inspected the magnificent Baroque Opera House but it was inadequate to host his Festspiel for the complex stagings and large orchestras that Wagner's operas required. Unsatisfied, he set out on a fundraising campaign across Germany and much to his disappointment, was unsuccessful and reluctantly turned to his sponsor, King Ludwig II for the funds. 
With a short stroll through the Hofgarten is Richard Wagner's Villa Wahnfried, designed by Wagner, sponsored by King Ludwig II. Here, Wagner lived for many years and today houses the Richard Wagner Museum. He is buried in the garden along side his wife and favorite dog in a rather simple grave with a few candles and flowers laid at his tomb.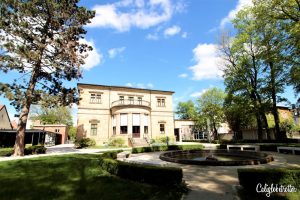 The Gracious Margravine Wilhelmine & her Baroque City
As the eldest daughter of Friedrich Wilhelm I of Prussia and the sister of Frederick the Great, you could only expect a marriage of significance… or not. Groomed for a future marriage into the British royal family and brought up to enjoy only the best life had to offer, Wilhelmine was instead married off to a minor royal family and distant relative, Friedrich von Brandenburg-Bayreuth after plans were thwarted and a political marriage to Frederick, the Prince of Wales never proceeded. Though the marriage was initially happy, the couple embarked on a major revamping of the city to turn it into a mini "Bayreuth Versailles" which eventually led to some financial difficulties. Nonetheless, she transformed Bayreuth into a graceful Baroque city in the 18th century and her lasting legacy is the Margravial Opera House (Markgräfliches Opernhaus).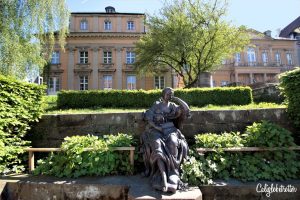 How can you get your crush on in Bayreuth?
Admire the Opera House
Why not begin with the grand Opera House which has just recently undergone six years of extensive renovation? A true Baroque jewel box, Wilhelmine commissioned only the best of the best to build what is her lasting legacy, always with her brother's court in Berlin at the back of her mind. If her brother, Frederick the Great, entertained the likes of Volitare, so must she and so was born the idea of creating her Baroque masterpiece modeled after both Vienna and Dresden's, often regarded as one of the most beautiful theaters in Europe. The exterior might seem rather bland and gives passersby no hint whatsoever of the opulence that awaits beyond the doors therefore making it the one of the top sights to see in Bayreuth.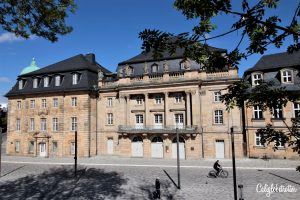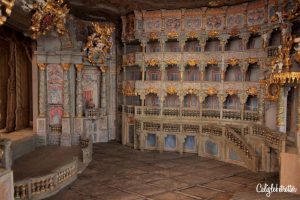 The Opera House houses an exhibition which is open daily, however, should there be a performance, it is not open to the public. Sadly, we hadn't seen any message on the website that on the day of our visit, there would be a performance and therefore, I had to make do with a photo of an interior model on display at the Neues Schloss, but you can clearly imagine that the real thing is 100% more lavish! Don't worry, we will try again to visit one day! Nearby is the Bayreuth Tourist Center where you can find out more. 
Guided Tours: (Only in German) every 45 minutes including a short introduction film. At the end of the tour, visitors can quietly visit the interior.
April-September: daily from 9 – 6pm
October-March: daily 10 – 4pm

Last Entry is 45 minutes before closing

Adults 8 € / 7 €
The Neues Schloss & Court Garden
After a fire broke out in 1753, the Old Palace no longer fulfilled the requirements of the gracious Baroque court, therefore, it was decided by Margrave Friedrich von Brandenberg-Bayreuth and his wife Wilhelmine to build the Neues Schloss (New Palace) which is today one of the best things to do in Bayreuth! Though the outside is not overtly extravagant, the interior is once again a fine example of Rococo, which reached a peak of creative innovation.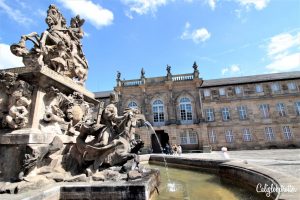 Wilhelmine had a major influence on the design of magnificent rooms like the Cabinet of Fragmented Mirrors (Spiegelscherbenkabinett), the salon with a golden ceiling to Wilhelmine's rooms. The Italian Palace is especially an impressive example of the "Bayreuth Rococo" with flower tendrils incorporating nature with art without the use of gold but can only be seen with a guided tour.
Upon purchase of your ticket, you can explore the the rooms mentioned above at your own leisure before joining a guided tour of the Italian Palace. Unfortunately, no photography allowed inside. 
Guided Tours: (Germany only but there are simple English guidebooks) Italian Palace tours are every 30 minutes.
April-September: daily from 9 – 6 pm
October-March: daily from 10 – 4 pm

Last entry is 45 minutes before closing

Adults 5.50 € / 4.50 € reduced, Children under 18 are free
The Hofgarten (Court Garden) just behind the Neues Schloss was also redesigned after the completion of the palace which included a pall mall avenue and hedge gardens pergolas and parterres were incorporated, but by the 18th century, the garden was once again redesigned in the more popular "English-style" which retained the original canal. Although it's not quite as lovely as Munich's Hofgarten, a stroll through the park was really quite enjoyable and halfway through, you'll arrive at Richard Wagner's Villa Wahnfried. The garden itself is free to explore at your own leisure.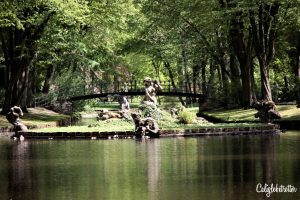 Nearby attractions: Franz Liszt Museum and German Freemason Museum
The Bayreuth City Center
Bayreuth is a relatively compact town and a short walk down Richard-Wagner-Strasse from the Neues Schloss will lead you back into the Bayreuth Altstadt. It's here you'll find the salmon colored Altes Schloss (Old Palace), a fine 17th century palace at the heart of the town center with busts of men and women from the city lining its exterior. Just behind the Old Palace is the Schlosskirche (Court Chapel) which was currently undergoing restoration whose octagonal Schlossturm (Chapel Tower) offers views over the city center. Unfortunately for us, the tower and church was closed.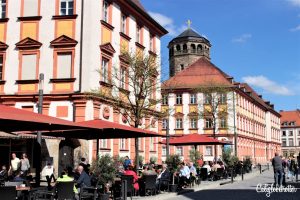 Maximilianstrasse is Bayreuth's main shopping center where you can find many cafes, restaurants and shops. At the center of it all, you can find the Maibaum (May Tree), not in typical Bavarian colors of blue and white but red and white, located not far from the Altes Rathaus (Old Town Hall) which now houses the Kunstmuseum Bayreuth (Art Museum) as well as the British American Tobacco Historical Tobacco Collection as tobacco was an important local industry.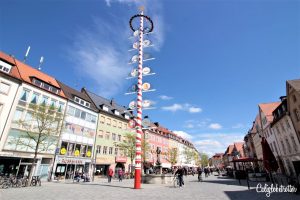 Cobbled-stone alleys lead in every which direction, and just beyond the Bayreuth City Hall is the Stadtkirche (City Church of the Holy Trinity), a simple yet beautiful Gothic Lutheran parish church.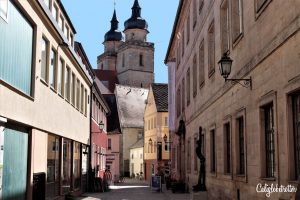 Bayreuth's Ermeitage 
Just a short drive away from the city center is a park and palace that Margrave Georg Wilhelm laid out known as the Eremitage (Hermitage), one of the top places to visit in Germany which was used from 1715 onwards for his court to play at ascetism, or more specifically, for the nobility to withdraw from the world and live a simple life, dressing in monks' habits and sleeping in cells, following in the example of the French King Louis XIV. The Altes Schloss (Old Palace) was gifted to Wilhelmine in 1735. At the time of its creation, there were no other gardens like it in Germany and is thus one of the most unique gardens to explore from the 18th century. From its unique appeal, you can clearly see why it is considered to be one of the top attractions in Bayreuth!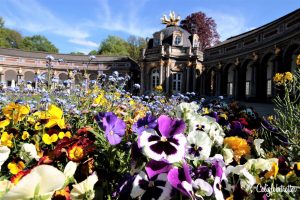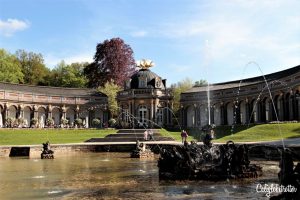 She quickly set to extending the palace, creating more Rococo rooms and building the crescent-shaped Orangerie now known as the Neues Schloss (not to be confused with the Neues Schloss in the city center). It is now the centerpiece with the focal point being the circular Sonnentemple (Sun Temple), topped with a golden replication of Apollo's chariot with trick fountains stretching out before it. The Sun Temple is beautifully crafted with an array of colorful little stones, golden busts and columns curving in unison. To one side of the Orangerie was a cafe with visitors soaking up the sun sitting at outside tables. 
The Obere Grotte (Upper Grotto) plays hourly for 15 minutes from May to October before descending to the Untere Grotte (Lower Grotto) which is just a short walk through the park.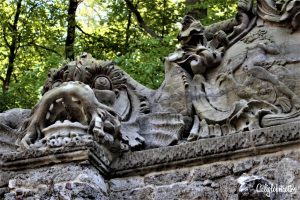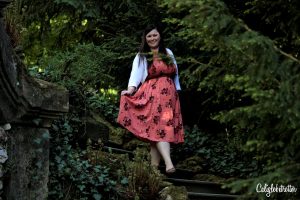 One could easily spend a good portion of their day here exploring the New and Old Palaces, the Upper and Lower Grottoes and the stage of the ruined 'Roman Theatre'. We perused through the park and enjoyed the mystical feeling areas offered, danced in a small pavilion and enjoyed the summer-like spring weather we were having as we walked around the Altes Schloss.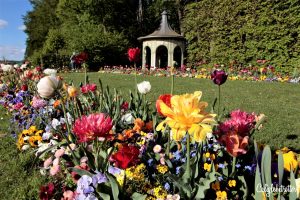 Overall, our day started out as if it was going to be a trip fail. We had not seen anything on the Bayreuth website which indicated that the Opera House would be closed for a performance. When we had arrived, the weather was colder than expected and neither of us had been prepared for that and as the wind picked up, we considered heading home after only a few minutes in the town. Luckily, we toughed it out and the sun eventually came out and we were greeted by a rather enjoyable day. There are things I wish I had known earlier before our visit which I have shared with you now and hope that you may have a more successful visit! Nonetheless, I felt that Bayreuth was definitely one of the best cities to visit in Bavaria!
If you're interested in visiting Germany and are looking for more information, I highly recommend using the DK Eyewitness Travel Guide! Without these guides, I would be lost! This is my travel Bible!
Disclaimer: This post contains affiliate links. If you click on one and make a purchase, I might make a little extra spending money, at no extra cost to you. As always, all opinions are my own and these products/services have been found useful during our travels and come highly recommended to you from yours truly!
Day Trips from Bayreuth:
A Local's Guide to the Historic Town of Regensburg
The Fairytale Town of Rothenburg ob der Tauber
Liked this post? PIN IT FOR LATER!!