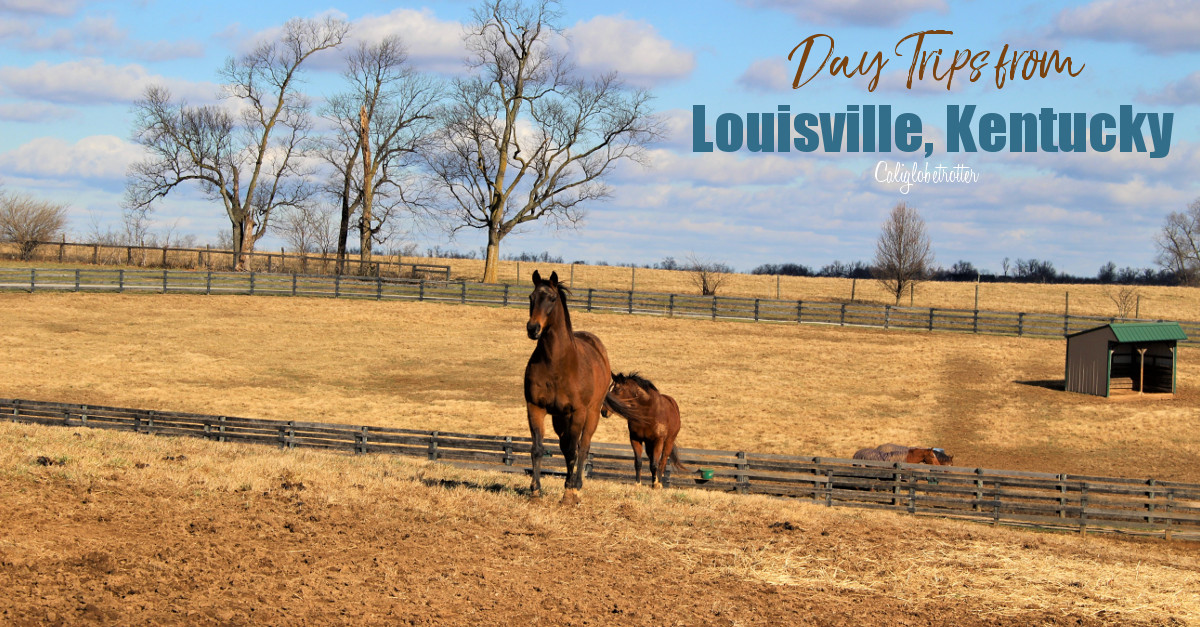 Disclaimer: This post contains affiliate links. If you click on one and make a purchase, I might make a little extra spending money, at no extra cost to you. As always, all opinions are my own and these products/services have been found useful during our travels and come highly recommended to you from yours truly!
While Louisville is the largest city in the Commonwealth of Kentucky and there are many things to do in Louisville (pronounced Luha-ville) with its plethora of neighborhoods, it's still nice to get out and about and explore other parts of Kentucky or one of it's surrounding 7 neighboring states. While I am not a native of Kentucky, nor have I been here long enough to explore every crevice of Kentucky and it's neighbors, I have managed to wrangle quite a few day trips from Louisville as well as grab every possible brochure from the airport to help you plan your visit to Kentucky!
Love day trips? PIN IT FOR LATER!!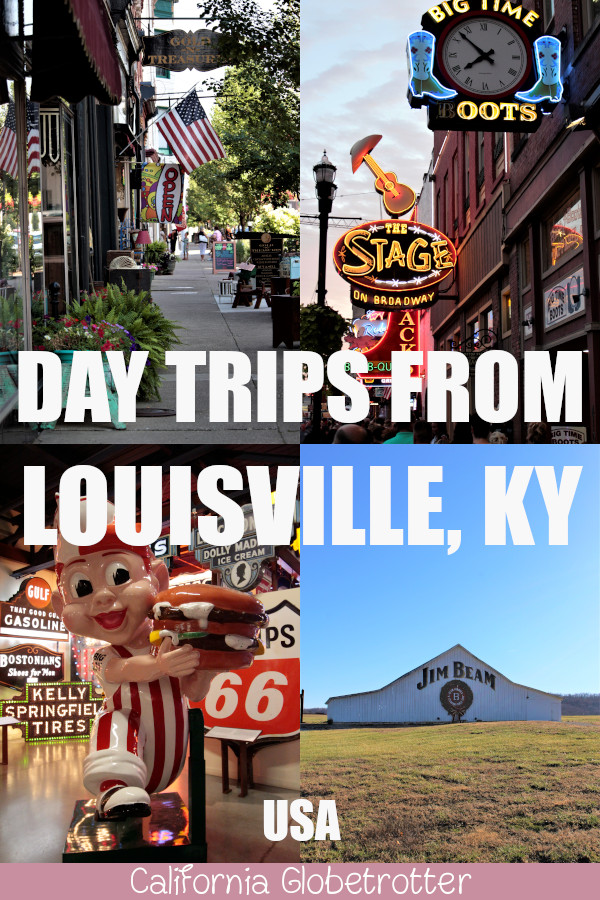 Over summer 2018, my husband and I spent the entire two months visiting my family in Kentucky. That gave us a lot of time to see many cool towns nears Louisville as well as extensively exploring Louisville's neighborhoods, after all, the city is a city of neighborhoods. Upon arrival at the Louisville airport, we stalked the Information Help Desk and snagged as many brochures and travel guides for Kentucky as feasibly possible without looking like weirdos. Each weekend, we set out on a new adventure and almost every evening explore Louisville during the week. Here's what we managed to do, or found or wish we had had time for but know we will get to on our next visit back for Kentucky, Indiana, Ohio and Tennessee! 
If you're visiting the US for the first time, there are many things you need to know about travel to America. For one, these places are best reached with a car because everything is so spread out and there aren't many trains, however, the you may be able to reach them with bus services like Greyhound Buses. 
Kentucky
KENTUCKY BOURBON TRAIL
While you can certainly hit the Kentucky Bourbon Trail at Evan Williams Bourbon Experience | $12 Admission or even Stitzel-Weller / Bulleit | $10 Admission which is Louisville's last urban distillery, you could pick up your Kentucky Bourbon Passport and hit the trail! Some of the top bourbon distillers on the #KYBourbonTrail are Maker's Mark Distillery | $9 Admission, Woodford Reserve |$14 Admission and Jim Beam American Stillhouse | $12 Admission.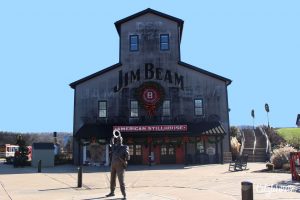 LA GRANGE
Time: 23 min
There's really only one reason why you might be interested in a visit to La Grange – circa 30 freight trains roll on down the town's Main Street. Not something you see everyday. Besides that, there are just a handful of cutesy, quaint knickknack shops, art galleries, eateries and a few main attractions. Head on down to the viewing platform and catch a glimpse of one of the many trains that roll on by. You won't need more than an hour or so to explore this one stop town, but it's so cute you won't want to miss it! Sadly, on the day we visited, they were working on the train tracks and the second time, we got stuck at the traffic stop watching it roll by from the car. 
Nearby Distilleries: Kentucky Artisan Distillery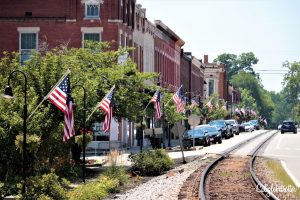 FALLING ROCK PARK, LA GRANGE
Time: 42 min
If you're looking for awesome swimming holes near Louisville, then consider a visit to Falling Rock Park LaGrange Quarry, a quarry (an excavation pit) that has been filled solely through rain water. The water is relatively clear and all natural Kentucky rain water, which took about 15 years for it to fill up!
The bonus to enjoying a summer day at the quarry is that all visitors must be strictly 18 and over and no alcohol whatsoever permitted therefore ensuring that rowdy teenagers and partiers don't disturb everyone's free right to have a leisurely day. Best of all, you are REQUIRED to have a floating device at all times, therefore engaging in a "who has the best floating device" competition. I rather think that my pink flamingo was pretty damn awesome! 
After you've paid your $15 admission fee, you can spend all day here floating around the quarry, jumping off of designated dive boards, have a BBQ at one of the many grills provided, pitch a tent or even have a little bonfire. You can also go diving in the quarry as it is over 20 feet deep, and is thus the reason for a floating device! 
But please be careful at all times of walking on any stone rocks or wooden floating piers. My mother fell off and broke her toe, twisted her ankle and scratched up her knee. The Quarry is not responsible for any broken bones as you sign a waiver upon entry.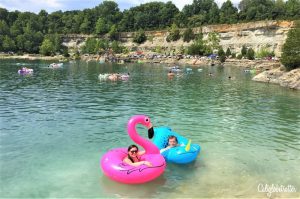 FAIRMONT FALLS
Time: 33 min
If you;re looking for a nature day trip from Louisville, then consider a visit to Fairmont Falls just outside of Louisville! Visitors to the waterfalls is limited daily and scheduled visits are required. We personally has planned to visit…until my mom broke her toe at FRP Quarry, as it's one of the best free things to do near Louisville. 
ELIZABETHTOWN
Time: 49 min
Also lovingly referred to by locals as "Etown", Elizabethtown is probably best associated with the film Elizabethtown starring Orlando Bloom and Kirsten Dunst, though there is more to the town than the movie. Elizabethtown is also a great stop when traveling between Louisville and Nashville, TN. Not far from Etown is the birthplace of Abraham Lincoln, and Etown also claims to be the birthplace of Bourbon, though I guess we'll never know for sure which town actually holds that title officially. Rich in history, there are many interesting historical sites to see in Elizabethtown, from the Swope's Cars of Yesteryear Museum, the Brown-Pusey House, Hardin County History Museum, the Summit One-Room Schoolhouse, the Historic State Theater, learning about the Civil War in Elizabethtown and so much more! Sadly though, Elizabethtown has lost many of its historic architecture because of commercial development over the years. 
Nearby Distilleries: Boundary Oak Distillery
PRESIDENT ABRAHAM LINCOLN'S BIRTHPLACE
Time: 59 min
Just outside of Elizabethtown, you can find Abraham Lincoln's birthplace and explore his humble beginnings and catch a glimpse of his symbolic log cabin birth house, the Sinking Spring which provided the Lincoln family with water, as well as the United States' first memorial to one of the greatest president in US history. Begin your free visit to the Visitor Center to learn more about his life and legacy before walking around the park and walking up the 56 granite stone steps to Memorial Building (one step for each year of his life).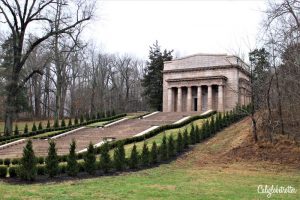 BARDSTOWN
Time: 49 min
Voted the Most Beautiful Small Town in America in 2012, Bardstown is as quaint as they come! The historic Bardstown is lined with Georgian architecture gems, especially down Main Street, with the Bardstown City Hall at the center of it all, and literally in the middle of a large roundabout. Not only is Bardstown considered the the Bourbon Capital of the World, but it's also home to "My Old Kentucky Home", a house that inspired Kentucky's state song. Experience "The Stephen Foster Story", Kentucky'slongest running outdoor summer drama with lively period costumes and over 50 songs. 
Other main sights to see in Bardstown include the My Old Kentucky Dinner Train, the Kentucky Railroad Museum, the Civil War Museum and historic Old Bardstown Village, Federal Hill as well as several main churches scattered throughout the town. A stop to Old Talbott Tavern, open since 1779, is also a must, simply for some of its notable guests like the notorious Jesse James (who shot up the place), Louis Philippe, Duke of Orleans and his brothers who were exiles from France during the French Revolution, Abraham Lincoln as well as George Rogers Clark. 
Nearby Distilleries: Heaven's Hill, Barton 1792 Distillery, Willett Distillery, Lux Row Distillers, Limestone Branch Distillery,Jim Beam American Stillhouse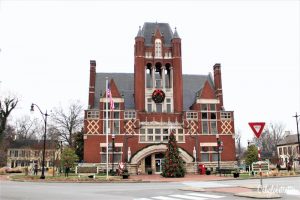 MAKER'S MARK DISTILLERY
Time: 1 hr 17 min
If there was one distillery you should visit, Maker's Mark would be it! Not only is the distillery absolutely picturesque in every way possible, but the tour was one of the best tours along the Kentucky Bourbon Trail as well as being incredibly fun and informative!  As another of the three registered Historic Landmarks in Kentucky, you can come here and also simply admire the unique looks of the distillery or peruse the gift shop!
Maker's Mark is renowned for its uniquely dipped red wax appearance on the bottle, and at the end of your tour, you have the chance to dip your very own bottle of Maker's Mark – you just have to decide: are you a Conservative or are you a Liberal? When trying to come up with a name for their company, the founder's wife came up with the name of "Maker's Mark", implying the unique trademark for a product of a company.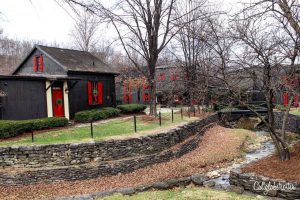 GEORGETOWN
Time: 1 hr 10 min
Just outside of Lexington, Georgetown is a true Kentucky gem and was renamed after the United States' first president, good ole George Washington. The historic Downtown Georgetown has over 200 historic buildings listed on the National Register of Historic Places which is claims to have been the birthplace of Bourbon by Elijah Craig, bursting with charm in the center of Kentucky Horse Country. Located in the "Golden Triangle" between Cincinnati, Louisville and Lexington, Georgetown has a lot of picture-perfect postcard Victorian-era buildings oozing with galleries, boutiquesm bakeries, restaurants and overflowing with American flags and patriotism.
Other things to do in Georgetown include a tour of the Toyoto Manufacturing Plant, horseback riding at Whispering Woods Riding Stables, Old Friends Retired Thoroughbred Farm, doing a Bluegrass Tours, Yuko-en on the Elkhorn – a Japanese friendship garden and a visit to Ward Hall – the grandest example of Greek Revival architecture in Kentucky!
Nearby Distilleries: Royal Spring Branch Distillery, Bourbon 30, Hartfield & Company Distillery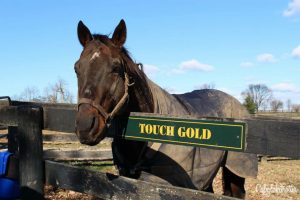 LEXINGTON
Time: 1 hr 22 min
Nicknamed both "The Thoroughbred City" and "The Horse Capital of the World", Lexington is best known for its horse racing. Horse lovers all agree, this is THE place to be, no matter is they're experienced equestrians, a racing fan or simply appreciate the beauty of horses. Here in the Bluegrass Region of Kentucky, there are many things to do. Visit two historic race course, the Keeneland Race Course or the Red Mile, tour one of the many bourbon distilleries in Lexington as part of the Kentucky Bourbon Trail, after all, this is Bourbon country! A tour of the city will provide you with street art in Lexington, as well as a few cool places to check out, for example The Square. 
Other Lexington attractions include the American Saddlebred Museum, Ashland – the Henry Clay Estate, Boone Creek Outdoors Zipline, Horse Farm Tours, Horseback Riding, the Hunt Morgan House, the Mary Todd Lincoln House (Abraham Lincoln's wife), Kentucky Horse Park, a tour of Old Kentucky Chocolates.
Other attractions near Lexington include a visit nearby Georgetown, or the hidden gem of the Shaker Village in Harrodsburg, which is also Kentucky's first town! Kentucky River Palisades, Perryville Battelfield State Historic Site, the site of a historic Civil War battle, as well as the Capitol Building in Frankfurt. 
Nearby Distillers: Town Branch Distillery, Bluegrass Distillers, Four Roses Distillery, Wild Turkey Distillery, Woodford Reserve Distillery, Buffalo Trace Distillery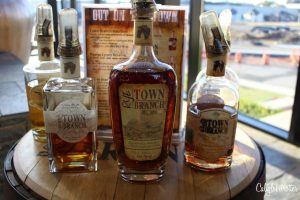 Kentucky Bourbon Facts:
Number of barrels aging in Kentucky: 6.6 million
Number of people in Kentucky: 4.4 million
MAMMOTH CAVE NATIONAL PARK 
Time: 1 hr 22 min
The world's longest cave system, Mammoth Cave National Park is a family-friendly day trip from Louisville that the whole family can enjoy! Encompassing 52,830 acres (21, 380 ha), only 400 miles of its passageways have been thoroughly explored, with much more to still be uncovered! Its vast chambers and complex labyrinths have earned its name – Mammoth for a reason. The park became a national park in 1941, the different areas of the park were unified in 1972, and finally became a UNESCO World Heritage Site in 1981. 
A visit to Mammoth Caves National Park requires booking tickets for a tour in advance prior to your arrival. During peak season, if you show up at the park for a tour without tickets, you may not be lucky enough to snag some at the door. While we did the two hour Domes and Dripstones tour, which takes you to the Frozen Niagara, however my parents previously had done the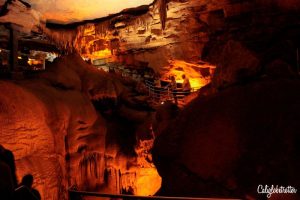 SHAKER VILLAGE OF PLEASANT HILL
Time: 1 hr 37 min
Prior to the American Revolution and until the 1840s, Shaker communities stretched from Maine to Kentucky. The Shakers were a people who believed in a peaceful way of live, equality of race and sex, freedom from prejudice who lived farm to table, reused and recycled every aspect of their lives. In 1805, a group of Shakers settled in Kentucky, naming their village Pleasant Hill nears Harrodsburg. By the time of the Industrial Revolution, Shaker communities began declining and today, only one Shaker community exists in New England.
The Shakers of Pleasant Hill closed its doors as an active religious society by 1910 with the last 12 remaining members making a deal with a local merchant who agreed to care for them until their deaths in return for the land. After the death of the last Shaker in 1923, the buildings and furnishings became known as a small country town called "Shakertown" before finally restoring the historic property and opening it as a museum to visitors. 
With a variety of tours, you can learn more about the Shakers of Pleasant Hill, the farm animals and the locally produced goods. You can even enjoy a simple Shaker-style meal at the local restaurant and you can even stay the night in many of the historic homes.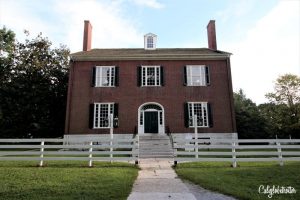 Ohio
CINCINNATI
Time: 1 hr 43 min
Once named the "Paris of America" and the first truly "American city" founded after the American Revolution, Cincinnati was once a bustling industrial city adding a new nickname, "Queen City" because of the population explosion. By 2001, Cincinnati had gained a rather notorious reputation for overtaking Compton as the "most dangerous city" in the US. But, after massive investments by the city's Fortune 500 companies to rejuvenate downtown Cincinnati, it has now been ranked as one of the top places to visit in the US in 2018!
Interesting points of interest in Cincinnati include exploring Over-the-Rhein – Cincinnati's Brewing District which has in recent years been revitalized, as well as Findlay Market – the oldest in town! Washington Park has also seen gentrification over the last decade and is now a major focal point for Cincinnati, as well as nearby Vine Street which is loaded with boutique shops, cafes, restaurants and street art. A visit to Carew Tower will provide you with wonderful views over the sprawling city landscape as well as into Newport, Kentucky where you can find the most authentic Hofbräuhaus outside of Munich, Germany! Or perhaps take a quick excursion just outside of downtown Cincinnati to the American Sign Museum, a vibrant display of old neon lights and Big Boy!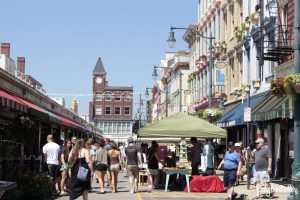 Indiana
FRENCH LICK/WEST BADEN
Time: 1 hr 12 min
Just a small town in southern Indian with a population of just over 2,000. Practically left off of many tour guide books, French Lick, and the neighboring town of West Baden offer a glimpse into a time long gone in the United States. The two towns are are home to two of the most glorious hotels in the US built in the mid-1800s, attracting the rich and famous. The French Lick Resort and the West Baden Springs Hotel catered to the wealthy until the Great Depression in 1929 with notable guests such as Al Capone!
The West Baden Springs Hotel was used for a variety of things, such as a being transformed into a college and seminary before falling into utter disrepair by 1991. What was once considered the Eighth Wonder of the World for having the world's largest free-spanning dome in the United States found itself one of America's most endangered places. Finally, in 1996, the hotel was purchased and renovations began, reopening in 2006 in all its beauty and former glory. 
Take a street trolley or a train trolley free of charge and explore the region between to the two hotels, admiring the architectural wonder that has been saved, as well as the casino at the French Lick Resort before also taking a glimpse inside the impressive gilded age hotel.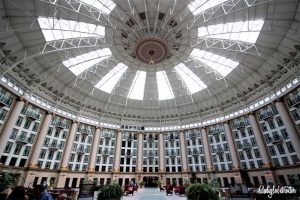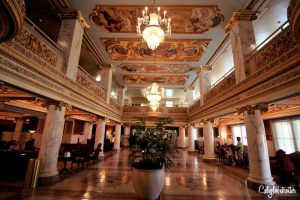 HUBER'S WINERY & ORCHARD
Time: 34 min
Just a half an hours drive away from Louisville, KY, just over the state line is the idyllic Huber's Orchard, Winery and Vineyards. Upon discovering this country escape, I asked "how much goodness can possibly be wrapped up all in one!?" As an easy day trip from Louisville, we spent the afternoon riding tractors, picking a variety of fruits, licking scoop-fulls of ice cream and wine tasting to our heart's content, all surrounded by lush countryside farms on a beautiful summer day!
Located in small town USA, in a town called Starlight, Indiana, not far from Buffalo Trace Park, Simon Huber settled in Southern Indiana in 1843 after emigrating to the United States from Baden-Baden, Germany bringing with him his knowledge and years of experience in fruit growing and wine making. What started out as a humble piece of land used as a dairy farm with a mere 80 acres, has since expanded to over 600 acres of lush fruits, vegetables and vines as his legacy is carried on by his family who live and work on the farm. Therefore, Huber's Orchyard, Winery & Vineyard is still family-owned and operated and still going strong, even in it's seventh generation! In fact, June 2018 saw 175 years of hard work!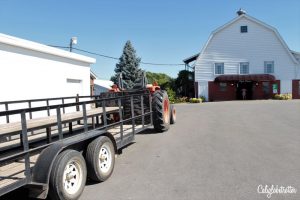 MADISON
Time: 1 hr 3 min
The Midwest's most beautiful rivertown, Madison snugly stretches out along the banks of the Ohio River. Not only is it surrounded by a lush green state park, but it also has the United States' largest contiguous National Historic District with 133 blocks of antebellum homes, with big balconies still draped in 4th of July bunting, known as the Madison Historic Landmark District. 
Some of the major attractions in Madison include Indiana's first National Historic Site – the Lanier Mansion, as well as Shrewsbury-Windel House, the Madison Railroad Museum showcasing the history of Indiana's first railroad company, as well as doing a bit of antique shopping, down Madison's Main Street. 
While the New Buffalo region is considered to be the "Napa of the Midwest", not far from Madison you'll find several wineries along the Indiana Wine Trail, so if you prefer wine over bourbon, then perhaps this is your region for exploring!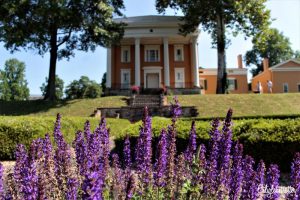 NASHVILLE
Time: 1 hr 27 min
Wanna feel like you've stepped straight into an episode of Gilmore Girls? Then head to Nashville, no not the one in Tennessee, I mean Nashville, Indiana! Nicknamed "the artist colony of the Midwest", Nashville is as cute as they come with unique craft shops, antique shops, galleries and studios in every nook and cranny of this quaint little village located in Brown County, Indiana! Many also nickname it the "mini-Nashville", but it totally has a different vibe, especially for those looking to peruse one novelty shops after another.You can find a variety of storefronts that include anything and everything from clothing boutiques, jewelry, home decor  and antiques which you can easily get lost in hours of perusing.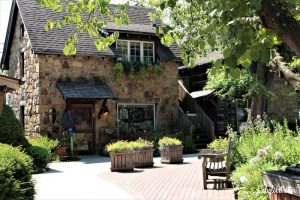 Tennessee
NASHVILLE
Time: 2 hr 40 min
Nashville, just the name alone evokes images of the man in black, doin' the boot scootin' boogie and some fine country tunes streaming any hour of the day! Music City seems to have it all! Great music, southern charm, a delicious food scene, vibrant murals scattered throughout the city, awesome places to chill all the while seeped in history stretching back to the American Revolution. You simply can't go wrong with a weekend getaway to Nashville! By 2013, Nashville was nicknamed "Nowville" and "It City" by GQ, Forbes and The New York Times! Best of all, you don't even need to like country music to enjoy Nashville, although it is definitely a bonus! 
Go barhopping and boot, scoot 'n' boogie your way down Honky Tonk Highway, do a beer bike tour in Nashville, explore the museum dedicated to the Man in Black – the Johnny Cash Museum or even the Country Music Hall of Fame, or go on the hunt for some of Nashville's best street murals! If you're looking for some day trips from Nashville, then explore the Belle Meade Plantation or even Andrew Jackson's Hermitage!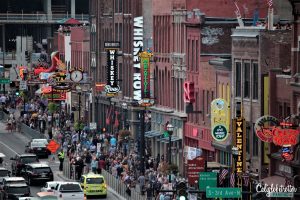 JACK DANIEL'S DISTILLERY
Time: 4 hr 10 min
Jesus may have turned a river into wine, but Jack turned water into whiskey! Deep in the south, in one of those typical "Small Town USA" towns is actually home to a BIG legacy: the world-famous Jack Daniel's Distillery. By now Jack Daniel's Whiskey is a household name and everyone has a story to tell from the good ole days! College parties, concerts, rodeos, rock bands and bad boys all have one thing in common: they love Jack! Whether you're a whiskey aficionado or a history buff, a visit to the Jack Daniel's Distillery in Lynchburg, Tennessee is one of the best day trips from Nashville!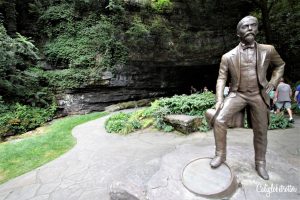 If you're looking for some extra guides to prepare your trip, we enjoyed these the following items, both before and after our trip to Kentucky! The first gave us a lot of history and information about the Kentucky Bourbon Trail while the second we purchased along our journey for some home cooked meals in the future! And of course, my faithful Travel Guide Bible, the DK Travel Guide: USA!
Disclaimer: This post contains affiliate links. If you click on one and make a purchase, I might make a little extra spending money, at no extra cost to you. As always, all opinions are my own and these products/services have been found useful during our travels and come highly recommended to you from yours truly!
US Travel Inspiration:
Louisville: The ONLY Neighborhood Guide You Will EVER Need
How to Rock a Visit to Savannah, GA
Liked this post? PIN IT FOR LATER!!