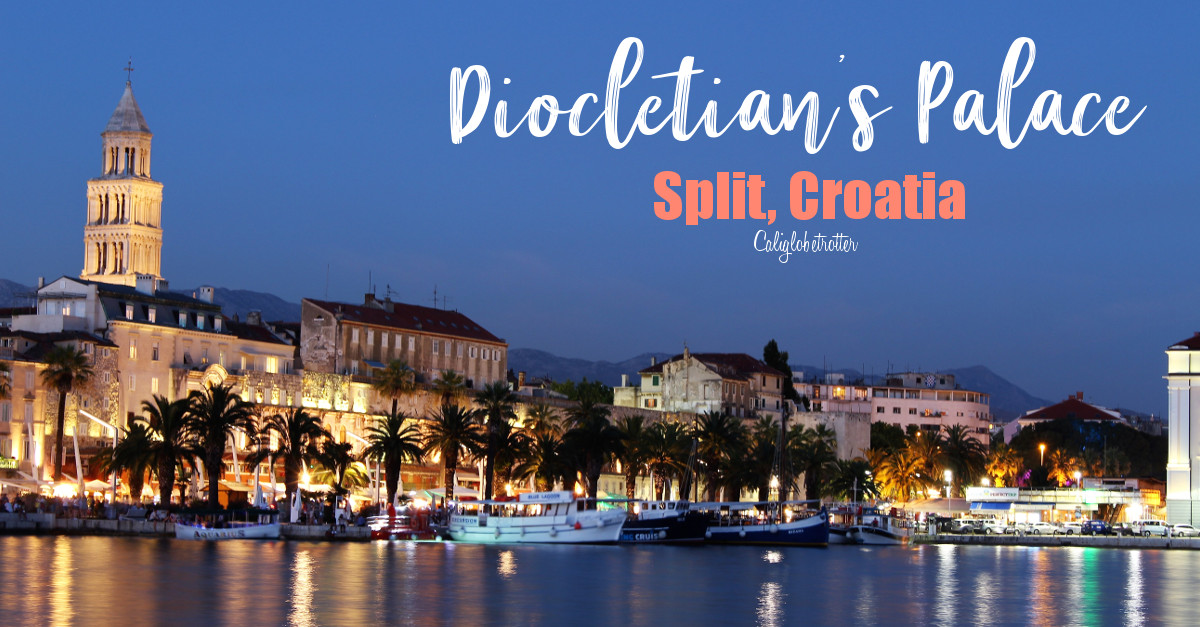 Disclaimer: This post contains affiliate links. If you click on one and make a purchase, I might make a little extra spending money, at no extra cost to you. As always, all opinions are my own and these products/services have been found useful during our travels and come highly recommended to you from yours truly!
Set on a peninsula jutting into the Adriatic Sea, Split is the home to one of the largest and best preserved Roman palaces in the world. In 295 AD the Roman Emperor Diocletian ordered an enormous palace to be built here, where one day he intended to retire. Diocletian was an unlikely Emperor as he was born into a family with a low status. He worked his way up through the military ranks and eventually became a cavalry commander under Emperor Carus. 
After the death of Emperor Carus and his son, there was no one to be proclaimed Emperor, so Diocletian took it upon himself to install himself as the new Emperor. He would go on to stabilize the region and eventually be the first emperor to ever retire, comfortably in his palace in Split, which is a heavily fortified compound. Diocletian's Palace in Split is a must-visit destination and should immediately be added to your Croatia itinerary!
In case you're interested, PIN IT FOR LATER!!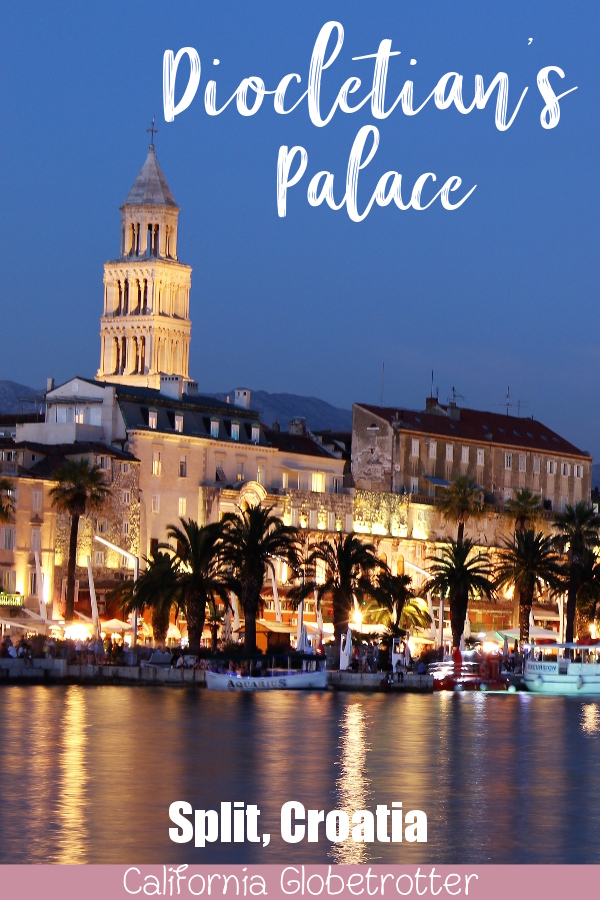 Gorgeous Seaside Towns Along the Adriatic Sea
How to AVOID Looking Like a Tourist in Europe
10 Day Road Trip Through Croatia
Like this post? Take it with you as GPS Guided App directly to your phone via GPSMyCity!
Diocletian's palace has been a place of constant life with people living inside the palace walls and throughout the centuries, changing the original look of the palace over time. Eventually, Split would become part of the Venetian territories, along with Zadar which would experience a period of economic prosperity. There are many things to do in Diocletian's Palace once inside the gargantuan walls, but first thing first, fuel for the body!
Eat at Diocletian's Wine House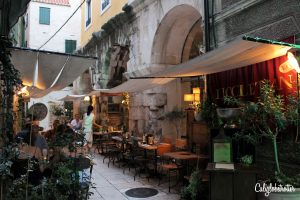 My husband took it upon himself to use TripAdvisor to search for bestrestaurants to eat in Split, as finding local cuisine is important to us. Knowing that we were on the coast of Croatia, I knew that fish would be very popular. Hans found a great little restaurant called Diocletian's Wine House in a small alley as soon as you walk in through the Silver Gate. A beautiful Roman girl awaits you in front of the restaurant to guide you to your table, adding a special ambiance to your romantic dinner out. It was honestly the best place to eat in Split! We still rave about this meal!
Related: 15 Things to Do When You Travel
Not being a fish eater myself, I enjoyed a traditional Lamb Pasticada with Gnocchi. I would try it again later in Dubrovnik only to find out it is more traditional with beef instead of lamb and is served for all major celebrations in Dalmatia. Hans, being the fish lover that he is and not very often has the chance for good fish, ordered the massive Blue Plate fish platter with a tuna fillet, clams, mussels, squid and more. Considering we were eating dinner at a Wine House, it was absolutely a must to order a glass of wine. In Croatia, I only found authentic Croatian wines on the menus which was a nice change from always having imported wines.
Get Up Early to Avoid the Crowds and the Heat
The next morning, we got up bright and early at 6am to walk around the Palace before the hordes of tourists came out and before it got unbearably hot. This was a pleasant way to check out the sites without loud, obnoxious tourists everywhere and made it much easier to get beautiful pictures without people in it. We started out by entering the palace from the Silver Gate. It is here you will find all the small tourist shops lining the palace from hats and umbrellas to beach gear.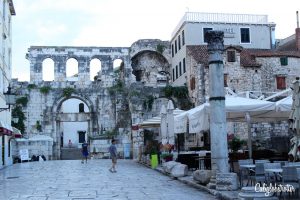 Check out the Peristyle – the Private Quarters of Diocletian
This is the interior courtyard which leads to the private quarters of Diocletian. Emperors considered themselves "Gods" and felt they needed to be adored. One way to make themselves feel extra special was by wearing the color purple as it was incredibly rare during this time. We would later do a walking tour of the city and our tour guide would give me a hard time about my purple fan in front of the Emperor. Every day at noon, the Emperor Diocletian makes an appearance demanding your loyalty to him on a stage set up for him. This was a free, entertaining 5-10 minute show to watch.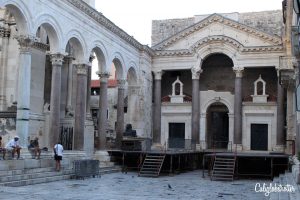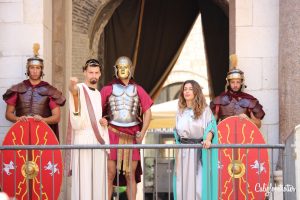 Climb the St. Dominus Cathedral Tower
Next to the courtyard, is the bell tower of the St. Dominus Cathedral which was built in the 12th century. The cathedral is one of the oldest Catholic cathedrals in the world and originally was Diocletian's mausoleum. His body would be removed and replaced with the remains of St. Dominus when the Christians came in and changed everything. There is a sphinx imported from Egypt which sits guarding the church, the only one left un-decapitated by the Christians. If you're feeling up to it, you can climb the bell tower. I usually always try to climb towers when I visit somewhere new for amazing views, but in this heat, no way.
Rub the Bishop's Toe for Good Luck & Begin Your Free Walking Tour!
Soon, we went on the search for the blue umbrella, which would signal where the walking tour of Split would start. Doing a free walking tour is one of the top things to do in Split as you learn a ton of fascinating history! We found the guide waiting by the Golden Gate, which is the main entrance into the Palace. Here, the entrance is dominated by a large bronze statue of Bishop Gregory of Nin who fought for the right to use the Croatian language in church services. He was originally located in the center of the Peristyle prior to WWII and it is said to be lucky to rub his big toe and make a wish.
Our guide would begin the tour standing inside the Golden gate, which is guarded by two Roman soldiers, standing at the ready to take a touristy picture should you so desire. I was too chicken to ask. Standing in the Golden Gate, you will learn that this was the palace's alarm system. Should you make a trip to the palace, they would let you into this area, having you believe that you have been welcomed, only to be locked in this entrance and interrogated as to why you were here. Should you be friendly, you could pass through. If not, hot boiling liquid was dumped on you from the top. So, the question now is, are you friend or foe?
We moved on to an area that seemed like it had been left abandoned and falling to pieces, as there isn't much here. But it was here that we learned that at one point, the government that Diocletian had built up, requested that he come out of retirement, as the system was beginning to fail. After having spent already three years in retirement, working on his beautiful garden full of cabbage, he responded with, "Just look at my cabbage! How could you ask me to leave my cabbage!" or something along those lines. Needless to say, Diocletian would not return to politics.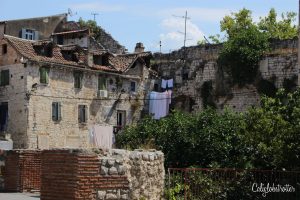 Here, there was one portion of the palace that had no yet been reconstructed and refurbished as a family continuously lives throughout the year here. As our tour guide said, "we have them to thank for watching over the palace in the winter". It was interesting to see how people still lived within the walls, stringing their clothes on a line from one end to the next and gardening in small plots.
It was also here that I fell in love with the most beautiful home I have ever seen in my life, all because it was covered in my favorite Mediterranean flowers called Bougainvillea's. I could not get enough of this part of the palace.
Spend the Afternoon Playing in the Sunshine at Bačvice beach
After the tour ended, we made our way to the beach as it was already incredibly hot by noon. From the palace, we walked about 1000m along the port area before staying left and walking up a small hill where we would plot down at the first beach we came to called Bačvice beach. We spent the remainder of the afternoon laying out, swimming and snorkeling. Although there wasn't much to see for snorkeling, but if you're looking for a bit of excitement, there was a rock cliff that people were jumping off of. And if you're too afraid to do that, there was a bounce house floating in the water just across the bay. I wouldn't say that this was one of the best beaches in Split, but it was easy to reach, convenient and cozy!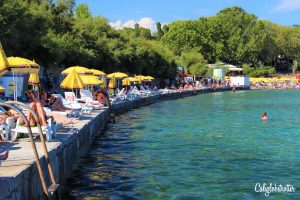 After it cooled down a bit, we went back into town for an evening stroll and dinner. We randomly sat down at a restaurant packed into a tiny corner of possibly another gate. Unfortunately, I didn't write down the name of the restaurant, but we tried more traditional foods, this time influenced from Bosnia. I tried a Stuffed Grilled Pljeskavica with potato wedges. This was pretty much a hamburger patty stuffed with cheese and ham, kind of like a cordon bleu. Hans tried a more traditional dish called Grilled ćevapčići which is minced meat in the form of a sausage. Both were amazing and were some of best traditional meals in Croatia! 
Related: Come discover the Taste of Europe!
The area near where we ate we also very beautiful. It seemed like it was another main square within the palace where there were restaurants and cafes all around. I found one corner of this area stunning with the green wooden window shutters adding a bit of color to the town.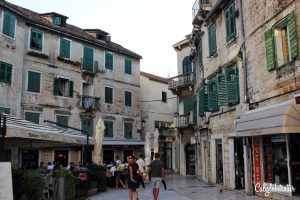 Walk Along the Riva Harbor
Here tons of fisherman's boats were docked, there were benches everywhere lined with palm trees for people to sit and enjoy the atmosphere. I was excited to come to Split specifically for the palm trees as I haven't seen palm trees since I left California. It almost felt like home. We walked a bit further down along the docks and found a great point for a picture over the entire town lit up by night. It was the perfect way to end a day in Split and seemed to be the best thing to do in Split at night!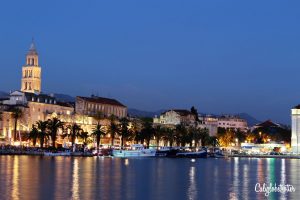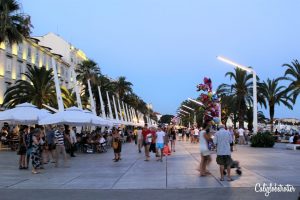 Where to Stay: Azur Palace Luxury Rooms ⭐⭐⭐⭐–  Located just a few minutes from Diocletian's Palace, these luxury rooms are comfortable and modern!
Excursions You Should Know About BEFORE visiting Split!:
Walking Tour – Look for Blue Umbrellas OUTSIDE of the palace – 90kn/12€ per person
I suggest planning to stay 2+ full days or more in Split to be able to visit the Blue Cave tour – the best way to reach this is with an 8 hour day excursion which departs Split at 8am, goes to the Blue Cave, hidden beach Stiniva, swimming & jumping at the Green cave, Budikovac beach, relaxing on the Palmizana hell islands, exploring the old town of Hvar on island Hvar before returning to Split for 110€ per person. **You could take a ferry boat to Vis before taking a bus to the other side of the island before finding another boat to take you to the island of Bisevo for the Blue Caves but ferry times will be difficult.
There is also a Blue Lagoon tour and a visit to the island of Solta.

Jadrolinija

is the ferry boat which will take you to the island of Vis.
If you have extra time, consider visiting one of Croatia's most beautiful islands, Hvar! 
If you're looking to visit Croatia this summer, I highly suggest buying any of the following travel guides which I have personally used to help you navigate through this beautiful country! These are my travel bibles!
Disclaimer: This post contains affiliate links. If you click on one and make a purchase, I might make a little extra spending money, at no extra cost to you. As always, all opinions are my own and these products/services have been found useful during our travels and come highly recommended to you from yours truly!
Croatia Day Tips:
and a detour side trip to Mostar, Bosnia-Herzegovina!
Slovenia Travel Inspiration:
Picture Perfect Lake Bled, Slovenia
City Guide: Ljubljana, Slovenia
 Liked this post? PIN IT FOR LATER!!
Save
Save
Save
Save
Save
Save
Save
Save
Save