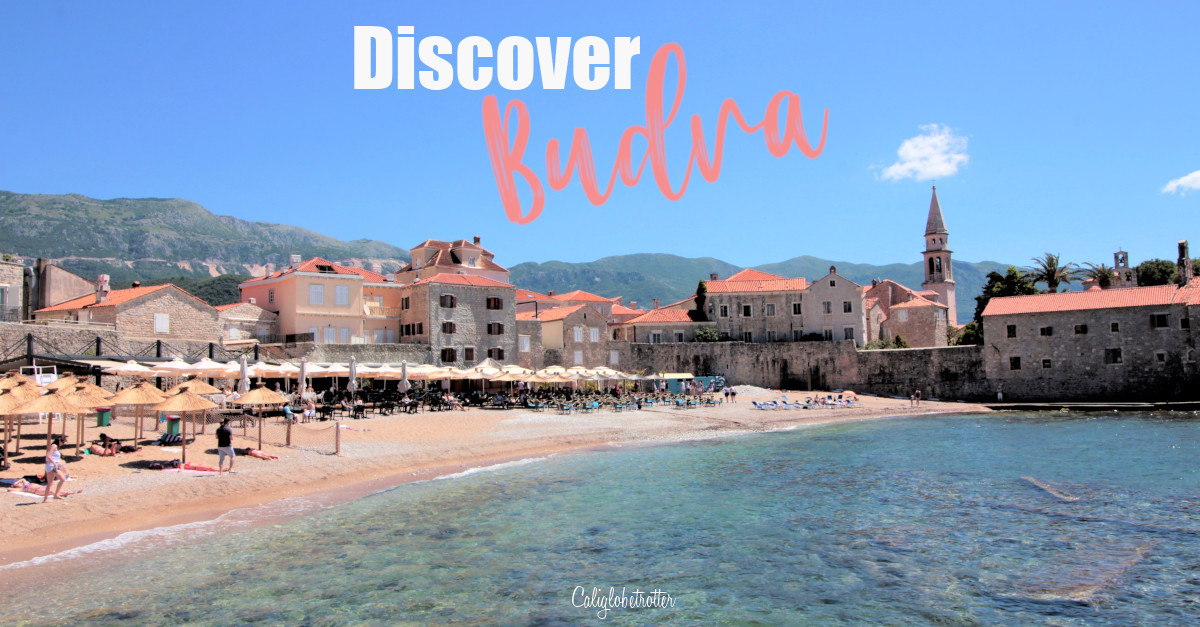 Disclaimer: This post contains affiliate links. If you click on one and make a purchase, I might make a little extra spending money, at no extra cost to you. As always, all opinions are my own and these products/services have been found useful during our travels and come highly recommended to you from yours truly!
Budva (Будва) might seriously be my spiritual home. As one of the last Venetian outposts along the Adriatic, this fortified Stari Grad (Old Town) is simply oozing with charisma, backed by rugged mountains and vibrant turquoise waters. Budva is easily one of the most beautiful settlements and popular destinations in Montenegro. I could have stayed here forever as it's without a doubt, one of the most stupid pretty towns in Europe!
Legend has it that Budva was founded by Cadmus, the prince of Phoenicia. While looking for his sister Europa who had been kidnapped by Zeus, he was soon in the company of the Greeks. Over time he would marry Harmonia, the daughter of Ares, but received a cursed necklace at their wedding. They soon found themselves exiled and made their way to the Adriatic coast with an ox-drawn cart. Upon arrival at the most beautiful place on the Adriatic, they named it Budva after their ox who led them to a new life.
Later, Cadmus defeated a sacred dragon, he was still cursed and wished he was a serpent, too, since the gods seemed to be so devoted to the dragon. His words were taken quite literally and before he knew it, he was growing scales. Wanting to stay with Cadmus, Harmonia begged the Gods to be with him. As the legend continues, they still live among the bushes in Budva. Supposedly, he also founded Ohrid in Macedonia.
Piqued your interest yet? PIN IT FOR LATER!!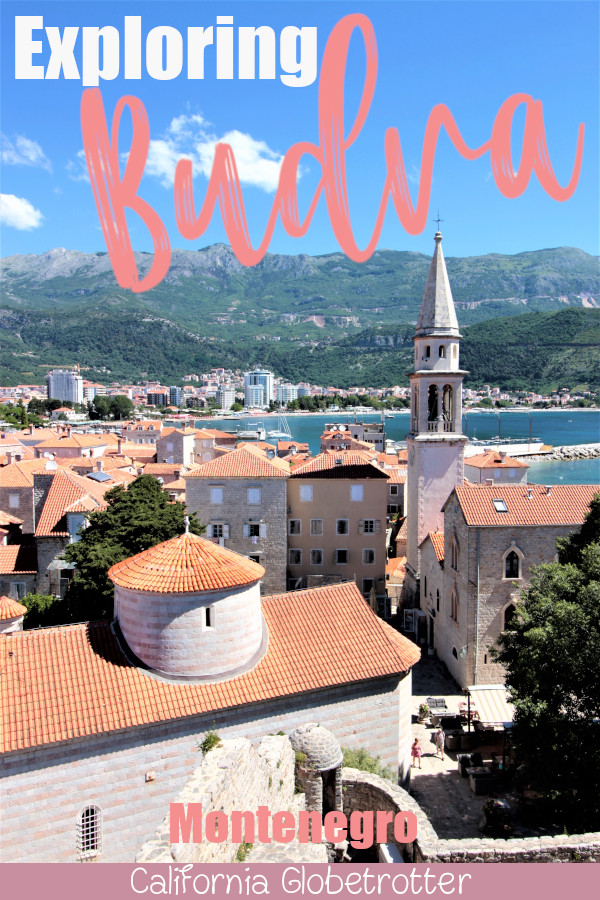 This article is now available as a mobile app. Go to GPSMyCity to download the app for GPS-assisted travel directions to the attractions featured in this article!
How to AVOID Looking Like a Tourist in Europe
2 Day Montenegro Itinerary – Places to Visit on Montenegro's Coast
Gorgeous Seaside Towns Along the Adriatic Sea
Where is Budva?
Jutting out into the Buvda Riviera, the Old Town is conveniently located along the 35 km (22 mi) stretch of Adriatic Sea. Just a short 28 minute drive from Kotor, this is an easy day trip for those looking to explore more of the Montenegrin coastline.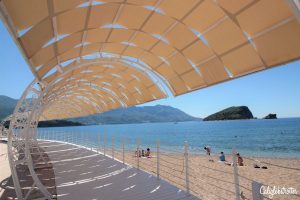 Why Should You Visit?
Most tourists who head to Montenegro beeline to Kotor, often not managing to see anything beyond the country's number one tourist spot. Partially because tourists pile into the town for a day before hopping aboard their cruise ship and moving on. This is an absolute shame because Montenegro has so much more to see that just Kotor.
Driving through the Balkans allowed us to make our own 2 Week Balkan Itinerary which gave us the opportunity to explore more of the Montenegrin coastline. Budva is an idyllic gem not to be missed and is the poster child for tourism in Montenegro, receiving a whopping 45% of all tourism in the country.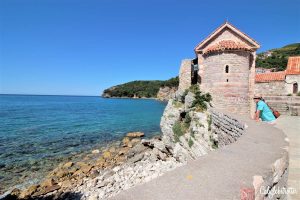 While Budva is quite popular, especially with Russian tourists, it was never over crowded (for end of May). I imagine it can get a bit more full in the summer months, but not as crowded as Kotor can be because of the cruise liners. If you want to get away from the crowds, consider coming here!
If you're looking for sandy beaches, Budva has got you covered! If you're looking for history and architecture, there's plenty to see! I mean, come on, Montenegro beaches are definitely some of the best beaches in Europe! If you're looking for some nightlife, Budva has a diverse party scene. 
History of Budva
Budva is considered to be one of the oldest settlements on the Adriatic at a young 2,500 years old, dating back to the 5th century B.C. Like Kotor, Budva was under the rule of several empires. Beginning with Greek colonization in the 4th century B.C., the keys to the town would eventually pass to the Byzatine Empire, Roman Catholic Diocese, the Venetians and the Austro-Hungarian Empire before it was abandoned by Austrian forces after WWI and the Kingdom of Yugoslavia took over, only to be annexed by Italy during WWII. In 2006, Montenegro gained its independence with Budva and Kotor as the main tourist destinations.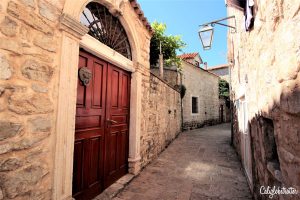 The old town of Budva sustained heavy damage after a 1979 earthquake which destroyed much of the town. It took eight long years to rebuild the town and today, there is little to no evidence of this.
What to do in Budva
The entire town is encircled by defensive and impressive stone walls which were typical of the cities on the Adriatic coastline. Complete with towers, city gates and a fortress, you'll want to walk along the outside and inside of the town.
Before you go in, stroll along the promenade where you'll find a plethora of cute restaurants with a view stretching out into the Adriatic, though I warn you, they are expensive. Here, you'll also find an abundance of beach chairs and umbrellas lining the shoreline. Not far, you'll pass the harbor filled with luxury super yachts owned by wealthy Russians displaying the town's affluent popularity. No matter which direction you go, you'll find a beach to lay out on and soak up the sun! For the most part, they are sandy beaches, though the sand is coarse and often mixed with pebbles.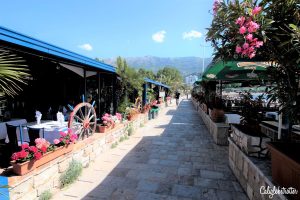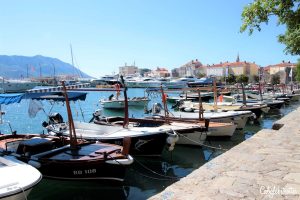 There were originally gates on all four sides of the Old Town, but the sea-facing gates were closed up over the years. You'll likely enter from the gate near the marina and stroll through those alleys oozing with charm I mentioned earlier. If you have time, pay the 1,50 € fee to walk the town walls.
You'll come upon St. Ivan's Catholic Church dating back to the 17th century, however, there is speculation that portions of it might date back as far as the 9th century. Caddycorner, you'll find some of the other main attractions of Budva, the Orthodox Church of Holy Trinity which dates back to 804. Can you even imagine the history? One of the most iconic churches of Budva is St. Mary's of Punta, but it is rarely open.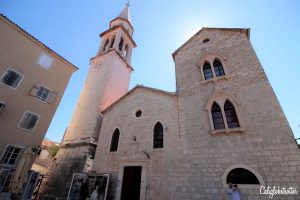 You'll wrap back around and want to pay the 2,50 € fee per person to go inside the fortress, which will give you access to the Maritime Museum, Antiquarian books & maps, a panoramic view, a restaurant and more! The view from the top with astound you as the tower from the church stretches into the sky, backed by rolling mountains and deep turquoise blue waters.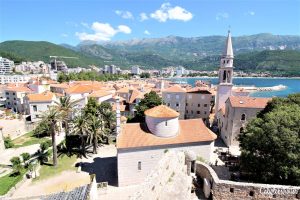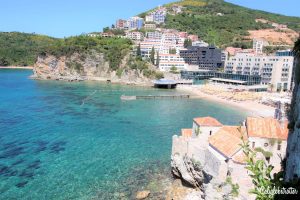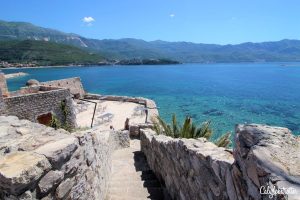 Be sure to take a peak at that big infinity pool stretching out into the Adriatic… I'll tell you about that further below! For now, just enjoy the breathtaking views!
When you're done, head over to the Budva Old Town Beach, where you'll find more sandy beaches, straw sun umbrellas and a small pier which you can jump into the water from.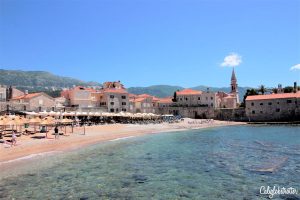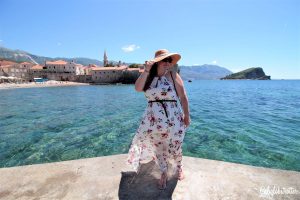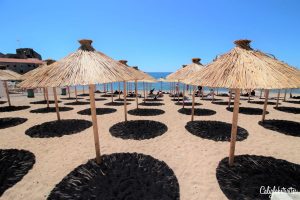 When to Visit Budva
Not being a fan of over 30*C/90*F weather, we planned to visit Montenegro during the last week of May/beginning of June. The weather was hot, but not unbearable yet. We had clear blue skies for days, making for picture perfect moments! The tourist season had already started, but again, it wasn't unbearable yet, which was perfect as we wanted to avoid the hordes of tourists. July and August is the peak season where these small idyllic towns are filled to the max with boat loads of tourists.
We arrived in Budva early in the morning about 8am and the town was still pretty quiet. People were beginning to lay out at the beaches and restaurants were not yet overflowing with hungry people. We were able to pleasantly walk around, strolling from one sight to the next. By 10, tourist groups were beginning to arrive.
Where to Stay in Budva & Where to Park
Upon first arriving in Budva, you'll undoubtedly notice the number of high rise hotels, some of which are in the process of being built. You'll find parking in a dirt parking lot across the street from City Cafe & Restaurant (although this may not be there much longer after the completion of a high rise). We paid 1 € per hour for parking.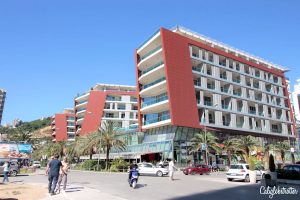 Although we stayed in Kotor, should you decide to stay in Budva, there is a wide variety of hotels and resorts. From the fortress, I discovered a beautiful hotel, Avala Resort & Villas right next to the Budva Old Town Beach and a few steps away from the old town, complete with an outdoor infinity pool. Yes please! Wish I had known about this one sooner!
Overall Experience
A complete and utter dream! I could have strolled the alleys forever, spent my days being lazy on the beach and swimming in the turquoise waters! While there are many great places to visit in Montenegro, we found Budva to be incredibly peaceful and low key, a little less touristy than Kotor, which is what I look for when I travel. It was cute and quaint, much smaller than Kotor or even Dubrovnik. I now wish we had considered staying in Budva for an extended period of time. I don't think I could possibly rave any more about this. You'll just have to see it for yourself! Maybe you might also agree with me that this is one of the most amazing cities to visit in the Balkans!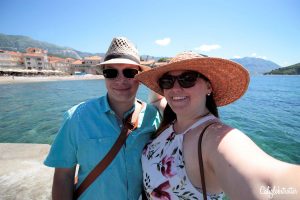 Road & Driving Conditions in Montenegro:
You will be driving on mostly one lane back roads (if coming from Bosnia-Herzegovina).
As you'll be driving on a single lane road, overtaking can be quite difficult in such dangerous conditions. DO NOT try to overtake unless you have a clear view!
The average driving speed on the one lane roads is around 50kmp as you'll be mostly driving through small villages, therefore, PLAN FOR EXTRA DRIVING TIME.
DO NOT SPEED! The Montenegrin Police Force were visible every few miles, actively pulling people over for speeding and for whatever other reasons.
Street lights flash green before turning red, therefore, flashing green lights does not mean you have plenty of time to go through the light!
Tunnels have no internal structure with no lights or ventilation. Turn your lights on!
Prepare yourself for potholed roads quite often during your drive, and drive slowly! Last thing you want it to pop a tire in the middle of no where with no sign of help anywhere!
Always have a full take! When you're near the coastal towns, there are plenty of gas stations, but up in the mountains and smaller villages, you'll have a harder time.
 Use a GPS Navigation system to get you anywhere in Montenegro, but set your preferances to stick to main roads! But just in case, as many roads have no yet been mapped out yet, we bought a map book of Europe.
Crossing the border from Bosnia into Montenegro can take 30 minutes – 1hr (in low season). I can imagine after May, lines may take longer.
You must show your car insurance papers, car registration and passports!! If you're renting a car, check with your car rental company.
It's also recommended to have an international driving license (for this entire road trip) although not necessary (except for Albania and Kosovo).
If you are going to drive from Montenegro to Macedonia, avoid  driving via Podgorica as the roads are terrible (confirmed by our hotel). Instead, you'll need to drive through Albania via Lac. You will definitely need to show your international driving license here.
Dangers on the Road
It is a common occurrence to see cows and other livestock walking along the road. Try not to speed around corners because they may be just around the bend.
Stay on all main roads!!! Do not wander off on to dirt paths or off the side of the road.
Keep an eye out for local farmers driving on the road with a horse/donkey buggies. For obvious reasons, they don't go very fast, so do not overtake unless you have a clear path!
Montenegrins like to tailgate and overtake at the first (unsafe) chance they get, putting both themselves and yourselves at risk of practically causes an accident. Slow down and let them pass.
Looking for more practical information on Balkan Travel? Grab a copy the following travel guides which we found incredibly useful on our trip and has something for everyone from outdoor activities to historical sites!
Disclaimer: This post contains affiliate links. If you click on one and make a purchase, I might make a little extra spending money, at no extra cost to you. As always, all opinions are my own and these products/services have been found useful during our travels and come highly recommended to you from yours truly!
Other Amazing Posts From Montenegro:
The PERFECT Two Week Balkan Road Trip
An Introduction to Kotor, Montenegro
The most LUXURIOUS Honeymoon Day Trip: Sveti Stefan 
In Love With This Post? PIN IT FOR LATER!!