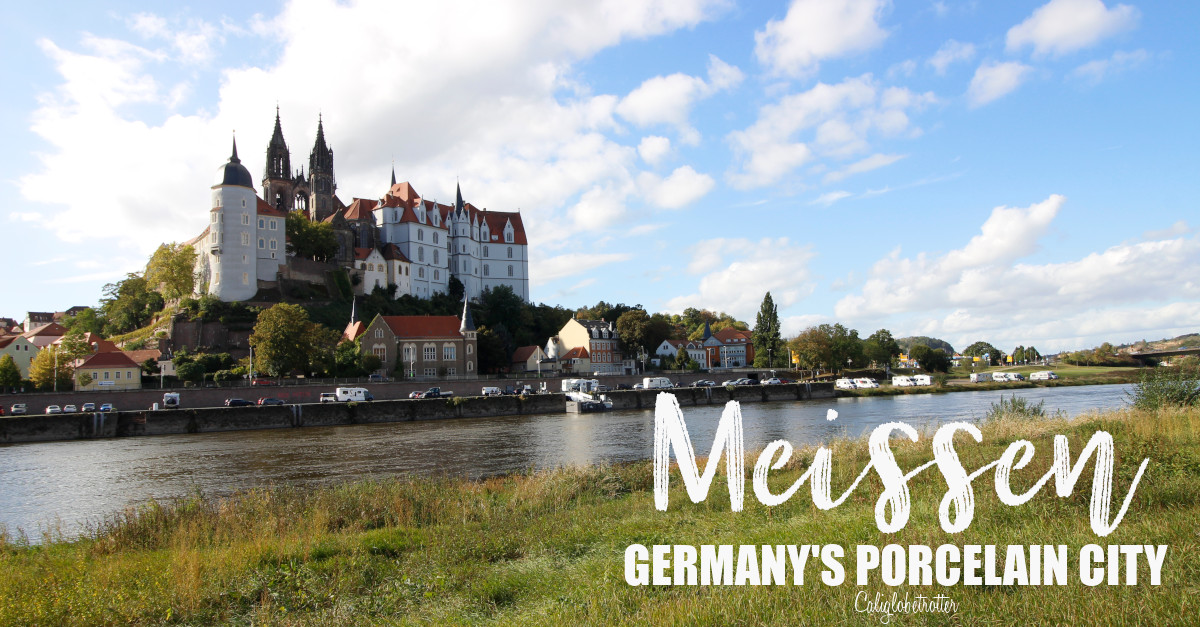 Disclaimer: This post contains affiliate links. If you click on one and make a purchase, I might make a little extra spending money, at no extra cost to you. As always, all opinions are my own and these products/services have been found useful during our travels and come highly recommended to you from yours truly!
Meissen has historically been synonymous with porcelain. Since 1710, Meissen has been home to the largest production of china porcelain, outside of China and has been drawing in trickles of tourists. Come discover Meissen for your self and see why this still relatively unheard of, charming little town should be on your next German travel itinerary!
Want to Explore Germany's

Porcelain

City? PIN IT FOR LATER!!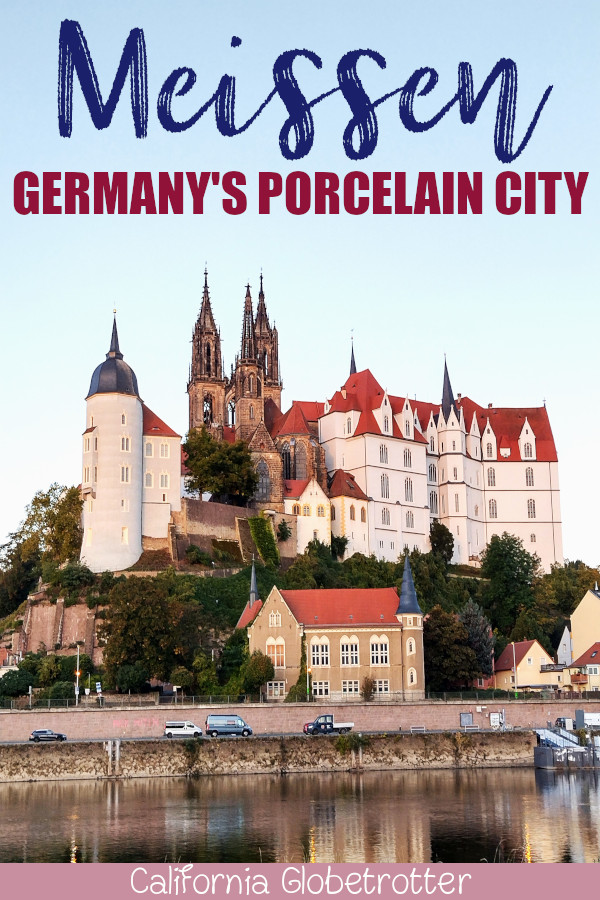 A Gargantuan List of Places to Visit in Germany
10+ Places to Visit in Germany in Autumn
I no longer know when or where I first discovered Meissen (Meißen) and knew immediately I wanted to go. It was probably either an Instagram post or a Pinterest pin. Either way, this trip has been years in the making. I knew Meissen was just the kind of town I wanted to visit, small, relatively unheard of and really one of Germany's best kept secrets.
I think we have managed to book this trip at least 3 times, and yet we always have the worst luck and have needed to cancel. Finally, we have made the trip especially since we had extra motivation: our hotel was gifted to us as a birthday present from a family member. 
All I know now, Meissen quickly shot up to one of my Top 10 towns in Germany! We had a great time wandering around, porcelain window shopping, eating some of the best food and being utterly amazed by the detail in the porcelain factory!
I knew that when we make a weekend trip to Meissen, it would also be paired with a few easy day trips from Meissen as well. We also headed to the Moritzburg Castle, did a bit of hiking around the Bastei Bridge in the Saxon Switzerland National Park and visited two wineries in Saxony – Weingut Schloss Proschwitz and Schloss Wackerbarth. We wanted to squeeze a quick trip into Dresden having mostly seen it for the Dresden Christmas Market and wanting to explore a bit more, but we didn't have enough time.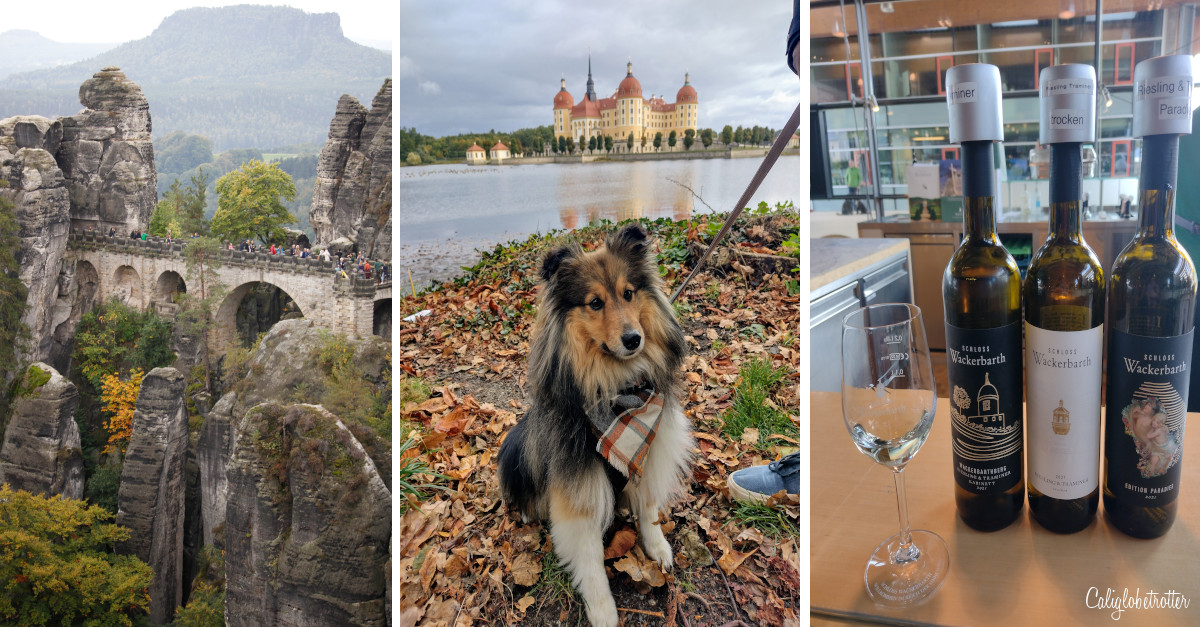 Where is Meissen?
Located in the state of Saxony, in Eastern Germany, Meissen is just 25km from Dresden, straddling both sides of the picturesque Elbe River. Having previously been under the control of the former GDR, if Saxony's largest towns, such as Dresden, Leipzig and Chemnitz were stifled under oppression, then Meissen didn't have any chance.
History of Meissen
Nicknamed the "Cradle of Saxony" because it is believed that Meissen was the birthplace of Saxony due to the fact it is home to the oldest castle in the state, it surprisingly never became a full-flown city and has retained it's small town charm, making it one of the best towns to visit in Saxony.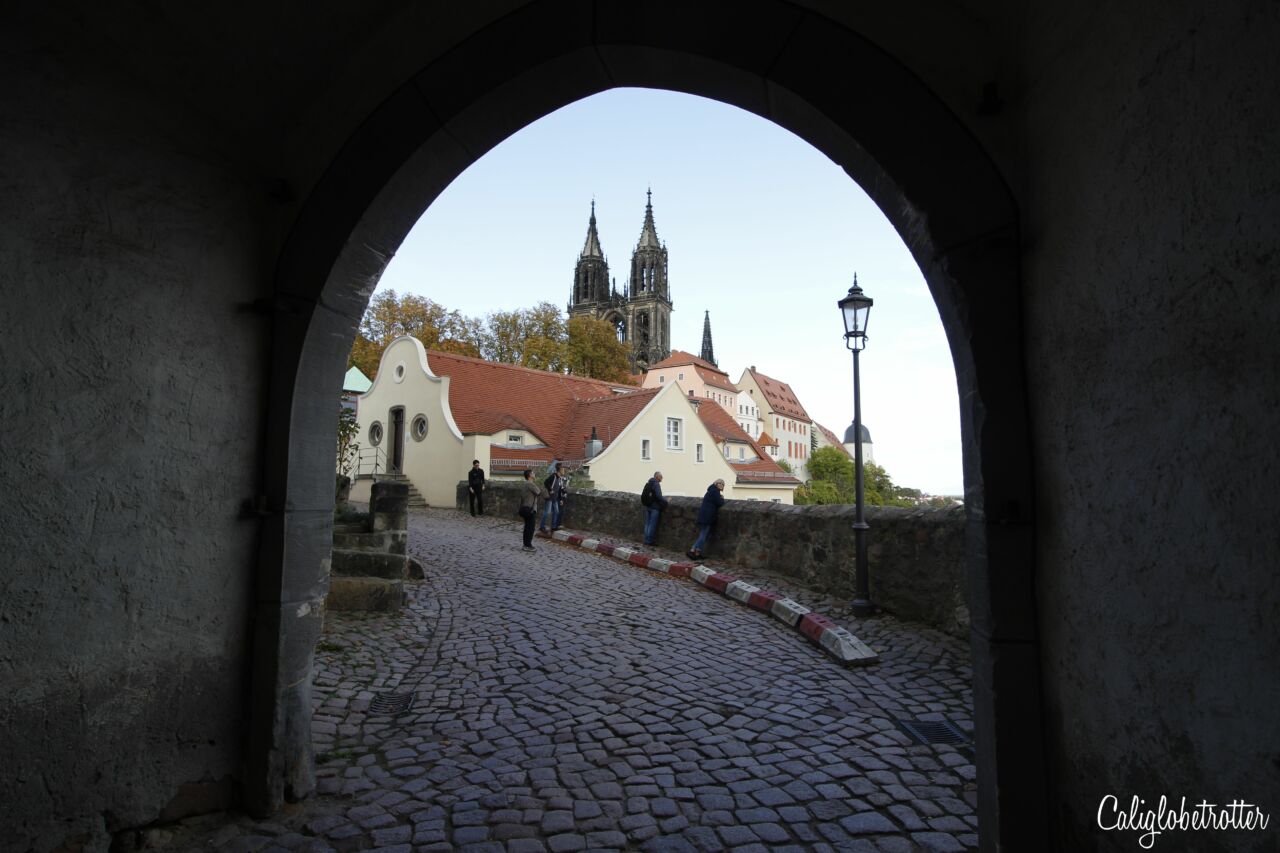 Meissen evolved from s Slavic village and was founded in 929 as a German town by King Henry the Fowler. Several monasteries were eventually built between 1205 and 1274, and in 1250, construction began on what would become Saxony's first castle, the Albrechteberg. Before becoming home to its world famous porcelain, Meissen produced mostly cloth, however by the end of the Thirty Years' War, the economic situation in Meissen was severe. In 1710, Augustus the Strong founded Europe's first porcelain manufactory, breathing life back into Meissen. It was one of many competitive porcelain factories that sprung up throughout Europe, competing against Sèvres Manufactory Works in Paris and Derby Porcelain Works in England. 
👉🏼‼️ If you're interested in visiting, I highly recommend reading this great novel, The Blue by Nancy Bilyeau, which focuses on the competitive nature of the porcelain industry between Meissen, Sevres and Derby! I couldn't put it down!
Fast forward to the early 20th century, and like the rest of East Germany, struggled to survive under the oppression of the Nazis under the National Socialist regime and then again under the control of the former USSR. Like Dresden, Meissen was also heavily damaged and while it was rebuilt under the care of the Russians, there was no need or desire to expand the town.
After the reunification of Germany on October 3, 1990, many cities in Eastern Germany, Meissen began careful renovations, thus preserving it's old-world charm, making it today one of the best day trips from Dresden!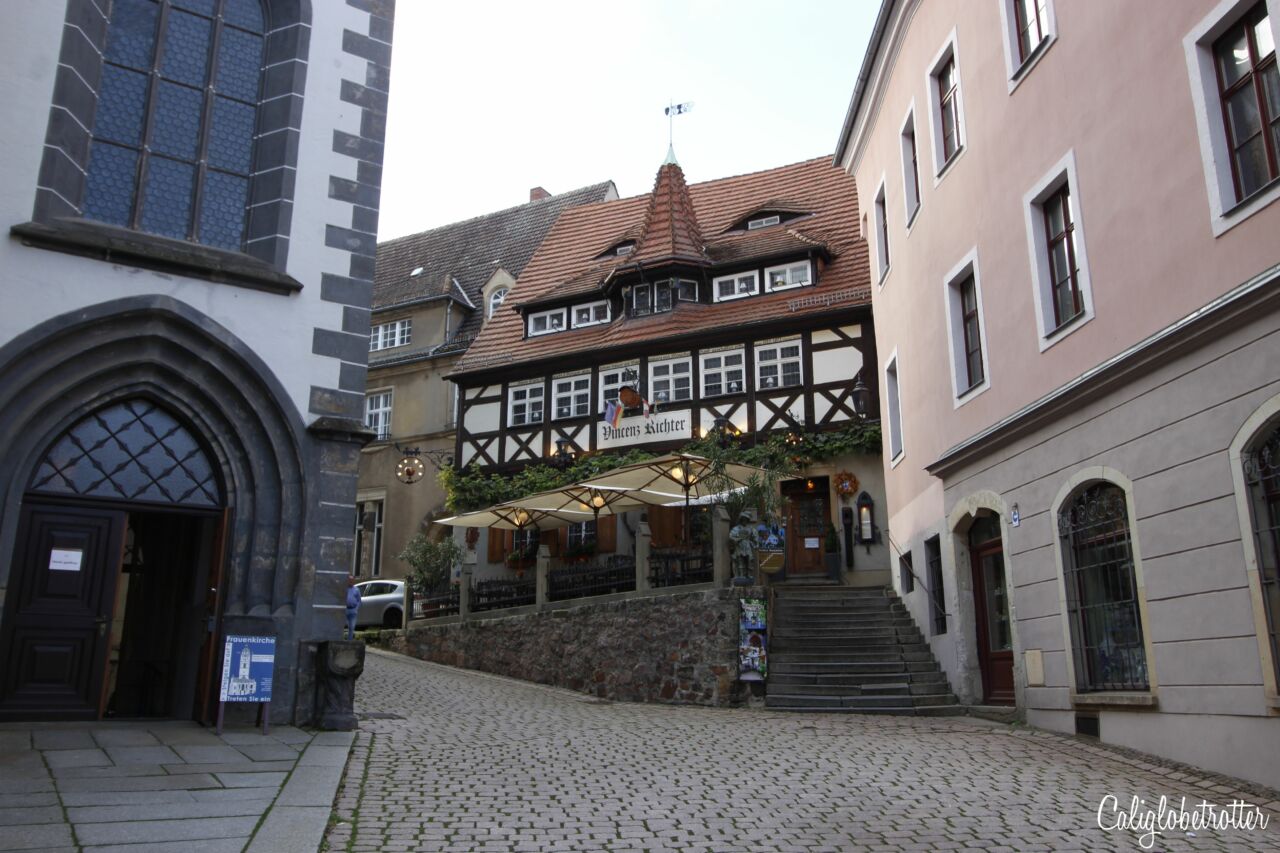 How to Get to Meissen
How to get to Meissen by train:
Grab my guide to using the DeutscheBahn Trains and download the DeutscheBahn App on your phone! 
From Dresden to Meissen by train takes roughly 34 minutes from the Dresden Central Station (HBF) to the Meissen Altstadt with the S-Bahn which will cost about 6,80€ per adult, one way. The S1 comes every 30 minutes and preferred stops are Meissen or Meissen Altstadt. For sightseeing purposes, it's best to get off at the Meissen Altstadt station as it's more directly located in town. 
From Leizpig to Meissen by train takes roughly 1 hr 34 minutes, with a stop from the Leipzig Main Station (HBF) to Meissen Altstadt for about 16-24€.
Getting to Meissen from Dresden by boat:
Take a roundtrip boat tour from Dresden to Meissen on an Elbe River Cruise. Along the way, you'll discover the Saxon wine route along the Elbe before having the chance to explore the town and a return trip back to Dresden.
Getting Around Meissen
Driving in Meissen: Before driving into Meissen, be aware that many major cities in Germany now require a green "Umweltplakette" (Environment sticker) in all front windows of cars that have been tested to be environmentally friendly. If you are found driving in Green Zones without a sticker, you will be forced to pay a fine. 
Parking in Meissen: There are many parking garages, parking lots or streets designated for parking located in and around the Meissen Old Town. The best parking area is on Meisastrasse, where there is a panoramic elevator lift (Domaufzug) which will take you up to the Domplatz on top of Castle Hill. This is a great place to begin your sightseeing in Meissen! There is a small fee to use the elevator. 
Walking in Meissen: Meissen is easy to explore by foot, however, being a bit of a hilly town means there are lots of staircases throughout the town. Meissen is divided into upper and lower Meissen. The upper portion of Meissen consists of Castle Hill where the Albrechtsburg is, as well as Domplatz. The rest of the Meissen historic center is located in the lower portion, accessible via the castle stairs (Schlossstufen) or via the tunnel (Amtstufen). From the castle to the Old Town city center, it's an easy walk downhill, along the Burgstrasse, passing cute alleys and a small portion of vineyards.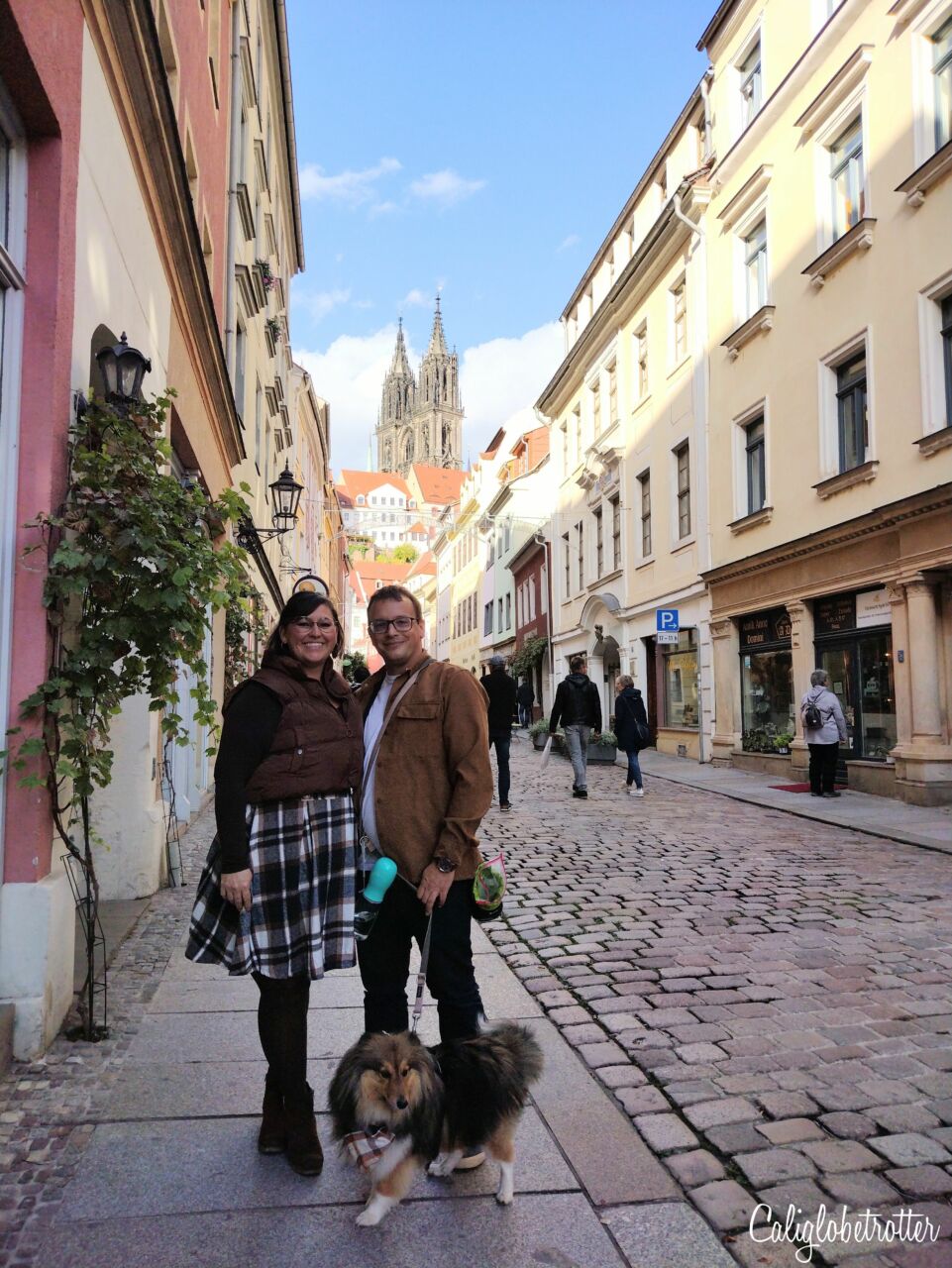 Guided Tours in Meissen
Most of the time when we visit a new city, I have done all the research beforehand, we've studied the maps and know where we want to go and the basic idea of getting around. 
Be sure to check the City of Meissen Tourist website for information on guided tours for Meissen in a variety of themes, which always start from the Tourist Info center in the Main Square. 
Guided walking tours of Meissen are only on Saturdays at 11am in February, March, November and December. From April to October, the tours are daily at 11am, as well as at 2pm on Saturdays. Tours are approximately 1.5 hours and start in the main square and finish at the castle/cathedral. 
Prices : €9.50 adults | €7.00 reduced (pupils, students and disabled people) | €4.00 children (6 – 16 years) | €22.00 family ticket
Sights to See in Meissen
UPPER MEISSEN
The Albrechtsburg
Tickets to the Albrechtsburg must be booked in advance during high season, plus an additional charge for photography permission for €2. Get the Combination ticket (for individual viewing) for both the Albrechtsburg Castle & the Meissen Cathedral! €16.50 / reduced €14.00 / family ticket €39.00 for 11:30am. With the purchase of your ticket to Albrechtsburg, simply show your ticket at Schloss Moritzburg for a reduced entry.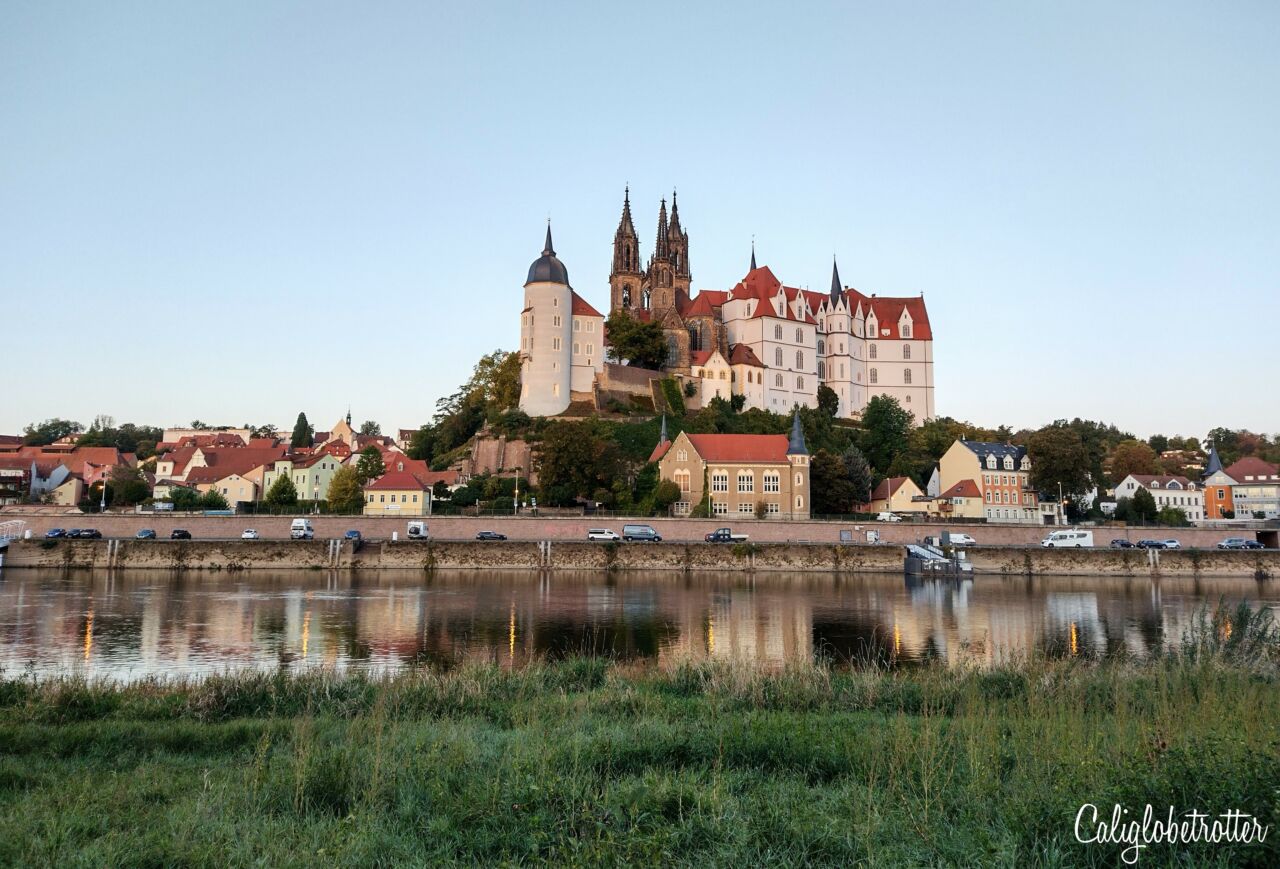 Making it's debut over a thousand years ago as Heinrich I's "Misni" castle, the Albrechtsburg Castle, as it is known today, is perched atop a defensive bluff overlooking the Elbe River. As Germany's first residential palace, it was commissioned in 1471 and 1524 as a symbol of Saxon power by two brothers. both prince electors and was completed in 1520 who ruled over Saxony together.
While its original intention was to be used as a representative administrative seat and a residential palace rather than as a defensive fort, it was never used for its original purpose because the brothers squabbled over everything and the Wettin territory was divided between the brothers. The castle would not be used actively again until 1710 under Augustus the Strong, using it as Europe's first porcelain manufacturer with the discovery of "white gold".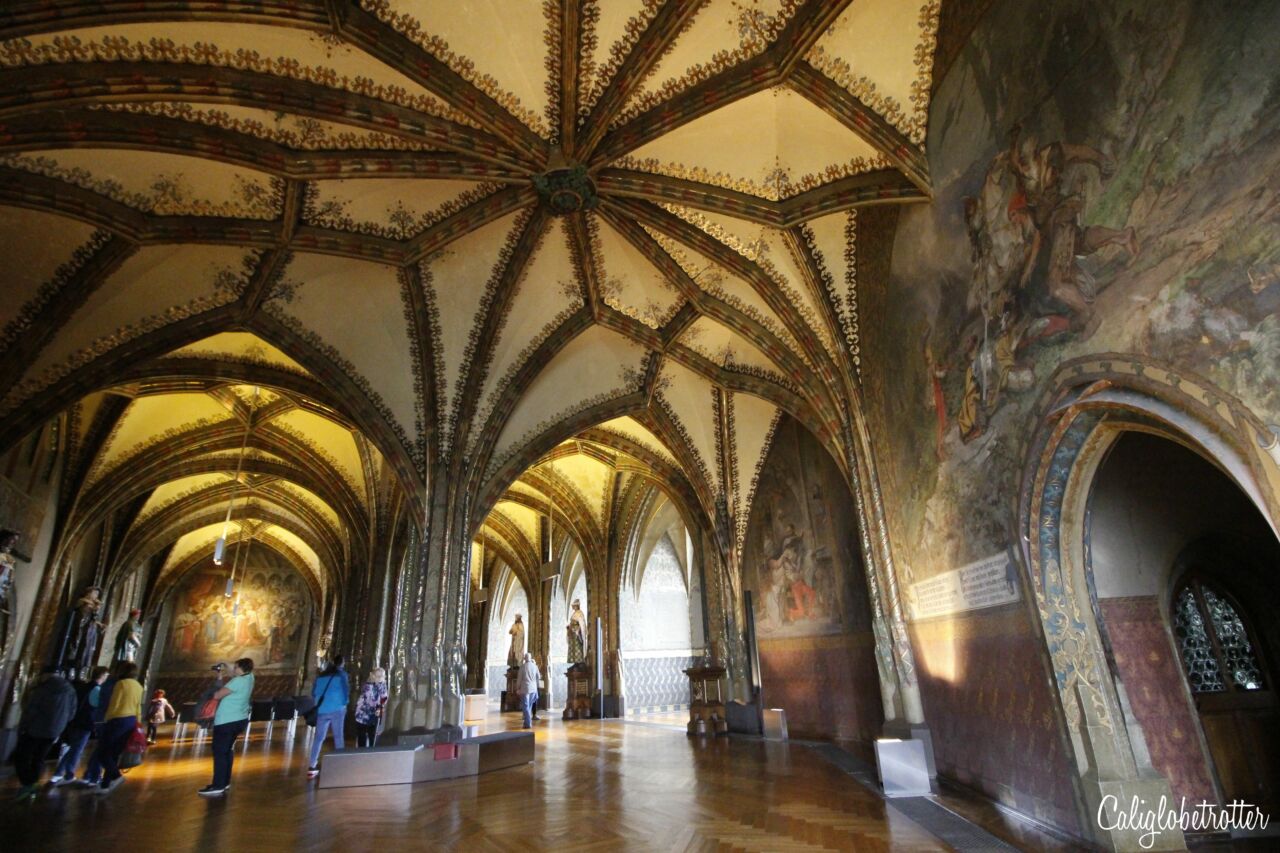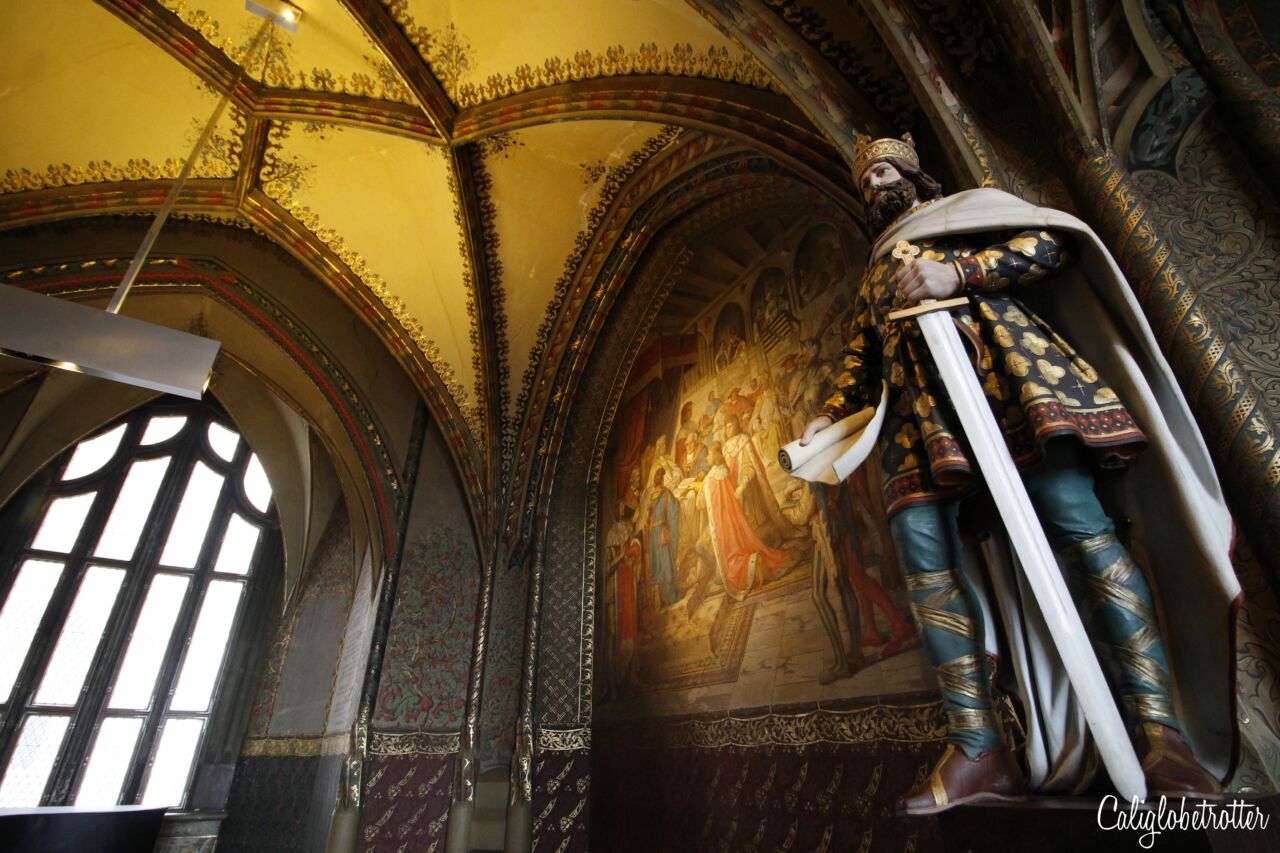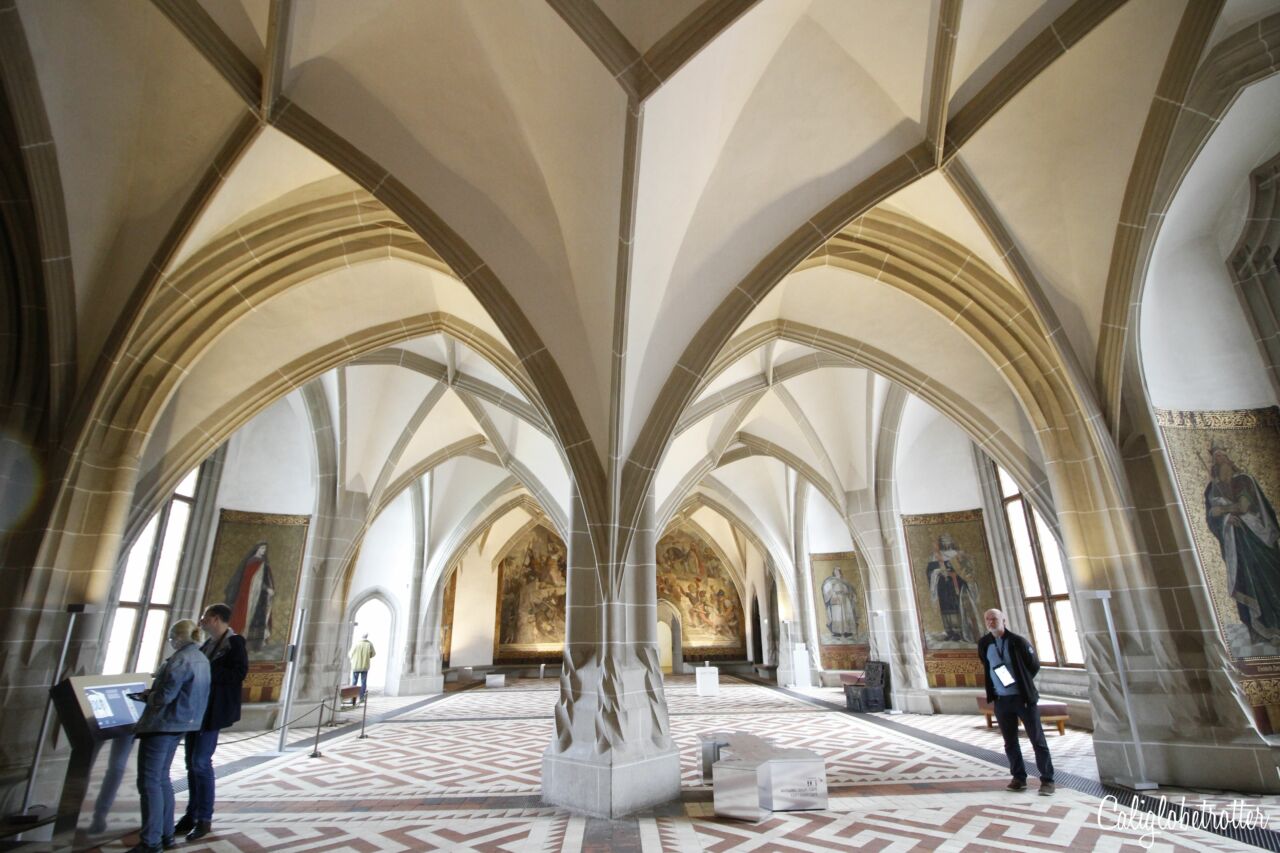 Today, the Meissen Castle is one of the most beautiful castles in Germany, especially internally! While the outside it not overly impressive, the interior is a feat of its own. The staircase especially was considered an architectural masterpiece at the time of its construction. The interior craftmanship will surprise and awe you, transporting you back to the Middle Ages with its distinctive arched ceilings.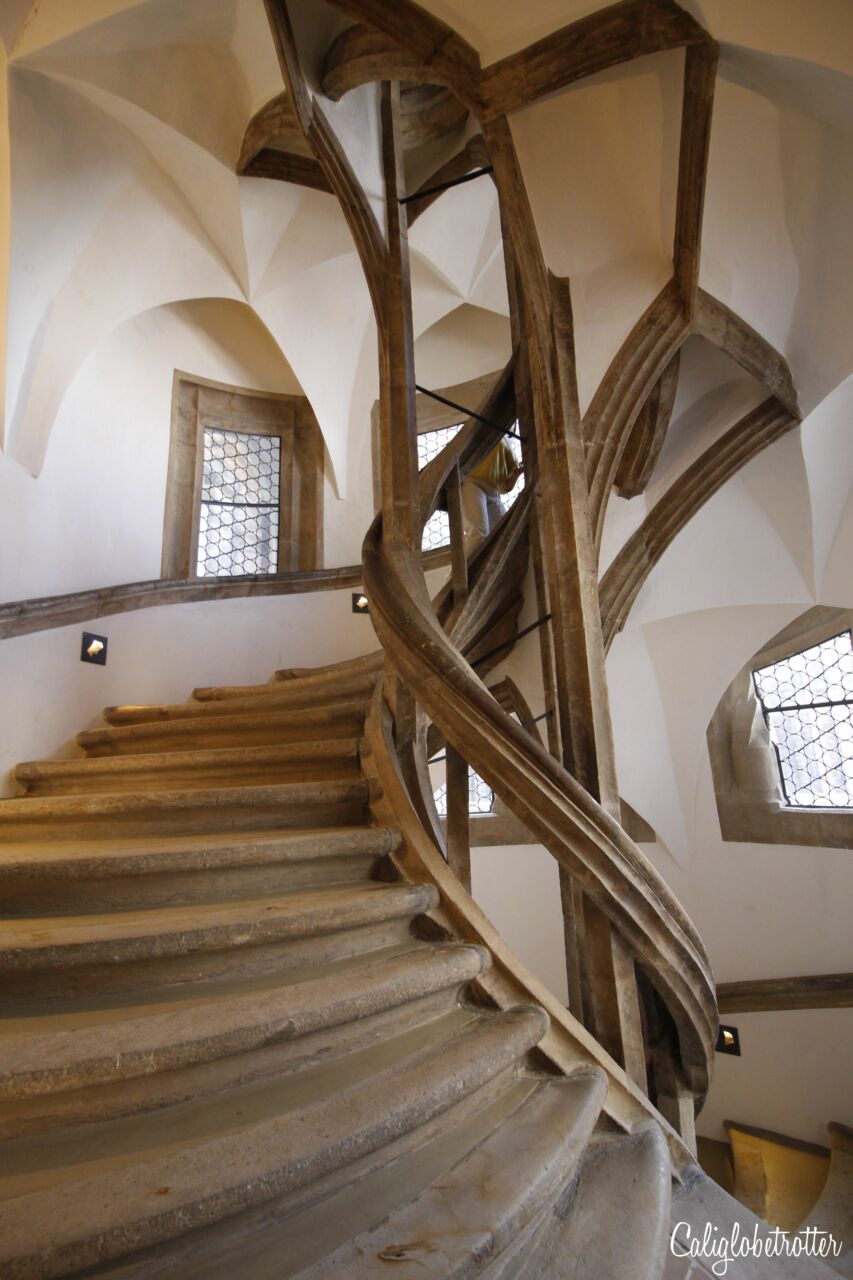 For 153 years, the castle would be used as a manufactory for porcelain, until 1863 when the production was finally removed. Extensive damage was done to the interiors during that timeframe, however it has been carefully renovated.
The Meissen Cathedral
Tickets must be booked in advance during high season! Guided tours are at daily at 10:30, 11:30, 12:30, 1:30 and 2:30.

The best time to visit the Meissen Cathedral is during their organ service from 12-12.30pm (Fee: €3) Meissen Cathedral is open to the public from 10am – 5:30pm and is no longer used for church services for a nominal entry fee.

A steeple tour is also available from April to October, daily from 1-4pm by appointment.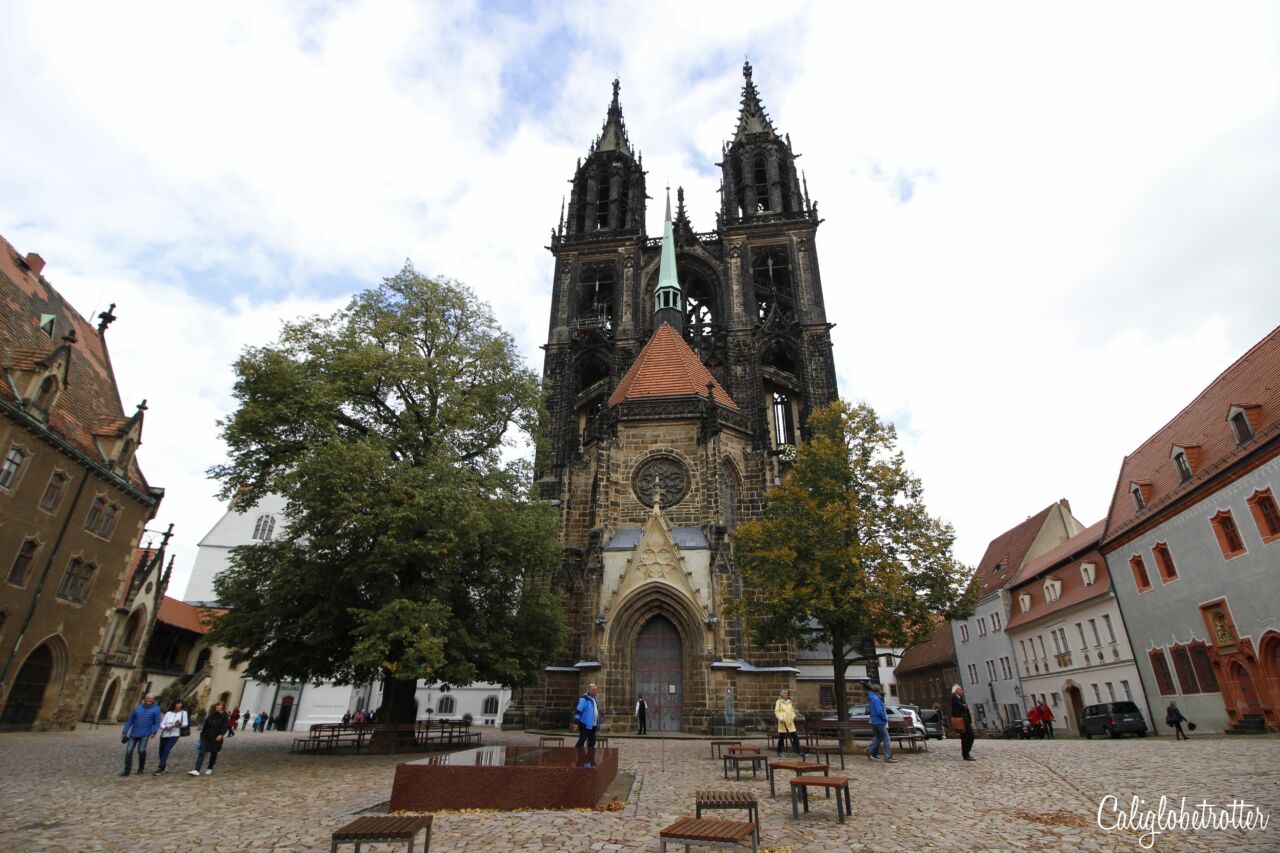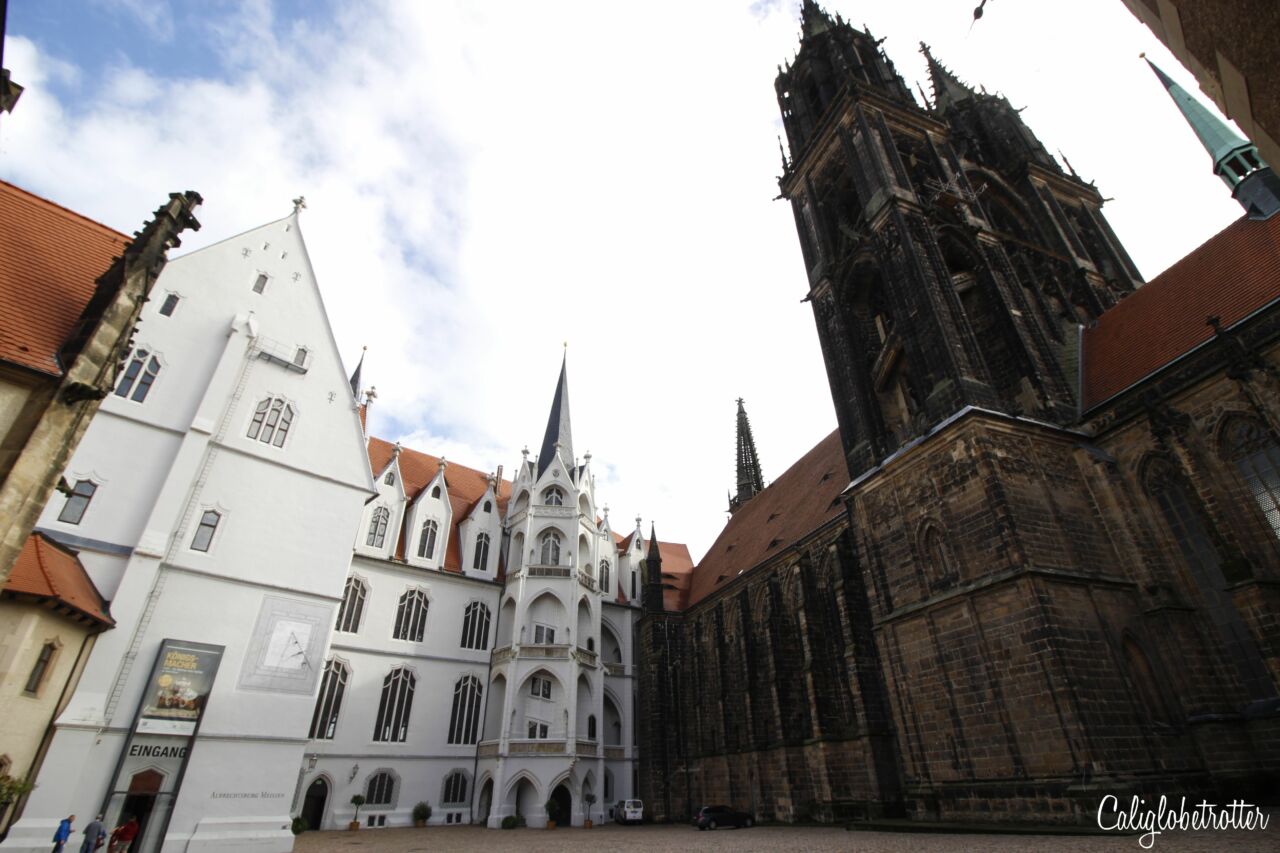 For over a thousand years, the Meissen Cathedral (Meissen Dom), also known as the Church of St John and St Donatus, has being one of the major landmarks in Meissen. The first know chapel here dates back to 968 before it became too small to house the growing population of Meissen! Eventually in 1250, the construction of a larger cathedral started to take shape. The same man who completed construction on the Albrechtsburg also helped build the Meissen Cathedral which merges into one another. The towers of the cathedral were only added in the 1900s and is today a masterpiece of Gothic architecture.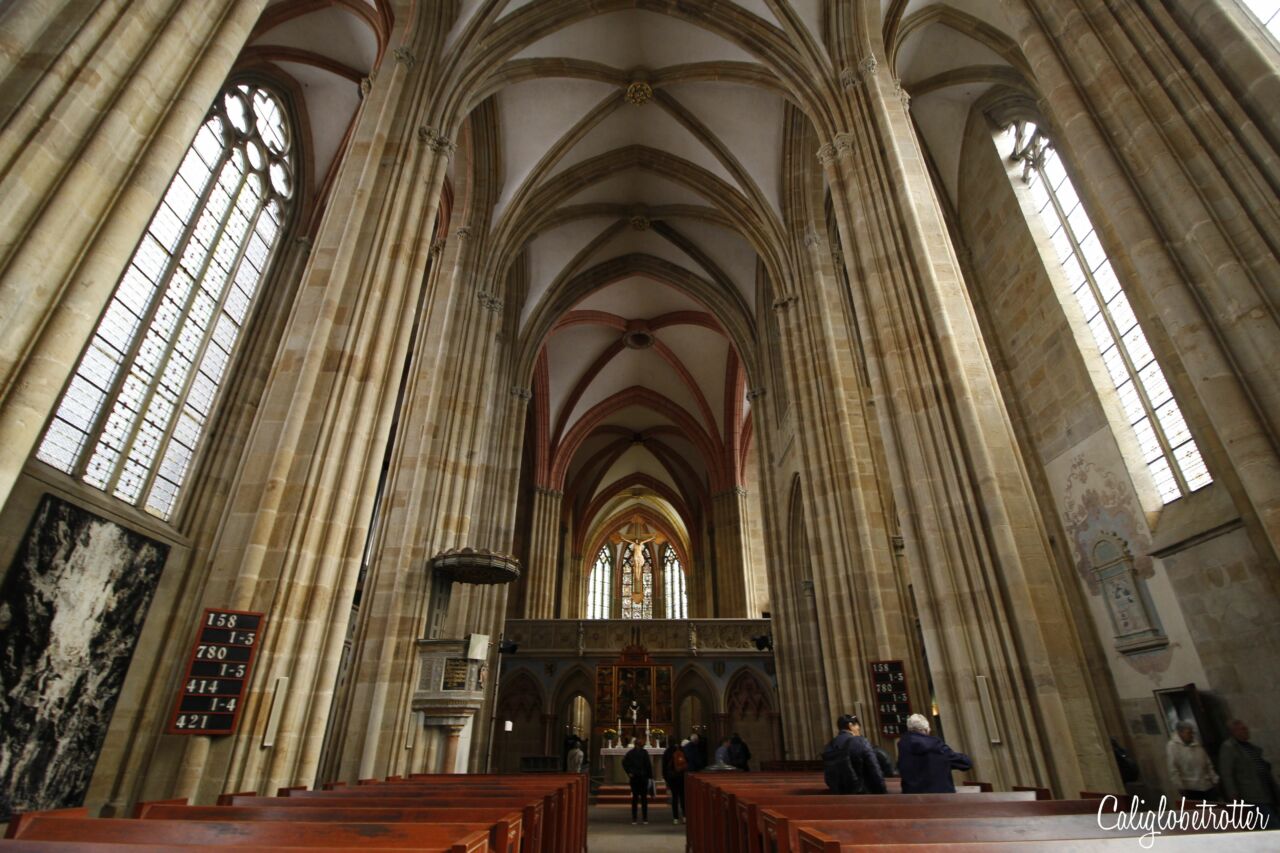 There are some amazing views over Meissen to be enjoyed from one of several cafes or from a terrace beside the Dom (Cathedral). You'll be surprised to see that there are numerous vineyards scattered throughout Meissen.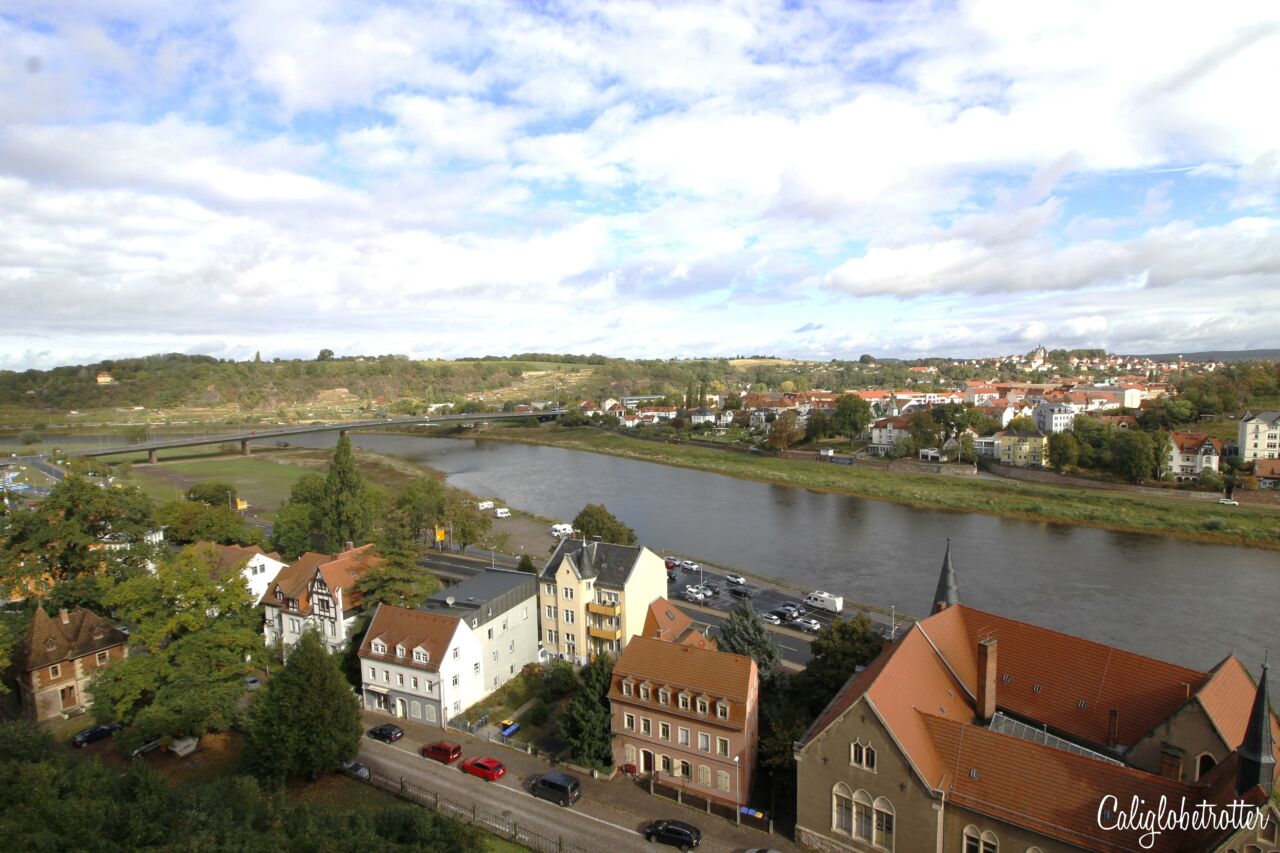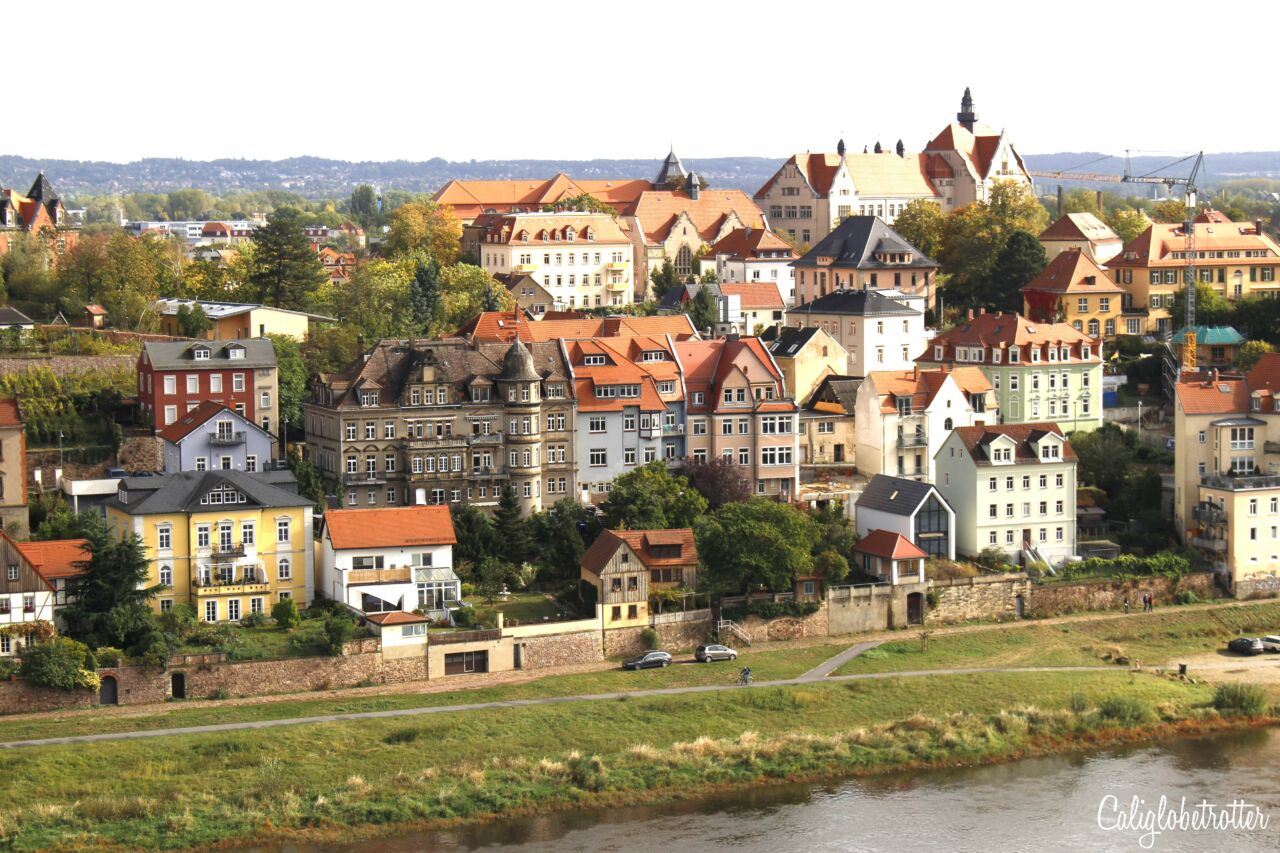 The Torhaus
At one point, the Torhaus was a very important building in Meissen, as it was the only entry point to reach the Albrechtsburg Castle. Over the centuries, many famous German artists have lived here, including master sculptor Christian H. Kaendler and Romantic painter Ludwig Richter.
Johann Friedrich Böttger was a German alchemist who is credited with being the first European to discover the secret of the creation of porcelain 1708. King Frederick I of Prussia established the first European porcelain manufactory and put Böttger  into "protective custody" and lived in the Torhaus for his talents and experiments.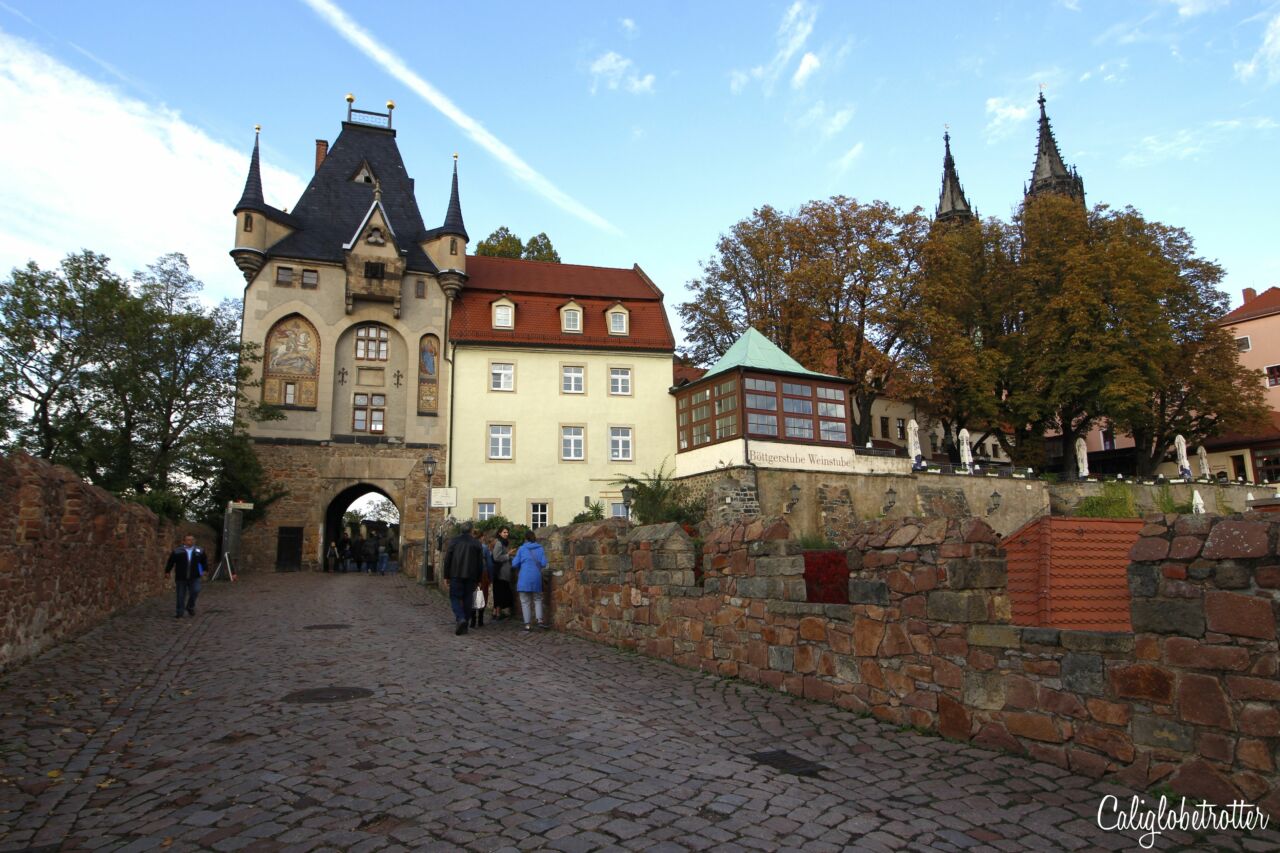 Lunch at Domkeller – the oldest restaurant in Meissen
Consider lunch at the Domkeller for the best views over Meissen and is also the oldest restaurant in Meissen, dating back to 1270 and definitely has that "Gemütlichkeit" vibe I always look for in traditional German restaurants. Here, traditional Saxonian dishes are served up, but if you've done a lot of travelling, you'll see some similarities to meals in the Czech Republic as well as down into Bavaria with potato dumplings with a beer goulash, pork dishes with a beer sauce and more!
During my time in Meissen, I personally focused on trying as many local wines from Meissen and Saxony as I could, knowing that many are rarities. Here, I enjoyed a glass of Goldriesling, another variation of the traditional Riesling variety that was crossed with another, unknown grape variety. I found it way more enjoyable and less acidic than a normal glass of German Riesling.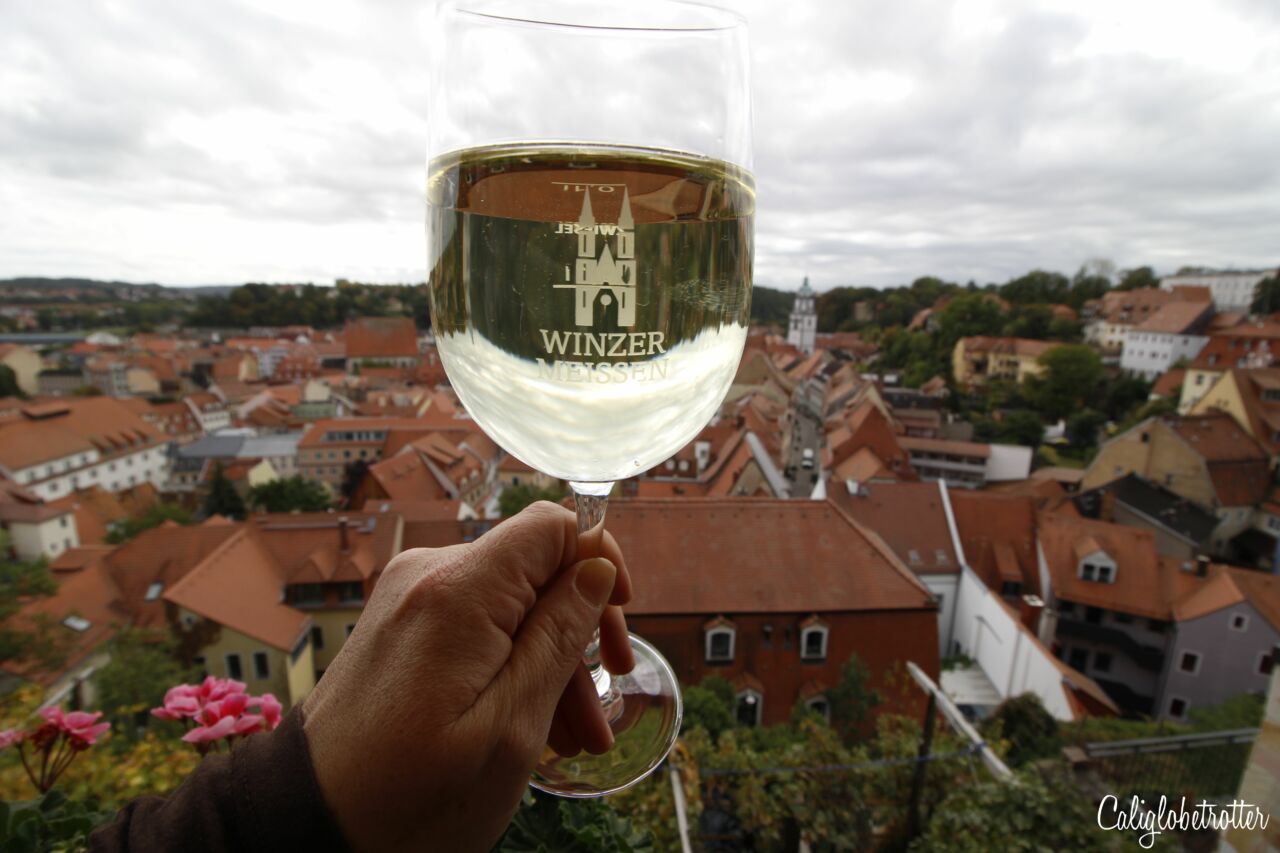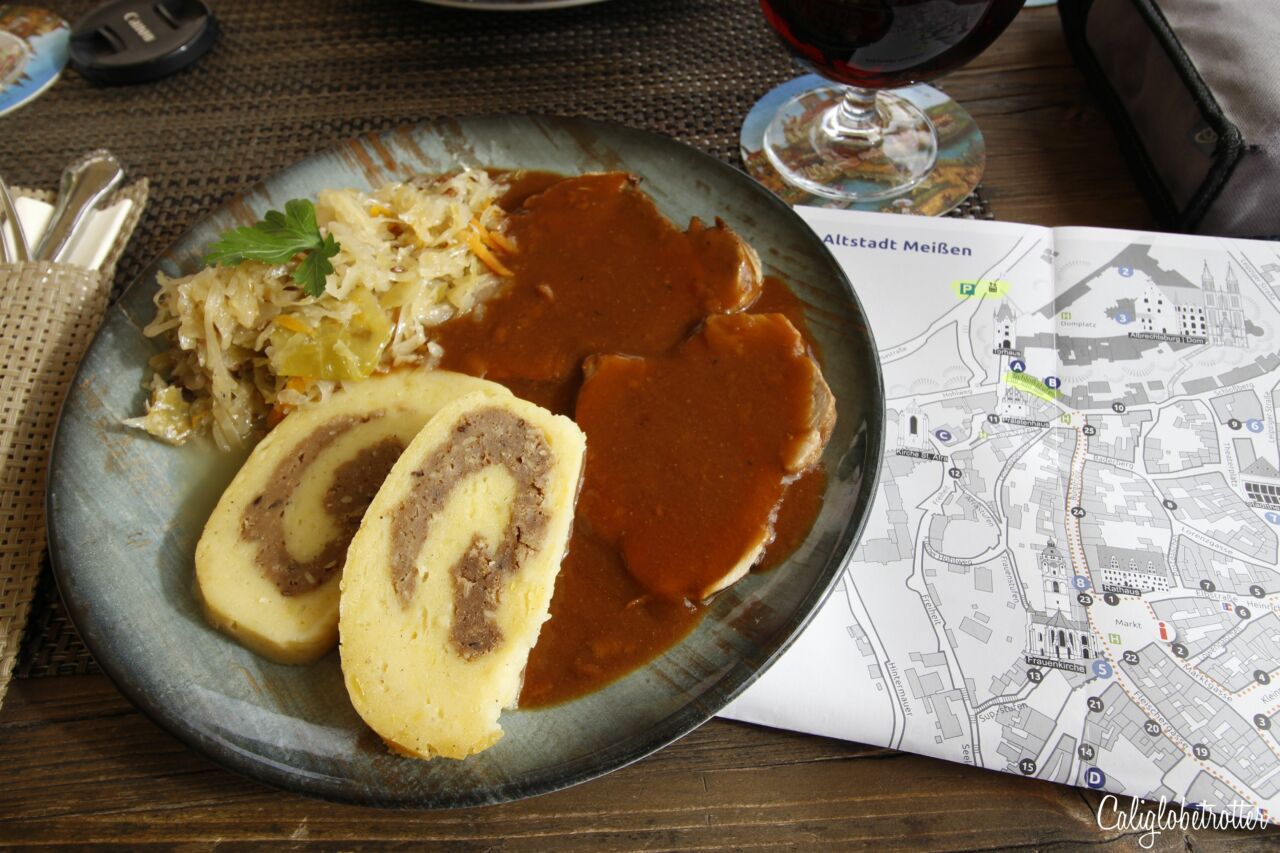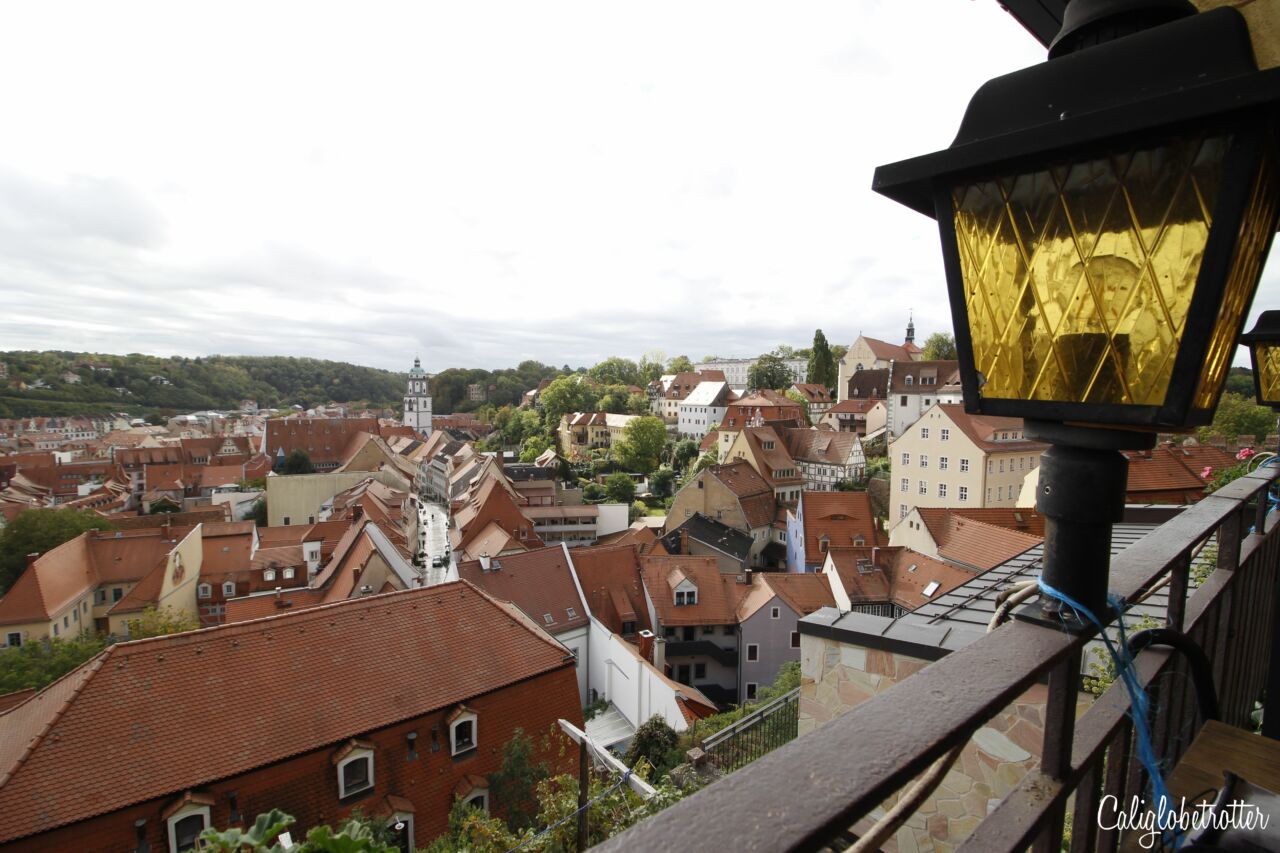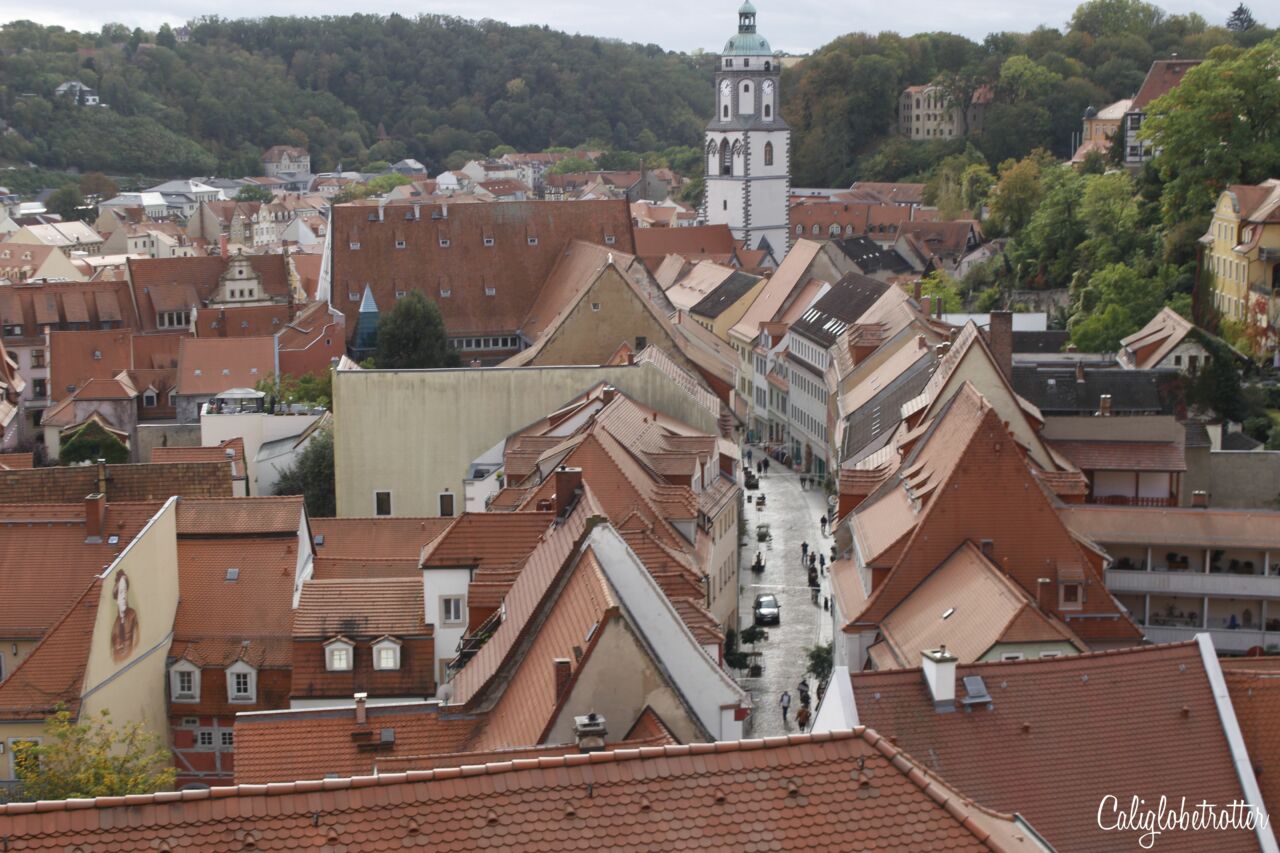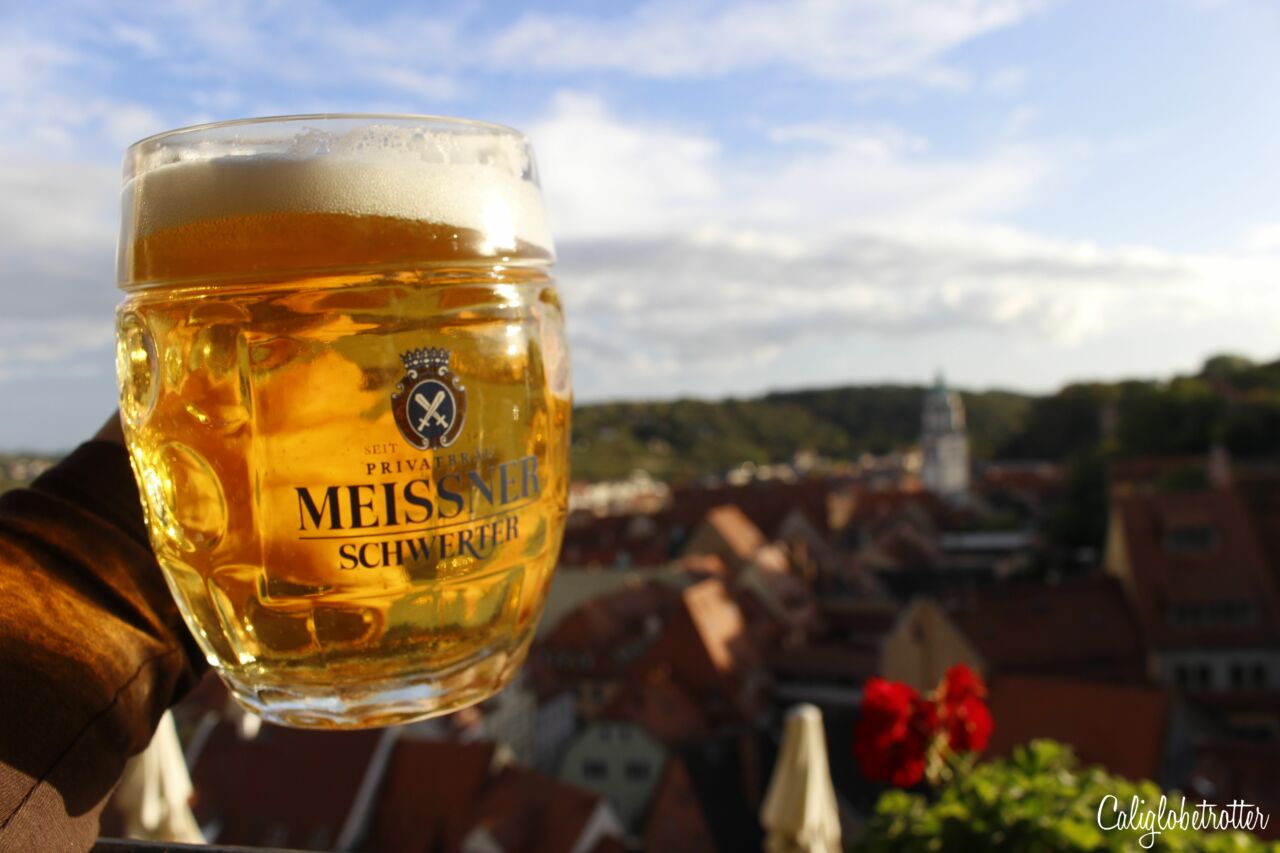 LOWER MEISSEN
While the most important of Meissen's main attractions are located on the upper portion of Meissen, the lower portion of Meissen is also definitely worth strolling through. The Meissen Altstadt (Old Town) is incredibly beautiful with an array of colorful houses, cobble stoned streets, quaint cafes and restaurants which reminds me a lot of Regensburg. 
A quick look at a map of Meissen's historic city center looks more like a maze of winding streets and alleys, with no real clear layout. Upon descending down from the Domplatz via the Schlossstufen, if you simply follow the Burgstrasse it will lead you directly to the Meissen Markt (Main Square).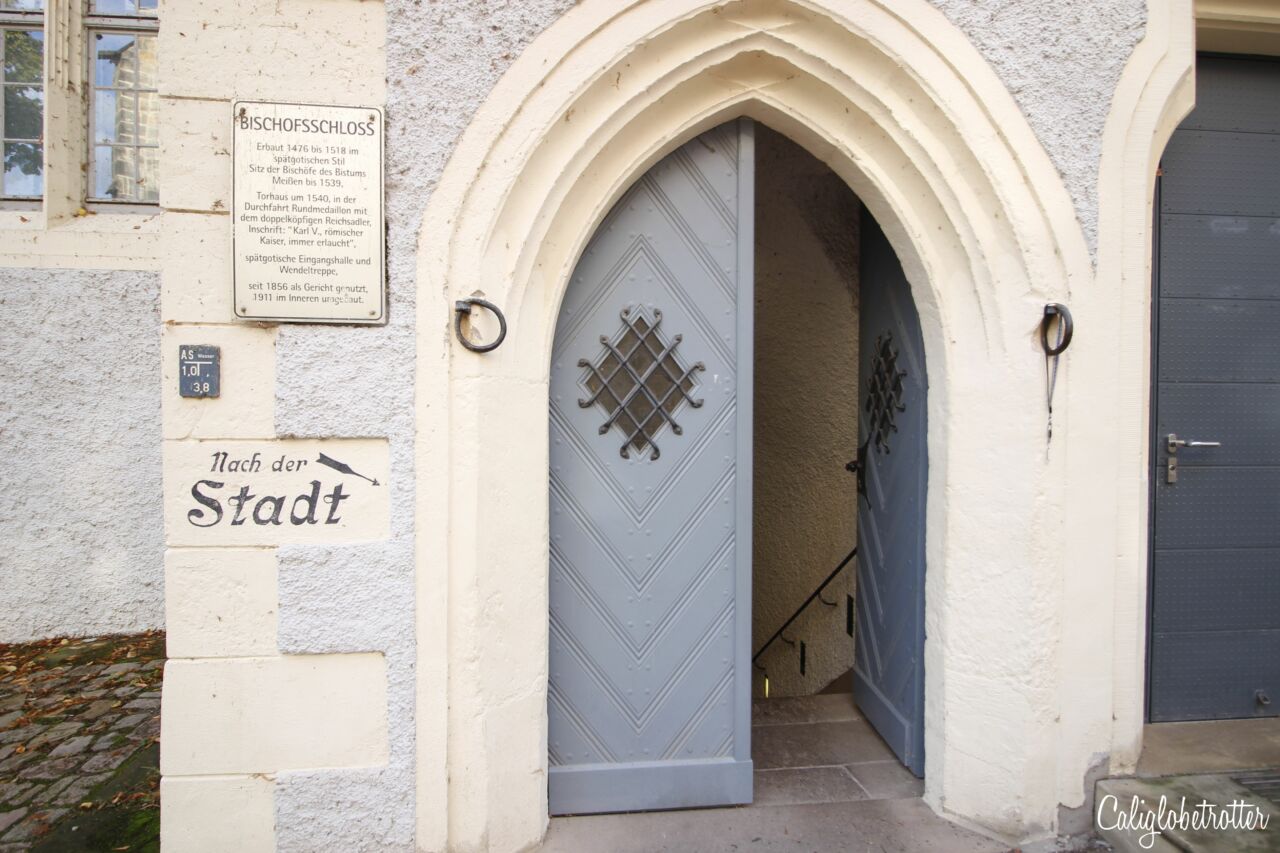 Meissen Rathaus
Meissen's Old Town Hall can be found directly in the Main Square, known as the Markt. Designed in the Late Gothic style between 1470 and 1486, it's not exactly one of the most beautiful city halls in Germany, it's still worth a glance as you're walking around the main square, which is dominated mostly by the Frauenkirche.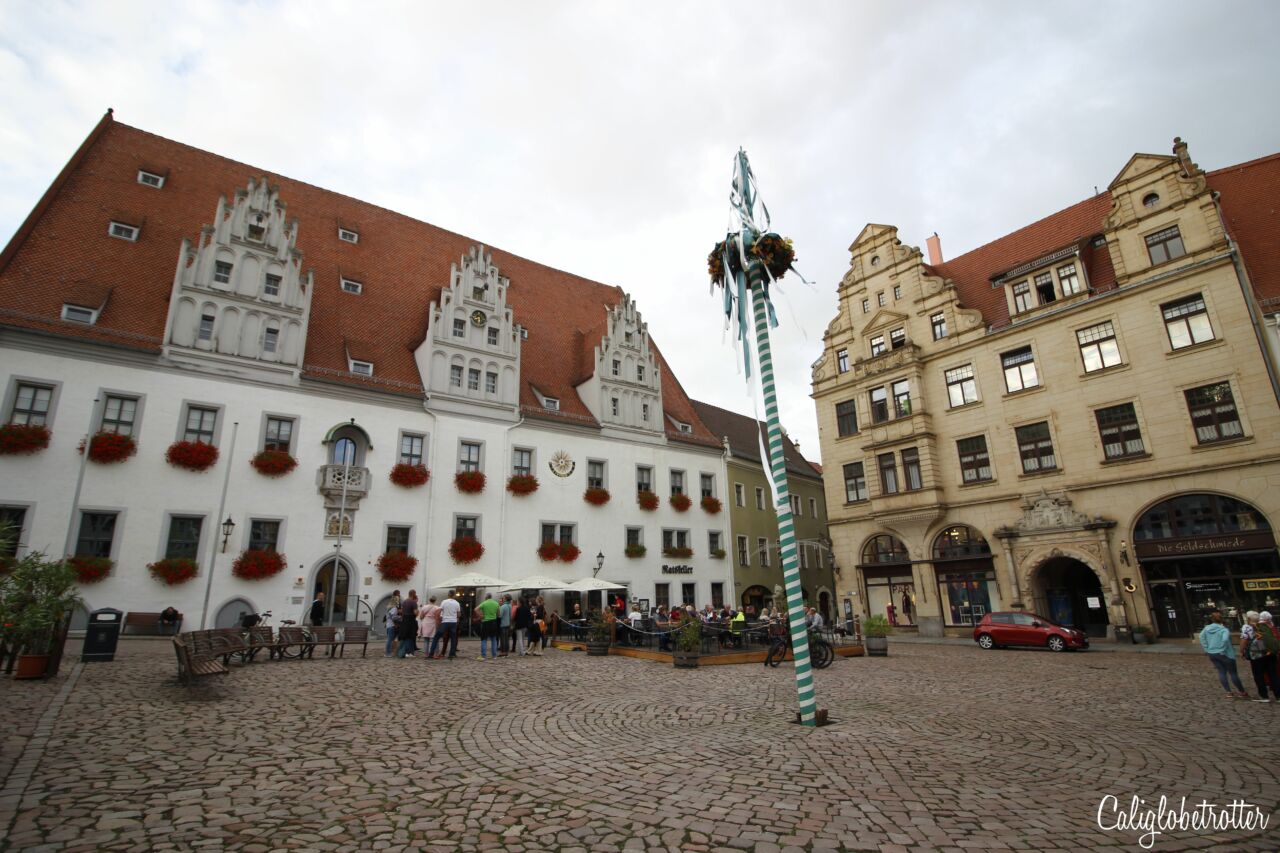 Meissen Frauenkirche – Church of Our Lady
Located directly in Meissen's Main Square, the Frauenkirche is another of Meissen's key landmarks dating back to 1205. The Frauenkirche is a Protestant church and evolved over 800+ years of construction. Like many church towers in Europe, you may climb up its tower, all 193 steps, to the tip of the spire for some incredible views overlooking Meissen. The church bells were built in 1929 and all 37 bells are made from local Meissen porcelain, which ring at regular intervals throughout the day for a total of 6 songs. 
06.30 a.m. – "Wake up, call and the voice"
08.30 a.m. – "Great God, we praise you"
11.30 a.m. – "The heavens glorify eternal honor".
14.30 hrs – "We come to pray".
17.30 hrs – "A strong castle is our god
20.30 – "Praise the Lord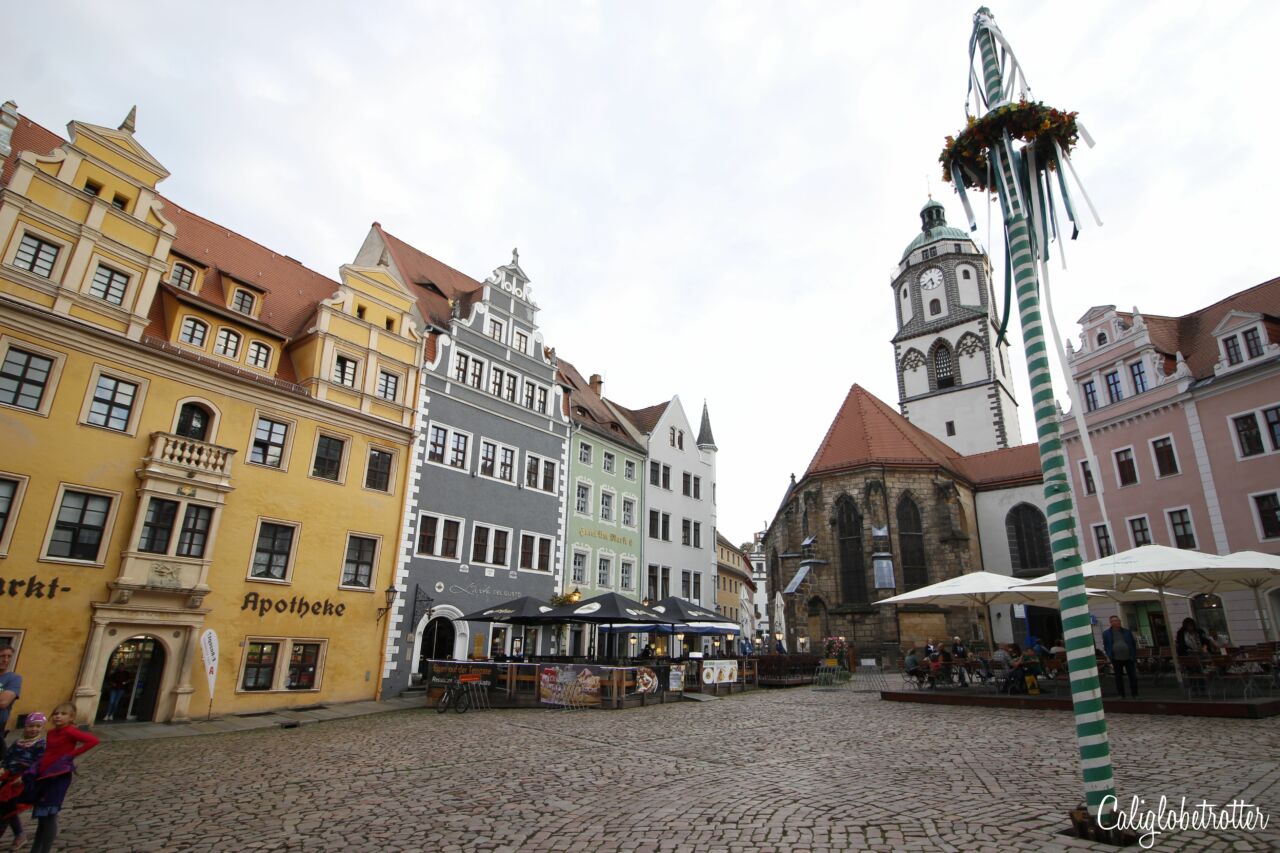 The Erlebniswelt Meissen Experience (Meissen Porcelain Factory)
Tickets must be booked in advance during high season otherwise, you can purchase your ticket at the door!
Bringing to life the world-famous Meissen porcelain, you can discover Europe's first porcelain manufactory in the House of Meissen, also known as the Meissen Porcelain Factory. Here, there are demonstration workshops, showrooms with artwork from the past and present, as well as a boutique shop. After you delve into the history of the making of porcelain, enjoy some of the delicacies on offer from the Café & Restaurant Meissen – which will also be served on unique Meissen Porcelain.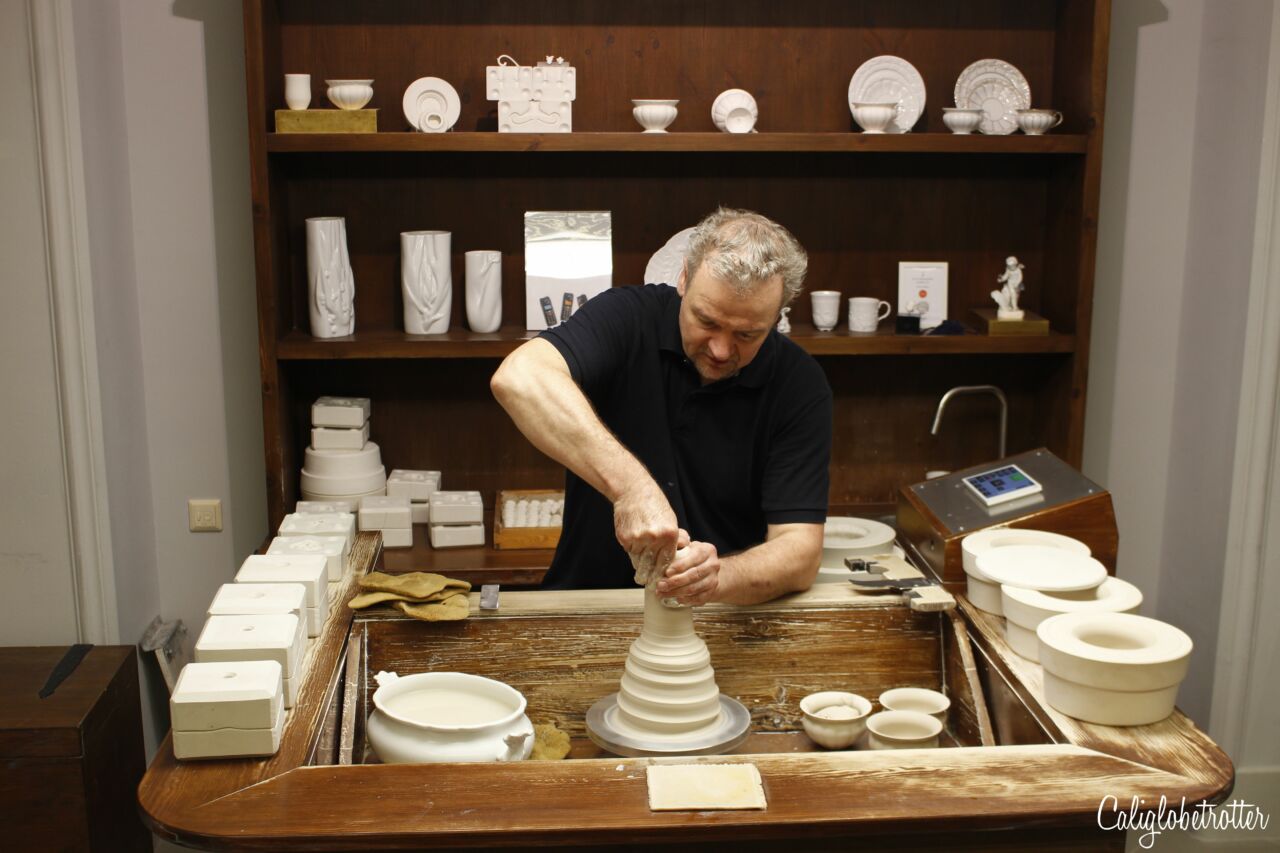 For over 300 years, high quality craftmanship has gone into making pure "white gold". At its height during the 17th century, European nobility were obsessed with the porcelain craze, calling it the Porcelain Sickness. 
The secrets of the first European Porcelain Manufactory were heavily guarded, but eventually, dozens of porcelain manufactories cropped up all over Europe, especially one story of an employee who stole secrets and fled to Vienna and became a competitor, but today, the logo of the Crossed Swords indicate exceptional Meissen porcelain and is also one of the oldest and continuously used trademarks to this very day!
Though I was born a bull in a china shop and break things far easier than possible, I'm like a moth to the flame. I challenge myself to be extra vigilant in a porcelain factory, but I like the delicate things in life, such as lace from Plauen or Bruges, glass from the Bavarian Forest, and now porcelain from Meissen. I love anything that reminds me of old-world charm and one day I plan to be a little old lady with tons of lace and porcelain in my house. Oh wait, I already am.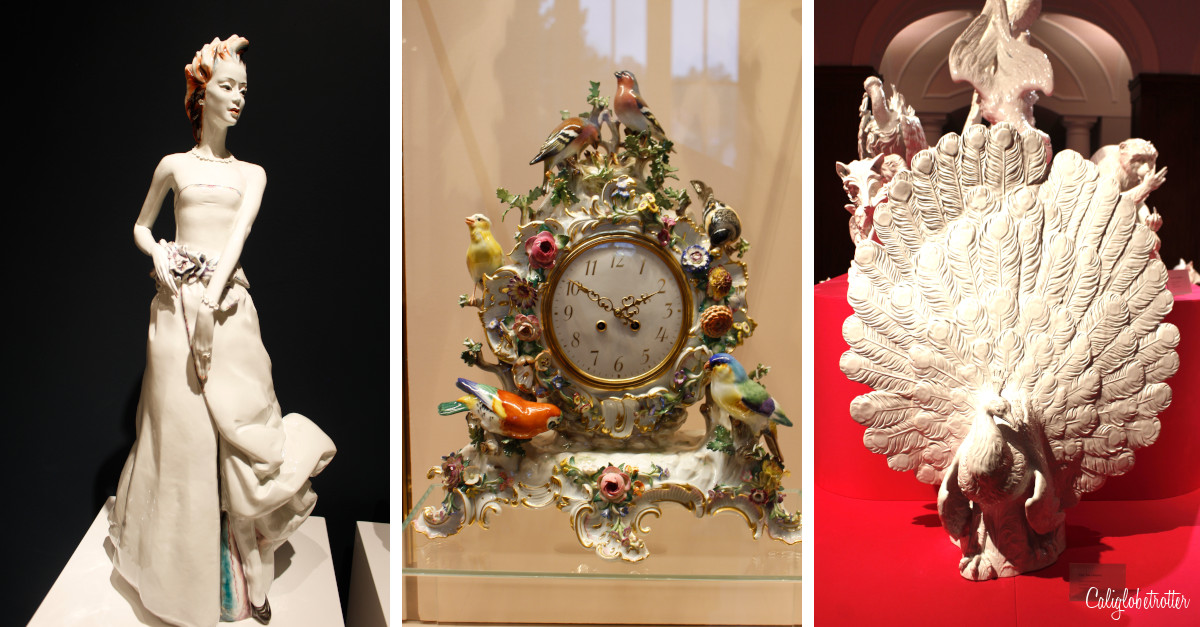 Upon entry to the museum, the very first thing that will catch your eye, the the delicate, life-sized statue of the Saxonia, the "Saxon Statue of Liberty", completely handmade from 8,000 Meissen porcelain blossoms. She is the world's largest, freestanding porcelain sculpture in the world and was commissioned to celebrate the 25 years of Germany's Reunification.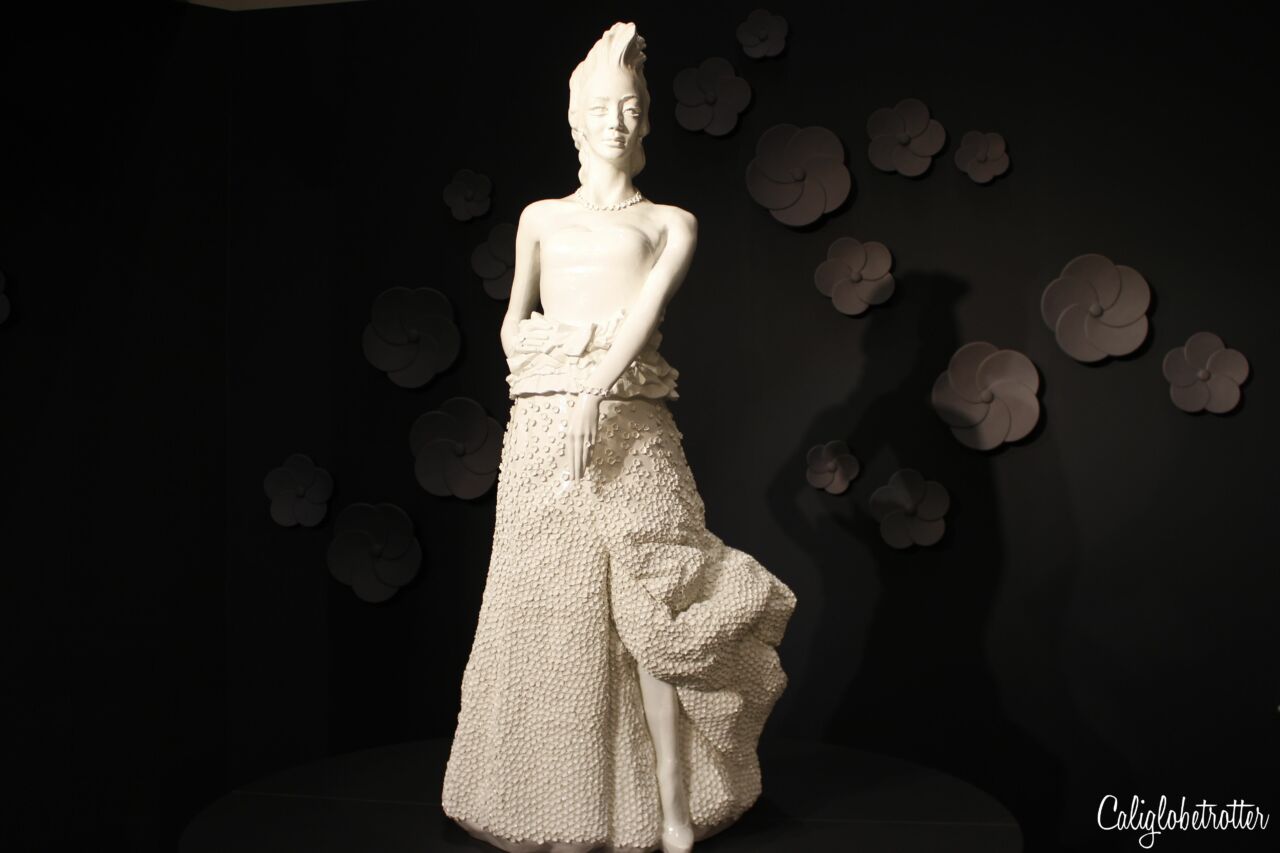 Meissen City Museum
On display at the Meissen City Museum, located at Heinrichsplatz, is the history of Saxony's oldest town with historical models displaying the growth of Meissen, as well as exhibits on local viticulture. The museum is housed in a former Franconian monastery. Most interestingly of all, it's home to the largest red wine press in Germany, dating back to 1788, a symbol of the wine making history in this region. 
Where to Eat in Meissen:
Eat a Meißner Fummel at Konditorei Zieger
One of our favorite things to do on every vacation is to find a local delicacy. In Meissen, that's a Fummel which might possibly be the strangest delicacy we have yet found. It's technically a balloon sized puffed pastry of wafer thin dough with a dusting of sugar.
What's more exciting is that this particular local delicacy comes with a history:

It is believed that in 1747, Augustus the Strong commissioned local Meissen bakers to make this very fragile and unique pastry for his couriers to carry. The couriers traveled regularly between Dresden and Meissen and sometimes other states by horseback, but they would often take a break at one of the many inns in Meissen and get drunk. The elector was annoyed that he always had to wait so long, so he commissioned these fragile balloon shaped pastry and one was given to each rider who took a break in one of the inns and was required to present the Fummel intact as soon as he arrived at court as a means of preventing them from getting drunk and delaying his correspondences. Today, the goal of purchasing one is not to eat it, but to transport it home as safely as possible! Challenge accepted!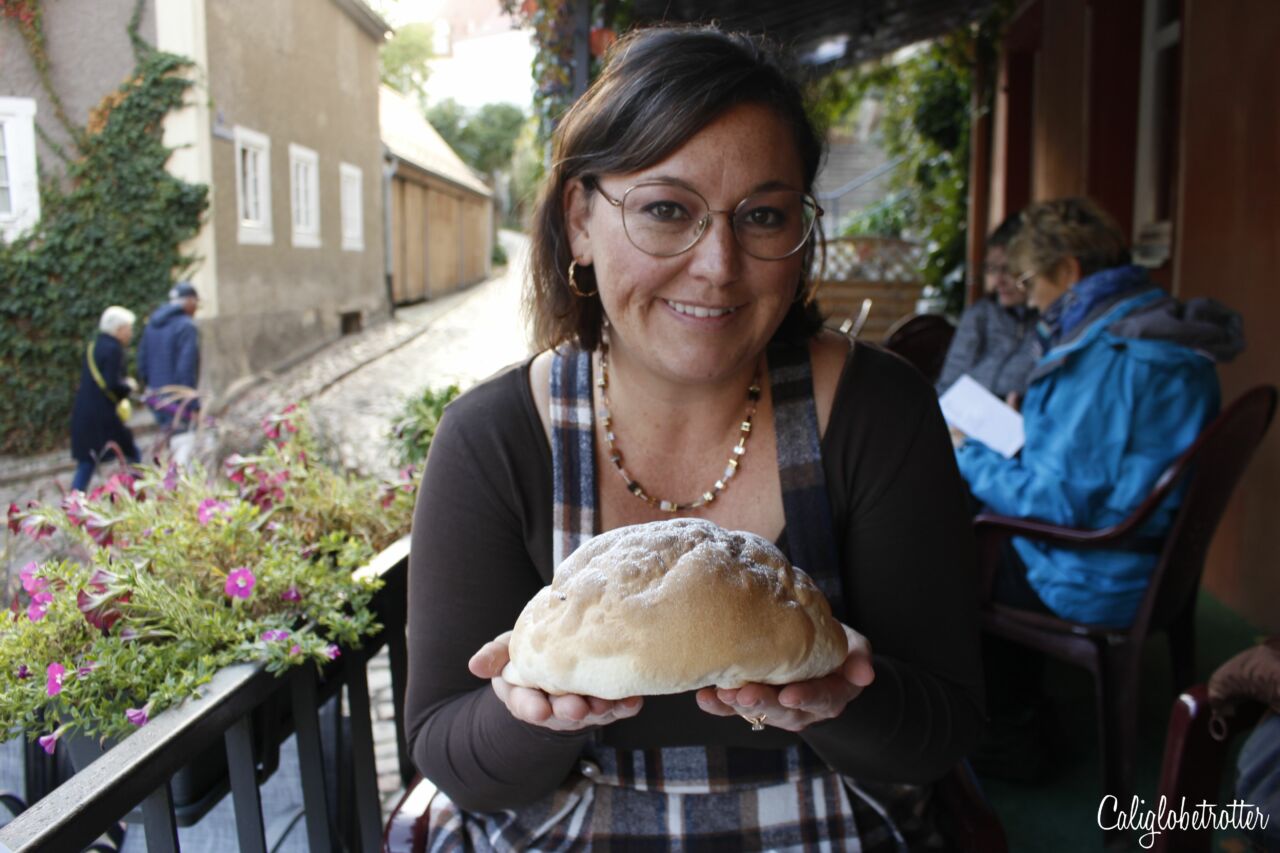 Meissen Ratskeller
The Meissen Ratskeller, located directly in the Meissen Altstadt Marktplatz, as part of the City Hall. Whenever eating at the "Ratskeller" in any town, you can be sure of having some of the best food in town and we were not let down here. I enjoyed a fabulous modern Cordon Bleu, stuffed with my favorite cheese, Bergkäse and Chorizo!
Here I enjoyed a great glass of wine, Traminer. I never knew that Traminer was it's own grape variety, one of two grape varieties found in Gewürtztraminer, which I've found to be overly lychee. Traminer, as it's own wine, rare to come by and produced in this region, was surprisingly enjoyable and easier to drink.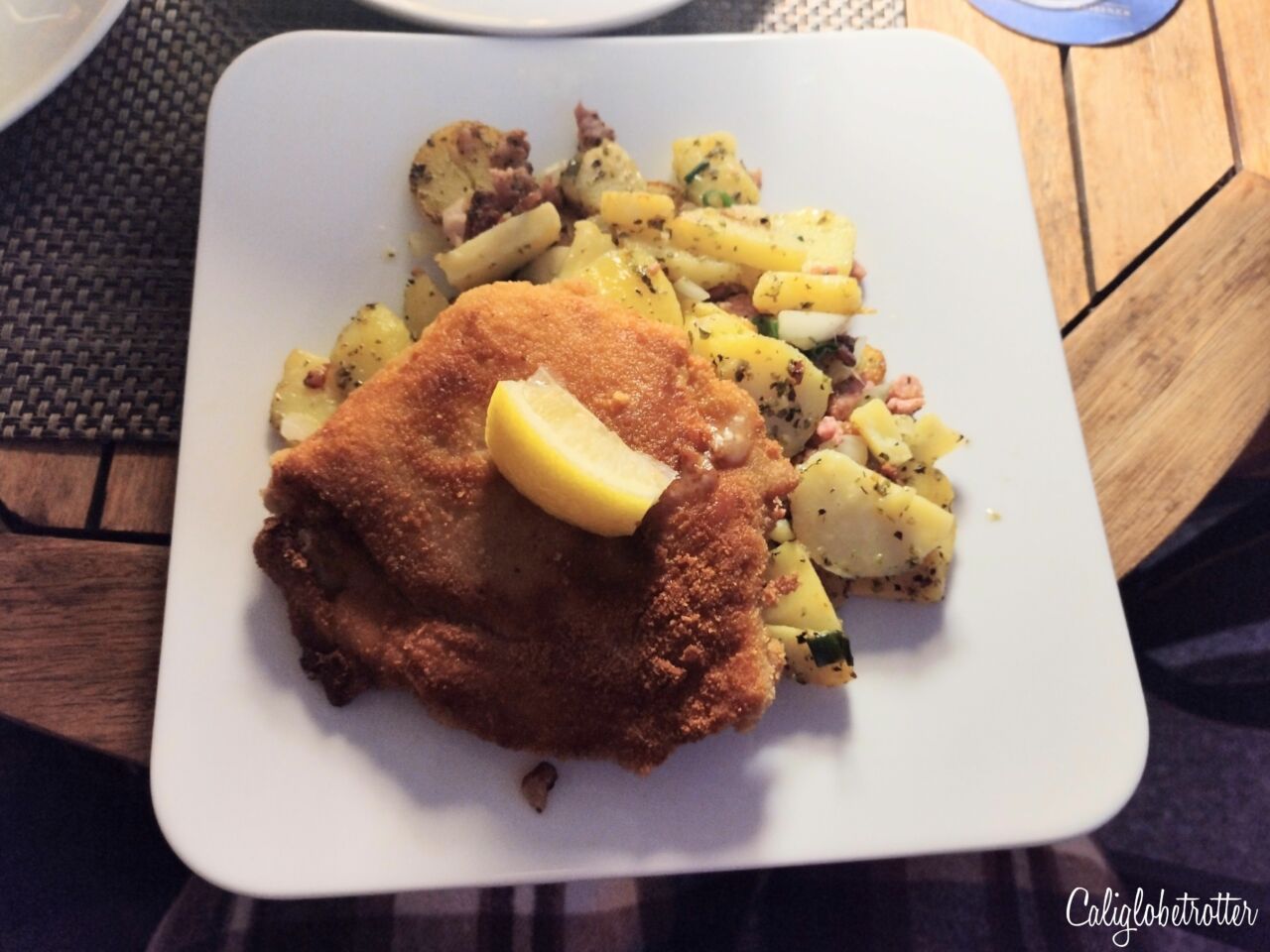 Schwerter Schankhaus
Directly opposite the Meissen Frauenkirche, across the Marktplatz from the Rathauskeller is Schwerter Schankhaus, another delicious restaurant, serving both traditional food, wine and beer from the region. We ate here on our first evening and worked our way through the beer and wine menu.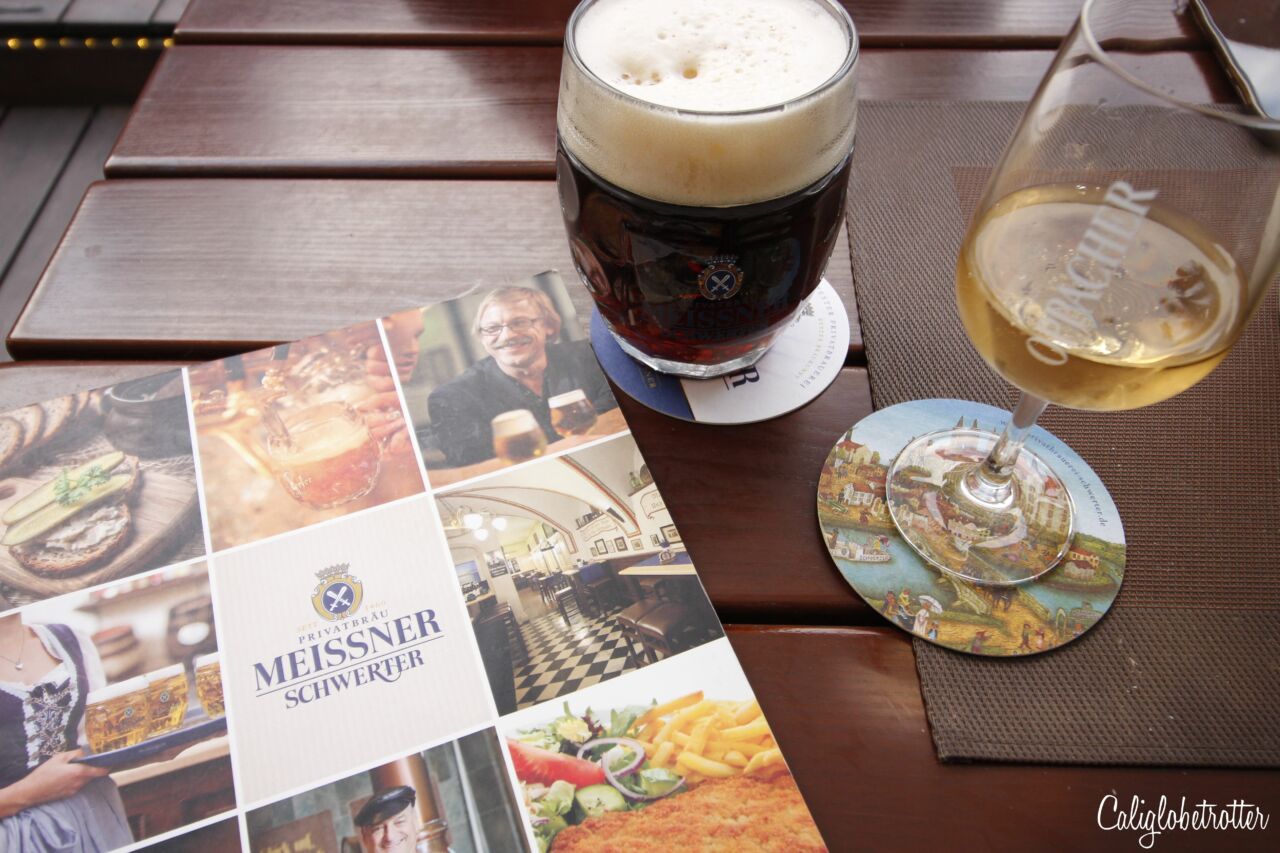 Wine Tasting in Meissen
Along the banks of the Elbe river and in and around Meissen are sun-drenched northern slopes sufficient for viticulture, at this rather high latitude. Some of the most common grape varieties produced in Saxony include Müller-Thurgau (aka Rivaner), Muscat, Riesling and Weisserburgunder (Pinot Blanc). 
While in Meissen, there are Weinstube all over the town where you can sample some of the local wines from Meissen, but one of the most popular wine bars in town is Der Weinladen at Burgstrasse 17. 
If you have more time, then a visit to the Schloss Proschwitz, just on the outskirts of Meissen. The castle belonged to the family Prince of Lippe, one of the ruling houses in Europe, until the house was taken in 1945 by the Communists without compensation. Here, vineyards have been cultivated for over 850 years and it wasn't until 1990, after the reunification of Germany, that the family has been able to repurchase bit by bit of their family estate, bringing life back to Saxony's oldest winery.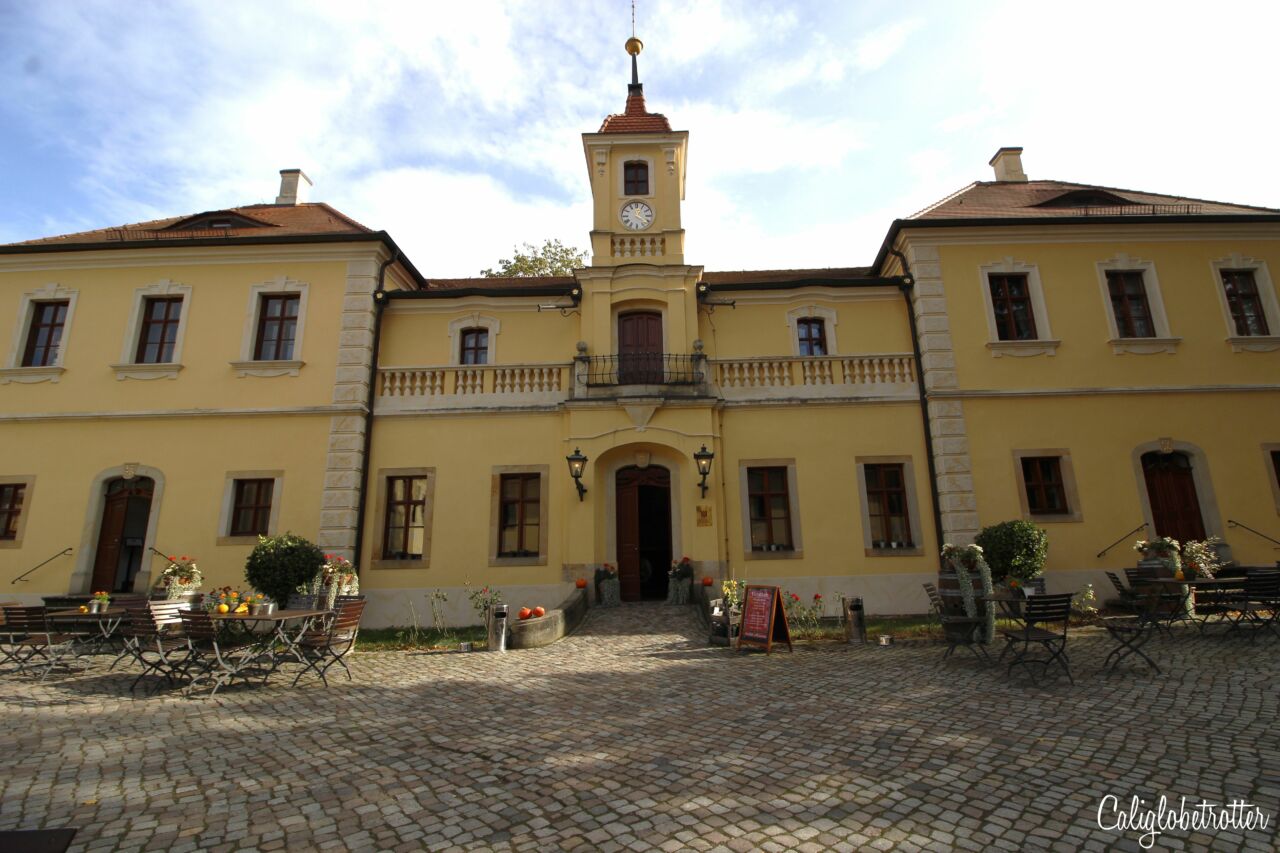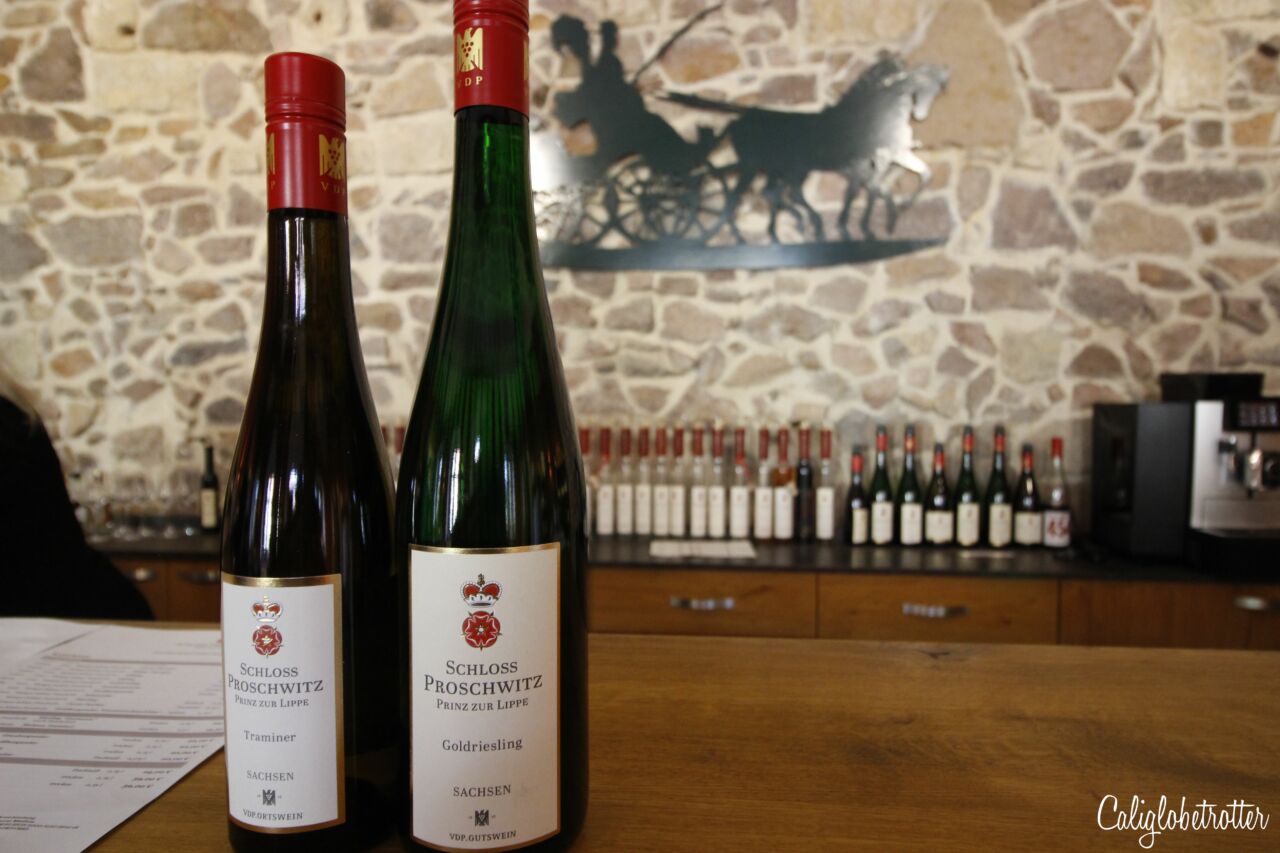 Meissen by Night
Having visited in October for our anniversary, peak tourist season is already thinning out so often we felt like we had the town to ourselves and the locals. Many locals can be found in the evenings at one of the winebars in town, sitting outside, enjoying the last warm summer autumn nights. We had a few glasses of wine and strolled the streets before walking back to our hotel. It was the perfect evening.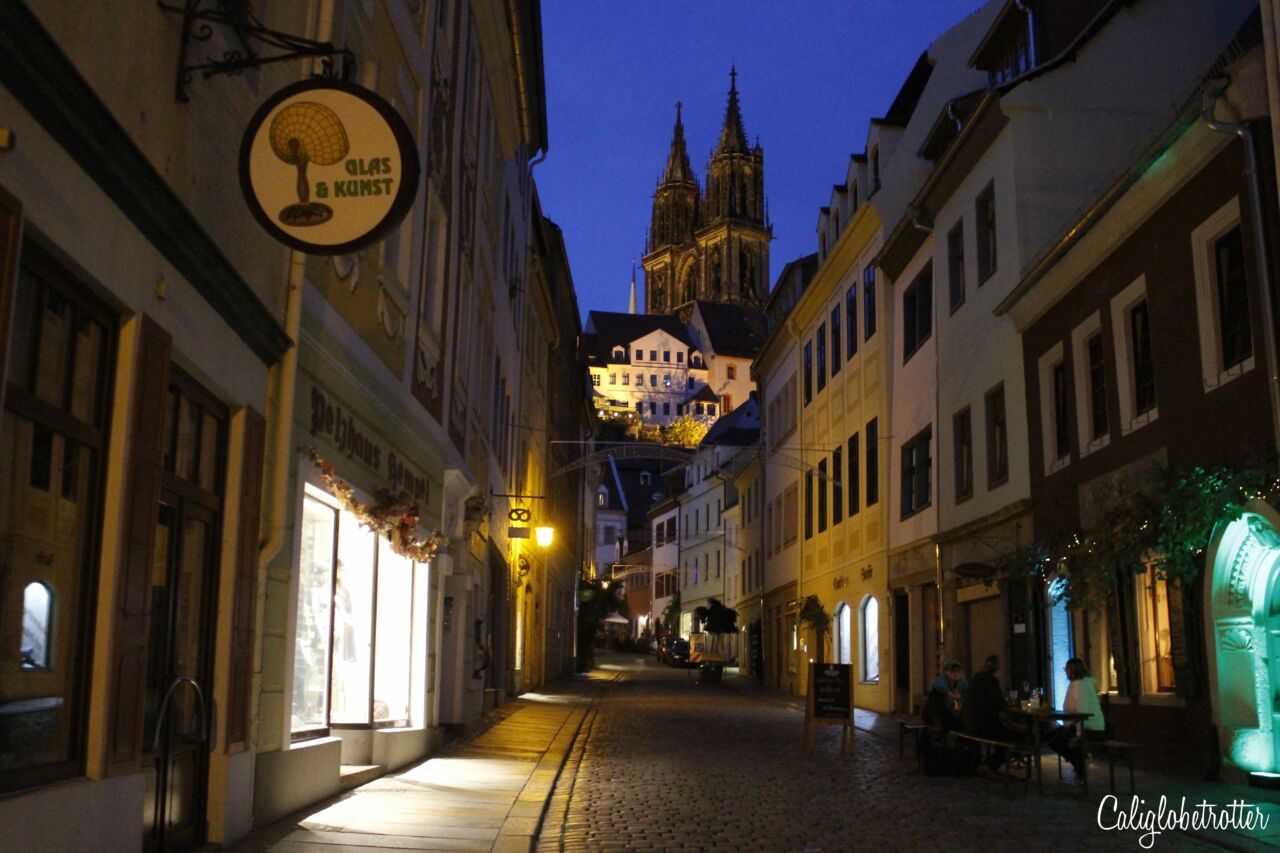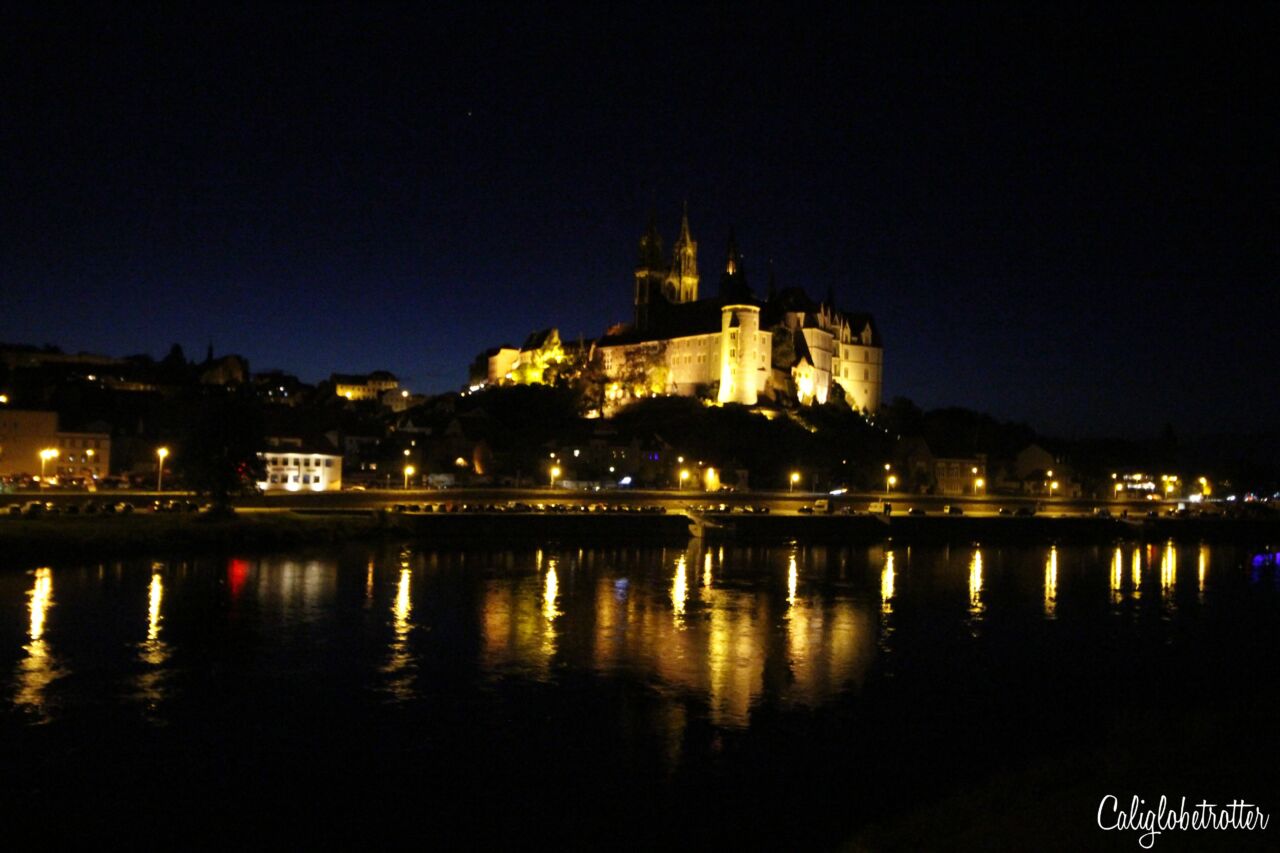 Where to Stay in Meissen
Dorint Parkhotel Meißen ⭐⭐⭐⭐– Not far from the Meissen city center, this historic and super chic hotel offers a wellness spa and sits along the banks of the Elbe River with stunning views of the Albrechtsburg Castle and Meissen Cathedral. Best of all, it's a pet friendly hotel! 🐾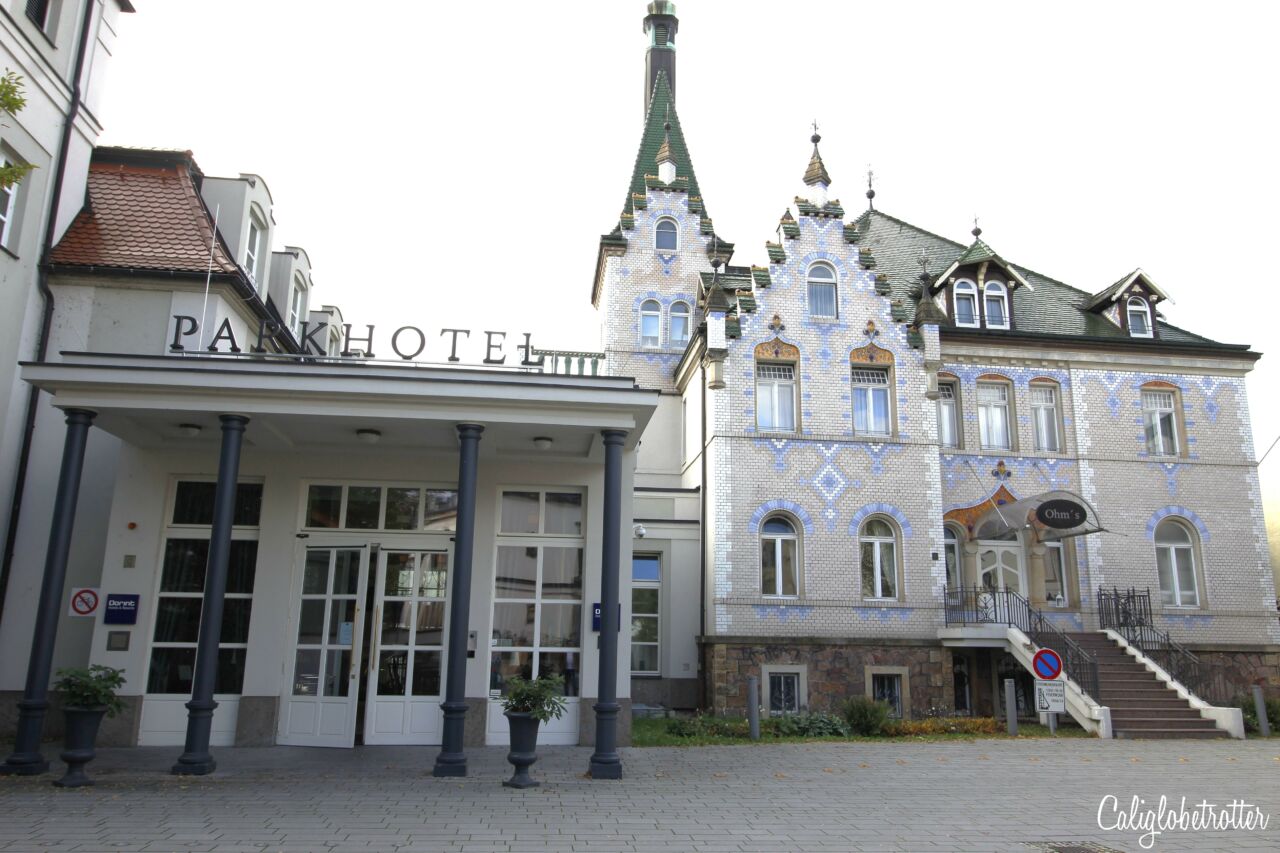 The rooms were beautifully decorated and I now have new home decor ideas. we thoroughly enjoyed the breakfast lounge, located in the historic part of the hotel, designed in a very Victorian style architecture with great views of the river and the Albrechtsburg opposite the hotel. Breakfast itself was a buffet but one of the best hotel breakfasts we've ever had. 
Though it is opposite the Old Town, it's just a 5-10 minute walk across the river, which offers more stunning views of the town.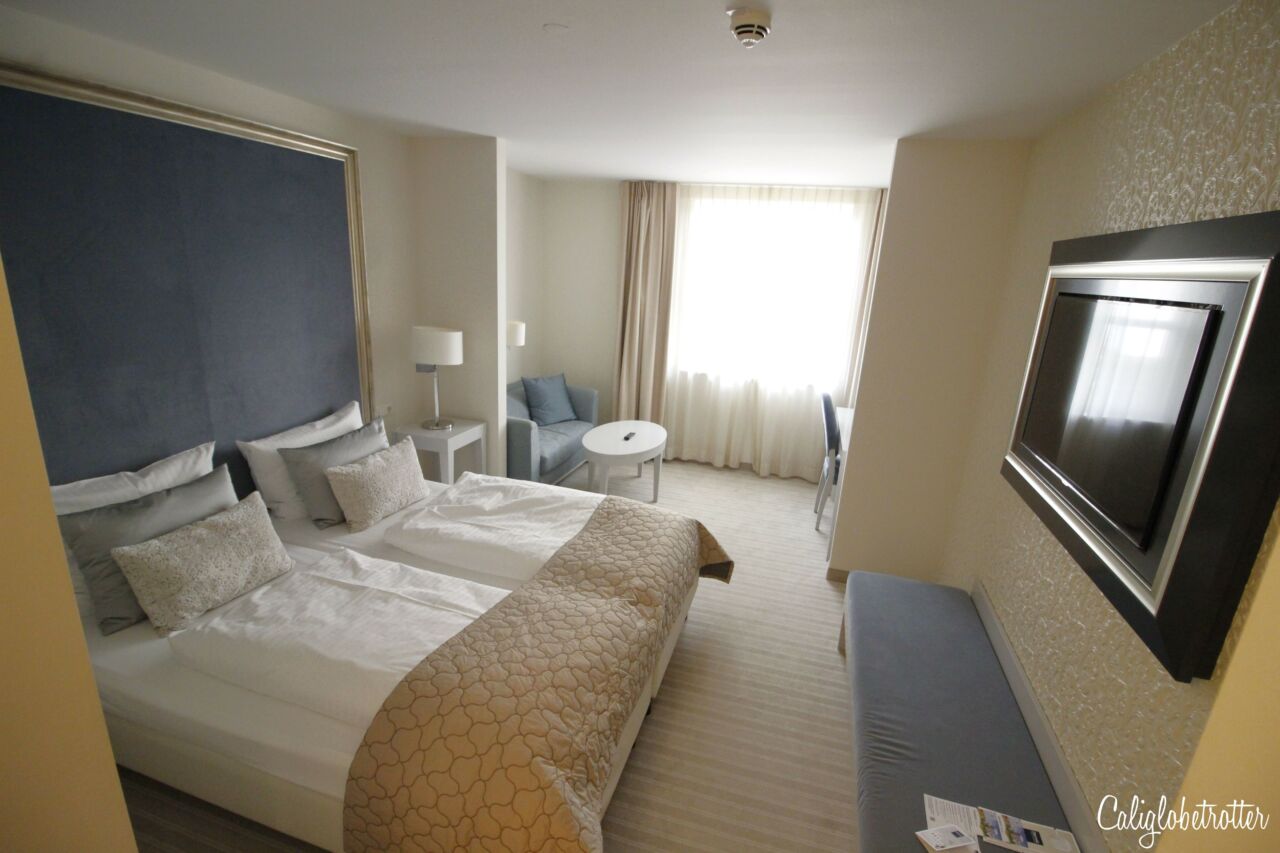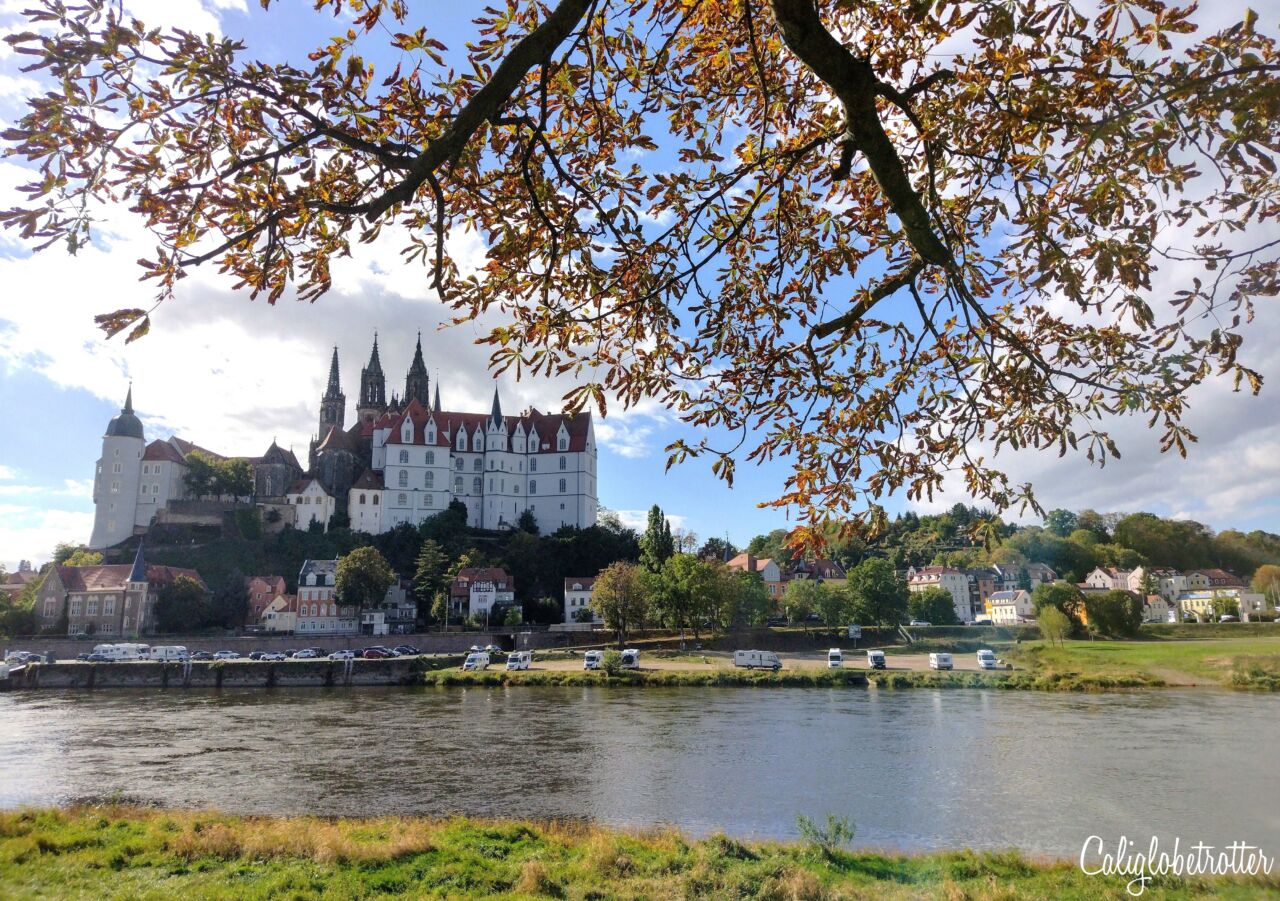 Additional Day Trips from Meissen
There are several great places to visit in Northern Germany that are not far from Meissen which are easily reachable by car or train. 
If you plan on doing some extensive traveling in Saxony, then I would suggest investing in the schloesserlandCARD, and use the card at ticket offices, online or through the app, saving you money on castles in Saxony. With the purchase of a second card, you'll save an additional 25%! 
Within Germany, just a mere two hours away are the towns of Wernigerode, Goslar and Quedlinburg, which like Meissen, underwent extensive renovations after the reunification of Germany.
Meissen is also an easy weekend trip from Prague, Czech Republic as it's just across the border and a short 3 hour train ride away! Other great cities not far from Meissen also include Wroclaw and Poznan, Poland, both of which are just a 4 hour drive away from Meissen!
Liked this post? PIN IT FOR LATER!!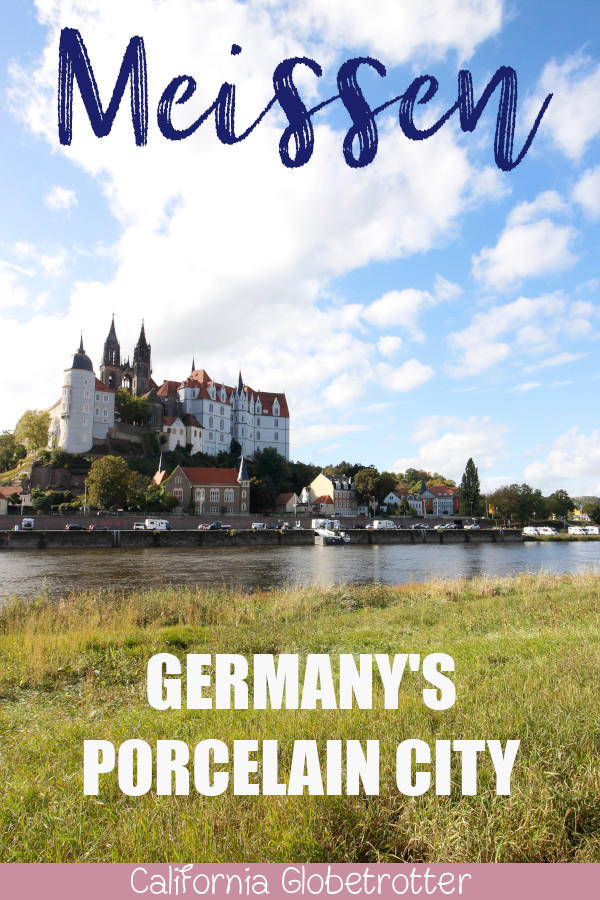 Other Related Posts:
Wernigerode – The Heart of the Harz
Goslar – A Quintessential German Town 
Quedlinburg – A Medieval Half-Timbered Town in the Harz 
If you're interested in visiting Germany and are looking for more information, I highly recommend using the DK Eyewitness Travel Guide! Without these guides, I would be lost! This is my travel Bible!
Disclaimer: This post contains affiliate links. If you click on one and make a purchase, I might make a little extra spending money, at no extra cost to you. As always, all opinions are my own and these products/services have been found useful during our travels and come highly recommended to you from yours truly!