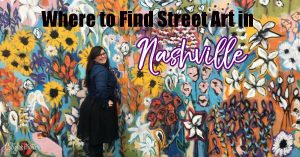 Disclaimer: This post contains affiliate links. If you click on one and make a purchase, I might make a little extra spending money, at no extra cost to you. As always, all opinions are my own and these products/services have been found useful during our travels and come highly recommended to you from yours truly!
While Nashville has always prided itself on music and food, it has been embracing the insane artistic talent out there and turning plain ol' walls into works of art! Not only is Nashville home to Country Music and is nicknamed "Music City", but it's also home to A LOT of amazing Wall Murals / Street Art. Finding street art in major cities all over the world has become a favorite past time for any Instagram-lover. Many wall murals are even interactive while others want to share a message to the world. 
In case you're interested, PIN IT FOR LATER!!

We recently visited Nashville, on the day before Christmas Eve, a Friday night and discovered it was a pretty sleepy town before the holidays. The bars weren't quite hopping as one would expect and the next day, Christmas Eve, turns out all the touristy locations are closed! Who'da known!? So, we decided to make an afternoon out of it and find as many wall murals in Downtown Nashville as we could! We hit up a few of Nashville's best eatries before hunting down some quick street art murals!
Prior to discovering the wall murals in Nashville, I had read a lot of posts about amazing street art popping up all over the world. Some of it I really enjoyed and other bits, I couldn't see what the big deal was.
Creative and innovative artists are taking to the streets to express themselves and transform an empty, plain side of a building into a masterpiece and people are flocking around the world to find these amazing murals. I have to say, I have quickly become OBSESSED and now search for street art everywhere I go! Plus, the make for the perfect Instagram moment!
Hopefully this little guide to Nashville's street art brings some color to your life and a whole lotta fun! There are a ton of wall murals in Nashville and I certainly didn't get to them all but these were some of the best wall murals in Nashville, Tennessee! There are more than 50 murals in Nashville that you should see, but to visit them all, you will certainly need a long photosesh to find all of Nashville's most Instagrammable spots! 
The Nashville Walls Project brings in artists from around the world to liven up the walls and streets of Nashville and below are the easy murals we happened to find. 
This article is now available as a mobile app. Go to GPSMyCity to download the app for GPS-assisted travel directions to the attractions featured in this article!
1. Kelsey Montague #WhatLiftsYou
When I saw these beautiful wings, I knew I had to find these first and foremost! They're absolutely amazing and I had never seen anything like them before. Turns out Kelsey Montague travels the world and creates beautiful, interactive wall murals for people to have fun with and share on social media. I can now say, I'm a huge fan! Today, the Nashville mural wings are considered to be the most popular wall mural in Nashville and it's not hard to see why! Found more Kelsey Montague art in Wroclaw, Poland too!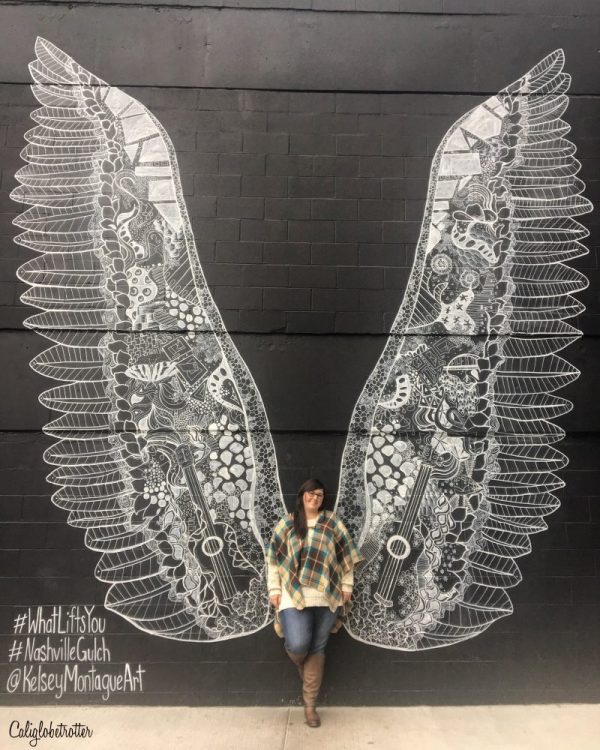 Directly nest to the larger wings were a small pair of wings perfect for adorable babies or pets. We sat my mom's dog down and he instantly became a photo star and every one suddenly wanted their picture with Freddy! All dogs go to heaven get 15 minutes of fame, right?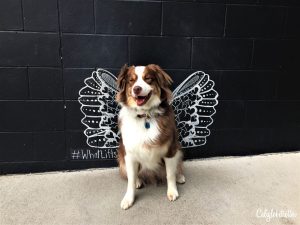 Address: 302 11th Ave S. Gulch, Nashville, TN 37203
2. "I Believe in Nashville"
While in Nashville, it was only fitting that I found the motto of Nashville, created by DCXV Industries. Artist Adrien Saporiti began to share his artwork around Nashville, with wall murals around town that inspire city pride.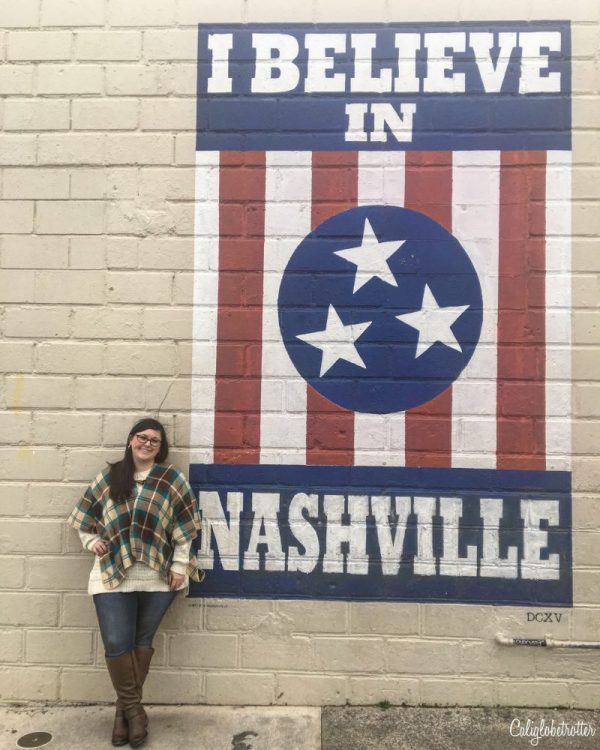 Address: 2702 12th Ave S, Nashville, TN 37204
3. Draper James Blue & White Stripes
Directly opposite from the "I Believe in Nashville" mural, on the side of the Draper James boutique, you'll find the blue and white stripes. Not exactly a wall mural, but fun nonetheless to take some pictures in front of!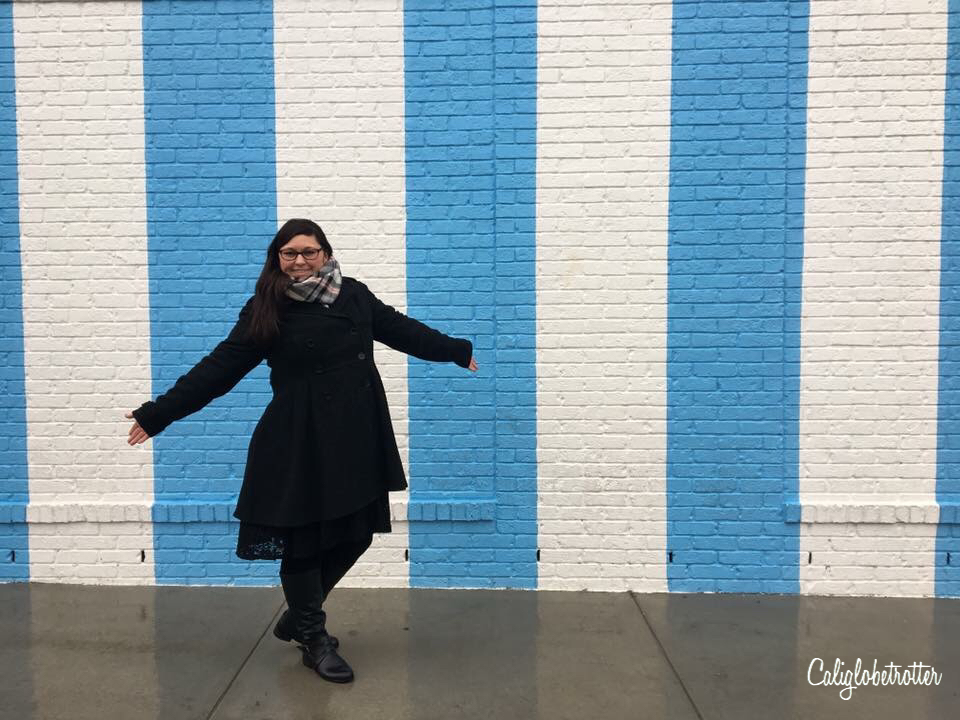 Address: 2608 12th Ave S, Nashville, TN 37204
4. Green Pea Salon Flower Mural
Along the side of the very stylish hair Green Pea Salon is the vibrant and happy wall mural full of flowers to bring any rainy day! Yes, when I went it was pouring rain, but it certainly cheered up my gloomy day! It was like frolicking through a prairie hill with spring flowers!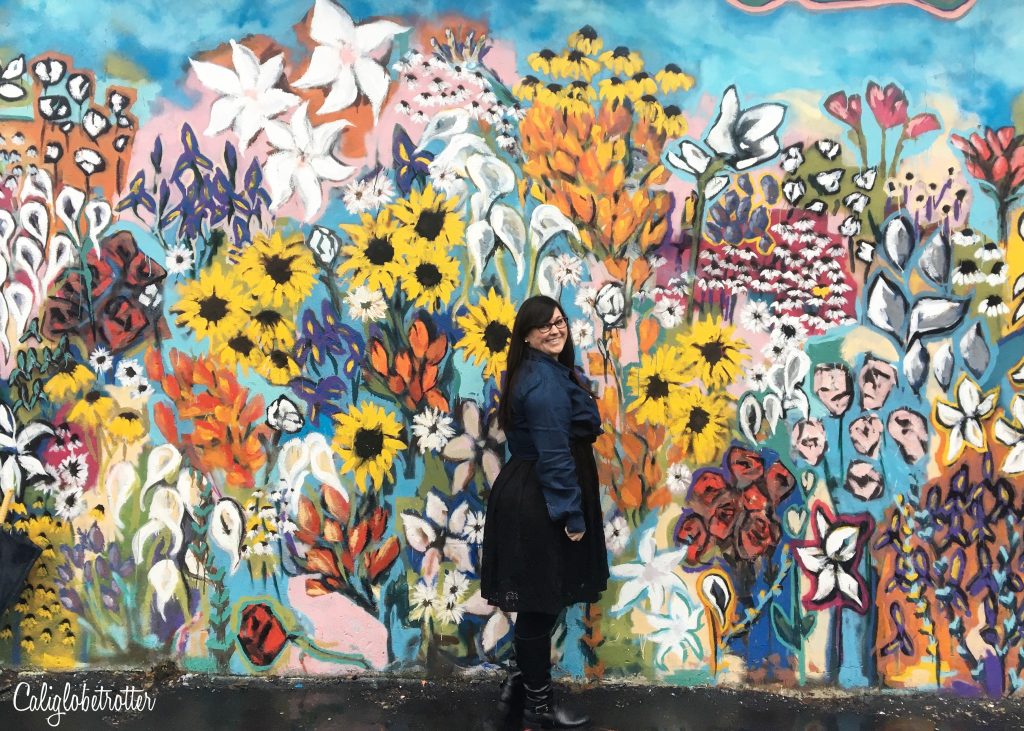 Address: 12th Ave South, Nashville, TN 37204
5. "Make Music, Not War"
Just opposite the field of flowers mural, is the 'Make Music, Not War" wall mural, which was an added bonus upon finding the flower mural! Naturally, as Nashville is nicknamed "Music City" I needed to take a picture here!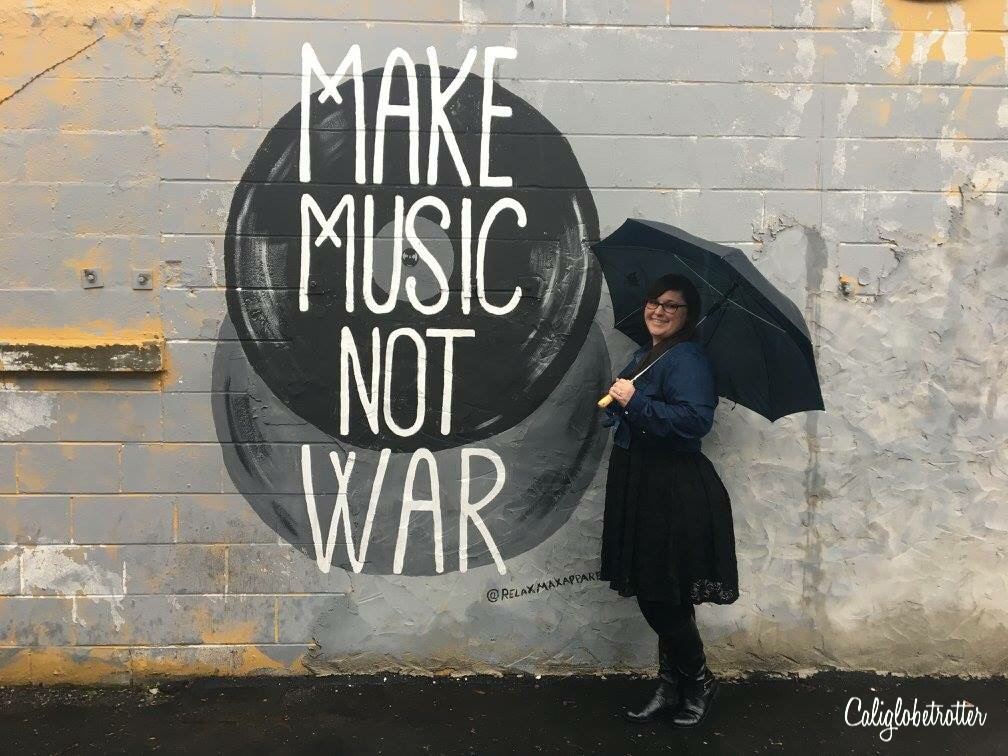 Address: 2902 12th Ave S, Nashville, TN 37204, USA
__________________________________________________________________
It definitely seems to me that of any city in the world, Nashville might be one of the best places to find so many different wall murals in one place! I wish we had had more time to find the dozens of other beautiful wall murals that fill the streets of Nashville with creative and colorful images. But I know I'll be back and I'll add to this each time I go!
Other resourceful posts about where to find wall murals in Nashville:
18 Murals from Huffington Post
Other Street Art:
Where to Find Street Art in Louisville, KY
Liked this post? PIN IT FOR LATER!!