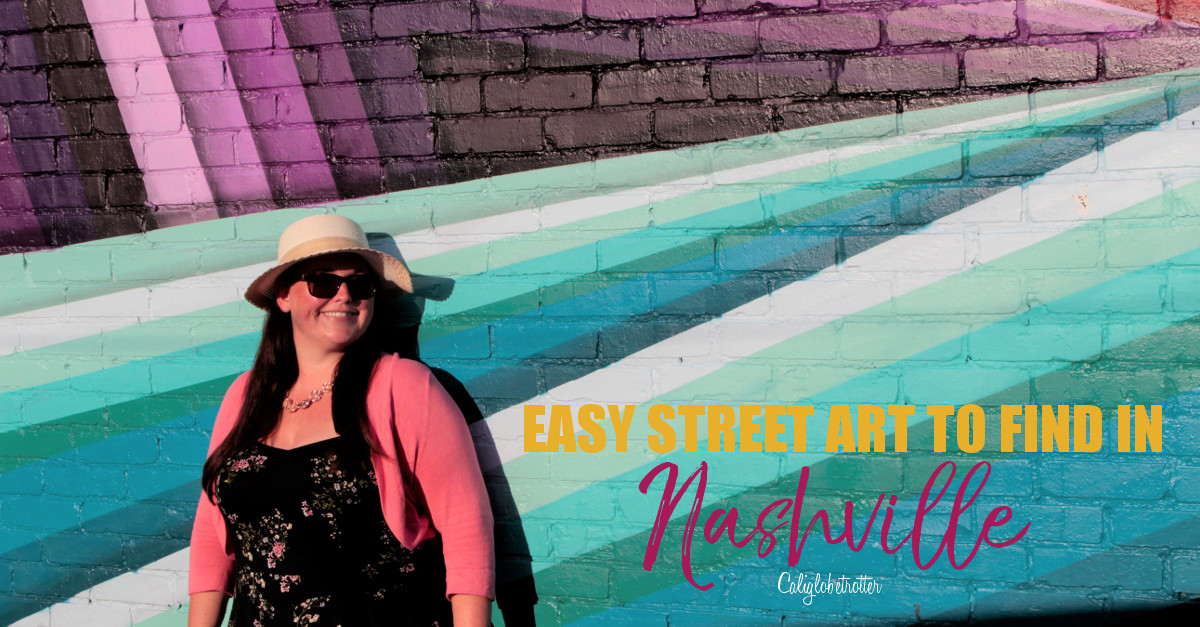 Disclaimer: This post contains affiliate links. If you click on one and make a purchase, I might make a little extra spending money, at no extra cost to you. As always, all opinions are my own and these products/services have been found useful during our travels and come highly recommended to you from yours truly!
Nashville has been titled the "IT" city and it's no wonder. Music is amazing. Food is delish. The party never stops. Music is off the hook and street art is endless! On our recent visit to Nashville, I added a few more murals to my post AND I share with you ADDRESSES to make it easier for you to find! Around every corner you can find Instagram-worthy street art making for hours of fun without breaking the bank!
In case you're interested, PIN IT FOR LATER!!

On our second visit to Nashville, we happened to be there on Christmas Eve and I naively thought that with a nickname like "Music City" with a row of Honky Tonks that play from 10am-3am, I thought it was a city that never sleeps. Boy was I wrong. Turns out, many things just so happen to be closed on Christmas Eve. Not that I'm complaining as I totally 100% support this. But what to do, what to do in Nashville on Christmas Eve, you might ask? Why, find street art of course! It's obviously one of the best free things to do in Nashville and always open!
So, we decided to make an afternoon out of it and find as many wall murals in Downtown Nashville as we could! We hit up a few of Nashville's best eatries before hunting down some quick street art murals!
Prior to discovering the wall murals in Nashville, I had read a lot of posts about amazing street art popping up all over the world. Some of it I really enjoyed and other bits, I couldn't see what the big deal was.
Creative and innovative artists are taking to the streets to express themselves and transform an empty, plain side of a building into a masterpiece and people are flocking around the world to find these amazing murals. I have to say, I have quickly become OBSESSED and now search for street art everywhere I go! Plus, the make for the perfect Instagram moment!
Hopefully this little guide to Nashville's street art brings some color to your life and a whole lotta fun! There are a ton of wall murals in Nashville and I certainly didn't get to them all but these were some of the best wall murals in Nashville, Tennessee! There are more than 50 murals in Nashville that you should see, but to visit them all, you will certainly need a long photosesh to find all of Nashville's most Instagrammable spots! 
The Nashville Walls Project brings in artists from around the world to liven up the walls and streets of Nashville and below are the easy murals we happened to find. 
This article is now available as a mobile app. Go to GPSMyCity to download the app for GPS-assisted travel directions to the attractions featured in this article!
1. Kelsey Montague #WhatLiftsYou
When I saw these beautiful wings, I knew I had to find these first and foremost! They're absolutely amazing and I had never seen anything like them before. Turns out Kelsey Montague travels the world and creates beautiful, interactive wall murals for people to have fun with and share on social media. I can now say, I'm a huge fan! Today, the Nashville mural wings are considered to be the most popular wall mural in Nashville and it's not hard to see why! Found more Kelsey Montague art in Wroclaw, Poland too!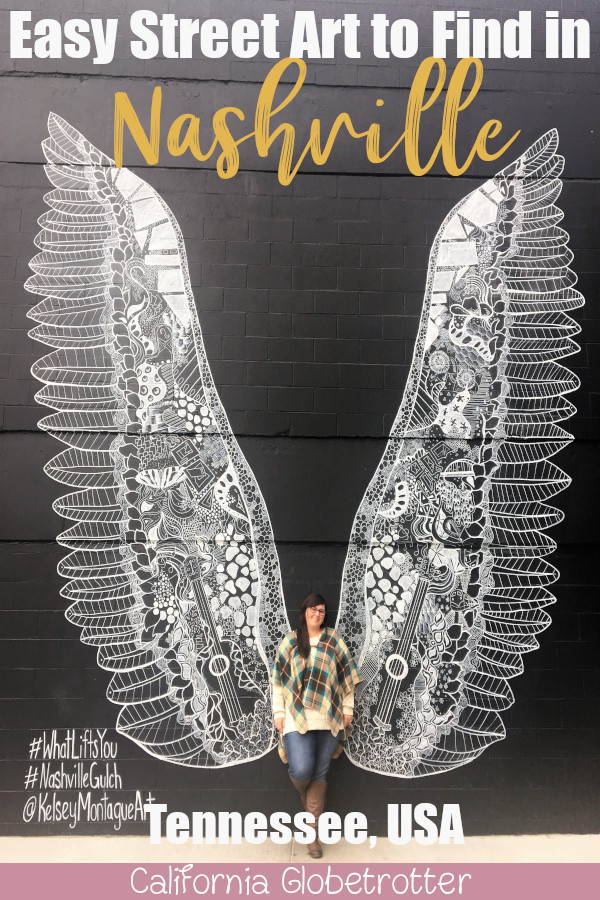 Directly nest to the larger wings were a small pair of wings perfect for adorable babies or pets. We sat my mom's dog down and he instantly became a photo star and every one suddenly wanted their picture with Freddy! All dogs go to heaven get 15 minutes of fame, right?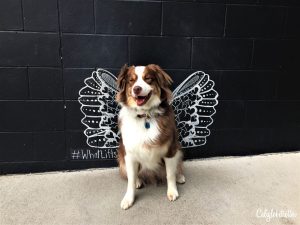 Address: 302 11th Ave S. Gulch, Nashville, TN 37203
2. "I Believe in Nashville"
While in Nashville, it was only fitting that I found the motto of Nashville, created by DCXV Industries. Artist Adrien Saporiti began to share his artwork around Nashville, with wall murals around town that inspire city pride.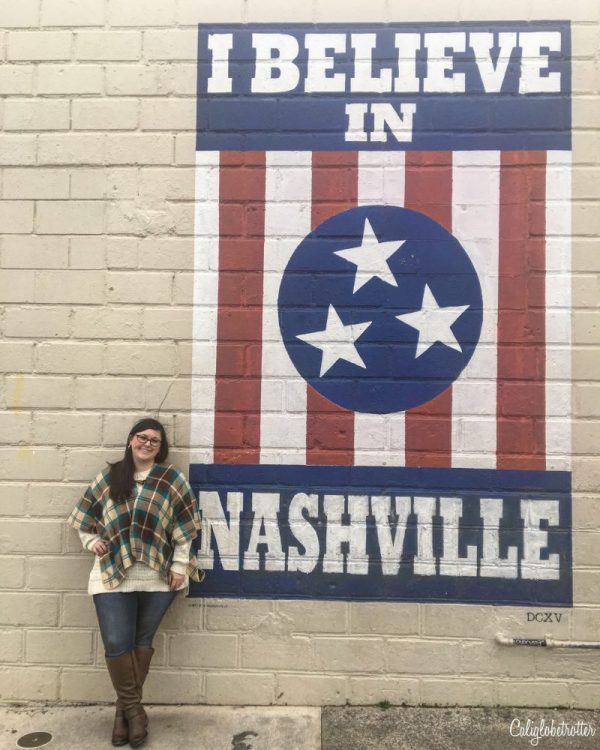 Address: 2702 12th Ave S, Nashville, TN 37204
3. Draper James Blue & White Stripes
Directly opposite from the "I Believe in Nashville" mural, on the side of Reese Witherspoon's Draper James boutique, you'll find the blue and white stripes. Not exactly a wall mural, but fun nonetheless to take some pictures in front of!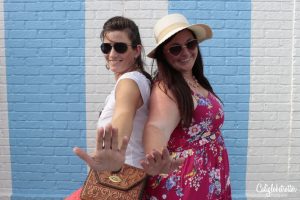 Address: 2608 12th Ave S, Nashville, TN 37204
4. Nashville at Heart Mural Art
Just down the road from Draper James, you'll find the rainbow colored peace symbol attracting everyone's attention! It's rather hard to miss as it's quite large and soooo colorful!
Address: Corner of 12th Ave S and Dallas Ave
5. Green Pea Salon Flower Mural
Along the side of the very stylish hair Green Pea Salon is the vibrant and happy wall mural full of flowers to bring any rainy day! Yes, when I went it was pouring rain, but it certainly cheered up my gloomy day! It was like frolicking through a prairie hill with spring flowers!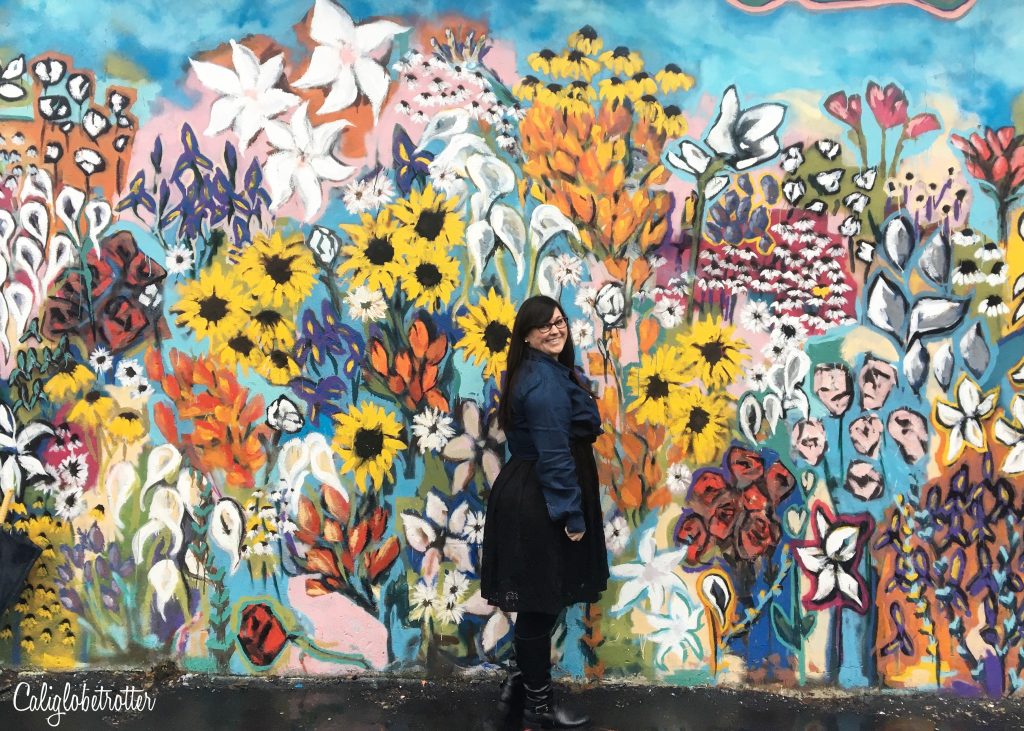 Address: 12th Ave South, Nashville, TN 37204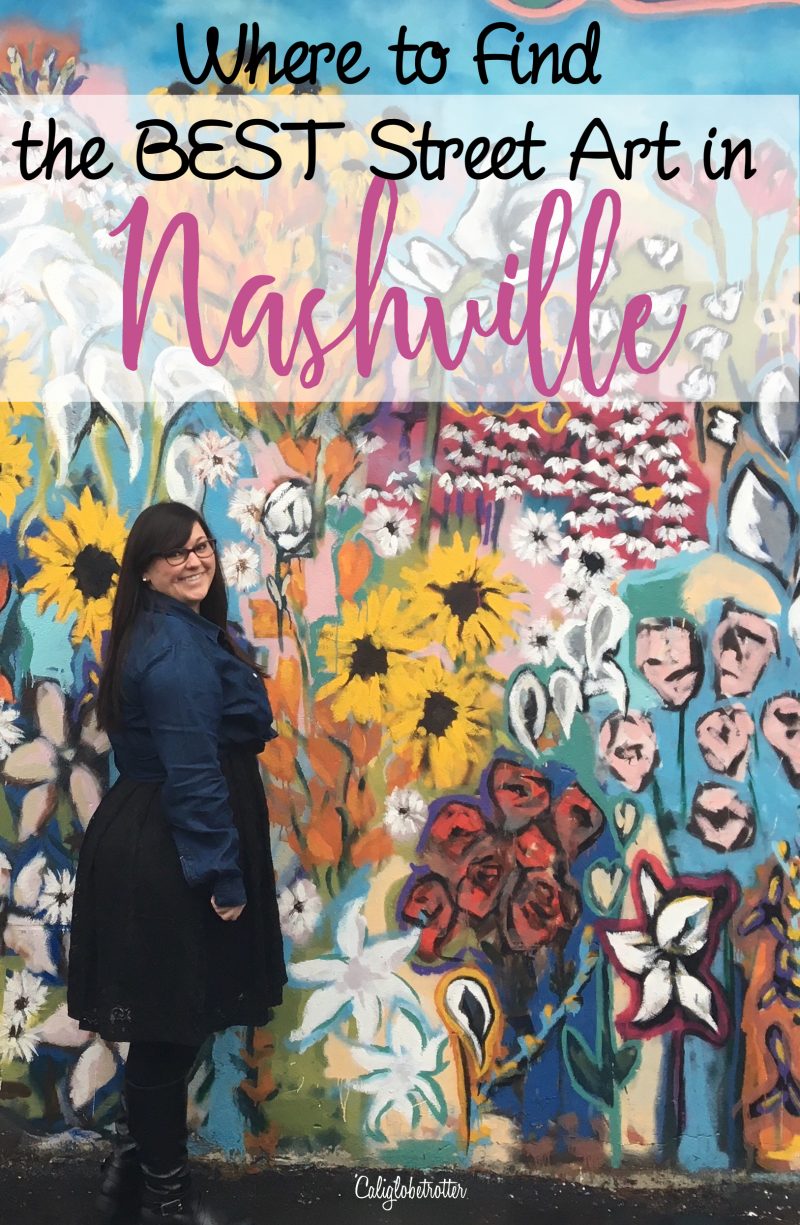 6. "Make Music, Not War"
Just opposite the field of flowers mural, is the 'Make Music, Not War" wall mural, which was an added bonus upon finding the flower mural! Naturally, as Nashville is nicknamed "Music City" I needed to take a picture here!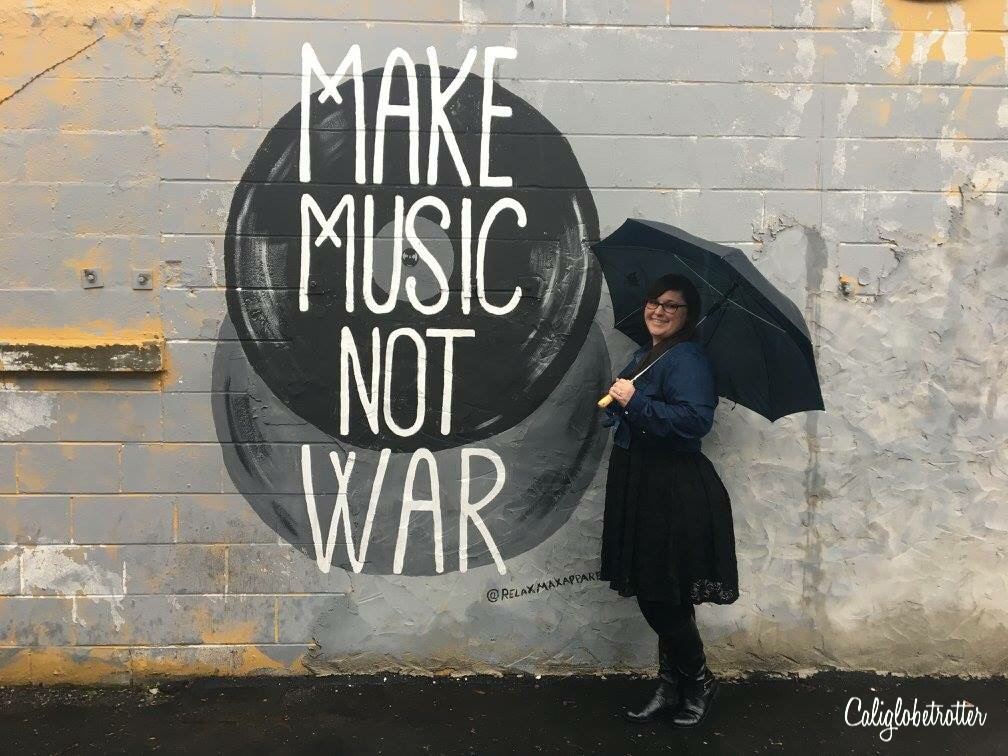 Address: 2902 12th Ave S, Nashville, TN 37204, USA
7. Kim Kennedy Mural with guitarist Dave Baker
This next one we found on accident by putting North instead of South in the address. How lucky was this that we just happened to stumbled upon this beautiful piece by Kim Kennedy!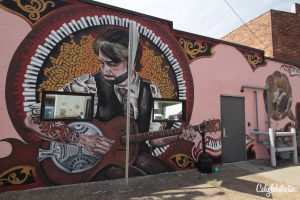 Address: 114 12th Ave. N
8. Google Fiber mural
But just a few feet away was actually one of the best wall murals in Nashville on the side of the Whiskey Kitchen which we were originally looking for! After a few photos, we decided to have a light lunch with a variety of delicious appetizers and beers! This one was with made in association with Google Fiber who is leaving their mark all over the country with #MakeTheInternet colorful!
Address: 118 12th Ave S
9. Google Fiber on Five Points Pizza
Google Fiber has contributed to many colorful wall murals in Nashville as well as at least 5 other cities across the US stoking the internet with vibrant, flashy Insta-worthy art! Not only does it bring in foot traffic, bringing together community but it just livens up a neighborhood and makes for loads of fun! So a big round of applause for Google! This Google Fiber mural in East Nashville can be found on the side of Five Points Pizza.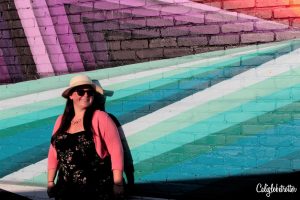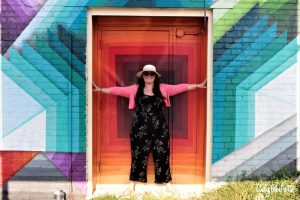 Address: 1012 Woodland St.
10. Radiate Positivity mural
Nearby was this joyous mural we happened to find, pulling over quickly along side the road to snap a few photos. I decided to radiate my positivity by actin' a fool!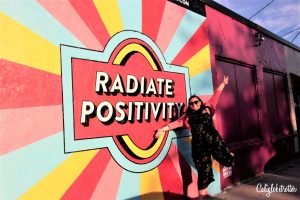 11. Athens of the South mural
Over near our Air B&B rental, we stumbled upon quite a few murals, including this Athens of the South mural depicting images of Nashville referring to the fact that Nashville has many things that resemble Athens, including the Parthenon.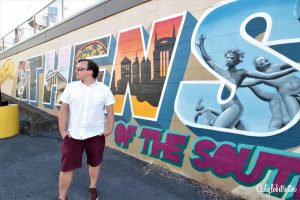 Address: 704 Main St. (on the side of Greko Greek Street Food)
12. Jerry's Artarama mural
Just across the street is Jerry's Artarama of Nashville, annnnd naturally there would be some pretty damn awesome street art along their walls. It's so fun for me to not be the one behind the camera for once and truly have some fun playing with these interactive murals.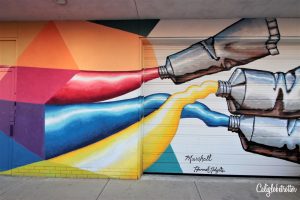 13. Stay Tuned Nashville mural
We decided to walk up and down this street and just see if there were more murals, as it seems once you find one, you're bound to find more. Annnnnd sure and heck, we found a simple, yet Instagrammable Nashville mural. The Stay Tuned Nashville mural was painted by Adrien Saporiti / DCXV Industries.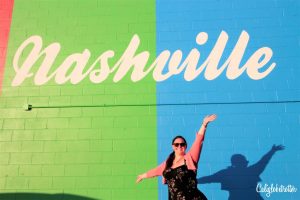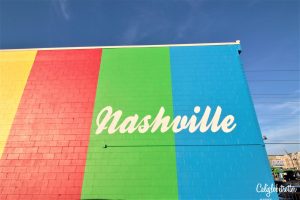 Address: Center 615 at 625 Main St.
14. Take Flight Mural
Stretched out along one massive long wall, you'll find multiple murals all painted by different artists displaying a wide variety of murals. My favorite was the Take Flight mural, a very colorful piece that spoke to my inner bird by Kevin Bongang/OFF the Wall Nashville).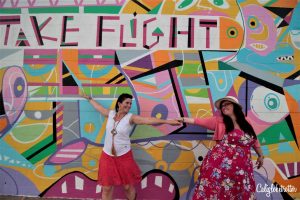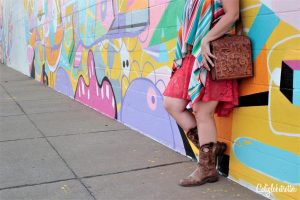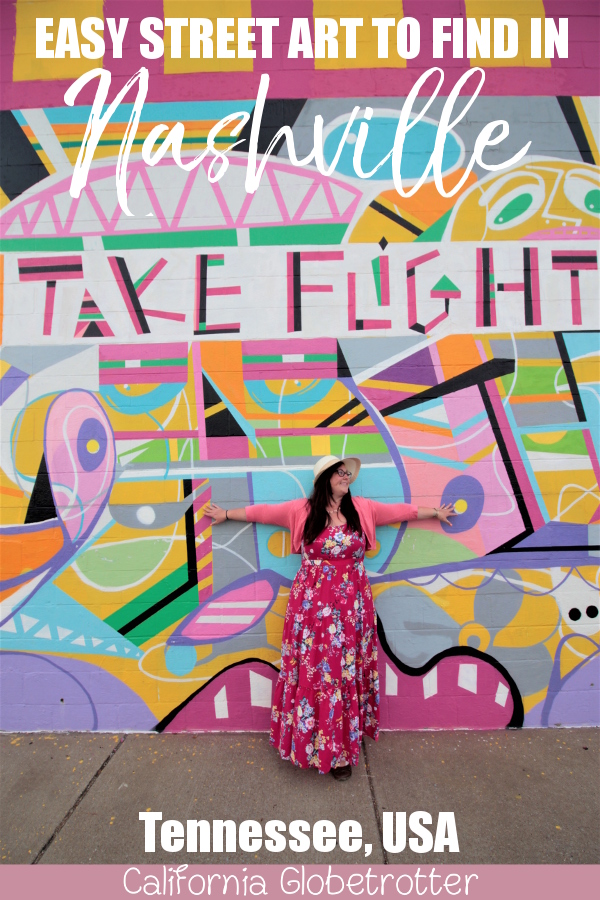 Address: Charlotte Avenue at 28th Avenue North
15. Fly Higher Mural
Painted by Joseph "Sentrock" Perez/OFF the Wall Nashville), this piece was quite fun!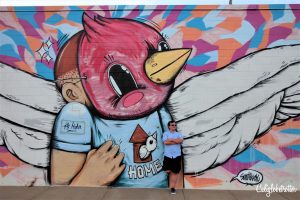 Address: Charlotte Avenue at 28th Avenue North 
The address is also the same for the unique mural below.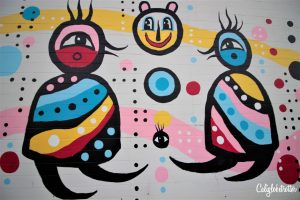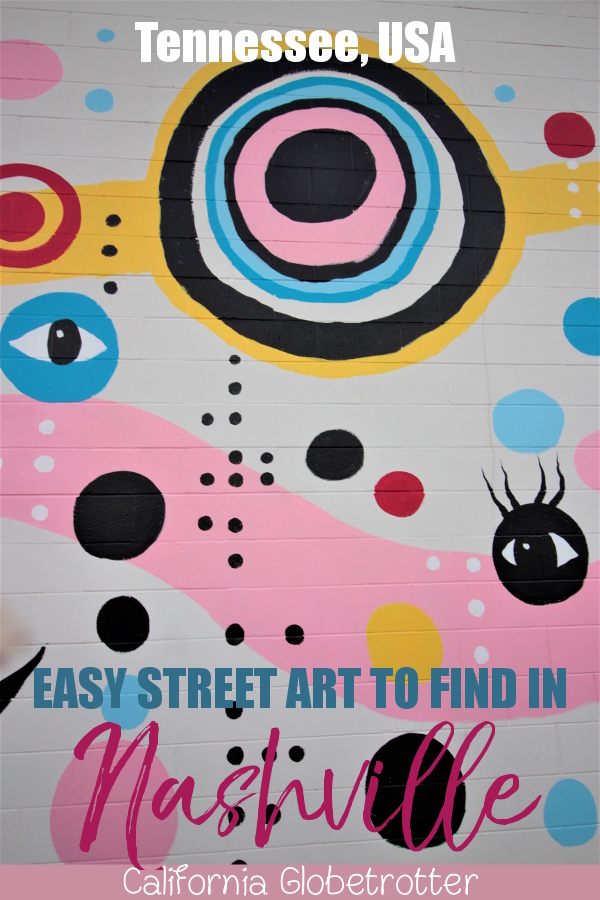 16. Johnny Cash mural
Located downtown Nashville, not far from the Johnny Cash Museum which is slowly starting to peel and probably won't be around much longer.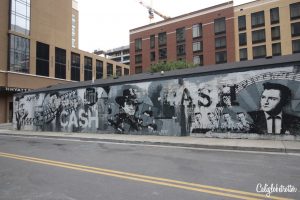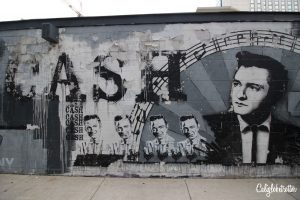 Address: 300 4th Ave. South
It definitely seems to me that of any city in the world, Nashville might be one of the best places to find so many different wall murals in one place! I wish we had had more time to find the dozens of other beautiful wall murals that fill the streets of Nashville with creative and colorful images. But I know I'll be back and I'll add to this each time I go!
Other Street Art around the World:
Nashville with the Music City Total Access Pass
Where to Find Street Art in Louisville, KY
Mural City: Zaspa Street Art in Gdansk, Poland
Day Trips from Nashville
A Tour of Jack Daniel's Distillery, Lynchburg TN
Liked this post? PIN IT FOR LATER!!