Disclaimer: This post contains affiliate links. If you click on one and make a purchase, I might make a little extra spending money, at no extra cost to you. As always, all opinions are my own and these products/services have been found useful during our travels and come highly recommended to you from yours truly!
Men can often be the hardest to shop for during the holiday season and finding either what they need or what they want can be next to impossible. I know because I married a man who never ever shares what he wants or needs. That leaves me guessing what could he possibly need or want for our travels. 
So I've take the time to sit down and really do some soul searching as to what a man who loves to travel might want that are small enough to fill his Christmas stocking for budget prices! Everything in this post are under $30 and will either inspire him to travel or will be be handy gifts for guys who love traveling.
Need Christmas Stocking Stuffer Inspiration? PIN IT FOR LATER!!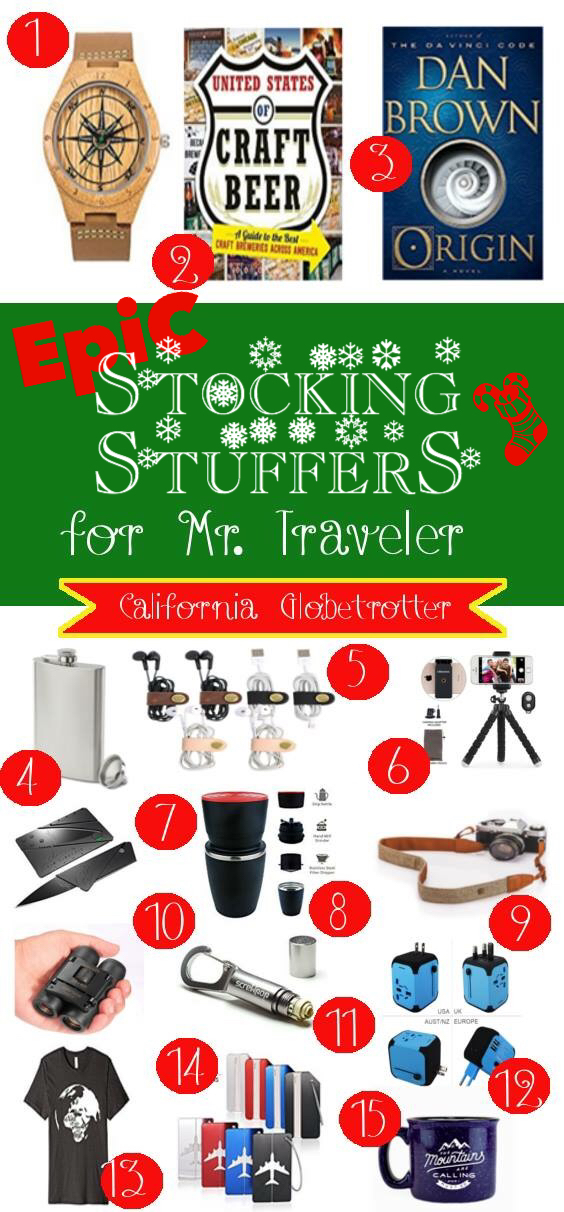 1. 

Men's Wooden Compass Watch, Genuine Cowhide Leather Strap
A two for one deal – a compass and a watch for any man who loves to travel and occasionally wander off the main path who refuses to ask for directions!
 Simple and not overly bling blingy, Mr. Traveler is bound to enjoy this watch!
Price: $17.99 
2. 

The United States Of Craft Beer: A Guide to the Best Craft Breweries Across America
If you have men in your life who LOVE LOVE LOVE beer of all kinds, then consider getting this informative guide to all the BEST craft breweries in America! I feel a road trip coming… 
Price: $13.89
3. 

Origin: A Novel by Dan Brown
Grab the Dan Brown's gripping new mystery / adventure 
novel as Origin thrusts Harvard symbologist Robert Langdon into a dangerous adventure, ultimately leading to Spain which will reveal an astonishing breakthrough one that will answer two of the fundamental questions of human existence. This novel will have Mr. Traveler itching to go to Spain!
Price: $21.75
4. 

Stainless Steel Liquor Hip Flask

 
For the man who doesn't like to leave the house without a little dose of his favorite Kentucky Bourbon who likes to have a sip every now and then. Get it engraved to make it even more special!
Price: $14.99
5. 

Genuine Leather Cord Management Keeper Snap Lock USB Cable Holder
If your Mr. Traveler is as OCD about keeping everything organized and in an orderly manner as mine is, then these snap lock USB cords will help him to keep any gadget cords from getting tangled. Trust me, they seem like nothing, but he will greatly appreciate them!
Price: $10.99
6. 

Phone tripod, Portable and Adjustable Camera Stand Holder with Bluetooth Remote
For the solo traveler
 or for couples who love to take pictures and no one is around to help, have no fear! This portable tripod is suitable for iPhones, Androids and GoPros! No more asking for someone to take an awkward terrible picture! 
Price: $10.98
7. 

Authentic Credit Card Sized Folding Knife with Black Blade 
A unique gift for the man who never wants to leave home without a handy-dandy knife. You never know when you might need something sharp which can fold up and be conspicuously hidden in his wallet as a credit card. This was an awesome gift once given to my husband which has come in handy more times than we can remember!
Price: $8.49
8. 

All in One, Ultra Portable Manual Coffee Grinder and Portable Coffee Brewer 
It has taken me years to finally find an all in one portable coffee grinder and maker for our travels. This is the perfect gift for Mr. Traveler who refuses to leave the hotel without his daily pot of coffee before sightseeing. Also perfect for those who love to go camping as it requires no batteries and no electricity!
Price: $20.89
9. 

Camera Shoulder Neck Strap Vintage Belt for All DSLR 
Replace that generic CANON camera strap with this more comfortable and fashionable strap which is adjustable to your preferred length. Easily switch it out for her camera strap on days she wants to take photos.
Price: $7.99
10. 

Aurosports 30×60 Folding Binoculars Telescope with Low Light Night Vision for outdoor birding, travelling, sightseeing, hunting
If you're looking for sports gifts, then these binoculars are small enough to fit in the palm of his hand, these lightweight folding binoculars will be the perfect addition to any city or outdoor holiday day and night! Who knows when you might want a closer look at something!
Price: $10.99
11. 

Screwpop Travel Stash Key Chain Multi-tool and Bottle Opener
Stash some extra cash in this conspicuous bottle opener key chain that Mr. Traveler can take with him on all of his travels. You never know if he may get robbed, lose his wallet or perhaps his credit cards won't work! Better to be safe than sorry! 
Price: $9.90
12. 

HaoZi Worldwide Travel Adapter Wall Chargers With Dual USB
This all-in-one international travel power Plug Charger for Worldwide 150 Countries with EU / UK / US / AU Connector LED Power Indicator (Blue) is perfect for any serious traveler always on the go who can't leave home without their electronics!
Price: $15.69
13. 

Not All Who Wander Are Lost T-Shirt, World Globe Travel
A simple T-shirt to inspire world travel with the famous quote "Not all those who wander are lost". Perfect for Mr. Traveler who likes to travel and occasionally get lost or take the path less worn!
Price: $19.99
14. 

Luggage Tags, Bag Tag Travel ID Labels Tag For Baggage Suitcases Bags, 8 Pack 
Grab these strong & durable, hard to destroy luggage tags that come with a stainless steel rope and screw connector to make sure that Mr. Traveler will never loose his luggage should his paper tag rip off. 
Price: $8.99
15. 

The Mountains Are Calling And I Must Go Ceramic Campfire Coffee Mug 
Any outdoor man will appreciate a good coffee cup which inspires him to return to the mountains to go camping, hunting, fishing etc. This top outdoorsman gift is perfect for cabin goers who want to get away from the city!
Price: $15.97
Obviously some stocking stuffers are a little large for standard Christmas stockings, but if you have Christmas stockings that are LARGE as mine, then you'll have PLENTY of room for some, if not all of these wonderful travel related Christmas gifts for Mr. Traveler. Opening stocking stuffers is the main part of our Christmas gift giving and are usually the most thoughtful items, so I hope that I've given you plenty to fill his stocking!
Other Related Posts:
The BEST Thanksgiving Care Package for Your Expat
For Her
15 Fabulous Stocking Stuffers for Mrs. Traveler
13 Fabulous Birthday Gifts for the Lady Traveler
Stylish Carry-on Essentials for the Lady Traveler
10 Gifts Every Female Traveler Should Have
For Him
10 Affordable Hipster Gifts for Mr. Traveler
Liked this post? PIN IT FOR LATER!!